Using software for room design takes the guesswork away for clients working with an interior designer. A good room design software can create realistic and quick as a wink 2D and 3D renders of design concepts and help clients get a clear vision of the designer's ideas and concepts. Room design software makes it easy to design and plan any space in 3D to make interior design ideas come to life. There are many software products that allow interior designers to bring their designs to realistic 3D forms and offer many functionalities.
There are different tools that are useful for room design, they can be simple to use and perfect for those who want to draw up a quick but professional room design, and there are also complex options that require considerable knowledge and practice of these tools, which are nevertheless rewarding due to the high degree of customization and realistic effect they produce.
We take a look at some of the best software products available especially for interior designers that best facilitate creating 3D renders services of room designs.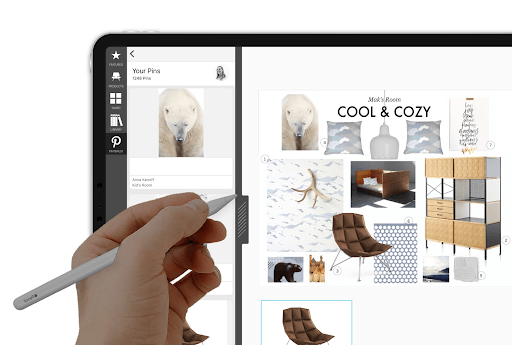 image Credits: morpholio Apps.
1. Why Use Software for Room Design
Room design software makes it easier to visualize what a design concept will look like in real life. This makes clients happy and may help them offer feedback or make a decision to accept the design sooner, making for a faster sales and design process. Software products for designing rooms can do multiple things.
They create floor plans in 3D from 2D images and CAD drawings.
They can create a 3D render of your design which gives clients a clear understanding of what they are getting.
They provide great detail such as metal finishes, fiber renders, wood, and virtually limitless textures and colors to create an object. This removes the need for actual physical assets and offers unlimited customization for clients.
They save time and expenses as they can be drawn up and rendered in a few days depending on the scope of the project. Using software to create assets means no need for on-site visits or purchasing and renting furniture or samples.
Many software brands have pre-made templates that have common objects. These can be used instantly to create entire rooms quickly and conveniently. 
Such software usually offers 360-degree views of the interior space, as well as create 3D walkthroughs. This makes it an interactive experience for clients who can visualize and sense what their design is like in real life.
It is clear that using software for room design is very helpful for interior designers. There are many options for interior designers that range from basic and free software, that can even be worked on in a browser and premium downloadable products. We take a look at what makes a good design software suitable and which are the best products in the market for room design.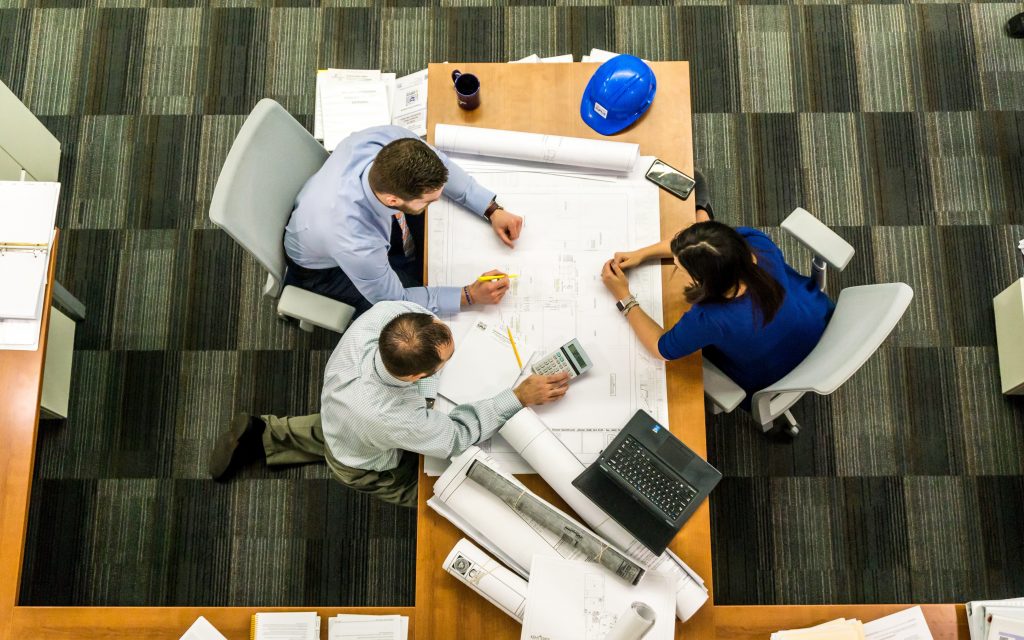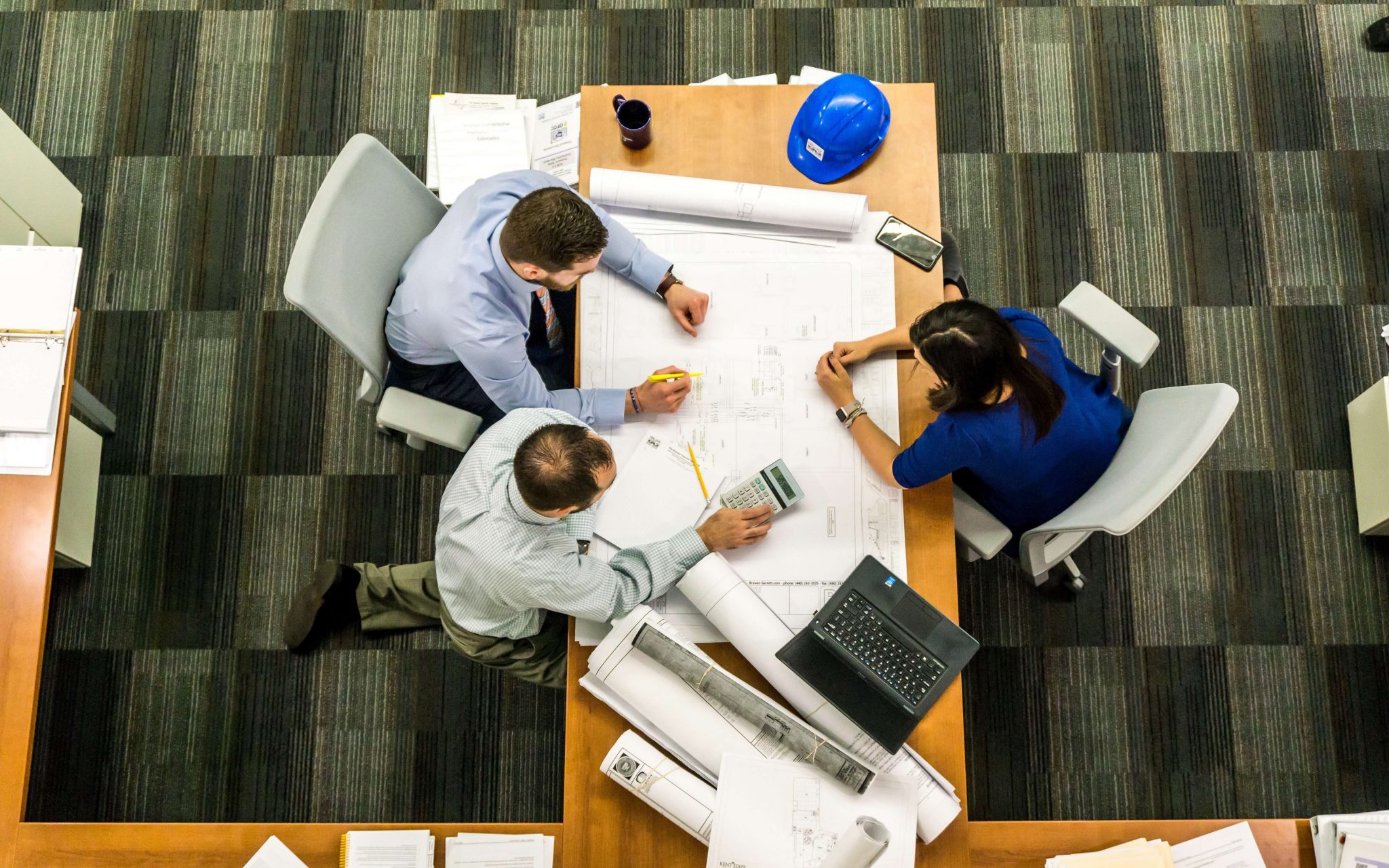 Image Credits: Pexel.Com
2. The Best Room Design Software
Some of the best room design software products are easy to use, yet offer wide functionality and customization. They work with other software and can easily import different file formats. Here are some of the top room design software products that cater to different requirements.
SketchUp: SketchUp by Google has all the features necessary to create room design and is also very user-friendly, especially for those who do not wish to spend a lot of time learning the ins and outs of complicated software. You can use it to create floor plans, add depth and dimensions, and use ready-made models of real products without having to start from scratch.
It can be used to make drawings to photorealistic images and includes cloud storage, 2D documentation and more. 
AutoCAD: Autodesk's AutoCAD architecture toolset can be used for room designing and interior design purposes. The toolset allows you to work on a single drawing and switching between changes or renovations avoiding errors caused by working with several drawings. It allows the creation of floor plans, doors, and windows with real-world attributes. It allows for meticulous designing and documentation and has a variety of options for creating material finishes over different elements of the room.
ActCAD: ActCAD Is frequently touted as an alternative to AutoCAD which offers complete 2D and 3D features and is a lightweight alternative to AutoCAD. It is versatile as it supports many file formats ranging from PDF to SVG and 3D SAT. It allows you to create realistic images of your designs using pre-set textures and fixtures. It has similar features and a familiar user interface that can be found in the expensive CAD options and offers quick learning solutions. It has a number of other features and even allows you to take 2D and 3D PDF exports. This is a useful and relatively inexpensive option for designers looks for software for s.
3ds Max: This software is more complex and offers far more realistic renders of materials and textures to create extremely photorealistic images and renders of your designs. 3ds Max is the software of choice for artistic renderings. It can be used for all  types of 3D modeling, and there are many appliance and furniture models that can be downloaded for free. It has lighting and texturizing options that help create realistic images. It is a truly professional software with multiple applications beyond room design.
Revit: Revit, which is also by Autodesk, has features for building information modeling and is useful for construction and architecture, as well as interior design and room designing. It works with common formats, has sharing and collaboration features, and supports a multidisciplinary creative and design process. It can be used for interior design and room planning, creating floor plans, annotations, and 2D documentation but also has wider applications in engineering and architecture.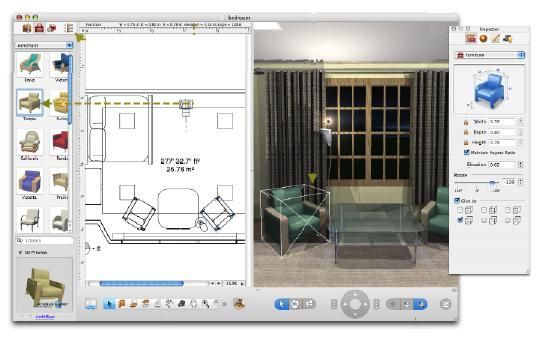 Image Credit: Pinterest.com
3. Selection Criteria
Depending on the normal scope and sizes of the projects you frequently undertake, one of the several options available to you is likely to be more helpful and suitable. There are many factors to be taken into consideration when choosing the best room design software for you. Consider these parameters before deciding which one to choose:
User-Interface and Intuitiveness: If you are working on room design projects with a limited need for heavy detail and realism, then working with a software that takes a relatively short time to learn is more suitable than taking a full-featured 3D software which has more functionalities than needed.
Budget: Many high-end and excellent software products for designing interiors can cost up to $2500 a year which is a considerable expense that can be worthwhile only when the projects require such a license. It is possible to find good quality tools that start at $99 or even for free but with more limited features. Hence, the budget and scope of work are important constraints to help choose the right products. 
4. Tutorials, Community Forums, and Support
Being able to resolve issues on one's own or with help from the community and the company's support is an important feature to determine to purchase the product. Good documentation and information availability that you will be able to handle is a huge advantage. 
Library: Many software products have downloads or libraries with several thousands of pre-made models, floor plans and templates that can be customized, developed, and used to create designs quickly. Picking a software with a large base of objects is an important feature for room design.
The right room design software brand can play a major role in how clients perceive your designs and build their trust, and give them a realistic expectation of what they will receive.
There are many products in the market that are useful time saving tips for interior designers who create room designs and work with other design features. They can choose simple products with basic features that carry out basic drawings and 3D renders for interior design at affordable rates, or opt for high-end and highly professional products that have more functionalities than they may need. Hence, choosing the best room design software is a fine balance between the budget, project requirements and designers' familiarity with complicated software.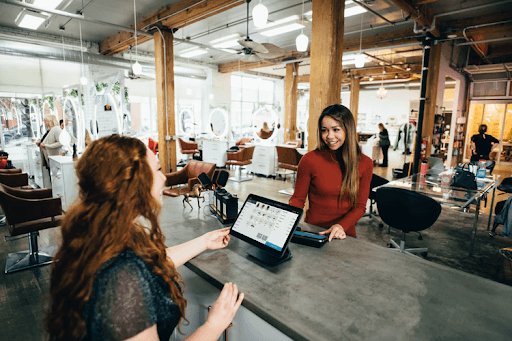 Image Credits: Unsplash.com
Click to rate this post!
[Total:

0

Average:

0

]