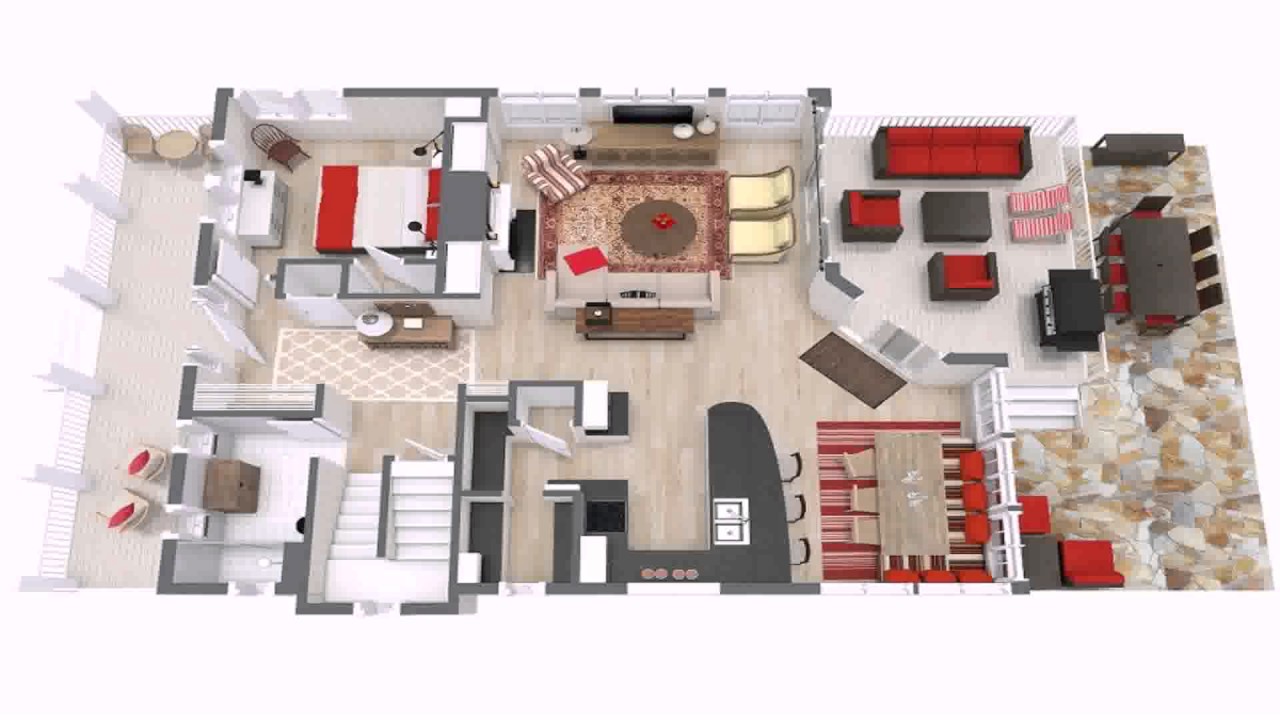 Image credit: matjarplay.com
Floor Plan Maker
There is no denying that floor plans illustrate how to layout certain areas effectively in terms of fixtures, furniture, and walls. It is the easiest way to see and evaluate how a particular place will look like after remodeling.
Typically, the floor plan makers specialize in creating precise and detailed designs for a house. 
Thanks to the advanced features of the floor plan creator that can conveniently create a 3D rendered model of accurate floor plans. It helps architects and designers get a realistic and concrete view of a space and its final look by using digital dimension lines and PNG /SVG image format. 
However, finding the best floor plan creator is easier said done. With so many options in hand, it often becomes overwhelming to find a free online floor plan creator that comprises the best features.
If you're an architect and looking for the best 3D floor plan creator to virtually visualize rooms of any shape, we have you covered here. 
The article includes a comprehensive overview of the ten best floor plan creators that can make precise floor plan services to help you make an informed decision.
Let's get started!
What is floor plan creator?
As mentioned above, there are many online floor plan creators that help architects and interior designers create 3D floor plans. The advanced floor plan plays a great role in shaping an image of a design idea in prospective clients' minds.
So how does 3D floor plan creator do that?
Typically, the best floor plan creator uses pre-made floor plan templates and floor plan examples, along with a wide variety of parameters that help architects draw a plan by implementing their ideas.
With the help of these templates, architects and designers can sketch floor plans without having to invest their whole lot of time and energy. The intuitive nature of the floor plan creator allows designers with little or no experience in 3D technology to determine the tools for floor planning.
But it doesn't end here; the advanced technology of floor plan creator enables people to enjoy 3D walkthroughs, along with 360-degree views. That means the virtual reality that comes out from an abstract idea makes a 2D and 3D floor plan stand out.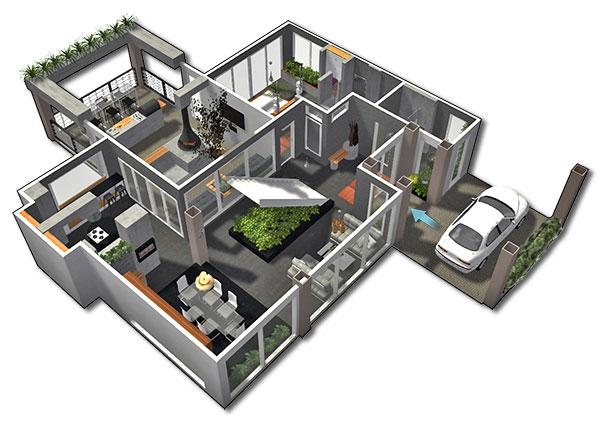 Image credit: home-designing.com
What are the Best Floor Plan Softwares?
Take a look at the list of the best floor plan creator.
1. Foyr Neo
2. Homebyme
3. Planner 5D
4. Roomle
5. RoomSketcher
6. SketchUp
7. Floor Planner
8. Lucid Chart
9. Home Styler
10. AutoCAD Architecture
Foyr Neo doesn't need an introduction when it comes to enlisting the best floor plan creator. It enables designers in the automatic calculation of room to create impeccable floor plan designs. The features of this software are incredibly easy, as you can draw the floor plan from scratch.
It is compatible with sketch apps that can send Bluetooth laser meters and values to an Android smartphone and mobile devices.  It makes your app purchases worth it and gives you enough room to create a perfect house plan or home design. 
All you need is to add the description and details of walls, doors, and windows and let Neo do its work. The 3D button will take your client on the digital tour and show them their home or office's future look.
With Neo, you can begin with 14-day free trials to understand the features and make the most of them. Once you know how it works, you can start with the basic package that costs only $49 a month.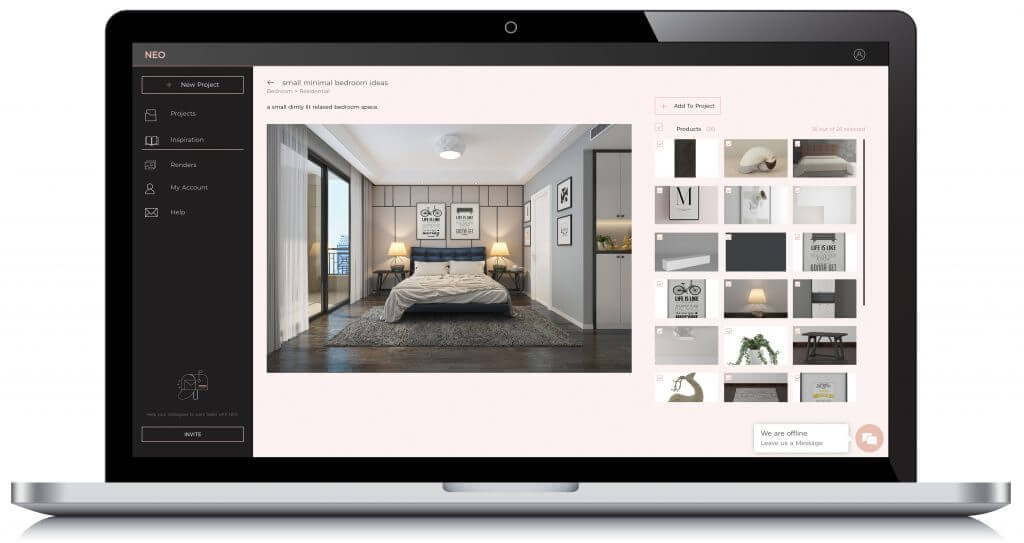 Homebyme depicts itself as a 3D-planning tool with a free version (for the first three projects). It works with its own community where designers and builders can discuss their projects with other architects. Using cloud synchronization, it allows you to share projects in the gallery to offer some inspiration to others.
Like other floor plan creator, you can explore the features of this software on its website. It helps you find out its tools and working pattern. The floor plan creator creates a virtual version of a design before a buyer takes a remodeling decision.
In short, with this software, you can easily create a detailed floor plan and see various decoration elements and new furniture styles.
Planner 5D is a floor plan software that aims at non-professionals and designers who want to make detailed interior design and home plans. It is also compatible with Bluetooth laser measuring device like CEM ILDM-150 and stabile LD 250 bt to give you superior performance for the counts of symbols.
However, if you're a beginner, you may find this software difficult to manage due to its high definition rendering and catalog access.
The basic version of the software is free, but you have to pay for the full catalog of items. You can purchase the app.
Roomle is another great choice when it comes to buying free floor plan software. It is best for office managers and homeowners to layout floor plans, especially with decoration and furnishings. The software is an excellent option to help clients visualize the space. It can modify spaces and objects to make them more customized.
Like Planner 5D, the basic version of this floor plan software is free. However, the company directly quotes you the price of Roomle's business version.
RoomSketcher is the first choice of many real estate agents to create, print, and show floor plans to wow their customers. Its detailed 3D walkthroughs and designs are ideal for demonstrating the features of a property.  It can work with GLM floor plan app and compatible with all Google devices. 
If you don't want to draw a floor plan with this software, upload a blueprint and let its expert illustrator draw it for you.
The free version of Roomsketcher is available for basic designs, but you need to pay $49 to design 2D and 3D floor plans.
Template usage is the key feature of this floor plan creator. 
It is a perfect choice for documentation, design ideas, and RFIs. Plus, it is easy to learn but won't give you a high computer-aided model. The software is not free and can cost you $695.
It is an online floor plan creator that most of the real estate agents use to create to give a quick overview of a property to their clients. Floorplanner allows you to play with the creative tools and go into the complexity to customize the plan the way you want. It is compatible with laser tools like Leica Disto, Hersch Lem, MAC PD-I, and Hilti PD. 
The pricing plan has different tiers, such as its basis is free for a one-floor plan but charges you $4.99 for other projects. You can buy an annual package that costs you $14.99 to $2.99 and offers five projects.
This is a collaborative design creating software that comes with a floor plan creator. With this floor plan creator, you can make and share designs with clients and colleagues. If you know how to make the most of its collaborative element, it is the best floor plan creator for you.
The browser-based tool comprises of some standard set of features and enables you to draw floor plans online. Annotation functionality and documentation for interior spaces are what make the software different. Plus, it boasts a broad database (walls, windows and doors, furniture, etc.) to draw realistic renders. The software is free and makes the best choice if you have a low budget.
AutoCAD Architecture is an incredibly purpose-built tool to help designers and professionals render practical objects into floor plans. The software uses DXF file to enable designers use data interoperability between other programs. The drawing exchange format creates short designs of interior of your house.
It does have a free trial, but you have to buy a yearly package in $119.4
What Is the Best Free floor plan software?
Although all floor plan creator mentioned above comprises exceptional features, Foyr Neo and Homebyme take the lead. The extraordinary features of these two-floor plan software allow you to create the best virtual versions of a space. They have a drag and drop interface that works for almost all browsers.
What do Floor Plan Creator Do Architects use?
Foyr Neo and Homebyme are geared towards professional use. They entail strong integration capabilities and are the best-in-class floor plan software. That is why many architects rely on this two software to give their clients an ideal 3D digital tour.
What Floor Plan Creator Do Designers Use
Interestingly, the answer is the same here. Foyr Neo and Homebyme are the primary choices of designers like many architects.
Foyr Neo, of course, is our top choice when it comes to enumerating the best floor plan software. It is useful, inexpensive, and allows you to create impeccable architectural designs. The multifunctional tool incorporates excellent integration capabilities that enhance its functions to create a realistic experience for the clients. Easy-to-draw floor plans and aligned components can help you modify your projects in no time. With Foyr Neo, you can upload pre-made floor plans and trace over the walls.
The floor plan creator offers many templates for inspiration to help novice designers and architects start from scratch.
Click to rate this post!
[Total:

0

Average:

0

]