Home » Design Software & Tools » 20 Best Home Design Apps for Homeowners and Designers
Home Design Apps allow you to experiment with and create possibilities for future improvements in your current environment. There are home apps for shopping for decor, calculating, building mood boards, and just having fun, and these are some of the most beginner-friendly we've found.
Although the use of digital data consumes more than 60 percent of our time, reducing our memory span and allowing us to create house design or interior design easier, quicker and more effectively (whether it be a home or a stock of knowledge) it is little to no wonder that there have been many new applications to facilitate the 'DIY' approach. Home design apps are typical 'applications' on an android or IOS and enable you to predict how your home can perform upgrades, interiors or simply an alternative coat of paint.
Most applications are shockingly through and encourage you to import and transfer your furniture and take pictures of each room and visualize the next home decorating.
Others may provide extensive floor plans and 3D modeling from their collection for interior perspectives, and many others. If it is a portal to creativity or imagination, applications are really only as effective as the consumer, so it is often helpful with first and primarily ask yourself a few questions: Architectural style or design of the interior? Inspiration or refurbishment? Planned house or just a simple 2D floor plan?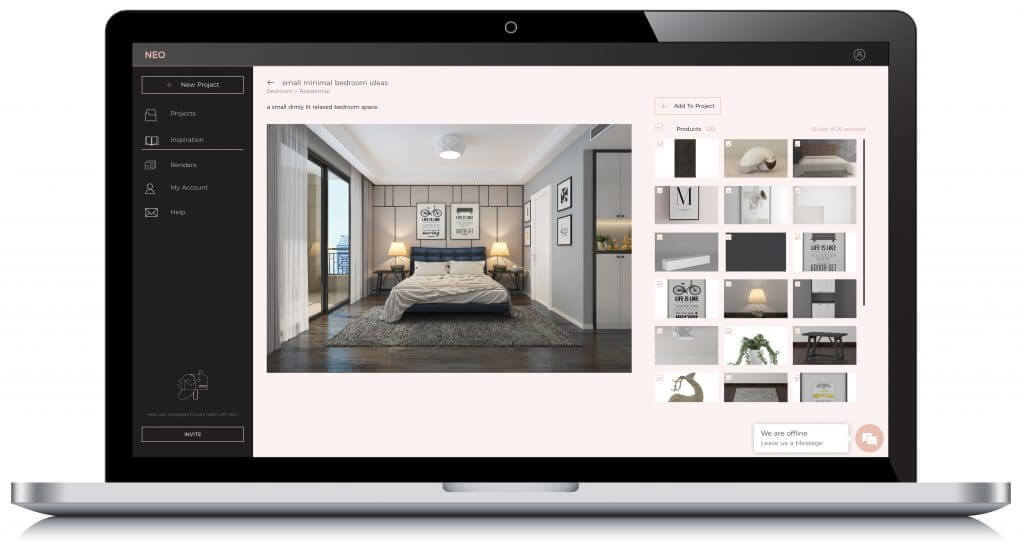 Which is the best home design app for smartphones?
Here is a list of the 10 best home design app that designers use in 2021:
Havenly
HomeStyler
RoomPlanner By Ikea
Houzz
MagicPlan
Planner 5D
Room Scan Pro
Rooomy
Charish
Decaso
Which is the best home design app for computers?
It can be interesting and exciting to create a house from the initial concept, but it can also be scary. However, with today's technology, it's a homeowners dream come true not only in their toolbox, so they have to work with every home improvement project; the software. Anyway, apps will provide ideas for architecture, budgeting, construction calculation, DIY training, redesign concepts and much more. They also allow you to save time and reduce costs and work more effectively. Here is an overview of the best applications to launch your next interior design project and to make your mobile the best tool in your kit. Get excited, schedule and create today!
Here is a list of the 10 best home design app for professionals in 2021:
Sketchup
Foyr Neo
Floorplanner
HouzzPro
SmartDraw
HomebyMe
3DS Max
Revit
AutoCAD
Ivy
Talk to a designer from Havenly and get design tips, get an informative shopping list, choose the décor. A consultancy package and upgrading to custom design systems cost $79. There would be advantages and disadvantages for any service, but Havenly is well worth trying if you want a budget-friendly way to build your house. In order to deal with any issues prior to development, we suggest that you contact their customer service center.
Interior design app for iOS
App is Free design package upgrade is 79$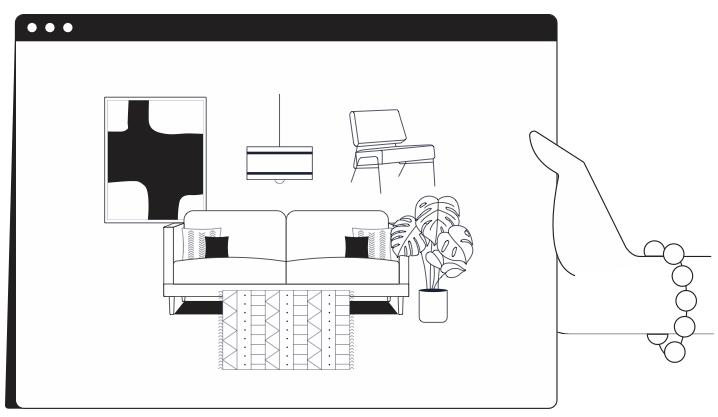 Image Credits : https://havenly.com/interior-design-services
Homestyler seems to be one of the few free apps that can help you achieve your dream come true to be an interior designer among all the interior design applications and games. Build your own concept projects for do-it-yourself (DIY). Save them and share them with friends, relatives and home staff. Autodesk, the author of AutoCAD, is famous for its specialist design programs for home designers. The software has also been developed This user-oriented programme, like most technical programmes the organization provides, does not require rigorous instruction. Simple drag-and-drop functionality allows you to build your own floor plans and templates in real life. The 3D floor designer and 3D space creator software from Homestyler are ideal for inexperienced virtual room layout remodels.
The tool for furnishing and decorating helps you to select cabinets, appliances, furnishings and almost every piece of decor you might think about. Then configure your room and finish products from multiple suppliers with area tapestries. You should print it out when the design is done.
The App is Free with an Apple Store rating of 4.5 stars and Google Play Store with 3.9 stars.
On the App Store or Google Play, download Homestyler.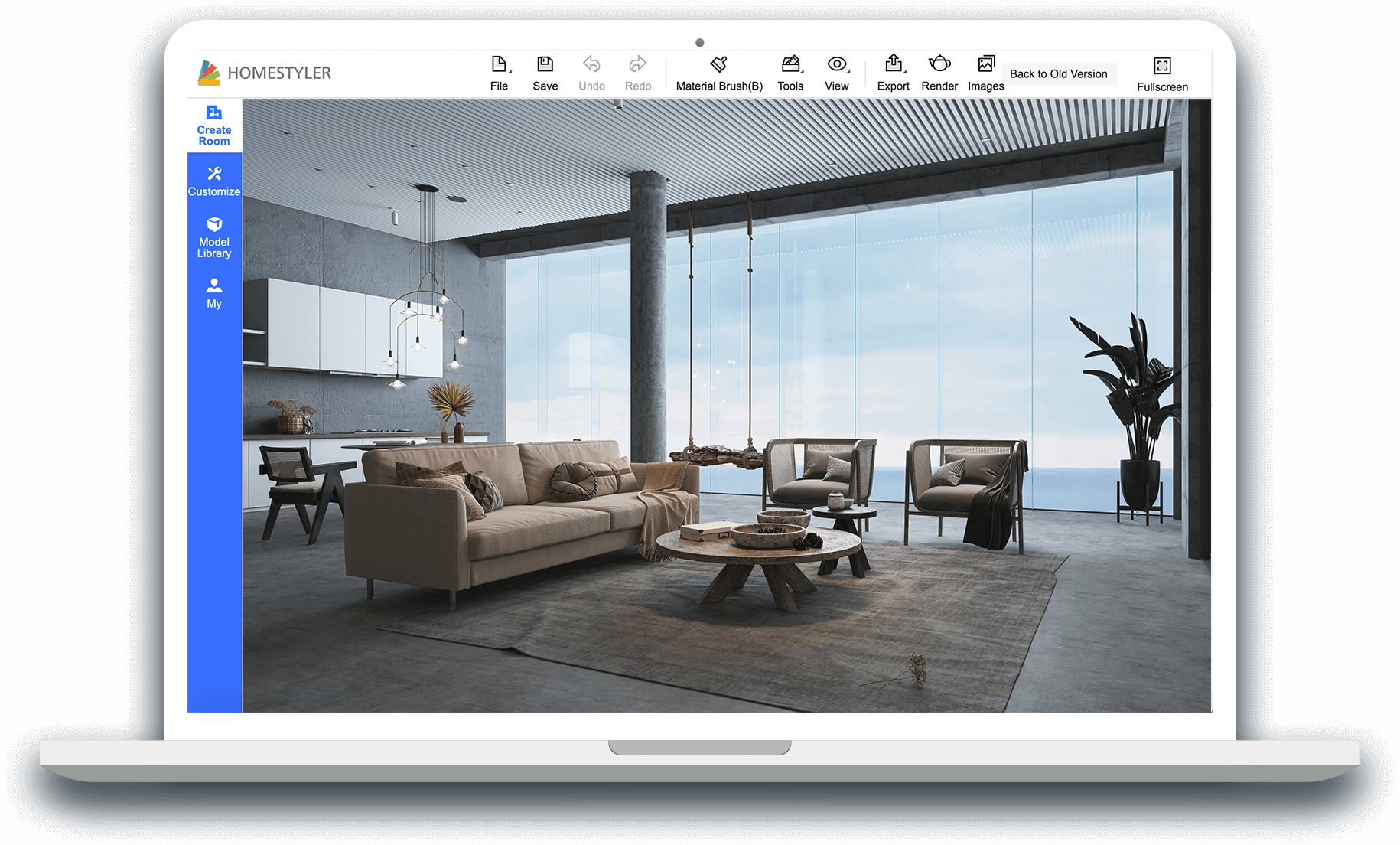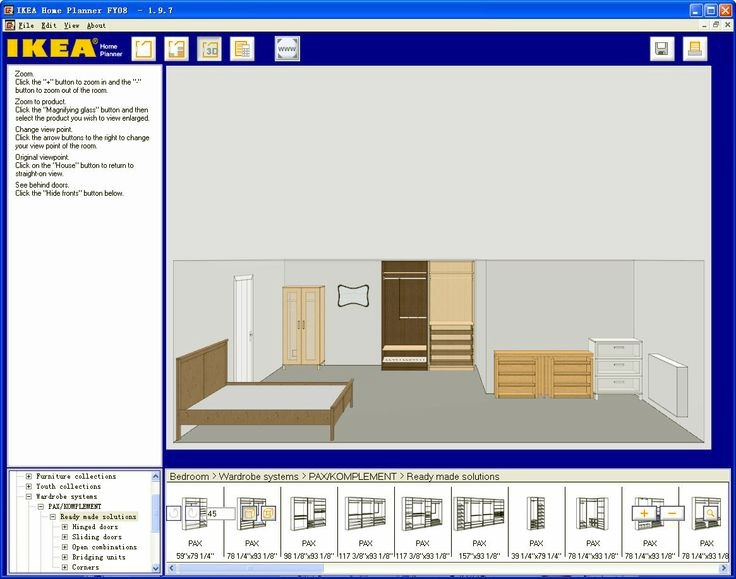 Our most liked local furniture store has a concept app with your own built-in interior design. IKEA Home Planner is an application built on the web that helps you to the user-friendly configuration of your own layout. It needs to be remembered it is not suitable as it has few features for experienced interior designers. That being said, it would be very fun to use newbies and ordinary homeowner or home improvement professionals. All you have to do is add the room size, the walls and floors and choose from your gallery what you want.
You should specify a wishlist for your new room if you like the home decor design you made. Space resources also include a futuristic virtual kitchen calendar, a master bedroom planner, a bath planner and space plans for storage areas. The software is super easy, convenient to use, free and can benefit you greatly when you set your room redecorating budget.
The app is free for both Android and IOS
Houzz is an excellent reference service that offers inspirational concepts. The application is a moodboard and referral service rather than a designer product.
With creativity, all the great aspirations begin, and therefore you cannot get enough of it when you're about to make it. Houzz has a wide archive of design designs, new projects and products ratings, and is your interior design tool on the go. The software is free, simple to use and well built for creating and examining various spaces. In addition to that, Houzz offers you the chance to see professionals from your field, such as designers, architects and distributors, for your project to finish.
Free for Android and iOS.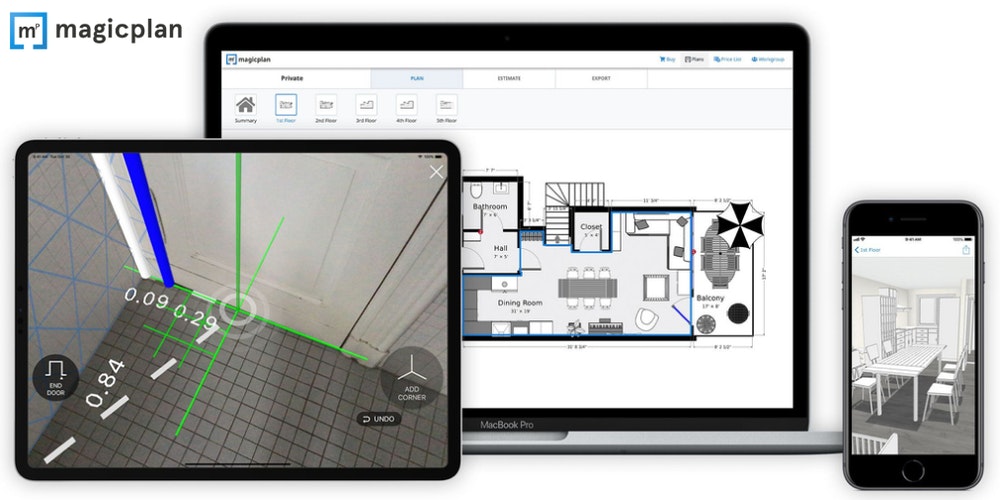 MagicPlan is an iOS and Android room design application that makes floor plans for images that are scanned by users. This makes the architecture of a space a snap with "no measurement or drawing." For the latest floor plans, it is the right application. It isn't as comprehensive as advanced applications in its designs, you might think, but is helpful for developing a fast interior design for a beginner space builder. Without calculation or drawing, users can build planes with dimensions using their smartphone camera and GPS. The program calculates the space by means of joint images creating a 3D floor plan and automatically measuring the materials. Boards of floors can be changed and other functional features like plumbing, electrical appliances, etc can be introduced. You always have everything to calculate, so it's just a rough guide. Watch the tutorials to get more info.
Free (two programs first), $9.99/million.
4.7 stars on the GooglePlay and 4.4 stars On the App Store
Download Both Android and IOS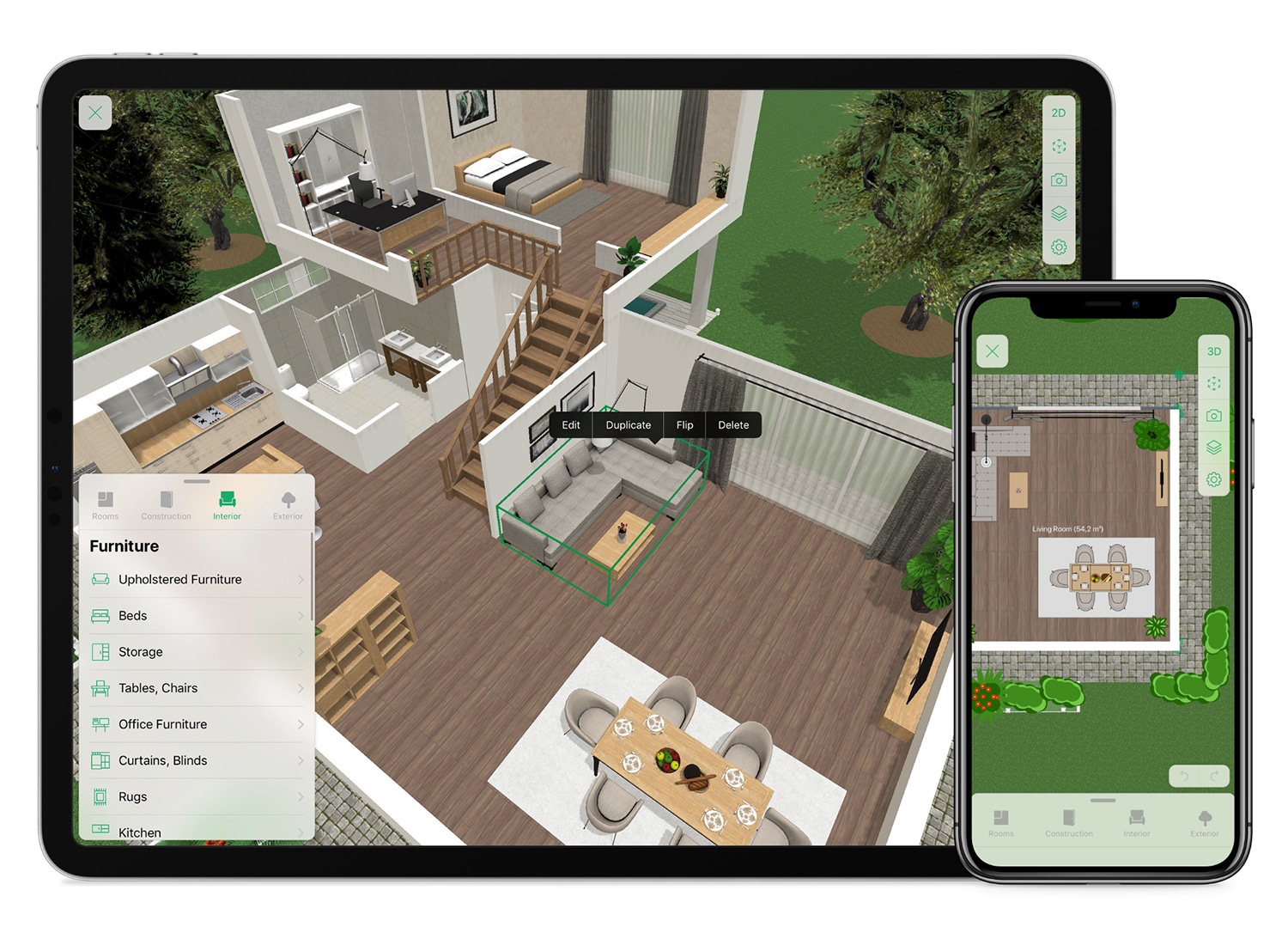 Planner 5D is the largest free room architecture application in the industry. Simple spaces, with walls, staircase and doors, down into simpler and detailed design ideas architectural specifications. Do not stay inside; this room software will also allow you to create environments and pools – both of which feature spectacular 3D graphics.
Through your gallery, you will even get ideas. Explore fresh and trendy concepts from other designers in the interactive space. Planer 5D is user-friendly, makes the 2D and 3D view of templates, offers personalized textures, fabrics and editing of posts, has a +4000 object catalog and is available for uploading and customizing projects within a network.  If you want the whole collection to be opened, you'll have to pay.
The App Store and the Google Play Store with 4.3 stars each.
Free for The iOS, Mac, Android, Windows and web home design and interior design program for both decorators and designers both.
RoomScan utilizes the integrated iPhone software to monitor wall heights, angles, lengths and backgrounds. Tap your phone into each neighboring wall and, apparently magical, once you are across the building, the app instantly creates a floor plan. With "touching walls," RoomScan Pro produces quick layouts of the floor, 3D plan with planning processes and manually drawing. It also provides other functions such as enhanced realities scans and ExteriorScan & PlotScan can scan external houses, yard and gardens.
Only IOs users
iOS – Free trial for home design and interior design. Once the trial is over, you have to pay.
It's your house if you want to stop pangs of guilt at all levels. They're costly, difficult to restore, and, most critically, it's that you'll be wasting the rest of the time. So the people at LOFT have built an app to help ensure that you get it right — meet Rooomy, the immersive staging tool for real estate. Rooomy is taking home architecture into the twenty-first century in augmented reality in a big way, thanks to the VR boom that is shaking the tech world. You can now translate 2D images or scans into 3D versions using the latest iPhone app (previously only available on the iPad), giving you a greater understanding of what it would be like to really decorate or inhabit a room.
Free for Apple users only.
Only iPhone Ipad.
Chairish is an app for the purchasing of new and old furniture. About any product that has a demand. You might, for instance, market high-value antique items or pre-loved products that you designed and made. If you expect to sell less than 10 products a month, the Chairish list will be free and this selling app takes 30% of your selling costs. You must however agree to a loyalty subscription if you wish to list over ten products per month. Pay memberships give the customers extra perks, such as accelerated billing and advertised listings. Chairish proposes you include delivery costs in the appraised value, contrary to certain applications that enable you to make money. You may wish to list big objects only as a pick-up. Chairish waits 48 hours after a customer collects your item to permit returns. If the customer doesn't make a return, you can collect the money from Paypal.
Free and Paid membership for more features
On: iOS Download only
10. Decaso
DECASO offers an extremely refined range of very outstanding products of real brands from the most recognized distributors around the world. Customers are encouraged to contact our specialist dealers for inquiries and purchases immediately.  Over 25,000 products selected. Shop new products added regularly — Review your own personal items with "View in your room" and post photos for reviews from customers, friends and relatives. To try searching for, filter by paint, type, style and design. Automatically connect to distributors and buy replies – See beautiful bright pictures and see product details like with heart the ones you favorite. You can also view the history of the app.
Only iPhone iPad download.
The Best Home Decorating apps for Mac and Windows
11. Sketchup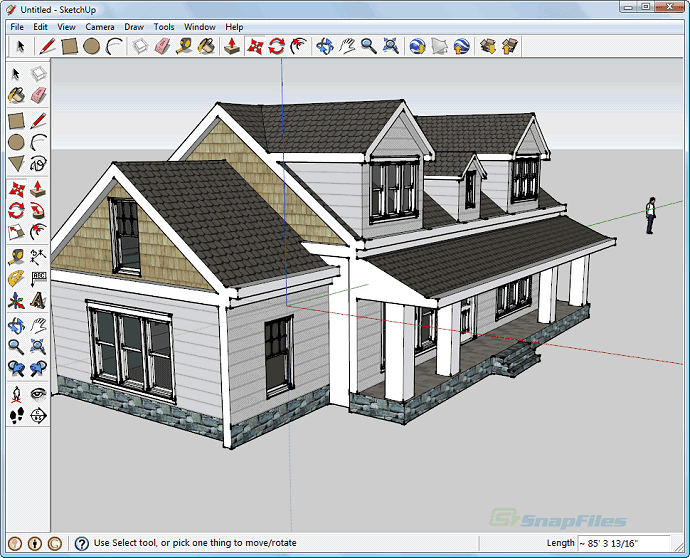 Sketchup
Simple to understand, #1 3D tools for AR / VR returns are made undetectable, you can draw the designs manually and make it reasonably cost-effective for a valued industry-wealth software.  For people who only build a house for their imagination, it may be the costliest imagination – $440 per year. Does it deserve to be? Totally.
This app is the same power as a drawing that shows your feelings. It is a device of 3D indoor architecture in two ways. Its free edition is unlimited, creative and enables you to play indefinitely. It is ideal for a homestyle artist. Its edition is suitable for architects, interior design engineers or builders. However, you must pay a monthly fee by using the premium features. The cost for a subscription for newcomers is $10 monthly as the design materials are reduced, but for advanced sketches, the cost is increasing to $1199 a year. It's a common program for design but costly.
iOS, macOS, and Windows download
Costly $1199 per year
12. Foyr Neo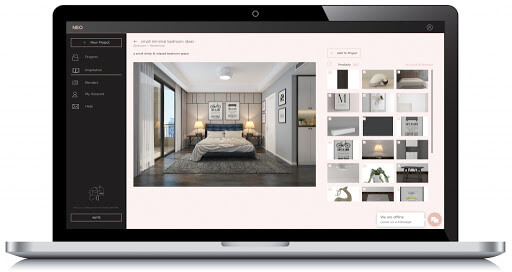 Flawlessly build floor plans. Start in 2D to sketch the space walls or just upload a floor plan and follow the contour. Then instantly switch to 3D to add more information and make the room more believable.
Best tools to turn your visions into photo realization within minutes, from 2D plans to 3D prototypes.
A Neo membership is provided with a library of more than 50,000 pre-3D models. Drag and drop the adjustable objects directly into your project or add them to the checklist. For infinite modeling, you can even create your own 3D models. quick ly and efficiently make gorgeous interior designs. Neo also contains a variety of pre-fabricated furniture styles, bathrooms, workplaces and much more, internationally assembled. AI model is never seen before. Also, Get great quality no-time renderers
Works only on desktops and laptops with Mac or Windows on Google Chrome browser
Free Trial then pay $49 monthly
13. Floorplanner
The best way to make floor plans is by floor planner. You can render 2D blueprints and 3D (inside) photographs in just moments utilizing our free online editor.
A standard account is free of charge. You need to update to payable version to take the design to a higher design stage to want clearer photographs or to use any of the more sophisticated functionality that the floor planner has. Floorplanner provides you with fast software for magnificent floor plans. Floorplanner has the best resources for you whether you are entering a new home, preparing a marriage or restructuring your living room. With Floorplanner your house, garden or office can be recreated in a few taps and you can equip your plans with our large item library.
Both android and apple users
Free version and paid
14. HouzzPro
Houzz Pro is a program for high-quality architecture, all in one tool. It allows you to watch and demonstrate the development of your design arrangements. You will have the possibility of receiving payments online. However, Houzz is working on a $59 to $99 payment package a month. It is simple to decipher, but it is expensive because all the requisite functionality is provided. For newcomers, Houzz can be expensive but effective for an indoor architecture company. The professions that exclude them from hobbyists are suitable. Account and folder listing creation are easy, but you have to pay for more functions.
Houzz announces that he will launch Houzz Pro, a suite of tech tools that will enable design and refurbishment professionals to handle their design and development companies. The pro calendar incorporates a planning feature in Houzz Pro, enabling to schedule customer meetings and potential buyers.
Both IOS and Android
Paid and free versions
15. SmartDraw
Inclusive mission maps, schedules, publicity charts and flowcharts Smartdraw is a suite of digital graphics and presentations systems. A function for designing floor plans and independent space plans is included in the flow chart program. You can design office spaces, apartments, single rooms and even residential altitudes or elevations using SmartDraw.
SmartDraw fits well with people and companies who do not choose to use tools for architecture. This tech room concept has free trial time and you can buy the whole package if you're pleased. SmartDraw provides a nearly endless range of mobilizers, vehicles, construction equipment and preinstalled plans.
Cost: Free to try. $9.95/mo. or $297 for a single license.
16. HomebyMe
HomeByMe is a room design application built on the Internet. Start 2D and start building your rooms, furnishings and decorations from the scratch. If you are able, turn it into 3D, so you can see the walls and look in the interior design you have designed.
HomeByMe is a completely free app that helps you to begin creating your rooms in 2D and create them in the base up and out with the latest furnishings and decorations.
You can update the software on your PC or tablet without having to create an account, even though you'll have to make an account if you want to save your data or share it with someone.
Your 2d drawing switches to 3D as you start inserting furniture.
Cost: Try free. The full edition is available for $14.99.
17. 3DS Max
HomeByMe is a room design application built on the Internet. Start 2D and start building your rooms, furnishings and decorations from the scratch. If you are able, turn it into 3D, so you can see the walls and look in the interior design you have designed.
HomeByMe is a completely free app that helps you to begin creating your rooms in 2D and create them in the base up and out with the latest furnishings and decorations.
You can update the software on your PC or tablet without having to create an account, even though you'll have to make an account if you want to save your data or share it with someone.
Your 2d drawing switches to 3D as you start inserting furniture.
Cost: Try free. The full edition is available for $14.99.
18. Revit
It is appropriate for patterns and concepts in interior design. If you're an interior design practitioner who needs experience with CAM and CAD design materials, this is yours. It helps you please our customers and win this concert for which you worked hard. It's pretty costly, but with added value. Its membership starts at $200 a month and allows you to make 3D images of high quality. You may, indeed, partner and register for $325 a month with your mates. It is ideal to collaborate with teams because the architecture program includes BIM and design principles. They are very complex. It is free for 30 days, so you must pay for your subscription afterwards.
Revit is a software application for architectural architecture and documents used by structural engineers and architects to design and model buildings. Earlier, a large number of countries found that BIM was superior to CAD because the model was precise and produced rapidly.
19. AutoCAD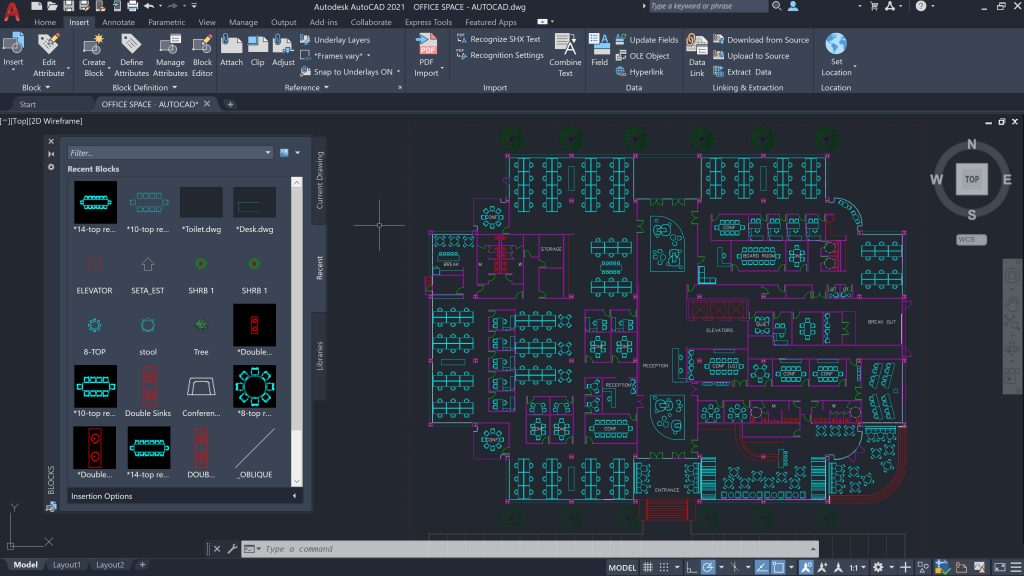 AutoCAD is a software of 2-D, 3-D, and draft computer-aided programming (CAD). AutoCAD was designed and distributed by Autodesk Inc. and became one of the first CAD systems for computers.
The monthly subscription price for AutoCAD is $210 and the annual AutoCAD is $1690. 2D and 3D CAD programming.
IOS and Android Autodesk games.
Best All-in-one Interior Design Software for Mac and Windows: Foyr Neo
The software is very straightforward and anyone involved in the design will use it from afar. Creation technology is pretty sleek and supports 3D image, 3D vision, room architecture, material selection and shades for building construction and painting, space planning and so on.
For designers, homeowners and property buyers who want properties modified, this modeling app is a big support. A team of professional designers can make the most astonishing interior design with a variety of powerful design resources available.
It is the finest app for interior design on the market, recognised for its simpler learning curve. It helps you to get to know the features for 14 days, as it will give 14-day free trial and the membership amounts to only $49 a month. Consequently, it is money over the long term for beginners, you need no CAD or CAM expertise. Your value for cash is assured with its cloud storage platform and low-cost accessibility and built-in 3D models.
The way interior designers work is changed by Ivy. Through leveraging technologies to automate the motions of an interior design team, interior designers may devote more time in design. Our objective is to remove the industry's stress and difficulty. Ivy is an enterprise tool for creators of logistical duties. Manage in one location ventures, records, fees, customers. The mobile app from Ivy lets you handle many tasks, regardless of where you are. Source materials, perform projects, monitor time & costs, and calculate rooms in real-time.
Click to rate this post!
[Total:

0

Average:

0

]