In the ever-changing world of interior design, keeping up and using new technologies is crucial. As client expectations evolve, interior designers need tools that make their work easier, help manage projects better, and bring their ideas to life accurately. That's where home design apps come in, changing how designers approach house interior design. In this article, we'll introduce you to the top six home design apps that interior designers rely on in 2023.
Interior designers face many challenges, from planning layouts to picking colors and furniture. Home design apps serve as their companions offering advanced features and simple interfaces that make every step of the design process easier. But before we dive into these apps, let's talk about why they matter and what they can do for designers.
Benefits of Using a Home Design App
The benefits of using a home design app as a professional, beginner or even a DIYer are plenty. Let's look at some of them in detail. 
Design inspiration: Most home design apps have a collection of past designs made by some of the most seasoned designers that you can take inspiration from. These apps also have 3D renderings of design elements that can spark your creativity and help you bring a fresh perspective to your project. 
Precision and realism: Home design apps allow designers to create highly detailed and realistic 3D models of their designs. This allows clients to visualize their future homes in great detail, before any work has been done.
Efficiency: Home design apps can save designers a significant amount of time and effort. Tasks that would once have been done manually, such as measuring spaces and creating floor plans, can now be automated.
Collaboration: Home design apps facilitate collaboration between team members as well as client-designer collaboration. Clients can collaborate with designers in real-time and provide suggestions for a desired outcome.
Experimentation: Home design apps allow designers to experiment with different design ideas. Designers can play with different color combinations and add design elements to their heart's content without making any irreversible changes to the home. The result is an innovative design that delights clients.
6 Best Home Design Apps for House Interior Design
1. Foyr Neo
Foyr Neo stands tall as a powerful and innovative home design solution, captivating interior designers with its exceptional features and user-friendly interface. While not an app, it's practically more convenient than the other applications listed below owing to its unrivaled ease of use and complete online operability. It doesn't require a high-end mobile or tablet device to function optimally. All you need is a stable internet connection and you can breeze through high-performance design tasks even more seamlessly than a mobile app.
Foyr Neo is designed to streamline the design process, enhance visualization capabilities, and bring design visions to life with remarkable precision. Compatible with both Windows and Mac platforms, Foyr Neo offers a comprehensive suite of tools that cater to the needs of professionals in the interior design industry. One of the standout features of Foyr Neo is its ability to create immersive 3D visualizations. With its advanced rendering capabilities, interior designers can transform their 2D floor plans into stunning 3D models, breathing life into their designs. This allows clients to experience the space in a realistic and interactive manner, enabling better decision-making and ensuring that the final result aligns with their expectations.
Moreover, Foyr Neo boasts an extensive library of furniture, decor items, and materials, empowering designers to experiment with various design elements and create captivating interiors. From sleek and modern to traditional and eclectic, the solution offers a wide range of options to suit diverse design styles and preferences. Designers can seamlessly integrate these elements into their virtual designs, visualizing the impact they will have on the overall aesthetic.
As for pricing, Foyr Neo offers flexible subscription plans tailored to different needs. The tool provides options for individual designers as well as larger design firms, ensuring scalability and cost-effectiveness. By offering tiered pricing plans, Foyr Neo aims to accommodate designers of all levels, from freelancers to established design agencies.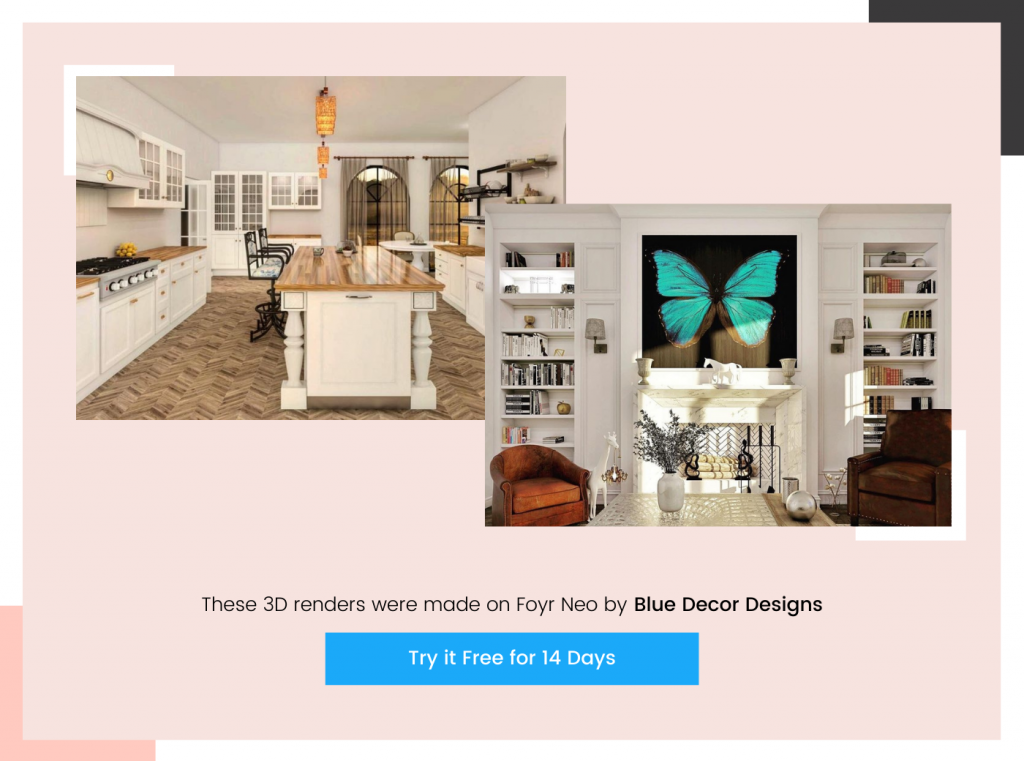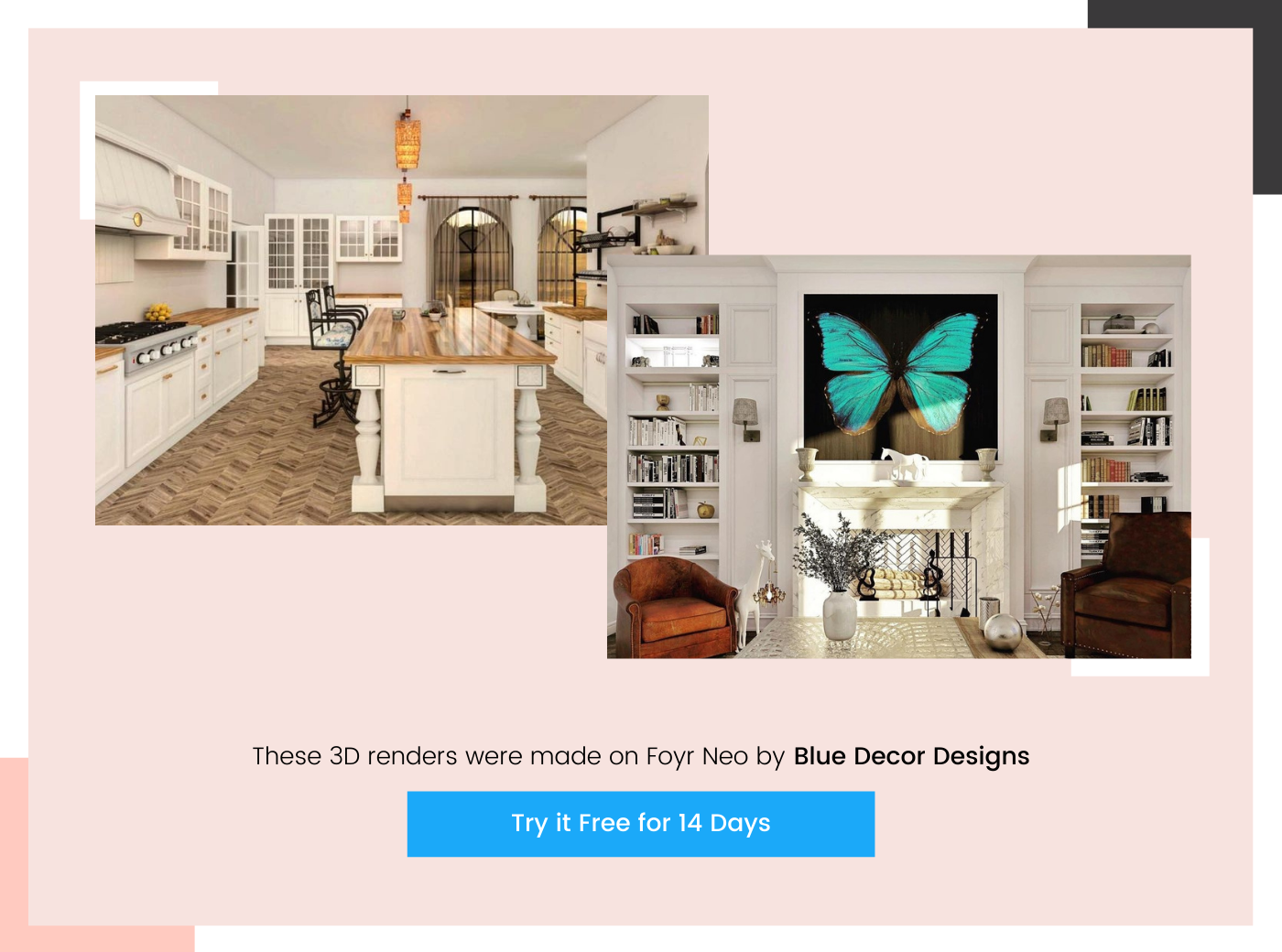 Highlighted features –
Powerful and versatile solution with a wide range of features.

Easy to create 3D renderings, augmented reality views and 4K walkthroughs

A great resource for interior design inspiration.
Available on: Web-Based Tool
Cost: 14 Days Free Trial
2. Room Planner
If you're an interior designer or a homeowner looking to transform a space, the Room Planner application simplifies the interior design process, saving you time and effort while delivering exceptional results. With Room Planner, you can:
Visualize your design concepts with remarkable realism.

Elevate your projects with furniture from renowned global brands.

Customize every detail, from wall colors to furniture arrangement.

Collaborate seamlessly with clients, partners, or colleagues.

Showcase your portfolio with pride.
Begin with a pre-designed project or an empty canvas, effortlessly make changes, explore various angles, and create stunning, lifelike snapshots that bring your vision to life. Room Planner is a home design app that caters to a wide array of design themes, encompassing living spaces, bedrooms, kitchens, and bathrooms.
Room Planner offers a free version with limited features. There are in-app weekly, monthly and yearly subscriptions that you can choose from for more features. The PRO version is priced at $5.99 weekly or $14.99 monthly and offers extensive features such as access to more online stores and a wider range of furniture and flooring color options.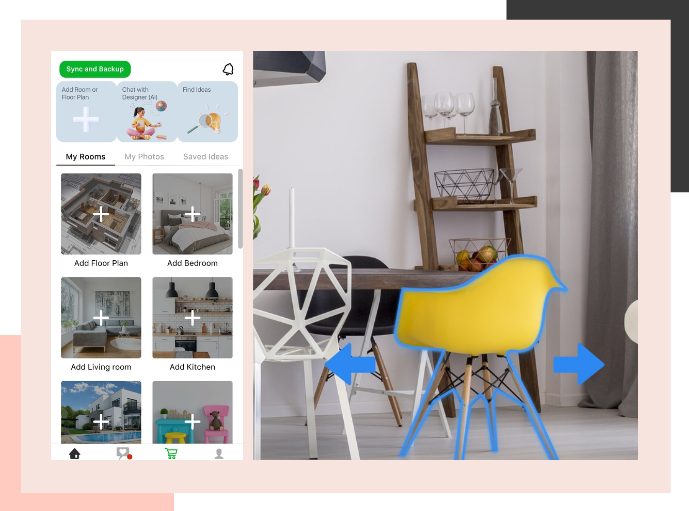 Highlighted features – 
Extensive furniture catalog (5000 products)

3Ds Max export capability.

Unlimited project space.
Available on: App Store, Google Play Store
Rating: 4.6 in IOS and 4.5 in Android
Cost: Free Download, Contains In-App Purchases
3. Houzz
Houzz is a highly acclaimed and comprehensive home design app that has revolutionized the way homeowners and professionals approach interior design. With its expansive range of features and resources, Houzz offers a one-stop platform for design inspiration, product discovery, and professional services.
Beyond serving as an endless source of design inspiration, Houzz goes the extra mile by integrating an e-commerce marketplace. Users can discover and purchase a vast array of products, ranging from furniture and decor items to fixtures and finishes. This seamless shopping experience eliminates the hassle of scouring multiple websites or physical stores, allowing users to easily find the perfect pieces to bring their design visions to life.
Pricing for Houzz varies depending on the services and features users wish to access. The app itself is free to download and use, granting access to the vast design inspiration library. However, additional services such as the Houzz Pro platform for professionals or premium features may have associated costs. Users can explore the Houzz website or app for specific pricing details tailored to their individual needs and requirements.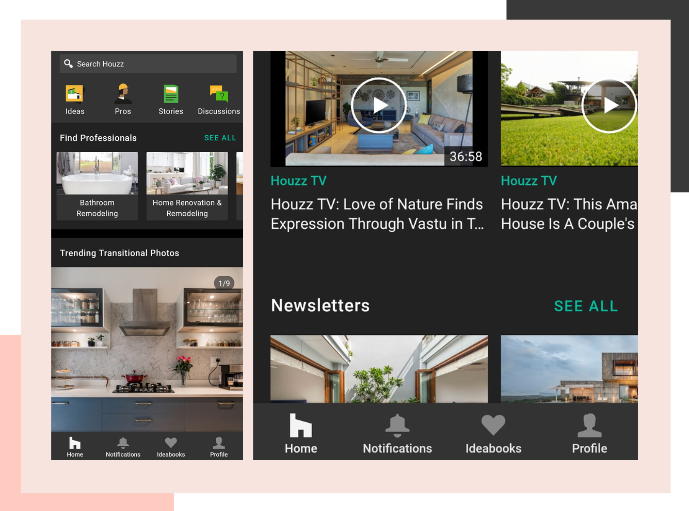 Highlighted features – 
Massive database of home design ideas, products, and professionals.

Easy to browse and search for inspiration.

Connect with local designers and contractors.
Available on: App Store, Google Play Store
Rating: 4.8 in IOS and 4.4 in Android
Cost: Free Download, Contains In-App Purchases
4. Planner 5D
Planner 5D emerges as an innovative and user-friendly home design app, empowering both homeowners and professionals to craft captivating and personalized interior designs. With its instinctive interface and an extensive range of features, Planner 5D democratizes the design process, ensuring that users of all skill levels can enjoy its benefits.
A remarkable feature of Planner 5D is its robust 3D design capabilities. In a few simple steps, users can manifest their ideas and visualize their concepts through realistic 3D renderings. The app encompasses an extensive library of furniture, decor items, materials, and textures, enabling users to customize every aspect and create their envisioned space.
Planner 5D provides both free and premium alternatives. The free version offers access to core design functionalities and a limited catalog of items. For those seeking advanced features and a wider selection of items, a premium subscription is available at $9.99 per month. With the premium subscription, users can unlock an array of additional elements, features, and catalog choices, taking their designs to new heights.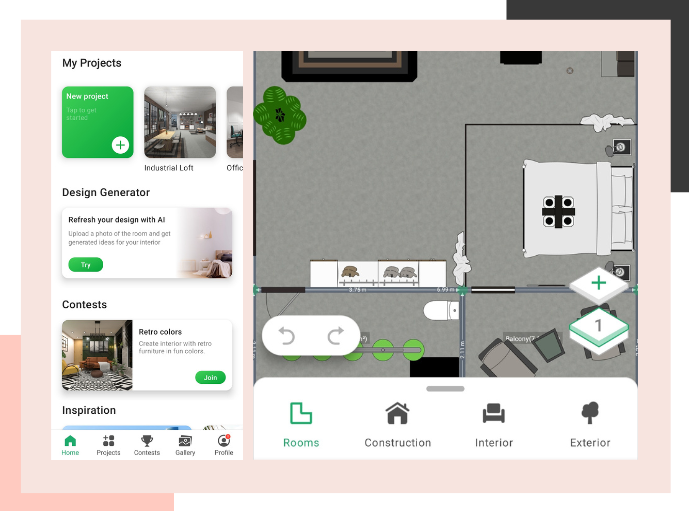 Highlighted features –
Wide range of features for interior design.

User-friendly interface.

Great value for the price.
Available on: App Store, Google Play Store
Rating: 4.3 in IOS and 3.9 in Android
Cost: Free Download, Contains In-App Purchases
5. MagicPlan
MagicPlan is a cutting-edge home design app that revolutionizes the way users create accurate floor plans and measurements. With its innovative and user-friendly interface, MagicPlan empowers homeowners, contractors, and real estate professionals to effortlessly capture and visualize their spaces in a matter of minutes.
In addition to creating floor plans, MagicPlan allows users to add customized objects, furniture, and annotations to their designs. This enables users to experiment with different layouts and visualize how their spaces will look with various furniture arrangements and design elements.
MagicPlan offers various subscription options. The Plus subscription is priced at $9.99 per month or $69.99 per year, while the Business subscription is priced at $24.99 per month or $199.99 per year.
MagicPlan also provides a free version with limited features for users to explore before committing to a subscription.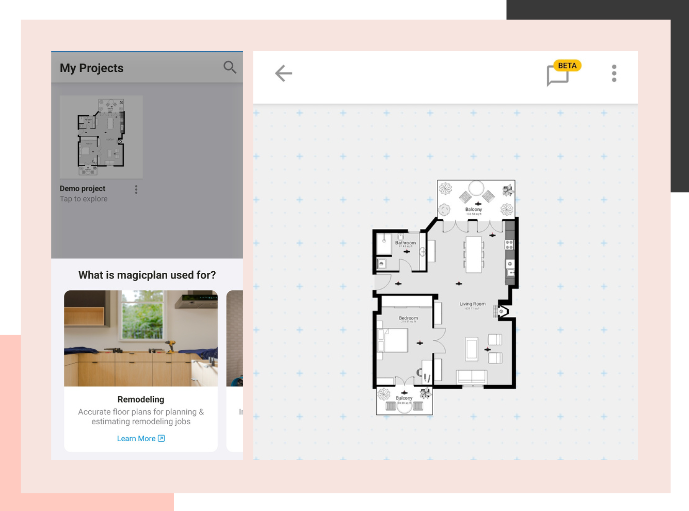 Highlighted features –
Easy to create accurate floor plans from your smartphone or tablet.

Import and export floor plans to other file formats.

A great tool for contractors and DIYers.
Available on: App Store, Google Play Store
Rating: 4.3 in IOS and 4.3 in Android
Cost: Free Download, Contains In-App Purchases
6. Homestyler
Homestyler has become a favored choice for homeowners, interior designers, and design enthusiasts alike. A notable aspect of Homestyler is its extensive collection of furniture, decor items, and materials.
Homestyler offers potent design tools that facilitate a seamless and enjoyable design process. Users can effortlessly generate 2D floor plans and translate them into interactive 3D renderings. This enables users to visualize their designs from multiple angles, ensuring a comprehensive grasp of the space's appearance and ambiance.
Homestyler provides a free version that grants access to essential design features and an extensive item catalog. Additionally, a premium subscription is available at $19.99 per month, offering advanced features such as high-resolution rendering, 3D floor plan exports, and priority support. The premium subscription equips users with additional tools and capabilities to enhance their designs.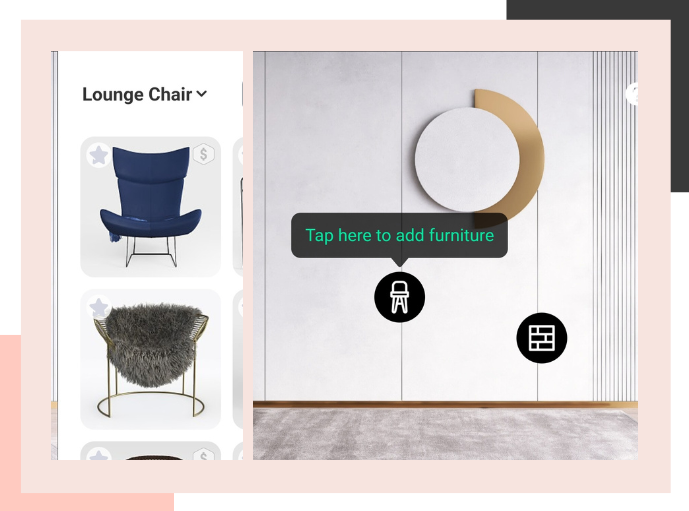 Highlighted features –
Simple interface for beginners.

Wide range of 3D furniture and décor to choose from.

A great way to visualize your home design ideas.
Available on: App Store, Google Play Store
Rating: 4.5 in IOS and 3.9 in Android
Cost: Free Download, Contains In-App Purchases
Comparison Table
| | | | |
| --- | --- | --- | --- |
| Application | Features | Ease-of-Use | Pricing |
| Foyr Neo | 2D and 3D floor planning, realistic rendering, and customizable furniture and decor options. | Designed with user-friendliness in mind, employs an intuitive interface. | Free and pro plans with advanced features at $19 per month. |
| Room Planner  | Ready-made designs, extensive furniture catalog from world-famous brands. | Designed to be accessible for those new to home design apps. | Pricing starts at $14.99 per month. Free version available. |
| Houzz | Database of real homes for design inspiration. | Tailored to users familiar with the platform. | Priced at $199 per year. |
| Planner 5D | 2D and 3D floor planning and a selection of furniture and decor options. | Crafted for ease of use, it caters well to beginners. | Pricing begins at $7.99 per month. |
| Magicplan | Specialized in floor plans and measurements. | Precision-oriented user interface. | Free plan with additional paid features tailored to user needs. |
| Homestyler | Best for fundamental home design requirements. | Accessible user interface ideal for newcomers. | Free and paid options available, providing choices aligned with user preferences. |
Conclusion
In the ever-evolving realm of interior design, remaining ahead of the curve and embracing innovative technologies holds immense importance. As client demands evolve and expectations rise, interior designers require effective tools that amplify their creative process, streamline project management, and transform their visions into precise and captivating realities. This is where the significance of home design apps comes into play. In this article, we have unveiled the leading six home design apps that have emerged as essential tools for interior designers in the year 2023. 
So, start your design journey today and experiment with these apps to find your ideal match. To access our free design training videos and become a professional designer quickly, click here.