Home » Design Software & Tools » 9 Best 3D Floor Plan Software and Tools in 2023 [Free + Paid]
Designing your own house is a dream for most. While factors like location, interior design, furnishings, etc., play an essential role, a home's floor plan has the most impact on our daily lives. The floor plan dictates how open the house feels.
In addition, it also points out the site and dimensions of each suggested door, window, electrical equipment, and more than the owner wants to inculcate in their newly-built or renovated construction. Most creators use a floor plan creator to accomplish this task. In this guide, we'll take you through the top 15 floor plan software you can use this year, and candid reviews about them. 
What is a Floor Plan Creator?
While decades ago, the only way to show the clients the proposed house plan was through hand-drawn 3D drawings, technology has come to our rescue. Countless software help effortlessly draft as many floor plan options as required within minutes. They are used to create a computer-generated virtual model of a space or a whole house.
The job of a floor plan creator is simple. It uses a plethora of tech and functionalities to prepare a 3D floor plan in a way that is easy to understand, even for a layperson. This software comes with pre-made floor plan templates and floor plan examples that enable architects to create floor plans without investing a lot of time.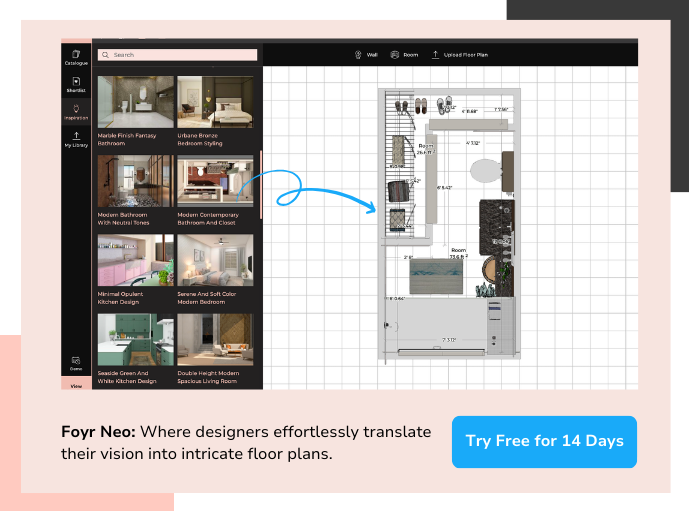 Why Do You Need to Use Floor Plan Software?
There are myriad advantages and reasons why interior designers turn to floor plan design software. When you set out to renovate a home, it's beneficial to try out different layout variations and see what best satisfies the client's requirements. As an interior designer, you can use the software to pitch ideas to clients and demonstrate precisely how the proposal will look when complete. For real estate agents, it's a great way to showcase the features and benefits of a house and make a sale. 
Finally, with the help of accurate floor plans, it is now possible to calculate the FSI, material specification, and requirement beforehand without errors or wastage. Thus, it goes without saying that floor planning software has become an indispensable part of the designing and construction world.
Here's what can you create with the help of floor plan software:
Working drawing

Commercial and office floor plans
Creating Floor Plans in 2D and 3D
As you know, a floor plan is a graphic representation or a blueprint of what your purported building would look like once complete. These are 2D representations that can be as complex or easy as you desire them to be. In the past, most architects would design them manually on paper, but modern designers have been able to successfully utilize the advancement in technology to make their tasks easier. With a floor plan creator, these professionals can graphically create a rough idea of what the final product would look like. For this, they come equipped with a plethora of tools that enable them to make the simplest and the most complex designs with finesse.
Once the plan is ready, the design professionals use additional tools to churn out 3D mockups of the buildings' interiors. They then showcase the 2D and 3D renders to the client and get their approval before starting the execution in real life.
Read also – How to Draw a Floor Plan & Top Mistakes to Avoid
Which is the Best Free Floor Plan Creator?
Here is a list of the best floor plan creators that designers use in 2023.
1. Foyr Neo®
Foyr Neo is one for those working in or around the home design and floor plan creator categories. Users can either draw the floor plan from scratch on the software or upload existing designs and work on them. Foyr Neo is the first-ever design technology that enables users to undertake end-to-end design workflow on their own. It is an excellent choice for a thorough professional or a rookie, given that it offers a plethora of options for them to create and showcase mesmerizing designs. There are a lot of excellent features that Foyr Neo provides to its users but are not available with other brands offering their solutions in this price range. In addition, it also offers a facility to have a call with a tutor that you can schedule via the Google Calendar.
You can grab a 14-day free trial to understand if you like how this software works and can try its multitude of features before making the payment.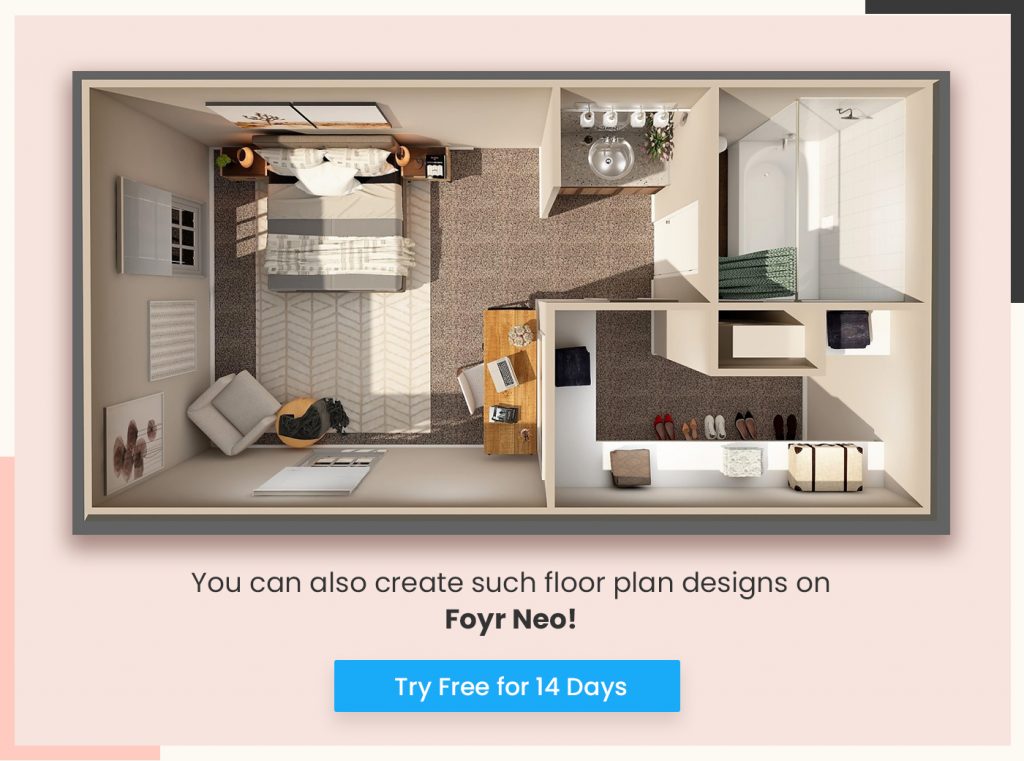 Cost –
For Neo, pricing starts at USD 49/month per user and goes up to USD 349/month. You get over and above your money's worth as it offers a series of features that belies its price point.
Ease of Use –
Most of the users consider it easy to use and take only a few minutes to get accustomed to its UI.
Overall Score –
Foyr Neo is undoubtedly one of the best floor plan creator software available.
Read also – Floor Plan Symbols and Abbreviations
2. Vectorworks®
This is a 2D/ 3D CAD and BIM software that can be used in both Windows and Mac-based platforms. This software is faster, with an increased number of tools that are used for floor plan conversion, 2D to 3D conversion, and for creating various designs in 2D and 3D. This software can be used to sketch a model in a fully integrated BIM workflow. It is mainly used for making floor plans, landscape designing, and industrial planning.
This software is not ideal for users who have no technical education in architecture or BIM and is not built for easy use for first-timers.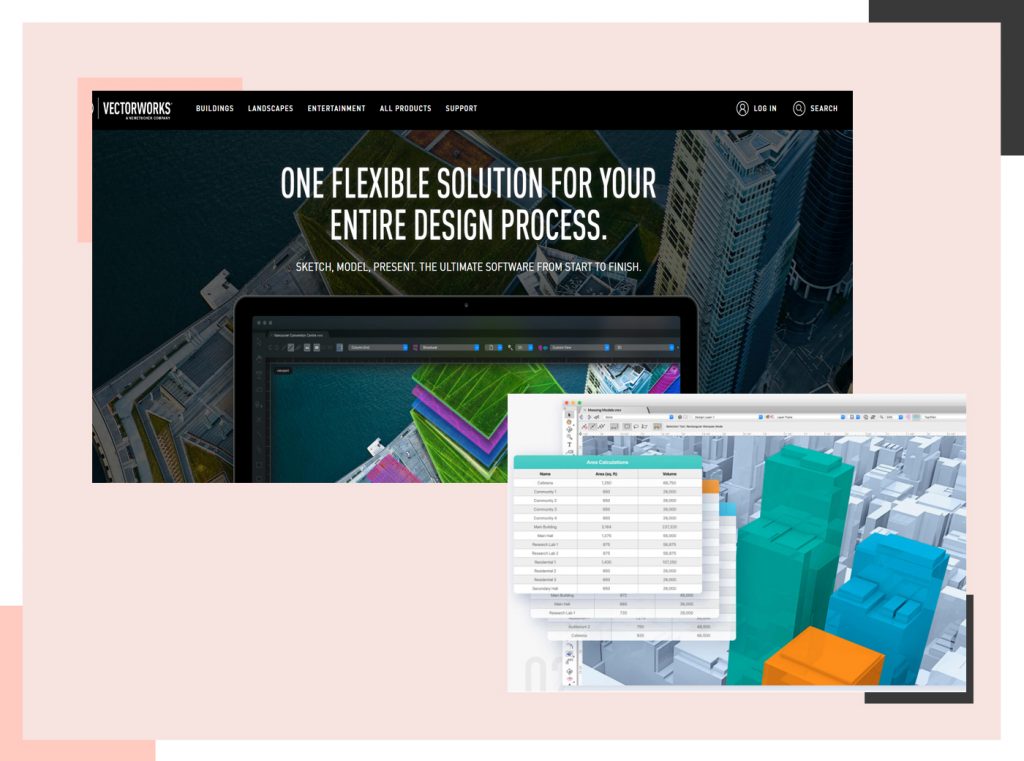 Cost –
Starts at USD 198/month. Free trial not available. The price point is a bit steep, but professional architects enjoy working on it, making it somewhat reasonable. You pay for those fully integrated BIM workflows that make it easier for you to design floor plans across different types.
Ease of Use –
You need BIM knowledge to work on Vectorworks®.
Overall Score –
The software is not for first-timers without knowledge of BIM workflows but works well for those acquainted.
Read also – How To Read Floor Plans?
3. Smartdraw®
Smartdraw is an org chart maker that offers a web floor plan creator layout tool for easy use, sharing, and collaboration. SmartDraw's chart and diagram templates are used to create visuals for companies that are simple to visualize. Its floor plan creator may be used by anybody with the internet and geared up with architectural design symbols and file-sharing programs. 
However, users who would like more features or a highly intuitive and engaging interface with heaver features like 3D designing or rendering post-creating floor plans may not prefer Smartdraw. It is perfect for drawing up floor plans and downloading them in PNG, SVG, or PDF format for further planning.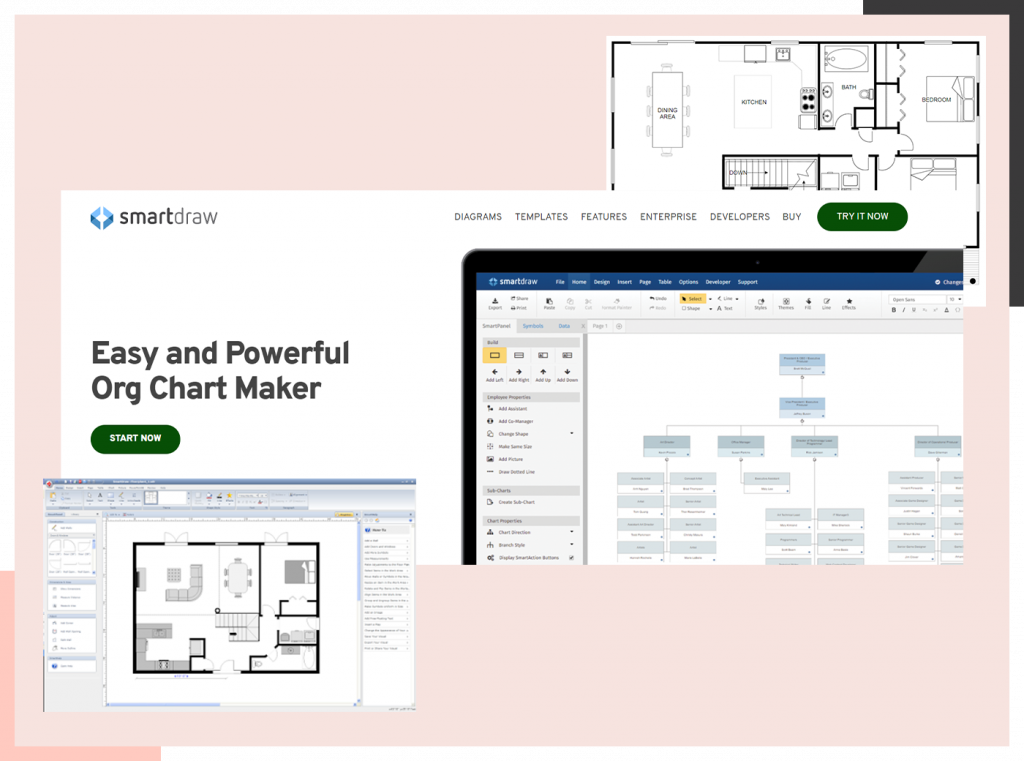 Cost –
Starts at USD 9.95/month. The trial version is available for free. The cost is reasonable for a powerful tool that offers excellent collaboration opportunities. It is an excellent option for those who like flowcharts and graphs.
Ease of Use –
It prefers presenting most of the things with graphs, which makes it easier for even first-time users to decode what is happening.
Overall Score –
The software can handle complex planning efficiently, making it an excellent proposition for the money you pay.
Read also – 6 Best Home Design Apps for House Interior Design in 2023
4. Roomle®
Roomle is another great choice when it comes to buying free floor plan software. It is best for office managers and homeowners to lay out floor plans, especially with decoration and furnishings. The software is an excellent option to help clients visualize the space. Like Planner 5D, the basic version of this floor plan software is free. However, the company directly quotes you the price of Roomle's business version.
Roomle is a viable option for first-time users and design experts alike. Roomle also offers an array of features for product and furniture designers. Users can upload their product files and configure them with a visual configurator built into the platform, thus combining functions for quick first-time basic users as well as experts.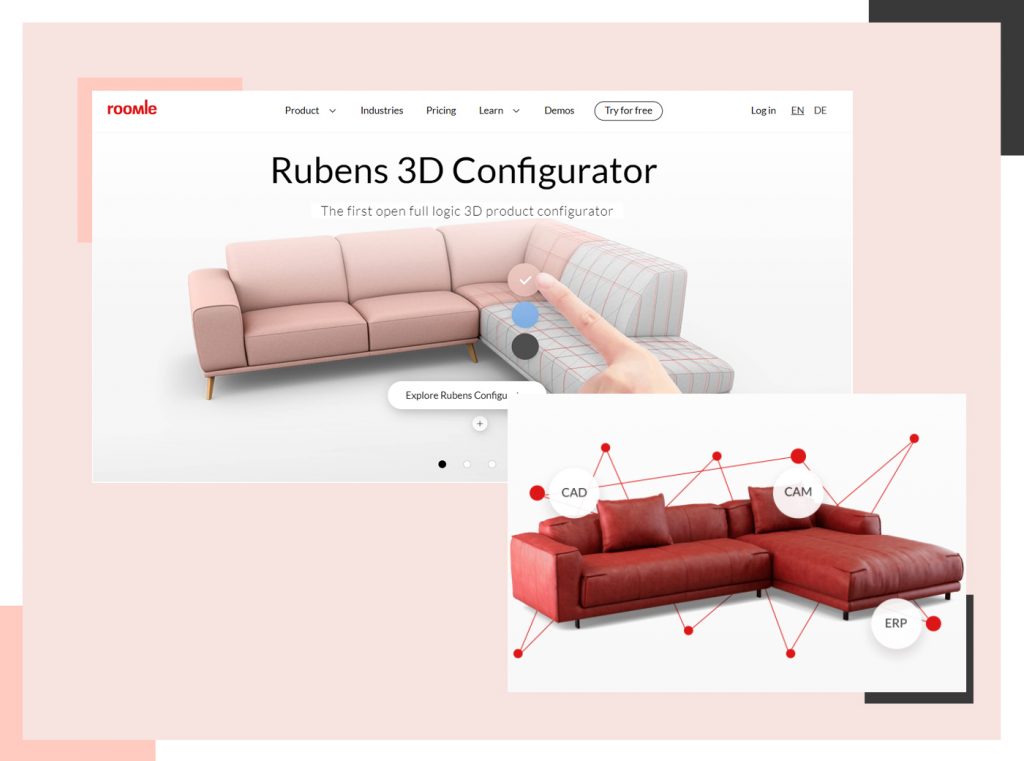 Cost –
Starts at USD 176/month. Free trial available. It has a robust 3D performance, making its steep price acceptable.
Ease of Use –
The software is fairly straightforward and simple to use.
Overall Score –
The software is an excellent offering for those looking for a photorealistic product experience, given its myriad of customization features. But the lack of enough collaboration opportunities makes it a difficult buy for teams.
Read also – 12 Best 3D Visualization Software
5. PlanningWiz®
Planningwiz floor planner is a 2D/3D floor planning software for interior designers, real estate agents, property builders, and furnishings retailers. It is an easy-to-use floor plan design tool that enables users to deliver floor plan ideas to clients. The answer is available on each free and paid variation. Its restrained free plan allows you to create 2D/3D projects and, depending on the kind of the project; you may no longer print or even export the plans.
Planningwiz is a good tool for beginners and small-sized boutiques or interior design firms and architects as well. The interface is simple enough to be used by homeowners and designers who are not adept with BIM technologies and concepts. Users don't need to have extensive expertise and experience with complicated CAD software.
They can immediately log in for free and start creating floor plans, convert them to 3D communicate the designs, and ask for feedback from clients. However, there are more advanced tools listed here that would suit a design professional with large or prestigious clients.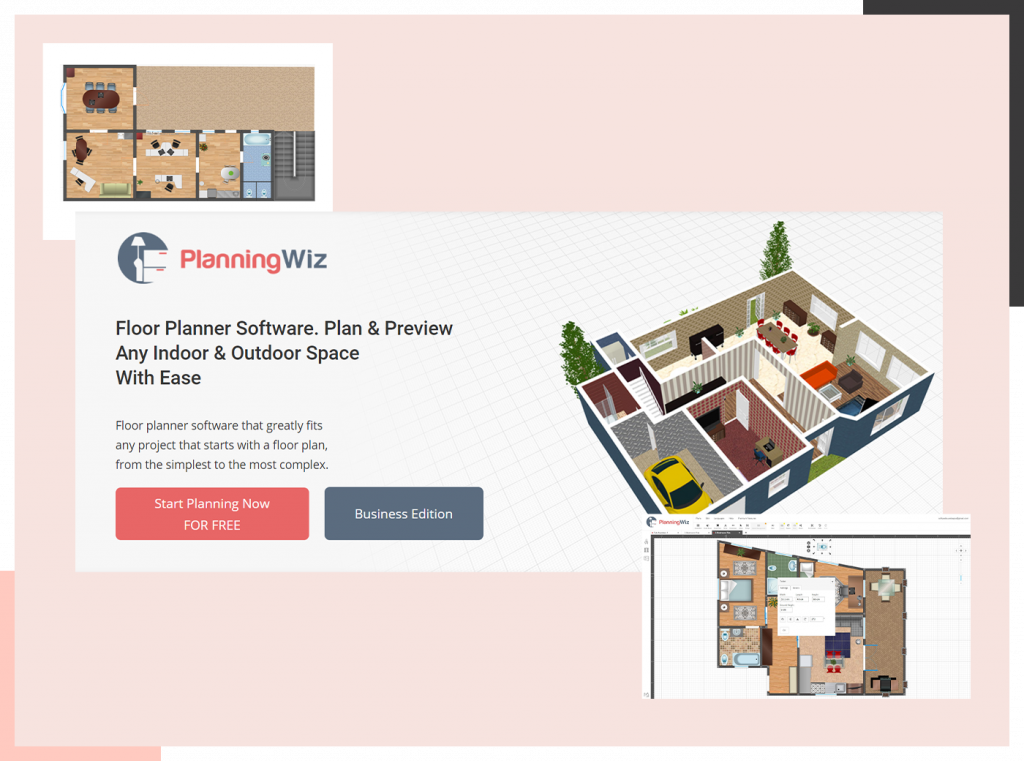 Cost –
Free trial available. The cost is not listed on the website. Interested users need to contact the team for specific case-based costing.
Ease of Use –
It is an excellent option for beginners and intermediate professionals.
Overall Score –
Not much information is known about the pricing, which makes it a difficult recommendation, but the interface is excellent and conducive to floor plan designing.
Read also – 15 Best Free Home Design Software
6. SketchUp®
Template usage is the key feature of this floor plan creator. The software is the best option if you want to be more creative with your drawing tool and draft ideas from the earliest stage of the floor plan to the end.
It is a perfect choice for documentation, design ideas, and RFIs. Plus, it is easy to learn but won't give you a highly detailed computer-aided model. The software is not free and can cost you $695.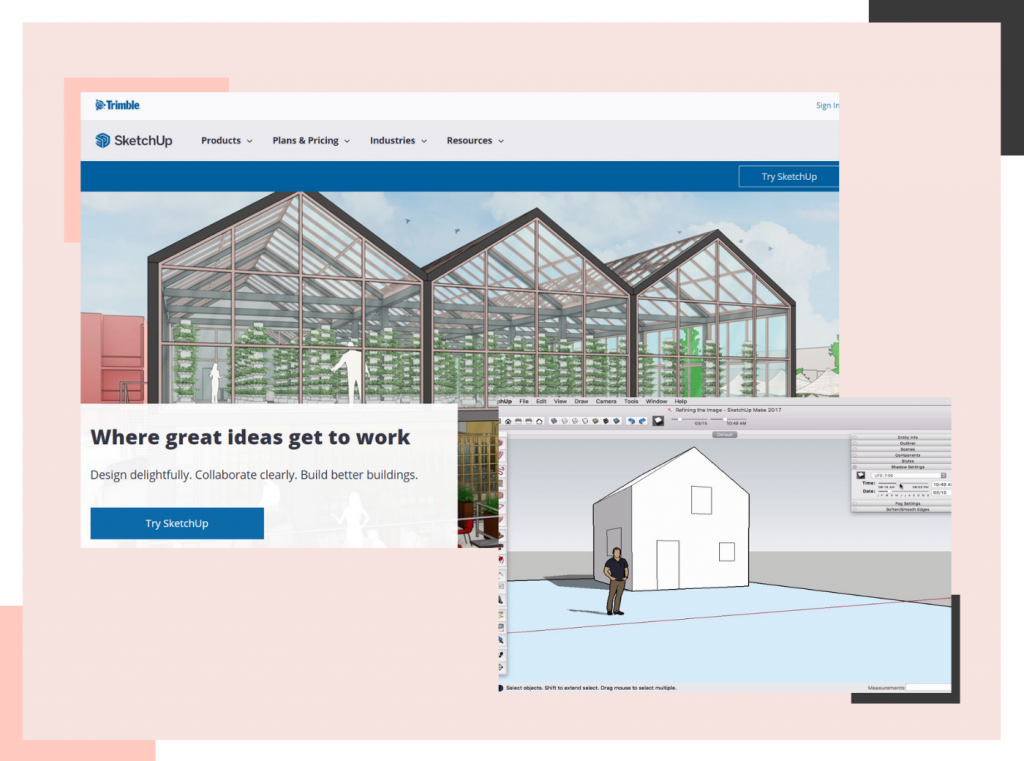 Cost –
Starts at USD 119/month. Free trial available. It has a plethora of innovative features that work well and help augment the final design. Not a budget-friendly offering, especially for beginners.
Ease of Use –
It is one of the best floor plan creators for collaborative work.
Overall Score –
SketchUp offers a low learning curve and is an exceptional choice for a team looking for intuitive modeling.
Read also – 10 Best SketchUp Alternatives for Designers
7. FloorPlanner®
Most real estate agents use this tool to give a quick overview of a property to their clients. Floorplanner allows you to play with the creative tools and customize the plan the way you want. FloorPlanner consists of features that would cater to professionals as well as design enthusiasts, homeowners, and users with no CAD knowledge. They have a symbol library, the option to create or upload new furniture, cloud synchronization, and the ability to quickly switch from or to imperial units.
The pricing plan has different tiers, such as its basis is free for a one-floor plan but charges you $4.99 for other projects. You can buy an annual package that costs you $14.99 to $2.99 and offers only five projects.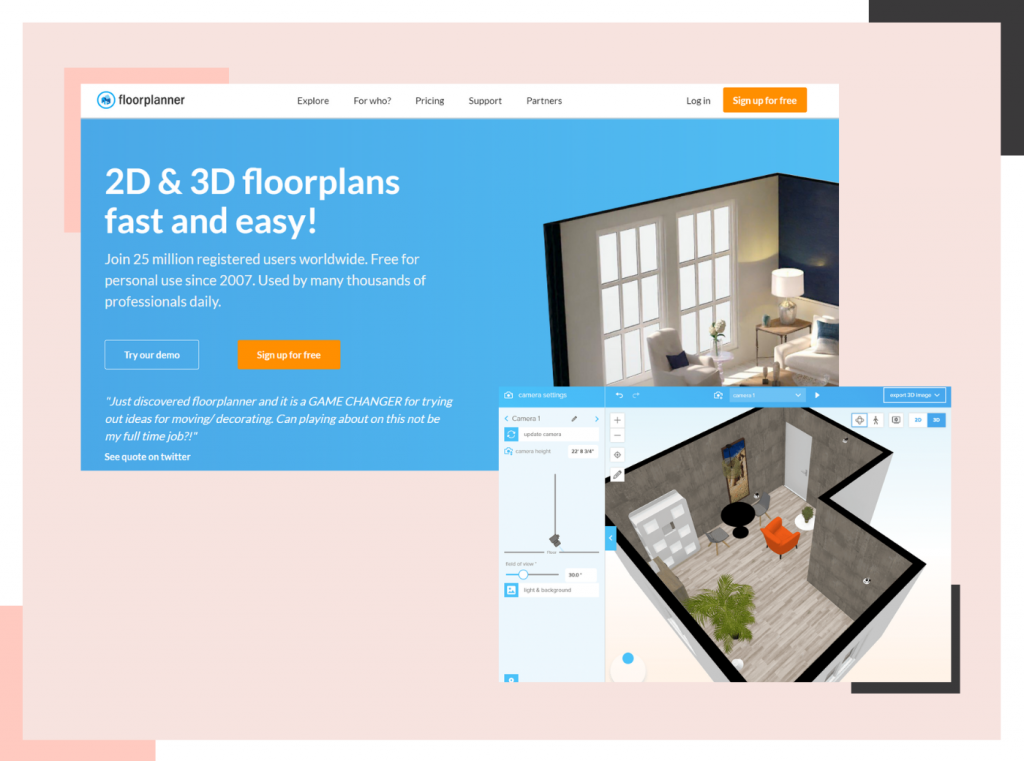 Cost –
Starts at USD 5/month. Free trial available. While there are limited pro features, the low cost and intuitive UI make it a good value-for-money proposition.
Ease of Use –
You can create new designs within minutes using this software.
Overall Score –
It does the basics well but misses out on providing an oomph factor.
Read also – 15 Best Free Kitchen Design Software
8. LucidChart®
This is a collaborative design-creating software that comes with a floor plan creator. With this floor plan creator, you can make and share designs with clients and colleagues. If you know how to make the most of its collaborative element, it is the best floor plan creator for you.
LucidChart is one of the more elementary tools on this list and would not be readily preferred by architects or furniture designers who have years of CAD training and BIM knowledge. However, you can create floor plans for rooms of any shape on LucidChart and export them in PDF, PNG, or DXF files so that they can be used for further processing on other tools.
It is well-suited for design teams that need to collaborate on projects. It is used for designing more planning documents, charts, and visual aids for organizational communications.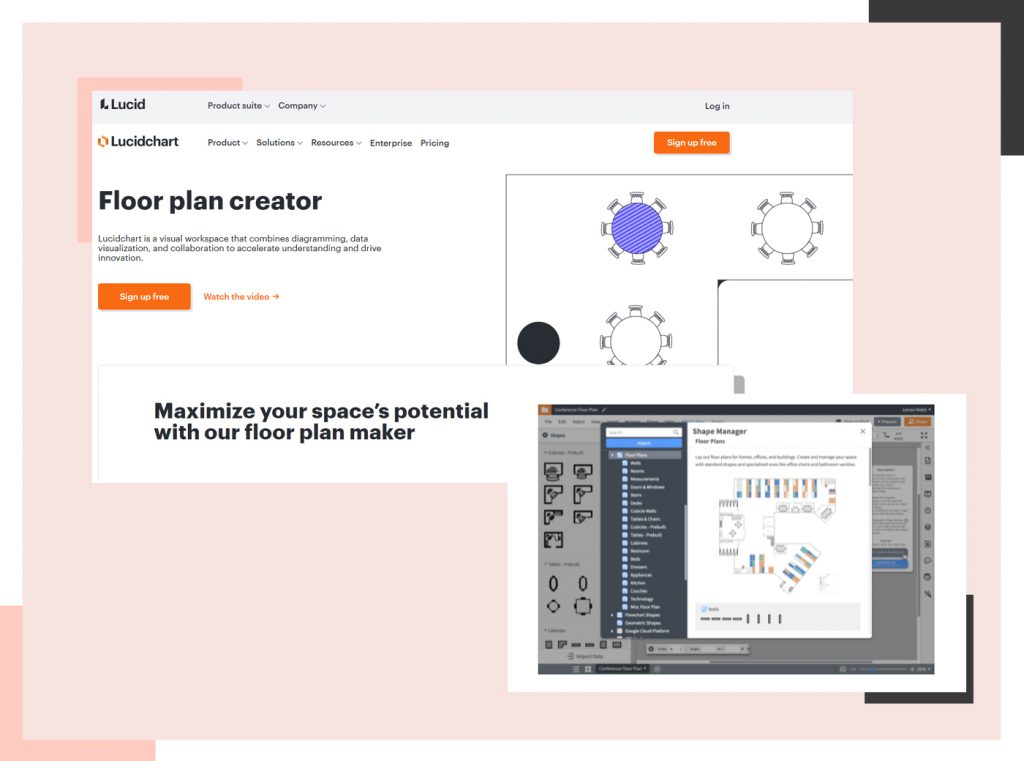 Cost –
Starts at USD 7.95/month. Free trial available. While the price is on the lower side, so are the functionalities on offer.
Ease of Use –
It can export designs in several formats, thereby offering excellent collaboration opportunities.
Overall Score –
It is an excellent option for those who use multiple software and need to create a structure that is supported by the majority of them.
Read also – 15 Best Free Room Design Software
9. HomeStyler®
The browser-based tool comprises a standard set of features and enables you to draw floor plans online. Annotation functionality and documentation for interior spaces are what make the software different. Plus, it boasts a broad database (walls, windows, doors, furniture, etc.) to draw realistic renders. The software is free and makes the best choice if you have a low budget.
Although it is extremely user-friendly and available on multiple platforms, homestyler would not attract architects or BIM experts as the feature set is just enough for 2D to 3D translation of designs but is not powerful enough to create 3D models, renders, etc. 
They do have a furniture library, a symbol library, and user-defined dimension lines that can be reused quickly if required.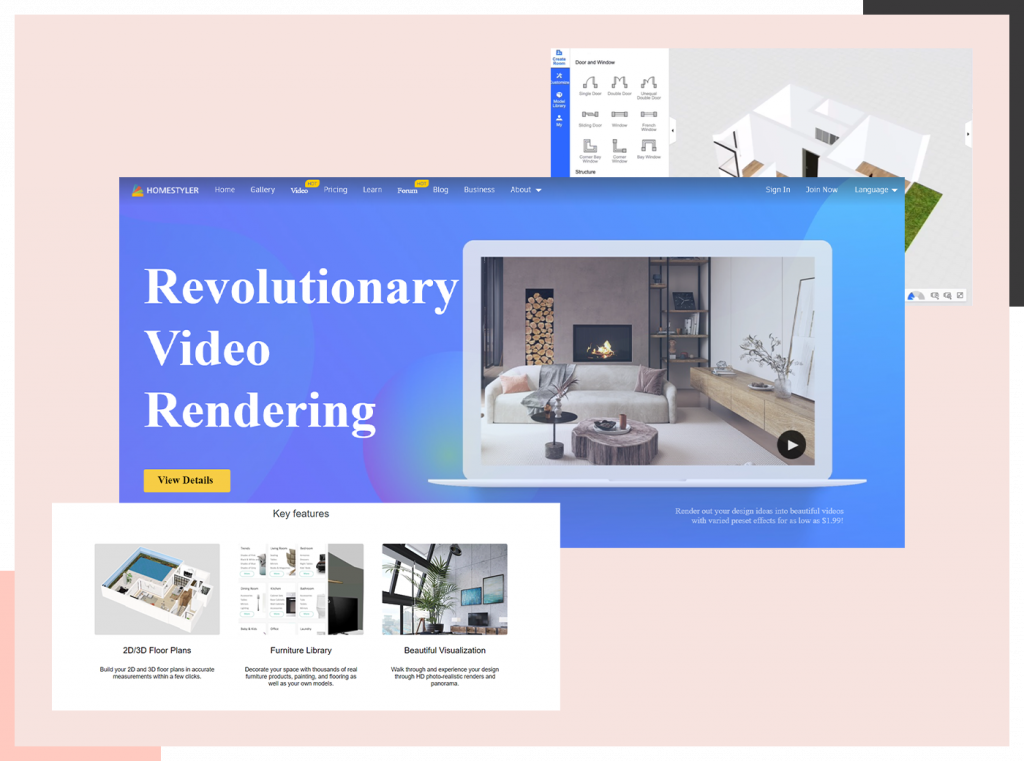 Cost –
Starts at USD 19.90/month. Free trial available. There are a lot of pro features that are available for free, making it an excellent choice for rookies and professionals alike.
Ease of Use –
It is one of the most user-friendly floor plan creator apps out there.
Overall Score –
The support for 4K graphic design gives it an edge over its similarly-priced competitors in the market.
Read also – 8 Best Free Interior Design Software & Tools in 2023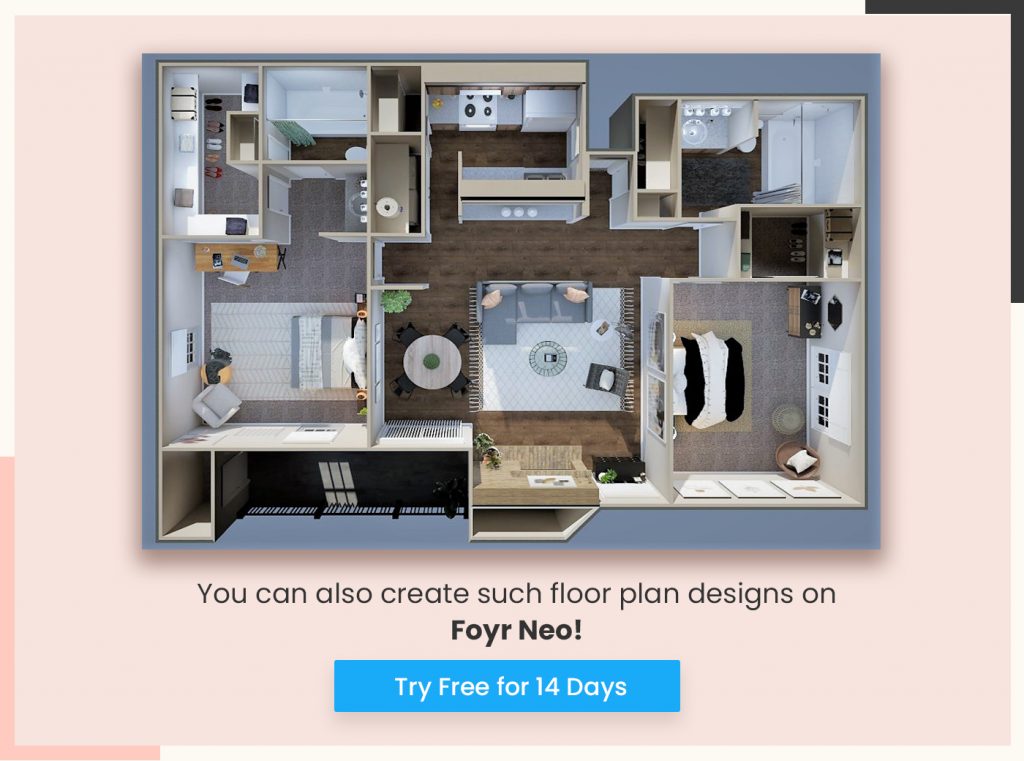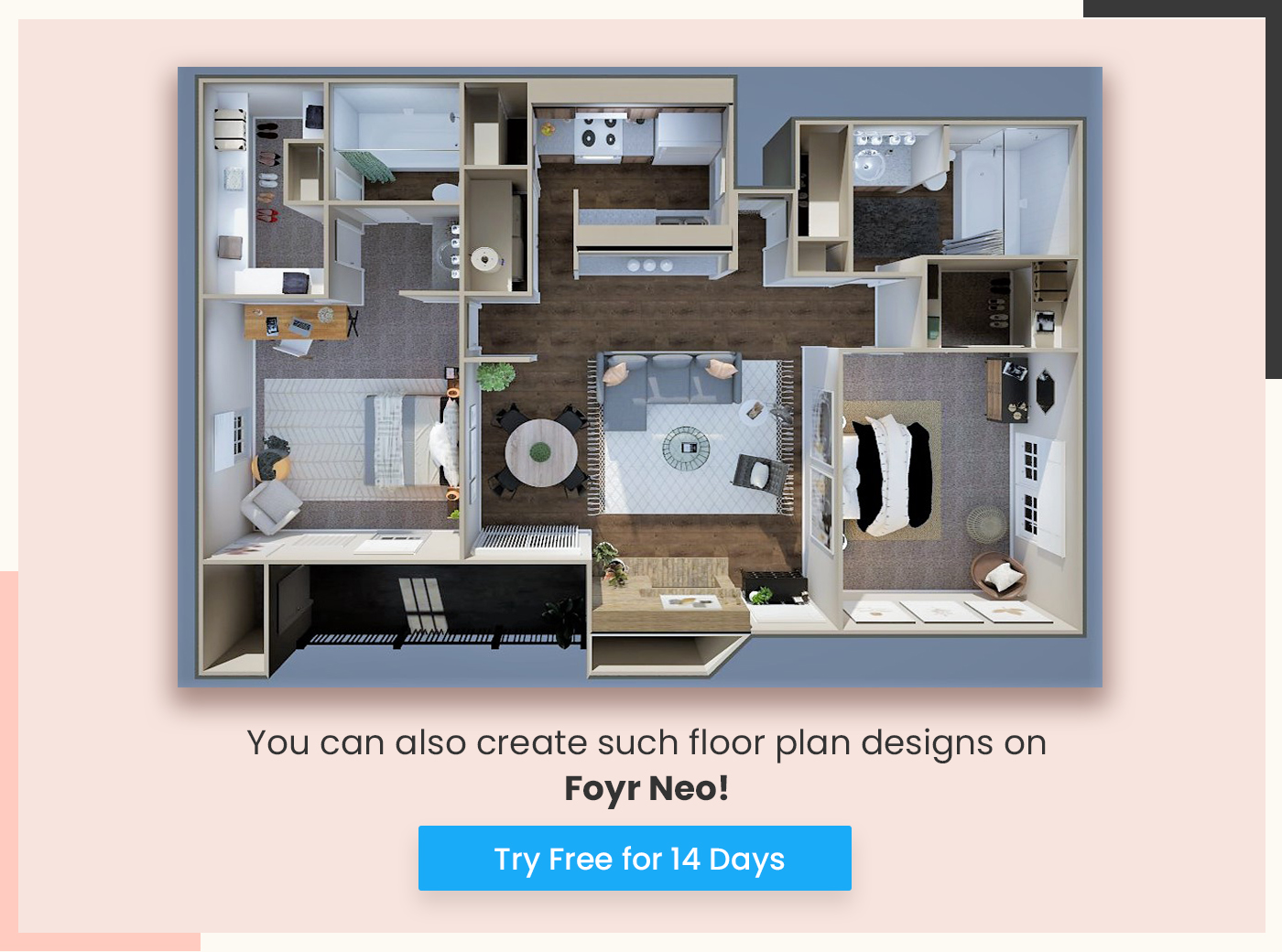 Conclusion
In modern times, there is a plethora of free online floor plan creators and other software that enable you to undertake designing with ease. The top 15 software listed above offer excellent functionalities, and there are a plethora of reasons to choose either of them.
However, Foyr Neo's Online Floor Plan Creator is one of the best for interior designers and architects who are looking to undertake to build versatile design languages with ease. Click here to grab a free 14-day trial of Foyr Neo's Online Floor Plan Creator and create new home designs with aplomb.