Home » Design Software & Tools » 5 Best Online Cloud Rendering Software Programs
Cloud Rendering Software
We all had a dream about our career and our life when we were growing up. Some professions we chose because they made us powerful with knowledge while others just make us plain powerful. Some professions make us feel like gods and some make us feel like we are capable of just about anything.
Professions such as architecture, interior design, contract designing, etc. are some of those career notes that we don't think are very important but play a major role in other people's lives. it builds things out of nothing to meet someone's dream come true. They design the homes we live in and they make them perfect for us.
That is why it is important that these professionals have the best equipment and software programs at their disposal, especially tools that make the design process much easier. Using the right visualization tools can help optimize the entire design process to accommodate the clients' expectations as well as the designer's creation.
Cloud rendering software programs that allow open-source files to be shared on an interactive platform make for an excellent addition to the workflow. Professional designers can use render engines to develop high-quality, photo-realistic real-time 3D animations to give clients an idea of what the finished property would look like.
The ability to use 3D rendering software for 3D modeling helps optimize the computing power during the rendering process. You can add visual effects with the help of good GPU rendering. Choose from some of the best 3D rendering software programs to acquire the best render farm services that'll truly assist you with the workflow.
Read also – 21 Best 3D Modeling Software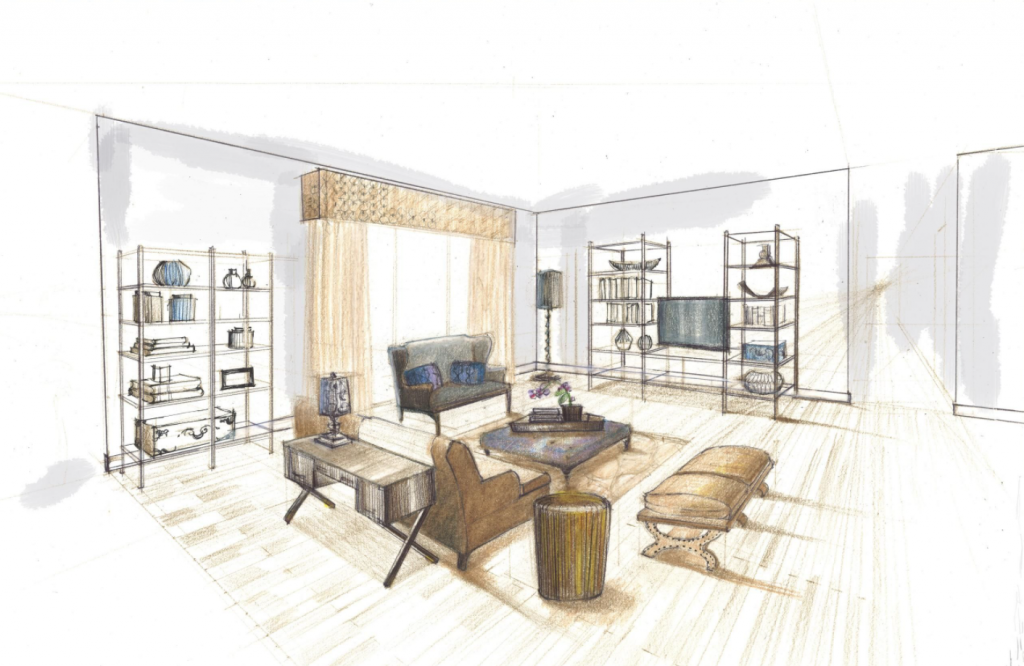 Image Credit: pinterest.com
Benefits of Using Cloud Rendering Software
Using a render farm to create high-quality, interactive, photorealistic GPU rendering and sharing it like an API has several benefits for professionals in the fields of design.
Here are the benefits of using a rendering solution with powerful rendering engines:
The first and most important is that you can use powerful features to create real-time visual effects using high-performance VFX, and infusing noteworthy add-ons and plugins.
It is easy to create entire projects from scratch and add everything from floorplans of the property, furnishings, and in some cases even décor in minimal time.
There can be an interactive channel between the client and the designer to exchange the proposed design plans via API using powerful render nodes.
The clients can easily share feedback about the design plan and make suggestions as per their preference based on the cloud rendering of the 3D animation.
You can track the design process for billing the client and share a detailed record of the pricing on the cloud rendering service.
Help clients visualize the project in real-time using the render farm.
Share the nodes of the project with the support team to optimize the workflow.
The open channel is cloud-based therefore no data pertaining to the project will be lost.
Read also – Advantages and Disadvantages of Real-Time 3D Rendering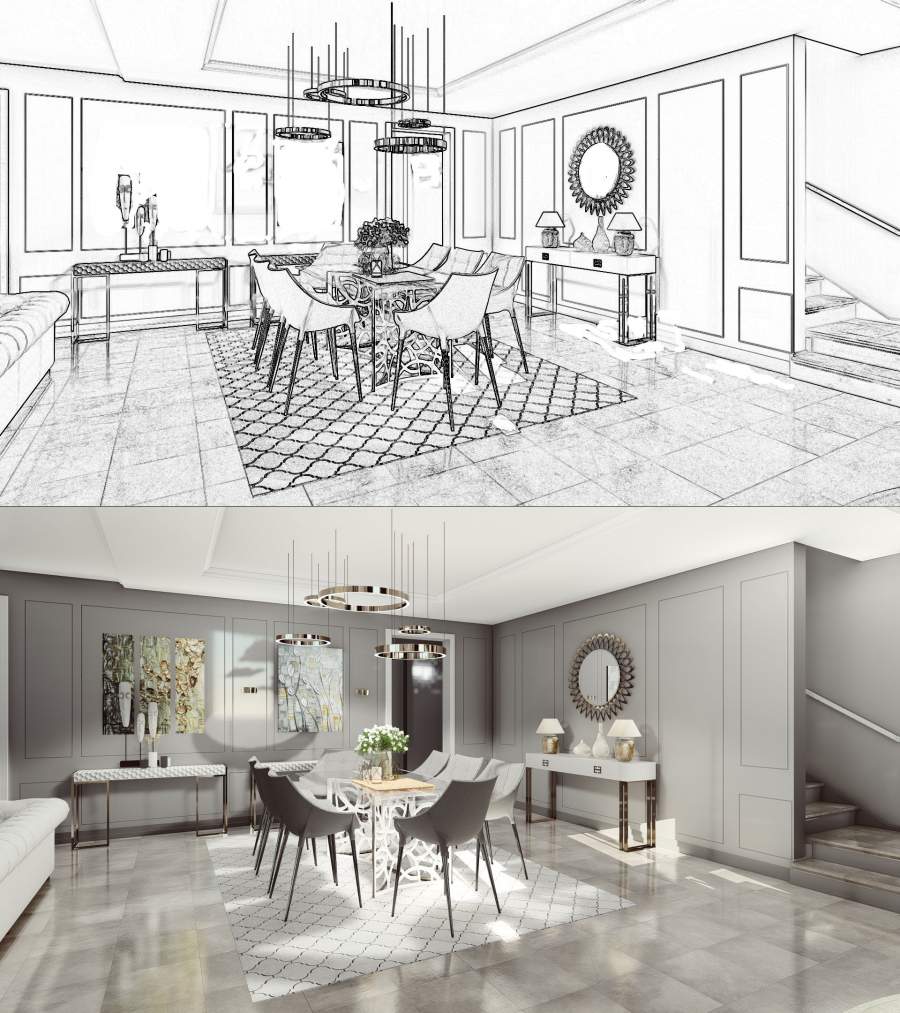 Image Credit: s3da-design.com
Learning how to use cloud rendering services can help cut down your overhead costs as well. Since these systems use a cloud-based platform, you save in overall expenses pertaining to logistics, time management, project management, and interactive collaborations.
Every project that you create using cloud rendering software programs is available in render farms. 3D artists can easily access their former designs and make instant changes. Designers and 3D artists can also reduce the render time by generating templates with powerful render engines as well.
Read also – 15 Best 3D Rendering Software Alternatives
How To Choose the Best Cloud Rendering Software?
Choosing a cloud rendering program can be a little tricky. There are certain features that you absolutely need in order to convey the design that the 3D artist visualized. However, not everybody can envision things the same way, therefore the rendering process can make it easier to share the design plan with all the parties involved in the process.
When choosing your cloud-based 3D rendering software, you need to choose one that offers excellent features at a reasonable price and adapts to your operating system. There are a few choices of cloud rendering software programs that used extremely powerful render engines.
It is best to make a list of the needs of the clients and select the cloud rendering service that adequately allows you to work with reduce render time and high-quality visualizations. Here are a few things to look 4 when choosing the cloud render farm and
A user-friendly interface
The appropriate support system from the source company.
Provides easy access to tutorials on how to use the platform to maximize your benefit
Simplicity in the design process when adding visual effects such as textures, color schemes lighting, home decor, furniture, etc.
Offers predefined libraries of templates, mood boards, and models.
Foyr Neo is the finest of all the options for 3D rendering software. We will discuss the features of Foyr Neo and similar cloud rendering services so you can make an informed decision based on your criteria.
Read also – Best Computer for 3D Rendering
5 Best Online Cloud Rendering Software Programs:
As we have mentioned it is very important to find entering software that allows you to not only create 3D animations of your designs would do so accurately in the best templates and models. Here is a list of some of the best cloud rendering services that you can offer for high-performance visualizations with optimized plugins and an interactive platform:
Among all the rendering services available in the market these days, Foyr Neo is the most ideal choice in terms of visualization, access to numerous plugins, high-performance computing power, and optimizing the workflow.
It has an amazing capacity to help with the rendering process. The massive render farm that runs online instead of your CPU makes it easier to compute large design files in minutes and process, share, and store them on a cloud-based platform that keeps the data intact indefinitely.
Foyr Neo uses a simple and user-friendly interface for all your workflow. Anyone can learn how to use visualization and cloud rendering software quickly and effortlessly. They have an adequate number of tutorials that you can also use to not only learn the rendering processes for 3D modeling and 3D animation but they will also help optimize the overall rendering solution.
Read also – How To Create 3D Walkthroughs?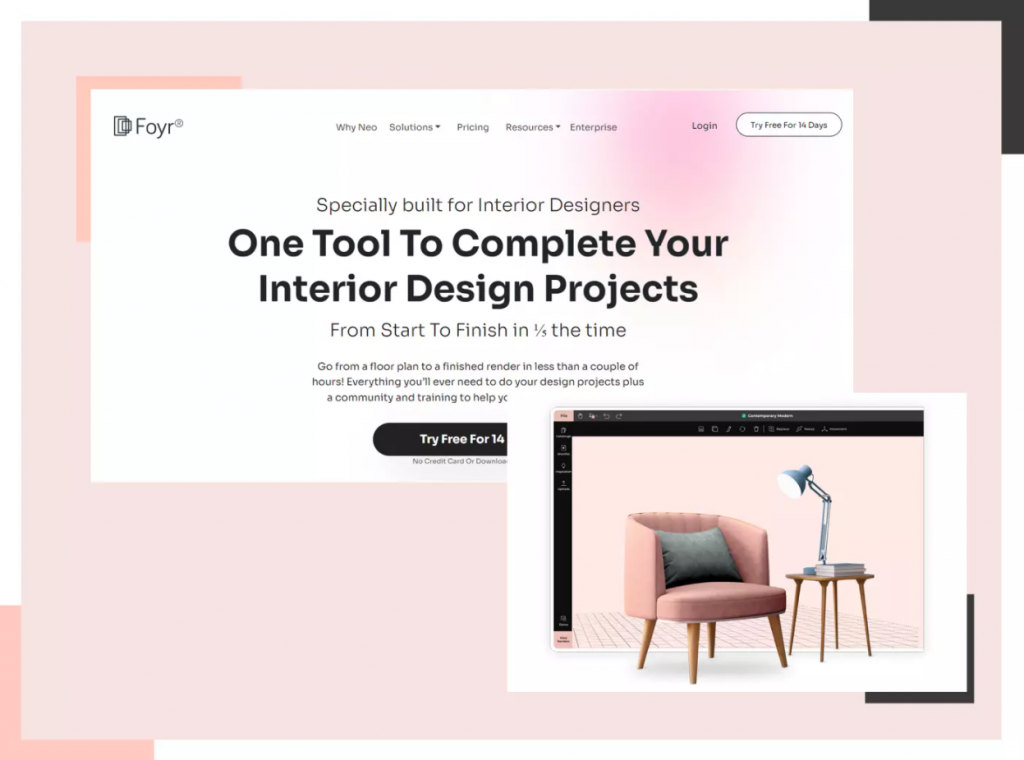 With the help of these tutorials, you can learn to create photorealistic 2D and 3D images with visual effects, use plugins to introduce add-ons for numerous design features and optimize the workflow, pricing, and other aspects of the design process.
In terms of pricing, Foyr Neo offers excellent benefits for professional and amateur designers alike. You can subscribe to the Foyr Neo plan for $49 per month or even opt for the yearly plan of $504, which is relatively lower than the monthly plan. Additionally, the app also offers a free 14-day trial period so you can see for yourself just how useful the design tools on Foyr Neo are before you make a purchase.
The reason that we love Foyr Neo so much is that it runs on a cloud-based render farm but it is accessible to both Windows and Mac users. Therefore, regardless of which operating system the clients use, you can always create stunning designs on Foyr Neo and share them with a simple click.
The features of Foyr Neo are equally impressive. The app is compatible with all manners of floor plan creators and texture rendering solutions. You can design everything from floorplans to room layouts, to fixtures, cabinetries, bedroom, bathroom, kitchen, living room, and other room designs, choose the home decor and even choose the furnishings.
Read also – 14 Top 3D Rendering Issues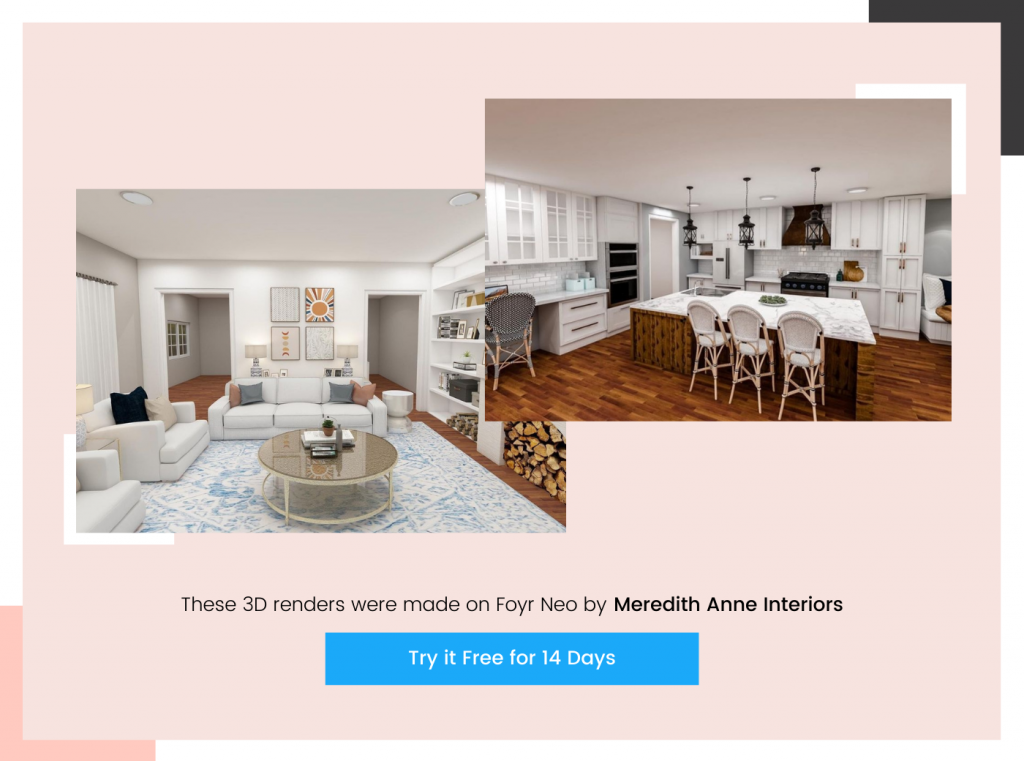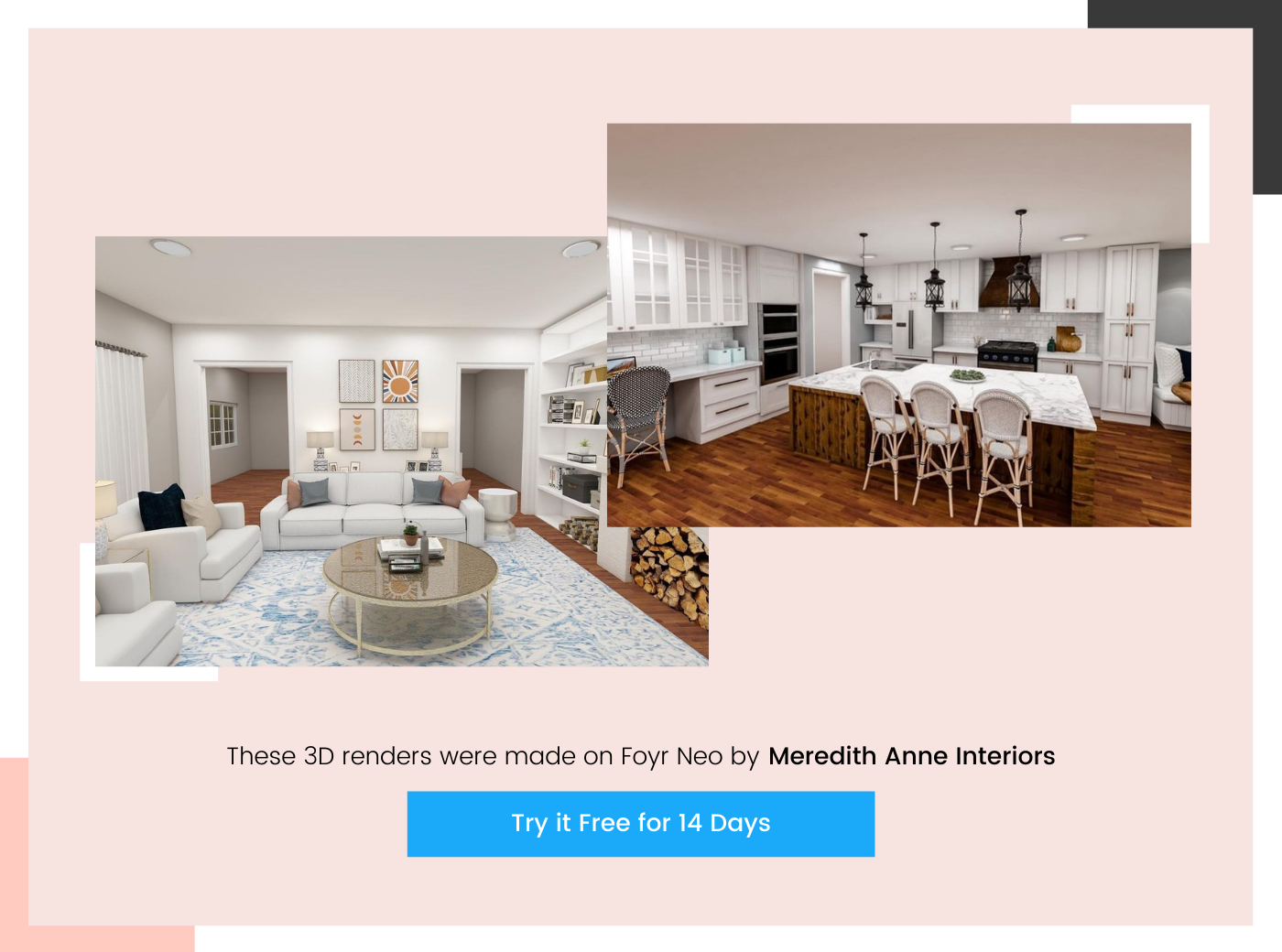 The render time on Foyr Neo is also relatively shorter. Plus, you render can multiple images simultaneously on this platform. When you work on a design scheme, you can set it up for rendering solutions and use the render time to optimize other designs on other images then run the rendering process simultaneously in the background.
Foyr Neo is an apt solution for architects, interior designers, and 3D artists. It is a boon that offers multiple, real-time, high-quality, and photorealistic render solutions on an interactive platform to aid the workflow process.
Read also – How 3D Rendering Can Increase Profits in Interior Design Business?
The design experts at 3DS Max designed an innovative cloud render farm called V-Ray. These inventors of computer graphics assist with GPU rendering the cloud rendering service to befit high-performance workflow that is optimized for professional designers.
In terms of pricing though, V-ray is a little more expensive. You will have to pay $750 per year for the subscription. V-ray it's compatible with 3DS Max, Blender, Revit, Maya, Modo, SketchUp, nuke, cinema 4D, and other 3D rendering software programs as well. it also works well on a variety of operating systems including Windows, Mac OS, and Linux.
V-ray offers plenty of features to explore including powerful render engines, high-quality visualization, and photo-realistic virtual reality programs. You can design anything from a small room to an entire building using real-time camera scanners, Denoiser, high-quality frame buffers, and a high-performance twin-engine with fast computing power. for a cloud rendering service, it certainly does ease the workflow to a certain extent, although V-ray is more suited for 3D artists with some experience.
Read also – V-Ray Alternative Software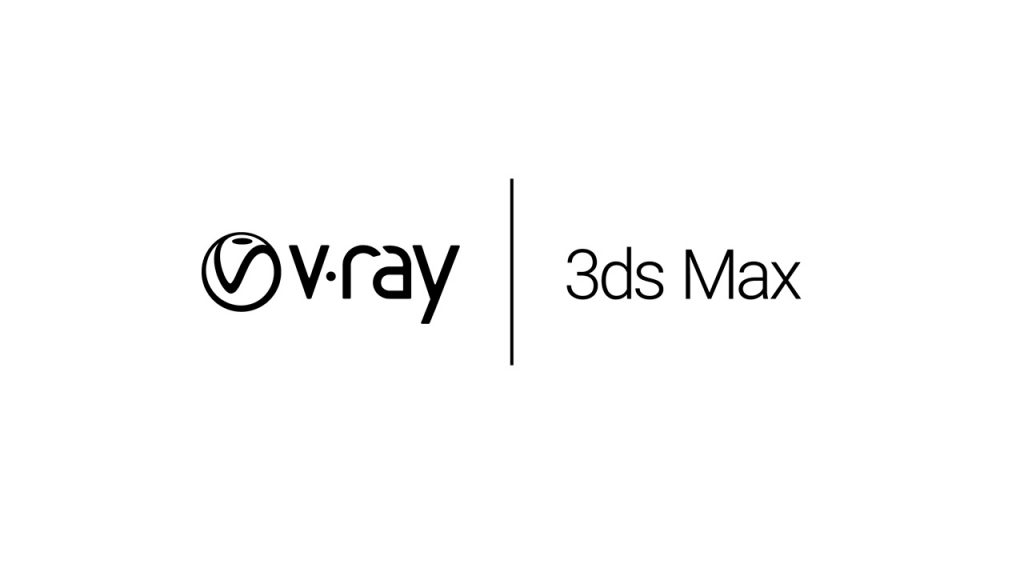 Image Credit: creativetools.se
Another technologically innovative cloud render farm with photo-realistic images comes in the form of the cloud rendering service cinema 4D. You can instigate a lot of addons to create high-quality unique scenes using VFX.
You can try a lot of neat tricks with cinema 4D. It is compatible with other software that supports visual effects such as Adobe Photoshop, Adobe after effects, fusion or motion, Nuke, Final Cut Pro, shake. It works with both windows as well as Mac operating systems.
The only drawback is, cinema 4D subscriptions range from $81 to $3,495 per year, which can seem like a massive investment, especially for freelance 3D artists and fractures in the fields of design such as architecture and interior design.
Read also – How To Find 3D Rendering Jobs Online for Freelancers?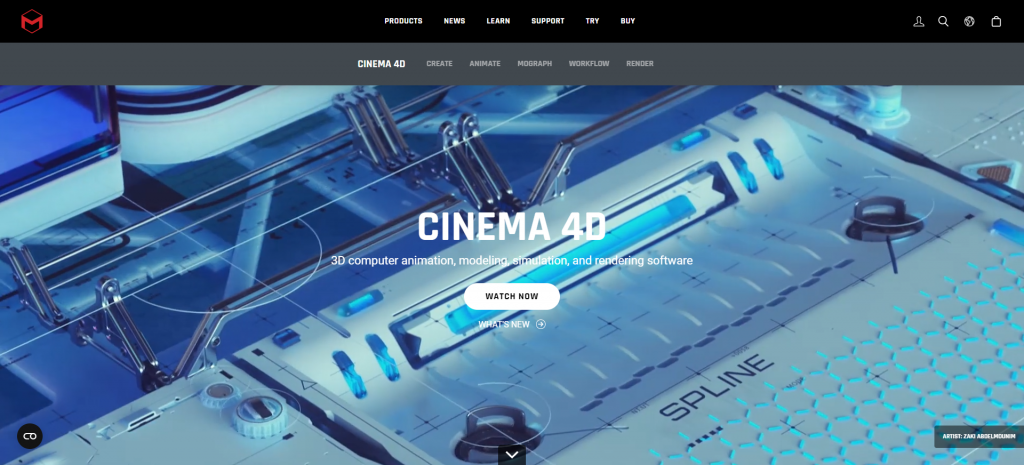 Image Credit: maxon.net
Almost everyone in the community of cloud rendering services I've come across render engines created by Autodesk at some point or another. Revit Is one such 3D rendering software program that offers high performance with remarkable computing power.
This render farm service comes with various design options to modify textures, lighting, and various powerful software tools. It allows you to create powerful models and 3D animations with strong GPU rendering using BIM functionalities for the AEC industry.
One of the benefits of Autodesk is that you can or an educational license as part of the learning program. It works well with ideate BIM link, Palladio X BIM windows layout, coins auto- selection box, RTV Xporter pro, Enscape, twin motion, flux, Lumion, V-ray, Maya on any windows operating system only.
Even though Revit by Autodesk is one of the best cloud rendering services, it may seem a bit expensive. It costs $2310 per year for the subscription, which is inconvenient if you switch to a Mac operating system.
Read also – Types of 3D Rendering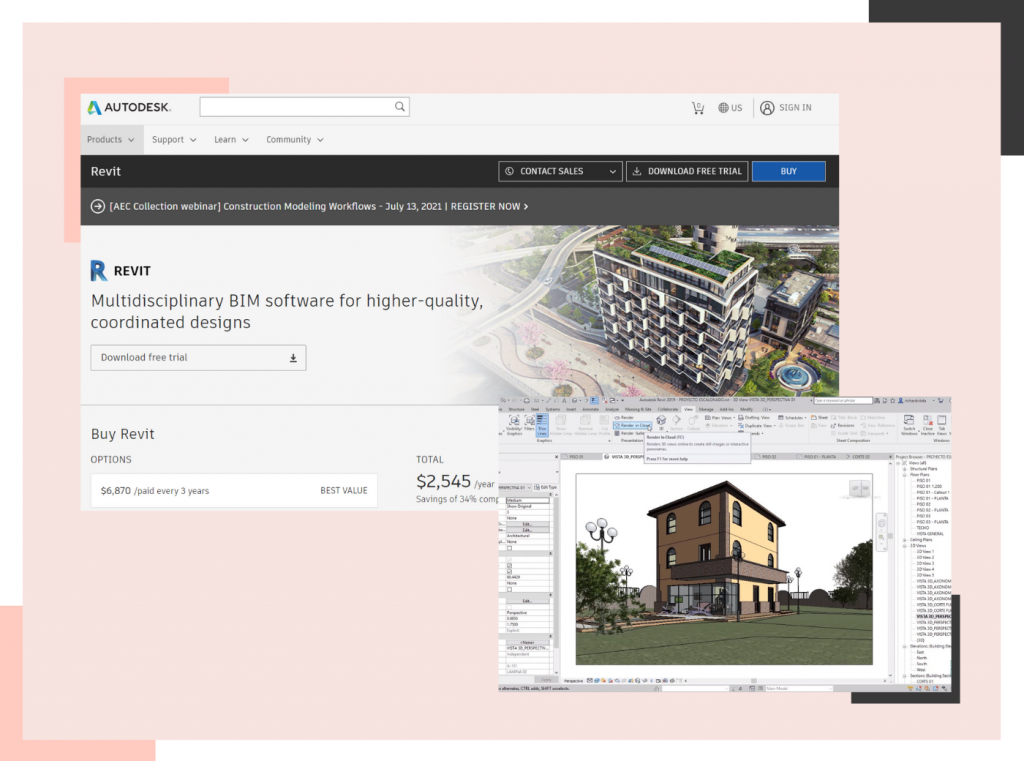 Another render farm service that also offers learning options, as well as high-quality 3D animations, is Houdini. You can try Houdini apprentice as a free trial of Houdini FX before you invest in the rendering software itself.
You can purchase a yearly plan of Houdini for $269, which seems relatively low although it does not support all the features. For advanced 3D modeling rendering processes, you will need to purchase Houdini core or Houdini effects.
Unlike other cloud rendering services, Houdini is a little tougher to learn due to the procedural design. Houdini allows smooth VFX simulations and fluid movements which makes it the ideal choice over compatible programs such as Maya, Revit, SketchUp, Blender, and others.
For professional architects and interior designers, Houdini is an ideal option for all your rendering needs. However, if you are a beginner in the field or a 3D artist with minimal experience you may want to opt for something with a user-friendly interface.
Read also – Benefits of 3D Interior Design for Home Buyers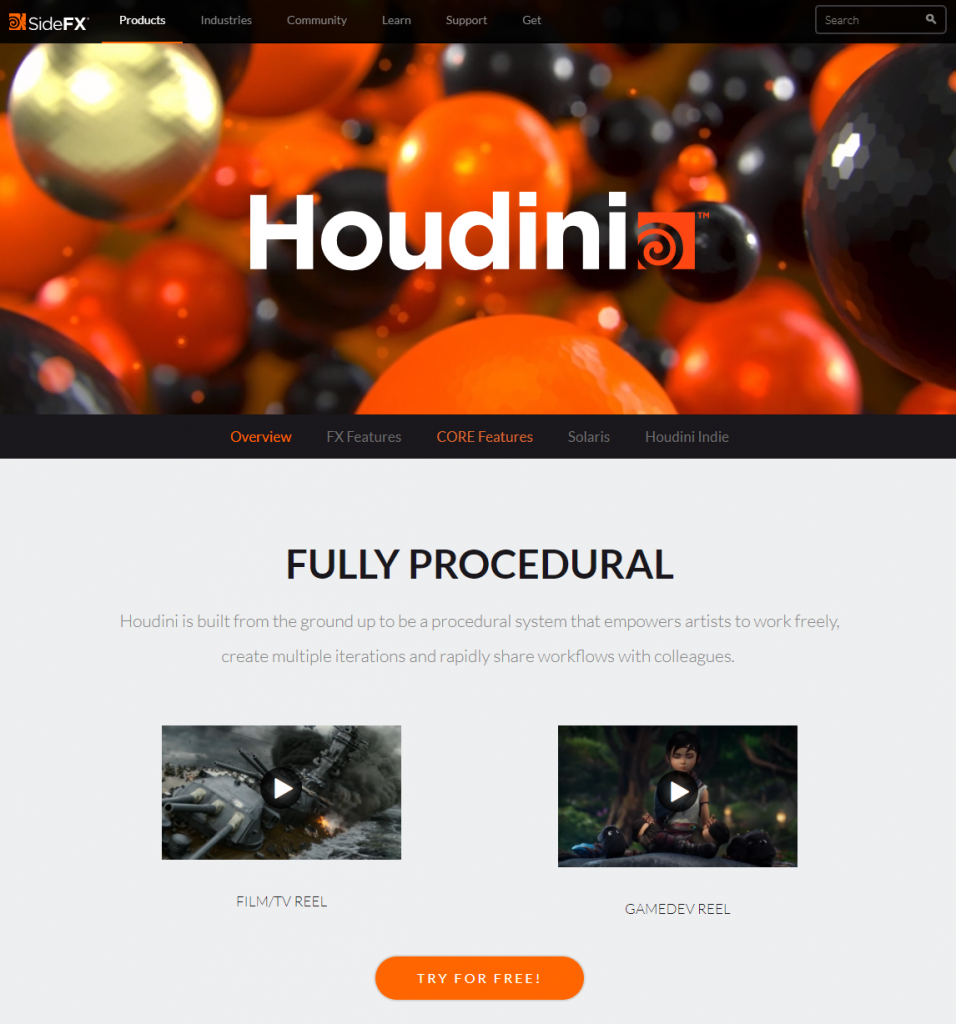 Image Credit: sidefx.com
There are various other 3D rendering software services that you can use to create high-quality, photo-realistic 3D animations of your design. In order to become one of the top designers, be it an architect or an interior designer like Jake Arnold, Katie Hodges, and other popular designers in the field you need to dedicate some time to understand how to use these cloud rendering services to your benefit.
Identify the cloud rendering software that best serves your needs and that of your clients and use it to optimize the workflow, reduce the overhead costs, and cut down the render time with software rendering engines and all-powerful render farms.
Regardless of whether you are a 3D artist or in the AEC industry, cloud rendering software programs are the ideal tools to optimize the workflow.