Our home is where we find solace on a bad day and it is where we connect with our loved ones. We build it with our blood, sweat, and tears, literally. Yet once the dotted lines are signed, we tend to forget just how much we have invested into it.
It's only natural but it doesn't have to be neglected. Over time our homes tend to feel just as neglected as a loved one because we take it for granted. Unlike the ones we love though, it only takes a little sprucing or a tiny makeover once in a while to make it shine with love and joy.
We understand that it is not an easy endeavor to devise home design plans on a whim to beautify the living space. That is why today we are going to take some time to discuss a few home decor ideas to help you out. You can mix and match them or follow a theme as you please but by the end, your home is going to thank you for the few extra hours and the little expense you made.
So, without further ado, let us look at the decorating tips and hacks that will make your home look new again.
Design ideas to spontaneously beautify your home
Consider this: You are on your way home from a long day at the office or a business trip that wrung you dry. When you reach, what is it that you want to see?
Do you want a home that will take hours just to clean up so you can lay your tired body on the bed or do you want a living space where everything has a place and offers serenity and comfort after the rigorous grinding?
The answer is simple. You need a place that embraces you with love and beautiful memories and we know exactly how you can achieve that quickly and effortlessly by simply planning ahead.
1. Start with the color palette
Everything starts with a pop of color. We are living in a colorful era where even motion pictures are in high definition color so why shouldn't your home be too.
To start with, think of the paint colors in each room. You can refer to our article on the psychology of colors to determine which shades work best in which room to have what effect.
If you're not a fan of bold color schemes, opt for pastels. If you don't like plain gallery walls then create a gradient accent wall. If you prefer wallpapers then choose something that invigorates you and provides serenity all at once. You'll know when you see it. Some paint and wall design elements make you feel calm and composed yet motivate you towards your dreams. You can also choose some with Halloween themes.
Next, let's consider the palette for the furniture and pieces of home decor. Obviously, they must complement each other but they don't have to be plain and simple unless you're a fan of minimalism. You can add luxe to your home design by simply introducing a gallant but elegant color scheme.
Our personal favorites are white walls for minimalism that is combined with Rattan and a pop of greenery for a simplistic home look, especially in small spaces.
For a grand and luxurious living space, we personally like light blues, reds, and greys mixed with golden hues and accent walls. It's up to you though what color palettes appeal most to you.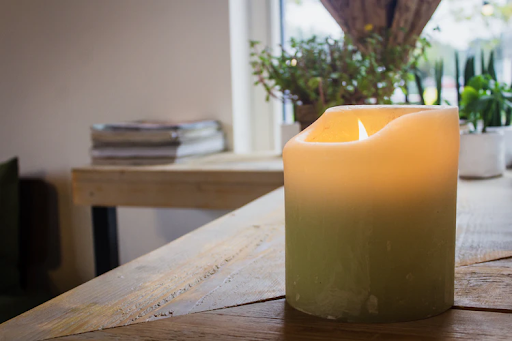 Image Credit: Unsplash
Read also – 11 Amazing Home Decor Trends
2. Let there be light
The lighting is the second-most important component of home decor. You need the perfect blend of brightness and subtlety.
Install large windows and skylight with glass panels. This will allow the natural light to flow through your home, not only to illuminate but also to cleanse it. For small spaces, in particular, French windows, glass sliding doors, and skylights can do wonders to create an illusion of expansive living space.
You can opt to decorate with string lights, create DIY sconces and table lampshades, ceiling lights in optimum locations, and accent lights for focal points in your house. It also helps to have LED lights and sconces instead of floor lamps to save space while still brightening up your home sufficiently.
In larger rooms and big houses, in general, the windows and skylights can be a nice touch because the area and square footage are spacious as it is. These features make the dingiest areas look bright and homely.
For light fixtures, consider a chandelier in the ballroom, living room, family room, and/or the dining room. They add a sense of luxe while entertaining both visitors and your loved ones. You can also hang pendant lights in your kitchen, preferably over the Island where you might enjoy your meals on dreary days. They also make excellent additions to a coffee table or your study table.
Consider accent lights and built-in LED light fixtures for kitchen cabinets and countertops too. These are key areas for your personal hygiene so it is best to illuminate them appropriately.
You can also add lights to statement pieces such as a china cabinet or around exquisite antiques or expensive paintings to create a focal point.
3. Think about the walls
Do you like paneling on your walls, or do you like them tiled, maybe you prefer geometric prints over that paint job, or perhaps you want wallpapers?
Anything goes if it makes you feel comfortable.
For a simple minimalist home, you can add fresh coat of paint and draw murals or geometric designs for some flair while still maintaining the simplistic integrity.
You can also add West Elm panels or Dado, or just about anything else luxurious for a glamorous look. Wallpapers can be textured or plain, your gallery walls can be lined with string lights or expensive artwork. You can also hang up family pictures and portraits that keep your warm and fuzzy memories alit in your mind.
If you are particularly artistic, think of the wall as a blank canvas and add your personal touches with some DIY elements. You can frame a handiwork and hang it up or create a mood board of your favorite design styles as a quirky piece of art. You can add foam or sponge liners where you can hang pieces of jewelry, keys, important notes, etc. within a glass casing.
Just explore your options for a personal reflection of yourself.
4. Get some home organizers for effective storage
There is a multitude of home organizers and shelving options that help segregate your belongings so that your home is never cluttered.
You can find baskets and home organizers in ikea or browse for them on Amazon. These baskets, portable shelving, and hanging baskets have so much to do with your home decor.
For starters, you can create sectionals in large cabinetry and wardrobes to store more stuff. The portable factor aids you in carrying objects around in caddies instead of cluttering the living space with small objects. Trust us when we say, cluttering is the enemy of good home design.
Home organizers are also effective in home offices and work spaces where you need to have a place for everything in order to prevent unnecessary delays in your work.
5. Hang lots and lots of reflective surfaces
As you know, reflective surfaces have a tendency to create an illusion of expansion. This is a particularly helpful addition to small spaces and tiny homes.
Whether you have a large or small home, consider hanging a lot of mirrors. Keeping on par with Victorian and luxurious motifs you can have mirrors in stunning frameworks along the walls, standing alone on floors, or even on the baroque ceiling. Even for minimalist homes, you can have mirrors, glass panels, and reflective pieces of home decor. They refract light and make the home look bigger and tidier.
Light paint colors also have a similar effect on your home so you can combine them with reflective surfaces. The overall idea is to make your house look hygienic and welcoming after a long and tiring day.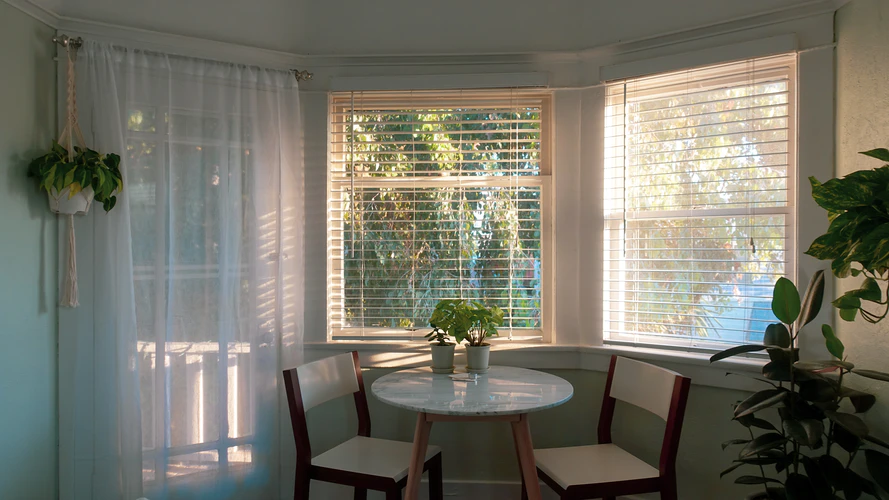 6. Optimize your window treatments
A window treatment can make or break your home design plan.
Let's say you have installed beautiful French windows in your home with an ornate framework and an open outlook. If you were to cover them up with shutters or blinds, the overall aesthetic value of your exquisite investment is a complete waste.
Similarly, if you have a poorly-framed window arch with a not-so-pretty grill but you prefer to keep it open to allow sunlight and a natural breeze to flow, then you need something to beautify it.
This is where window treatments come into the picture.
If you already have a beautiful window installation, consider displaying it in style. Instead of covering it up completely, install two layers of window treatments. The inner layer can be light, preferably white fabric that allows the sunlight to stream in but also shields the brightness considerably. The second layer can be a beautiful, textured fabric with an inexplicable design for elegance. You can bunch it all up during the day or whenever you want free light and airflow and close the curtains when you want privacy. In both cases, they look stupendously magnificent.
For dull window installations, consider BOHO style blinds that allow a bit of texture and visual interest in a modest home. They surely make the window look fabulous on a budget and you can acquire these blinds on any Etsy store.
Aside from the obvious purposes of window treatments, you can also add these features to other areas of the house such as the entryway, around a bathtub or shower stall, as room separators, etc. You can also hang them on an accent wall as a tapestry and create a focal point for statement pieces.
7. A touch of motifs and themes
Having a predefined theme or motif for your home design is a great way to launch the project.
Discuss some of the popular themes with your interior designer or decorator before you start purchasing your pieces of furniture and decor.
You can mix themes such as country or rustic themes with modern motifs. Based on your theme, your furniture can have clean edges or craftsmanship. You can choose antiques and blend them with the correct color decorating ideas for flair.
When choosing your theme, make sure that it makes you feel comfortable. For instance, a steampunk theme with exposed metal works and industrial architecture may seem a little dull or uninviting to peppy homeowners. Similarly, a hard Victorian theme can seem a little boring to those who enjoy technological advancements and functionality over prettiness.
Ask yourself, what is the type of color palette, lighting, ambiance, and furniture design that speaks to you? Be honest with your interior decorator and they will create suggestive mood boards. You can pick the one that best tickles your creative juices and inspires tranquility.
If you're not sure about what each type of home decor contains, consider reading our other articles with detailed analyses on various motifs. You will get an idea of what to expect.
8. Greenery revitalizes your soul
Did you know that a little greenery in your home design can make a room feel lively?
It's true. You can get some indoor plants, BOHO flower pots, floral centerpieces, etc. to brighten up the home decor. What they really do is add a natural element while purifying your environment all at once.
Green plants have a contrasting effect on several home design themes. The bright color, whether or not it is a flowering plant, makes the home feel cheerful and upbeat.
You can use succulents and create a small rock garden in the outdoor space and opt for tall houseplants in the entryway. Cut up long-stemmed flowers for vases and create a beautiful centerpiece. You can also place small plants and flower beds in box-shape windows.
9. How about some accessories?
When we say accessories, it is almost similar to accessorizing when you go to a fancy dinner. Only, instead of diamond cuff links or tie clips or necklaces and bracelets, you accessorize your home with appropriate pieces of decor.
For instance, throw pillows and throw blankets on a daybed in the living room, a centerpiece on the coffee table, and brightly colored or bold-patterned cushions on the sofas can be really enticing. Combine them with intricate hand-crafted home decor, some coffee table books, and magazines, or check out the videos to learn hacks to design additional personalized DIY items.
For the bedroom, how about a hidden bookshelf behind the headboard for nighttime reads or a few personalized photo frames containing beautiful memories? You could add shelves in the corners to hold several small items like gifts from your spouse or trinkets you made that are personal.
For the kitchen, the best accessory is a backsplash. Not only is it extremely functional and blends into your home design but it adds to your color decorating. In a small, white kitchen, a wooden or tile backsplash adds a pop of color.
In bathrooms, you can accessorize with scented candles, potpourri, small plants, pine cones, etc.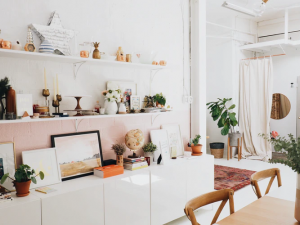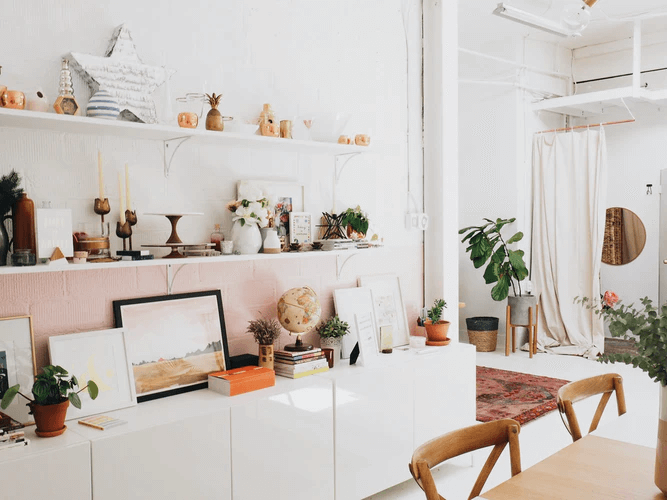 Image Credit: Unsplash
Read also – 10 Most Popular Types of Interior Design Styles
10. Area rugs are beautiful and functional
Area rugs are excellent additions to your interior design.
If you have a small home, then you can add an area rug in the entryway to distinguish the space. You can also lay down long carpets to create a pathway into your home.
Once you're in the living room, the thing about an area rug is to mark the seating arrangement. If you have a studio apartment in New York, you could use a large area rug that fashions as a carpet for your foldable bed ad accommodates your seater with a coffee table.
In some cases of minimalist decor ideas, you can use area rugs around a low-bearing coffee table, surround it with floor cushions, and build yourself a seating area without much fuss.
Area rugs are also good for the bedroom. You can lay some around the bad and the morning coffee nook for some added styling. You can place area rugs in the kitchen and bathroom in regions where you spend a lot of time standing.
Some ornate area rugs, such as Moroccan ones, can add aesthetic value to your home. If you like fur area rugs then please go for faux fur. There are several options available online or you can find some in thrift stores, local markets, and Etsy shops. They have exquisite designs and add valor to your home.
11. Tie it all together with technology
These days, regardless of how well you understand and use technological advancements, they are essentials in your interior design plans. The manner in which they have simplified everyday living is a testament to the human mind.
For one, you can install a home theatre system that you can control via Wifi. You can also connect all your appliances such as a washer and dryer, fireplace, oven, light fixtures, dimmers, dishwasher, sprinklers, and just about everything else to your home network. That way you can finish your household chores while you're sitting in your office or driving home from a long workday.
Another boon of technology is that you can wire your home security system to it. All your burglar alarms, fire alarms, and fencing alarms are wired to your phone so you can quickly take action in case of emergencies.
When speaking of home decor ideas in the modern age, no home is complete without technology. Apparatus such as Alexa, Echo, Google, etc. have made home functionalities fun and easy.
Conclusion
You see, home decor doesn't have to cost a bomb. You can buy what you need at Walmart or Pottery Barn or Ikea depending on your budget. You can simplify your living space by adding ample storage to declutter your home. You can find such items on Amazon or build DIY items for the same.
The important thing to remember is that when you're finished with designing your home, the end product should invite you in and make you feel content. There are several technological advancements that could simplify your home cleaning process as we have mentioned while still blending in with your theme.
So get started and build yourself the dream home instead of the real estate property you acquired.