Home » Architecture Concepts » 12 Ways To Create Best Architecture Portfolio for Designers
Architecture Portfolio
There is not a person on this Earth who doesn't have a dream, a vision for their future.
Whether you want to be a doctor, an engineer, an entrepreneur, a comedian, an actor, a life coach, an interior designer, a game master, or an architect, it is the ambition of your life right?
Ambitions are important; they give your life meaning and a purpose. It is what makes you jump out of bed in the morning and keeps you up at night. It is what will provide for your family and promote a good standard of living.
However, having a dream is not enough. You have to pursue it with everything you've got. The problem lies herein, though, when you get your degree or diploma and go out into the real world to make your dreams come true.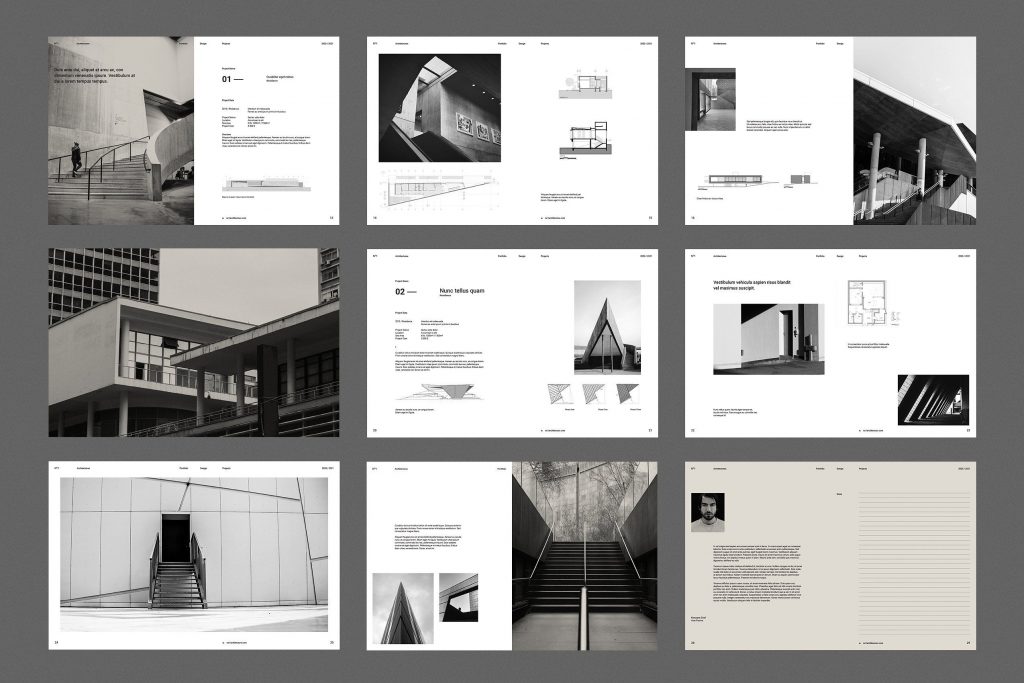 Image Credit: pinterest.com
Today, the competition in any field is fierce. There are at least half a dozen thousand applicants looking for the same job role that you are. This is particularly challenging for people with an artistic vision. Every gamer, every interior designer, and every architect is competing for their career.
We are not trying to discourage you. On the contrary, we understand the pressure you are facing, therefore, today we shall take some time to discuss one of these fields that not only helps dreams come true but also makes one of the highest salaries in the United States.
Professional architecture, dear friends, is a divine field of study that requires passion, clear vision, and a willingness to overcome the overwhelming competition in the market to make a name for yourself.
Read also – 12 Best Architecture Design Software
How To Win The Competition and Get Your Dream Job in Architecture Field?
Now, as you graduate from being an architecture student to a professional architect, you already know that there are at least 80 – 300 fellow students from your class competing with you. Not to mention the numerous others graduating from other colleges in other batches, and other states.
Your first instinct is to create an undergraduate architecture portfolio and send out your resume and design samples to every architecture firm around you. While that is an admirable plan, don't forget that your peers are doing the same as you read this.
That is no reason to fret though. In this article, we will discuss a few key points for your architect portfolio and resume design that will narrow the competition if not eliminate it altogether. You can stand out among the crowd and make all your dreams come true.
The key is to design a killer architecture portfolio that demonstrates your unique vision, your innate sense of style, and your passion for building something out of nothing. A commendable architect, no matter if they are fresh graduates or professionals with years of work experience, knows that visualization and portfolio presentations matter.
Your school of architecture has already taught you the basics of design and building codes. Now it is up to you to display your knowledge in the best possible light to your future employers.
Here are a few tips you can follow to create a noteworthy architectural portfolio to set you apart from the rest of the designers:
12 Ways To Create Best Architecture Portfolio:
1. Check out architecture portfolio examples
Any aspiring architect or architecture student always has a visionary they admire. Check the architect portfolio of successful architects for inspiration.
You can refer to architecture portfolio examples online. There are several viable options available for current architects who are designing the skyline of various cities across the globe. See what portfolio design best suits your artistic style.
Another option is to create architectural designs inspired by works of art created by the best. Frank Gehry, Buckminister Fuller, I.M. Pei, and others are all contributors to great architectural offerings through time. Although their designs may be a little far-fetched for new graduates, the concepts they created are still quite popular. Check their lifetime portfolio and derive design ideas that astound your prospective recruiters.
The benefit of checking different architecture portfolio examples is that sometimes you might find a portfolio layout or design idea which is on par with your personal style of creation. You can use these samples and build around them. These architects made it big for a reason. Having that USP on your portfolio can be nothing but highly advantageous for your career.
Read also – 10 Reasons Why Landscape Architecture Is Important?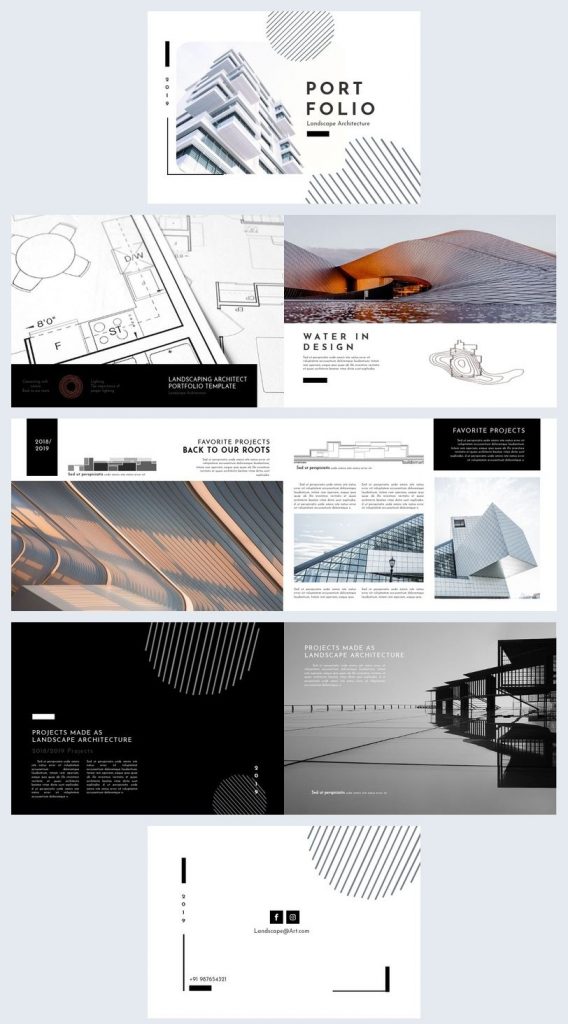 Image Credit: pinterest.com
2. Choose an architecture portfolio template that best suits your design theme
Next, you need to consider the themes you usually prefer.
Do you like designing architectural works that reflect your love for cutting-edge technology or classic designs with a twist?
Do you prefer color nuances that invoke a sense of futurism or cozy and comfortable feelings?
Are you interested in residential architecture or do you lean towards designing commercial spaces?
When you identify your personal style, it becomes easier to choose the architecture portfolio template for your folder. You can choose the template that complements your design style.
Since the field of architecture relies heavily on a sense of style, your portfolio needs to speak subliminally. The recruiters need to see for themselves just how smoothly you can put together an aesthetically pleasing design because that's what makes an impression on clients.
You can choose a minimalist theme and use white space for the template. Bold, geographical designs are best illustrated against a simplistic background.
You can also choose a template that allows you to insert a logo for a personal touch and a sense of individuality.
There are several InDesign templates on Issuu that you can also choose from. These models are calibrated to make your portfolio presentation pop. The portfolio layouts often use a graphic design where you can incorporate your technical drawings, 3D images, and documents.
Read also – The Average Salary of An Architects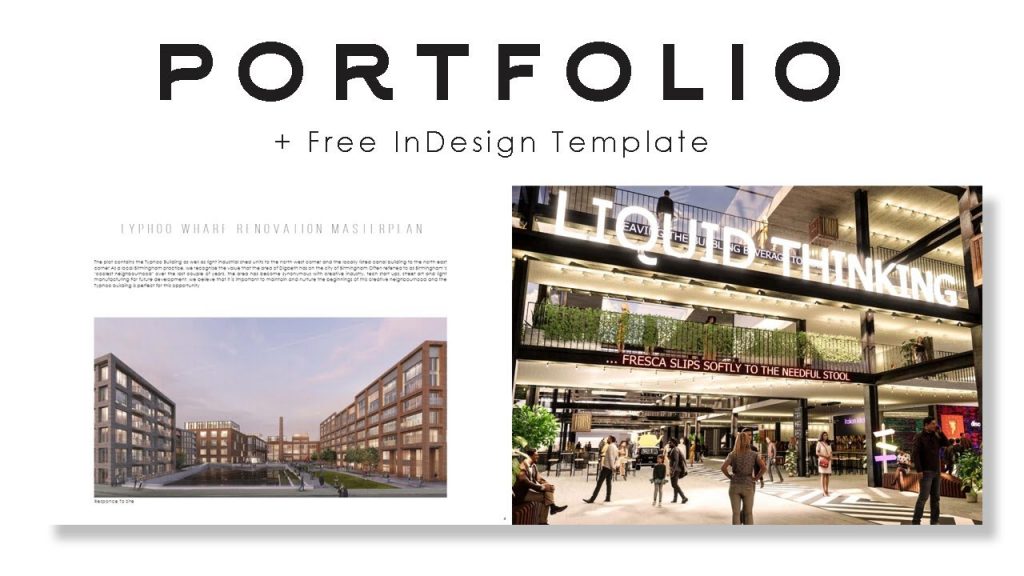 Image Credit: youtube.com
3. Put your skills in graphic design to good use
Any good school of architecture equips its students with the basic knowledge of graphic design. These skills are further translated in the design process where you can use various software tools such as Adobe Illustrator, Adobe Photoshop, Behance, Adobe Indesign, CorelDraw, etc. to enhance your design work.
Graphic design is an integral part of interior design and architecture alike. These software tools help add the special effects and renderings that ultimately impress potential clients who approach the architecture firm. Illustrating your mastery over graphic design adds to your appeal as an architect and designer.
If you are not thorough with these graphic design tools, consider taking a crash course or workshop and spend some time experimenting with different design trends.
Read also – Best Interior Design Colleges and Institutes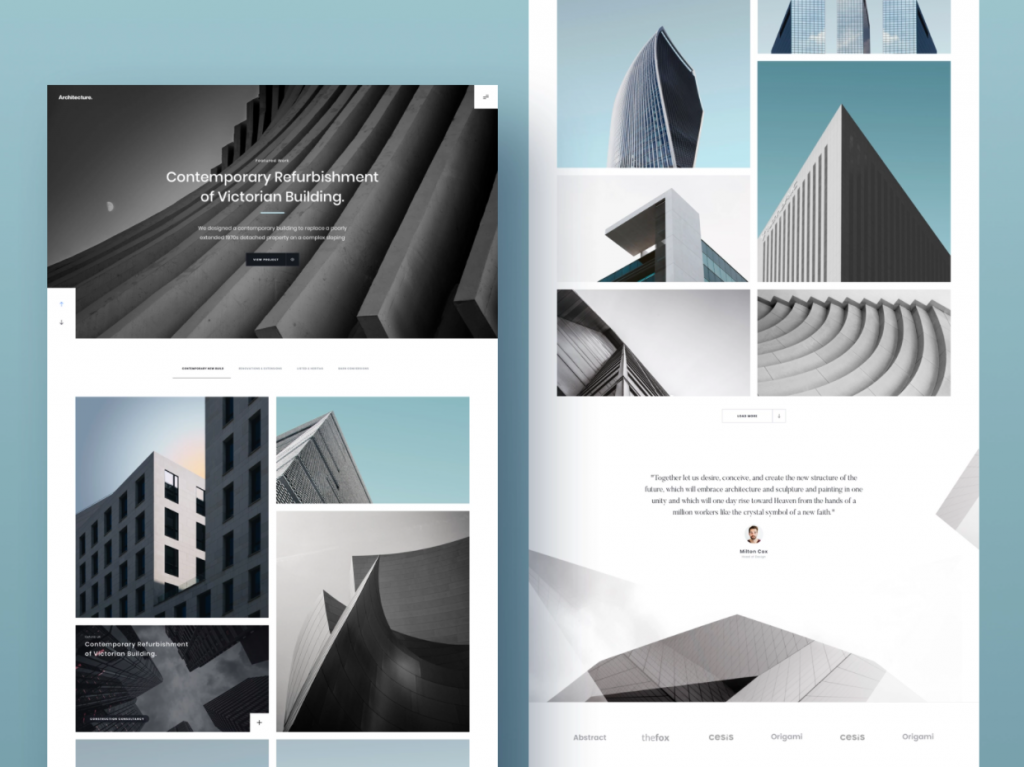 Image Credit: dribbble.com
4. Create a set of sample architecture projects
One of the key ingredients on your architect portfolio is the samples of your own architecture projects.
When you have a ton of work experience in the field, you can easily incorporate your past architecture projects into your portfolio. Choose your best work and create a folder to share with potential employers. You can update these on a website to share the link with them or you can add them in a portfolio layout.
If, on the other hand, you are a fresh new graduate, then your sample pool I small to non-existent. Therefore, you need to get creative.
Consider using the Foyr Neo app to generate technical drawings and 3D renderings of your design ideas. Granted, these designs are not yet built but they do illustrate your innate sense of architectural genius.
The Foyr Neo app is quite user-friendly and uses cloud-based technology therefore, you can easily store your design work and run them by your mentor or coach. Construct the best design ideas you have or build some of your hand drawings into 3D models and add them to your architect portfolio.
Read also – How To Pick The Right Interior Design Projects?
5. Highlight your experience of working with a team
Once again, if you have work experience in the field of architecture then, needless to say, you worked with a team of designers, construction crew, freelancers, and others. Your ability to communicate and correlate with different teams shows that you are adept to project management. You may have been an insignificant cog in the overall process earlier but don't forget that every member of a team has valuable contributions to the overall architecture project.
If you are a newly graduated architecture student, think back to group projects that you handled during your education program.
Recruiters always want to know that the candidates they hire can work smoothly and coherently with their peers without raising a lot of conflicts. Effective teamwork is an invaluable soft skill that adds weight to your architect portfolio.
Read also – 9 Tips To Improve Your Architectural Visualizations
6. Design a business card
You may be thinking, why have a business card before you get hired.
Well, an architect doesn't just create a portfolio to land a job in a design firm. Your portfolio is also a gateway to acquiring independent projects and freelance work.
A business card subtly says that you are a force to be reckoned with. It shows that you are capable of designing for the firm or for homeowners, real estate developers, commercial clients, and anyone else.
Business cards also display a sense of professionalism. You can hand them around during social gatherings where you network with potential clients, recruiters, or other architects. When you discuss or bounce off different ideas with them, they may seek you out for collaborations. This is when your portfolio comes into play.
In short, business cards are gateways to sharing your architect portfolio thus scoring you a desired project or job in the field.
Read also – Best Ways To Create Interior Design Portfolio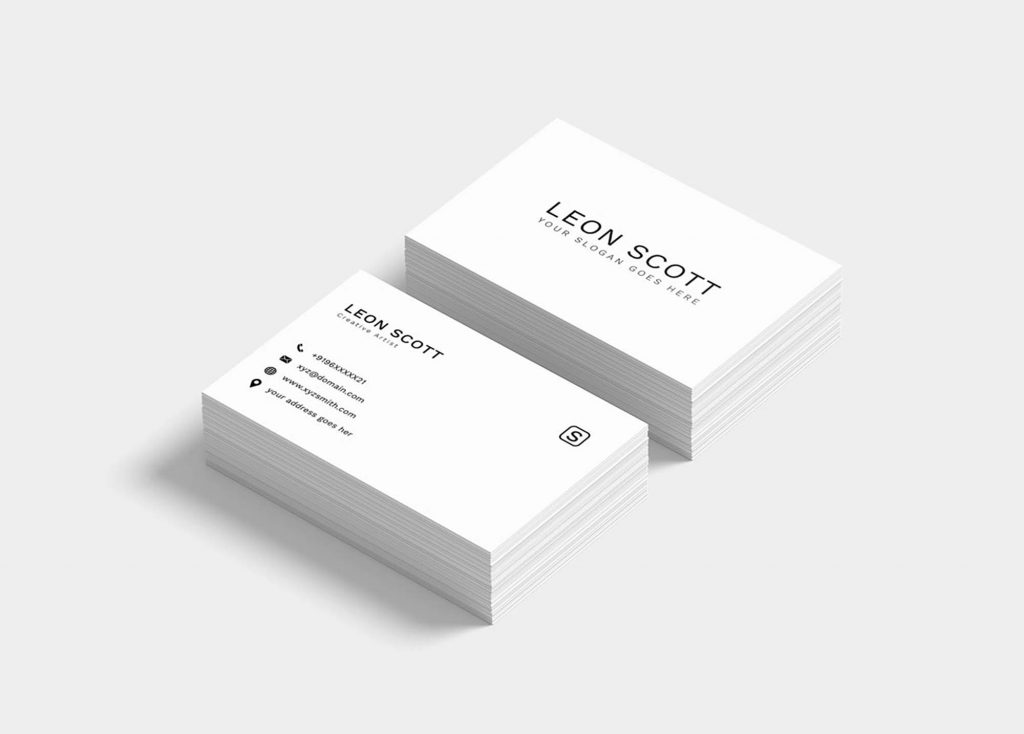 Image Credit: imockups.com
7. Consider portfolio websites
Of late, creating portfolio websites has taken on the market like a storm. Regardless of whichever artistic field you work for, a website filled with your design work and past experiences is just a cherry on your delicious ice cream sundae.
Think about this: You want to apply to your dream architectural firm and they ask for your portfolio. You simply share a link to your portfolio website that contains an online version of your layout. Not only is the recruiter amazed by your designs but on a psychological level, they see you as a multi-faceted candidate who can take over building an incredible website for their company as well.
In another scenario, let's say you meet a potential client at a charity event or architect's ball. The client may want to see your body of work while they are seeking architects for an upcoming project. While your peers are busy waiting to get home and share their architecture portfolio, you simply send a text message to the client with a link to your portfolio website. Your prompt action just eliminated the competition while instigating a casual professional relationship with the client.
A portfolio website has multiple benefits and if you can build one, you are already ahead of the competition.
Read also – 12 Expert Tips To Get Clients for Interior Design Business?
8. Specialize in your field
Architecture is not just about building the structural design of a building. When you are an architect, it is important to find the specific section of the field that interests you.
For instance, you could specialize in interior architecture, which is to say, you may be an expert in choosing the floor plans, the framework, the placement of different components of the building, and whatnot.
Similarly, you could also be a visionary who designs the outer framework of the building. That means you have a keen eye for identifying exactly what kind of a structure you want to contribute to the city's skyline.
You may also specialize in different types of building styles and designs. Perhaps you are great at working out the details of a skyscraper, or maybe you have an innate sense of residential property designs.
This can be further classified into commercial and residential property too. You can diversify and build one or the other, or both. The design styles you employ for residential townhouses, villas, Victorian houses, apartments, mansions, bungalows, etc. are all different. You can even specialize in any one of these styles and make a name for yourself as the best available architect for the job.
Lastly, there is landscape architecture too. This is where you use your love for form and design and combine it with a rising need for landscaping in both commercial and residential properties.
Once you know what you are best at, it becomes easier to seek clients as well as carve a special corner in history. Who knows, you may make it into the architect's Hall of Fame.
A speciality actually enhances the value of your architect portfolio.
Read also – Architectural Marvels
9. Subtly demonstrate your soft skills along with your hard skills
All hard and soft skills have some amount of significance in professions across the spectrum. Architecture is no exception.
As an architect, you need to have people skills, a sense of identifying what individuals crave, recognizing their strengths and weaknesses.
Here are a few soft skills that you must demonstrate on your architect portfolio:
Creativity
Time management
Teamwork
Problem-solving
Decision-making
Critical thinking
Adaptability
Leadership
Communication
Collaboration
Work Ethic
Negotiation
Project management
Persuasion.
You also need hard skills that help with the tools of your trade. These hard skills are what enable you to evaluate the available space, build a structure that can hold its own weight, factor in the load anticipated to be carried by the building, and design a suitable construction.
Here are a few hard skills an architect must possess:
Design skills
Thorough understanding of mathematics
Science of structural elements
Software skills
Architecture and development framework
Make sure that your architect portfolio seamlessly demonstrates these skills. If necessary, add them under a special section on your resume. However, do not enlist them on your cover letter as that is not what it is for.
10. Don't disregard hand drawings
In today's technologically enhanced era, people seem to have forgotten the importance of hand drawings in the field of architecture.
We know there are several applications and graphic design software tools that facilitate creating your architectural designs on an online forum. You can create online portfolios, define the foundational components of your site, and literally create 3D renderings of your design plans. These are, undoubtedly incredible, revolutionary solutions.
However, the evolution of architecture is grounded in hand drawings, and here's why. When you create a hand drawing of your design plans, you can thoroughly evaluate, erase, redo, and define the floorplans to the Tee. This is not to say that your long list of software and apps don't allow it but the level of commitment and connection with your work is pretty minimal.
Also, don't forget that architects need to have sketching skills. That is just a prerequisite because it inspires creativity in the individual. Thus, add at least one or two hand drawings to your architectural portfolio. It shows that not only are you apt at using design software but you can also work on sketches for traditional clientele and produce high-quality work.
Read also – How To Become An Interior Designer?
11. Keep on par with the company's design work and style
Now that you have determined the qualities to add that will set you apart from the competition, let's work on making a personal impression on your recruiters.
Take some time to study the overall portfolio of the design firm where you choose to apply. Try to understand their core values, their design concepts, and their outlook on the field of architecture. Then calibrate the layout and designs in your portfolio to align with the vision of the company.
When a recruiter comes across an architect portfolio that reflects their own USP, they immediately want to work with you. This is because they see that you share their ideas, their standards, and you will easily fit into the work environment.
Try to incorporate their concepts with a touch of your own design styles. This way you not only support but also add to the company's overall value.
This phenomenon can also be translated to direct clients. All you need to do is understand their personal style and expectations. Study the client and their preferences before you ship off your architectural portfolio to them. Make sure to add a few designs that speak to them on a personal level. In no time, you will find that the client not only hires your services but raves about your design work to their friends and loved ones.
Read also – Sustainable Architecture: The Voice of A Green Future
12. Write up an incredible CV and cover letter to go with the architect portfolio
Lastly, once you have the architect portfolio in place for the visual aid, design a CV to elucidate your skills, accomplishments, awards, education, etc. with well-planned typography.
Then work on your cover letter. This is an important component when applying for an architect's job because the company needs to know that you have taken the time to learn about them. It shows that you are not just applying to all companies in the pool. Instead, you have a personal interest in working for a particular architecture firm.
Your cover letter should talk about how you share the firm's vision and ethics. It should inform the recruiters that you have a personal reason to remain loyal to the firm. This immensely adds to the already enhanced impression of you and you get that dream job, or at the very least, a place to start your career.
Building a career in architecture is no less challenging than the job itself. However, if you do it right, you will stand apart from the hoi-polloi strugglers any day of the week.
You can create extraordinary renditions of your design work with the Foyr Neo app. You can make a video presentation of the design process to demonstrate the true genius of your architectural vision. You can even use hand drawings to show your future employers that you don't rely on media and graphic templates for your designs.
A full portfolio that demonstrates your talent should be no more than 15Mb since a larger file size may pose problems for the recruiters. Your images might lose their high-quality standards due to failures during the download. This inadvertently turns off the employer's interest. Instead, compress your file in its entirety so the portfolio design remains intact.
Read also – 8 Best Tips To Create The Architecture Resume
Don't give up on your dreams just because they seem challenging. Instead, use the above-mentioned tips to enhance your architecture portfolio and highlight your talents.
This field is grounded in creativity and a thorough understanding of people and their needs. If you got that down pat, there is nothing that can stop you. Just take the initiative in creating a mind-blowing architectural portfolio to show your potential employers, real estate investors, and homeowners why you are the best candidate for the job. Align your vision with theirs and voila! You got the job.
We wish you the best of luck in your career in the glorious field of architecture. Good luck!!