Home » Interior Design » The Difference Between Architecture and Interior Design
Architecture vs Interior Design
Every building has an embedded story behind its walls. The two careers fuse together in synchrony to make the building and its indoors functional, pleasant and appealing. Interior design and architectural functions are closely related and it is easy to confuse the two. However, their major differences are distinct.
Let us find out their differences and clear the confusion. Architects are adept at structural problem –solving and architects design creatively for both interior and exterior building designs. The interior design concentrates on a space's functionality while interior design focuses on aesthetics.
Architects focus on interior decorations, space planning, design processes and they know how to create life in dull spaces. The main differences are realized before the tenants' occupancy in the new buildings. 
Interior architecture focuses on the interiors and its functionality with the intention of individuals living in it. Interior architecture is a composition of other disciplines like arts and science in fulfilling the creation, restoration, and re-adaptations of the inner spaces.
When an individual wants to transform a space to suit a specific function in a built environment, it can be easily transformed by knowledge in interior architecture. Some architects do decorate just as interior designers, sometimes due to exposure and experience from working with interior designers.
Read also – Interior Designer vs Interior Decorator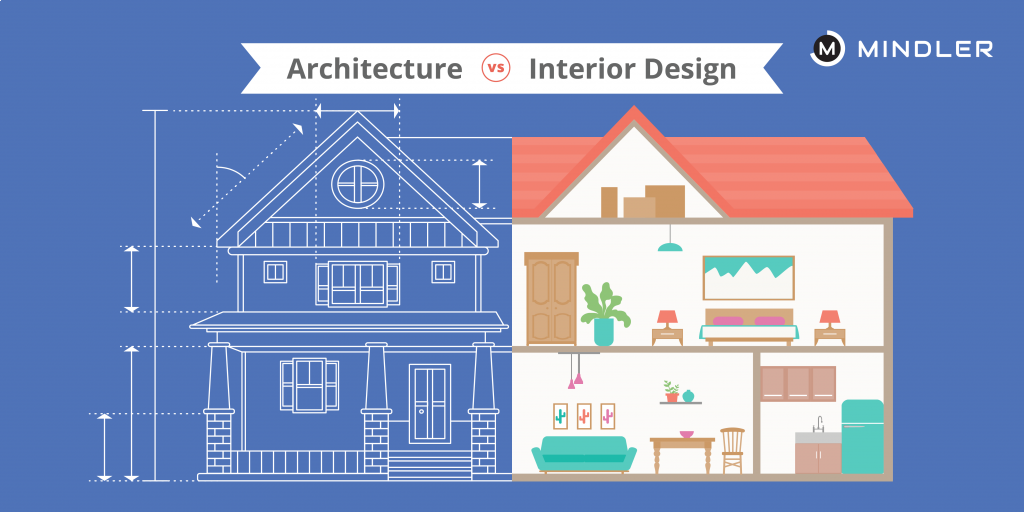 Image Credit: mindler.com
Functions of an interior architect
Interior architects are concerned with either building materials or rebuilding and converting the actual structure of interior space. Their tasks involve using the building codes and creating safe spaces. Among the aspects of safe spaces involve plumbing, ventilation, air conditioning and setting up electrical systems linked with architectural designs.
Currently, interior architects incorporate sustainable features like alternative heating and lighting. An architect also designs reviews and oversees a building's construction. His role purpose is to build functional, aesthetic and structurally safe buildings. He works with the construction team and makes sure the work is consistent and adheres to the plan.
Among his role is travelling to the construction sites and inspecting them as the work continues. An architect checks on the placement of rooms, kitchen, the garden, the dining room and ensures that enough space is awarded matching with the client's requirements.
As the interior architects develop the interior plans, they assess the environment around the spaces, study the natural lightings, and assess the feasibility of the plans. The first design their ideas manually before using the computer-aided designs (CAD) and then draft using the building information model (BIM) to create scaled plans for the interior spaces.
The interior architects also create project plans that include the cost estimates and proposed timelines. In the process, they seek out constructors to carry out the projects, draft agreements and hire temporary teams.
Read also – What Does An Architect Do?
Roles of an interior designer
The interior designers incorporate their creativity into the spaces making them aesthetically fit. Literary like the name, the interior designers' design the interior spaces and beautify them to suit their preferred purposes. When a building is constructed, the interior designer furnishes and accessorizes the interior spaces.
As they perform their tasks, they take into consideration the client's needs in terms of their preferences, lifestyles, and budgets. Their task involves aspects like choosing the materials, furniture, wall designs, color schemes, and accessories. They also meet up with potential clients and pitch their ideas to them. They understand and discuss the client's needs as they prepare thought-out plans.
They also propose budgets that will suit the client and modify them to suit the client's preferences. They carry out the role of sourcing the products and working with the carpenters and the installers. They concentrate on details such as the flooring, wall designs, color schemes, kitchen layouts and lightings to create a functional working space.
The interior designers decide on which types of sofas suit a living room, the colors that suit and blend with a room's curtains, the paintings and carvings that will suit a room. In a hospital room, for example, the interior designers design the hospital room to suit the clients' psychology and fasten the healing process by using calm colors, and brightening up the spaces.
Read also – What Does An Interior Designer Do?
How To Become An Architect: Education and Certifications
Attending a school in architecture can lead to an array of career opportunities like real estate development, landscaping, set design, urban planning and industrial designs. An individual has to pursue a 10+2 with a specialization in science and mathematics and pass with at least 50%. Then they must present themselves for the National Aptitude Test in Architecture (NATA).
It's an entrance examination which qualifies one to be eligible to enrol in B. Arch. It tests skills such as drawing, observation, critical thinking ability, aesthetic sensitivity and sense of proportion.
For one to become a licensed architect, one has to complete the established specifications from their local architectural board, obtain a bachelor's degree in Fine Arts (BFA) in interior architecture or an equivalent professional degree program certified by the National Architectural Accrediting Board (NAAB). It's a five year's course and selecting a school that meets the specifications approved by the council of interior design accreditation (CIDA) is critical.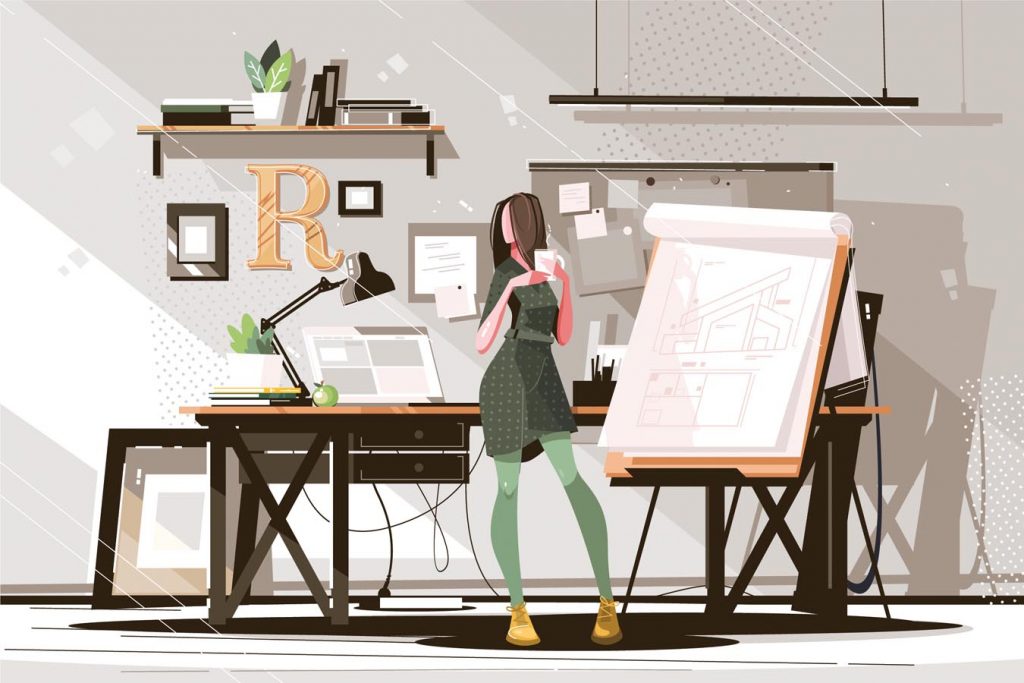 Image Credit: archisoup.com
Attending an accredited school ensures that the degree attained meets the industrial standards. They can attend an internship program offered by the Architectural Experience Program (AXP). It takes about three years and offers experience in interior planning, drafting material specifications, analyzing installation requirements and researching building codes.
The architect students must also prepare their AXP portfolios. To acquire a license in interior architect, one has to have two years of experience. The license should be renewed annually. As a practicing architect, one needs to pass the Architect Registration Examination developed by the National Council of Architectural Registration Board (NCARB). One can as well decide to pursue a post-graduate course in architecture (M. arch).
The specialization courses include landscape architecture, Environmental architecture, and Digital architecture. In their research work, they can specialize in Transport Planning, Urban Design, Environmental Planning, Housing and Industrial Designs.
Read also – 12 Ways To Create Best Architecture Portfolio
How To Become An Interior Designer - Education and Certifications
To become an interior designer, one has to pursue 10+ 2 and specialize in science and mathematics with at least 55% marks. One must also pursue a multi-level entrance test conducted by the school of interior design (SID). It is a requirement for one to graduate with Bachelor in Interior Design. One can also decide to pursue the National institute in Designs Entrance Exams (NID). It is a four years graduate diploma program in interior design.
Upon completion of the degree course, one can work with a senior interior designer to gain exposure and experience. They can as well opt for higher-level; designing courses in MSc. Interior Designing. The degree gives them the foundation in the history and theory in architecture, building designs, construction methods, CAD and BIM programs. One can as well advance in a master's degree and specialize in different areas.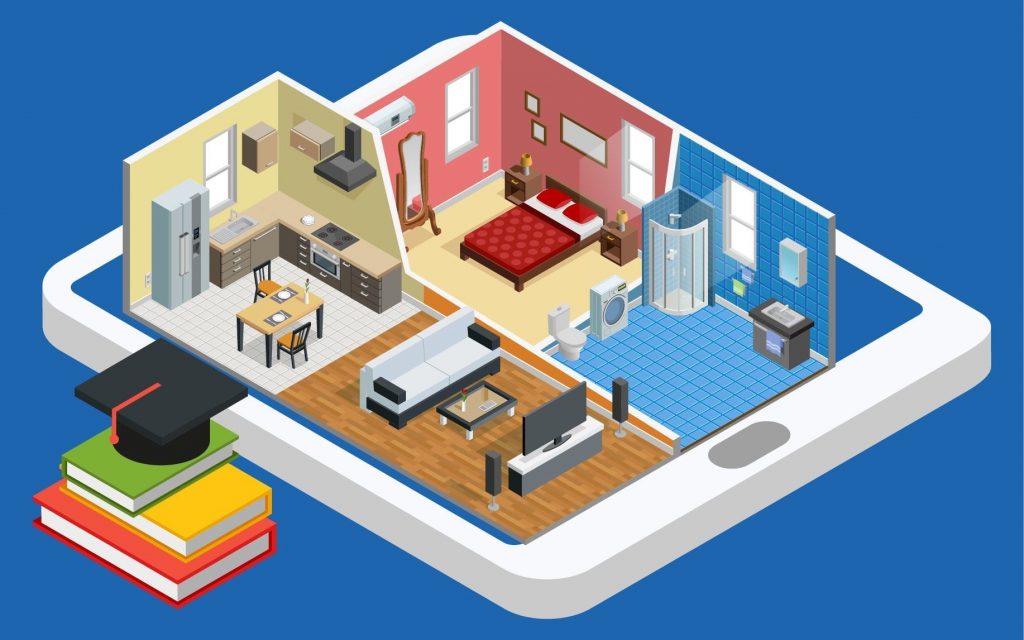 Image Credit: leverageedu.com
However, one must ensure the study institution has accredited programs approved by the council for interior Designs Accreditation which accredits the general offerings or the National Kitchens & Baths Association which accredits specialized programs.
Interior architects separate their time depending on the location of the work (office and construction sites. In offices, they meet up with clients to discuss projects, create detailed programs, and develop budgets and timelines for projects. In construction sites, they oversee projects and construction teams. They oversee the projects are completed in time and within the set budget.
Interior designers also separate their schedules. When working in an office, they meet up with the clients, research on materials and decor options. They make use of software applications in creating designs for spaces. When they are out of the office space, they meet up with vendors to browse, meet up with client sites, and carry out their design plans.
Read also – 15 Tips and Skills To Become A Successful Interior Designer
Charges
Charges by both professions are relative. Some professions charge a percentage of the project's value while others charge a lump sum. It all depends on the size, the value and the type of the project. The prices range between 6-15% for both professionals. It is essential to recognize the scope of the work in the initial stages.
Salaries
In both professions, the salaries vary depending on the location, seniority, and job title. In the USA the scale range for an architect is around $70,000 while in the United Kingdom it is between £ 40,000 and £ 50,000. This rate also varies according to different states.
An architect in Utah for example earns 62% of what an architect in New York earns. However interior designers earn less than interior architects. This is due to the heavy and complicated tasks that interior architects perform like ensuring the building is in good condition and standing.
In theory, if one is a qualified architect, they can work as an interior designer but practically, it may be complicated. When deciding to choose between studying for two jobs. It's rather reasonable to start with interior architecture then when one specializes; they can take the route in interior designing. This is because adding interior design to one's portfolio is an option that can be considered. However, taking interior architecture as an option when pursuing a degree in interior design is impossible.
Read also – The Average Salary of An Architects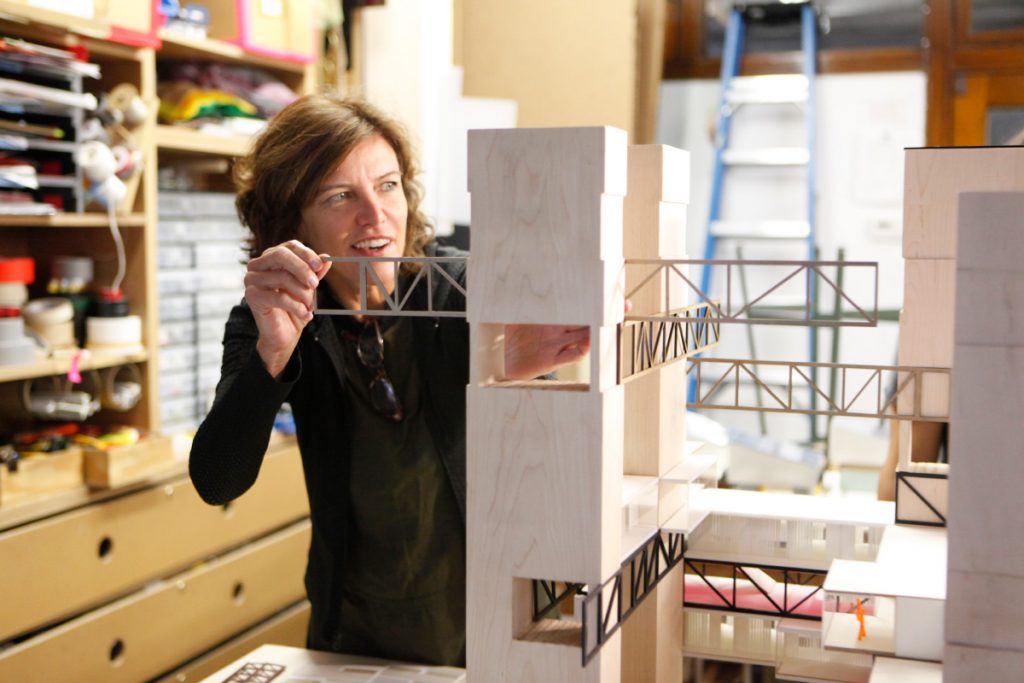 Image Credit: archpaper.com
Initially, it was stereotypical to study interior architecture rather than interior designing. The reason behind this was because it was highly regarded, unlike interior designing. Architects are better paid than Interior designers and it is natural wanting to focus on that direction.
Society had placed a glass ceiling and termed interior designing as a female's career. However, the trend is changing as more males are taking up lucrative roles. They're also more tasks involved with the career and every house needs an interior designer to create aesthetic and functional spaces.
When deciding whether to study interior designing or interior architecture as career options, it is essential to consider one's academic ability in choosing a career path. To be successful in interior architecture, one needs to be good in Physics and Mathematics.
If one takes the path in interior architecture and is not competent in Mathematics, it may frustrate the individual later on as they are involved in the construction of buildings. If one is gifted in creativity, interior design will spur their talents and design profession skills and bring contentment rather than focusing on interior architecture.
Read also – How Much Do Interior Designers Make?
Who to hire between an interior designer & an architect?
As one considers who to hire for their projects, they need to establish tasks involved in their projects first to make the right decisions. Both professions are interesting to work with. Carefully analyze the parts of the house that need renovation beyond the normal designs first. It involves even the minute details of the room such as the curtains, the color of the pillows and vases.
Interior design is covered in any architectural course and it is feasible for an interior architect to work as an interior designer with practically less or no certifications. The skills for the two jobs overlap. However, an individual who has studied interior design for three years is better equipped than an individual who has studied for seven years in interior architect. It is, therefore; better to concentrate on the tasks involved first.
If they are more than what an interior designer can handle, then it would be wise to hire an interior architect for their indoor spaces. It is also important to consider that some architectures who purely work on architectural tasks like engineering, the exteriors and coding safety for structures.
Others are multi-purpose and can carry out both architectural and interior design services roles in new buildings. There are also some interior designers who handle different parts of a project that deal with how the interiors look, such as selecting the finishes, furniture and finer details like the curtain colors and palettes. Other interior designers deal with only furniture, woodwork, textiles and finishes or the technical aspects.
Read also – Which Interior Design Jobs Have The Best Pay?
Conclusion
Interior design and interior architecture are both important careers that are closely linked. Deciding on the career path to choose lies on one's passion and ability. It is therefore essential to focus on both aspects before deciding on which one to pursue.
The article is suitable for interior designers, interior architects and interior design students as it touches on the differences between the two careers, the payment scale, the practical aspects of the jobs and the academic qualifications required to fit in the designed career path.
Foyr Neo is a powerful interior design platform built with you, the designer, in mind. Take design ideas from concept to a photo-realistic rendering in just minutes with a suite of advanced tools, including:
The ability to choose from thousands of preloaded items like furniture, plants, accessories and much more – or upload your own 3D models to create the exact look your clients want.

Produce 4K, photo-realistic renderings on demand.

Advanced lighting options and visualization settings.

Real-time 3D editing capabilities.
By combining the functionality of multiple tools in one platform we empower designers to spend less time with software and more time with their clients. You can try Foyr Neo free for 14-days now and experience the power of limitless design.