Home » Interior Design » Difference Between Interior Designer and Interior Decorator
At one point you heard both of these words, an interior designer and an interior decorator, so what do they imply? What do you like designer or decorator, and which one? All we know that you do need help to create a lovely, practical interior; but who can you ask for help?
For the first and only time, these were all separate technical terms, but the differentiation is more complicated with learning and technical expertise whether it's the interior designer or the interior decorator.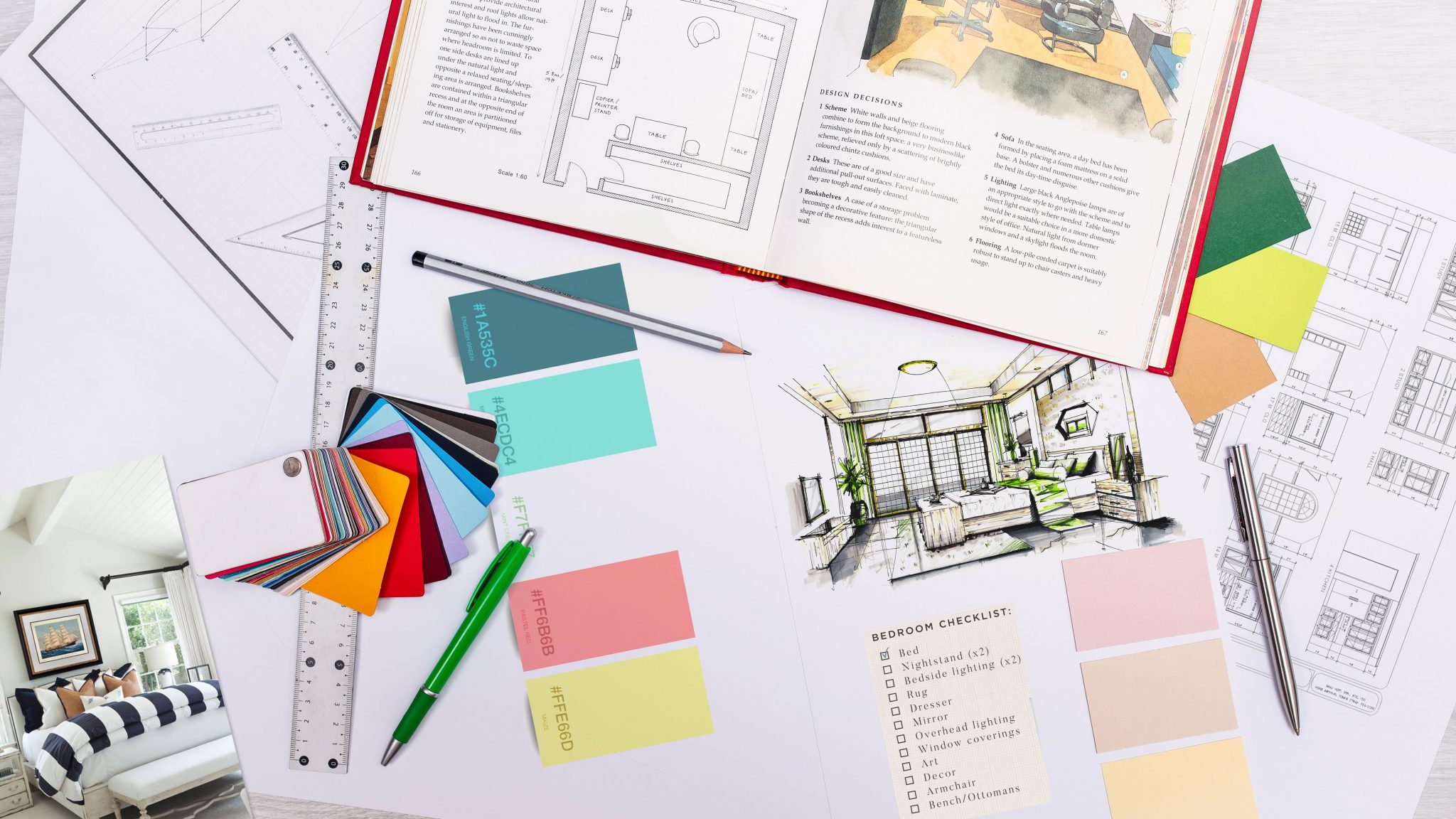 Image Credit: thespruce.com
What are the Difference Between Interior Designing and Interior Decorating?
Interior design means the art and science of recognizing the behavior of people to construct usable spaces in a house, while interior decoration is the decoration or embellishment of a room with decorative elements to achieve certain esthetics. In short, decorators will decorate, but they do not design the interiors.
An interior designer collaborates with architects to develop interior structural changes and go through building codes and has a lot of building expertise. Decoration or decor, instead, is the decoration of an area or living space that works with lovely or fashional objects they work with color schemes of existing space to make it aesthetically pleasing.
What Does An Interior Designer Do?
You are likely better acquainted with the word 'interior designer,' and that is the most popular term for describing somebody in this area with licensure to do the formal work.
Interior designers may work on a construction or refurbishment project in a number of ways. There can be a wide range of approaches for different practitioners. Interior designers typically engage in all areas of interior space preparation and completion. They are also concerned with the sculpture, aesthetics, accessibility of work, and movement of the spaces in which we live.
Their main responsibilities or duties are:
The room's color palette
The arrangement of structures and accessories in the room
Wall and floor finishes
Window Treatments
Cabinet selection
Bathroom design
Range of toilets and furniture
Light design
Artworks, plants, and decorative objects like accessories
See also – Life of an Interior Designer
Academic and Professional Qualifications of an Interior Designer
Interior architecture is one of the fields requiring systematic training and formal education of interior designer vs interior decorator. This includes painting, construction of furniture, CAD school, design & colors, architecture & more understanding of the functionality of space planning proper education from the national council of interior design. After graduating, designers also take internships with proper interior designers to gain experience for their own future and business.
A talented interior designer has experience or expertise in space architecture and has to look at surface finishes and aesthetics with unbelievably artistic and innovative effects because they have formal training and formal education from interior design qualification institutes like NCIDQ.
You would require a degree, foundations degree, or Apprenticeship in order to become a licensed interior designer. Employees in the industry choose skills on related subjects such as architecture, fine art, furnishing design, spatial design, furniture architecture, garment design, and 3D design.
Most countries required you to complete those tests after graduation through designers who label themselves professionals. You will only become real designers when your name is registered by the Governing Council like NCIDQ. There are also many countries in which such a rule is not in place. Therefore, before you start your study, it is advisable.
See also – Interior Design Certification
How Much Does An Interior Designer Make?
Average earnings of interior designers in the US are varied based on education levels like bachelor's degree or Master's. The estimated starting pay for interior designers is $35,000 per annum. This is paid on average with the lowest 10 percent. Generally, these positions are filled by new college graduates and most companies want an interior designer to have an architecture bachelor's degree. According to Indeed.com the average salary of an interior designer's annual income in the United States is 57,559 dollars a year.
When To Hire An Interior Designer?
These are some of the queries that we are still confronted with is if it is worth hiring an interior designer. We're not really able to answer this – as much as we're going to want to help. Leasing a designer's experience is extremely personal. Some homeowners may not want a project started without technical assistance, and others cannot explain the costs. In the end, it is up to you when you sit in this discussion.
Interior design is more than just a purchase of new furniture and some fresh color coats. You must combine esthetics and function when contemplating how any object fits together as a whole. Most designers deliver the following comprehensive range of technical solutions and services including in the design process:
Consultations on design
concept of environmental sustainability
Measuring and evaluating the site
The design space planning
Acquisition or acquisition
Management of the project
It's crucial to understand that a high-quality experience and goods go together. A designer who is rooted in the sourcing industry will give you access to close supplier ties where good deals and concessions would be accessible otherwise. As well as helping you with the procurement of supplies and equipment, they will simplify the process flow, a crucial move in order to ensure that the project stays on track and prevent expensive delays.
See also – Interior Design Questionnaire
What Does Interior Decorator Do?
Interior decoration is generally a smaller part of the interior design industry. Interior decorators are often referred to as decorators or interior stylists.
Interior decoration is the decoration of a room to create an artistically pleasant appearance or a makeover. After the structural plans and renovations have been finished, a decoration unit usually takes place to produce a seamless look on the room in the social context of the project. Decorators can help customers pick color schemes, helps in picking accessories, and select furnishings for internal or external areas.
Decorators can generally not deal with other people like builders or architects, because decorators will not be employed until the interior building has been completed of a new home or a renovated one, but they will collaborate with furniture companies, upholstery designers, window coverings, etc.
These practitioners combine a new idea for the interior without changing the layout of the room fundamentally. Typically your doors, windows, toilets, and kitchens like functional spaces are untouched. Either furnishing pieces, lighting, soft decorations such as textiles, carpeting and accessories, works of art, toppings, and curtains, should be included. Without even full renovations, interior designers transform and upgrade your room.
The interior décorator is usually how the room looks instead of how it works that's the art of interior decorating. The art and décor of the house are the fundamental levels of interior design. Internal decorators on the room structure will not be contacted and will normally be finished on the job.
See also – How To Create An Interior Design Contract?
Qualifications of an Interior Decorator
Interior decorators do not require any formal training as like Interior designers their imaginative eye and experience are all that's a requirement. A certificate in decorating software that may include the fundamentals of design certified interior decorators international or that may be used by certain decorators can suffice or a college qualification in similar areas, although it is not a matter of rigorous training of this specialty. Many interior decorators are certified. Whether you choose to be or are willing to take a course, seek programs that have been approved by CID and/or the Interior Design Society (IDS) is a great start.
How Much Do Interior Decorators Make?
The average earnings of interior decorators in the US are varied. An interior decorator can charge indeed a total charge or an hourly rate. A decorator charges an average of around $100-$200 an hour, and higher-end decorators charge $200-$300 an hour. Up to US$500 an hour, luxurious designers can bill. The highest annual salary in US California is $57,500 per interior decorator. The estimated level of wages in this country is from $40,000 to $78,000.
When To Hire An Interior Decorator?
The hiring of an interior decorator is an intelligent choice because you have poured a large deal of money into your house. For anyone, decorators are also intended. If you don't know when or how to start decorating your house, if you've had an idea, or you just don't have the time to follow your concept and your wishes due to the hectic day-to-day routine.
Although recruiting a design pro like interior decorator can be an excellent solution to your problems with decoration, one day they won't magically come and fix anything. You must still be involved in the operation and you must know what they are capable of. Make sure you have taken care of these items before you hire a planner or designer to take advantage of the experience.
Interior decoration is know-how and art that just improves space and the quality of your space life. Recruiting professionals increases your expertise and makes your house a sanctuary. Your graphic narrative can be told by an artist they can visualize the idea in your mind. A finer excuse than that I can't think of!" In view of all this detail, will the next time you renovate, purchase or move you probably hire an interior decorator or a designer?
Conclusion
In conclusion, the current situation of your interior, your own view of it, and your tastes, time schedules, and budgets will determine whether you require an interior designer or an interior decorator.
Interior design is a much longer project as a complete refurbishment of the room is needed. It is a personalized operation, taking every aspect, especially your specific requirements and desires, into account and a more detailed interiors approach.
The interiors are a comparatively shorter process since they are aimed at retaining as much of the hard shell as possible when eliminating and replacing non-permanent pieces. You can request that from your interior decorator. You may take into account and suggest your interior decorator refurbish the floor or change your lighting or paint your walls. The process is decorative and therefore a faster process than interior design.
You ought, to begin with, an evaluation of the job size to consider whether you need an interior designer. If the job that needs to be completed is complicated and involves coordination between many departments, you can work best with an interior designer. It can be managed easily with an interior decorator if you just want to refresh your current space or just a little sprucing up is needed.
However, in the end, the choice of the best professional ultimately relies on the qualifications of the individual employee and not the title. Most of the work is spent by many interior designers with traditional education that can be better represented as decorating because it doesn't require restoration or structural work.
And as many professionals are able to collaborate perfectly with contractors and building manufacturers as a planner thanks to their long experience. It is usually correct that planners are responsible for space preparation and structural implementation, while interior decorators are responsible for the final esthetic choices.
Career-wise like other creative industries, it is difficult and challenging to start a career as an interior designer because you need professional training and a formal license to begin. It does also offer tremendous benefits to those who love designing and working on all type of areas and use their skills to solve challenges in the design.
Interior design and interior decoration both are growing sectors with good opportunities for jobs and good salaries. Interior design is one way to explore a realistic profession with global demand for art students or aspiring designers. Whereas A decorator needs less licensure and can be attainable after few certificates if you have an artistic eye. Do the proper research and chose what feels close to your heart.
See also – Best Software for Interior Designers