How Much Do Interior Designers Make?
An Interior Designer is a person who has specialized training and experience in creating and designing interiors or spaces for people. An Interior Designer can envision and plan beautiful spaces that inspire the clients with whom they are working. If you think Interior designer is the career goal for you and you want to know how much this career can earn, This article will address how much do interior designers make in the USA and all states.
Interesting facts about the job profile, median salary, and the working conditions of this profession. It will also tell you how to get started in this field of work and the necessary interior design qualification that one might need to become an interior designer.
See also – Life of an Interior Designer
What Does an Interior Designer Do?
An interior designer is responsible for planning and implementing the design concept and constructing the finished product. They are often involved in the decision-making process as well. A good designer has a proven track record and is familiar with current market trends. He or she is also responsible for bringing a design to life. An interior designer must have an eye for art and a talent for transforming space and finding the most use out of each area. Their designs must meet functional and aesthetic requirements and be effective at serving the needs of the client.
Interior designers need to meet with their clients and discuss the details of the proposed design plan. They are also responsible for determining the budget and supervise the progress of the project. When it comes to materials, a designer needs to know everything from available finishes to find the area's best carpet. They may also choose the colors for the room or home and the accessories to enhance the space. The primary job is to coordinate and work with the project manager.
The project manager is responsible for compiling a portfolio of candidates who will participate in the design phase. The project manager determines which contractors will participate in the project and what the proposed budget will be. During this stage, a designer's job is to ensure that all team members are on the same page. The ultimate goal of the project is to create a comfortable living space. The designer needs to develop the concepts that the homeowner has provided. After this step is complete, the designer can begin working on the project.
See also – Best Interior Design Software
Interior Designer Salary in the US
To approximate figures on what is an average interior designer salary in the US is, make it essential to know the main things contributing to this figure. The most important and substantial factor contributing to this figure is the years of experience an individual has. It's essential to note that the more experienced a designer is, the higher his salary will be. But even with an average designer salary in the US, experts can command too high fees as they are in demand.
To become a successful interior designer, a person should hold strong interpersonal skills and be well-versed in technical requirements such as CAD designing, photography, textiles, home furnishing, carpentry, etc. An interior designer also needs to have good communication skills, as it's not just a case of arranging furniture and lighting.
In terms of location, the US is considered the best country for being an interior designer, as it offers excellent opportunities in all aspects. In the U.S., interior designers earn $59,107 as an annual salary. Interior designers average salary varies between $15,000 and $132,000 a year. Some salaries can vary state-wise. Salaries depend on years of experience, interior design qualifications a person has, the employer, and the location.
See also – How Much Do Architects Make?
Interior Designer Salaries in Different States
The primary objective of interior designers is to decorate and improve interior spaces stylishly and pleasingly. But this job doesn't end there. They are also responsible for maintaining safety measures at workplaces, and they ensure that health hazards are avoided. To achieve all these things, they generally engage in diverse tasks like making interior spaces designs, furniture arrangement, flooring and wall painting, carpet laying, etc. All these services are performed with expert care and expertise.
It's entirely possible to make six figures by just having a design license from NCIDQ or LEEDS and a master's degree. The only essential qualification you need here is a creative flair that can be learned after years of experience.
In the United States in 2019, The Bureau of Labor Statistics Office (BLS) has reported that an interior designer earned an average annual wage of $56,040. The hourly wage for interior designers was $26.94.
State-wise interior designer salaries in the US but all depend on what interior design qualification you have, where you live, and how good the job market is. For example, some states require their interior designers to earn a license before they can get paid. Other states do not have any specific entry-level requirements regarding the license or even qualification for the job.
In the US, the median salary for designers is different from the national average healthcare salaries. The IIDA study found that the total designer income in the northeast and west was $75,000 and in the midwest just $63,000.
The IIDA study provides some clear insight into yet another part of designers' salaries: designers with master's degrees or with extra qualifications (beyond a bachelor's degree) receive an overall salary that is $15,000 higher than designers without those qualifications.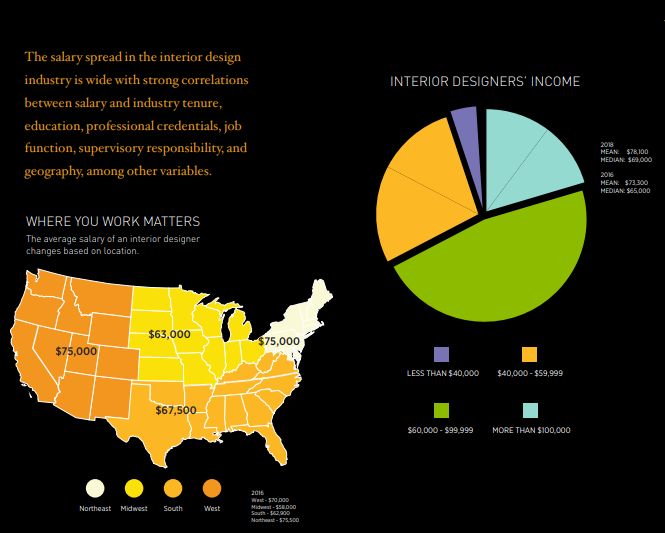 Image Credit: IIDA
How Much Do Interior Designers Earn in the USA?
Interior decorator and interior design salaries vary depending on location, experience, and the area in which you live. In certain states, the cost of living is higher, which raises incomes. You will probably get a higher salary if you work in a larger city or have more computer-aided design experience than a beginner. The more design experience you gain, the more likely you will command your services' higher salary. The incomes in interior design often differ compared to the overall resources and demand of design firms and job prospects of residential consumers in a state.
Median salaries of an interior designer in various US states are as follows:
Alabama: $46,681 per year
Alaska: $50,663 per year
Arizona: $50,401 per year
Arkansas: $16.64 per hour
California: $69,319 per year
Colorado: $55,056 per year
Connecticut: $61,723 per year
Delaware: $53,579 per year
District of Columbia: $74,848 per year
Florida: $52,317 per year
Georgia: $62,838 per year
Hawaii: $48,499 per year
Idaho: $44,825 per year
Illinois: $57,256 per year
Indiana: $44,140 per year
Iowa: $54,596 per year
Kansas: $54,132 per year
Kentucky: $57,051 per year
Louisiana: $48,068 per year
Maine: $47,021 per year
Maryland: $59,215 per year
Massachusetts: $58,360 per year
Michigan: $49,778 per year
Minnesota: $16.53 per hour
Mississippi: $15.00 per hour
Missouri: $48,702 per year
Montana: $45,051 per year
Nebraska: $44,056 per year
Nevada: $72,746 per year
New Hampshire: $54,441 per year
New Jersey: $53,304 per year
New Mexico: $14.67 per hour
New York: $70,305 per year
North Carolina: $50,773 per year
North Dakota: $48,247 per year
Ohio: $66,411 per year
Oklahoma: $56,589 per year
Oregon: $63,965 per year
Pennsylvania: $52,775 per year
Rhode Island: $13.72 per hour
South Carolina: $46,737 per year
South Dakota: $46,140 per year
Tennessee: $57,072 per year
Texas: $55,943 per year
Utah: $49,307 per year
Vermont: $47,359 per year
Virginia: $64,811 per year
Washington: $63,055 per year
West Virginia: $45,381 per year
Wisconsin: $53,006 per year
Wyoming: $70,635 per year
How to Become an Interior Designer?
Interior Design is one of the most exciting fields of design at present. This profession involves creativity, technology, and knowledge of creating an environment that meets people's needs.
An Associate's degree in Interior Design at an accredited school will give you the basic tools and skills necessary to be an effective interior designer. You will learn technical skills, including drafting, color planning, lighting, furniture, and mold making and analysis. There are also many opportunities for internships and hands-on training in various departments.
Qualifications vary from state to state but generally speaking, and they include a degree in architecture, an associate's degree in interior design, or a bachelor's degree in interior design. There are also certifications for interior design from the American Society of Interior Designers and the Interior Designers International associations like NCIDQ.
Some states do not require certification but may require licensing. It is a good idea to check with your state's regulatory agency to ensure that the particular license or certification you obtain meets their requirements. You will need to meet certain educational and licensure requirements before you can become an interior designer. You must also pass an examination to prove that you have a true understanding of what it takes to be an interior designer. After that, interior designers need to prove that they know how to build interior structures to gain contractors' contracts.
Interior designers should also have a portfolio of their work. It will give your employer a complete picture of your work. When you present your portfolio, you should always mention your educational background and any related experience to show your interior designer's versatility.
See also – Best Online Interior Design Courses
What Skills Do Interior Designers Require?
An interior designer's biggest role is to oversee the entire project from beginning to end.
1. Excellent Planning Skills: Planning is a very important skill for interior designers to require. He or she needs to know where all the key pieces of the project are located such as plumbing, electrical work, etc.
2. Creativity and an Eye for Detail: The next most important skill needed is creativity. The designer must envision what the finished product should look like and visualize the site, including windows, doors, and equipment. Great designers can visualize problem areas and how to solve them. They are excellent problem solvers and can "think on their feet." They usually are also excellent problem solvers.
3. Active Listening Skills: You have to listen to your buyers and consider their preferences in the field of interior design.
4. Strong Communications Skills: Not only will you be able to negotiate with your customers, but you will also have to contact your vendors and service providers like plumbers.
5. Strong Leadership & Management Skills: These are essential to all businesses like the interior design field. Management skills are also crucial. You must respect deadlines and create schedules when you work in this field.
See also – Life of an Architect
Increased Earning Potential from NCIDQ Certification
Earning potential can be increased by earning training, certification, or licensing like NCIDQ. Interior designers can have better job opportunities and lead the project with future customers' and employers' confidence.
NCIDQ stands for National Council for Interior Design Qualification exam, which has the highest standard any interior design can earn. This exam has three parts developed by the Council of Interior Design Qualification refer to as CIDQ.
NCIDQ exam will give you the basic tools and skills necessary to be an effective interior designer. It will increase your level of competence and innovation. You will also be able to sign and seal the professional interior design documents. Apart from higher salaries, certified interior designers are well recognized and have better opportunities than uncertified interior designers.
See also – Everything about Interior Design
Conclusion
In conclusion, interior designers are in demand because they provide a unique service that is difficult to find elsewhere. They can provide a better design for the customer and create a plan for the interior designer to follow to accomplish the project. If you want to pursue a career as an interior designer, you need to make sure that you get paid well.
The fact of the matter is that there are many talented interior designers globally, but there are also many people who try to take advantage of them. They pay them less and are not aware of the training and licensing required to become a professional interior designer. It is important to have a proper mindset when you want to pursue your passion.
See also – Download The Playbook for Interior Design in the New Normal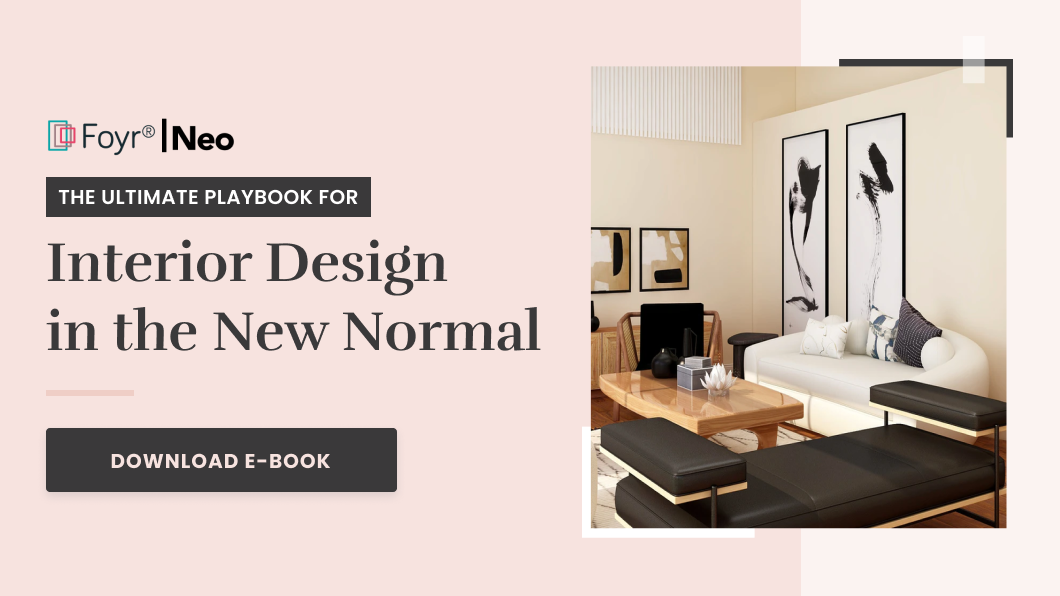 If you have the right business tools, each stage of the interior design process will be easier and more efficient.  Foyr Neo is a one-stop-shop for all your design needs. The multifaceted design software has so many features to choose from that it makes it easier to visualize your design ideas more effectively. 
60K + ready to use products 

Build Floor Plans, edit in 3D

Drag and Drop Interface

4K Renders in minutes
Furthermore, it doesn't take up a whole lot of space due to its incredible cloud computing feature. It saves time and money on licensing. Anyone can create absolutely remarkable home designs with these design tools. Foyr Neo is now available for a 14-day free trial, allowing you to explore the potential of infinite creation.