Home » Interior Design » The Complete Guide To Interior Design Project Management
Interior Design Project Management
There's more to interior design project management than picking out the paint and throw pillows.
There are the late nights of coffee-fueled creative collaboration.
And let's not forget about the endless juggling of clients, contractors, and suppliers.
At its core, interior design is the perfect marriage of art and science — and that's no easy feat.
But it's all worth it when your designs finally come to life.
Let's explore interior design project management — its lifecycle, the role interior design project managers play, and the software that helps bring it all together.
By the end of this guide, you'll have the know-how and motivation to tackle your next interior design project with vigor.
Read also – How To Pick The Right Interior Design Projects?
What is interior design project management?
Interior design project management is the process of overseeing different types of interior design projects.
For example, a designer may find themselves working on a residential remodel one week and collaborating on a new commercial office the next.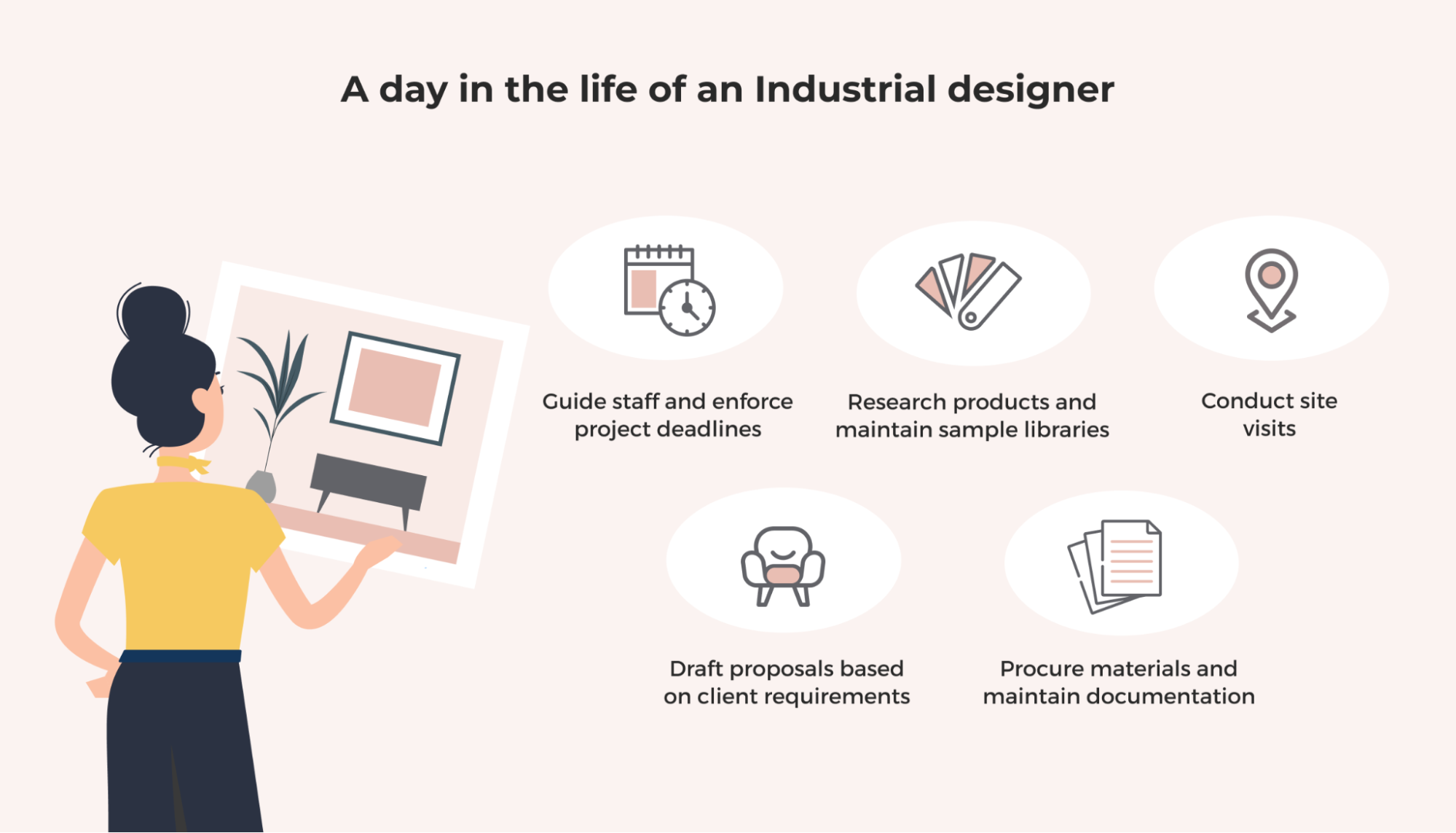 Now, interior designers work with a range of different clients spread across various industries. 
And even though each project is unique, all clients expect the same high-quality, consistent results — and they want them on time and within budget.
So, having a project management workflow to organize tasks and keep track of milestones makes life a lot easier.
And although there's no universal project management workflow, many interior designers follow a similar process when managing their projects.
We'll cover our version of this process later.
What does an interior design project manager do?
An interior design project manager makes sure the project flows as smoothly as possible from brief to final delivery.
A skilled project manager is usually an experienced designer familiar with all aspects of a design project, including:
Planning and organizing project schedules
Assisting with construction documents
Interacting with clients, contractors, and suppliers
Sourcing materials and products
Resolving conflicts
In other words, an interior design project manager has the technical expertise for making design-related decisions and the soft skills for communicating with project stakeholders.
Read also – What Does An Interior Designer Do?
1. Roles and responsibilities
Although it varies from company to company (and even more so if you're a solopreneur), here are a few responsibilities interior design project managers handle day-to-day:
Draft proposals based on client requirements
Plan, budget, and execute projects (including final delivery)
Coordinate with stakeholders
Coordinate with contractors
Conceptualize design
Research products and maintain sample libraries
Procure materials and maintain documentation
Estimate projects
Communicate (and haggle) with suppliers
Manage schedules
Guide staff and enforce project deadlines
Conduct site visits
Keep up-to-date with codes and standards like the American Disabilities Act (ADA)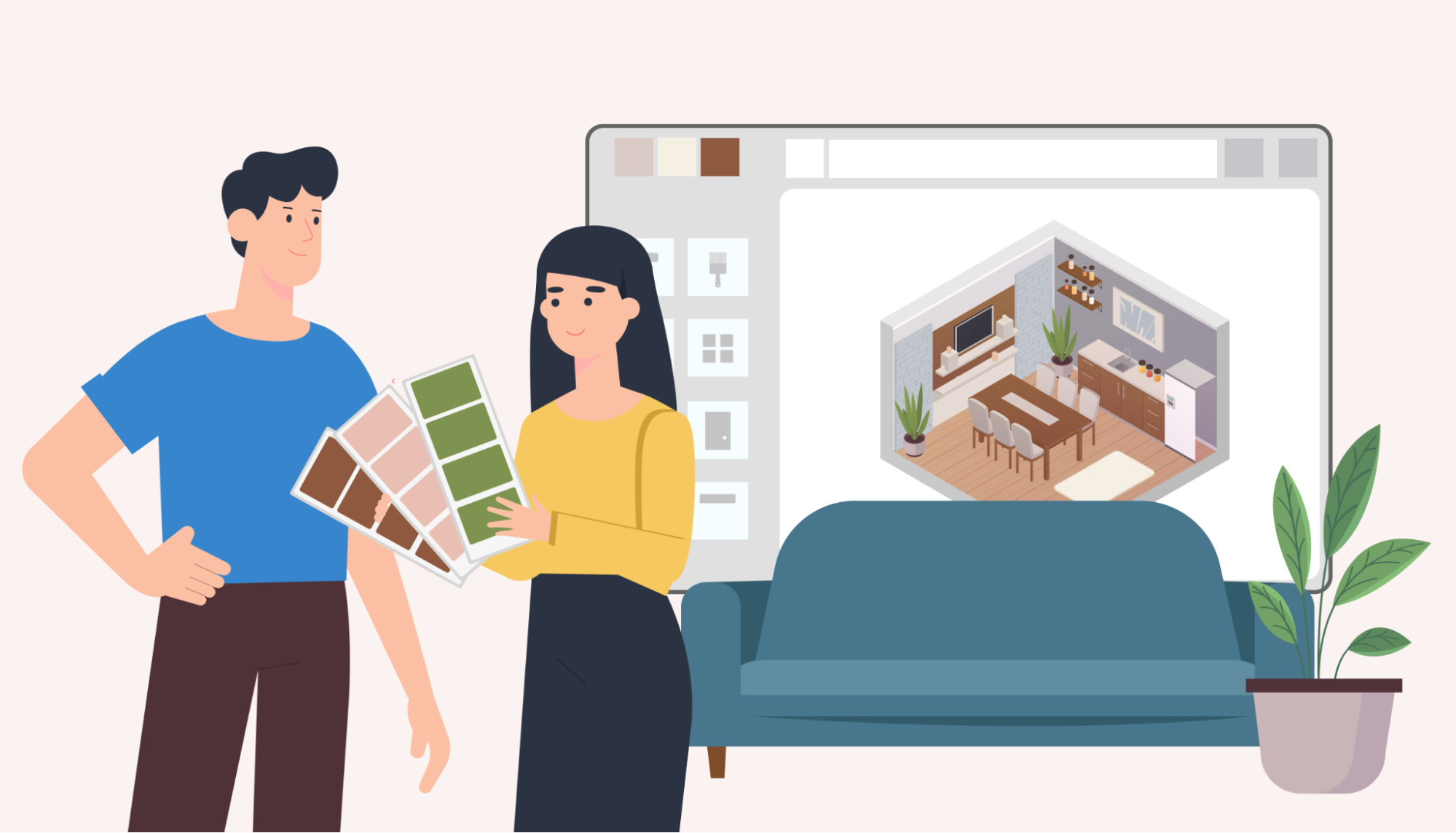 2. Working conditions
Traditionally, interior design project managers work in offices with small teams.
And when they're not in the office, project managers are often in the field, meeting with project stakeholders or inspecting work.
Recently, big changes have shifted the way interior designers work (and where they work).
First, the COVID-19 pandemic saw more people working remotely than ever before.
And second, easy access to cloud-based design technology and virtual meeting software has paved the way for the e-design­ movement.
That said, even though e-design and remote working are evolving rapidly, interior design project managers will still find themselves working in an office or in the field at some point — it's hard to inspect a job over a Zoom call, after all.
Read also – How To Revive Your Interior Design Business Post-COVID-19?
Interior designer salaries range anywhere from $15,000–$132,000.
According to Payscale, an interior design project manager in the U.S. makes an average of $64,492 per year.
And the U.S. Bureau of Labour Statistics (BLS) cites the median earnings for interior designers at $57,090.
Of course, an interior designer with experience and proven ability to manage big, complicated projects will earn significantly more than the average.
Read also – How Much Do Architects Make?
How Do I Become An Interior Design Project Manager?
In some U.S. states — and places around the world — formal education isn't required before becoming an interior designer, though it does help a designer's credibility.
However, some U.S. states have strict requirements before you can call yourself a licensed interior designer.
For example, these states typically demand that candidates:
Hold at least a bachelor's degree in interior design or architecture
Have two years of experience
Pass a state-approved licensing exam — usually the National Council for Interior Design Qualification (NCIDQ) exam
From there, becoming an interior design project manager requires anywhere from 5–10 years of field experience. But that requirement also varies depending on the firm.
Read also – How To Become An Interior Designer?
The Interior Design Project Cycle
Project managers use a systematic, repeatable approach to guide projects from concept to completion.
With interior design, this approach is called the interior design project cycle.
The interior design project cycle may vary from company to company — or manager to manager, for that matter.
But when you boil it all down, different project cycle frameworks have similar stages, goals, and deliverables.
Our version of the interior design project cycle contains seven stages:
Initial client brief
Site survey
Conceptual development
Sketching
Design development
Construction documentation
Construction and inspection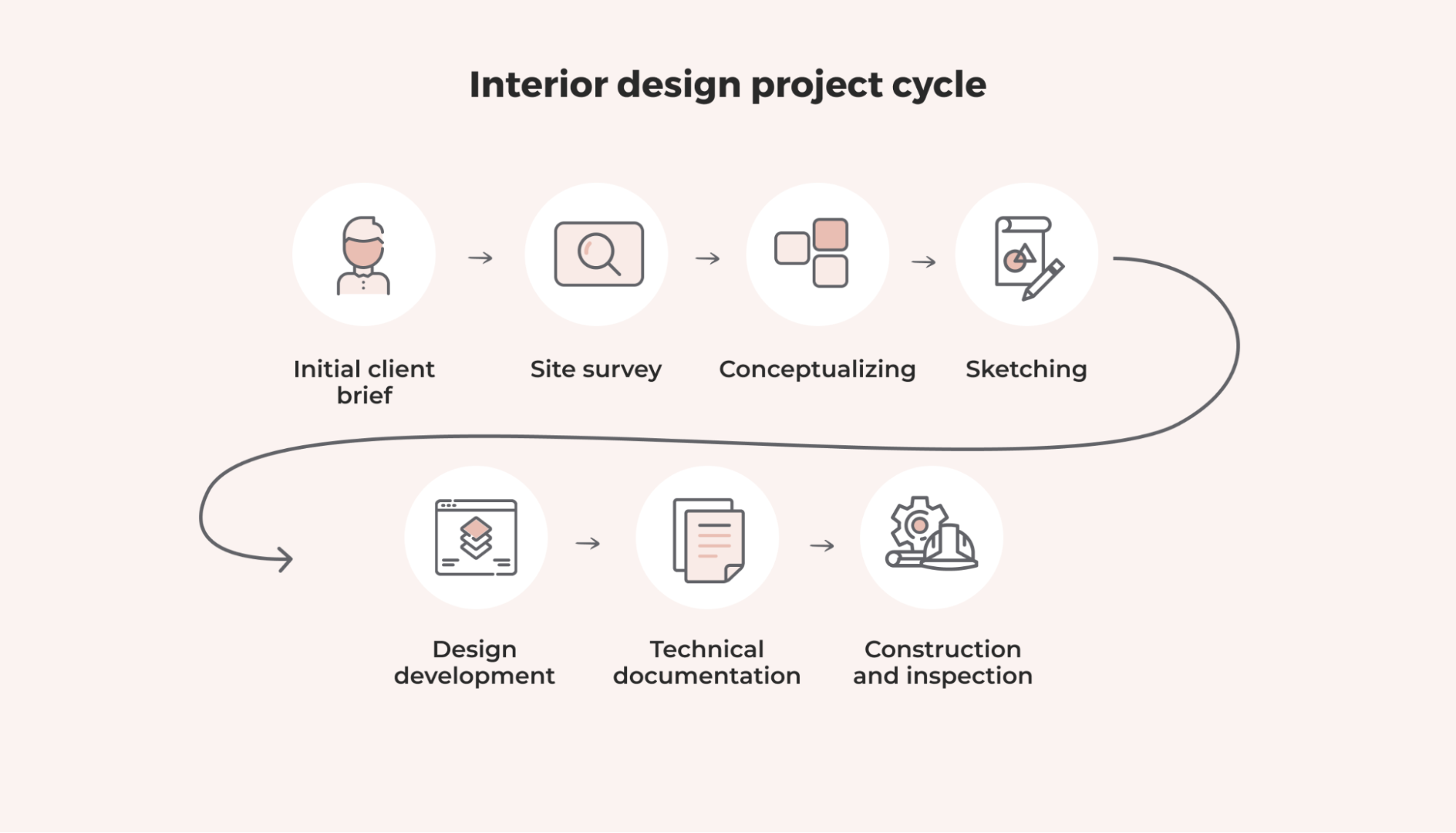 Let's take a closer look at each of these stages.
1. Initial client briefing (planning and programming)
The initial client briefing is all about discussing your client's desires and needs, as well as the outcomes of your client's project.
Interior design is a very personal journey, and getting to know your client's motivations will lead to better design decisions.
Ask your client lots of relevant questions and explore how they envision the look and feel of the finished product.
The initial brief should jumpstart your creative juices and get you thinking about how you can translate your client's desires into a concept.
Remember that the ideas discussed during the initial client brief aren't written in stone. In fact, you might only have a general understanding of what your client wants.
And that's okay. All the ideas you and your client brainstorm are refined during the concept development stage (coming up soon).
Read als0 – 20 Best Client Presentation Tips for Interior Designers
A site survey is an analysis of your client's existing space.
Normally, site surveys are completed during the initial client briefing, but not always.
For example, your client might ask you to come back another time, or in the case of new building construction, the space might not yet be built.
Here are a few simple things to remember to do when performing a site survey:
Explore every nook and cranny of the space and note any thoughts that pop into your head
Take lots of pictures
Measure everything (you'll need it)
Ask for a copy of as-built drawings (there might be hidden surprises)
Make suggestions based on your experience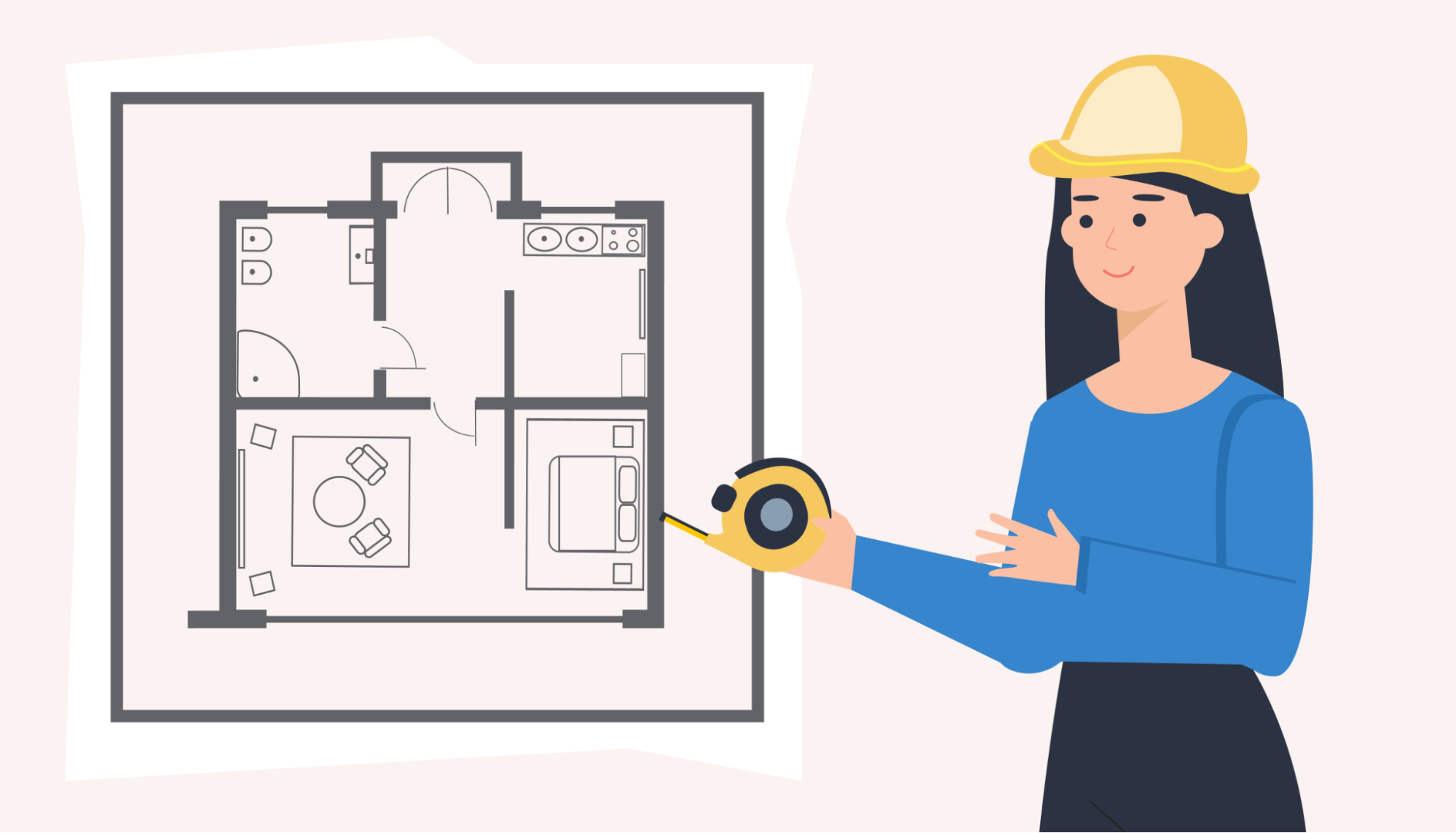 Some design jobs — like an extensive renovation — may require a few site visits before you have all the measurements and notes you need to move forward.
3. Conceptual development
Armed with measurements, notes, and your client's goals, you can start transforming raw ideas into something a little more refined.
During the concept development phase, draw inspiration from previous projects or check out interior design concepts on Pinterest, Instagram, or Houzz.
And if you're really looking to rev up your creativity, take a peek at our Inspiration Hub. You'll find dozens of complete, ready-made designs that you can shape as you see fit.
Remember that concept development isn't about assembling all the pieces. It's about finding things — features, finishes, furniture, colors, tone/mood — you think to meet your client's needs.
Finding ideas worth pursuing is no easy task.
Luckily, creating things like a mood board will help you narrow down the styles, themes, and features that stand out.
Once you have a few concepts worked out, start fleshing out your scope of work and thinking about an interior design contract.
The sketching phase is all about turning ideas into drawings you can present to your clients.
Now, sketches aren't sloppy doodles on bar napkins.
Nowadays, clients want digital floor plans and 3D models so they can understand the design better and explore the space virtually — all things possible with interior design software like Foyr Neo.
Package your designs with a proposal and a rough estimate and send them off to your client for review and feedback.
Some clients may schedule a presentation and ask you to walk through your design piece by piece.
5. Design development
If your client approves your proposal and preliminary design, the project moves to the design development stage.
Design development requires fine-tuning details and finalizing everything related to the design, including:
Layout
Elevation
Finishes
Furniture
Fabrics
Colors
Lighting
Decor
Millwork
Appliances
Expect several revisions during the design development stage as your client attempts to balance cost and quality.
For example, your client might decide they now want more expensive furniture and ask if sourcing cheaper light fixtures will cover the cost.
And finally, when your client accepts the final design and estimate, your project rolls into the next phase: construction documentation.
Read also – 12 Expert Tips to Get Clients for Interior Design Business?
6. Construction documentation
There are two main deliverables from the construction documentation stage:
A construction drawing set (the plans)
Specifications
Drawings and specifications tell the contractor exactly what to build and how to build it.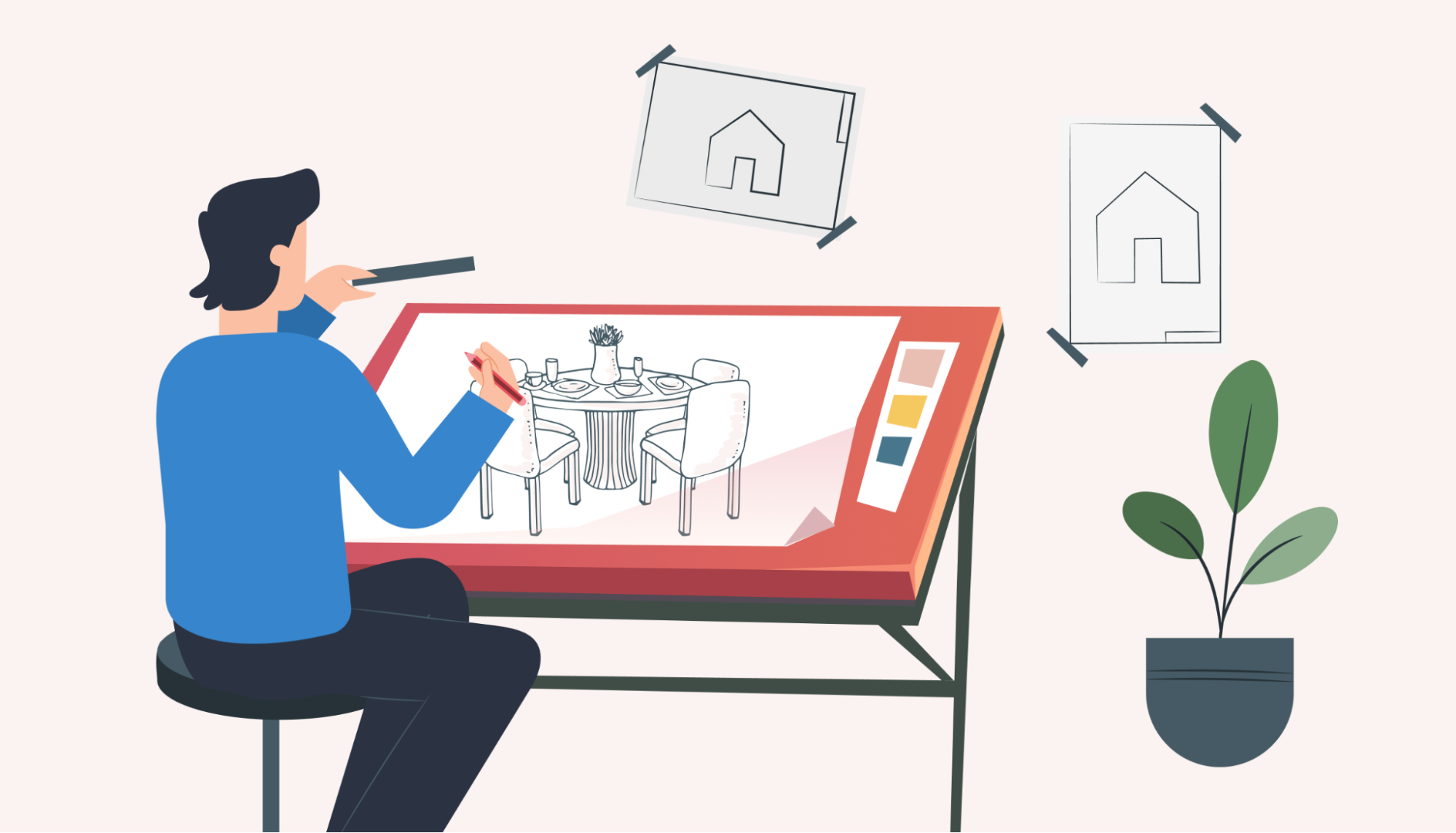 Depending on the project, you may have to coordinate with architects and engineers to make sure your design doesn't conflict with architectural elements or structural, mechanical, and electrical layouts.
It's not uncommon for architects and engineers to change designs even after a project has started, so be ready to make revisions at any time.
Once your client approves the final drawing set, the plans will go out for bid, or a contractor is hired directly to complete the work.
Read also – Time Management Tips for Interior Designers
7. Construction and inspection
And finally, it's time for your vision to come to life.
At this point, everything is in order:
Contractors are ready
Materials are ordered
All permits and legal requirements have been handled
The only thing left is to build and commission the design.
As an interior designer, your main responsibility during the construction and inspection stage is answering questions from contractors and your client and performing inspections.
How To Manage Interior Design Projects: Tips and Insights
1. Stay organized with project management software
As an interior designer, you'll juggle multiple clients and projects at any given time.
And without a clear set of goals and deliverables, it's easy for deadlines and details to fall through the cracks.
Project management software — which we'll discuss in a bit — helps keep everything on track.
Even if you're a solo interior designer, keeping track of your deadlines and deliverables with project management software takes the guesswork out of what's due and when and who's responsible for what.
Read also – Financial Management for Interior Designers
2. Communicate as your job depends on it
59% of workers cite a lack of communication as their team's biggest challenge.
And whether it's with clients or your project team, a communication breakdown is a ticking time bomb that can derail any interior design project.
Every project should have a communication charter — a document that lists your team and client's preferred methods of communication.
What's more, the communication charter can outline things like when and where you'll conduct meetings (virtual or in-person), who will join, and what tasks are allowed and disallowed during meeting times (e.g., no 30-minute PowerPoint presentations).
But communication isn't just about holding meetings.
It's also about providing updates and direction regarding tasks — so be prepared to answer a lot of questions.
Read also – Pricing Strategies for Interior Designers
Every project has teachable moments, even if you don't run into any big problems.
When a project ends, review it with your team and look at what went well and what didn't.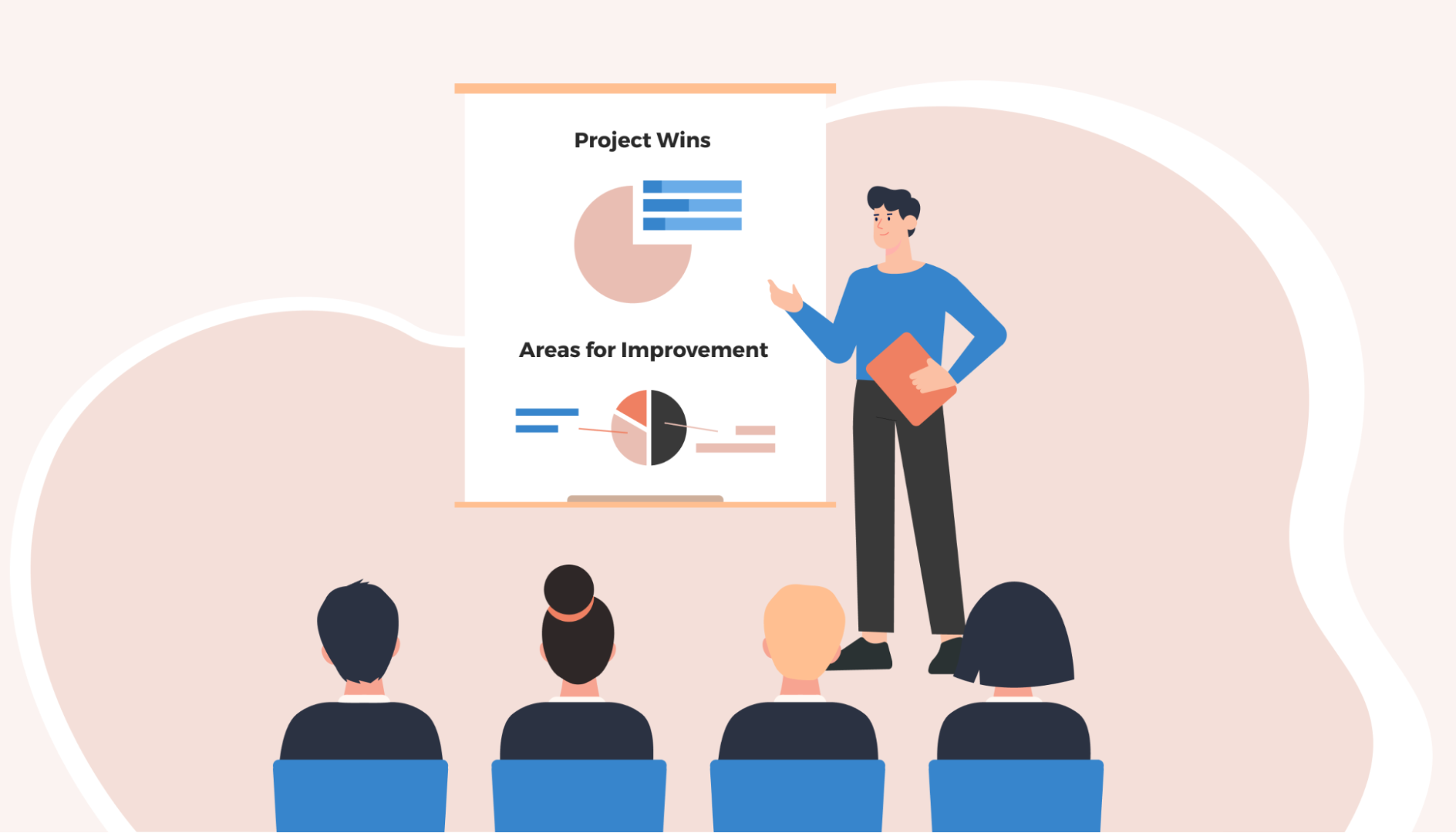 Ask clients for honest feedback.
And if they're open to the idea, give them a questionnaire, or ask them if they'd like to participate in an interview about their experience.
Remember, your goal when performing an audit isn't about blaming the people or things that hindered performance.
Instead, auditing projects lets you spot inefficiencies so you can correct them and be more competitive.
4. Level up your designs with the right tools
An interior design project is ultimately about one thing:
The design.
And getting gorgeous, detailed designs delivered to your client as fast as possible frees up time and resources for other projects.
A platform like Foyr Neo does just that.
It lets interior designers create stunning layouts — and 3D renders — in a snap.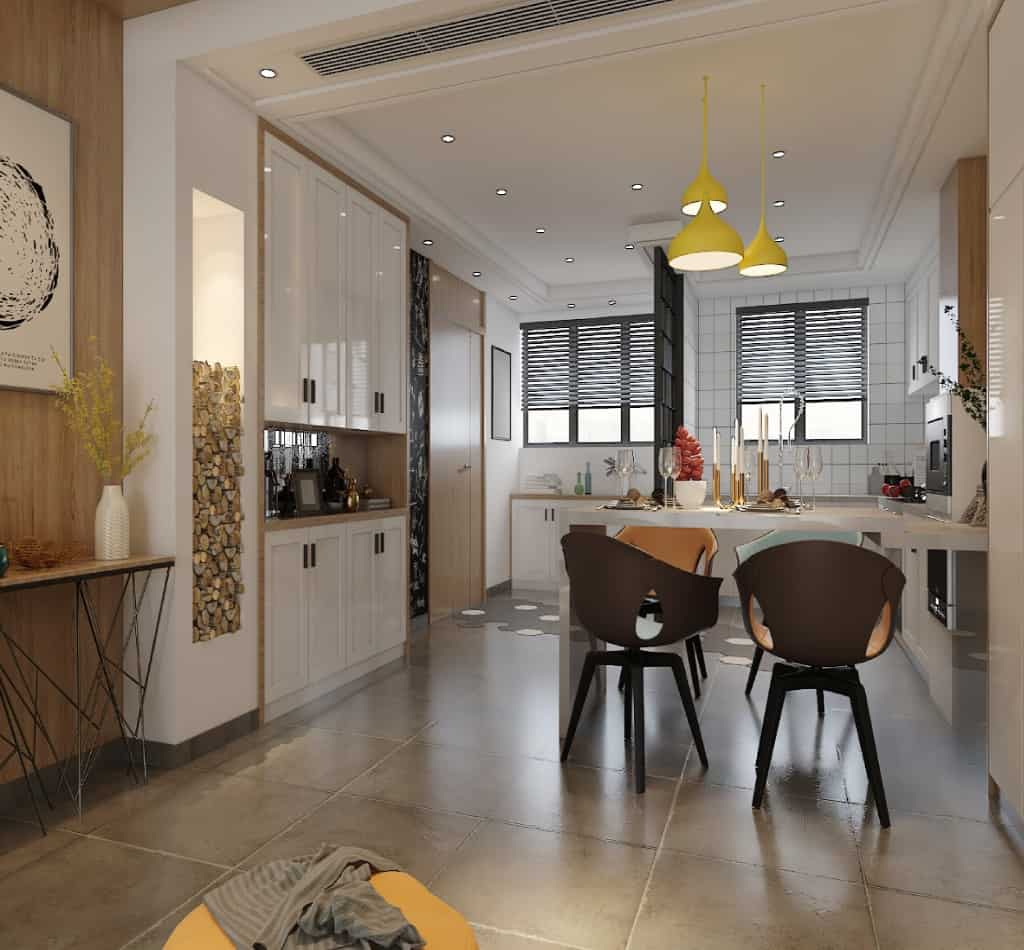 Drag and drop thousands of pre-modeled and render-ready products directly into your design and generate photorealistic renders in minutes.
Not only will your clients appreciate the speediness of your work, they'll also be enchanted at how well you captured their vision.
Read also – Content Marketing Ideas for Interior Designers
Do I Need Interior Design Project Management Software?
You don't necessarily need interior design project management software.
But it has certain advantages.
For example:
61% of companies who use project management software complete their projects on time, versus 41% of companies who don't use a project management tool.
Like we talked about before, interior design is a bit of a juggling act.
On any given day you're dealing with:
Communicating with clients, contractors, and suppliers
Managing accounts and invoicing
Researching and sourcing new products
Planning and scheduling projects
And about a million other things.
Anything that makes your job easier is worth looking into. Our top five choices for the best interior design project management software are:
Mydoma Studio: An easy-to-use platform complete with a client portal, product sourcing, time tracking, vendor management, and tons of other project and client management features.
DesignDocs: A cloud-based solution geared toward small interior design businesses or solopreneurs.
Developed by a chartered accountant and interior designer team, DesignDoc is an all-in-one platform capable of handling project management and financial reporting needs.
Indema: An affordable project management platform with an ever-growing feature list. Manage leads, clients, contracts, employees, estimates, payments, projects, and much more — all within the software.
Studio Designer: Stacked with project management features, a client and vendor portal, and a fully integrated accounting system, Studio Designer is a robust business management tool designed for large interior design firms.
Ivy: Loaded with all the bells and whistles you'd expect, like invoicing, time and expense tracking, and product sourcing, Ivy is ideal for interior designers looking for a simple project management solution.
Although Ivy doesn't come with built-in accounting features, it integrates with QuickBooks and offers a handy mobile app — perfect for the project manager on the move.
Read also – AI-Powered Interior Design Software
Start Your Next Interior Design Project With Confidence
Creativity is only part of what brings a successful interior design project together.
You also need:
A competent project manager with technical expertise and vision
An ironclad workflow
Cutting-edge software
Of course, experience and practice are pretty useful, too.
So, are you looking to sink your teeth into bigger and better projects?
Then take what you've learned here and leave your mark on the interior design world.
And if you need a hand creating dazzling designs, take Foyr Neo for a spin and leave your mark even faster.
Foyr Neo is a one-stop-shop for all your design needs. The multifaceted design software has so many features to choose from that it makes it easier to visualize your design ideas more effectively. 
60K + ready to use products 

Build Floor Plans, edit in 3D

Drag and Drop Interface

4K Renders in minutes
We enable designers to spend less time with software and more time with their clients by merging the capabilities of various tools into one platform. Foyr Neo is currently available for a 14-day free trial, allowing you to explore the potential of infinite creation.