Architecture Design Software
In today's post, we're going to discuss the 12 best 3D architecture design software. Whether you're a professional architect, or just looking to design the building of your dreams, we at Foyr have the solutions for you!
But before we discuss the best architecture software on the market today, let's review some key information.
What is an architecture design software?
As technology has evolved and the world has become more advanced, architects have seen a rise in digital software to enhance their workflows.
However, as recently as 2013, researchers believed that the field of architecture could never be automated. They claimed that architecture is a "creative task" that involves a high degree of human intervention, manipulation, and engagement.
But of course, the ensuing years have proved these researchers wrong. This software allows the imaginations of architects to reach new heights. It enables them to construct entire buildings and show their clients what their finished product will look like – without any real-life creation. This allows architects to ensure that every detail of their plan is perfect, so the finished product can be perfect too.
Read also – Best Home Design Software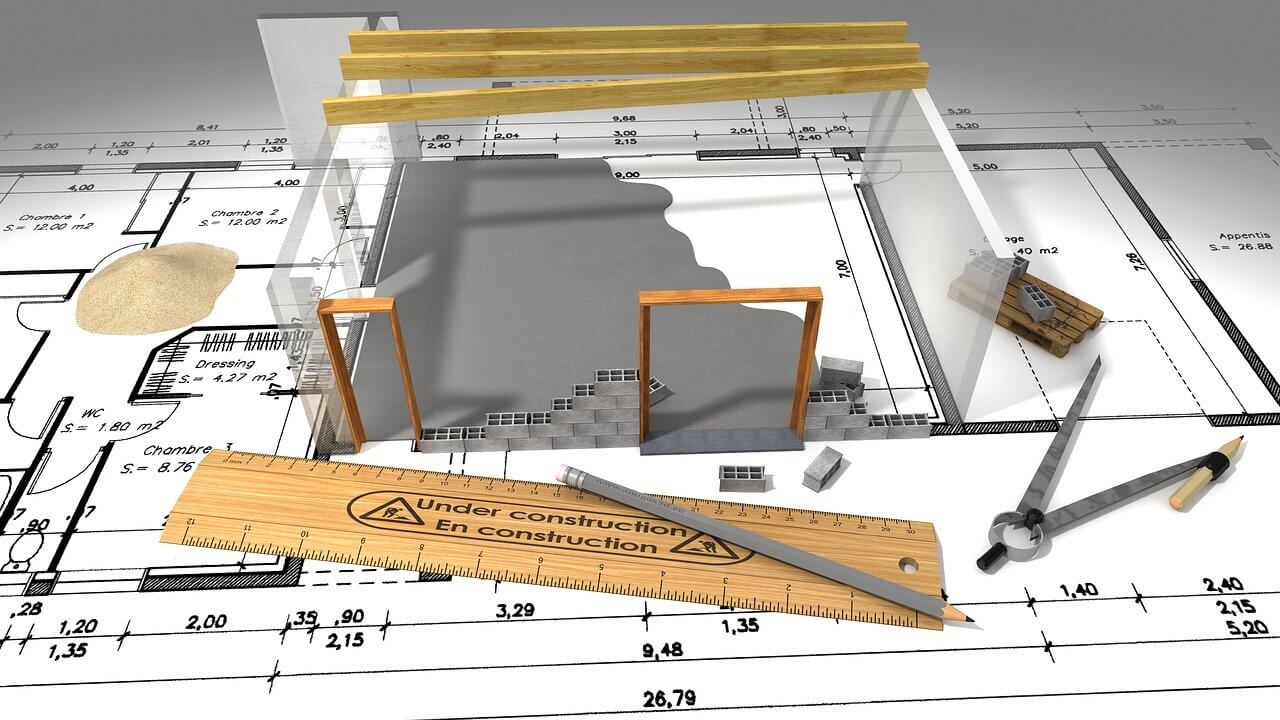 What are the two main types of architecture software used for home design?
Architects and design studios are increasingly turning to two main types of architecture software to design and build projects: BIM and CAD.
CAD (which stands for Computer-Aided Design) enables architects to create comprehensive designs in 2D or 3D of the manufacturing process involved in constructing a building. Detailed diagrams of a product's materials, processes, tolerances, and dimensions can be done using this 3D architectural design software.  CAD systems exist today for all of the major computer platforms, including Windows, Linux, Unix, and Mac OS. CAD software is also a good solution to edit, do and re-do models very quickly and easily to match your expectations. It can turn your ideas into detailed designs!
BIM (which stands for Building Information Modeling) is a 3D design software that enables architects to create three-dimensional virtual models of buildings. An added advantage is that BIMs use "real" construction material to design some actual parts of the building model. BIM incorporates the whole construction ecosystem in the model. In other words, BIM stimulation incorporates both spaces where a building will be built, and the quantity and quality of material that will be used – all of which give clients a great idea of how the building will look. BIM offers clients a digital prototype of the actual structure, including the construction material. It is done using the 3D printing method.
Read also – Best Free 3D Modeling Software
How to pick the right architectural design software?
Before making your choice, a lot of things have to be kept in mind. We will have to ask ourselves the right questions. What kind of software do we need? An architectural rendering software? Or an architectural drawing software?
It tends to be enticing to pick the most noteworthy 3d architectural design software alternative. All things considered, here are a couple of components you have to remember when settling on your choice:
1. Features
What functionalities would you want from the software? Are you going to be using it as an architectural design and conceptualization tool? Do you need a visualization tool or a rendering program?
Every program would meet your need differently, so you need to be conscious while choosing what suits you best.
2. Learning Factor
Most structural projects have a learning curve involved, which means it might require a long time to get totally comfortable with them if you are a beginner.
In any case, there are a couple of projects that are simpler to learn and can act as a take-off platform to other more complicated projects.
3. Cost
There are free versions and there are paid versions. The free software are not really always terrible and the paid programs might not be great in every case.
So do your research, read reviews and choose, to get the sort of software that is the most user-friendly.
4. Compatibility
As a professional, you will be working as a team with numerous other individual draftsmen and experts. The software you use should be viable with the software they use.
We will also have to check what is best for professional use. Do we want to use architectural software to help the design team collaborate, or get a better visualization of our customers?
5. Industry standards
You ought to likewise consider what modeling tools are being utilized by other industry experts.
Are there explicit programming types that your design school or firm explicitly expects you to learn?
What are the absolute most famous programs used in your country, city or area?
What are the huge firms utilizing?
Which projects are sought after?… Discovering this out will likewise help drive your decision of programming.
6. The kind of PC you have
A 3D architecture software for Mac or Windows? Indeed, a lot of attention goes to the operating systems before choosing a 3D program.
7. Your very own inclination
What are you okay with? What cad programs have you utilized previously? You should lean towards something that was explicitly intended for beginners?
Recognizing what you need, and basically going for something you are comfortable with will pave the way toward picking a program significantly quicker.
Indeed, there are some software more focused on architectural visualization for good 3D rendering and visualization. There are also some free versions of software or software with a free trial. Let's check what are the different options and software for architects.
Read also – 10 Reasons Why Landscape Architecture Is Important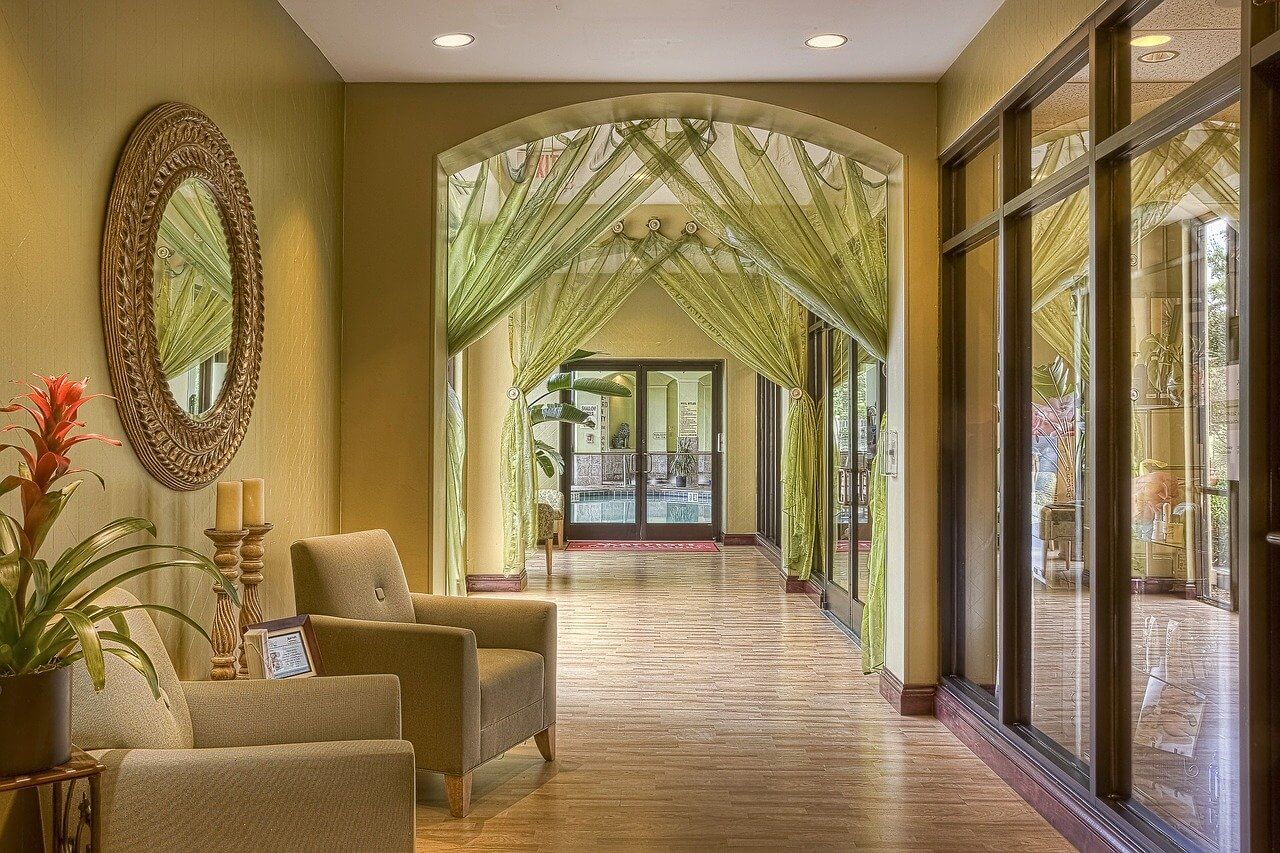 12 Best 3D architecture design software:
1. Foyr Neo
2. Revit
3. Sketchup
4. FreeCad Arch
5. AutoCAD Architecture
6. Dynamo
7. TAD
8. Photoshop
9. ArchiCAD
10. Cedreo
11. Chief Architect
12. V-Ray
Foyr Neo is an web based all in one Interior Design Software for Architects and Interior Designers. Developed by Foyr, Neo is a powerful software that is used to create 2D floor plans, furnish and customize designs in 3D mode, create or upload 3D models and generate professional grade photorealistic renders in less than an hour owing to their proprietary cloud based rendering engine.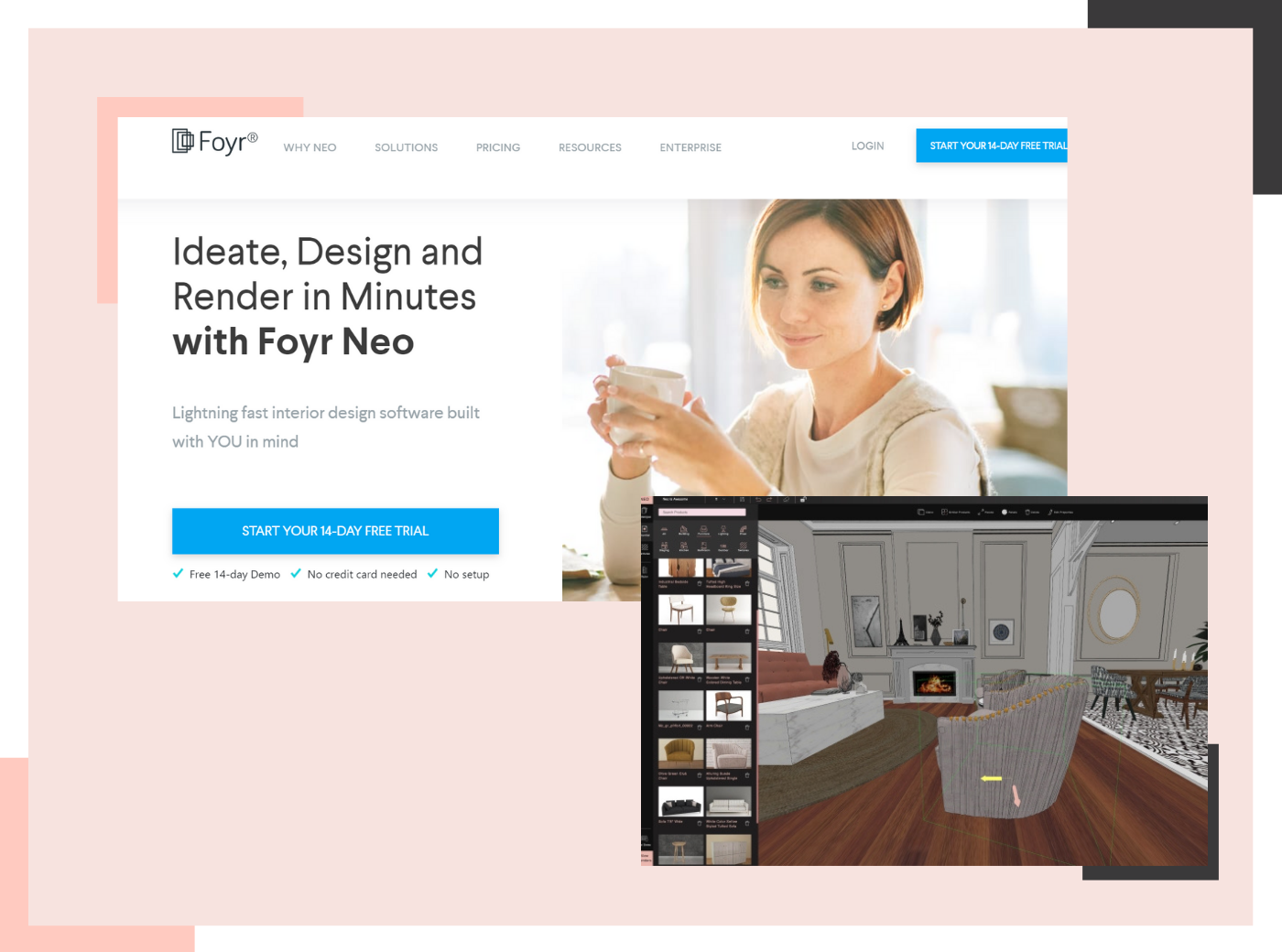 Revit is a BIM software developed by Autodesk. It enables both 2D and 3D architecture software modeling, rendering, and construction. The best feature of Revit is its collaborative aspect. It ensures that the whole team working on the project has access to the process of designing and updation. This helps in the smoother execution of the project and saves time. Revit is also compatible with AutoCAD, which we'll be discussing later on.
Sketchup is a top-rated architecture software that enables architects to plan the entire workflow of a project. It has a variety of rendering functions like drawing, animations, and photographs. In addition, it has a comprehensive library with over 2 million downloadable sketches. It has a user-friendly interface and comes with a vast marketplace of extensions. It has an added feature of a 4D virtual reality in architecture.
Sketchup is understood to be an intuitive software and one of the unfastened cad software programs available. It genuinely assists you to be effective and creative along with the 3d architectural designs. It's possible to create walk through's and flyovers with SketchUp, which may be beneficial in your architectural initiatives if you have to show them to the clients. Manifestly, we can use SketchUp for 3d, but it's also best for scaled and accurate 2d drawings.
Read also – Top 10 SketchUp Alternatives for Designers
FreeCad Arch is a free 3D architecture software that allows architects to design 3D objects of any size. It has a BIM modular software and it lets workbenches (software that allows data sources to connect to design models) dedicated to a particular field to be mounted onto the core application. FreeCad comes with "wizards" that make it easier to design windows, stairs, and roofs, along with material specifications. In addition, you can import and export files in multiple formats.
AutoCAD has been in the market since 1982 and is an AutoDesk product. This 3D architecture software has been a favorite among architects, and it has certainly kept up with the times. AutoCAD has an excellent rendering function, as well as features for 2D drafting and drawing. It is compatible with Revit, and the 3D architecture software allows collaboration so that different people working on the project can communicate and work as a team.
Advanced by Autodesk, the AutoCAD structure can be very useful on your architectural initiatives as it permits you to do each 3d and 2d layout. You may be able to create realistic fashions with a mixture of solid, surface, and mesh modeling equipment. Autocad structure is likewise beneficial for 2d drafting and drawing. As for Revit, and all the Autodesk software programs, this 3D software program lets you collaborate easily with other people working on an identical project.
Read also – Architectural Tools & Software
Dynamo is another AutoDesk architecture software. It is an open-source software that can produce designs based on given parameters. With this intuitive tool, architects and designers can build 3D design models in a graphic interface. Dynamo also has a unique feature called the Dynamo Studio, where designers and architects can test for sound dynamics in a given space. 
It enables more advanced designs, as architects can get deep primary data insights and analyses. Dynamo comes in both free and commercial packages, and the software's features can also be integrated with Revit.
TAD is a free BIM architectural software that was first released in 1989. The TAD developers felt the need for specialized software for architects, as they believed that the other applications in the market were offering engineering solutions rather than architectural ones. Thus, TAD is used to design the concept of a building rather than solving the nitty-gritty of how to construct a building down to its last brick and screw.
It gives holistic solutions and incorporates the designing elements from scratch. TAD comes up with advanced 3D architectural design software updates regularly.
Adobe Photoshop is a high-image-quality producing software, and it's become an essential requirement for all architectural students, who use it for mockups and presentations. Photoshop allows layering, which means you can add texture, style, people, and atmosphere to your designs to give it a real-life dimension. It has a great editing function, which comes in handy to fix errors. It is faster to work with compared to 3D interior design softwares, where renderings can take hours to format.
Cedreo is a web-based 3D home design software that enables construction and remodeling professionals to draw floor plans and create 3D renderings in a matter of minutes. Users can easily draw 2D and 3D floor plans, customize home indoors and outdoors in a few clicks with more than 7,000 3D objects and generate construction drawings and photorealistic renderings. Cedreo offers a wide range of time-saving features to quickly create, render and share project visualizations: one hour is all it takes to draft a complete home project, without complicated tools or a design degree.
Using Cedreo, construction professionals save time, shorten their sales cycle and close more deals. They can manage project designs without having to go back to the engineering or CAD department, and help clients better understand design intent before construction begins.
ArchiCAD is an architectural CAD software developed by Graphisoft. This Open BIM (Building Information Modeling) is a complete tool for architects, allowing you to do 3D and 2D drafting, visualization, or building modeling. Thanks to ArchiCAD and all its functionalities, you can handle all the aspects of the engineering and design work. It is particularly advanced in the field of visualization, as it offers architects high quality and photorealistic architectural rendering. This CAD software is also known for its ability to store large amounts of information in your 3D models. It can be used to design buildings and interiors as well as urban areas. This software provide a wide-range of design tools specially made for architects, and interior designers.
Leader architect is a cad software created for architecture professionals, to achieve second and 3-D rendering. This software program architecture layout is easy to use, with a good mastering curve. If you don't have 3D modeling talents, this chief architect software program may be beneficial, specially when you have a home design challenge. The interface is truly intuitive and the software program gives clever constructing equipment. It'll create the 3D shape and generate robotically the building gadget of your mission. Moreover, you could export 360° panorama renderings that can be shared together with your clients.
V-ray is virtually the only architectural
rendering software
to rule all of them. It's miles the maximum effective 3D rendering answer in the marketplace right now and it's far suitable for both freshmen and professionals. Beginners would possibly discover it a chunk intimidating at the beginning, however, this piece of software may be very consumer-friendly, so learning it is not definitely so difficult.
V-ray has a totally significant set of tools and features below its hood and presents a large array of models and textures you can opt for, not to mention that it boasts a high pace and a seamless integration. There's a steep learning curve on the subject of its several superior capabilities however, once more, it's pretty easy to get the cling of them, now not to say that it is surprisingly well worth it but it is paid software.
Other than some of these software 3ds max is a good addition to your 3D modeling creation. 3ds max is a software program developed by using Autodesk. It is pretty much like AutoCAD, that's best to create structured designs for architecture. Especially used within the video games industry, this software program is likewise utilized by architects for pre-visualization. 3D studio max is a superb device for structure, and a variety of training are available on google for architects to learn how to use this 3d design software.
Conclusion
Whether you're an architect looking to create amazing designs, or you're just interested in the various architecture software out there, we're here for you!
To make the design process even easier – and to get even more design inspiration – check out Neo, our lightning-fast interior design software. This tool comes with a massive catalogue of world-class design presets that can inspire designs for spaces of all shapes and sizes. You can browse through the collections, filtering by different styles and themes, to find one that works for you!
For these inspirations (and more!), sign up for a free 14 day trial of Neo today. No strings attached 😊
P.S. We're a brand new software and always looking to improve. If you need a product or feature that is not currently available, let us know, and we'll work with you to make it a reality.