Home » Interior Design » How Technology is Changing the Business of Interior Design?
Technology for Interior Design
Remember the time when interior design involved physically visiting spaces, having an eye for color, textures, and patterns, or even traditionally drawing out design blueprints? In the last few years, technology has overhauled all of that.
Today, being an interior designer requires a lot more than being aesthetically astute. In addition to your love for decor and design, you also need to have an in-depth knowledge of the latest design software, how to use them to your advantage and utilize tools and resources to cut time and costs.
Technology acts as a huge boon to interior designers. Today, designers have access to amazing innovations which help them design spaces without even being there. CAD programs help designers and aspiring designers to create a portfolio and develop products and designs. This makes interior designing a lot more collaborative among the designer, clients, and even vendors and suppliers.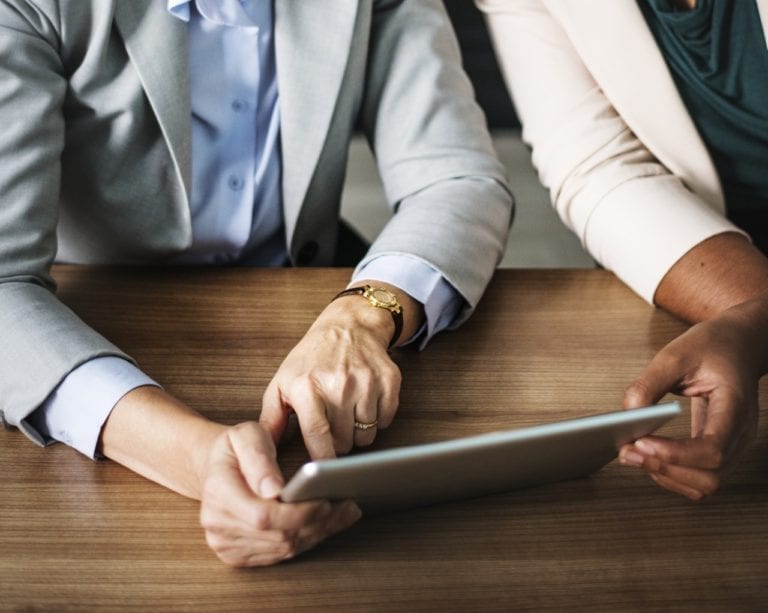 Image Credit: gatherit.co
Introduction to Technology for Interior Design
In today's evolving world, it's important to be abreast with the latest technology. As people progress towards building smart homes, becoming more sustainable, and adopting the latest trends and designs, designers need to become more aware of how they can use resources and tools in their favor to create more efficient living spaces. 
For example, there are many digital design processes that designers use, such as the Building Information Modeling (BIM) process which involves generating and managing the physical and functional aspects of a space, through digital representations. This helps each stakeholder involved with the project, such as the designer, client, lead real-estate builder, and architect, to easily coordinate and seamlessly communicate with each other.
In this way, technology allows for improving accuracy, reducing errors, as well as allowing designers to bring their design concepts to life without having to invest a large amount of time, money, or effort.
Read also – 10 Best Smart Technologies for Interior Design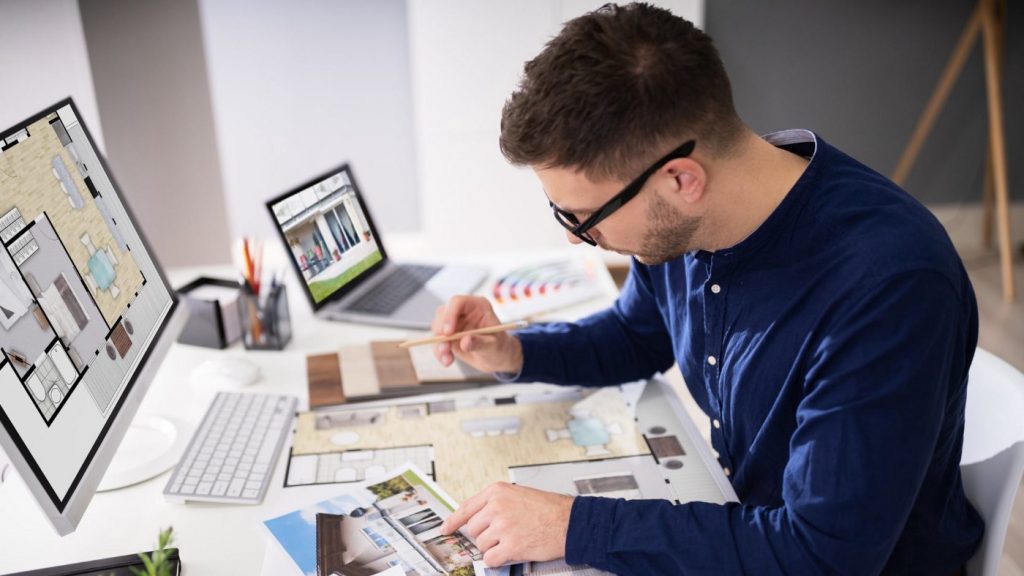 Image Credit: itm.edu
Another important digital tool that many designers use is a digital mood board. Moodboarding can be done even on smartphones through applications. Many designers even use social media channels like Instagram and Pinterest to create mood boards.
When these are shared with clients, it allows them to easily visualize the result. In these ways, designers use technology and tools to not only inspire themselves but also give their clients faith in their work and abilities, to achieve an amazing output, based on varied tastes and styles. As time passes and technology evolves, so do the tools available to designers.
Read also – 15 Problems Most Interior Design Business Faces
7 Ways to Leverage Technology for Interior Design
Leveraging technology and tools to improve the overall output of interior design is extremely necessary. Today, designers collaborate with suppliers, vendors, and clients from around the world and are not just restricted geographically. They even source materials from all over the world, thanks to the internet and e-commerce. It's even possible to train, learn, and develop by using technology, to become a more proficient interior designer.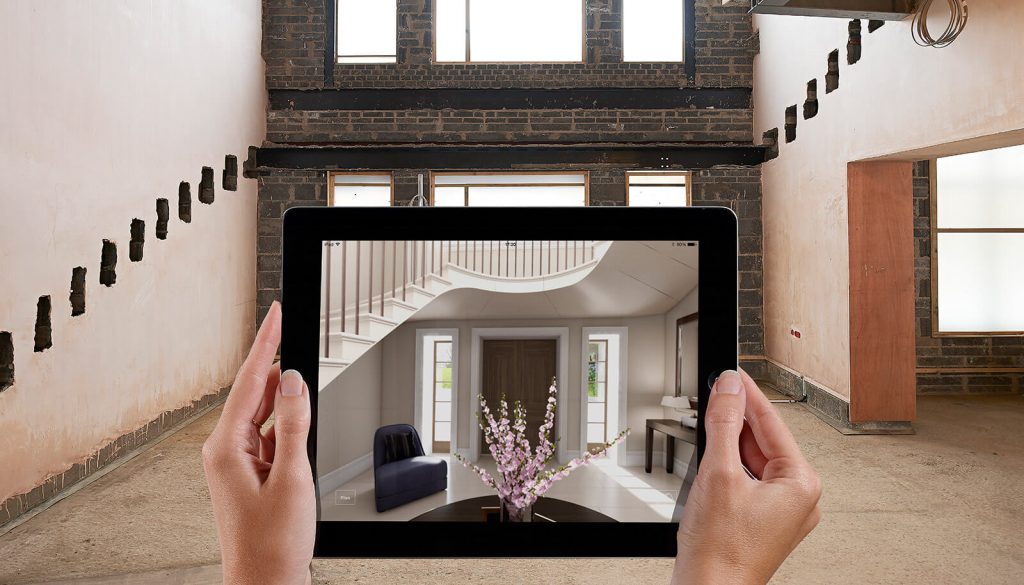 Image Credit: halehdesigninc.com
Let's take a look at the top 7 ways interior designers use technology for interior design –
1. Marketing / Advertising Technology for Interior Design
A great way for designers to put the word out about their work is through marketing and advertising. Today, because of the prowess of the internet, designers have access to many digital tools that help them easily market their work, showcase their designs, and gain new clients.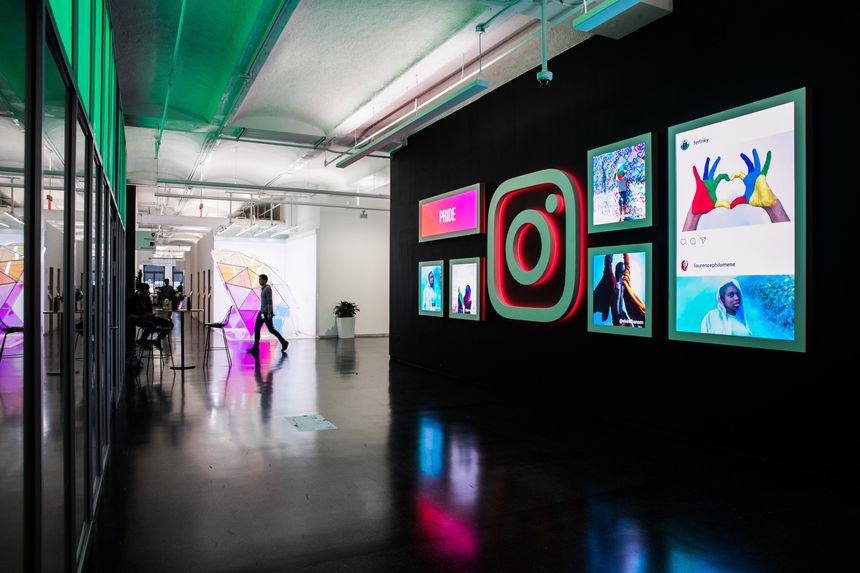 Image Credit: static.dezeen.com
a) Social Media Channels:
Digital marketing and content marketing allows interior designers to present themselves to the world in the best way possible. Designers make use of social media channels to create pages to showcase their work. They can create short videos about their processes, working styles, and even the spaces they have transformed. 
b) Corporate Communication:
Many designers use technology and tools to create brochures and presentations, which are sent out to clients from time to time. Social networking allows designers to run advertisements easily. This, in turn, helps with outreach. 
c) SEO:
In addition to the above, many interior designers even make use of SEO techniques to reach a target audience. This can be done by using specific keywords and phrases which clients look for when searching for interior designers. When used right, technology can help designers propel their ideas and present their work to the right niche.
d) Influencer Collaboration:
Another great way to market and advertise one's work is through influencer collaboration. Many designers collaborate with influencers who have many followers and outreach, to get the word about their designs out. Influencers take beautiful photos in the spaces designed by designers and make these photos available to a large, but specific, audience, providing an excellent advertisement to the designer.
Read also – Influencer Marketing for Interior Designers
When we talk about the future of interior design, the one constant that comes to mind is using tools. Interior designers use tools to make optimum use of their time, money, and resources. These tools, if used well, can help designers showcase their work a lot more optimally, create portfolios, and even work on dummy design projects to hone their talent further. 
There are many essential tools for interior designers for daily use, such as – 
a) Foyr Neo:
Foyr Neo provides a highly efficient and sophisticated 3D modeling tool to designers. This helps designers easily execute their creativity, without spending hours on expressing the narrative.
Foyr Neo's 3D modeling technological advancements help designers cut down on time-consuming rendering processes and is a very simple-to-use interface that even young design students or seasoned traditional designers can easily learn to use. AI-driven, Foyr Neo's design tool allows designers to visualize images in real-time and create prototypes and real designs quickly. 
b) CAD Software:
CAD or computer-aided design allows designers to create technical drawings, adhere to building codes and guidelines, and create drafts of the design without having to physically visit a space. CAD allows higher functionality and helps in minimizing errors that may arise due to miscommunication when designers are working with multiple people.  
c) E-pens:
The one thing every interior designer loves, is to sketch. In this day and age, while many designers continue to prefer sketching on paper with pens, many even resort to using digital tools like e-pens, which allow designers to articulate their sketches digitally. 
The one thing every interior designer loves, is to sketch. In this day and age, while many designers continue to prefer sketching on paper with pens, many even resort to using digital tools like e-pens, which allow designers to articulate their sketches digitally. 
Read also – 10 Essential Tools for Interior Designers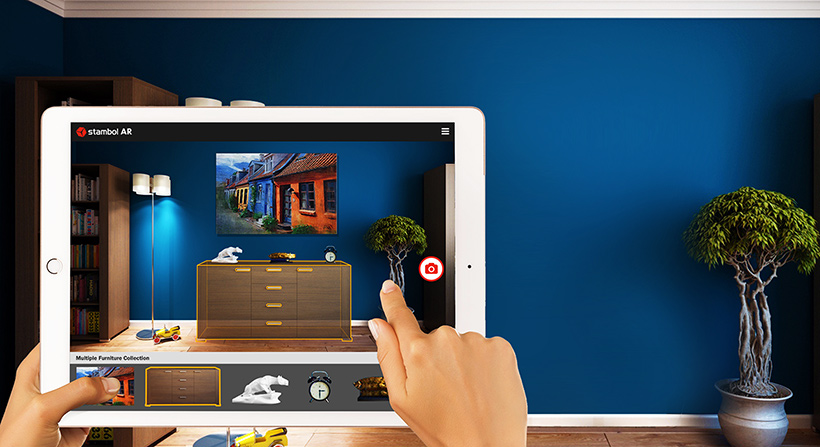 Image Credit:static.stambol.com
Education and upskilling are the need of the hour in today's world. Interior designers have a host of learning and e-learning opportunities available today. From dabbling in design courses to learning from seasoned designers on social media, there are opportunities to grow and scale as an interior designer. 
Interior designers can even take up apprenticeships or internships under established interior designers or interior design companies. This helps them gain a lot more exposure and knowledge, allowing them to hone their talent. 
If you are an aspiring interior designer, or an interior designer looking to grow and learn more, check out the Foyr Neo community for inspiration, information, and ideas on how you can learn more and become better at your work.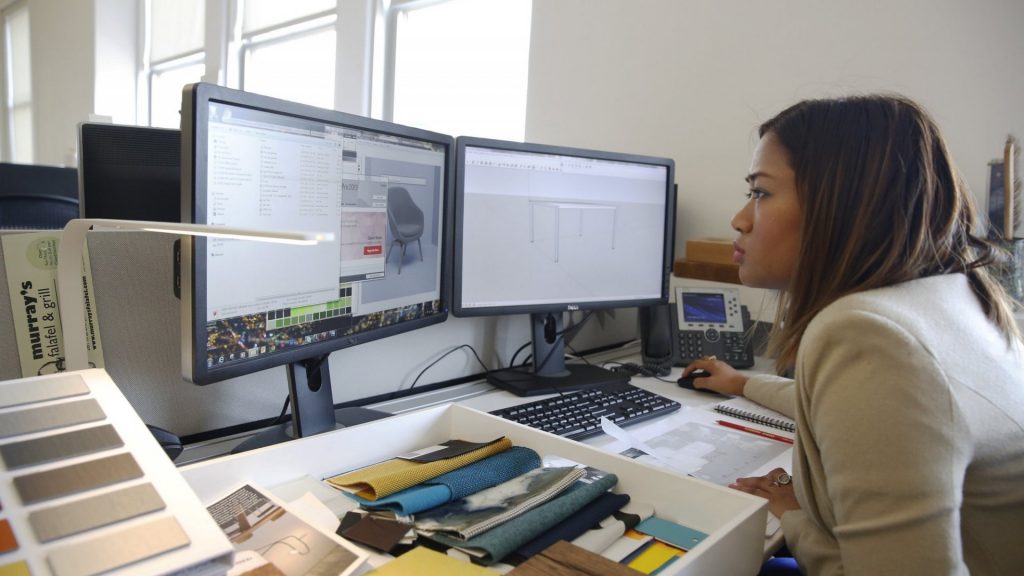 Image Credit: www.incimages.com
Imagine having a high closure rate when speaking to clients? A great way to achieve this is to present your interior design work professionally through the power of AR and VR. Interior designers use augmented reality and virtual reality to create powerful-looking 3D models and even 3d printing.
This helps them easily visualize a room or a space without having to physically create it. Designers even use 3D models of decor and other products to create a virtual environment that helps the clients understand if the outcome is what they are looking for.
In the next 5 to 10 years it is expected that AR and VR will grow even more in the interior design industry. This technology allows interior designers to quickly change colors, fabrics, patterns, textures, and even the overall style of the room, allowing interior designers to save a lot of time and effort in creating physical spaces. 
Also read: Virtual Reality in Architecture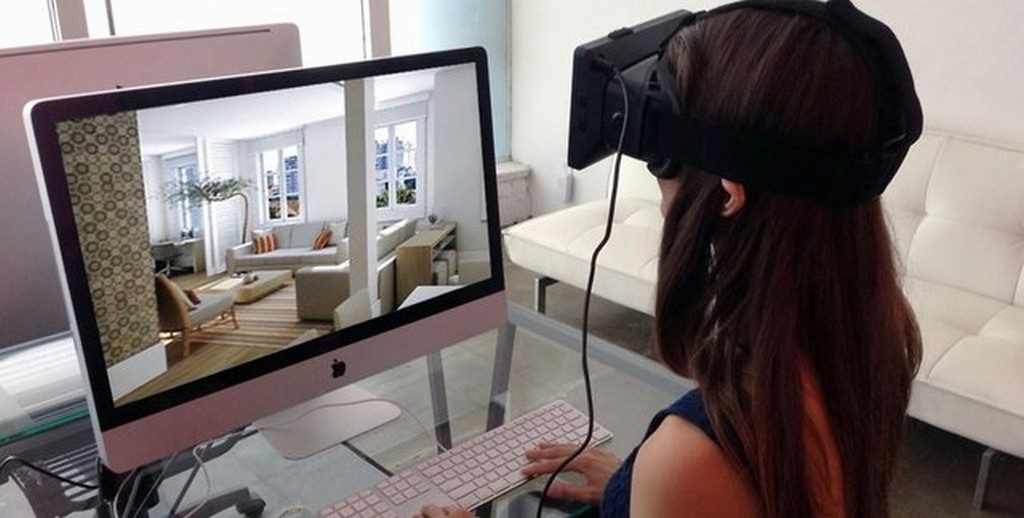 Image credit: jdinstitute.edu.in
While many designers feel that using AR and VR tools is expensive, many more have begun to use these tools to their advantage because they understand the cost and time optimization that the tools offer. In addition, many designers also feel that clients want to work with designers that have access to these tools because it allows clients to also collaborate a lot more. 
For example, if you visit Ikea showrooms, you can sit with a designer and get a real-time understanding of the floor plans or avail interior decoration and interior design services without moving a muscle. 
Interior design has a huge community around the world.  World over, interior designers work with each other and collaborate to understand new technology, gadgets, ideas, latest trends, and get insights and updates into the interior design world. This is why it becomes important for interior designers to collaborate, network, and discuss ideas with each other. 
In fact, through interactions with other designers, and collaborations with stakeholders and partners, interior designers get to learn a lot more and get access to many opportunities across the globe.
As a designer, if you are looking for a job, it's best to sign up and be part of a community where you can get access to the latest information in the industry, and understand what the requirements are, so you can accordingly upskill yourself if required. Join the Foyr Neo Community to get in touch with other designers, and interact with industry experts. 
Read also – 10 Powerful Networking Tips for Interior Designers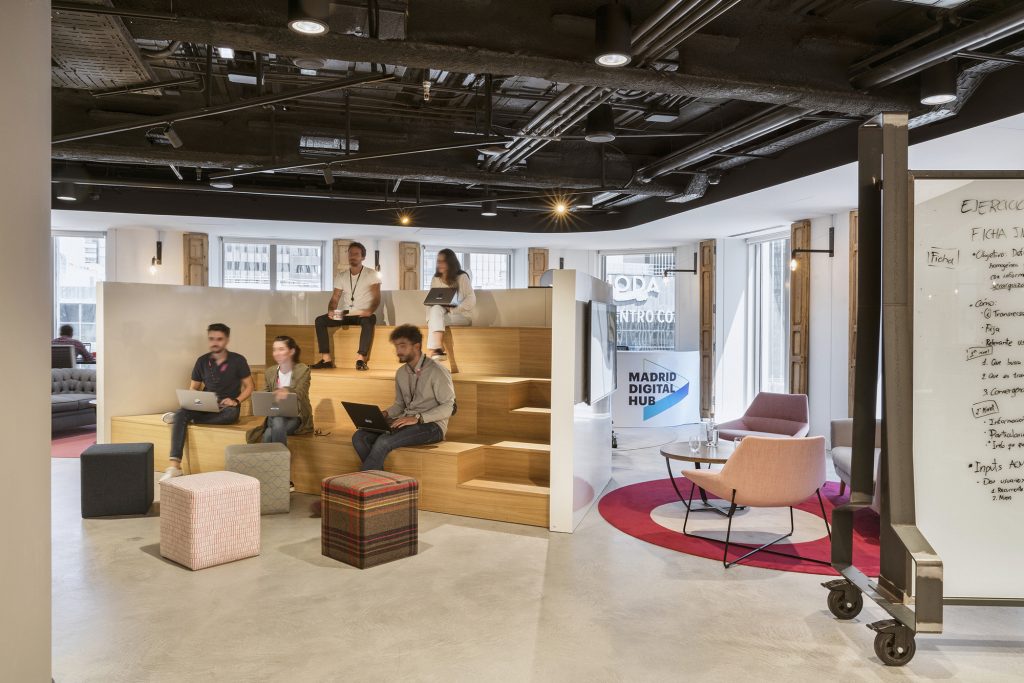 Image Credit: images.adsttc.com
Interior designers need to communicate and collaborate with many people, and at the same time, they handle a multitude of projects. To manage their business and projects, and schedule meetings with stakeholders and partners, they need to use proper project management and business management software so they can meet deadlines, hold meetings efficiently, and manage their work easily.
Business management tools allow designers to track budgets, make use of time more efficiently, and undertake client communication more seamlessly.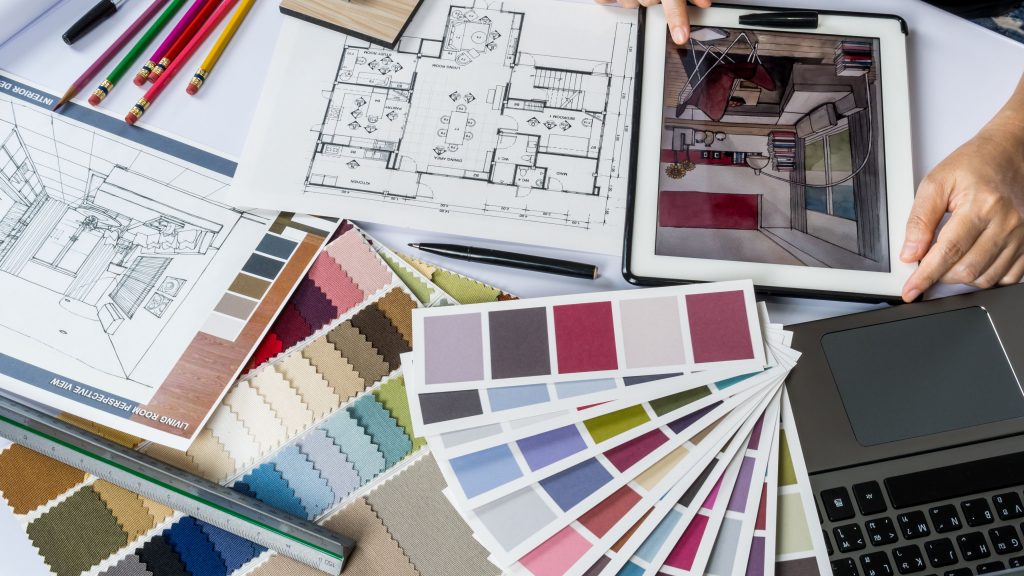 Image Credit: timesandtrendsacademy.com
As a designer, you will know that the world is moving to a more sustainable space. Today, people want to build smart homes, integrate IoT, and ensure their homes are highly energy efficient. Integrating security features, building modular kitchens and bathrooms, and using smart lighting are other ways to incorporate tech elements and create modern homes for a better tomorrow.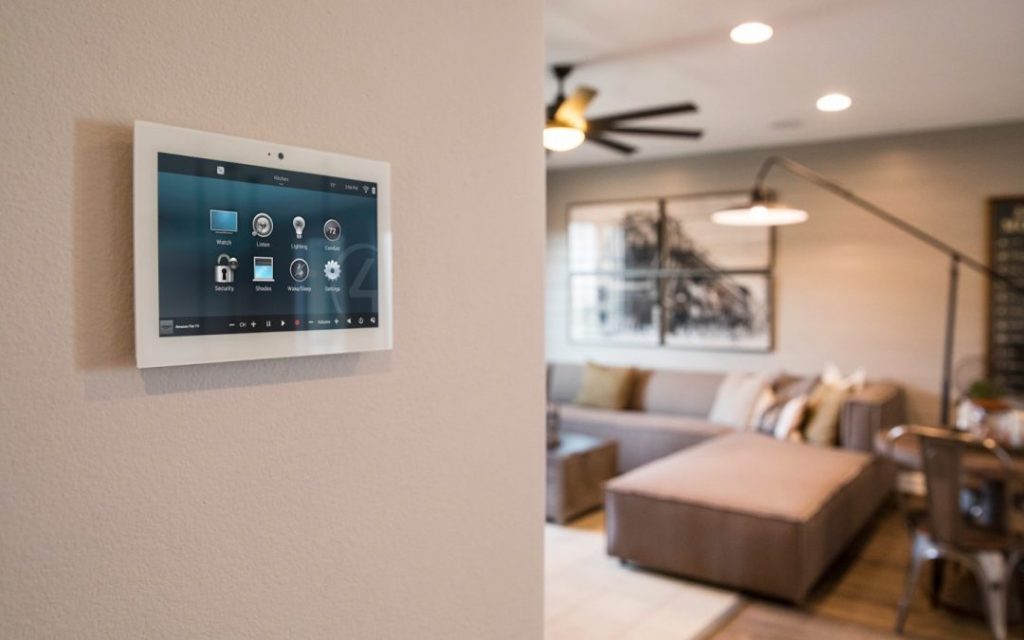 Image Credit: technologydesigner.com
The Future of Interior Design
With the way, the world is evolving and technology is changing, interior design is undergoing a revolution in terms of the use of tools and resources. Designers have a lot more ability to undertake opportunities and projects and present their abilities to potential clients a lot more easily.
Virtual tools help designers convert empty spaces into aesthetically furnished spaces and give clients a feel of what they can expect. It's exciting to see how tools are evolving, in a quest to create more modern spaces in the future.
Read also – How Covid-19 Has Changed The Future of Interior Design?
Visit the Foyr Neo Community to understand more about how you can progress your career in interior design. The Foyr Neo Community focuses on the 4 pillars of interior design – learning, finding jobs, creating portfolios, and networking.