Home » Interior Design » How To Choose the Right Fabrics for Interior Design?
Fabrics in Interior Design
you felt would work magic for any homeowner? Or was the playfulness of color and the intelligent use what inspired you?
In most cases, what really evokes a sense of emotion and makes us feel connected to a living space is what we call the softer accents. The best way to bring alive a sentiment in the room is with the use of fabric.
Fabrics in interior design have been around for as long as homes have. In upholstered couches and sofas, curtains and drapes, throws, pillows and cushions, carpets and rugs, and also in embellishments like wall art – there is an abundance of fabric that every home incorporates. With some imagination and plenty of expert insights, there is really no limit to the amount and kinds of fabric you can use. 
The great thing about using fabrics in interior design is that they can transform the room completely. The next time you want to give a space a redo and want to create a design and feel that can be achieved without running up expenses excessively, think fabrics! Switch around the colors and textures, and the result will be astonishing.
This article helps you understand the different types of fabrics in interior design. You will also begin to appreciate how you can use them more intelligently and effectively.
Read also – Importance of Accessories in Interior Design
Types of Fabrics in Interiors
Several kinds of natural and artificial fabrics available today can be used in home interiors. You should choose the right one based on the look or appeal you are going for, the utility it offers, and the budget you have been allowed.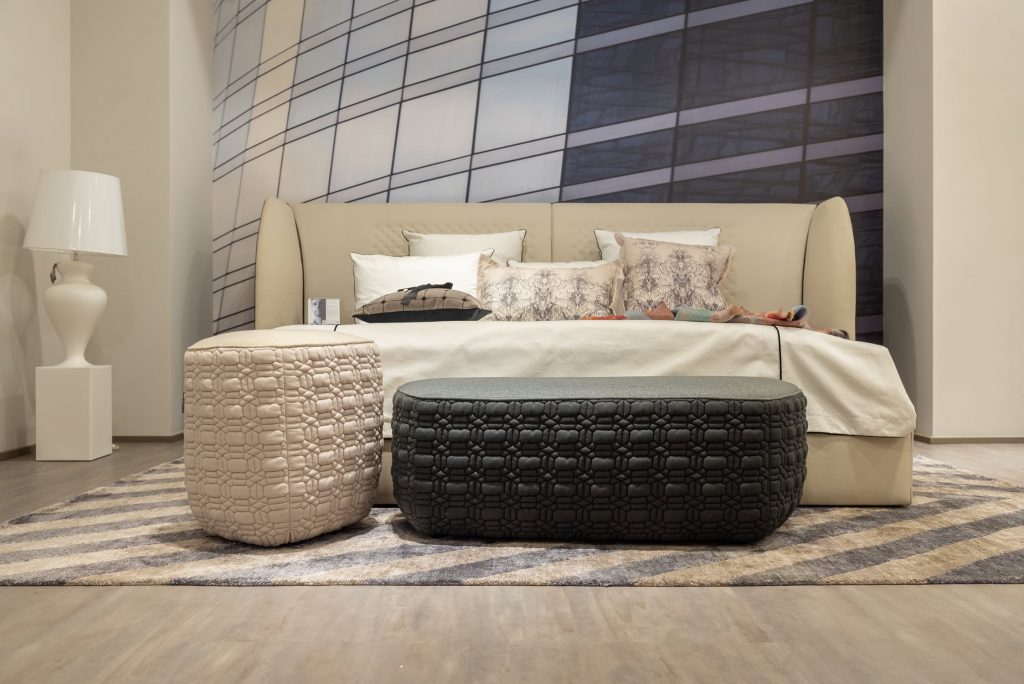 Image Credit: pexels.com
Here are some popular choices:
1. Silk:
Silk is perfect if you want to create a rich, classy look. There are several great things about it. It flows beautifully, has a lovely sheen that lends a royal look, and is a delicate fabric. Silks are ideal for living spaces and formal rooms. It is a perfect choice if the space has large windows or doorways. Match it perfectly with wooden flooring.
You can use silk liberally in curtains, bed linen, and cushions. However, there are certain constraints that you must keep in mind when working with silk. It wrinkles very easily, requires lots of maintenance, and stains quickly.
2. Leather:
Leather is a great choice for dining chairs, study chairs, or even sofas. It is soft and extremely comfortable and lends a regal air to the room. If the idea is to impress, trust leather. If you want to do more with it, try teaming it with silk drapes. Leather can be used best in shades of brown or black for a natural look.
Leather is fairly easy to care for and maintain. It can be wiped dry, vacuumed, or even cleaned using special leather cleaning products for fuss-free upkeep. This makes it the perfect fabric suggestion when working with families looking for greater convenience.
3. Rayon:
This fabric is fast replacing silk as a favorite. It is easier to maintain and more economical while offering a similar flow and finish. As it is a lot sturdier, it is the perfect option when you choose fabrics in interior design. All drapes and upholstery can do very well with a touch of rayon.
4. Cotton:
This is everyone's go-to fabric in clothes and interior design alike. It is natural, light, easily available, and natural. Cotton is the perfect fabric for children's bedrooms and other common areas. You can always suggest cotton for bed linen, curtains, and cushions.
5. Polyester:
As polyester is not commonly used on its own but more as a blend with other materials, it can be less popular. Polyester blends are great options because they are wrinkle-resistant and don't fade over time. Their stain resistance also makes them the perfect choice for kids' rooms and outdoor furniture.
6. Velvet:
Perhaps the most classy-looking of all upholstery fabric, velvet isn't as much the talk of the town; it slips in and out of fashion very easily. If you are looking to create a sophisticated and royal look informal space, this is a great fabric to consider.
7. Microfiber:
This is the common person's velveteen fabric. It is among the most common fabrics in interior design today. It offers the same softness and feel like velvet but is a polyester-derivative that makes it much more affordable and easier to maintain.
Read also – 10 Most Popular Types of Interior Design Styles
Things to Consider when Choosing the Right Fabric
You cannot just pick a look from a catalog or imagine any style and expect the fabrics to work for you. There are several considerations you should have in mind to decide the types of fabrics in interior design. Think about these factors before you make a final choice of fabric:
This is most important in creating just the right mood and tone. Some colors make rooms look smaller, so choose wisely. Smaller rooms do much better with lighter tones and shades and lighter fabrics. You should also be careful when suggesting patterns and designs if any. If the fabrics have a print on them, ensure they blend well with the theme and mood of the room. 
Having a particular look in mind can help you pick the perfect colors and patterns. Avoid keeping this for the last minute or after picking out the furniture and fixtures. You may have to switch the fabric out altogether or redesign the space again.
Read also – Color Theory in Interior Design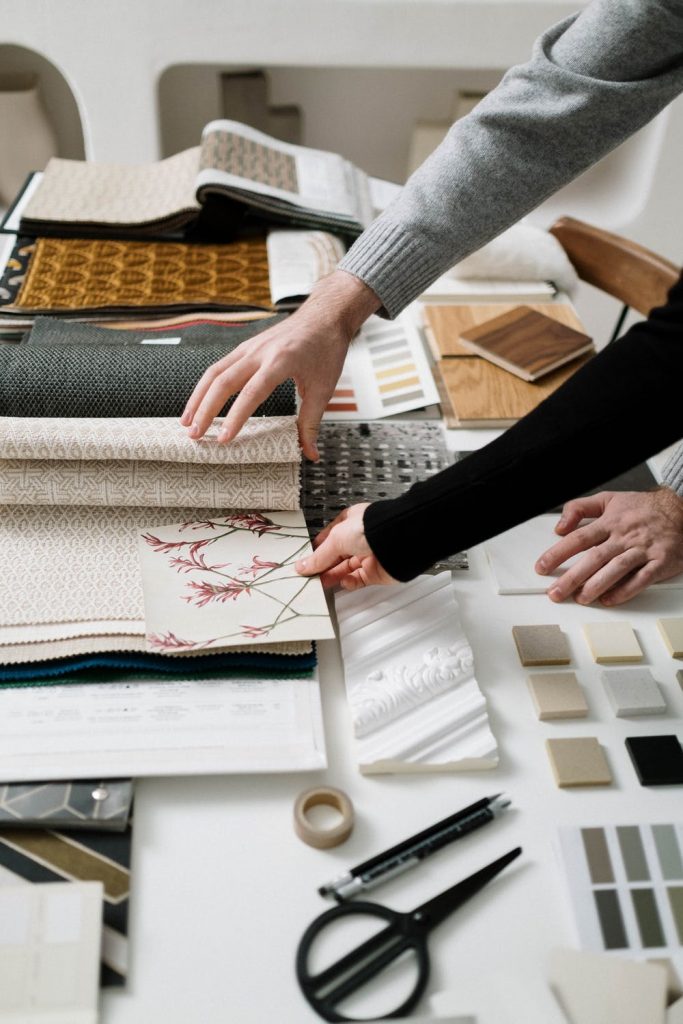 Image Credit: pexels.com
Textures inevitably bring in an added layer, but too much always adds to the clutter. If the room is plain, you can opt for one textural element in the fabric that will give the room an edge. This can be in the curtains, sofa, or even the rugs and cushions.
Functionality is something you should keep in mind when playing with textures. Remember that textures like wool, velvet, and even microfiber can prove more difficult to maintain if there are pets and children in the house.
Read also – How To Use Textures in Interior Design?
Many choices will be led by the budget you have been given. The great news is that several natural and artificial fabrics can substitute one another very easily without compromising on the effect too much. Choose cotton, polyester, or rayon when there are budgetary limitations. If you need to create a very specific look or have a more liberal budget, wool and silk can be the perfect choices.
10 Tips for Choosing the Right Upholstery Fabrics for Interior Design:
Now that we have the basics in place, let us look at some invaluable tips that can help you choose fabrics in interior design that are not just eye-catching and extremely practical, but definite pleasers for every homeowner.
1. Always look for durability
While it is easy to change curtains or switch around throw pillows, some fabrics are fairly permanent – for a couple of years, at least. It is important to consider a durable fabric, especially for dining chairs and sofas that see extensive use.
Replacing and re-upholstering can be especially tedious, laborious, and expensive. Nylon and polyester are great performing fabrics and are ideal in homes that have pets or children.
Read also – 20 Best Furniture Brands To Upgrade Your Home Interiors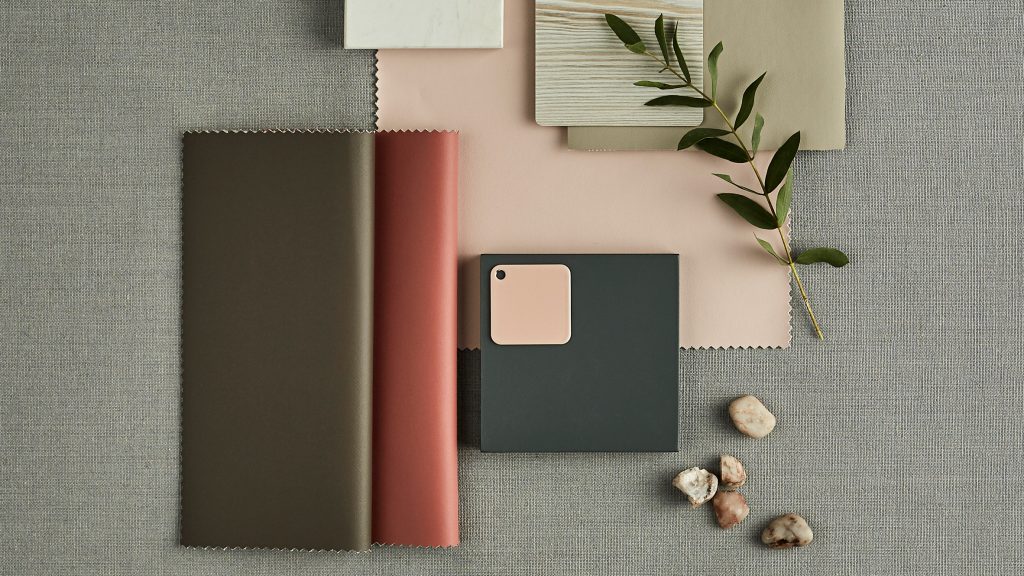 Image Credit: dezeen.com
2. Think about complements and contrasts
The essence of choosing furniture upholstery or drapery is to ensure it blends in and complements the mood and aesthetic of the room. If the room is all about neatness and minimalism, choose textures and colors accordingly.
If you are looking to create a more ornate look in the room, consider using richer textures and deeper colors. Accent furniture works amazingly well, and you can use colored or patterned upholstery to make an accent piece really stand out.
Read also – How To Choose the Best Materials for Interior Design?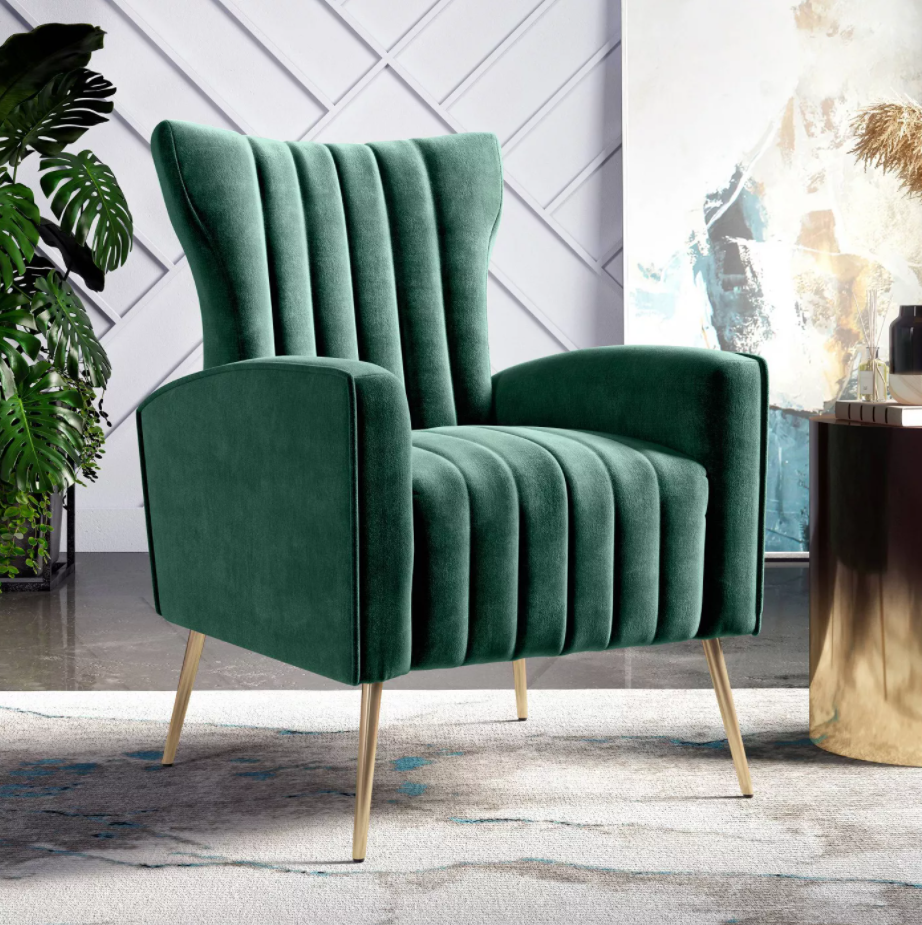 Image Credit: target.com
3. Make choices based on color quality
Have you seen an umbrella that is new but looks like it's been around for years? Well, that is the result that weather and sun exposure can have on certain fabrics. When choosing fabrics in interior design, placement becomes an important determinant in the colors and fabrics you choose.
If the windows in space see a lot of direct sunlight, choose heavier drapes and consider lining them to protect the color. Natural fibers will tend to fade faster. So use them indoors, in cooler places, or where the furniture is less likely to be used extensively.
Read also – 8 Best Window Treatment Ideas for Your Home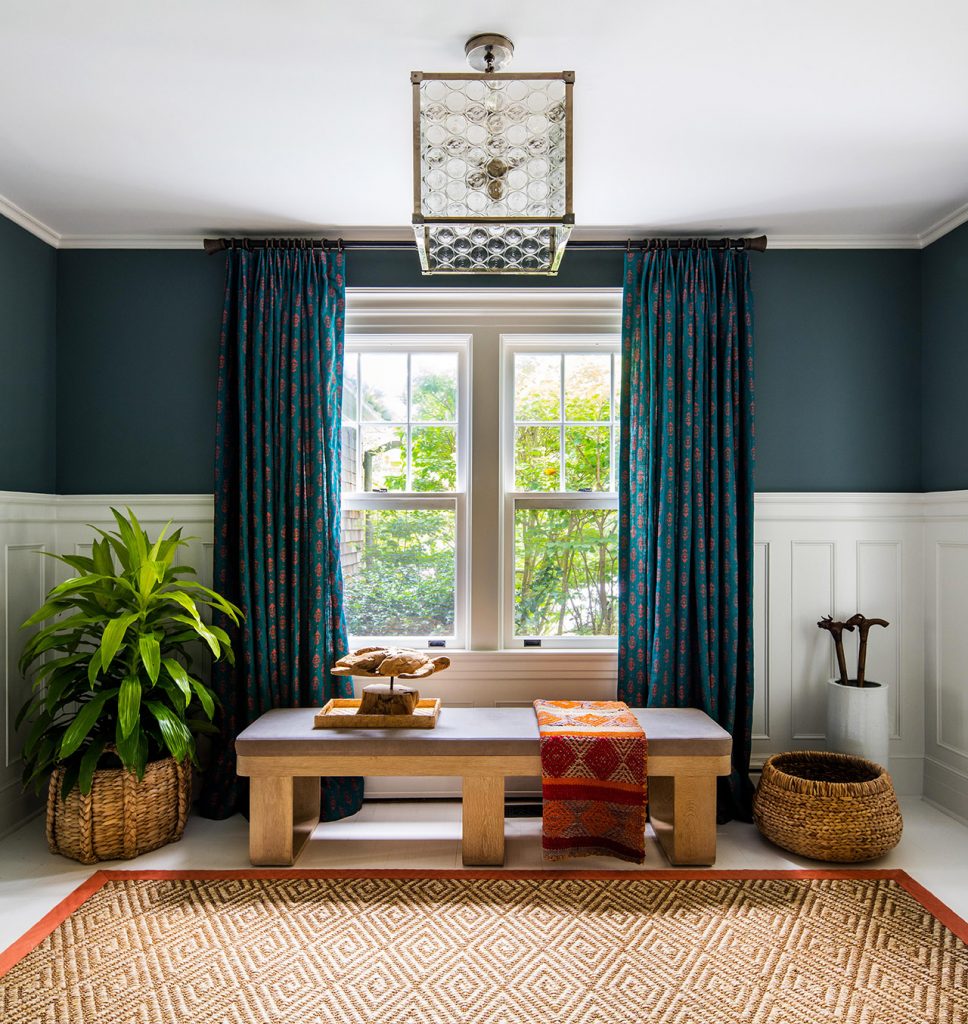 Image Credit: bhg.com
We've already established how repairs and restoration can prove cumbersome and costly. When planning your fabrics in interior design, think about how well they will wear and how convenient it will be to manage them.
Choose a high-quality fabric for headboards, dining chairs, and sofas, so they needn't be replaced at least for a few years. Ensure the carpeting is well-fitted. Pick fabrics that are easy to clean and maintain and fulfill their specific functionality within the home.
Read also – How To Find Your Personal Interior Design Style?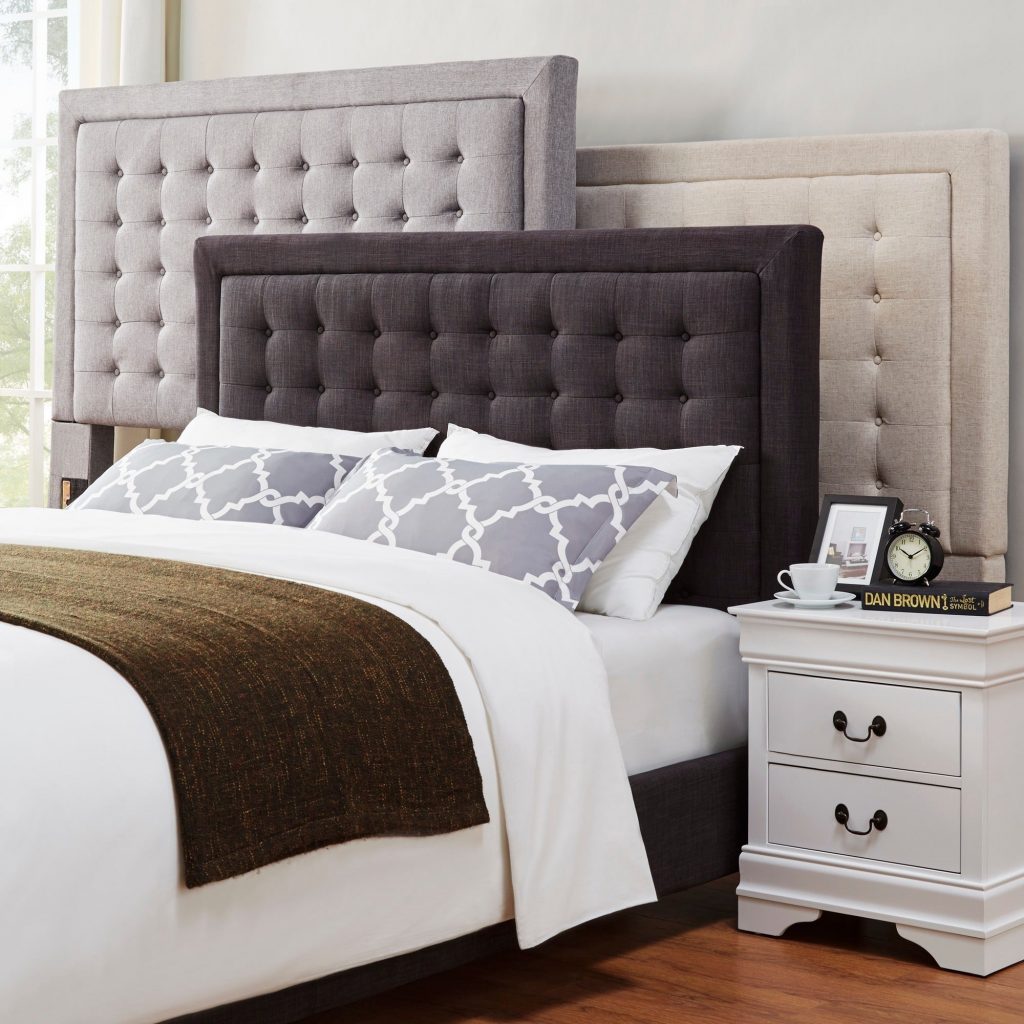 Image Credit: pinterest.com
5. Never forget the purpose
The overriding factor in making every fabric choice is the function it will serve. If you are providing a solution for a living room that is only intended for guests, you can pick something more delicate. If the drapes need to block out sunlight completely, you will need to choose from a darker color palette or make a fabric selection from thicker weaves. Canvas is among the hardiest and most durable options for window treatments.
Read also – 14 Best Living Room Interior Design Ideas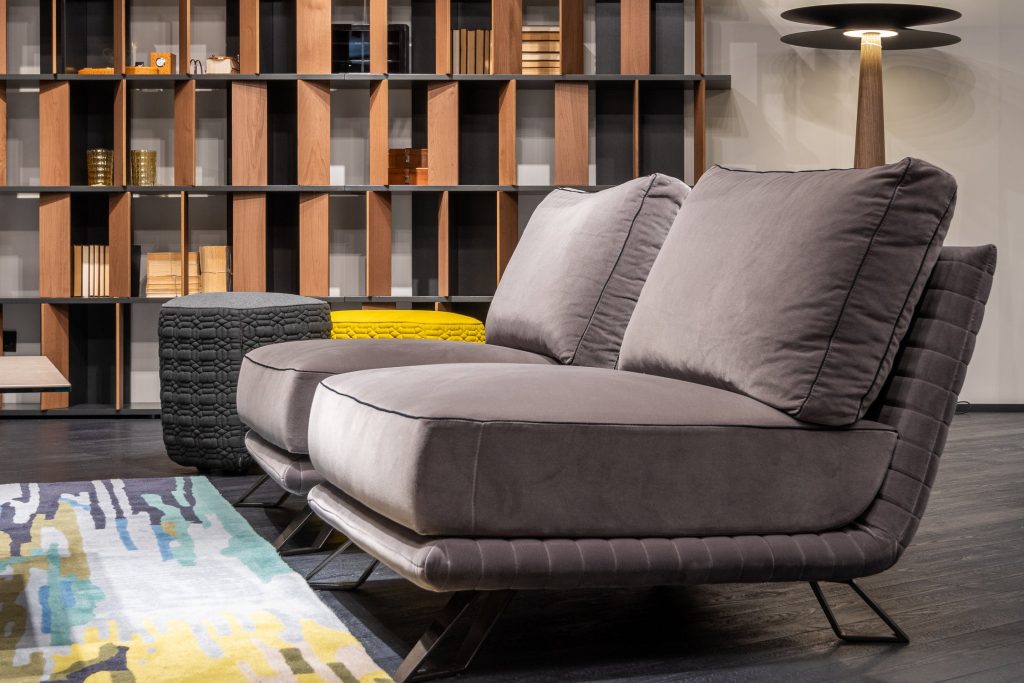 Image Credit: pexels.com
Choosing layers in fabrics can help offer added protection and add a touch of class and style. Sheers are amazing layers for existing curtains. Add some sheers, and existing curtains can continue to work well for the room.
Using slipcovers on dining chairs or sofas on ordinary days can help protect them better. Slipcovers made from rayon or synthetic materials work perfectly. A cover over leather furniture can also help ensure it does not scratch easily.
Read also – The Complete Guide To Layering in Interior Design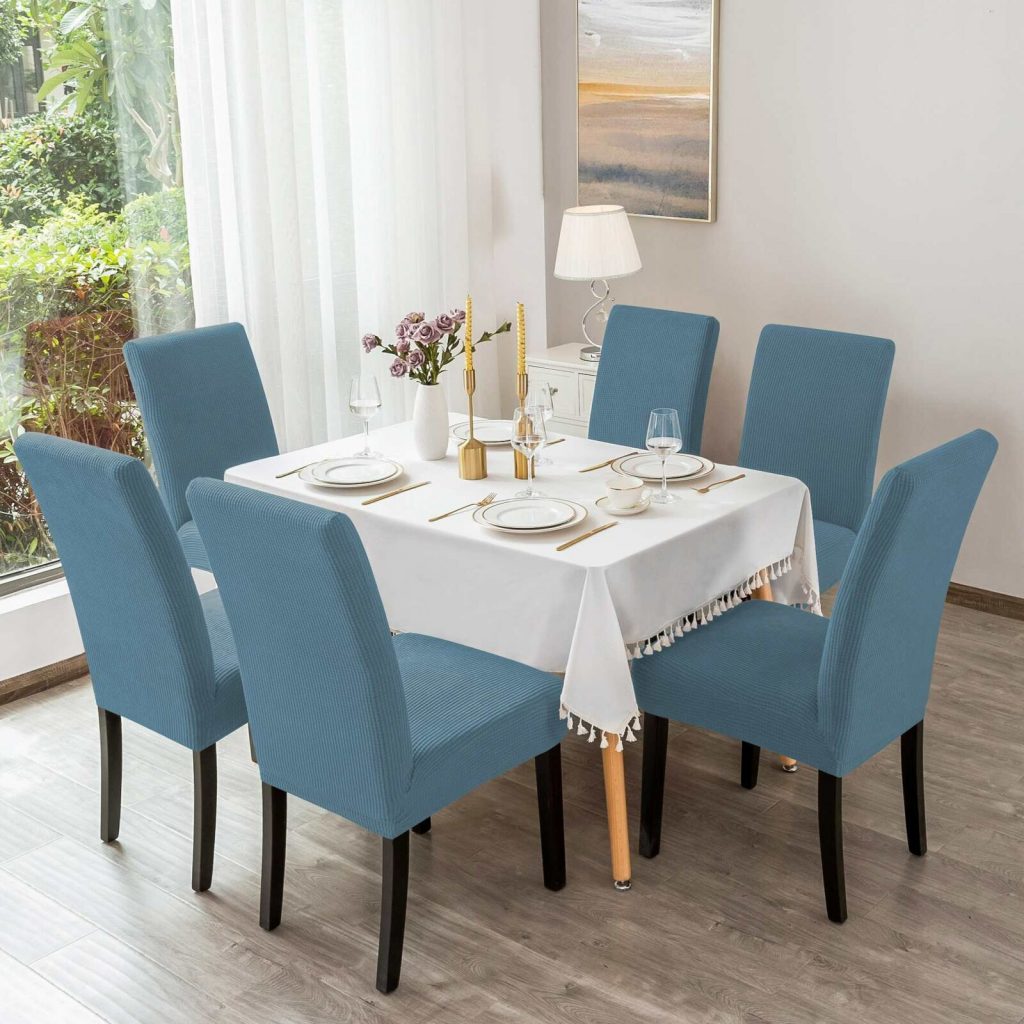 Image Credit: foter.com
7. Don't lose sight of the piece
Every homeowner has favorite colors, dreamy moods, and an image of what they think a room should look like. Often, these are what determines the fabrics we can suggest. However, every piece of furniture has its own character and merits its choice of the right fabric.
The same fabric may not look good on two different styles of sofas. Every piece of furniture has its quirks, and playing with them will ensure you find the right blend of color and texture. You can consider solids for living room furniture that has more curvaceous lines.
Read also – How To Create Perfect Focal Point in Interior Design?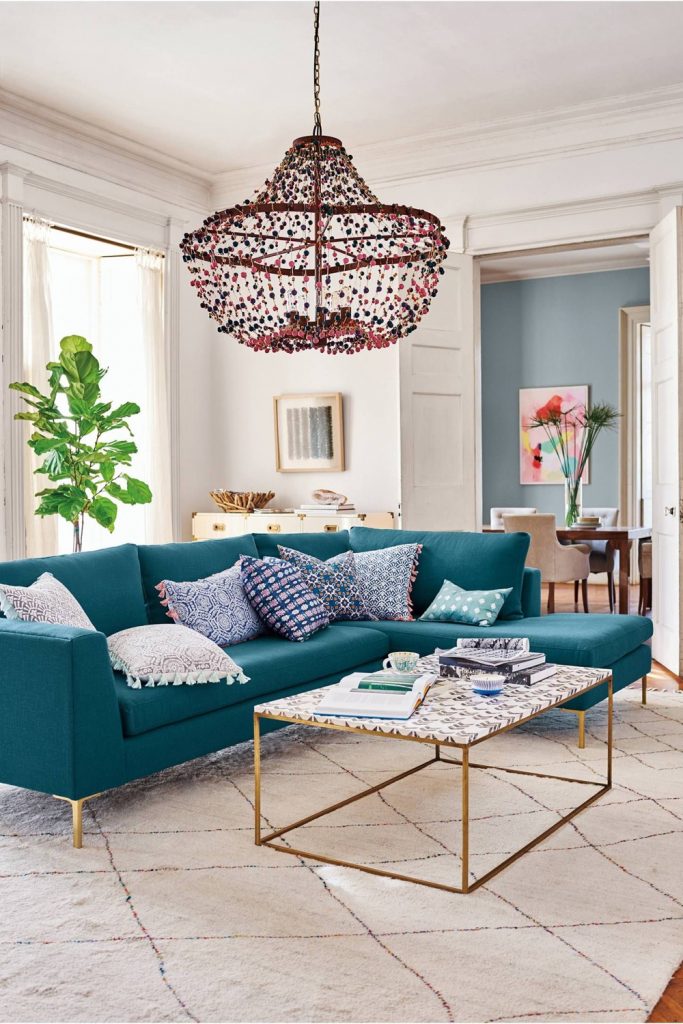 Image Credit: homelovr.com
Several artisan stores offer some simple design tips that work brilliantly in creating impact. Hand-made throws and patchwork, simple embellishments on cushions, or specially designed curtains can add loads of character to a home. If you notice some DIY accents, try and incorporate them into the design to make the room feel more personal.
Read also – 40 Best Online Furniture Stores To Shop Trendy Furniture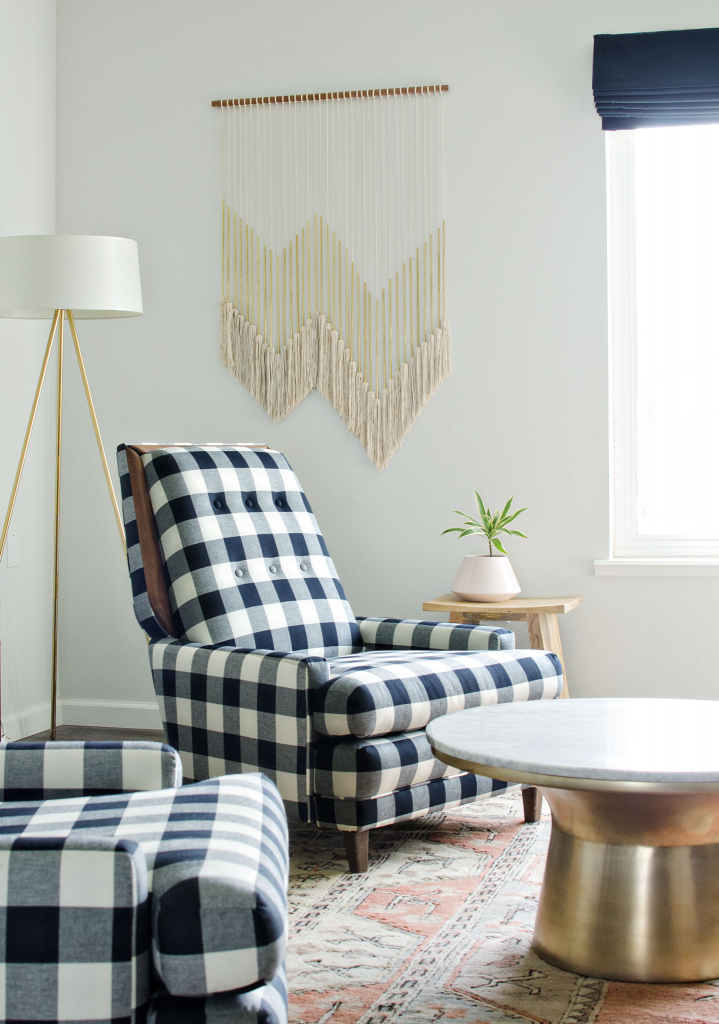 Image Credit: apsiconichome.in
9. Swatch, sample, and then select
The fabrics in interior design that you see in a store always look very different when you bring them home. There is something about the display, lighting, and ambiance that never is quite the same. Always carry back a swatch to see how the fabric blends with the room and looks on the furniture or walls before you make a final selection. You will be grateful for having gone the extra mile!
Read also – Top 20 Neutral Paint Colors for Interiors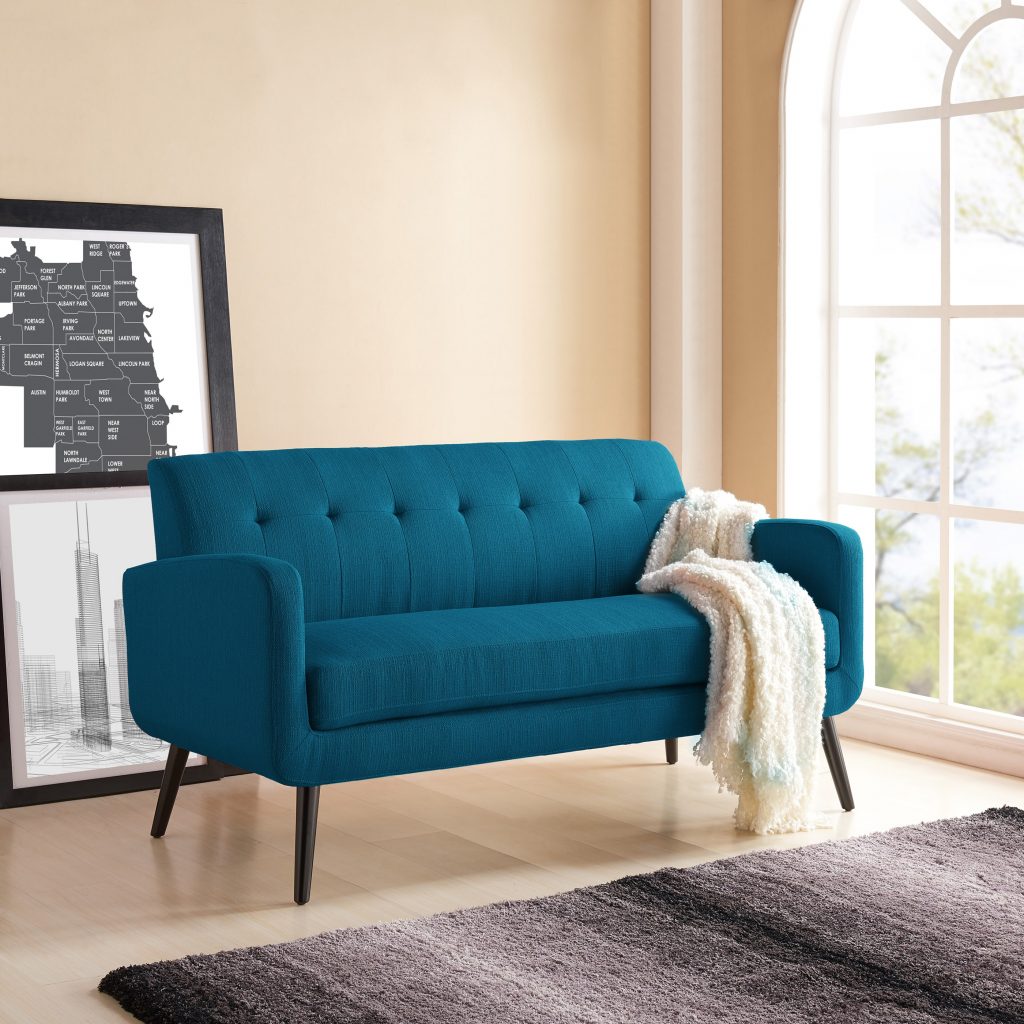 Image Credit: walmart.com
10. Repurpose when required
Often, people like to redecorate because they tire of the space's look. Redoing upholstery fabric doesn't always stem from a need to have it changed. A great way to keep some of the good fabrics and still enjoy a new look is by repurposing. When a home has all it needs to be addressed, maybe it just requires fresh insight.
Suggest using sofa fabric to make throw cushions or dining chair covers. Other interesting applications of used fabrics include lampshades and table-runners. This is a practical yet very effective suggestion when working with clients who have extremely tight budgets.
Read also – 8 Best Ways to Tell Your Story Through Interior Design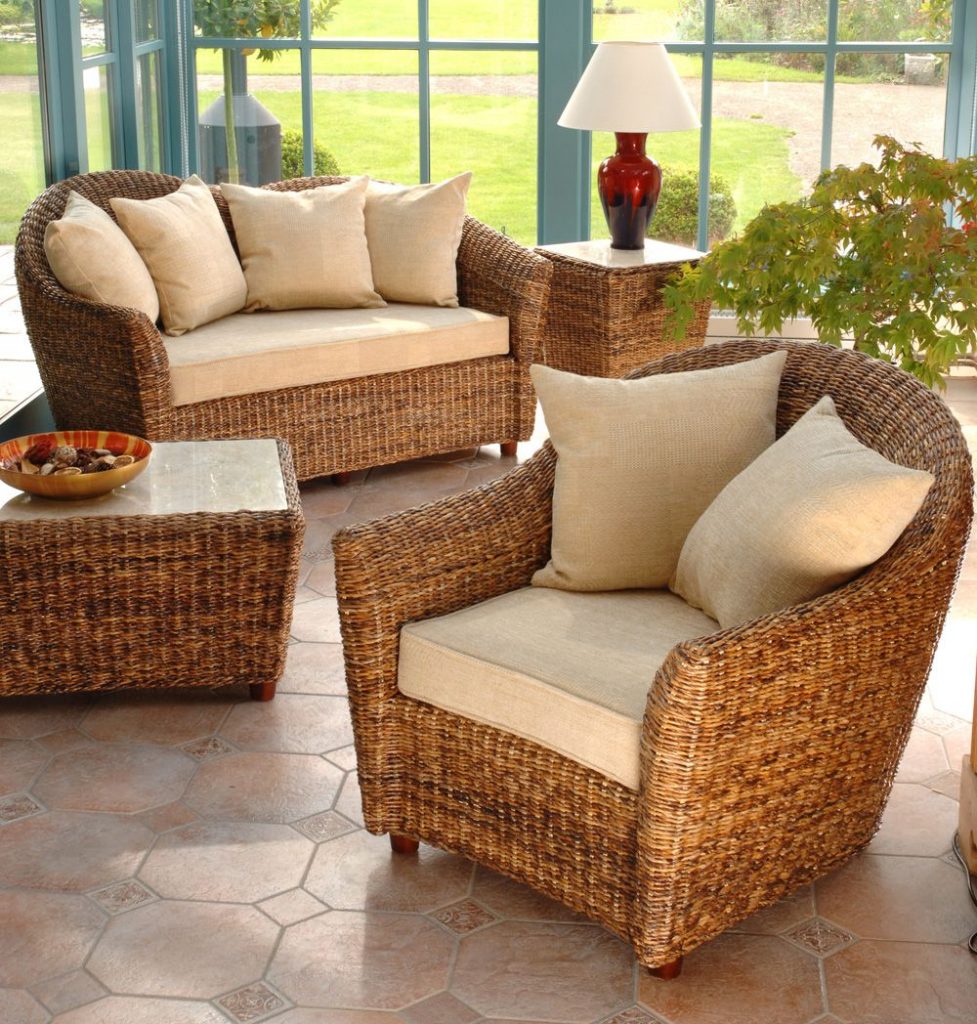 Image Credit: pinterest.com
The Final Word on Fabrics and Design
Who would have thought there was so much to the world of fabric design! Well, we have only scratched the surface in this article. You can know a lot more about how to use fabrics effectively and how interior design can help you pitch and position your interior design ideas better.
If you have the right business tools, each stage of the interior design process will be easier and more efficient.  Foyr Neo is a one-stop-shop for all your design needs. The multifaceted design software has so many features to choose from that it makes it easier to visualize your design ideas more effectively. 
60K + ready to use products 

Build Floor Plans, edit in 3D

Drag and Drop Interface

4K Renders in minutes
Furthermore, it doesn't take up a whole lot of space due to its incredible cloud computing feature. It saves time and money on licensing. Anyone can create absolutely remarkable home designs with these design tools. Foyr Neo is now available for a 14-day free trial, allowing you to explore the potential of infinite creation.