Home » Interior Design Concepts » How To Create Perfect Focal Point in Interior Design?
Focal Point in Interior Design
While you can never be sure when creative inspiration will strike, sometimes it's nice to rely on tried and true principles when you're first starting a project. Some interior design principles are true regardless of the project; it doesn't matter if you're tackling a quick room renovation or space planning for a completely new home. 
Incorporating and designing around a focal point is one of the principles of interior design. Small and large spaces will offer you the option of showing off a focal point and using this feature to highlight individual personality or bring together design elements used elsewhere throughout a home or workspace. 
So what is a focal point and how do you create one? Focal points are not a complicated concept, but there are a few best practices that will help you quickly determine how to make the most of your room. After reading this article you'll understand what a focal point is, why they're important, how to use the focal point to its full potential, and 10 top tips for your next project.
Read also – 6 Steps To Design A Home?
What is the Focal Point of a Room?
The focal point of a room is the primary area where people naturally assemble or look when they enter the space. The word focal simply means the "center or main point of interest." According to this definition, a focal point is not always the physical center of a room. Instead, it's most often the place that you most immediately notice, or where you seem to be drawn based on the layout and arrangement in place.
A focal point can be determined by the purpose of the room; for example, a living room is designed for gathering, sitting, and talking. An office might be designed around a space for working.
Designers can influence and enhance a focal point by redesigning a layout or adding specific elements to a space, like lighting or seating.
Read also – 20 Common Interior Design Mistakes To Avoid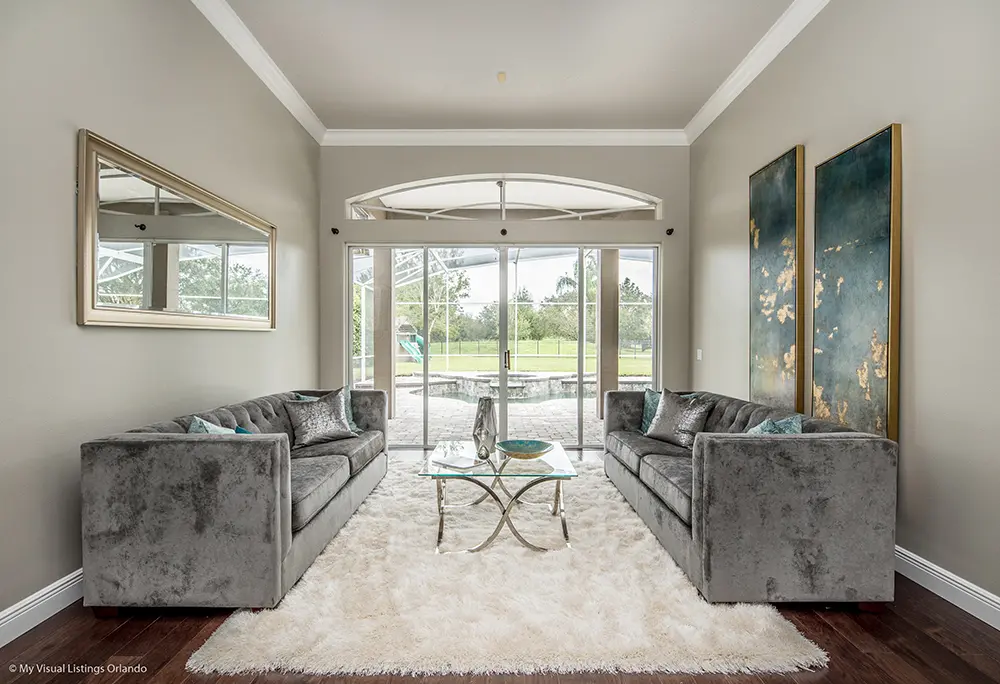 Image Credit: MHM Professional Staging
Common Examples of a Focal Point
Almost every space will have a focal point, even if that looks like a long wooden bench in a small entryway. It could be a natural gathering place, a design feature, a way of highlighting the geography where a house is (a river, mountain, etc.). When designing functional spaces for clients, you'll notice the following areas as common examples of focal points in both residential and commercial spaces:
Focal Point in Residential Interior Design
Bay window
Often used in kitchens or dining rooms, bay windows are typically designed to offer a specific view while enjoying a meal or sitting with family and friends. These architectural features can let in lots of natural light while creating an inviting environment for relaxing on a comfy armchair.
Kitchen island
Kitchen Islands are preferred by many homeowners because they are highly versatile and extremely functional. A well-placed island can provide surfaces for cooking and meal preparation in addition to storage and seating.
Oven
A unique appliance that has both functional and aesthetic appeal can immediately draw the eyes of visitors when first entering a space. Additionally, an oven is typically the functional focal point of a room because it's where most of the work takes place.
Fireplace
Fireplaces can combine a beautiful appeal with wonderful utility. Although they are most often used during cold nights, fireplaces can still be used decoratively as a focal point in warmer months.
Bed
Some people are able to have multiple focal points (i.e., primary, secondary, etc.) in their bedrooms, but most will start with the bed: where will it be placed? How big will it be? Once the bed placement has been determined than other decisions about a specific piece of furniture and decor can be made.
Artwork
Homeowners often have ideas about how they want to display art, and what kinds of art would show off their personal tastes. Uniquely arranging art to create a focal point or highlighting a construction feature with art are both great ways to make art more of a centerpiece.
Dining room table
Even in large dining rooms, a table is often the primary focal point. Drop down lighting like chandeliers can make a dining room table more of a "fixed" element in the room, acting like an anchor for traffic flow, seating, and eating.
Feature wall
Unique angles or bold color can make accent walls a natural gathering place when paired with the right seating positioning or another eye-catching addition. Personal additions like a wine rack, hanging guitars, or other home decors can make a room feel more like home while creating a natural focal point.
Other furniture
Permanent seating like built-in benches or stately storage cabinets like armories can be a nice focal point in large and small rooms. These kinds of decorative items can also enhance an existing focal point.
Read also – 15 Best Room Design Software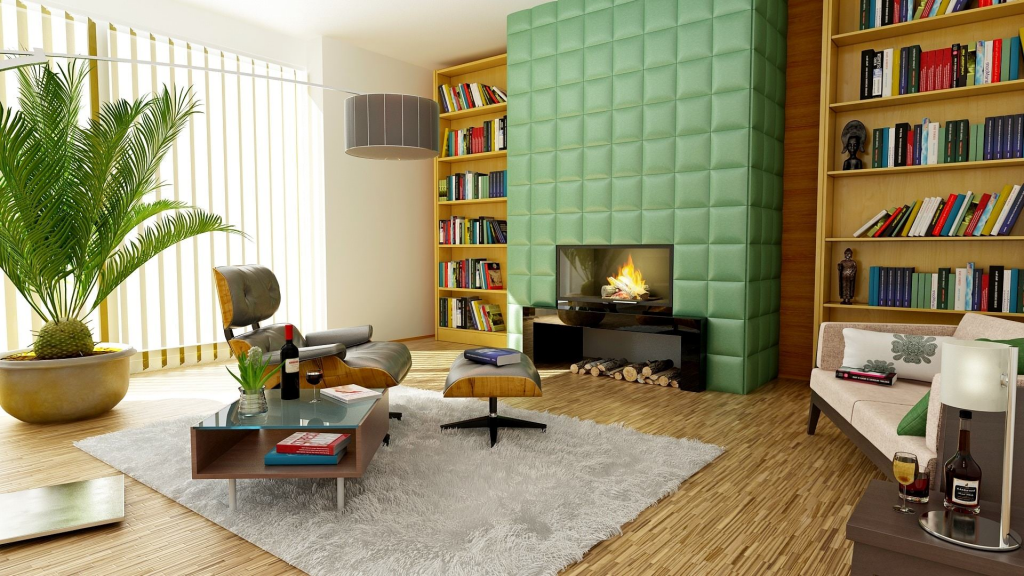 Image Credit: Smooth Decorator
Focal Point in Commercial Interior Design
A stage or event area
In rooms where tables and seating are permanently focused in one area, a primary focal point likely already exists. However, other considerations about traffic flow, lighting, furniture arrangement, and spacing will all be affected by a permanent focal point.
Conference table
Small and medium-sized conference rooms are typically designed around the presence of a fixed conference room table with a significant amount of seating. Because the purpose of the room is specifically to facilitate meetings, it's clear that a sizable table with power cables, lighting, audio conferencing systems, is the focal point of the room.
TV or projector screen
Other multi-function rooms in a professional space are centered around a TV as the focal point, which makes them useful for virtual meetings and video training.
Seating
Lobbies of commercial buildings often have areas where seating is required for those who are visiting and waiting for service. These permanent seating installations can also be visual focal points.
Read also – Best Commercial Interior Design Ideas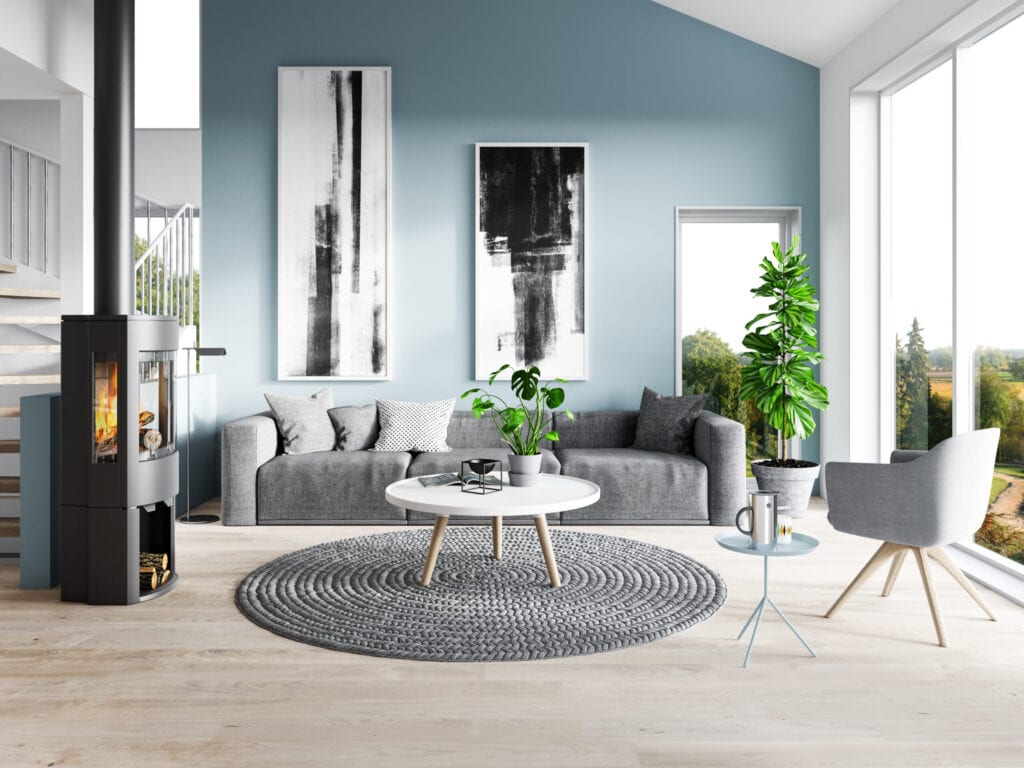 Image Credit: mymove.com
How do I Know What the Focal Point Should Be?
For a number of reasons, it might not always be clear exactly what the focal point of a room is. Accordingly, you might be wondering how to differentiate between multiple types of focal points, or how to create an entirely new focal point. There are multiple ways to approach the creation or augmentation (enhancement) of a focal point.
A common best practice is to start by defining the primary purpose of the room, which is essential for space planning. Here are some common categories of room usage that might apply in your situation:
1. Social
If a home features a large window that offers a nice view of the surroundings, this could be a natural starting point for determining how the furniture should be placed, and what type of window coverings will be best.
2. Personal enjoyment
A semi-private alcove with limited seating toward a window is a great example of a space that is open to the rest of the house, but the area clearly isn't meant to be used as a primary gathering space.
3. Privacy
A bedroom is probably the most private area within a home. Even in a normal square room with no windows the focal point of a bedroom should be clear: the bed!
4. Utility
People use rooms in their homes for everything from office work to meal preparation to laundry. Understanding what kinds of work will be done in the room should guide important decisions about the floor plan and arrangement. Perhaps the focal point will be a large personal desk used for daily work, or a series of bookshelves in a small reading nook.
Read also – How To Draw A Floor Plan?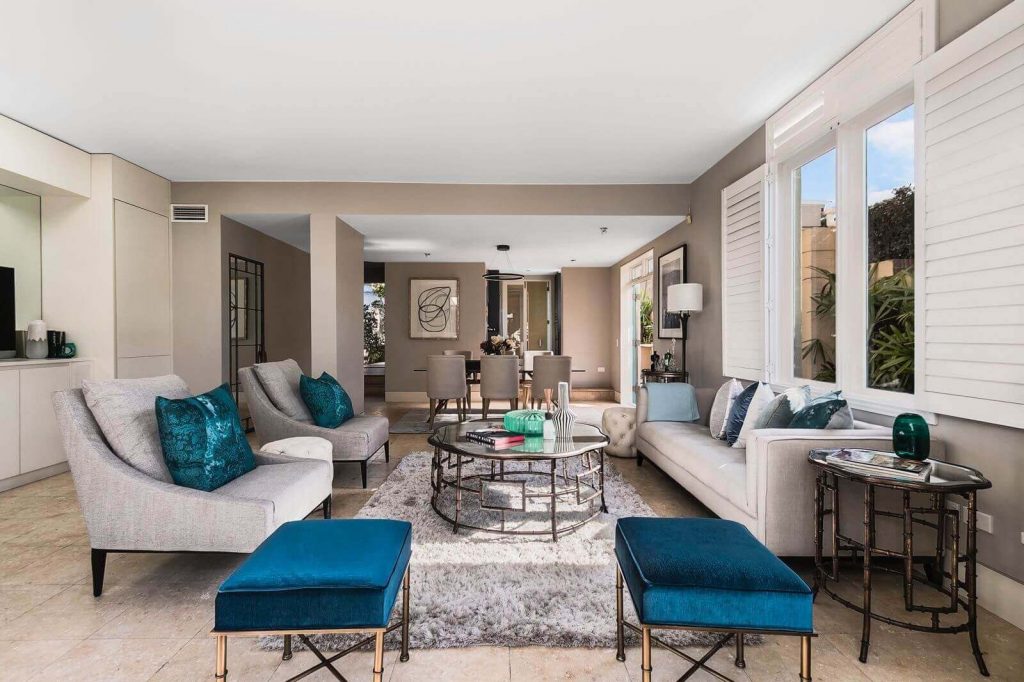 Image Credit: evolvegp.com.au
The Importance of Creating a Focal Point in Interior Design Projects
If you don't design a focal point properly it can interfere with essential aspects of the space, including it's utility, traffic flow, and the level of personal enjoyment. People who frequently use a space (or live in the home) may end up using the room less or find themselves continually rearranging furniture to try and optimize the space.
Rather than being subtle about the focal point, or having it feel "incidental," it's usually a good idea to make the focal point clear by immediately drawing people's attention to the desired area or feature. It may not be immediately obvious what the focal point of your room is. Are the windows small and off-centered? Are you missing that large, beautiful brick fireplace that would tie everything together?
Don't worry. There are some simple tricks of the trade that designers can use to create a stunning, thoughtful focal point that draws attention and brings the room together. Let's dive into some of the top tips for effectively creating a focal that stands out in the best way possible.
Read also – 16 Interior Design Rules Every Interior Designer Should Follow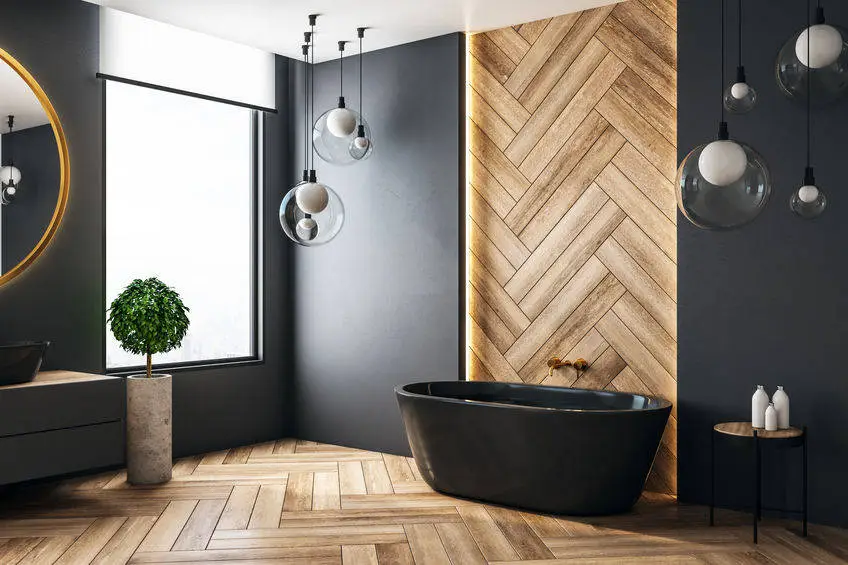 Image Credit: Las Vegas Review-Journal
Top 10 Tips for Designing Interiors with Focal Points
1. Start with the focal point when you begin designing. Don't put this important feature last, or it will appear like an afterthought in your final plan.
2. Work with natural focal points. If the space you're designing has a beautiful view through a picture window (e.g., a pond) or a feature like a fireplace (even one that isn't currently functional) should almost certainly be the focal point that you use.
3. Embrace the natural surroundings – this could be great views of a high rise, or East/West facing windows that provide a picture-worthy, front row seat to the sunrise or sunset.
4. Let the focal point drive key decisions about the overall floor plan, furniture placement, lighting, and other core components of the room's design and furnishings.
5. If your focal point is already clear and attractive, you can use basic accents to enhance their appeal and elevate the feel of the room. This could include window furnishings or molding.
6. If you have a room that's just plain boring, with 4 bare walls and nothing of interest, try a low-cost addition like unique artwork or bookshelves to create a feature that can serve as a focal point.
7. Lighting is an often underused interior design element that can bring a drab focal point to life or enhance a piece of artwork. Adjustable lighting can also help you easily change the mood in a room, quickly going from bright and open, to dim and focused on a mantle, or specific seating area. This can be accomplished through the smart placement and intentional layering of multiple light sources, including recessed lighting, task lighting, and spotlights.
8. Sometimes your options for physically changing the layout of a room are limited, particularly if the client has a small budget or if there aren't significant opportunities to make structural changes. Using contrasting paint colors is a great way to point out paintings or other artwork and create a focal point that doesn't really take up physical space. The same idea applies to wallpaper, mirrors, empty frames, hanging artifacts, and other decorative items that can draw your eye but don't cost a lot of money.
9. Don't do nothing! Even small enhancements can go a long way. Adding a little paint or small details like a bookcase, plant, or personal decoration can make the experience of a room feel more like home and unify other decorative themes throughout the home.
10. Avoid the obvious decision. Interior designers love to be creative, and thinking outside of the box can be a great way to surprise and delight clients. For example, using a uniquely constructed feature of the home as a shelf or storage area, or as a staging platform for a mirror or collectable item might change the way that they perceive the entire room.
Read also – 14 Top 3D Rendering Issues That Every Interior Designer Has To Face
Use the Foyr Community to Upskill, Network, and Grow Your Career
Foyr has created and cultivated a powerful community of interior designers that use the platform every day for learning, connecting, and growing their businesses.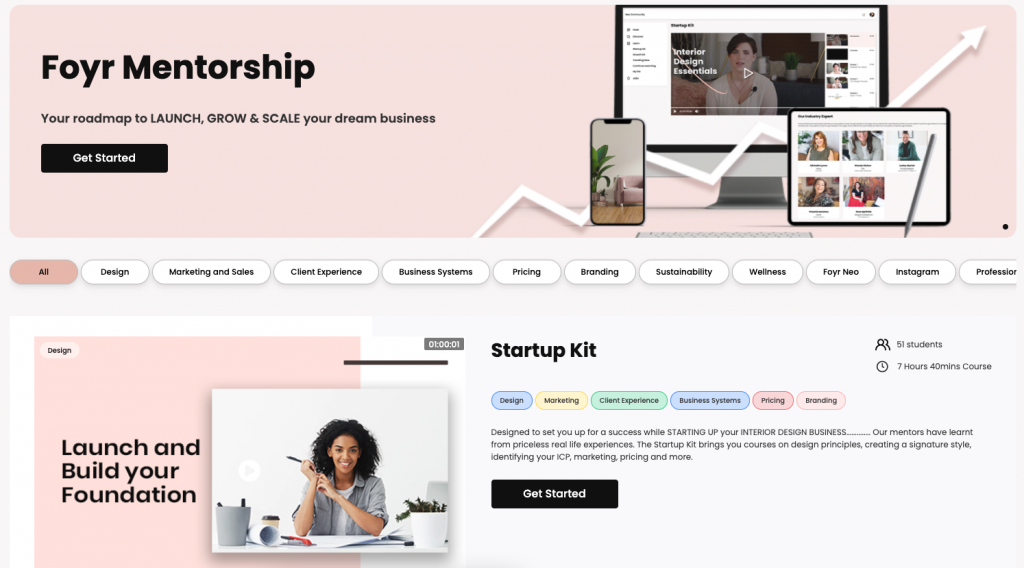 What can you expect from the Foyr community?
Find freelance interior designers to hire or connect with.
Search jobs specifically for freelance designers.
Explore the social networking platform made exclusively for interior designers. While networks like LinkedIn can be great for general business connections, you can use the Foyr community to expand your network and meet new people working in the same profession.
Learn from proven leaders in the interior design industry. Our community is full of courses built for interior designers at all stages of their career and entrepreneurial journey.