Home » Design Ideas & Inspirations » 14 Best Living Room Interior Design Ideas For Small and Large Spaces
Interior Design Ideas for Living Room
One of the most interesting and satisfying rooms for home interior design is the living room. Whether you own a midcentury modern mansion or a small studio apartment with sectionals in New York, the living room calls for maximum creativity and valor.
We have often said that the home is a reflection of the homeowner. This reflection is best demonstrated in the living room design where items of home decor, furniture pieces, light fixture, and color palette holds personal sentiment to the homeowner. It is also an area where you can create a focal point to proudly display your most precious acquisitions to impress and amaze your guests.
Needless to say, a lot of planning and forethought goes into your living room design ideas. Since this is the first and probably only space in your home that is up for display, it must be uncluttered and beautifully designed. You can choose items that make your living room feel cozy or Upper East Side elegant. You can choose to make it extravagant or minimalist. It can be a rustic or modern living room as per your preferences.
The wide array of choices make it difficult to narrow it down. Therefore, today we shall discuss some amazing interior design ideas for living room so you can choose what suits your sensibilities best. Don't shy away from mixing and matching the design trends for eclectic living room decor. During a home makeover, your living room is perhaps the only living space where you can experiment and find your personal style.
Without further ado, let's get to it then.
Read also – 30 Best Traditional Living Room Ideas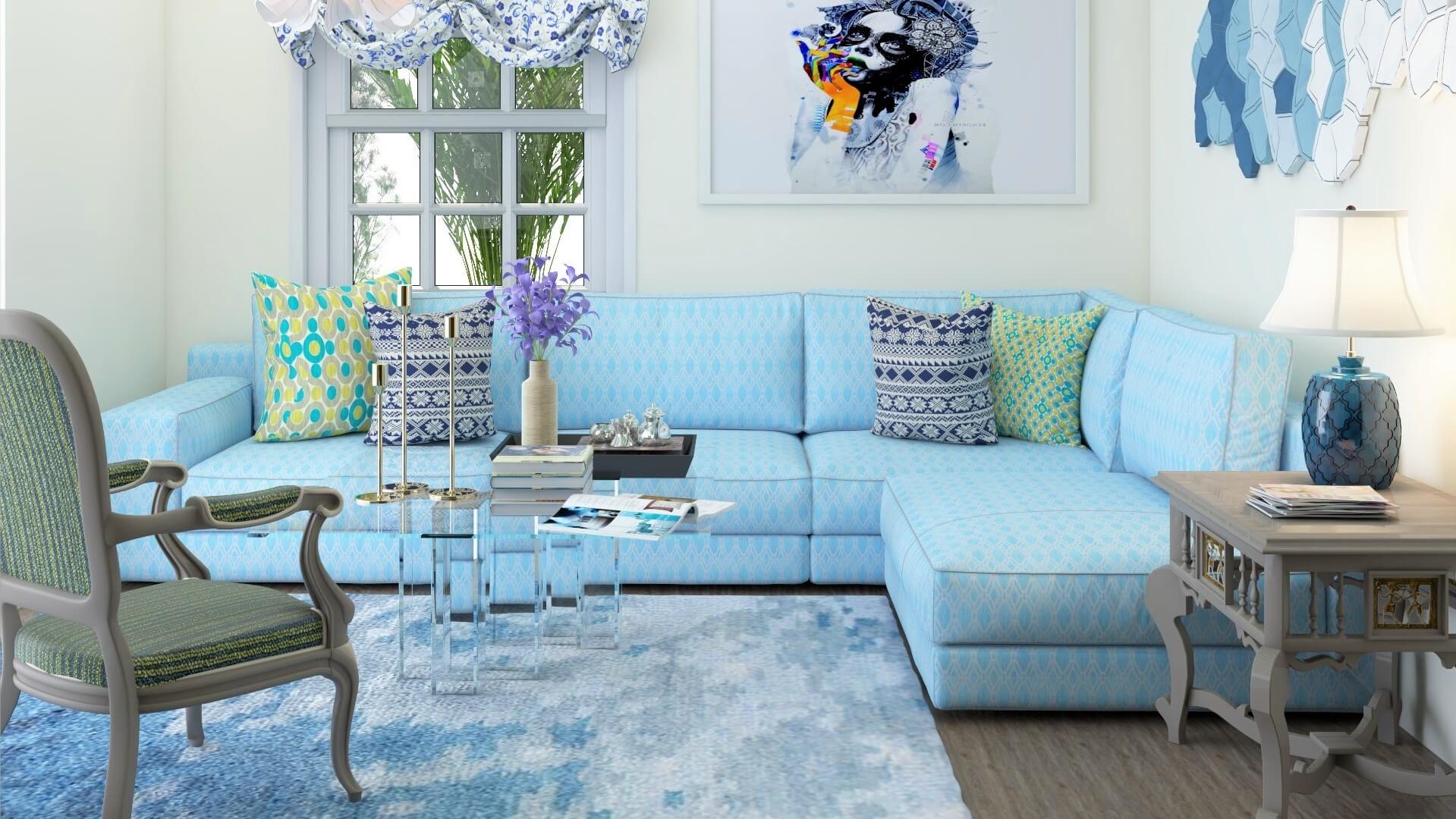 A Few Essentials To Keep in Mind When You Design Your Living Room
As we have mentioned, you can choose a theme or mix and match various living room design ideas. Choose anything from a modern living room to a rustic space or a Scandinavian minimalist design trend. You can throw them all together with a number of wicker home design pieces and couple them with low-bearing furniture pieces while choosing neutral colors for the living room wall.
Choose the furniture pieces with care. Your living room is most likely the place where you entertain guests during hi-teas or game night or a social gathering. Make sure to have enough seating arrangements be it sectional sofa sets, armchairs, cushions for an oriental style, or wicker furniture.
Depending on whether you have small spaces for your living room or a large open-spaced living area, you can choose to create a beautiful focal point to display your exquisite design pieces or wall art.
If you choose a farmhouse living room plan then make sure that your color scheme matches the rustic theme with a mid-century modern feel. You can introduce brick walls and decorative light fixtures to tie the room together.
If you have a small living room, then discuss with your interior designer the various home design ideas you can choose from. Scandinavian minimalist living room design can seem quite contemporary whereas Oriental minimalist design ideas feel cozier.
If you hanker for a luxe home then make sure you choose your furniture pieces and home decor for the living room based on the floor plan and square footage available.
Now that you have an idea about the different things you need to bear in mind while choosing your living room ideas, let us take a look at some specific design plans you can easily implement.
Read also – Spring Decor Ideas for Living Room
Surefire Ways To Spruce Up Your Living Room Design
It can be very difficult to choose the appropriate living room design ideas when everything seems stupendously appealing. But as we have already mentioned, you need to heed the amount of space you have available.
If you have small spaces or have to convert your bedroom into a living room and dining room in a studio apartment, then choosing extravagant furniture pieces and décor is certainly not up for debate. You need items that befit small spaces without cluttering. The idea is to make the living space feel more welcoming and cozy.
On the other hand, if you have a large, designated living room or more than one sitting room to entertain your guests, then you need to fill the square footage with elegant design ideas. Don't go overboard though. Less is still more.
Anyway, keeping this predicament in mind, we have segregated small living room design ideas from the larger floor spaces. Now you can choose your living room decor based on the available square footage and amaze your guests with your creativity.
If you are an interior designer, then these ideas will definitely help you formulate simple yet grand design ideas for your clients. Here ends your struggle to appease your esteemed customers no matter how much space you have to work with.
Read also – How To Get Clients For Your Interior Design Business?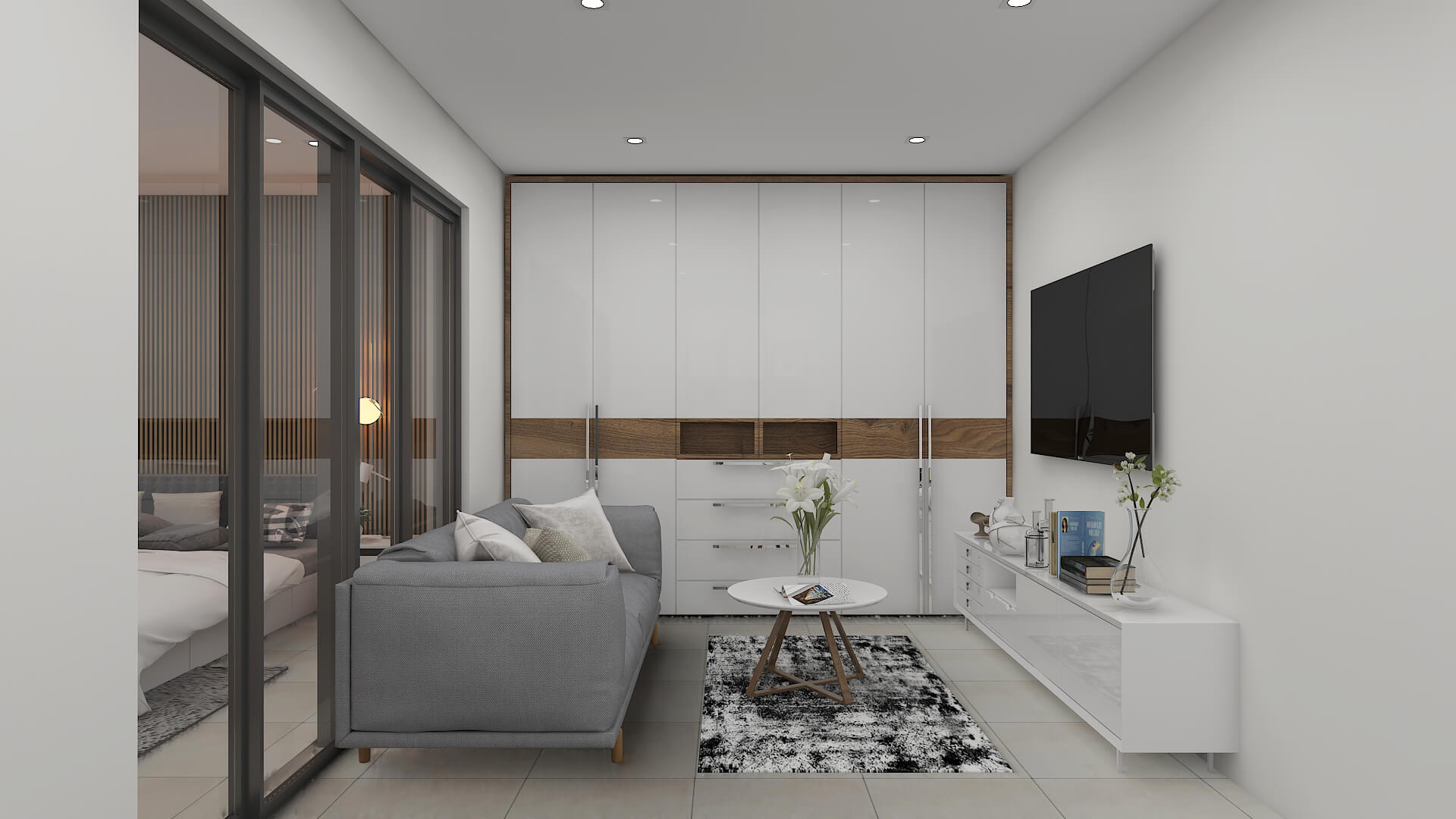 Best Interior Design Ideas for Small Living Room:
1. The color scheme
If you have read our article about the psychology of colors, then you know that lighter colors always make home space feel more open and expansive.
We begin by using neutral colors such as white, beige, or light grey on the walls.
Next, we follow up with light-colored furniture pieces, be it white, light brown, what have you.
You see, a white living room with white walls and pastel furniture reflects light, thus creating an illusion of larger square footage. You can also opt for white curtains and blinds to further reflect the natural light.
If it seems a bit dull, then go ahead and sprinkle some bold colors and patterns throughout the living space. You can choose brightly colored throw pillows, textured upholstery with glam patterns, perhaps add a few vividly colored wall decor on the gallery wall.
Just make sure to choose lighter paint colors for the walls so that the natural light during daytime and the subtle hues during the night makes the living room feel spacious and accommodating.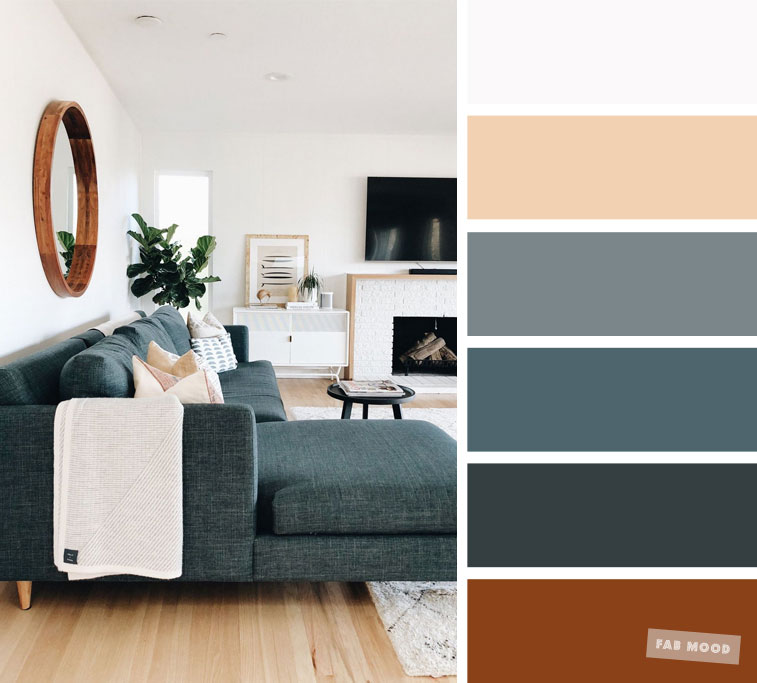 Image Credit: fabmood.com
2. Choosing the appropriate furniture
When selecting furniture for a small living room or a convertible studio apartment, it is necessary to choose ones that perform a double duty or can be easily stored away.
Begin by selecting furniture pieces with visible space underneath. This subtle psychological cue makes the living room seem broad. Ideally, choose items that have built-in cubbies and storage space. This way you can avoid purchasing multiple pieces that take up room in your small space.
Another very important point to bear in mind while purchasing living room furniture is its utility. You can choose items that double as something else.
For instance, a Futon or foldable chairs are great choices. Select tables and bookcases that can be easily built into the wall to save space. You can also select several wall-hanging cabinetry and shelving that look good and provide storage solutions. There are multiple options available on Amazon.
Multipurpose furniture and minimalist Scandinavian pieces can work wonders. When in doubt, take a stroll down to Ikea and examine the pieces.
Antique pieces of furniture with claw feet or a velvet sofa can also work wonders. These furniture pieces are usually smaller in size and they invariably add elegance to your living room interior design ideas.
Read also – Best Furniture Design Software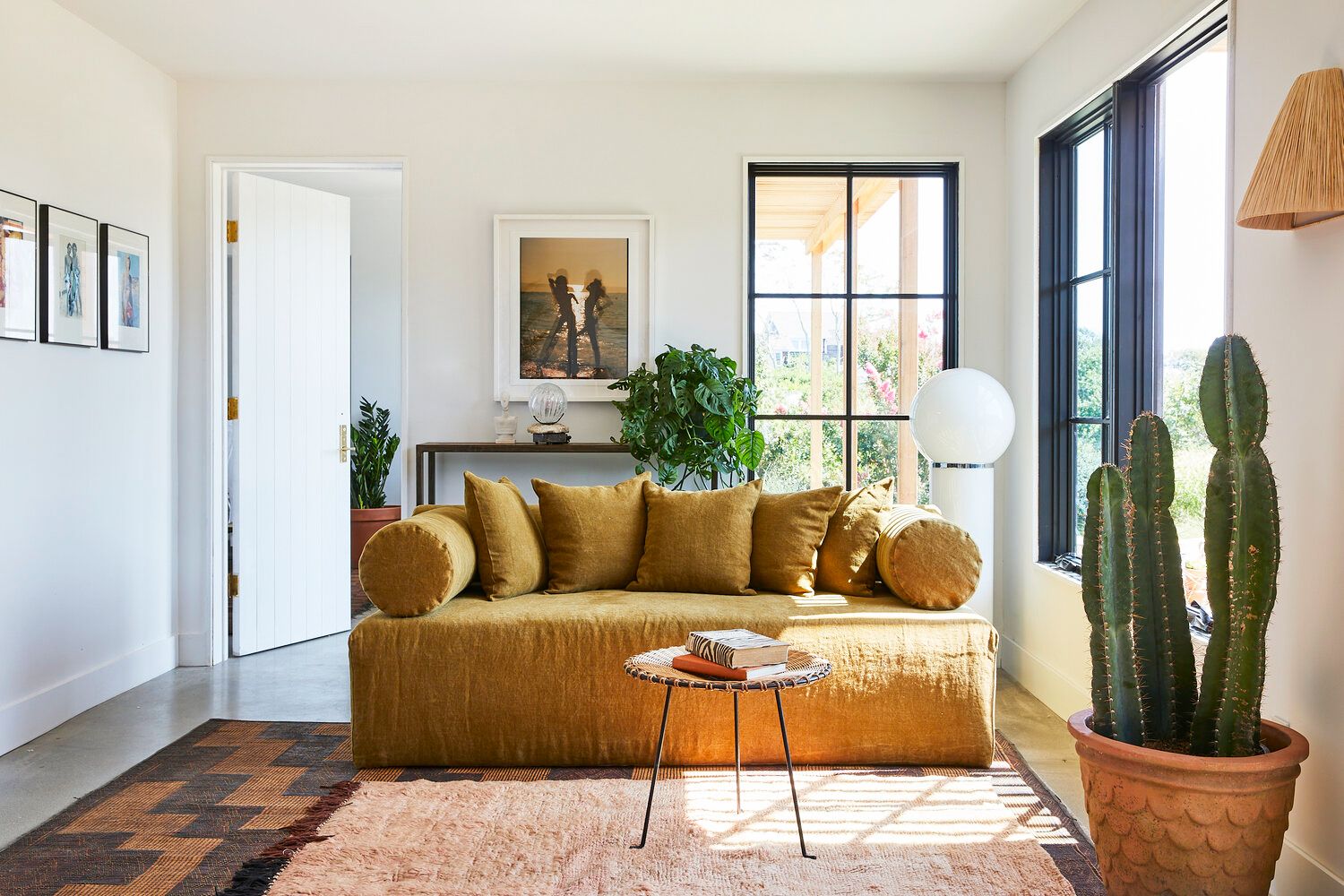 Image Credit: hearstapps.com
3. Pay attention to the sitting area
In a small living room or studio apartment, it is nearly impossible to accommodate a lot of seating space. This is why we suggest sectional sofa sets and ottomans along with foldable chairs. These seaters can be easily repurposed during regular days and make for extra seats when entertaining guests.
This is also perhaps a family room where your loved ones gather for a get-together. It is only fair that your decor ideas accommodate enough space for them all. Some additional seating, accent chairs, and low stools could easily do the trick.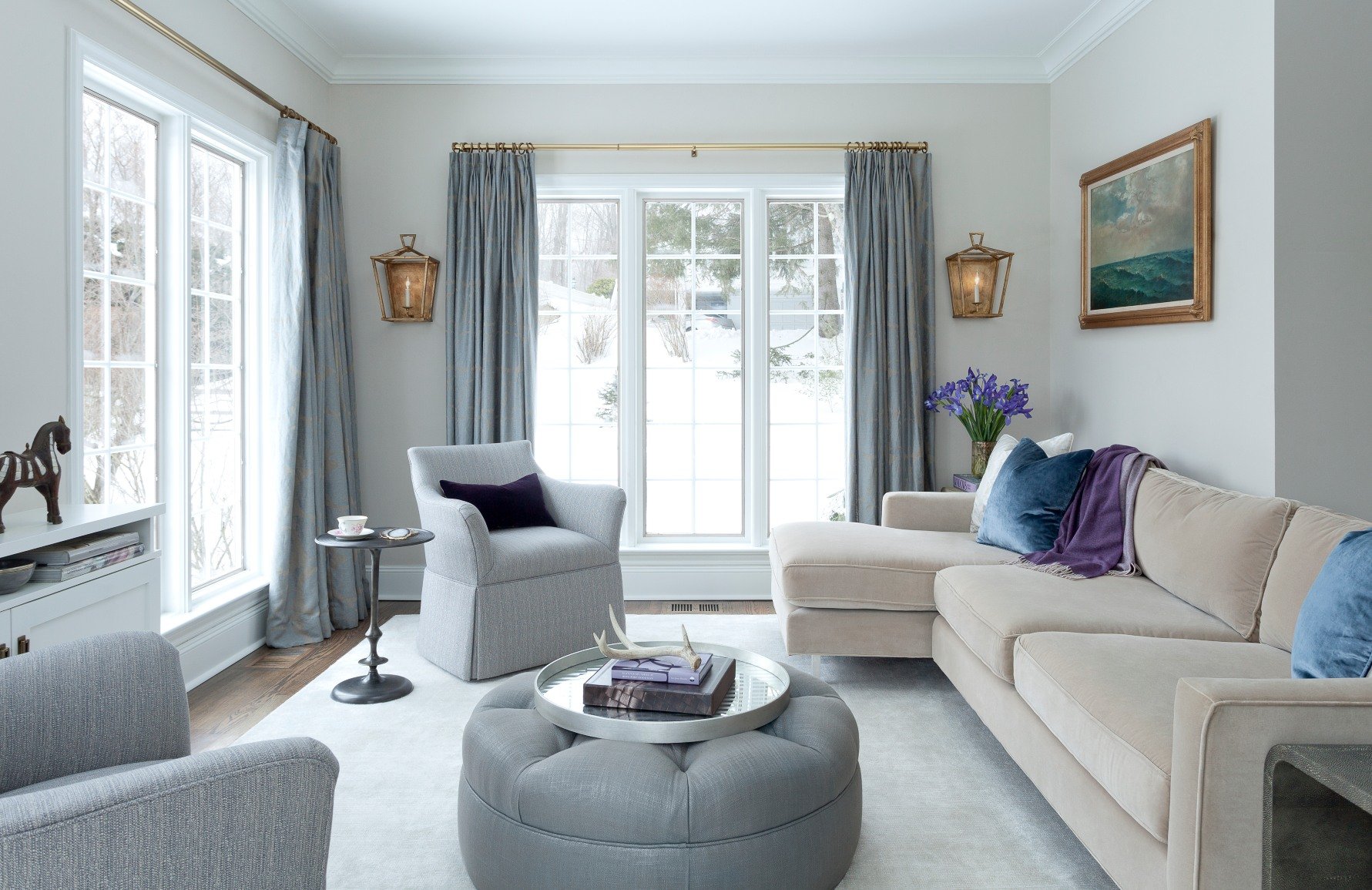 Image Credit: areurfwell.com
4. Lay down area rugs
In small spaces, it can be difficult to create distinguished zones for different areas of the house. Lay down area rugs to separate the spaces.
You can use area rugs under a small coffee table and create a sitting area with cushions as they do in Japanese interior design. You can also lay down a small area rug near the bookshelf with a seat to create a reading space. You can also incorporate area rugs near the Futon but avoid sliding them under side tables.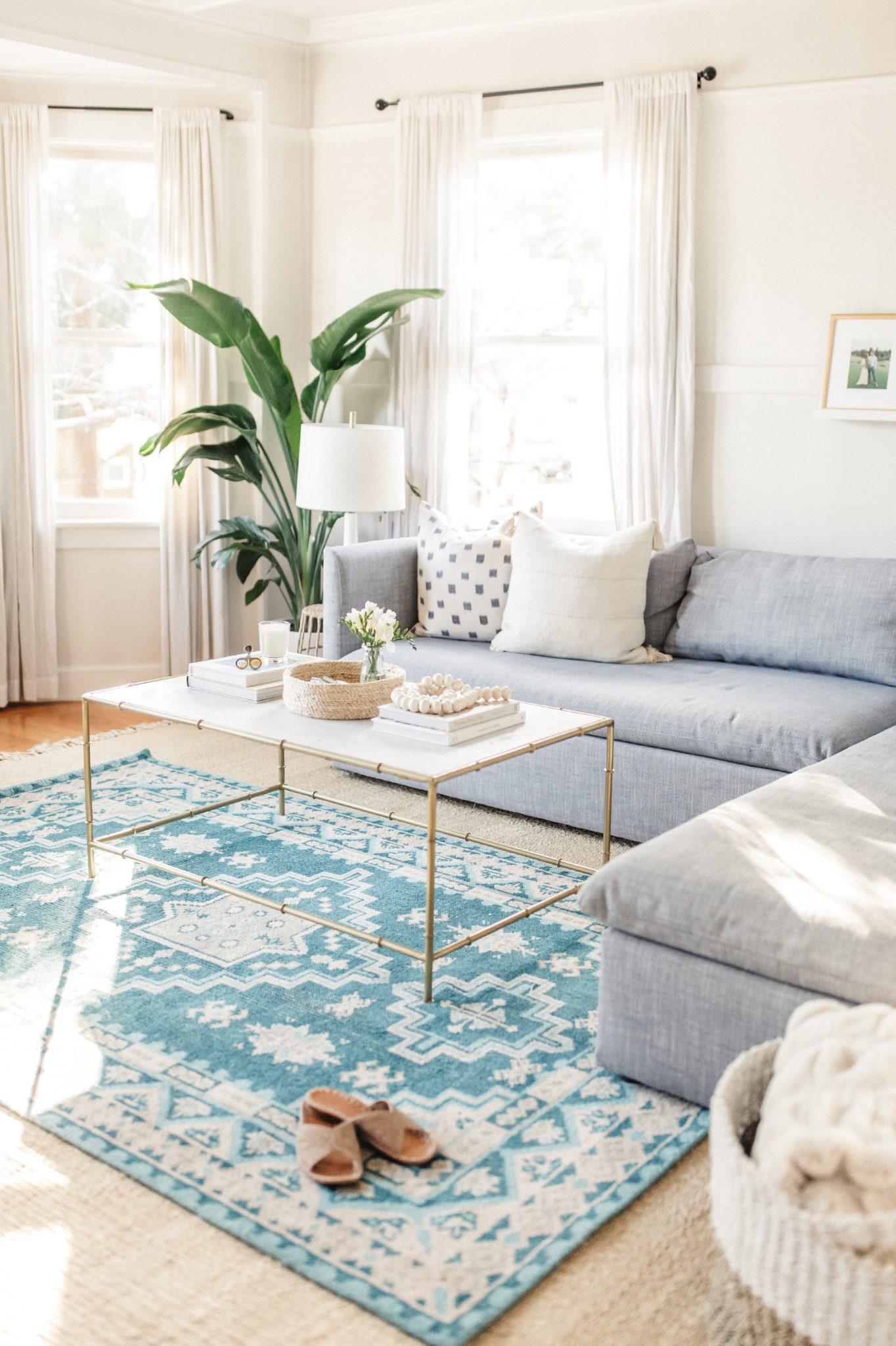 Image Credit: harlowejames.com
5. Open up the living space
Line your furniture pieces along the wall to open up the living space in a small living room. It makes the overall space feel more open and expansive not to mention it adds form to functionality.
Consider using wall-mounted furniture and utilizing small nooks and corners. If possible, incorporate sliding doors and windows to save space. You can also use screens and room dividers to create sectionals in your small living room.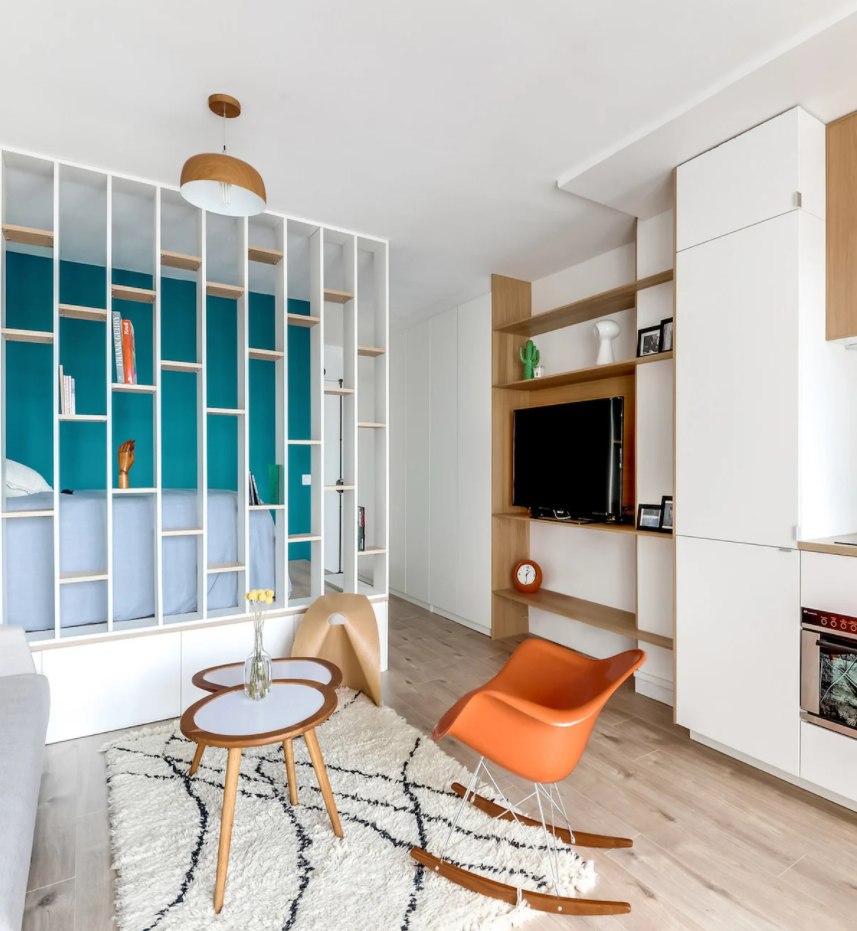 Image Credit: clemaroundthecorner.com
6. Utilize the vertical space
Much like any small space in a small house, a small living room benefits from using the vertical space for storage and functionality.
Incorporate tall instead of wide furniture pieces and bookcases. Hang tall curtains to make the room space feel larger. If necessary, install shelving at a height and use stools to access them. This creates a rustic and glam look all at once.
Read also – Best Small House Design Ideas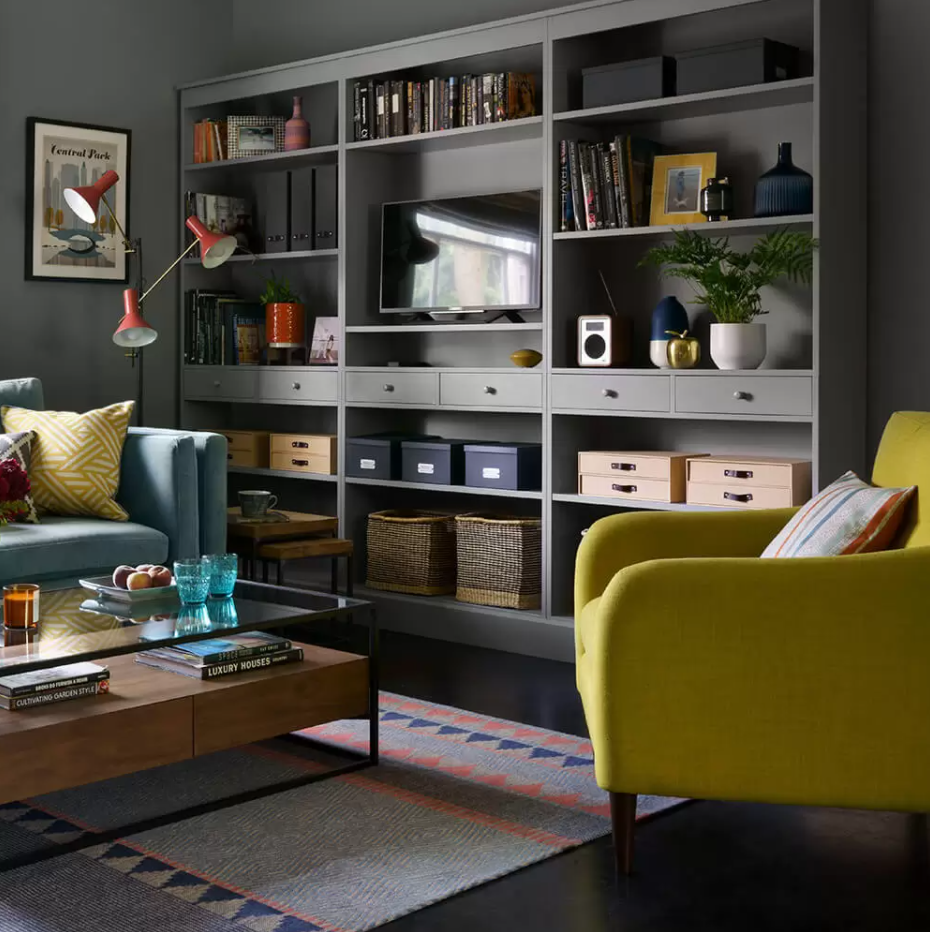 Image Credit: thearchitecturedesigns.com
7. Choose appropriate light fixtures
Much like the color scheme, small spaces call for bright lights to illuminate every nook and cranny. You can choose a small chandelier for elegance or use ceiling lights to prevent obstruction of the small space.
Here's an idea – hang string lights on the walls or along the edges of furniture pieces. This illuminates your home and adds the glam factor.
Also, don't forget to install glass ornaments and reflective surfaces as much as possible. This makes your small living room seem larger.
Read also – How To Use Your Living Room Area in Different Ways?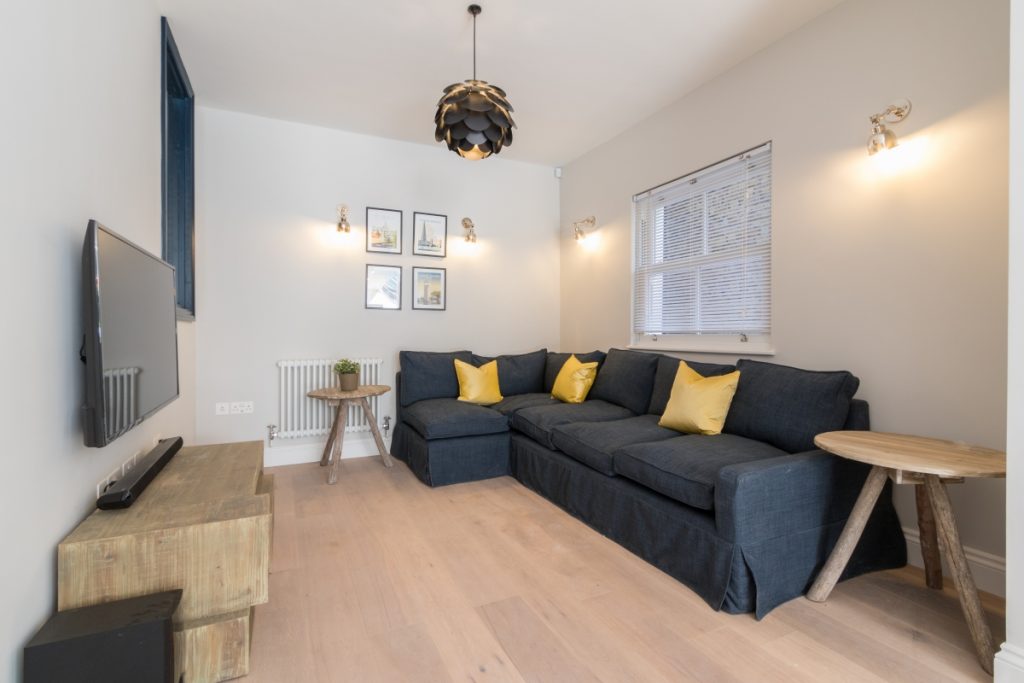 Image Credit: blog.artifact-lighting.com
Best Interior Design Ideas for Large Living Room:
1. Plan the sitting area to facilitate conversation
If you have a large home then you must also facilitate easy interactions. Place your seating arrangements in circular or cubicle patterns. You can use 'L', 'C', or 'U' shaped couches rather than individual or sectional sofa sets. Place a large coffee table in the center and some side tables in optimum positions.
You can also use ottomans or cushions for comfort when you have ample space in your rustic or modern living room.
Read also – Create Custom Furniture and Designs Using Shapes on Foyr Neo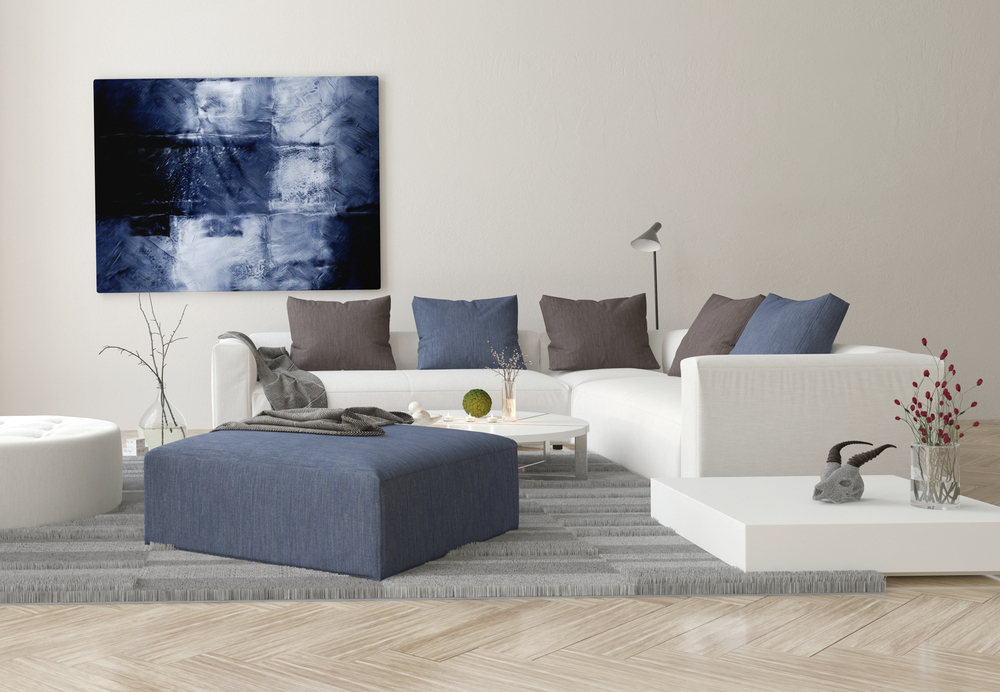 Image Credit: satorie.in
2. Fill the space with appropriate furniture pieces
One of the best things about having a large living room space is that you can install a variety of furniture pieces with exquisite designs.
Do you want that antique cupboard? Go for it.
Do you like that new chestnut drawer in the Pottery Barn catalog? There's ample space…
When it comes to furniture, a large living room can accommodate a lot. The best living room always tells a story. Let your imagination run free. Create some DIY furniture pieces and place them in ideal locations. If you feel like it, build a focal point in the living room design to display some of your own creations or an exquisite designer piece you acquired.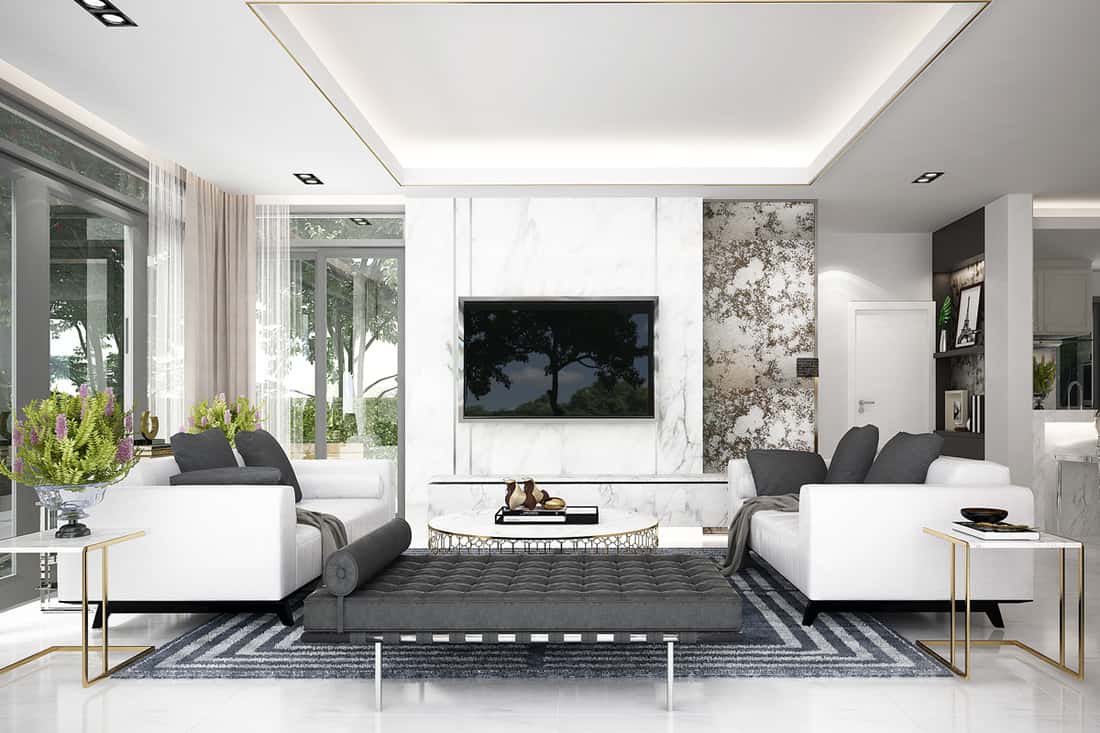 Image Credit: homedecorbliss.com
3. Create sectionals if the room is too large
Here's a million-dollar plan – If your living room space is big enough to entertain guests and then some, how about utilizing this space to entertain the children.
Consider this: All your friends and family members (adults) sit around the coffee table discussing new business ideas or planning a trip, or perhaps reminiscing about the good old days. But you are constantly worried about what your children are up to, how many walls they have painted with crayons, or how much of your home decor they have broken.
Now, if you have a large living room, then create a section with a divider or a floor mat just beyond where you and your guests are seated. This way you can keep an eye on your bundles of joy while entertaining company. You can even install a playpen to make things easier and definitely more fun.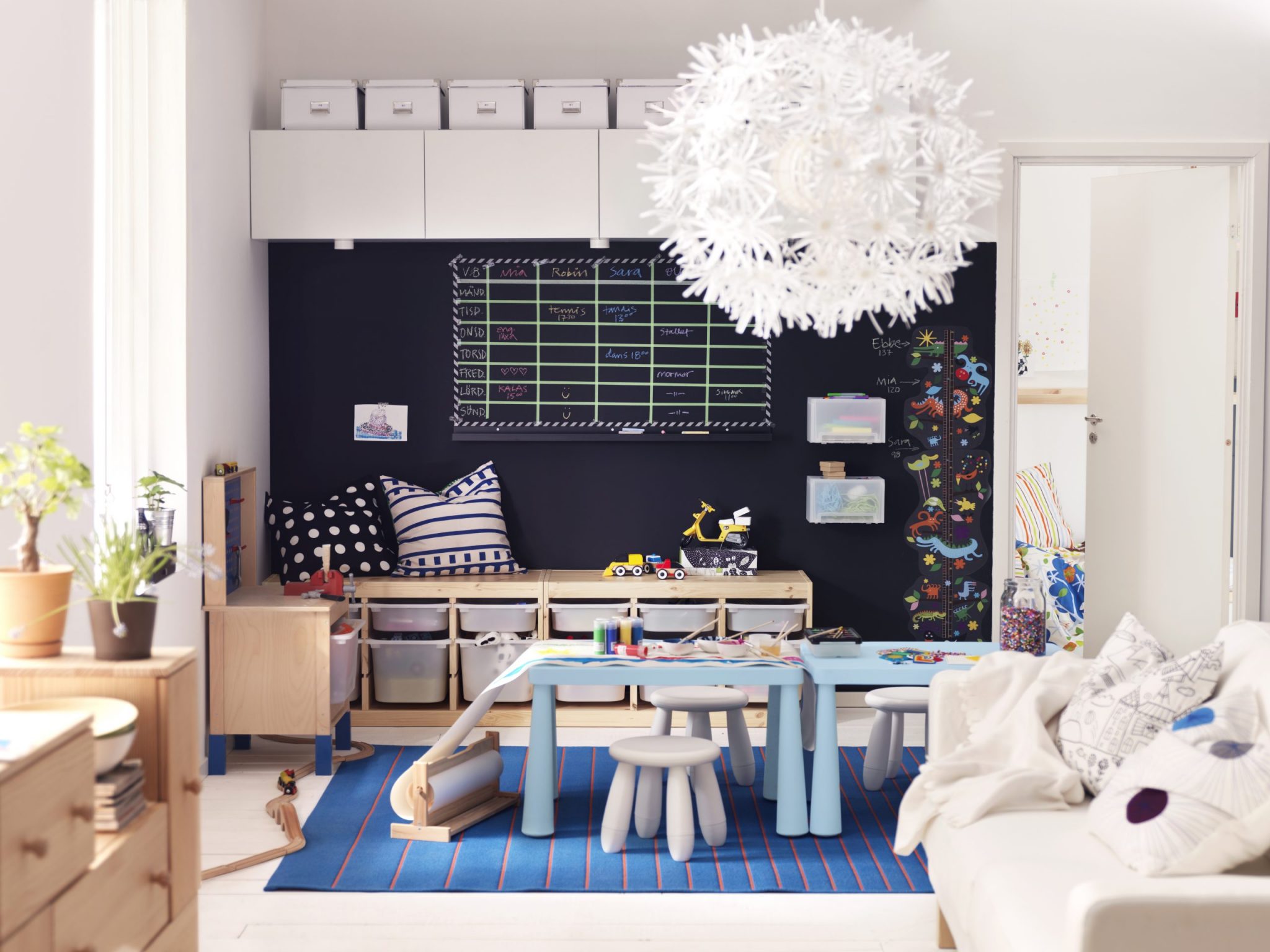 Image Credit: hgtv.ca
4. Use area rugs for effect
You can do a lot with area rugs. For instance, a faux fur rug or a faux animal skin rug not only feels good on the feet but adds glam to the living room design.
Consider incorporating area rugs with bold designs and colors for an elegant effect.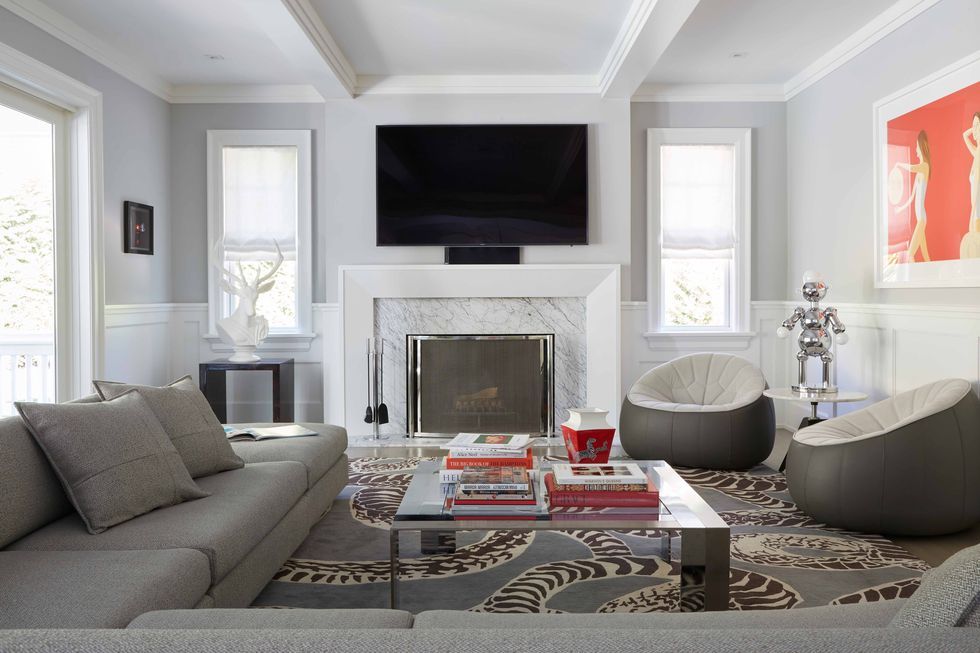 Image Credit: elledecor.com
5. Select your lighting carefully
A large living room is a good place to install those ornate lampshades, table lamps, floor lamps, and beautiful crystal chandeliers. You can easily instill accent light fixtures to display exquisite focal points or install a disco ball for some fun. You can also hang plentiful string lights or colored LED lights for effect.
Since the space is expansive, you have more room to experiment with thrilling interior designs.
Read also – Best Kitchen Lighting Ideas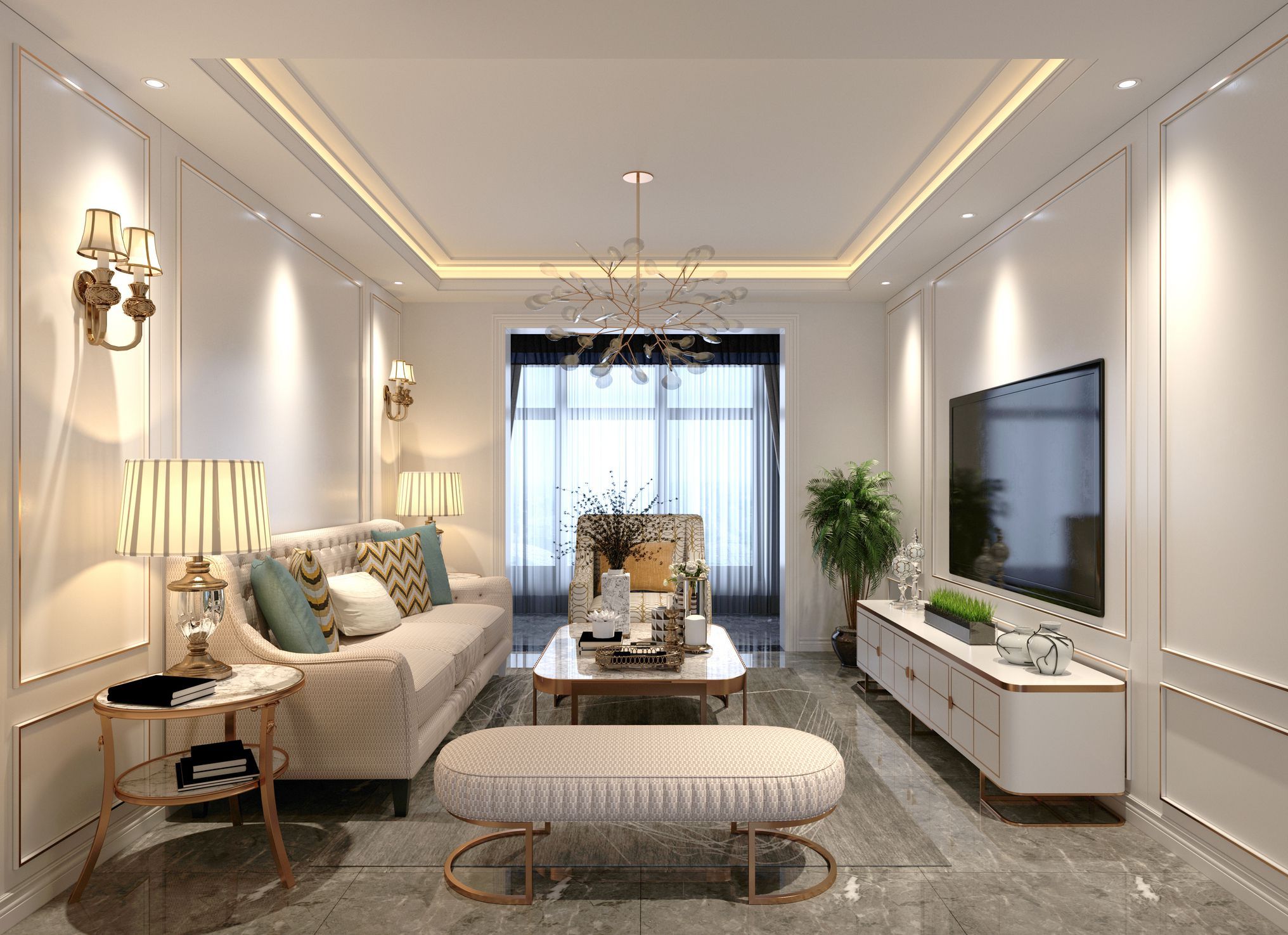 Image Credit: magzhouse.com
6. Opt for swinging doors and windows
A large living room is perfect to install ornate door and window frames. Since the humongous space allows it, you can get creative with Tibetan creaking hinges or some antique doors as used in earlier years in the King's court.
You can also install French windows with an exquisite view to let in the natural light and air into your beautiful living room.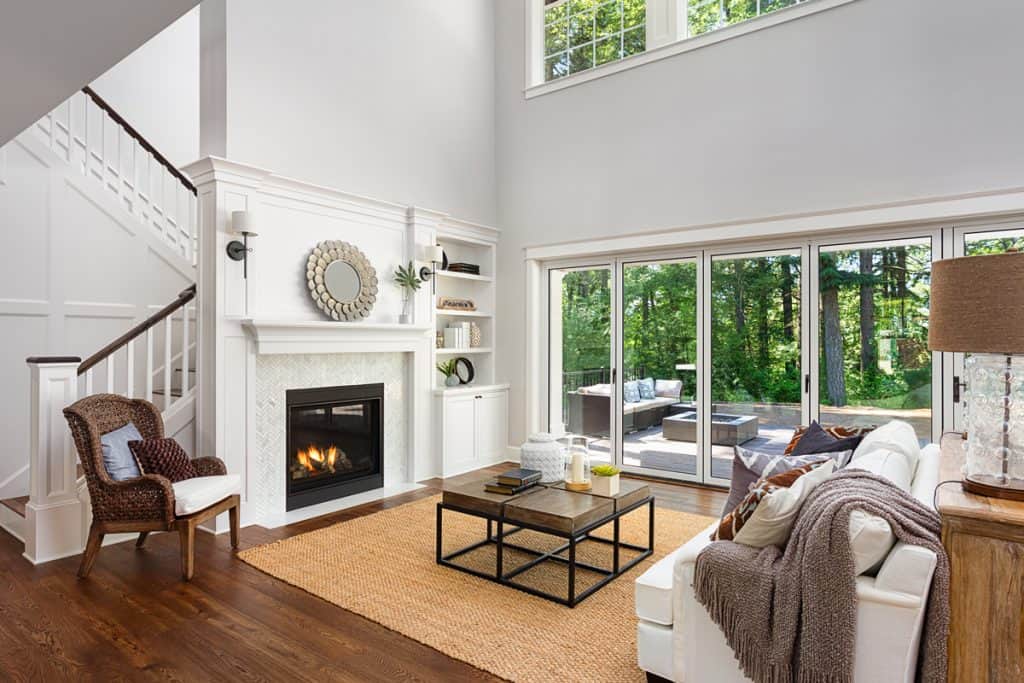 Image Credit: homedecorbliss.com
7. Choose bold colors
Lastly, the color schemes in large living rooms have no exceptions. Refer to our article on the psychology of colors and choose paint colors that best suit your sensibilities.
Bold colors can inspire your mood and a lively conversation. Farrow offers an extraordinary selection of color schemes and wallpapers that you can choose from. You can go the modern way with functional, neutral colors or add some vigor to your farmhouse living room with a splash of floral colors.
Color schemes play an important role in brightening your overall disposition. When you have the space to play with it, then why not experiment a little to find your perfect match?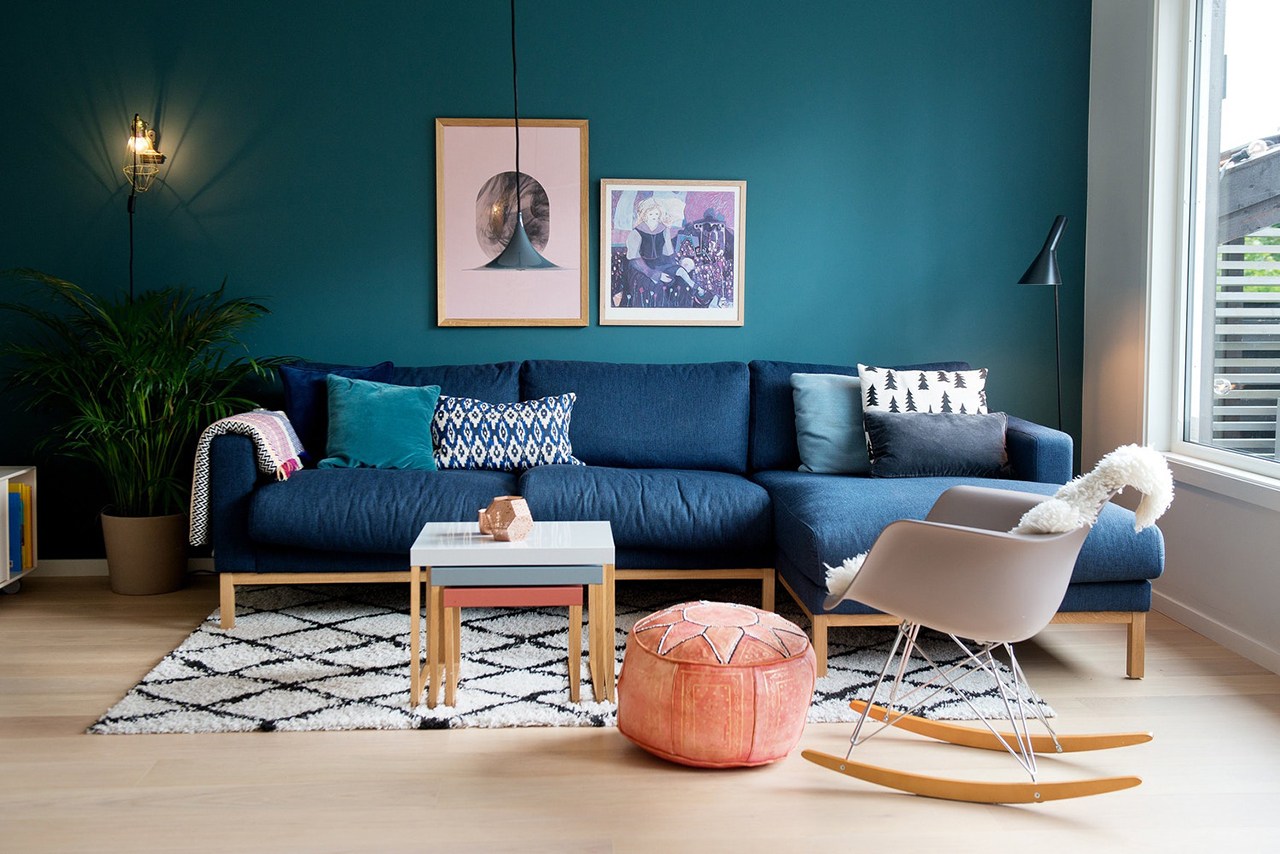 Image Credit: alizswonderland.com
Conclusion
Now that you have a variety of living room interior design ideas at your fingertips, start the living room makeover right away. If you cannot narrow down your choices as a homeowner or if you have trouble conveying your design plans as an interior designer, then we have something for you.
Use the Foyr Neo app to select the floor plan of your living room and install furniture pieces, choose paint colors, home decor items, and whatnot. The home design app facilitates rendering your design ideas in 3D models so you can accurately envision what the living room should look like.
So go ahead and start designing!!