Japanese Interior Design and Zen
There was a time, not long before the turn of this century, when people assumed acquiring the most surreal furniture made them seem bountiful. However, as time progressed and modern man learned the meaning of true elegance, they began adapting to minimalism in their lifestyle.
This concept was slowly integrated into their living space to convey the sentiments associated with Zen philosophy. When you think about Zen and minimalistic living, you think of Scandinavian or Japanese interior design. The Japanese culture is steeped in paying homage to ancient traditions, inculcating minimalism and Zen, and living in harmony with the natural world. True to form, they use greenery as much as possible in their design ideas. You will also see a lot of open spaces and natural light. Japanese architecture and interior design also give preference to craftsmanship. Their exquisite furniture designs are crafted in a special design studio, using natural materials.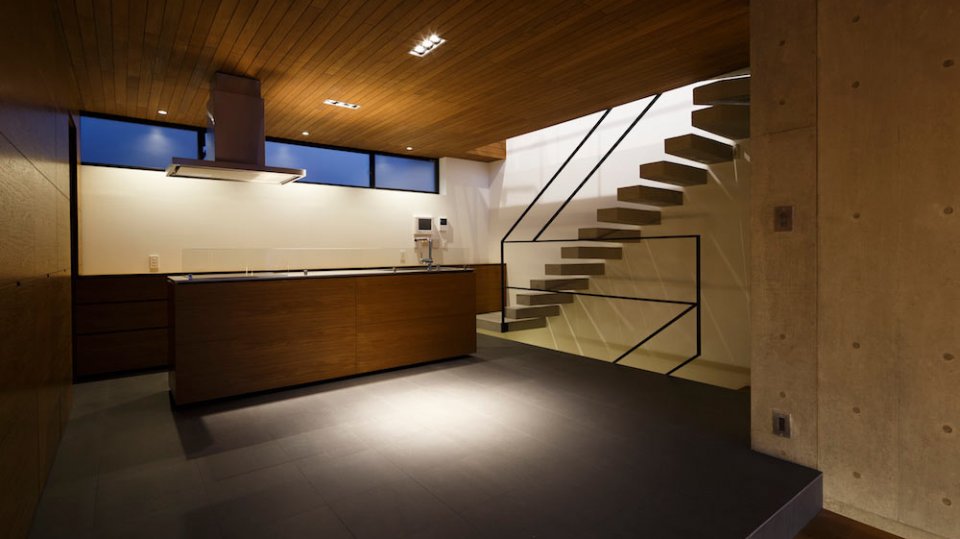 Image credit: ar.pinterest.com
In a Japanese home, it is traditional to have a Japanese tea ceremony to invite a feeling of Zen into the hearts of man. They usually have Tatami mats laid around the coffee table where they sit and follow the 6 essential steps of the Tea ceremony. These traditions were initially limited to the Kyoto city, Tokyo, and other surrounding regions of Japan. But they have quickly made their way into the western world. While the West may not have fully adapted to all the traditions and norms of the Japanese culture, they sure like to embrace the concept of Zen philosophy.
So how to truly infuse modern interior design ideas with the art of Zen and minimalism?
To answer that, we must first understand why and how the Japanese introduced these components into their home.
Components of Japanese Interior Design and Zen Philosophy
The Japanese architects use large windows or Shoji to introduce tons of natural light into a Japanese house. Shoji is a Japanese style door, window, or room separating apparatus. They are made of wood and lined with paper.

The Japanese interior design inculcates the use of traditional Japanese plants such as Bonsai trees inside the house. This is a form of bringing the natural world into the home.

A Japanese household adopts the belief of living with imperfection. This is a concept under Zen philosophy where one must learn to accept the world as it is to avoid disappointment and stress. They use the wabi-sabi interior design concept to internalize the idea of living with the imperfections of the world.

They use hand-woven straw mats called Tatami mats. These are used to line the flooring of a Japanese house. They serve a special purpose to provide relief during the thematic seasons. Since shoes are not allowed in a traditional household, the floor feels cold during the dry winters. The tatami mats serve to keep them warm. Similarly, during the hot and humid summer season, these mats keep the flooring cool and bearable.

Japanese interior designers use large bathtubs made of natural materials of Hinoki called Ofuro. These tubs are often 4.5 feet in diameter. They are installed to accommodate more space to the small size of Japanese bathrooms.
The Japanese are also big on using DIY (Do it yourself) techniques. They like incorporating personal touches in their furniture design.

The Japanese interior design uses a Genkan system at the entrance of a Japanese house. These are dedicated porch-like areas in the entryways, lined with doormats, inside the house.

Japanese interior also utilizes low-height furniture design. This is because in the Japanese culture it is traditional to sit on cushions or Tatami mats on the floor to maintain a good posture.

They use the concept of minimalism to keep their homes clean and organized at all times.
In order to use these components or to mimic their effects, we have found some incredible ways you can incorporate them into modern interior design. Consider using the following trends in your design style:
1. Use Open Spaces
A Japanese home always has ample space, even if the house is small. This is instilled by the practice of "Ma." It is a design style and art of living where interior designers in Japan create a natural flow of all the items and furniture in the room. Everything has a purpose and a perfect placement. The furniture lines one or two sides of the room, while the rest of the living space is open and uncluttered.
Incorporate this extraordinary design style in your interior design ideas by simply arranging the furniture along 2 – 3 walls of the room. Use minimalism in selecting furniture pieces that rest on the floor. Opt for a chest of drawers, a large cabinet, or a table with built-in cubbies. These items of furniture design are great to hold essential items while keeping the room decluttered.
You can also opt for wall-hangings to spruce up the room. As long as your design ideas maintain a flow of natural materials with large open spaces, you are good to go.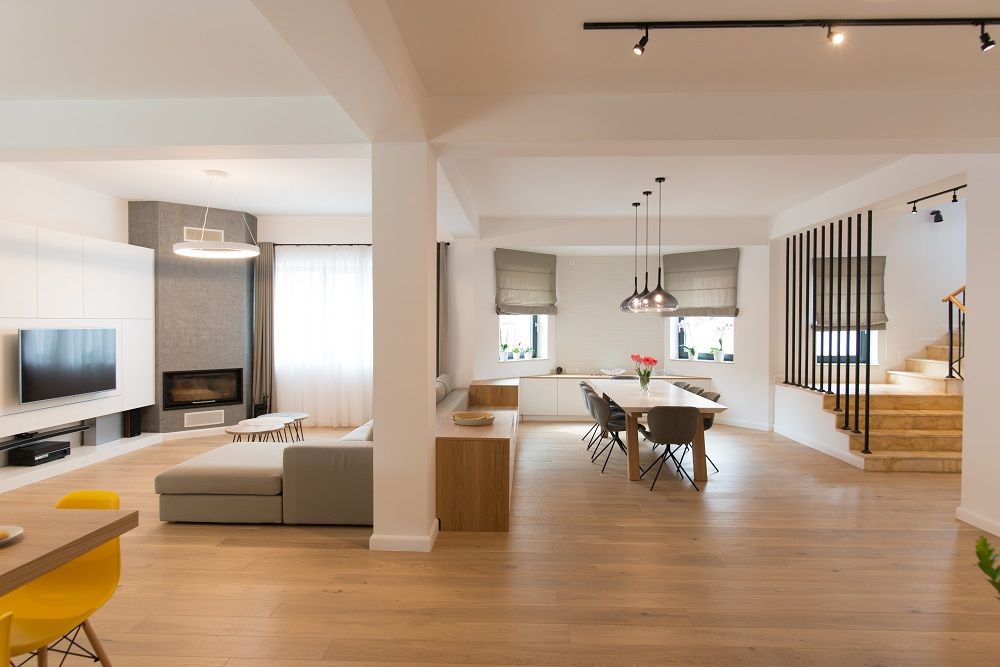 Image credit: pinterest.com
2. Consider Wallpapers With Japanese Nuances
Have you seen the Rice paper wallpaper designs?
You can install them in the living room with floor mats or a huge area rug that complements the pattern of the rice paper. Add some modern wooden furniture of darker colors and a large coffee table in the center of the room. And Voila! You have a beautiful Japanese style living room with a modern touch.
In order to mimic the Japanese style of interior design, keep it minimalist with large open spaces.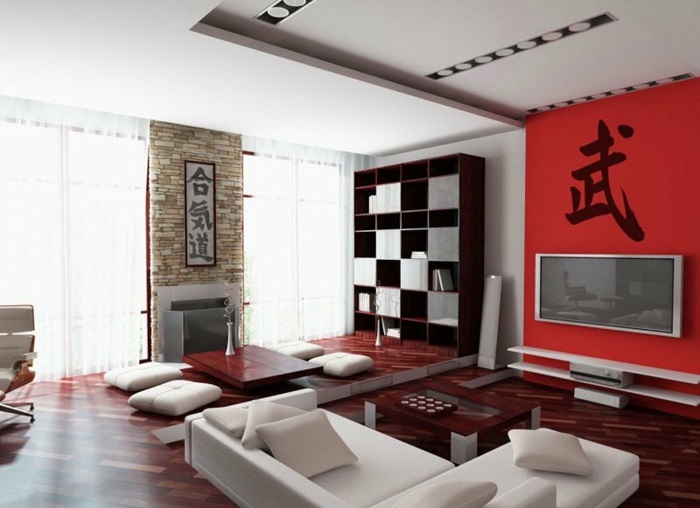 Image credit: decosolitions.com
3. Introduce Natural Elements In Your Design Style
The Japanese are great at combining natural materials and elements with modernism. Implement this design style of minimalism and form by introducing natural elements in your interior design.
Use sky-lights, large windows, and glass doors to contribute plenty of natural light to your design ideas. Now add some natural wallpapers, or straw carpets and furniture made of natural wood with a minimalist design.
You can add various indoor plants such as Bonsai trees, ferns, etc. You can also use Japanese style flower arrangements, also known as the art of Ikebana, to add some color to the room. Play with natural tones of beige, brown, and, shades of blue and green to induce a sense of nature.
Use as much greenery as you can inside the house without compromising the open space plan. Having plants in the house makes the home-owners feel serene. These natural elements bring about the concept of Zen into the household.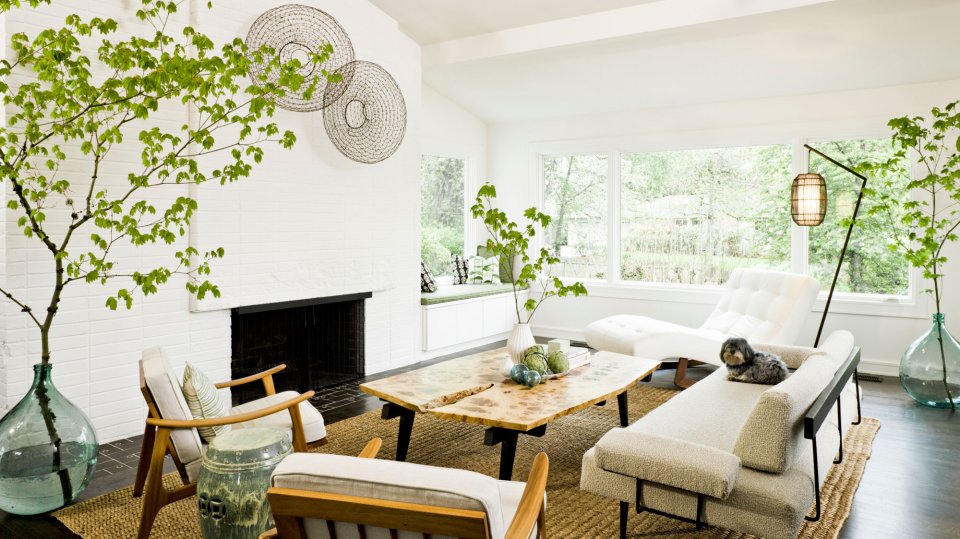 Image credit: pinterest.com
4. Use Minimalist Design Patterns With White Color Tones
Remember why Spa facilities use tremendous amounts of white in their interiors, furniture, and small items?
It is because shades of white express a sense of serenity and elegance. It is the most basic of colors and it induces a feeling of calm.
The Japanese style is best reflected in shades of white. It literally conveys minimalism and the concepts of Zen philosophy. Incorporate white and all its shades in designing cabinets, cupboards, hinged doorways, and walls. You can also let in some natural light through the sky-lights and glass windows.
The use of white creates an illusion of a large open space. It also helps the mind relax. This simple color scheme invites Japanese traditions of minimalism and Zen into the house with little to no effort.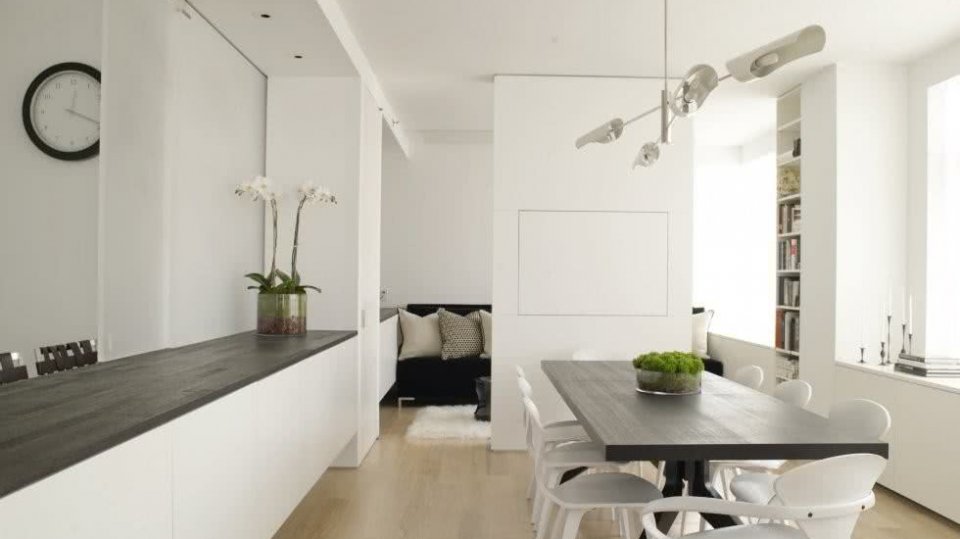 Image credit: nl.pinterest.com
5. Use Sliding Doors, Screens, and Dividers
The Japanese also use sliding doors and windows to help save valuable space in their minimalist home. The idea was originally implemented to avoid the space taken up by swinging door panels that got in the way of other nearby furniture. At the time Shoji was incorporated to save space while keeping the house well-lit with natural light.
With time, this tradition has evolved to use sliding glass doors. This system is also used in windows to save space while giving the Japanese home a modern design style.
You can easily incorporate these sliding panels into your design ideas. Use modern window designs with glass panels and bamboo screens. You can also use large sliding glass doors in the interiors of the house, such as for balconies, backyards, etc. Furthermore, you can also use sliding doors for closets, both walk-in and regular.
Another important source of Japanese interior designs is room dividers. You can find fantastic styles of Shoji screens and room dividers at a local Muji chain store. They carry exquisite patterns that add a flair of Japanese culture to your interior design ideas. These Shoji room dividers are used to separate a single space into 2 rooms. You can install them in a large living room to create a separate dining room or a play area for kids.
Several room dividers at Muji are also collapsible so the home-owners can use them when they need to or set them aside when they don't. They even come in modern patterns and styles. The white screens and dividers in particular help in creating an illusion of a wall. This is a perfect way to use minimalism in your design style to simulate Japanese culture.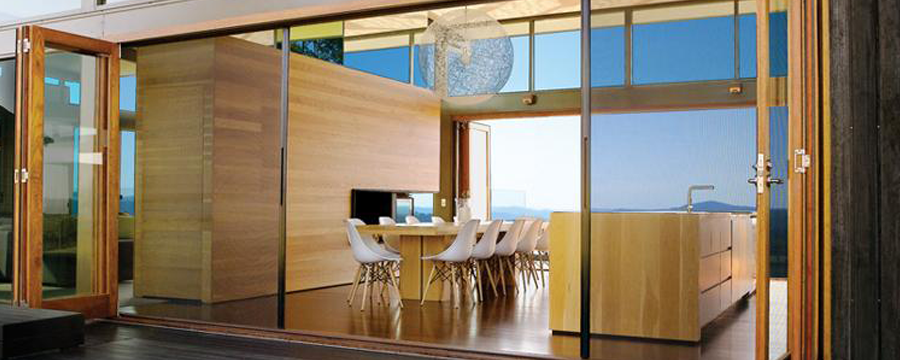 Image credit: cinema3d.co
6. Incorporate The Use Of Wood And Straws
Since Japanese architecture and interior design is largely focused on the natural world of things, use natural materials in the living space. Use Tatami mats, Shoji-style doors and windows, wooden room dividers, and blinds made of straw and bamboo.
Furniture made of natural wood goes perfectly with both traditional and modern interior designs. They make the room look more natural and elegant. You can use wooden cabinets, closets, kitchen platforms, etc. You can also dominate the dining room and living room with wood-work, including wall-hangings and wooden lamps.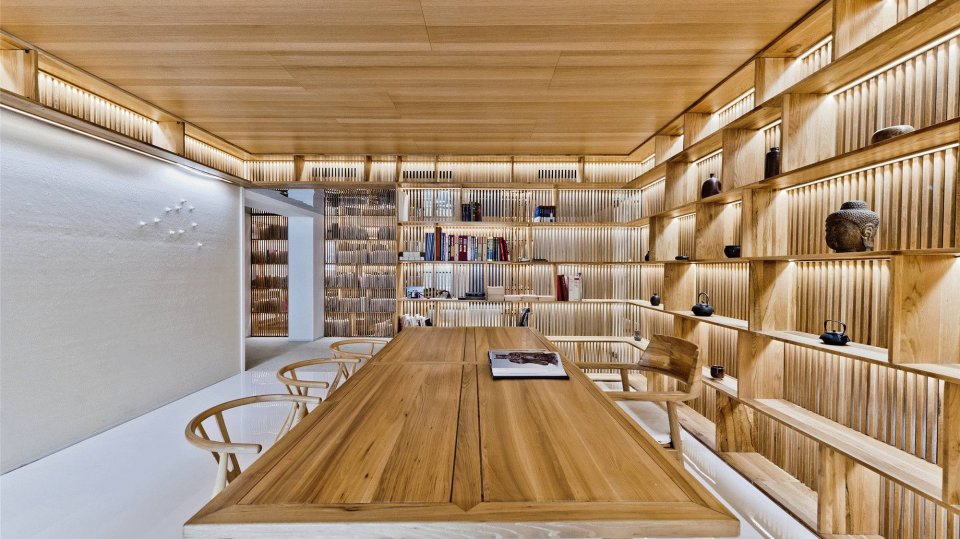 Image credit: pinterest.com
7. Design Genkan-style entryways
You can mimic the Genkan-style entryways by designing a small passage near the door that leads to the living room.
You can design it on a raised platform to create an isolated space at the entrance. The traditional Japanese house does not allow outside-footwear into the house. Hence, you can also install shoe-racks in the Genkan. Use some area rugs and mats with natural hues near the doorway to create a Japanese style. Decorate the area with traditional Japanese plants or line it with Tatami mats.
If you don't want to use a raised platform, you can simply use large doormats to cover the area around the entryways. Install some plants around the door and along the walls to create an illusion of a porch.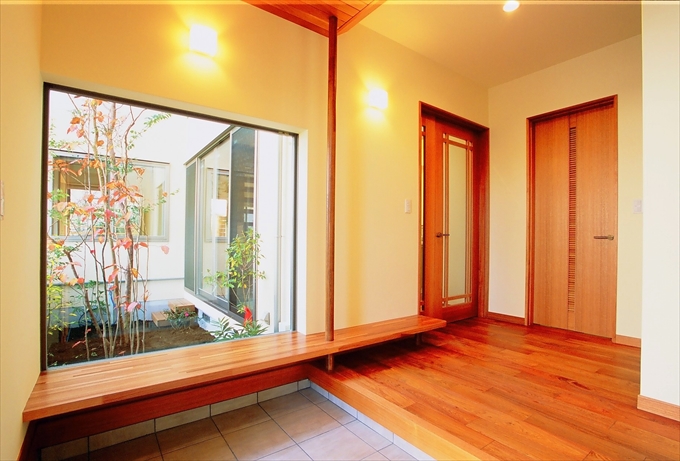 Image credit: resources.realestate.co.jp
8. Don't Forget The Huge Bathtubs
Who doesn't enjoy letting their troubles slip away while soaking in a huge, cool bathtub, right?
Well, you don't necessarily need a tub made of natural wood to add a Japanese touch to your interior design. There are modern Ofuro designs that use marble or ceramics too. If your interior design plan requires you to bring in the old Japanese traditions into the modern West, then simply incorporate a large tub in the bathroom. It imitates the style of a spa facility where people can soak for long periods of time. If the bathroom is small for a large tub, then you can choose one with a little more depth. Keep the rest of the area, in the bathroom, clean and simple.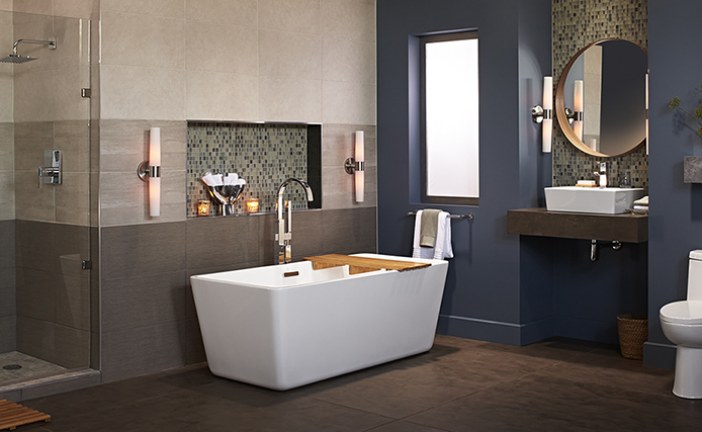 Image credit: archdaily.mx
9. Use Low-bearing Furniture Design
As we have said before, the Japanese prefer using the floor rather than tall stools and chairs. It serves the purpose of maintaining a good posture while they are seated.
You can integrate this style into your Japanese interior design ideas by using low-to-the-ground furniture design. Put a large coffee table and create a seating area around it on the floor. You can also use low-bearing entertainment centers.
In order to incorporate this style of Japanese interior design in a modern setting, you can use furniture design that allows the user to adjust the height of the furniture. That way, you can install sofa sets and other seating arrangements. But when the home-owners want to host guests in Japanese style, they can simply adjust the furniture to a lower height and follow traditional methods of sitting on the floor on cushions. Maybe they can even have a traditional Japanese tea ceremony.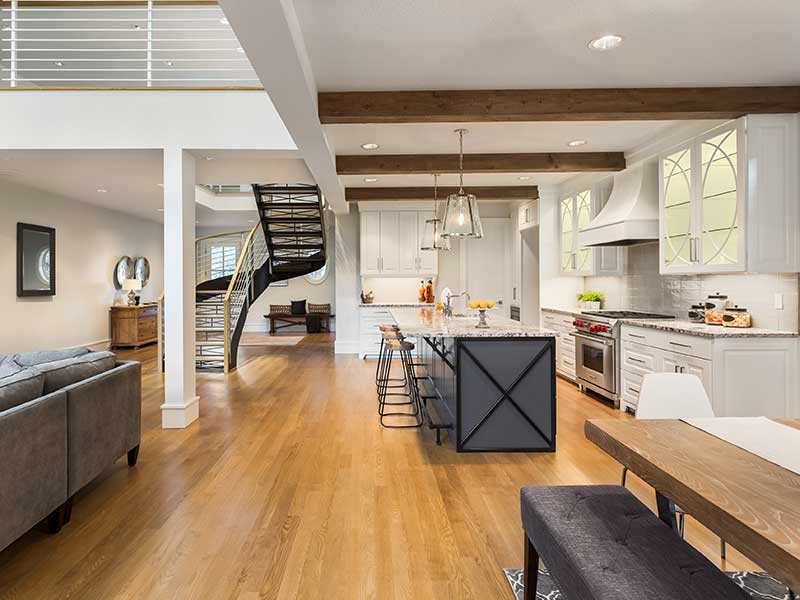 Image credit: designeverest.com
10. Keep It Clean And Simple
The most important point to keep in mind, while incorporating Japanese interior design into your design style, is to keep it simple. Embrace minimalism and create a smooth flow with the art of wabi-sabi. Nothing has to be perfect, but everything should have a place and purpose. You can combine Japanese interior design with the Scandinavian style of design. They both follow a simple concept of using minimalism and structure to define the house.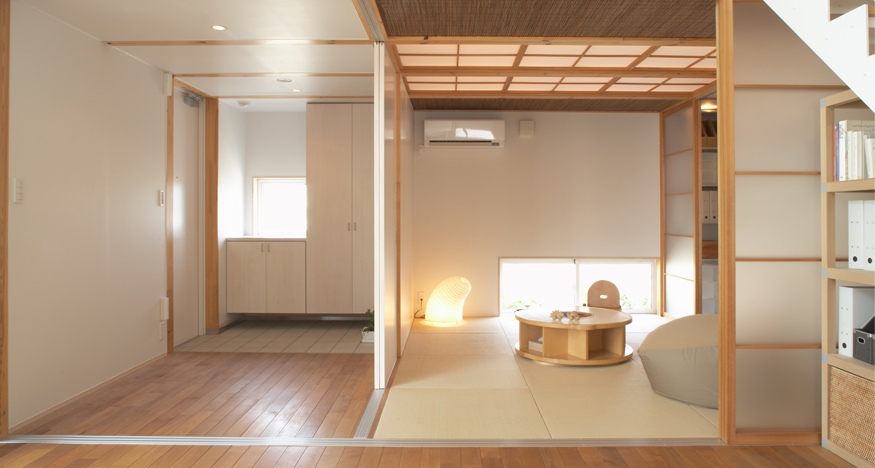 Image credit: home-designing.com
If you are working on design projects for a modern house with a traditional Japanese style, you can bring the two worlds together with a touch of craftsmanship. Use modern furniture with sharp design and align them with traditional Japanese Shoji and Genkan entryways. Use some indoor plants and a ton of natural light to complete your Japanese Interior design style in a modern home with panache.
Build a Successful Business With the Right Interior Design Software
Having the right business tools will make each stage of the interior design process simpler and more efficient. Foyr Neo is a powerful interior design platform built with you, the designer, in mind. Take design ideas from concept to a photo-realistic rendering in just minutes with a suite of advanced tools, including:
The ability to choose from thousands of preloaded items like furniture, plants, accessories and much more – or upload your own 3D models to create the exact look your clients want.
Produce 4K, photo-realistic renderings on demand.
Advanced lighting options and visualization settings.
Real-time 3D editing capabilities.
By combining the functionality of multiple tools in one platform we empower designers to spend less time with software and more time with their clients. You can try Foyr Neo free for 14-days now and experience the power of limitless design.