Home » Interior Design Concepts » Top 6 IKIGAI Concepts in Interior Design
Ikigai Concepts
The famously talked about the Japanese concept of Ikigai loosely refers to a reason for being. The interestingly delightful book, Ikigai – The Japanese Secret to a Long and Happy Life, explores the concepts associated with happiness, keeping busy, and the art of actioning with joy. 'Ikigai' defines an individual's purpose in life; it is why they wake up in the morning and do the things they do. 
Have you ever heard of 'loving what you do' or 'getting paid to do what you love'?
According to Japanese philosophers, that is the key to living a happy life. Ikigai is a widely popular concept, which, when applied to one's life, is the secret to a stress-free and happy life.
It is said that the Japanese have a longer life expectancy rate than any other community or culture in the world. It is partly because of the healthy diet they follow, their suitable tropical climate, their habit of being outdoors, and how the concept of Ikigai moulds their lives.
According to the Japanese, one's interior can embody the idea of Ikigai simply by focusing on things like simplicity, minimal clutter, raw materials, and lots of natural light.
Finding one's Ikigai allows an individual to lead a more meaningful life. Ikigai helps individuals follow their purpose while driving actionable results. When it comes to interior design, there is a considerable correlation between the two.
According to the author of Ikigai, designers design various elements of a home. Examples include how one would keep their clothes in a closet, the way the rear entry opens into a garden, or how natural light floods in through windows inside a home. Designers must carefully plan, implement, and execute these actionable elements to pave the way for functionality and beauty. 
Read also – Interior Design Basic Concepts, Elements and Principles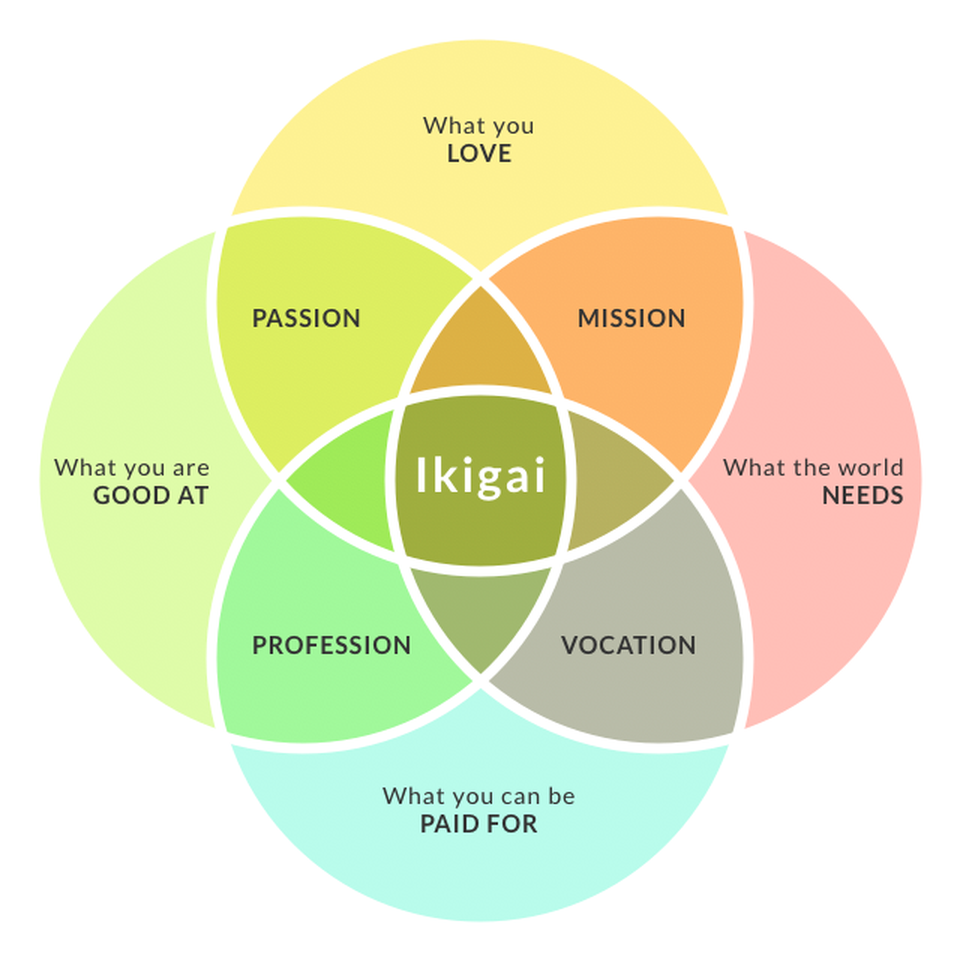 Image Credit: medium.com
Designers' Views on Ikigai
Many designers tend to think of the results associated with the concept of Ikigai as two-fold. One is where they are using the idea to promote the happiness of their clients and give them a harmonious space to live in. And second is where the designers follow their Ikigai by engaging in their work, which is their calling.
Designers like Jenny Dina Kirschner are famous for incorporating the art of Ikigai into their work to achieve specific results. Kirschner believes in conceptualising the mood she would want her client to be in when they enter the space she designs.
That is the first step in her design process. She believes in keeping open floor plans flooded with natural light and incorporating memorabilia into space to add personal touches.
Another designer from New York, David Scott, believes in incorporating Ikigai through colour tones. He uses a lot of orange and its shades as he thinks the colour is happy. It stimulates good energies and harmony so a person can feel simultaneously relaxed and creative.
Read also – 20 Top Interior Color Schemes for Your House Design
The Intersection of Ikigai and Interior Design
In interior design, designers try to ensure that a home includes the following aspects: 
Form 

Flow 

Flexibility

Function
Form and flow are elements that work with the existing decor.
Form and function incorporate aspects of the home the client loves.
Function and flexibility are what the home needs.
Flow and flexibility are what the client can afford.
Even with Ikigai, interior design has become highly personalised. Designers strive to achieve the right combination of all four above aspects. As you can see, each aspect, when combined with another, provides a different balance. Managing a harmonious balance of all four is the ultimate Ikigai dream.
Read also – Japandi Interior Design Style
Top Ikigai Design Concepts in Interior Design
Here are 6 ways interior designers embrace the art of Ikigai design when designing homes. 
One of the easiest ways to evoke a sense of calm and peace is by maintaining a subtle and natural colour palette. Neutral and natural colour tones are a great choice; they help introduce the Ikigai concept into a home.
When it comes to furniture and fixtures, the Ikigai design concept focuses on making use of raw and untouched materials. These materials include wood, linens, and fabrics that resonate with natural elements.
Designers typically use these materials to complete cabinetry, furniture, or even to plaster the walls to create a sense of balance and an impression of serenity, as is harmonious with the concept of Ikigai.
Interior designers often use clean and minimal lines along with simple silhouettes. They generally create these lines using creams, whites, and beige colours, inspired by and reminiscent of a still aura and an even energy flow in the interiors.
Designers also take inspiration from the Japanese Wabi-Sabi concept. This concept also focuses on the joys of accepting the world's fleeting, imperfect, and changeable nature. It encourages designers to use rustic and natural materials – the idea is that the rawness of the materials does not take away from their appeal or diminish the beauty of the surroundings.
Read also – WELL Building Standard Principles and Concepts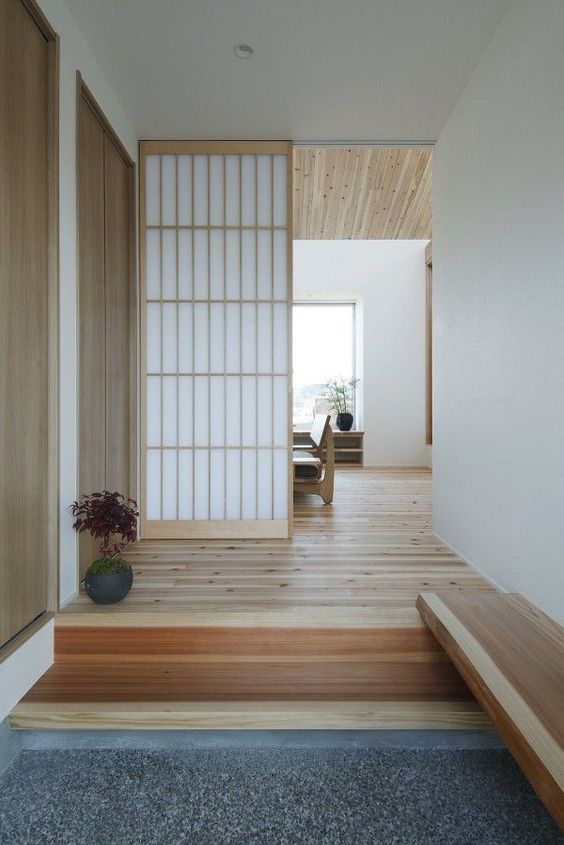 Image Credit: pinterest.com
2. Create a Reassuring Workspace
Ikigai focuses on purpose and productivity; what better way to incorporate this than through a clutter-free workspace?
Creating a calming and mindful workspace is essential to avoid carrying anxiety into the home from work. Designers focus on creating a reassuring and comfortable workspace because the idea is that work itself involves a lot of stress and leads to poor health and fitness.
By practising Ikigai, a designer can help a client create a comfortable working environment within the home. This workspace is cosy, minimal, and encourages productive thinking so that one is happy working and derives maximum pleasure from it.
Read also – 11 Best Ways to Create a Home Office Design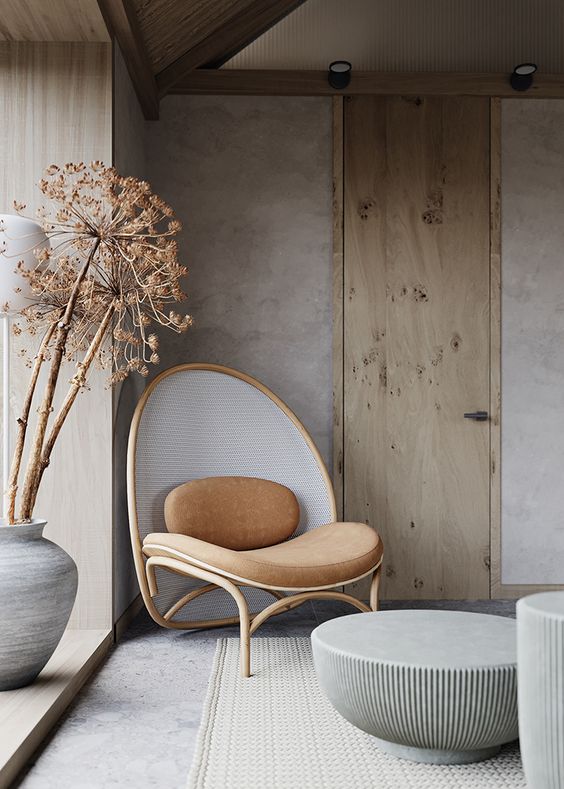 Image Credit: pinterest.com
The Ikigai concept of design believes in keeping things minimal. Ikigai embraces the idea of 'less is more.' And the colour tones, fabrics, textures, and patterns used to create a home inspired by Ikigai also portray this sense of minimality.
From the overall visualisation of the house to its architecture, this concept encourages minimal home decor and functional accessories, furniture, fixtures and lighting. It also helps give the home a luxurious and elegant feel. 
Read also – 15 Best Sunken Living Room Design Ideas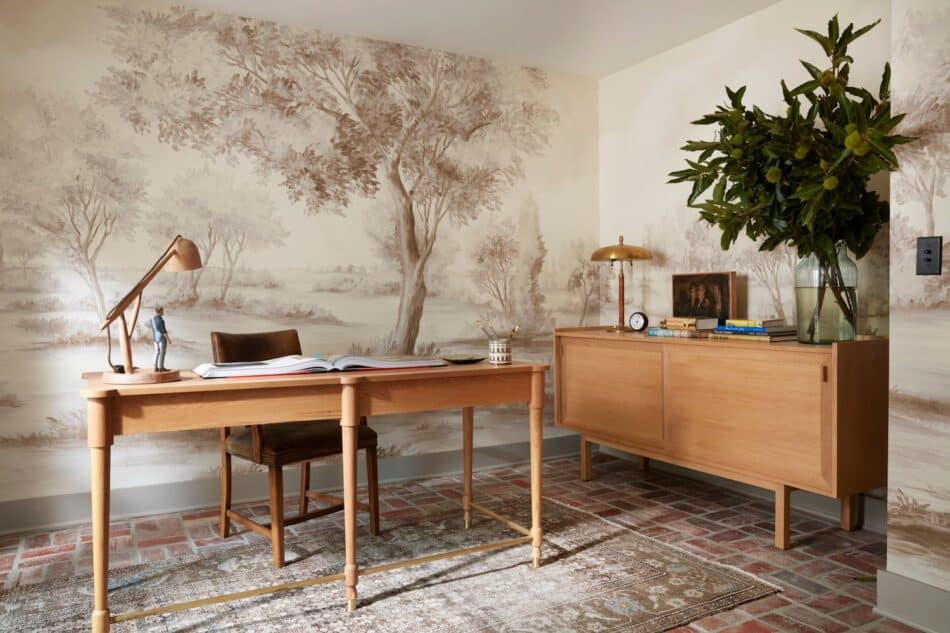 Image Credit: 1stdibs.com
In a world where it is impossible to live without technology, the Japanese rely on creating spaces free from tech to pave the way for maximum happiness. They believe that a
tech-free zone helps foster creativity and purpose. It helps in freeing one's mind up from screens and the digital world, which can lead to a lot of clutter in the mind and body.
Tech also leads to many distractions, which stops a person from thinking to the best of their potential. To live a life 'fully' and purposefully, it is essential to create a home underlying the concept of Ikigai, with completely tech-free spaces.
Read also – Japanese Interior Design: Minimalist Sophistication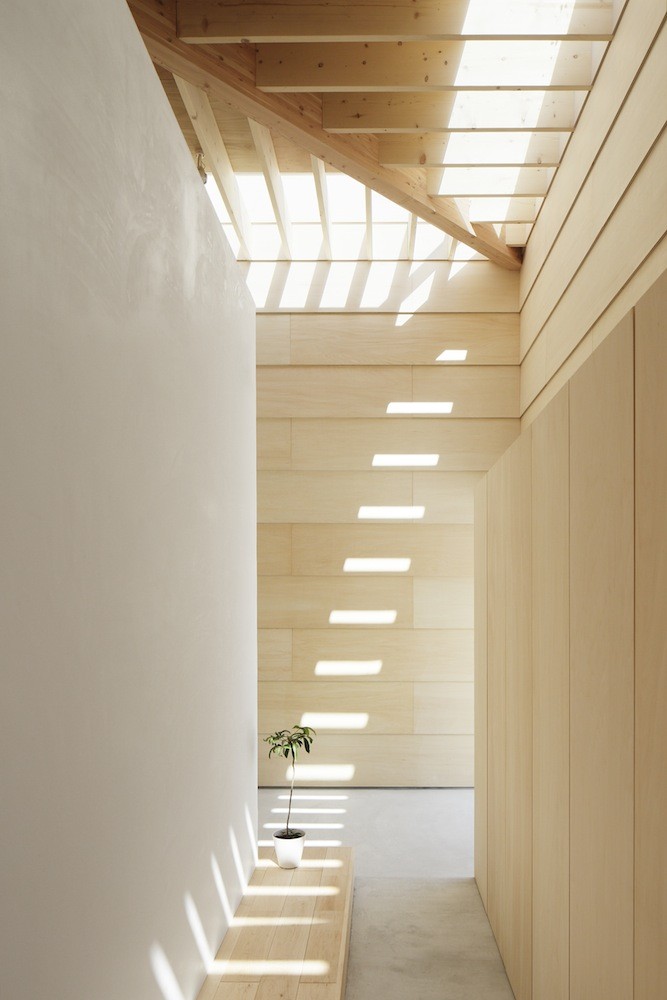 Image Credit: pinterest.com
5. Ties the Family Together
According to Japanese culture, it is essential to embrace one's family and continue to follow social ties and traditions. These include coming together to celebrate festivals and gathering with each other to eat.
In a home designed using the concept of Ikigai, it is, therefore, essential to create a space where the residents can easily celebrate these traditions. As a result, Japanese homes typically have communal areas meant to encourage togetherness.
Another aspect of Ikigai design that designers add to clients' homes is using small plates to eat less. It is a concept that allows people to live longer and happier lives.
Read also – 10 Ways To Add Traditional Interior Design To Your Home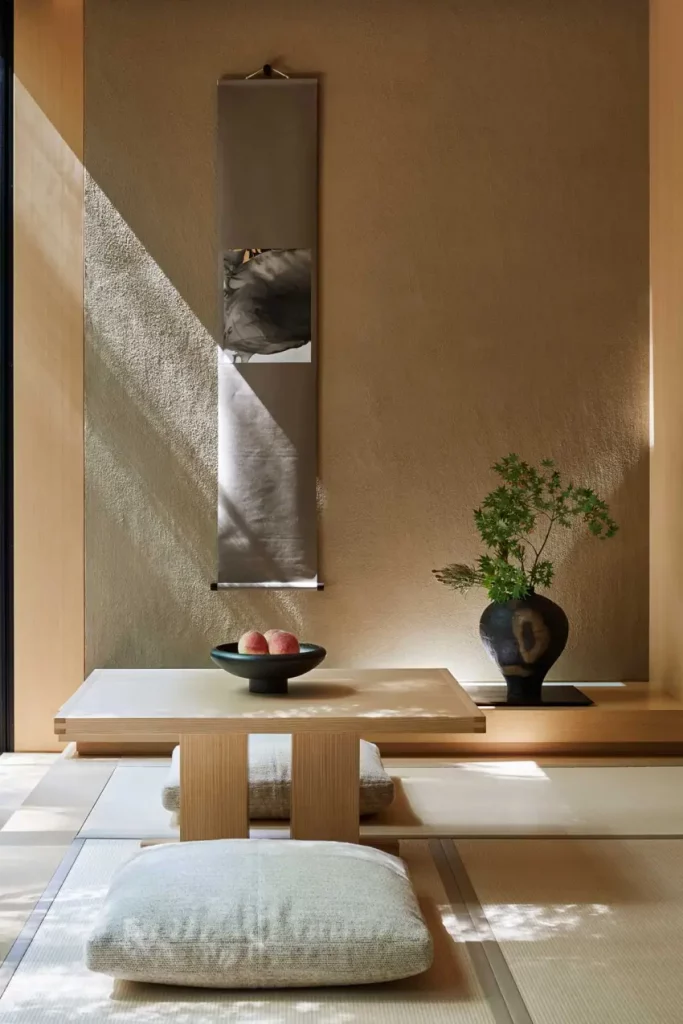 Image Credit: archeyes.com
6. Reconnect with the Elements of Nature
Pursuing Ikigai daily and nurturing it can bring a lot of joy and happiness – this is a belief that designers focus on when creating a space for their clients. They want to give their clients room to think about what is important to them, where their priorities lie, and what matters the most – and a great way to foster this way of thinking is by inviting the outdoors in.
Happiness is largely associated with and influenced by natural materials, plants and greenery. So a great way to create a quiet atmosphere within the home is by bringing plants, greenery and natural light in.
It allows a person to reconnect with themselves and turn inward for answers. Designers use glass walls and panels to let light in, plants as home decor, and ensure they create well-ventilated spaces using rustic materials.
Read also – 10 Ways To Create Eco-friendly Interior Design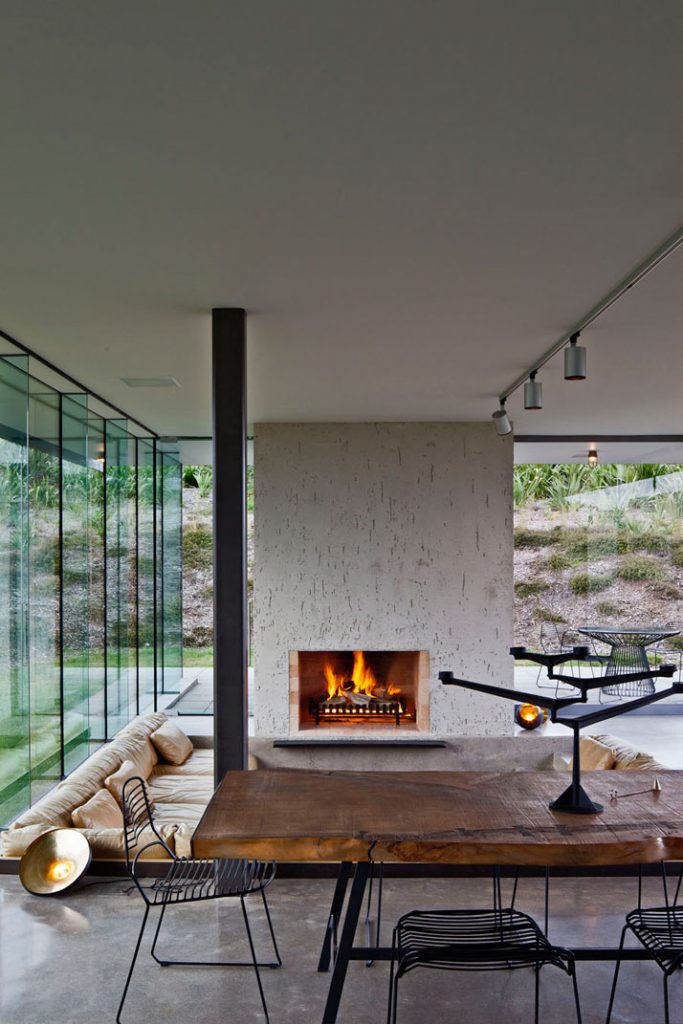 Image Credit: yatzer.com
There are many aspects of interior design that an interior designer needs to understand, especially when it comes to incorporating the concept of Ikigai into a space. They can achieve Ikigai in design in many ways. Here are some:
Enhancing the natural lighting in a space

Merging the elements of colour and textures

Exploring the human senses so they can easily immerse in a space. 
Here, you can easily get your hands on information, top industry trends, and other information on how to design a home using the concept of Ikigai. Access the best tools and resources in the interior design industry to help you easily design a home. In addition, I get the opportunity to interact with other interior design experts, professionals, students, and enthusiasts. 
Sign up for a 14-day free trial on Foyr Neo today.
Conclusion
The idea behind incorporating Ikigai design in a home is to craft a minimal way of living. The Japanese believe in not just establishing aesthetics but making the overall design functional and useful too.
Ikigai design stems from a philosophy derived from the realization that a well-designed space comes about as a result of incorporating elements of one's passion into an interior space. 
As a designer, once one starts thinking about the concept of Ikigai, it is hard to stop using it as part of one's design process. According to the author of the famous book, one should prioritise Ikigai in how we live and view life.
Instead of seeking success, people should seek wonder in daily life. Following this concept will help you create a home where there is comfort, hospitality, and the feeling of family.
Ikigai is not a concept that is imposed on people; it is something that a person should imbibe naturally. It helps derive a feeling of accomplishment and satisfaction and depends on an individual's inner beliefs. 
Plugging Ikigai into interior design is another way to keep the design as minimal and clutter-free as possible. It is a concept that helps designers design space well, optimally, and functionally. It encourages the designer to think from the perspective of the client's needs, and design the home accordingly – for example, does the client love cooking? Do they work from home a lot?
Whatever the situation, the idea is to maximise productivity while pairing it with a passion for helping the client achieve the best out of their personal life. 
FAQs
1. What is the reason for interior design minimalism in Japan? 
In Japanese culture, many people believe in the concept of living with imperfections. It derives from Zen philosophy, where the primary tenet is learning to accept the world as it is.
This belief helps avoid stress and disappointment. The Japanese use the concept of Wabi-Sabi in interior design to internalise this belief of being one with the world's imperfections.
2. What is a design philosophy in interior design? 
Design philosophy refers to the branch of the study of design which focuses on the different definitions of design and associated assumptions. It helps students understand the basic foundation of design and its implications.
This field is generally considered a sub-discipline of aesthetics. It is defined by the interest harbouring to solve a set of design-related problems or an interest in design's primary or foundational concerns.
3. What are the important aspects of concepts in interior design projects? 
Interior design concepts refer to the main theme or focal point around which the remaining elements of design focus on. The concepts first exist as ideas and are then implemented through proper planning. An interior design concept is a visual theme eliciting a particular mood or emotion. It is done through strategic placement and using colour tones, space, and design/style.
4. What is the most important thing in interior design? 
While there are seven design elements, one of the most important elements in interior design is space. It is important to create a home that has adequate space. Space allows light to flood in and helps keep the aesthetic minimal and pleasing.