When you're working from the office, you are often distracted by a lot of things. Sometimes your co-worker stops by for a chat longer than you would want it to be. There are times when notifications from your social media accounts distract you from the task at hand.
All of these distractions are something you'll find in an office setting — but it's a completely different environment in a home office design. 
Since a lot of people nowadays find themselves working from home, there are even more distractions that hinder them from being productive. Family members, household chores, entertainment materials, and more can distract you while working from home.
Here's our guide on adapting your home design to the new normal.
Here are 11 tips you need to learn when aiming to create a home office design
1. Separate your Workspace
2. Make Sure it's Well Lit
3. Raise the Roof!
4. Control the Noise Level
5. Consider Ergonomics
6. Add a Pop of Color
7. Go Green
8. Keep it Clean
9. Control the Temperature
10. Add Proper Storage
11. Standing Desk Setup
Separate Your Workspace
Not all of us have an actual room dedicated to our professional work. Most of the time, we make do with the space that we have and create a makeshift home office design. And for a lot of people, their "home office" tended to be their bed or even the couch. This is unacceptable. Your to-do list and dream journal are meant to be in different spaces.
Unfortunately, making your living space, your workspace will make it hard for your brain to adapt. Not to mention that it can be challenging to have a productive mindset while you're in the said area.
That's because the couch and bed are meant for relaxation. Your mind just like your body, needs to perceive a difference of geography between places for relaxation and work.
Instead of using your couch or bed as your workspace, you should set up a table and chair in some corner of a room. You don't need that much space when it comes to a home office design. It would be best if you had a dedicated workspace away from your living area. If you have the luxury of a garage and driveway, you could convert it into an office space for the workday and use it for storage after hours.
A tripod floor lamp would be a great lighting option to help you burn the midnight oil with a subtle, warm glow in your workspace.
If square footage is a limitation, try using Murphy tables for a minimalist and utilitarian lifestyle while looking cool doing it!
Make Sure it's Well Lit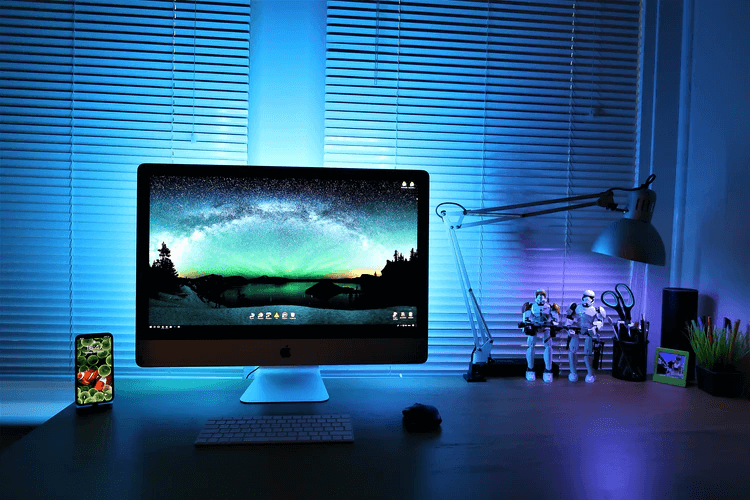 One of the ways that your home office design might not be great for your productivity would be your lighting situation.
If you rely on natural light to brighten your home office, this can affect your productivity in ways that you might not be conscious of before. Since natural light changes as the day continue, you need to be mindful of the changing lighting situation in your home office.
You must have noticed this situation in your office building – there are bright lights on throughout the day to add to the natural lighting. This helps employees stay in a fresh state of mind for longer.
While work-life balance can get a little off-balance, working from your living room, this is the perfect chance to create a work environment that you have always wanted. Why not light it in a way that suits you best? Using desk lamps can help you zone out from your surroundings and just focus on the work in front of you. It may seem underrated, but good lighting can enable the best home office experience you need.
Think about it this way : What is the one thing that immediately stands out and sets the mood at the best restaurants, bars and eateries that you've been to? Yes, it is the ambience and lighting. If your leisure deserves mood lighting, so does your workspace where you will be spending 40 hours every week during the current remote work situation!
However ,you don't want your home office design to be too bright that it makes it hard for you to see the screen and cause eye strain. You also don't want it to be too dark that you are struggling to make out what you're trying to look at for work.
Raise the Ceilings
Gone are the days when you raised the roof of your house after Friday with weekend plans, visiting friends and house parties! Now, its time to raise the ceilings of your home office to create an easy-breathing workspace
If you have the privilege of having a spare room that you can use as a home office, then one of the first things you should consider design-wise would be higher ceilings. Installing a skylight or high windows will allow for better natural airing of your workspace on a daily basis.
According to a particular study , people associated higher ceilings with being able to think freely. Besides helping you think freely, higher ceilings also help reduce the feeling of claustrophobia, which can make you feel stressed and anxious.
Higher ceilings also mean better air circulation which
Creativity is an ability that you want no matter what industry you are in. Hence, you should invest in an environment that makes it easier for you to tap into your creative side.
Control the Noise Level
If you're the type of person that gets easily distracted by noise, you should invest in some soundproofing material that you can apply on your walls.
You should invest in items that will help control the noise level that you hear from the outside world. If you can't invest in soundproofing material for your home office design, you can buy yourself some noise-canceling headphones.
The less noise you hear, the more productive you will be, and the less stressed you will be when doing your job. Not to mention, it will avoid disturbances during those long conference calls!
Consider Ergonomics
Investing in a comfortable & ergonomic office chair is also an important design choice for your home office that will affect your productivity. A great desk chair will not only make you feel like you're sitting on a cloud all day, but it will also provide lumbar support & help avoid back problems in the future.
You have to consider your posture, as well as ergonomics when it comes to your position or posture while working. Having a high-quality office chair will significantly improve your comfortability while working. An office desk is like your work temple. Get one that suits your personal style and requirements. All your productive work will take fruition. Don't skimp out on your desk!
Organize your desk and general work-area so that everything you need is within reasonable reach so that you increase productivity by avoiding constant interruptions in search of supplies.
If you are comfortable and aren't straining yourself the entire time you're working. Not to mention that you'll be more productive because you're not in pain.
Add a Pop of Color
Your home office design doesn't have to have a strict and minimalistic style. Having an attractive looking home office space will help you look forward to your day working. Therefore, you should consider adding a pop of color here and there around your home office. This is another opportunity to add a flair of your personality to your workspace. Get creative and mix bold, vivid colors that appeal to your aesthetic sense. Using bright colors will also enhance the natural lighting in the room and emanate a bright and cheerful environment.
Adding standard colors, such as greens and blues, will help boost your mood and reduce the stress you get from work.
Go Green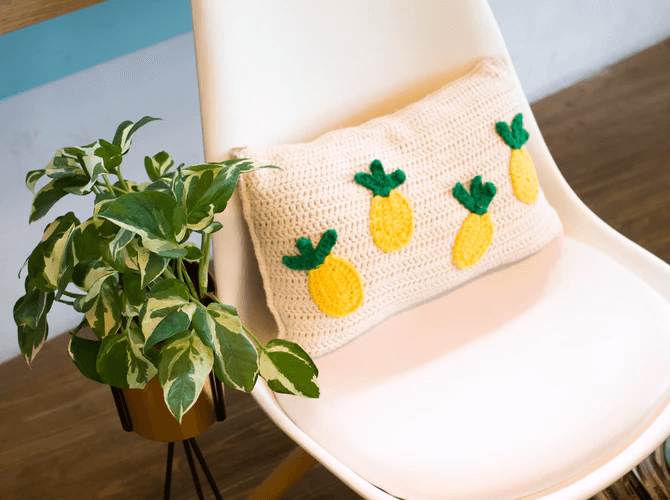 Speaking of the color green, you should also consider decorating your home office with a few indoor plants.
Indoor plants are a breath of fresh air to any space that they occupy, including your home office. Plus, they're the type of decoration that won't distract you from your work.
They can also help filter out the air inside your home office design, while simultaneously improving your psychological well-being.
Going green doesn't just mean having more plants around you. We also encourage you to use sustainable resources to reduce the increased footprint from your household. Using LED light bulbs will go a long way to reduce your personal footprint. If you live in a sunny area, solar panels would be a great way to not just save on electricity costs but also sell power back to the grid!
Keep it Clean
There is a lot of mental clutter that bothers our productivity from a day-to-day basis.
At Planet Maids – Maid Service NYC , professeional believe that the clutter of your room reflects the clutter of your mind. And if you let that mental clutter reflect your physical environment, it's only going to add more of that mental fog in your head.
Yes, your various supplies are all necessary. You must have the best accessories for your apple products, wireless chargers, routers, dual-monitor setup and decorative items – all the stuff that you want to keep within eye line all day can end up creating clutter in your workspace. Invest in a desk of the appropriate size so you can keep all your accessories, stationeries and other trinkets right where you want them.
Basically, the mess in your home office can distract you from doing your work. Therefore, you should declutter first before you even begin settling down and doing your job.
Control the Temperature
In an actual office, you probably don't have full control over the A/C. Luckily, this won't be the case for you in your home office.
When you're setting the temperature on your thermostat, make sure that it is within a comfortable range. You don't want you to be too hot nor too cold because either one can disrupt you from your work.
Add Proper Storage
You're going to have to deal with a lot of paperwork for your job while you're working from home. Therefore, you should dedicate a storage space all for your documents within your home office design. Everything you need should be well within your reach but never creating clutter. It might take you some time to get used to supplies being in a different place, but hey, you did that at work and it worked just fine!
You should also have dedicated storage for other office supplies you may have. If you want to go the extra mile, you should also invest in storage solutions that help organize your wires for the computer.
Standing Desk Setup
There is so much buzz around this topic today! And by a standing desk setup, we don't mean working at the kitchen table or island. There are so many great standing desks available on the market that will suit your personal style. Studies suggest sitting for long periods of time can cause serious health issues and weaken the overall strength and endurance of people who lead sedentary lifestyles.
Working at a standing desk means that you are keeping your back and overall posture at the best levels and actually burning calories while simply standing and working.
Experts recommend using a standing desk for at least 3 – 4 hours a day.
Join the revolution and beat the laziness that we have built working from the comfort from our homes this past year!
Conclusion
Whenever you're designing a space, you have to keep in mind the purpose of the room. This rule also applies to when you are planning your home office design. 
Designing your home office to help you become more productive should be one of your goals. But that doesn't mean that you should overlook your personal preferences. 
Apply the tips we have listed above and then personalize them so that you get the maximum productivity that you want whenever you're in your home office.