Home » Design Ideas & Inspirations » 15 Best Sunken Living Room Design Ideas for Your Home
What is Sunken Living Room? (History and Origin)
The living room in the house is one of the most commonly used spaces. It is at the epicentre of all the activities in a home. A living room is also the first impression anyone gets when entering a house. The living area is where all the conversations happen and shared moments, making it very important to design a space that justifies its use. This is where the concept of a sunken living room in interior design is explored.
Simply put, a sunken living room is an area of the house that is slightly lower than the rest of the house. If you are looking to buy a house or perhaps have already purchased a home, you might have stumbled on the topic of a sunken living room as part of a good home design.
It was first seen when architect Bruce Groff used the concept to make a home for his teacher. It gained popularity overnight when featured in The Dick Van Dyke Show. The idea of a sunken space is loved by many but has also received an equal amount of criticism.
After seeing the concept in some more Hollywood shows, it became a unique focal point for many new houses. Builders and new homeowners started requesting or making modern homes with sunken living spaces as its highlight.
Read also – 14 Best Living Room Interior Design Ideas
Sunken Living Room Concepts
A sunken living room is not just about recessed spaces in the centre of a living room. There are different ways you can treat a sunken living space to suit your design ideas. Let's take a closer look at the four main types below:-
1. Open-Concept Sunken Living Room
Keeping the living space as an open floor has always been the best way to merge the sunken area in the room visually. Using low lying cushions rather than bulky sofas plays an integral role in the living space at different floor levels.
Using no leg sofas and a plush carpet for the floor can create a cosy atmosphere in an open concept sunken living area. You can also put a coffee table in the lines of a Japanese tea table to further accentuate the area look.
2. Curved Sunken Living Room
Sunken spaces are a unique way to segregate a conversational space without solid walls. Branching away from the regular squared plan, you can also go for a circular shaped sunken living room. It holds a very privacy-oriented circular seating layout.
The circular space is defined by its outline and the roundness of the sofas in use. At times the ceiling and chandeliers also follow the shape of the recessed area beneath. Fitting a circular space in an otherwise rectangular space can give you a theatrical effect of space.
3. Outdoor Sunken Patio Area
A recessed area is not limited to an indoor space. It subtly compliments the aesthetics and geometry of the house and is a multi-functional area to sit, relax, and enjoy the outdoors. You can also incorporate it into the exterior patio and landscape designs. They can play a crucial role in enhancing the elevation of the house as well.
4. Recessed Seating in Pool
One of the ways to add drama to a space is by using the sunken concept in the pool area. The recessed space acts as an informal gathering or conversational space right inside the pool. One can easily imagine some outdoor furniture places next to the pool area, but getting the seating below the water level not only makes the space exciting but can give you an interrupted view of the pool and its surroundings.
Read also – 20 Wonderful Pool House Design Ideas
Advantages and Disadvantages of Sunken Living Room
Some folks love the idea, whereas some folks dislike the very mention. When it comes to a sunken living room, the statement of "beauty likes in the eye of the beholder" definitely rings true. But let's help you decide if you have a penchant for it by discussing the pros and cons of a sunken living room. Let's start with the advantages first:-
The unique factor that led to its rise in the 60s was that it made the space feel more intimate. Back then, folks used to have a lot of social gatherings, so it made a lot of sense to have such a

conversation pit

in the centre of your living room.
They are bold statements you can make while defining a living room look. If you have a large, open-concept residence, they can bring out the size and scale of the house effectively. Since the use of solid walls is minor, having a recessed area provides a host of clear sightlines so that you get uninterrupted views. The whole feeling of breezy and openness is preserved effectively.
They are known to create personal, intimate atmospheres. The recessed areas are fitted with plush sofas, comfortable seating and fluffy pillows that make the site more intimate. However you plan to use it, it psychologically allows every person sitting in the area into a smaller space to achieve that cosy emotion

.
They add a generous amount of flair to any design. Compared to a flat simple box-like plan, they feel like a breath of fresh air. Some sunken spaces are also enriched with wooden carvings that add character to the living area.
The lack of a visual barrier makes a space look more prominent because the average height from sofa top to ceiling increases dramatically. This gives the illusion of a spacious area. Producing a skylight or a chandelier can keep the whole area visually fascinating. 
Like any design feature, the sunken living room design has its fair share of criticism as well. You must know the negative side as well before you make a choice. 
One of the significant drawbacks that outshine the other points is that it can cause accidents. Most users who have had a sunken space in the living area will tell you that they are pretty cumbersome. If a person new to the house or perhaps someone with a physical disability is moving around, they may not expect a series of stairs bang in the middle of the room and can end up tripping and falling. You could argue that there is no way someone cannot see such an ample sunken space with a step down in the middle of the room, but it is still difficult to access for the elderly and physically disabled.

 
 

If you are a person who is constantly into home improvement and want a room to be flexible in its design, then a sunken space is a strict no. It offers the least amount of flexibility when it comes to design. There is very little to do with a recessed area except for changing upholstery when you remodel the room. It always remains in the same space, and you can move it around like you would move a sofa set around.

 
Read also – 30 Traditional Living Room Ideas To Decorate Your Living Room
15 Best Sunken Living Room Ideas
If you are still kicked about the idea to get a sunken living room, you can refer to the list below to get a better idea of what's the best way to incorporate it into your home.
If you are a nature lover, you can go for a sunken space surrounded by greenery. It would look like a lovely garden in the middle of your home and can act as a breath of fresh air in your home.
Read also – 35 Spring Decorating Ideas for Your Living Room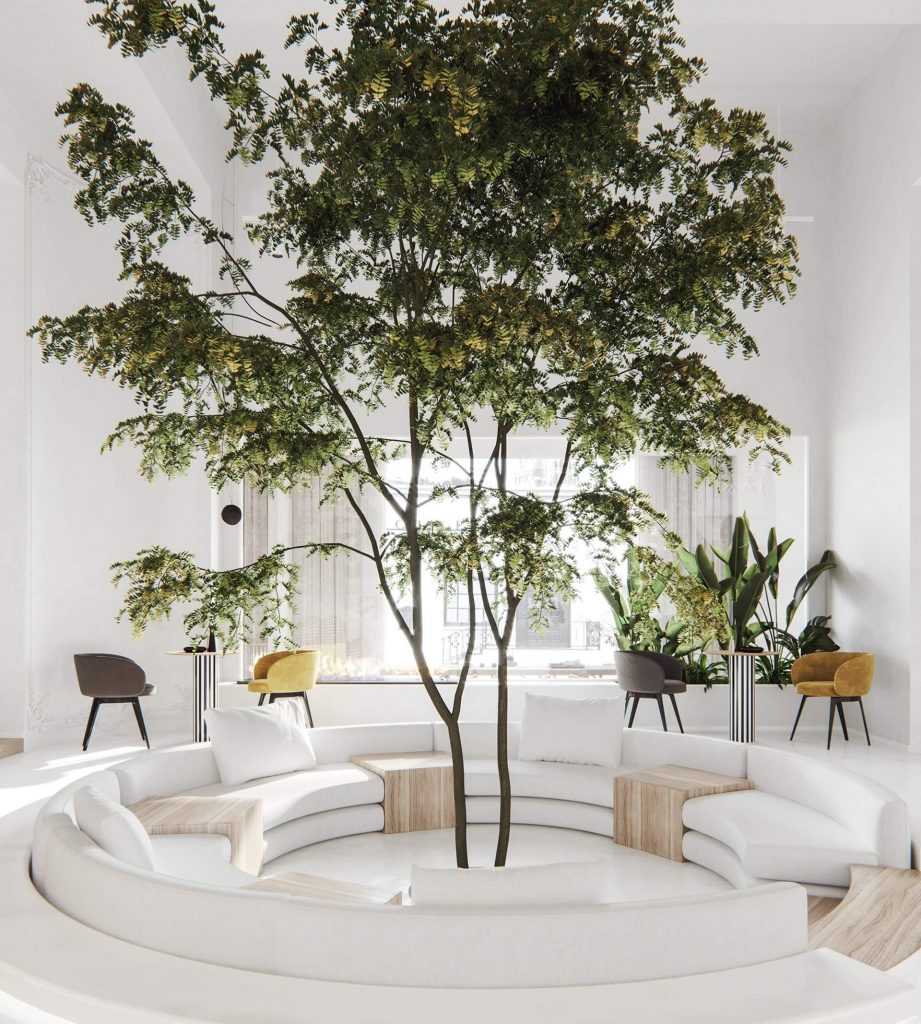 Image Credit: mortarandmore.com
2. The Indoor-Outdoor Connect
You can use the sunken area concept to connect the indoor and the outdoor. There is no actual partition between both, resulting in a genuinely open space.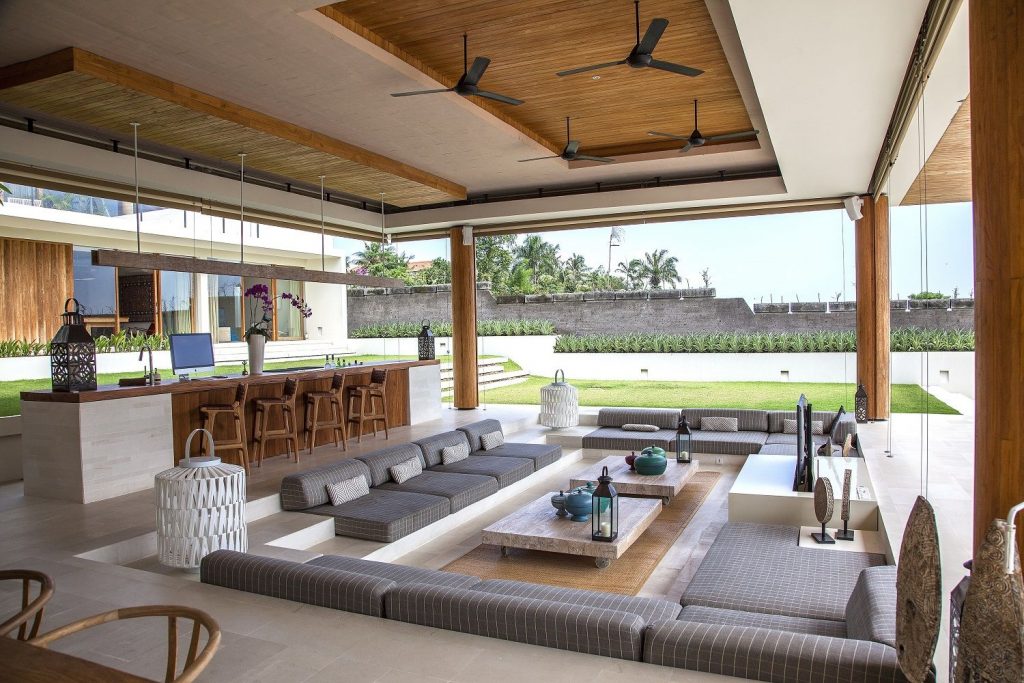 Image Credit: marketingvillas.com
3. Double Height Ceilings
The double-height ceilings over the sunken living area accentuate the vertical barrier to make the room look bigger. You can also add a large chandelier over the sitting area for an extra edge.
Read also – 15 Best Music Room Ideas To Design in Your Home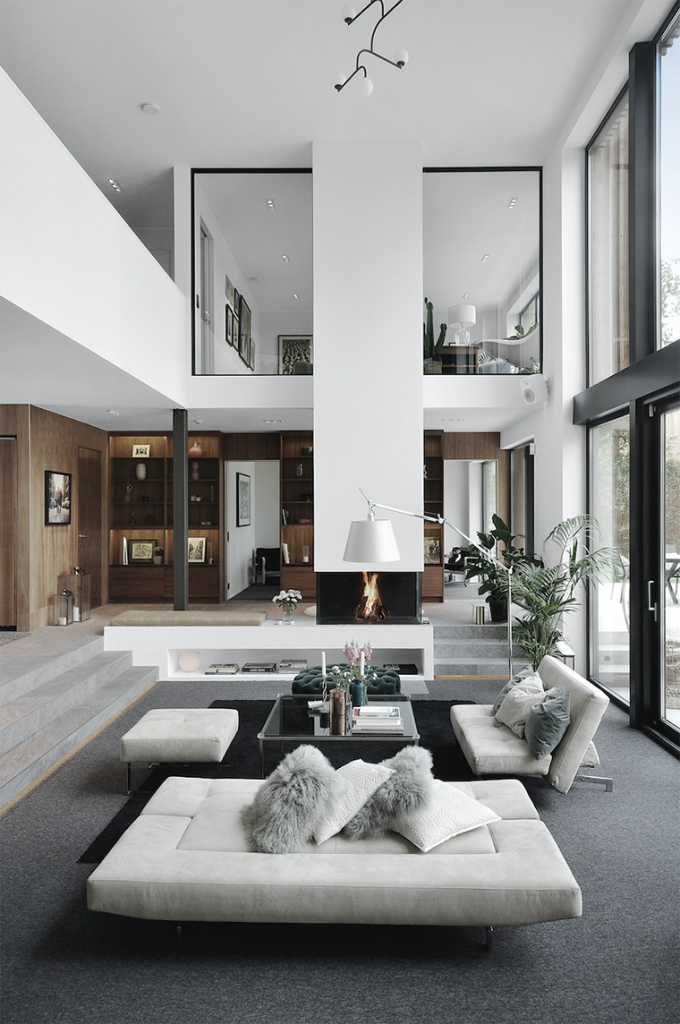 Image Credit: storiestrending.com
You can add a skylight right on top of the sunken space. The natural light that will filter through can brighten up your space. There would always be a natural show light highlighting your most significant design intervention in the room.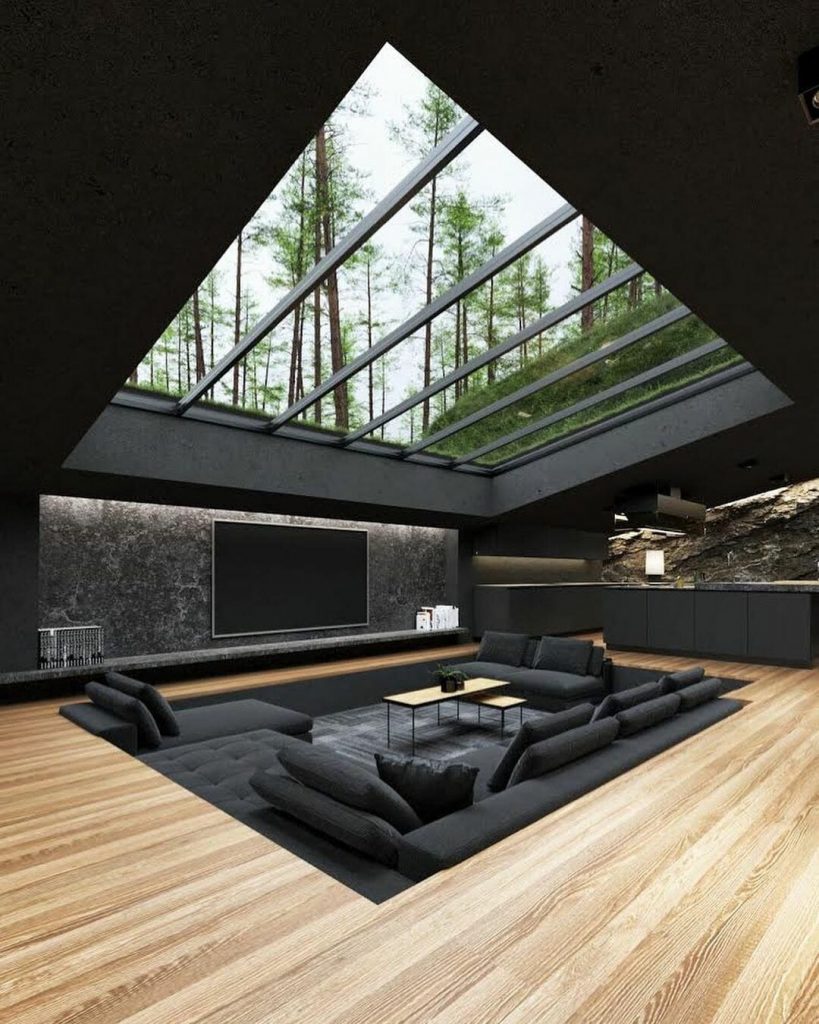 Image Credit: 99images.com
You can always change things up and place a dining area instead of a sofa set in the sunk. It could be a welcome change from every house's common dining areas.
Read also – 8 Best Creative Dining Room Design Ideas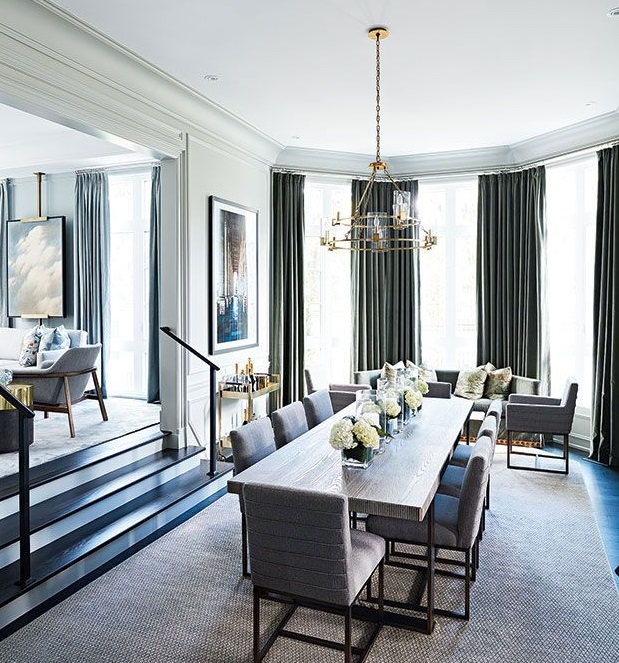 Image Credit: pinterest.com
For all the minimalists out there, you can dip the sunken space in white, promoting an airy and open feel to the area. You can go for cream linen upholstery to complement the whites all over.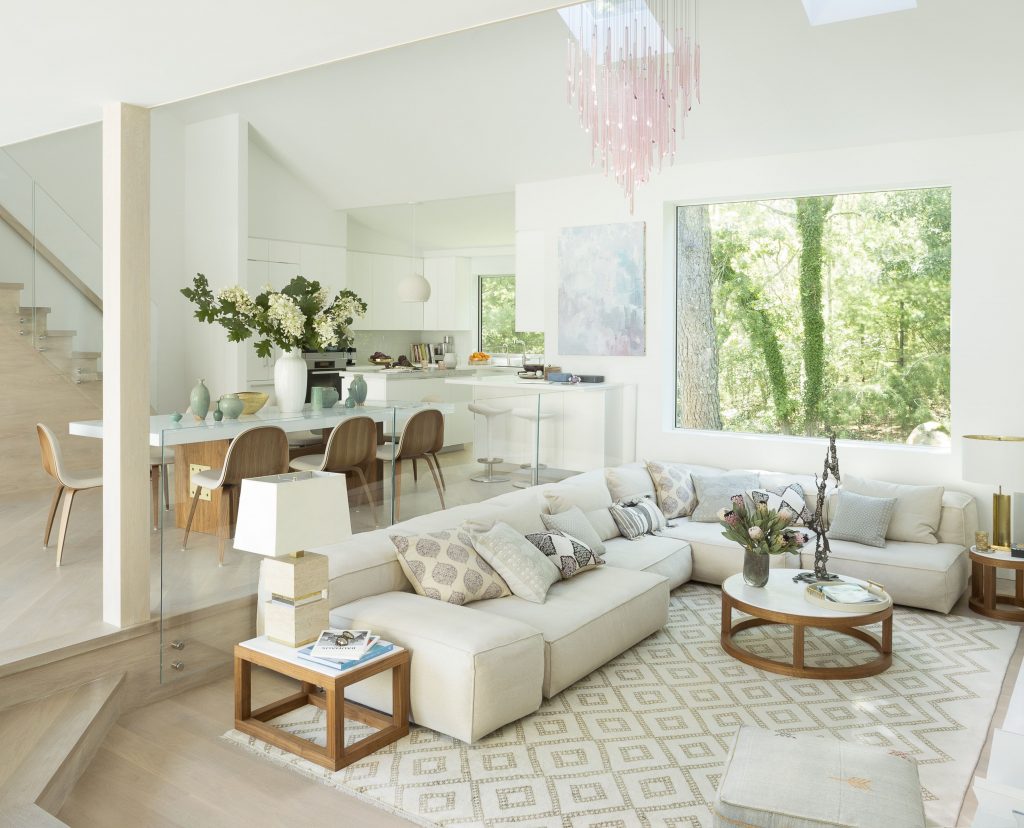 Image Credit: pinterest.com
An informal sunken living room is also an excellent way to make some attractive organic spaces despite having rigid parameters. You can go for throw pillows, large cushions, and bean bags for people to sit and relax. You can make it youthful with small pops of colour to give it that funky vibe.
Read also – 15 Ways To Add Coastal Interior Design Style To Your Home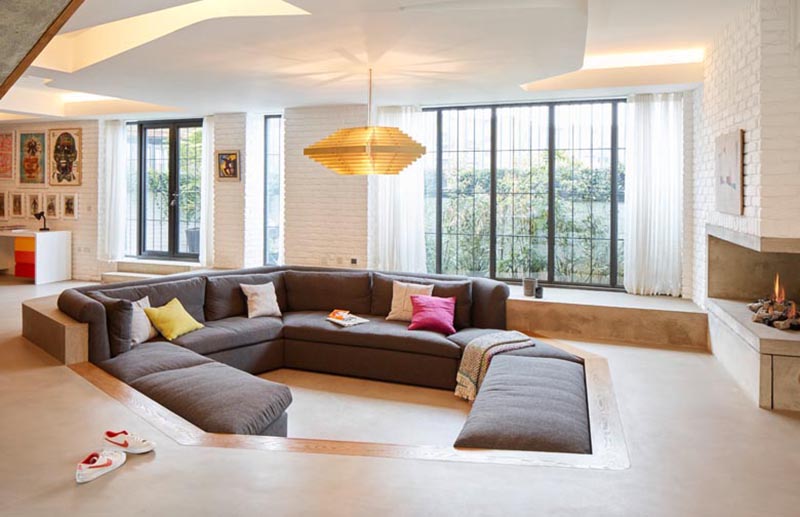 Image Credit: nfyshop.com
This is only possible in houses with structural and mechanical capability. You can make a suspended fireplace in the centre and have your seating surround it, giving you a feel of an intimate campfire.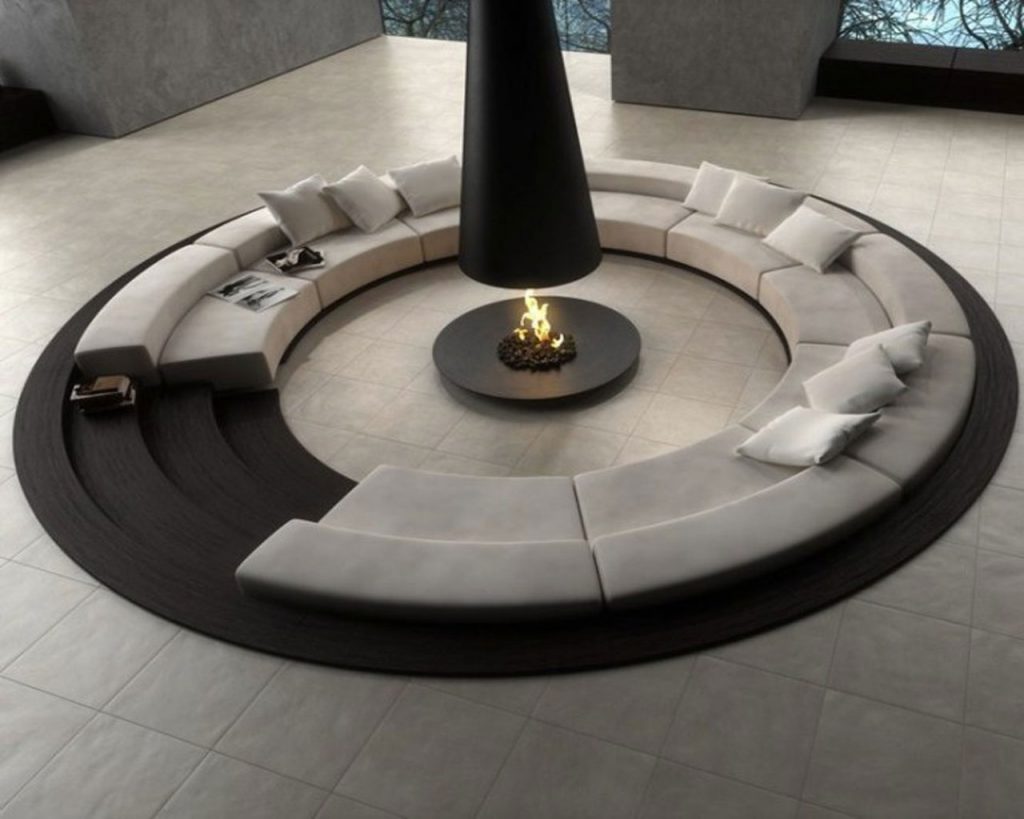 Image Credit: home-designing.com
You don't need to sink an entire space for the sake of a sunken living room. To create an interesting visual language, one can try dropping different levels at various heights.
Read also – 10 Ways To Eclectic Interior Design Style Your Home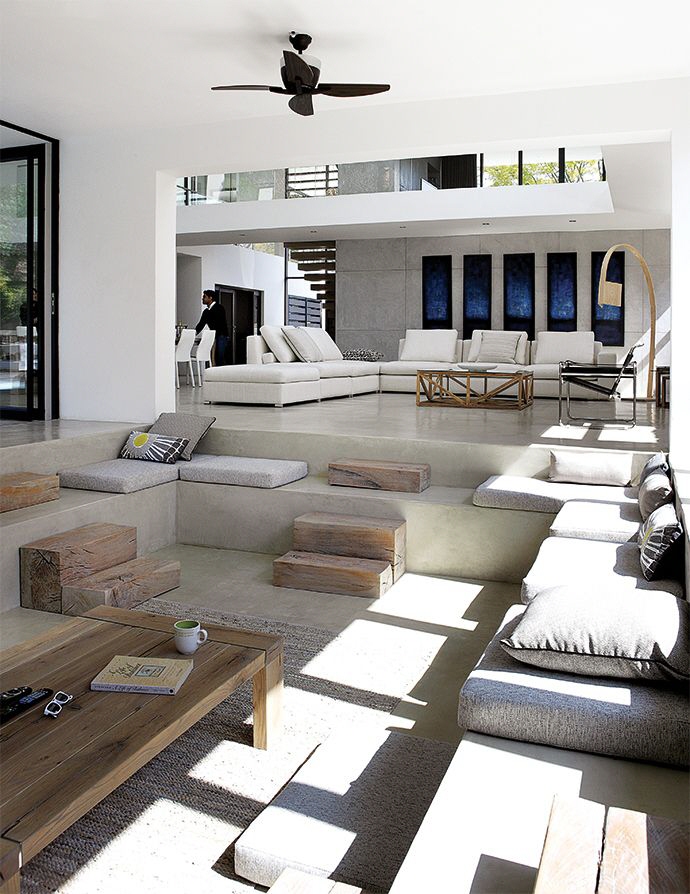 Image Credit: pinterest.com
10. Perpendicular Sunken Living Room
The architecture of the living room closely dictates this style of sunken living space. It follows the horizontal and vertical guidelines of the area to craft its own sunken space. There is no break between the mean floor level. They are primarily designed around ample nooks or corners where the wall can be continuous and create a cosy atmosphere.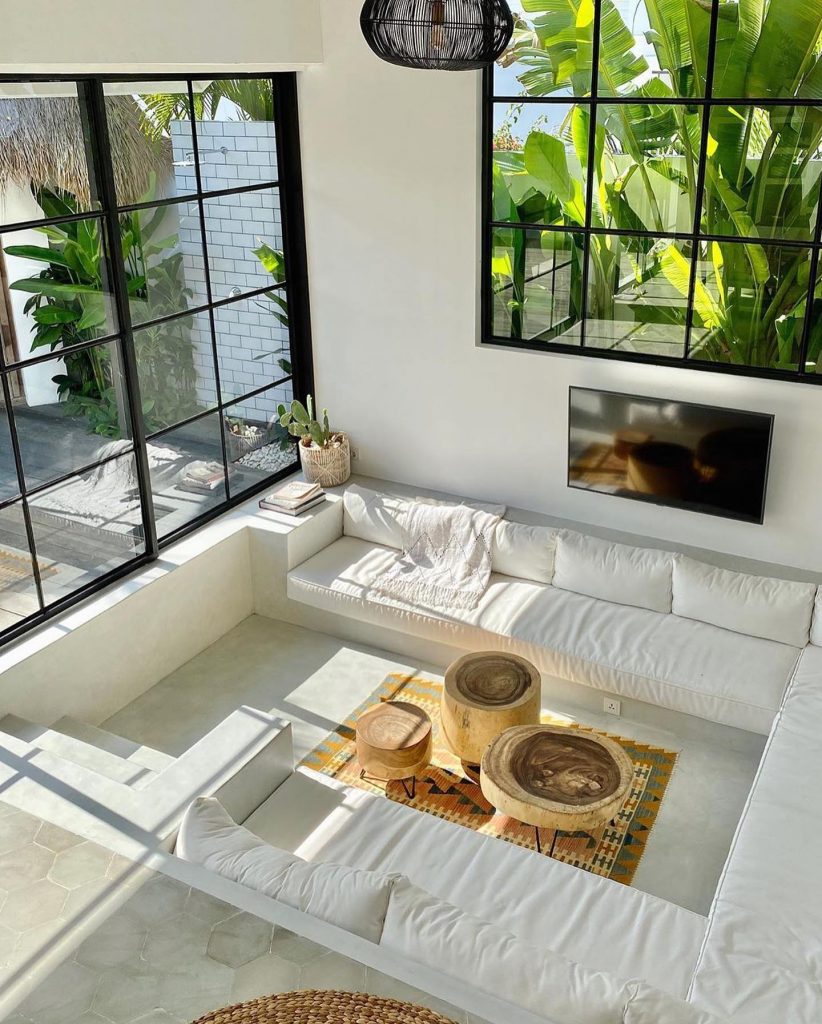 Image Credit: facebook.com
 A perfect rendition for country style homeowners. You can bring the rustic charm into the sunken space by using raw wood seating areas and platforms surrounded by a wood floor along with canvas or linen pillows and throws. One can also look at some DIY designs that suit the overall aesthetic.
Read also – 11 Modern Rustic Interior Design Ideas for Your Home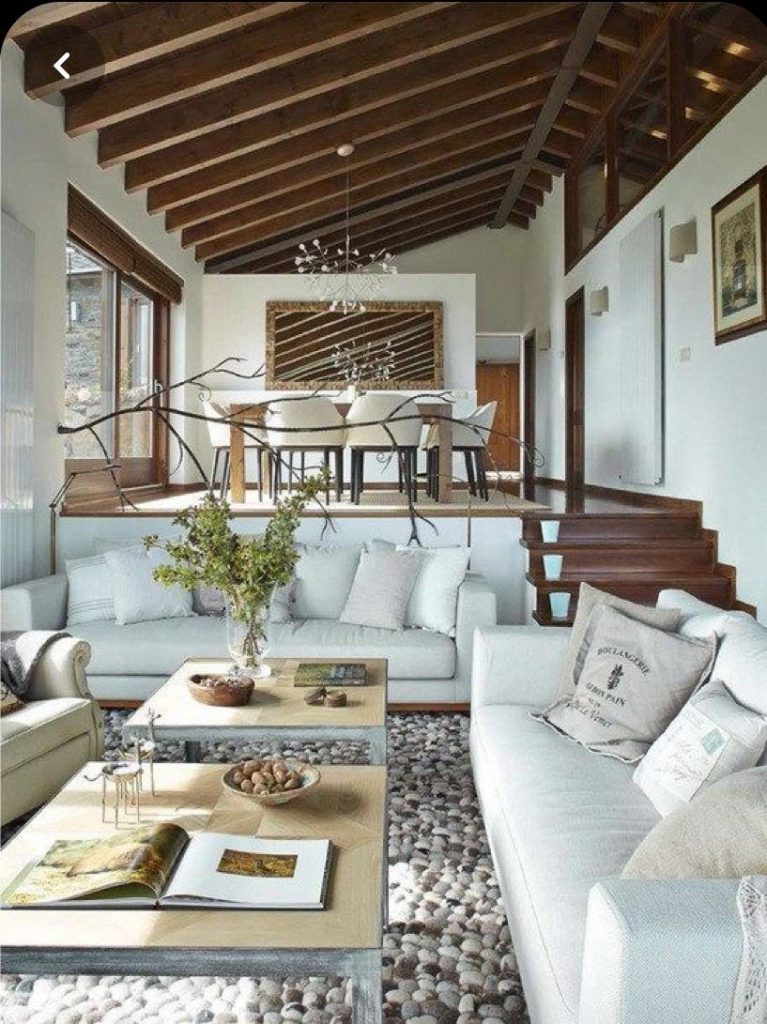 Image Credit: theroots.in
A majestic sunken living room needs a lot of space and is a sunk with a vast area. It gives you the freedom to move the living room furniture around as you wish. However, it could be difficult for you to cultivate a cosy atmosphere in such a space. A midcentury modern design perfectly complements a majestic sunken living room giving it an overall Scandinavian feel.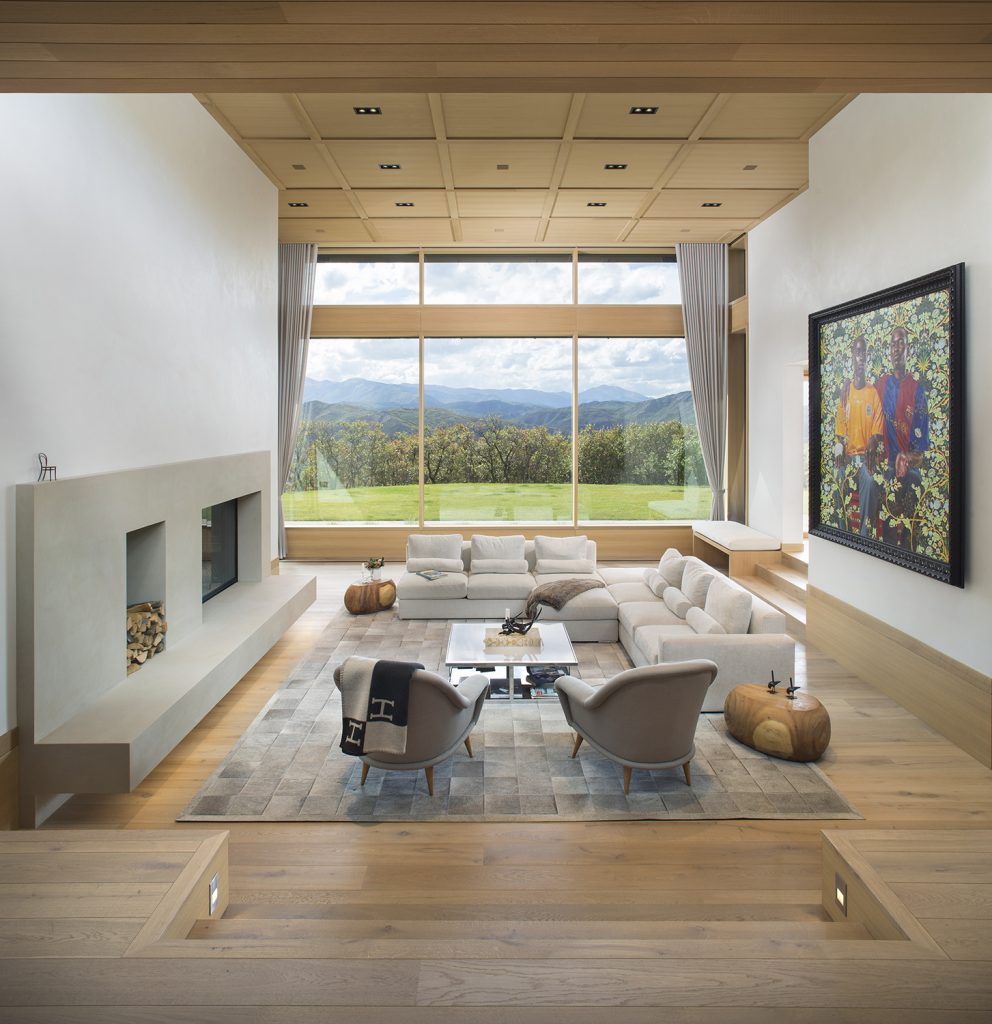 Image Credit: rowlandbroughton.com
As the name suggests, the sunken space does not house the main living area but rather an offshoot made strictly for lounging. It acts as a more informal space in the presence of a more formal living area. Large mansions tend to have such spaces where the living room is strictly made for entertaining ceremonial purposes, creating a smaller informal lounge area.
Read also – A Guide To Art Deco Interior Design Style for Your Home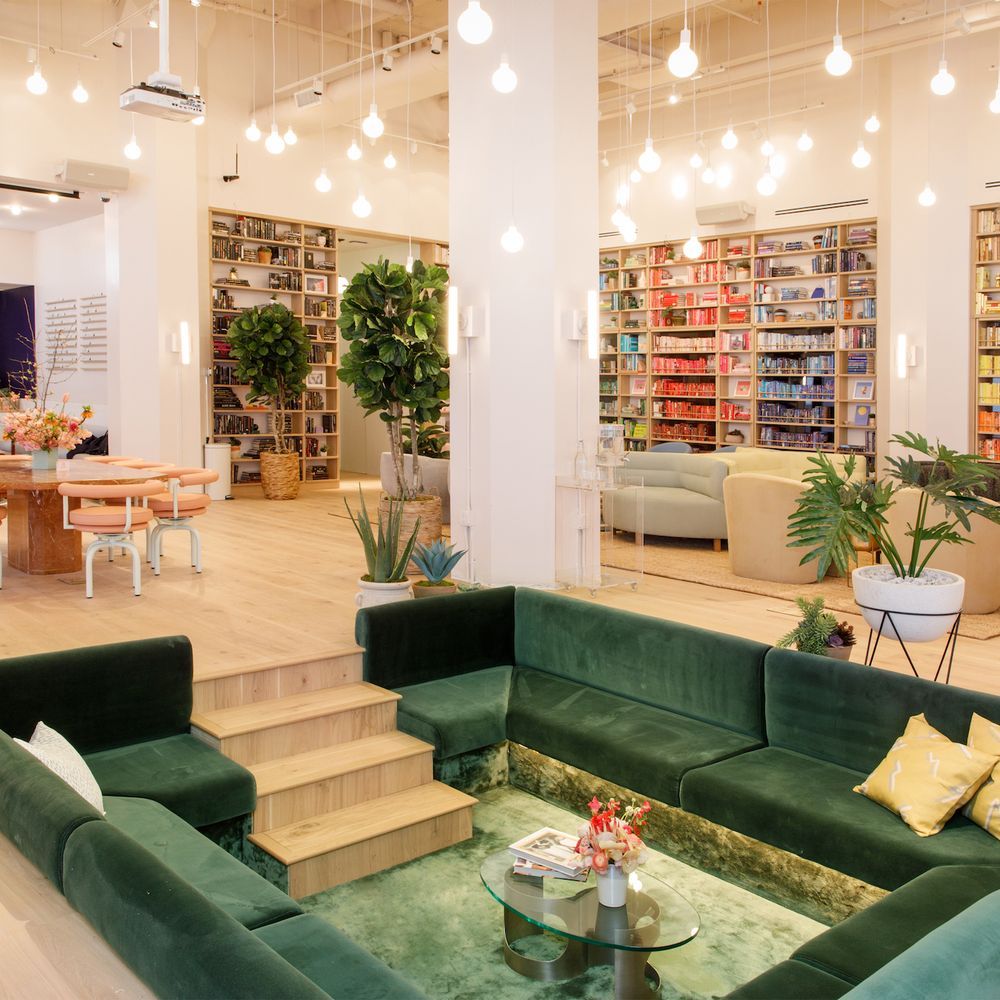 Image Credit: fohlio.com
A style that is evergreen and timeless. You can never go wrong with introducing a beach look to your sunken space. It's even better when the sunken room is partially outdoors.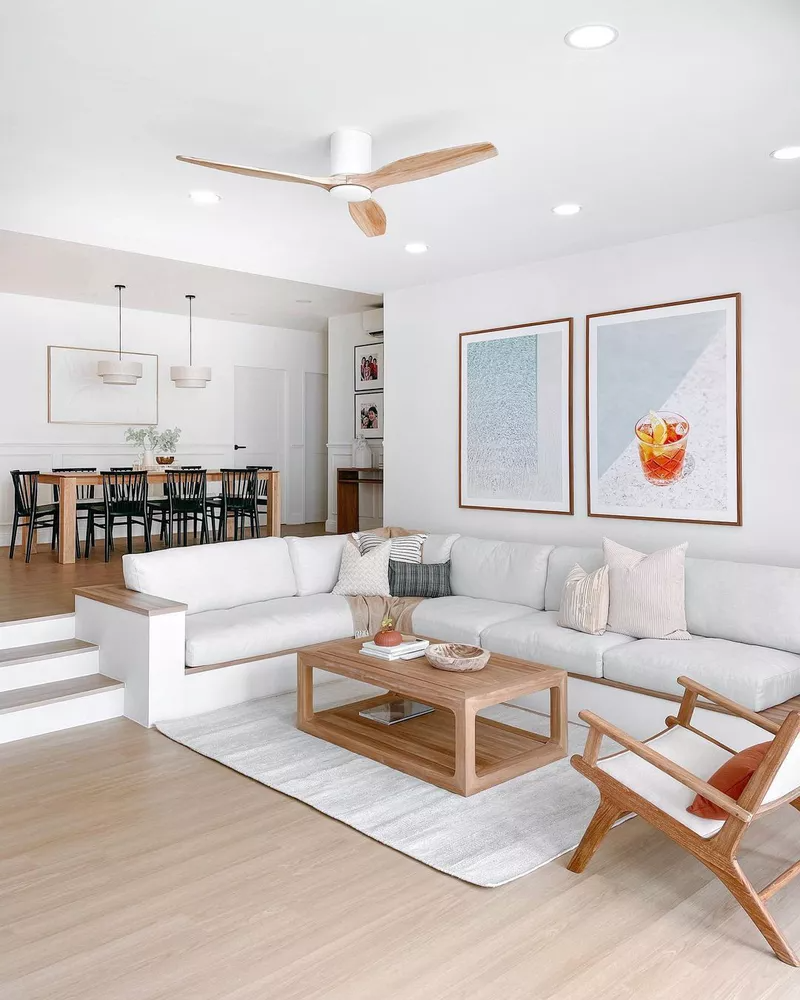 Image Credit: mydomaine.com
The living room should have a high vaulted ceiling as a prerequisite. The homeowner can only enjoy the benefits by suspending various items or perhaps having a lovely wooden log as a cross breaking the vertical visual symmetry. The other advantage of a vaulted ceiling is the vertical spatial configuration that you can achieve in the family room.
Read also – 12 Ways To Incorporate Wabi-Sabi Interior Design in Your Home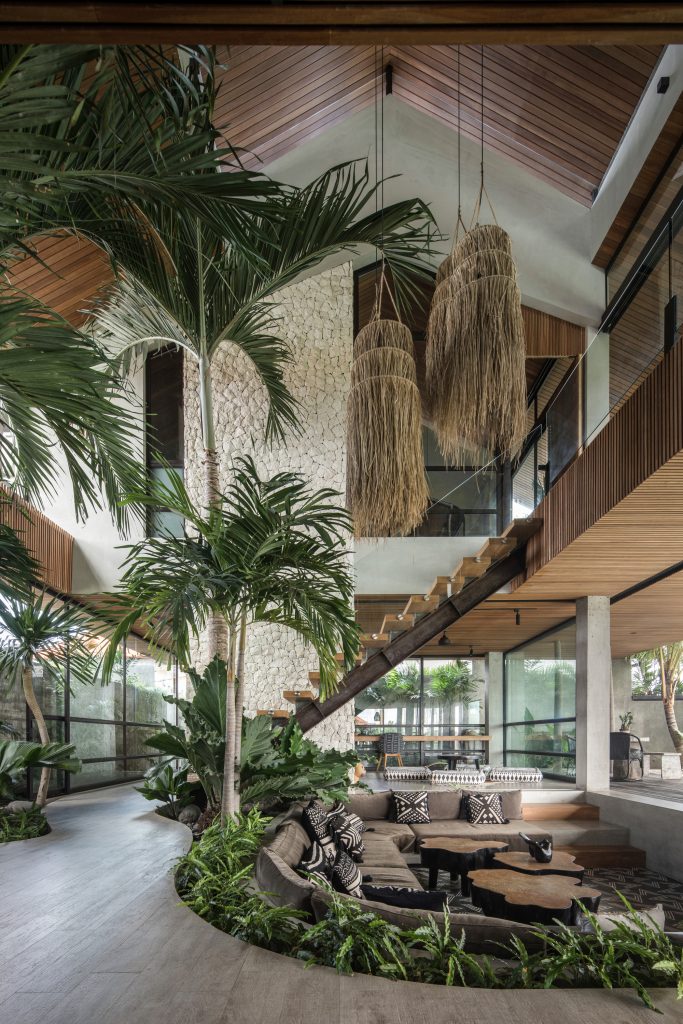 Image Credit: archdaily.com
The question remains as to how you can successfully incorporate a sunken living groom into your space without any design background. Fret not because Foyr Neo's powerful 3d software has a very short learning curve and gives you amazingly high-quality photo-realistic renders in a matter of minutes.
You can also choose to sign up for a 14-day free trial. The Foyr community also makes several tutorials available to assist you in making a 3d floor plan of your house and placing different types of sunken living typologies in it. This will help you decide what kinds of sunken space would fit perfectly well into your living room.