Home » Interior Design Styles » Eclectic Interior Design: 10 Ways To Style Your Home With Eclectic Design
Eclectic Interior Design
Eclectic interior design is a style that elegantly incorporates aspects from several design styles into a single space. It has a casual combination of furnishings and design that draws from a wide range of influences. Eclectic décor typically includes vibrant colors and patterns, as well as surprising accents.
Eclectic design is frequently influenced by an overarching theme, such as boho eclectic (which employs the same concepts of eclectic room ideas while sticking to a Bohemian style) or glam eclectic (which uses a more saturated and vivid palette to produce a more "glamorous" and colorful vibe).
The name "eclecticism" is derived from the Greek word eklektikos, which means "selected." Eclectic design initially appeared in Europe in the eighteenth century as a technique for architects to produce distinctive designs while keeping some classic style.
Read also – 21 Most Popular Types of Interior Design Styles
Characteristics of Eclectic Interior Design
The eclectic home design incorporates a wide yet well-curated blend of aesthetic and practical elements.
1. Using a variety of graphic components. The core of eclectic design is the combination of prints, patterns, and textures. The eclectic decor combines disparate forms, compositions, and design elements that would not ordinarily complement one another to create a new depth or layer of appeal.
2. A fusion of the contemporary and the traditional. The eclectic style combines décor from several eras. Vintage furniture may be matched with minimalist architectural art. You could also come with a mid-century contemporary bathroom with French Renaissance touches.
3. It's been meticulously curated. Although the eclectic interior design appears to be straightforward, decorators must painstakingly select the different factors to ensure that everything fits together. A unifying feature or theme, such as color, texture, or a distinct focal point, is frequently present.
 Some of the essential elements of eclectic style are Motifs, colors, materials, and textures mixed, with a homage to vintage items and global-inspired patterns. This style is unmistakably maximalist rather than minimalist. But this varied mix of styles isn't haphazard—you still want your room to feel unified to properly nail the eclectic appearance. While there is no one way to achieve eclectic—as you'll see below—it's a style that seems extremely organic and as if it grew together over time.
Read also – Interior Design Basic Concepts, Elements and Principles
10 Ways To Incorporate Eclectic Interior Design To Your Home:
Modern Rustic is a mixed-style look that incorporates elements of mid-century modern, rustic, and boho design. As a consequence, you'll have a style that's both stylish and approachable. This area has a clean and fresh feel to it, yet it also has a lot of individuality.
Start with mid-century modern furniture and blend it with rustic materials and natural textures to get this contemporary rustic style. While there are many various colors and patterns combined together in this room, the patterns are more organic in nature—no geometric forms or harsh lines here.
You should focus on layered textiles to really nail this look. The eclectic style relies heavily on layers. Pile on the cushions, arrange propped paintings on the mantle, and even consider bringing in additional carpets and layering them! All of these layers provide depth and contrast while yet remaining livable. Because livability is equally important when it comes to mastering diverse styles.
Read also – 14 Best Rustic Bedroom Ideas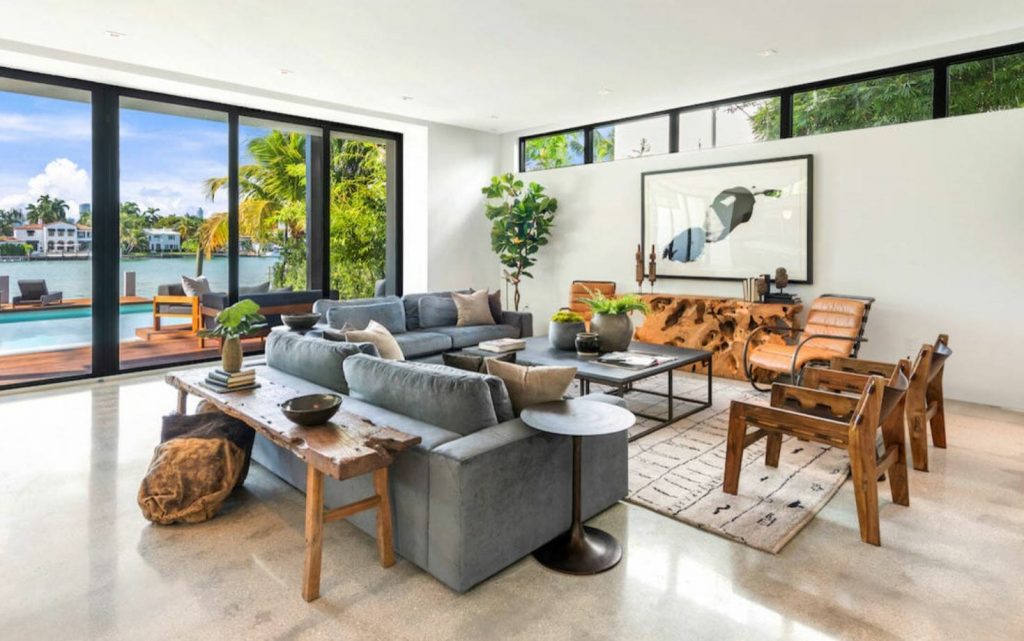 Image Credit: decorilla.com
Boho minimal style, as the name implies, is more on the minimalist side of eclectic style. However, as you can see, it's a superb balance of casual and high, resulting in a room that's both curated and calm.
The subdued color palette of bohemian minimalism is noticeable, with a wide spectrum of neutrals and flashes of earthy desert colours. This style also features a lot of natural materials and finishes. While there are a lot of patterns in this area, the neutral color scheme stops it from being too overpowering. So, between carpets, cushions, and wall art, you can build patterns on top of patterns. Much of the wall art in this style should be geometric or abstract.
Take into account a laid-back design to complete the look. The unexpected is at the heart of eclectic style, yet traditional layouts feel out of place in this setting. Using an off-center layout, poufs instead of chairs, or two side tables instead of a coffee table are just a few innovative ways to make this area feel more informal and comfortable.
Read also – Bohemian Interior Design Style for Colorful Decor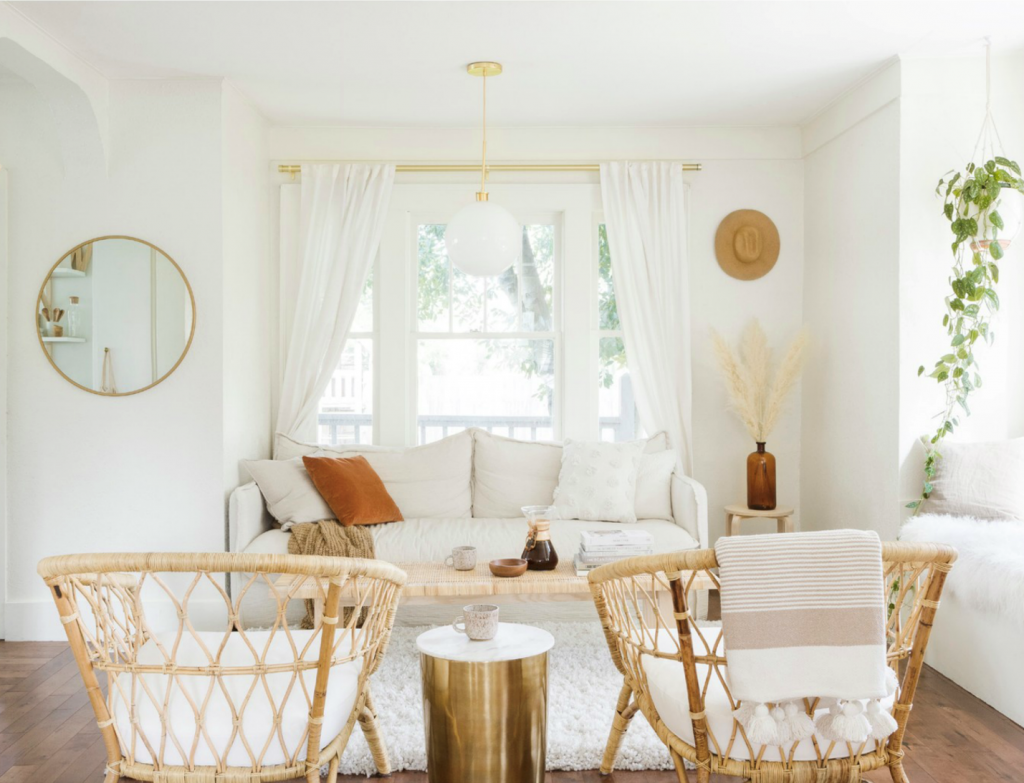 Image Credit: shoppedonline.com
Classical, contemporary, minimalist and glamorous furniture designs are all mixed together in a glam eclectic setting. Even in an eclectic room, this aesthetic is daring. It's just the perfect amount of goofy while remaining true to its roots in traditional influences.
The texture is an important part of this look. There is a bunch of it. Consider leather, velvet, marble, jute, and a variety of other materials. The high-low contrast created by this mix of textures and materials is crucial to this aesthetic.
You'll also notice a lot of patterns atop patterns, which can be found in this area, particularly in the eclectic mix of throw cushions and the densely patterned carpeting. The furniture designs and materials in this room have a retro feel to them, but the trick to pulling off this style is to present it in a modern way—whether that's through the colors you pick, the pattern combination, or the wall art and decorative accessories.
Read also – Accessories in Interior Design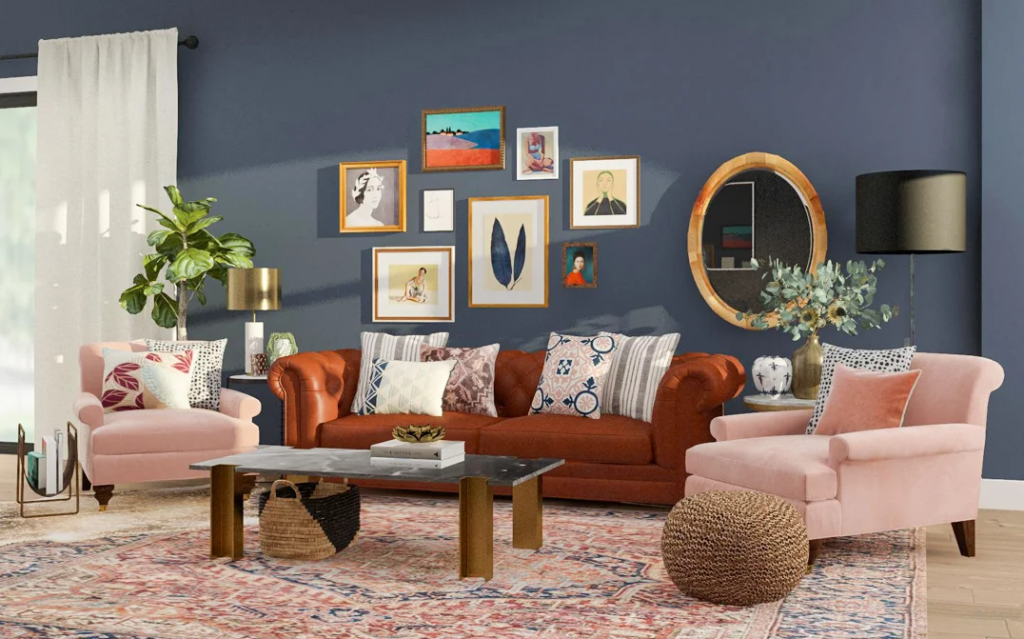 Image Credit: modsy.com
The tropical boho style is vivid and distinct, and it leans toward the maximalist end of the eclectic spectrum. With its noisy combination of furniture types, materials, colors, and patterns, this look has a lot going on, as you can see.
Bold color is a major component of the tropical boho style. Rich earthy colors, in particular, bring this design to life. And we're not talking about a single jewel-toned accent chair. It's the walls, furniture, cushions, and carpets that we're talking about. This outfit isn't afraid of a splash of color! Also important to this aesthetic are quirky elements that give the area individuality, such as the hanging chair and tiger rug. It's details like this that set this outfit apart!
Load up on the plants to take this appearance to the next level. A bohemian atmosphere is created by a hefty dosage of plants in all forms, sizes, and types. Plants, as well as some of the natural materials in the area, help to balance out some of the style's more glitzy elements.
Read also – How To Find Your Personal Interior Design Style?
Image Credit: modsy.com
Mod collector is a style that combines mid-century contemporary with eclectic elements. This design appears to be more fun and edgier than standard mid-century interiors due to the eclectic edge. It's the ideal aesthetic for folks who adore MCM vibes but prefer a more personal, distinctive, and friendly environment.
Adhere to the clean, classic lines of Mid-Century Modern design with this style. Don't end there, though. Surprising design features that create splashes of retro drama are key in this style, such as an eye-catching green sofa, a bookcase with slanted shelf dividers, or two side-by-side tables instead of a single coffee table.
We also included complementing (but not identical) chairs in the design. Both side chairs have black fabric and wood bases, but the radically distinct designs add to the eclectic mood, which gives this area a lively edge.   
It's all about combining when it comes to the eclectic style. The mod collector style, in particular, values the combining of materials. Combining numerous materials in one room, from velvet and marble to metal, wood, leather, and linen will keep the mod mood alive while adding an eclectic flare.
Read also – 18 Ways To Incorporate Biophilic Interior Design into Your Home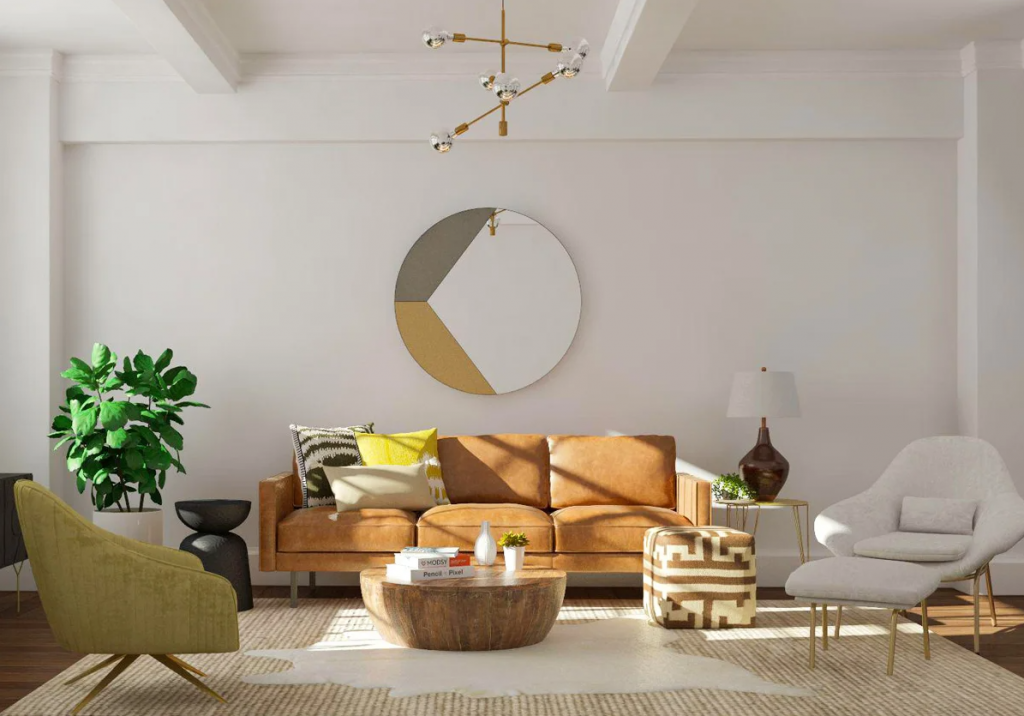 Image Credit: modsy.com
6. California Casual Style
With California casual style, classic meets contemporary with a distinctively eclectic edge. Comfortable furnishings, natural textures and materials, and bright, neutral colours are featured in this stylish style, which evokes the easygoing moods of coastal California.
Most of those decorative features, such as the mirror, sconces, and the bust on the mantel near the dining table, have a classic feel to them. However, the use of geometric patterns of different designs throughout the area gives this aesthetic a more informal eclectic look and feel. The use of a neutral color palette and furnishings with an emphasis on comfort keep this area from seeming too formal.
This area comes to life with a diverse combination of natural textures and materials that give it an eclectic feel in modern interior space. Natural textures ground and lend individuality to the aesthetic, from the woven baskets to the woven pendant lamp and natural wood coffee table.
Read also – A Guide To Art Deco Interior Design Style for Your Home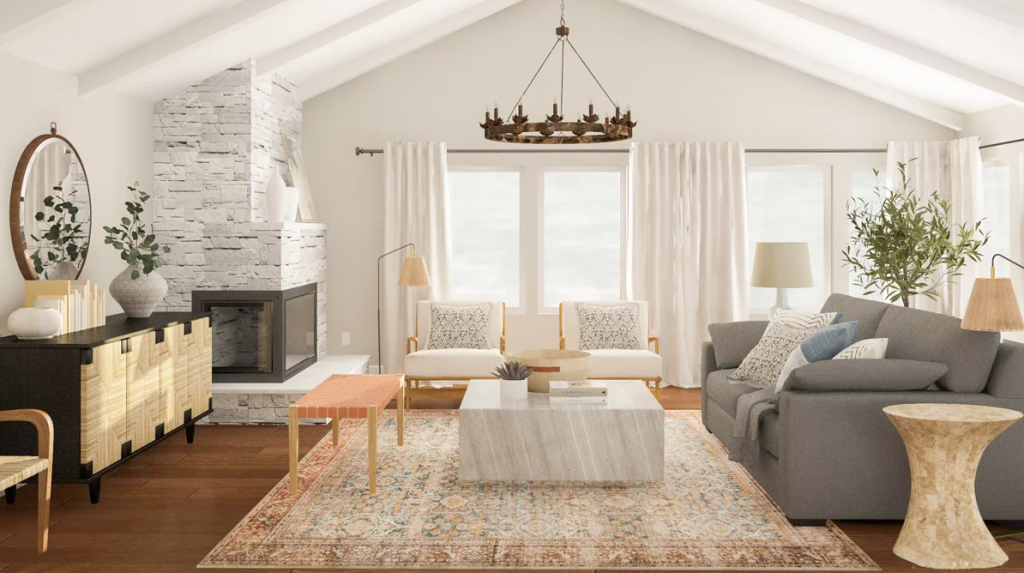 Image Credit: modsy.com
7. Minimal Eclectic Style
The minimalist maximalist style, sometimes known as "minimalist maximalist," combines minimalist design principles (think: "less is more") with a maximalist's appreciation of patterns, rich materials, and vibrant colors (think: "more is more"). What's the end result? A look that is both bold and modest at the same time.
Bold designs are used in this style for eclectic space. It also utilizes fewer pieces as a result of this. While there aren't many furniture items or decorative objects in this aesthetic, each one is bold, one-of-a-kind, and purposeful like some hardware or upholstery. This aesthetic is more about strong forms and a luxury combination of materials than it is about a precise color palette that makes a statement piece.
You may mix pieces of furniture types to play up the eclectic aspect of this look because it focuses more on shape and material than a single design style interior. Mod, industrial, glam, classical, and mid-century objects are shown in this location. What's the end result? It's quite stylish.
Read also – 18 Top Home Design Trends To Decor Your Home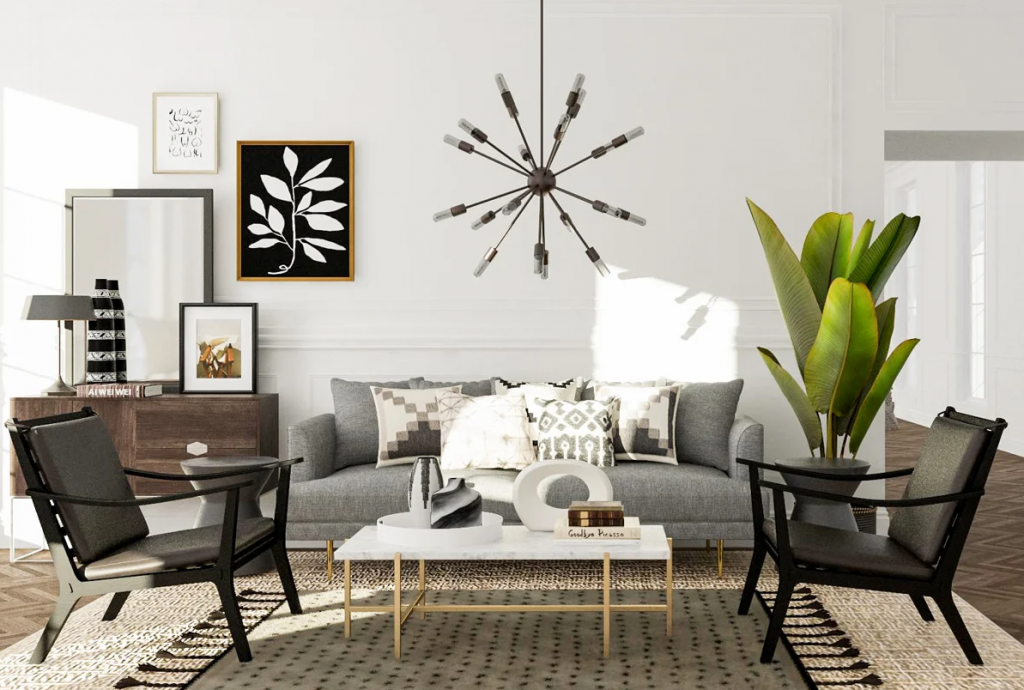 Image Credit: modsy.com
Eclectic style is defined by the combination of several interior design styles and components. And this includes combining various furniture types in an eclectic living room! As a result, you may pair a traditional nightstand with modern light.
Two layers of crazy carpets with a glam headboard. And for good measure, throw in an Art Deco mirror! Grounding the style with a coherent mismatched color palette is important to mixing so many unexpected pieces.
Despite their vastly distinct design ideas, both furniture items in the above design are white. Despite the fact that the designs are completely different, the orange of the throw pillows complements the colors on the rug. Furthermore, the dark wall color contributes to the high-contrast neutral vibe we mentioned earlier, grounding the entire space.
Read also – 20 Best Furniture Brands To Upgrade Your Home Interiors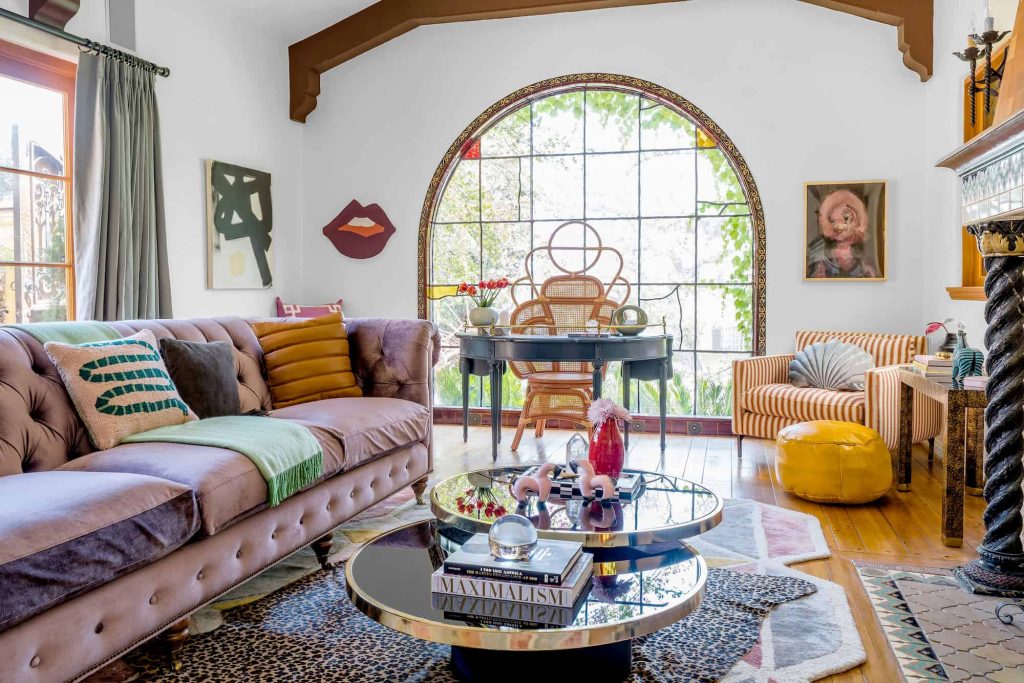 Image Credit: sparetoolz.com
9. Antiques and Vintage-Style
Vintage or antique furniture, such as the mirrors, side table, and vintage-inspired floor lamp featured below, can make your living room, and dining room feels more distinctive and will really play up the eclectic element of the design. Acquire things with worn textures and finishes to give your area a sense of histories like Scandinavian or transitional 20th-century victorian antiques.
You may also fake it if you don't live in a region where wonderful vintage armchairs or chandeliers and antique items are plentiful. Worn-wood finish bookshelf, antique-treated carpets, and patinated metals or leather objects are all excellent methods to get a retro look decorating style.
Read also – 9 Best Victorian Interior Design Ideas To Beautify Your Home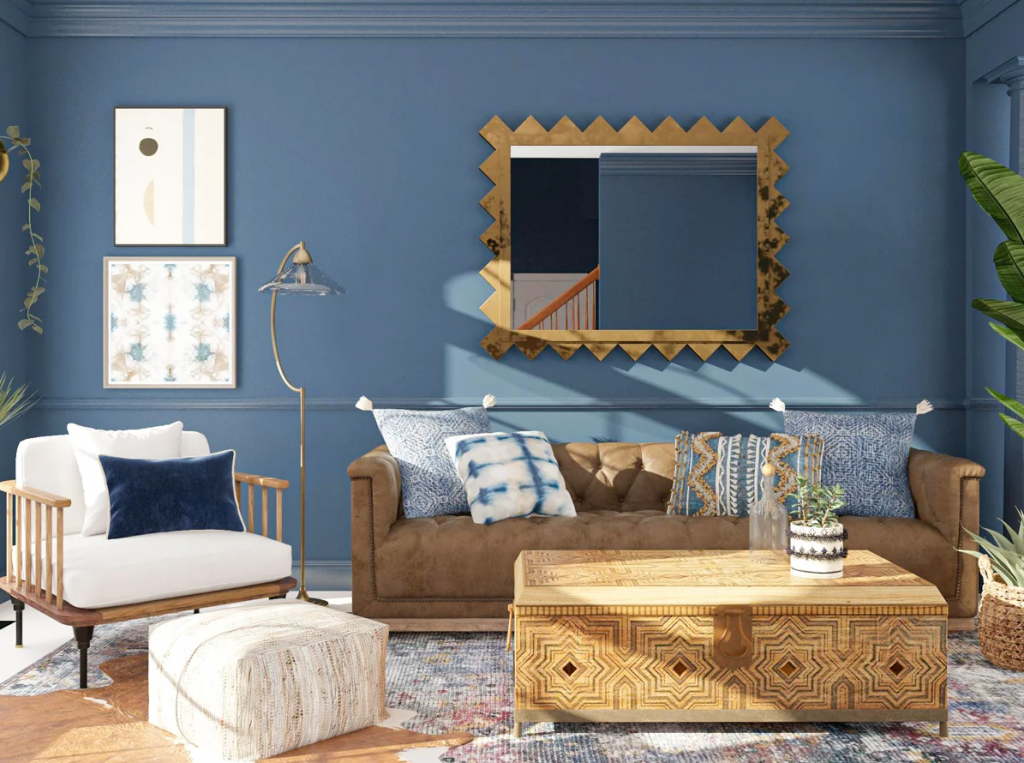 Image Credit: modsy.com
10. Eclectic Approach to Styling
Don't want to go all out with your eclecticism? Instead, consider incorporating diverse design elements into your area. One of our favorite ways to achieve this is to create a gallery wall with unique art and accessories.
Alternatively, instead of hanging art, put it up on consoles and credenzas. Both of these are less formal design features that give any place an eclectic feel. It's a great way to inject some eclectic home decor personality into even the most professional of settings where anything goes.
Read also – Mediterranean Interior Design Style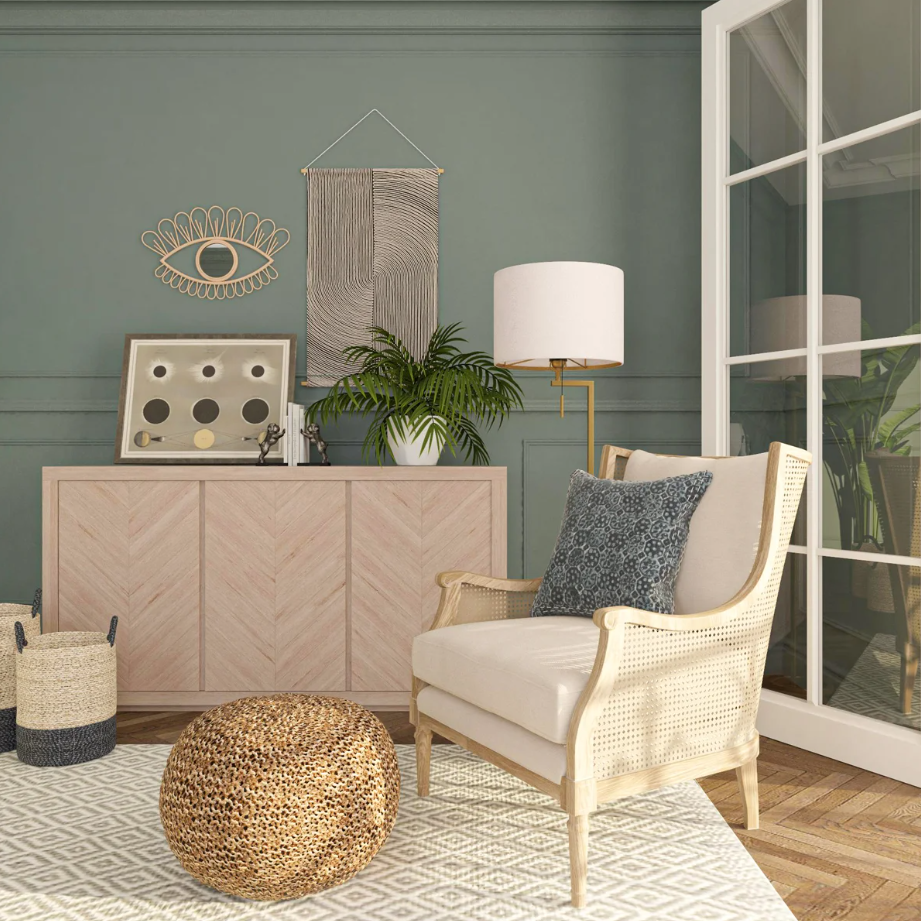 Image Credit: modsy.com
Incorporate Eclectic Interior Design Style into Your Home with Foyr Neo
To help in creating your ideal Eclectic Interior Design, Foyr Neo Eclectic is now accessible. It will assist you in bringing your ideas to life.
Foyr Neo is interior design software that lets you get quick results by allowing you to plan, draw, and render in only a few minutes. Furthermore, you do not need to install any software because you can accomplish anything from your browser. Instead of wasting time on the application, you may spend more time with the customer.
Consider transitioning to Neo from traditional interior design software for a more simple, efficient, and automated experience. You may boost your client presentation with this program since it allows you to render designs in photorealistic and 4K resolution. It's not rocket science to utilize this platform because it has a basic and user-friendly interface.
Furthermore, its user-friendly home decor features are simple to understand and utilize. You can develop, different styles, designs, and even produce beautiful 3D worlds with only just one piece of software. It also has a catalog with over 50,000 render-ready, pre-modelled products. It provides actionable insights and makes use of real-time data to boost sales. Neo enables you to turn your ideas into a cutting-edge 360 tour for greater customer engagement.
In conclusion, it's all about displaying your personality in a place with eclectic interior design. Allow yourself to be free of the rigid and weary rules connected with standard interior design while designing your eclectic style home. Allow your imagination to go wild and experiment to your heart's content.