Home » Interior Design Styles » 10 Most Popular Types of Interior Design Styles in 2022
Interior Design Styles
If you have been researching how to design your home's interior, you probably have come across different interior design styles such as "contemporary," "modern", "industrial", "art deco", and several others. Have you ever wondered what these terminologies actually mean? For starters, these terms refer to different interior design styles, with each design having its unique characteristics, flavor, finish, and experience, and interior styles. This article seeks to decode the meaning of some of these interior design styles and to explain why they are as popular as they are.
While the interior design profession has existed for just over 100 years, the process of interior design has existed for as long as humans have been constructing homes and decorating them based on their needs and materials available to them. Centuries ago, when we were hunters and gatherers, do you think that a hunter's house would be the same as a gatherer's house? If we were to hazard a guess, the hunter-gatherer days of human civilization would have a utilitarian design style.
So, despite being a temporary shelter, a hunter's house would have more space for the tools needed to hunt and more masculine interiors while a gatherer's house would have more storage space and be gender-agnostic. Over the years, as civilization evolved, preferences and materials evolved too, giving rise to different interior design styles. Today, we are going to talk about some top interior design styles that have managed to stand the test of time and are used by people even today.
But before we do that, how good is your siding installation? Like any home improvement project, the success of your interior design process is dependent on the condition of other parts of the home. Your home's unique attributes will come out better when the siding is in good condition, the interior décor on point, and when all areas around the home are functional and comfortable. Let's now help you pick the perfect interior design style for your space.
Read also – Everything About Interior Design
10 Most Popular Types of Interior Design Styles:
Modern Interior Design
Contemporary Interior Design
Art Moderne Interior Design
Mid-Century Interior Design
Minimalist Interior Design
Scandinavian Interior Design
Shabby Chic Interior Design Style
Eclectic Interior Design
Industrial Interior Design
Farmhouse Interior Design
1. Modern Interior Design Style
From the onset, it is important to note that "modern" and "contemporary" are two different interior styles. A modern interior design style is defined by clean and simple color schemes, welcoming feel, clean individual elements, as well as heavy use of glass and steel and much-needed siding replacements that date back in historical times. Black and white dominate the color palette, with some faded shades blue, red, among other prime colors.
We spoke about contemporary interior design style which blends the design styles from various eras, the Modern Design style is from a specific period – the dawn of the 20th century. This style is rooted in German and Scandinavian design styles and architecture. It is all about logic and practicality and the paintings and sculptures are chosen accordingly. The focus of the designer is on functionality and NOT on the form.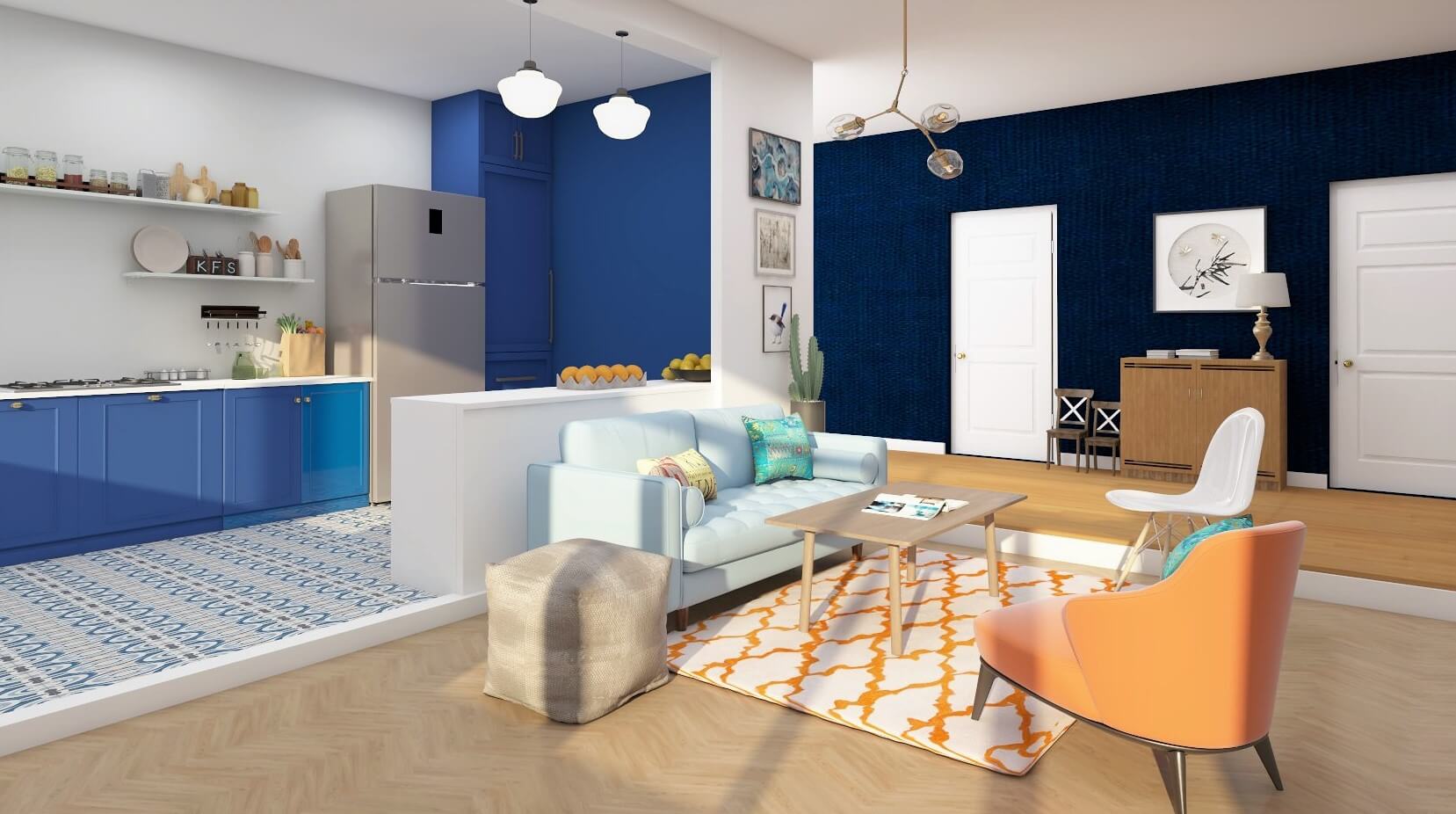 The living spaces are designed in a minimalist manner with open floor plans. It focuses on block colors and primary hues with modern art in contrasting colors. The furniture used is functional and simple with clean lines. Natural lights play an essential role in a modern home while accent lighting is used to highlight specific elements, architectural features, sculptures, etc.
The core idea of the modern style is to create simple and clutter-free homes with no unnecessary adornments. Since form follows function, everything used in a modern home fulfills a practical purpose.
This style trended in the early 20th century and happened to make a comeback a century later. Most décor materials in this style border on simplicity, especially the furnishings. Nothing is overly loud or daring. 
Read also – Master Bedroom Ideas 2022
2. Contemporary Interior Design Style
Contemporary interior design is a type of interior design style which refers to trends that are ruling now- at this very moment. An interior design style that was "contemporary" in the 2010s is not necessarily contemporary now, but a design that was "modern" back then still remains to be "modern"- always was, always will! In other words, modern design doesn't change with time, whereas contemporary is more fluid.
The contemporary interior design style is something that can be adjusted to every room in the house. Be that, bedroom, living room or even kitchen. A contemporary kitchen is a mix of new and old that makes it perfect for all members of the family to sit around and chat. Importantly, choosing contemporary kitchens come in very handy as there are many available and ready to assemble kitchen cabinets that are both contemporary and beautiful.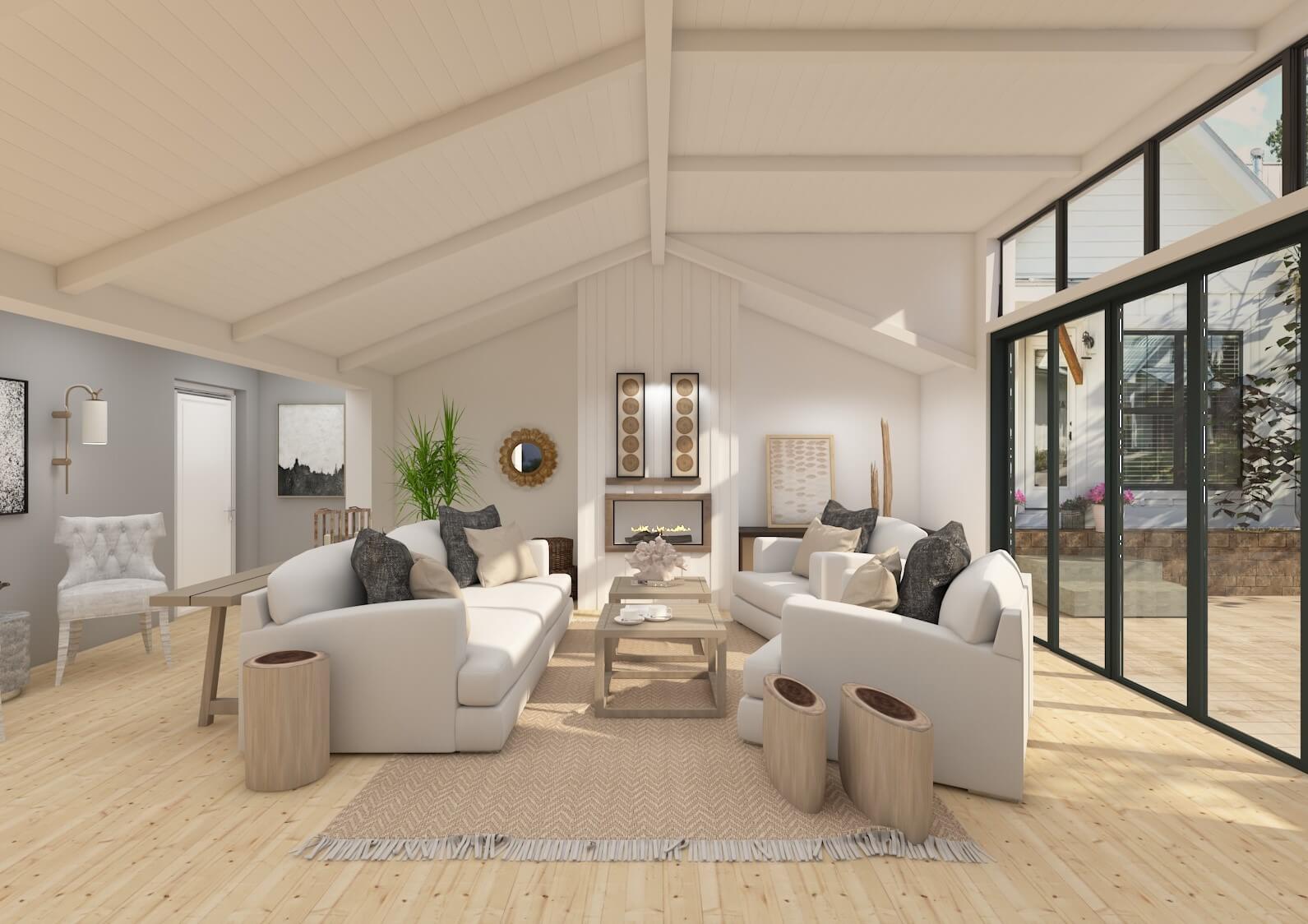 The Contemporary Interior Design style is more like the modern way of living – inspired by all the design styles in the past including minimalism, modernism, Art Deco, and even the historical design eras mentioned above. However, this does not imply that the contemporary style is ruffled and vague. Instead, it has clean lines and smooth surfaces offering an orderly appearance of the space.
Contemporary homes usually have open floor plans and use a lot of natural light. The materials used are eco-friendly or recycled with a lot of focus on energy conservation. The colors used are usually neutral with a dash of vibrancy using a brightly-colored sofa or painting, etc. Most of the furniture used in a contemporary styled home is from the present. Lighting fixtures are chosen from various eras to accentuate the living space.
The crux of the contemporary design style is that it blends various styles without too much emphasis on any and creates a home that speaks volumes about the people who live in it – a home with a unique and fresh personality.
Read also – Best Living Room Interior Design Ideas
3. Art Moderne Interior Design Style
Art Moderne originated from the United States in the early 1930s and trended until the late 1940s. Those days, this interior design style was all about bigger, bolder, and brassier. Furniture was designed with a swelling curve and other décor items were either pared or stripped down. Designers also refer to this interior design style as the American Modern or Modernist.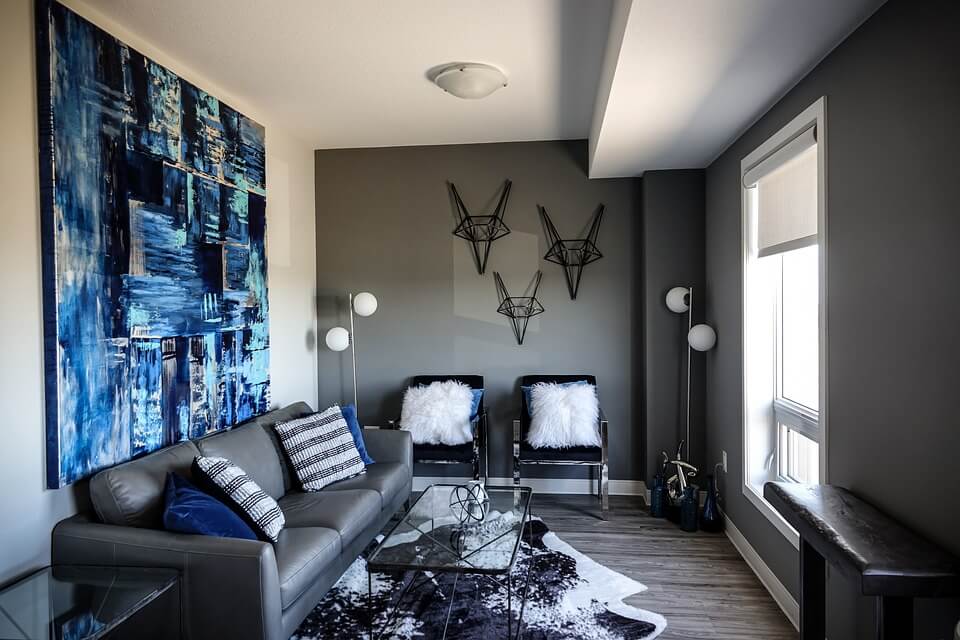 4. Mid-Century Interior Design Style
The mid-century interior design style was popular in the wake of the Second World War. Just like was the trend with almost every aspect of life those days, this interior design style emphasized on vivid use of color; from the walls to the wall arts, to the artifacts. Everything was colorful in this era. Furniture was defined by crisp lines, and indoor plants were in plenty.
This is an interior design style from the 40s to the 60s. As was symbolic of the times, after the end of World War II, minimalism and utility were the core themes of homes. A home designed with the Mid-Century Modern Style has a retro feel with a fresh twist. Timelessness and comfort are at the epicenter, making it one of the most preferred interior design styles. Typically, this design creates homes that are expressions of the homeowner.
The center of focus of a living room is a painting or an artifact that resonates with the people living there. Clean lines, spare surfaces, and simplicity are some other striking features of the mid-century modern design style. Sculptures, graphical shapes, and highly saturated colors that are symbolic of the 50s and 60s find their way in this interior design style too.
The core idea of the mid-century modern interior design is to create homes like the ones featured in the television series Mad Men – a seamless flow between the outside and inside of the home, design elements from three decades of the 20th century (the 40s to the 60s), and a fresh take on the mid-century design style.
It was during this time that people realized that on top of making a home functional, there was a need for enough spaces for social activities within the home. That is why the style leaves tons of shared, common areas all-around a house. Go for this interior design style if your focus is on strengthening interpersonal bonds- if you are a highly social person.
Read also – Rustic Interior Design
5. Minimalist Interior Design Style
This minimalist interior design style originated in Australia and is still very popular there. The style emphasizes minimalism in all aspects of interior design, from simple furnishing to neutral color palettes, to functional but not flamboyant accessories. Everything is streamlined, simple, and necessary. No excesses.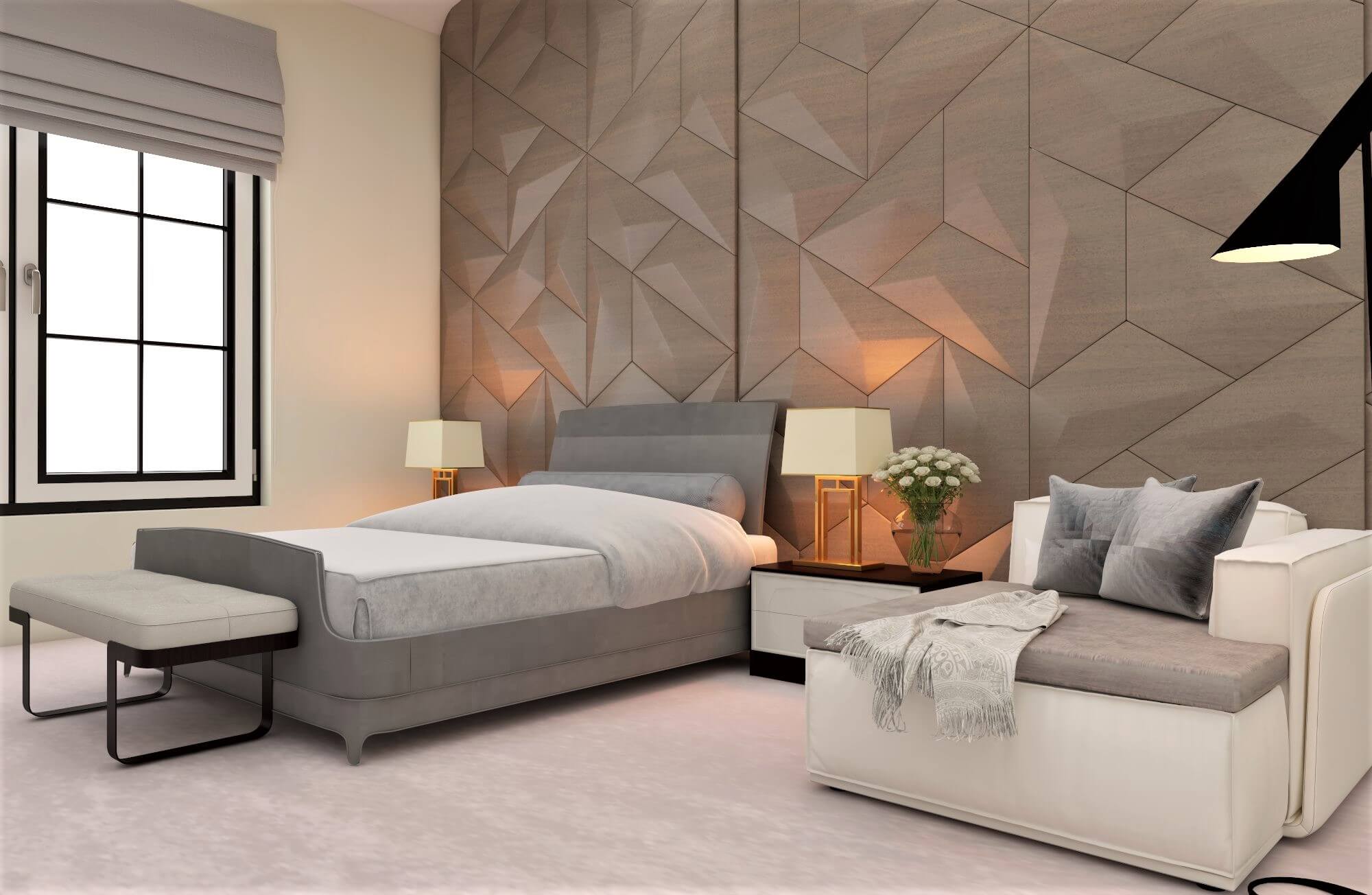 The Scandinavian interior design style also embodies simplistic yet highly functional spaces. It is also warm and leaves space for personal invitations. What makes it different from minimalist designs is that the style emphasizes affordability and not just necessity. Most décor items are bare ornaments, rounded furniture, organic and clean detailing, as well as dominantly black and white color palettes. It is also characterized by bare layouts and arrangements. You could call it a blend of minimalism and mid-century styles.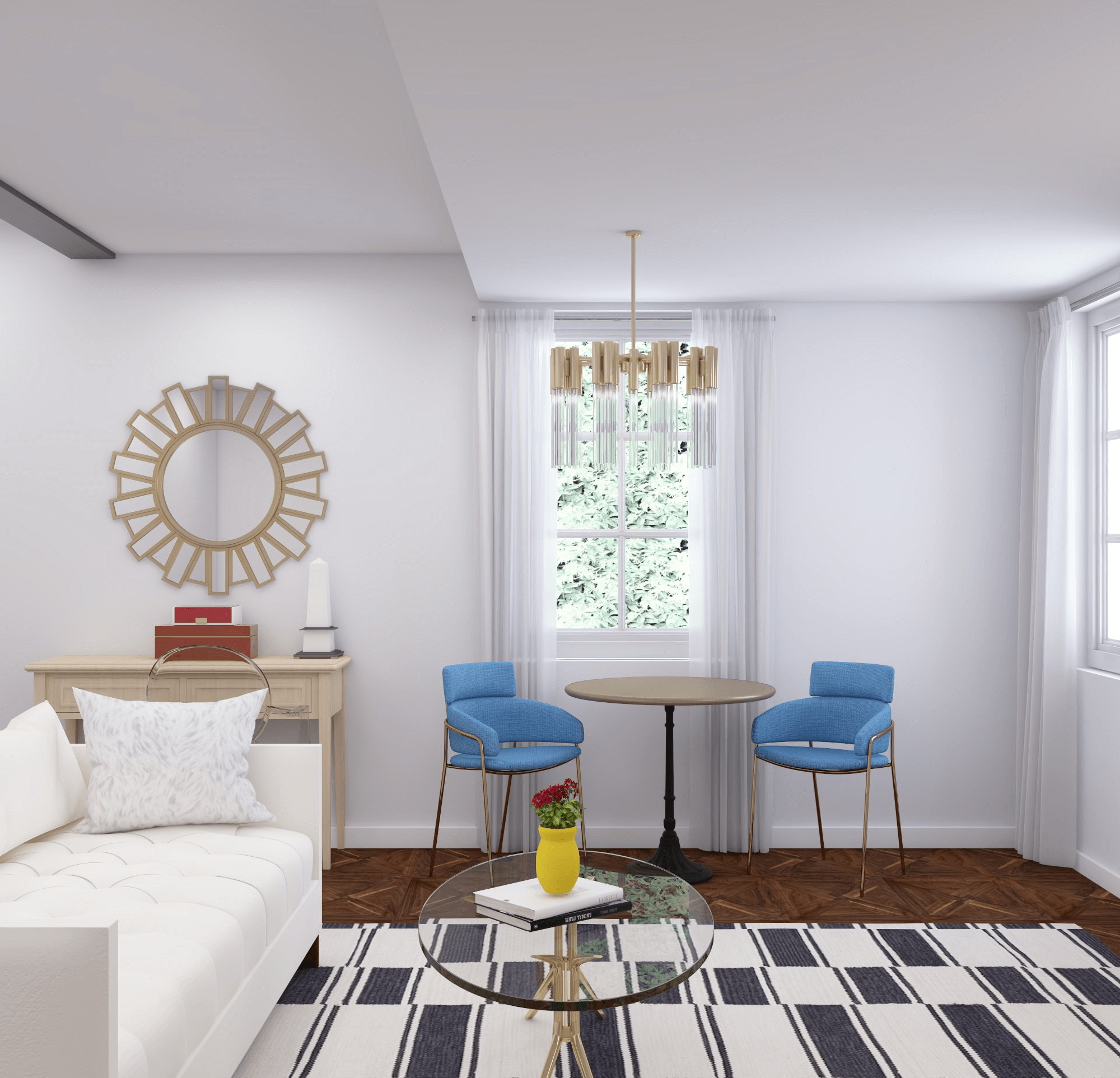 7. Shabby Chic Style
The Shabby Chic Style is characterized by laid-back vibes, airy lighting fixtures, antique-touch furniture, and a vintage-inspired charm. It is inspired by modern designs, but it has some elements of contemporary design.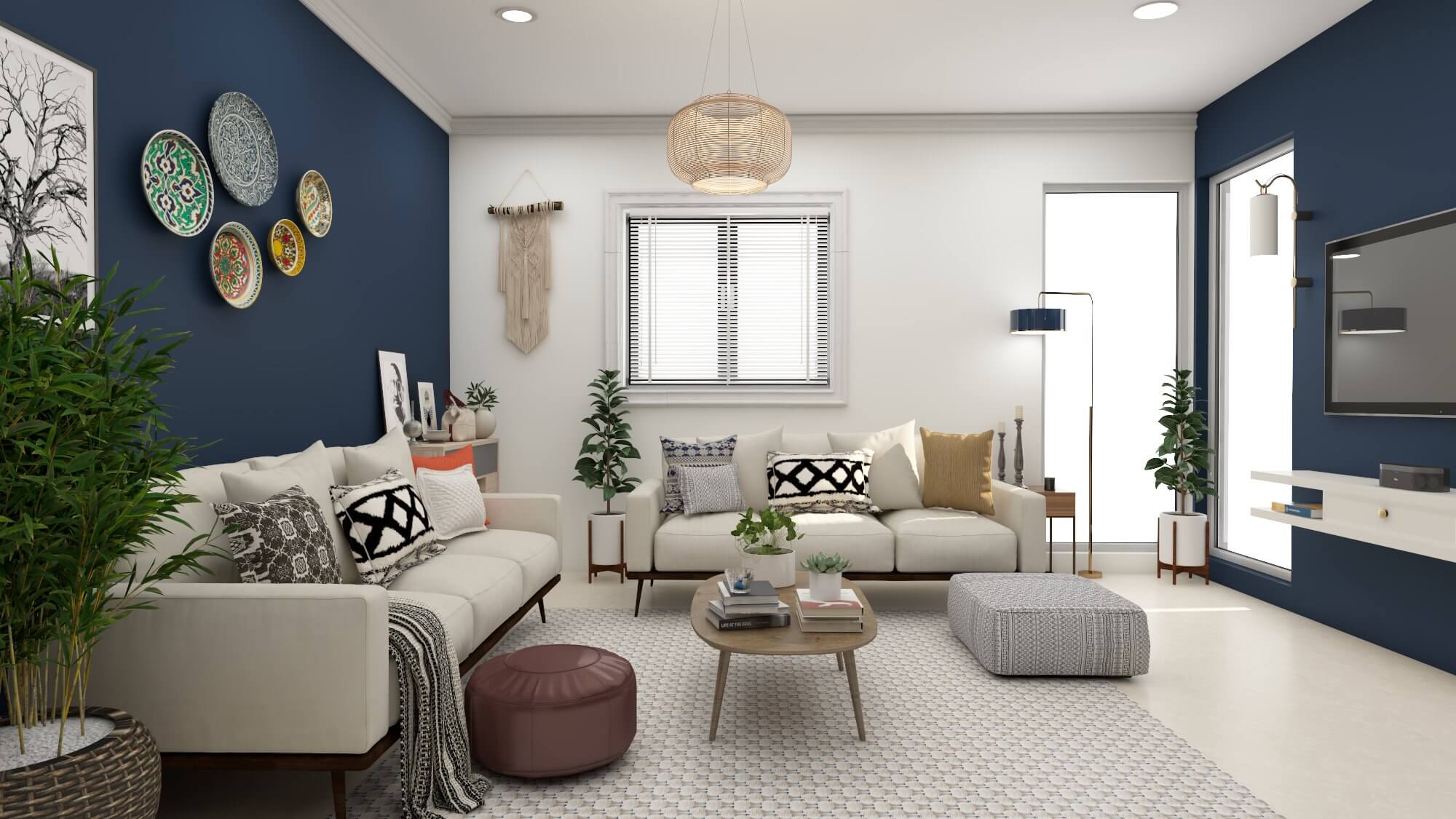 8. Eclectic Interior Design Style
Eclecticism is all about picking ideas and inspiration from a broad and diverse range of sources. The Eclectic Interior Design style creates homes that are rich and layered with ideas picked from design eras and styles spanning centuries. This style brings contrasting style elements, colors, and textures together for a unique feel. This is chosen by people who prefer a bold décor and like expressing themselves creatively. There are hundreds of options to choose from and the output will depend on how the styles are merged.
For example, if you want to create a bohemian style feel to your living room, then you need to know the minute details of the design style and have access to the boho elements and furnishings that can help create that feel. The background colors used are usually neutral to allow the designer to highlight the accessories and furniture. Rooms designed with eclectic style have multiple focal points and work on balancing colors and textures to not overwhelm the eye.
The core idea of the eclectic style is to use all the styles from history and create something fresh, unique, and mesmerizing. It is all about creativity and the ability to use the mind freely and innovatively.
Read also – Japanese Interior Design
Features of eclectic interior design style:
Many people associate the eclectic home décor with the 'anything goes' approach. However, it is a more purposeful and planned way of interior design.
It is a blend of different styles and periods creating layered home décor.
An eclectic interior designer uses neutral background colors and uses materials and items in an unexpected manner.
Walls are usually kept simple. They allow the designer to add accessories that make an impact. A busy wall will fail in bringing out the vibrancy of the accessories.
Both light and dark colors are used as required in eclectic design. If you want to add warmth and depth to a room, then you can use darker colors. On the other hand, if you want to make a
Space appears larger or highlight a boho décor, then light colors are your best bet.
You can play with a lot of textures and patterns to make your eclectic décor harmonize with your mood. Using textures that contrast can create a memorable eclectic feel to your home.
Remember, play enough to keep the eye interested but avoid overdoing it.
For an eclectic look, create distinct focal points by mixing and matching frames on a gallery wall. Use smooth textures right next to rough ones like marble next to wood, etc. Also, use soft
surfaces next to the hard ones like an industrial coffee table next to a luxurious sofa.
The eclectic design ensures that everything has a place in each room. Accessories and adornments should have character without burdening the eclectic space.
Colors best suited with eclectic interior design style:
Eclectic homes with a simple color palette are usually accompanied by textures to add interest to the room design. Cohesiveness is the essence of eclectic decorating. Hence, many designers try to use one texture at least thrice throughout the home. To ensure harmony between a variety of styles, designers use contrasting colors and textures to create an eclectic mix.
Regardless of the color scheme, the core palette requires you to choose some core colors to complement the eclectic design. These colors work as a good place to start and create a cohesive and eclectic home décor. Ideally, choose a neutral hue and one accent color to get started. Use a neutral hue throughout the house. This will allow layering of other colors and not making the space seem overbearing. A single hue also helps in unifying the entire design.
Read also – Commercial Interior Design
Furniture styles to be paired with eclectic decorating style:
Keeping in sync with the theme of the design, furniture styles are a mix of the old, classic, modern, and new. You need to mix and match different furniture design styles to create a unique outcome. Statement pieces are essential in a modern eclectic home. A statement piece can be a piece of furniture or wall art or anything else that makes your eclectic design thrive. You don't need to bother about coordinating the statement piece. It is meant to stand out and be the focal point of the room.
Additionally, you can add baskets, card tables, drink trays, or bookshelves to the room to make it cozy and comfortable. Also, try combining the old with the new. For example, place a Lucite coffee table and pair it with a Louis XIV sofa. This contrast in design elements is what will make your home truly eclectic.
9. Industrial Interior Design Style
Industrial Design is a union of style and utility. As the name suggests, an industrial-style home exposes building materials that are otherwise concealed like bare brick walls, pipes, and recycled materials. The designer tries to create a stylish space with a clear focus on function and utility all while trying to combine modern elements with an organic feel and ancient charm. In industrial-style homes, you can find elements picked from factories, industries, and warehouses.
These homes usually have open floor plans and the furniture is arranged to break the space. It is one of the easiest interior design styles to implement since it banks on a neutral color palette and materials along with some industrial elements. The designer does not have to bank on any cosmetic tricks to make the house look good since the raw industrial elements make a strong statement. 
The core idea of industrial interior design is to use elements from factories and industries with other design styles to create a décor that is tailored to the homeowner.
Read also – Futuristic Interior Design
10. Farmhouse Interior Design Style
A farmhouse is rustic and allows us to unite with nature since it uses a lot of organic and natural materials and furniture designed accordingly. The Farmhouse Interior Design style uses these elements and creates a farmhouse-like vibe in a city home surrounded by concrete. One of the most highlighting aspects of farmhouse interior design is the fact that each room is driven by a particular element. So, you can have a particular element ruling the living room and a different element ruling the bedroom, etc.
This design style has a minimalistic interior and allows the homeowner to rewind and relax while keeping functionality and elegance in mind. Another essential element of a farmhouse design is the lack of matching furniture or décor as it strictly goes against the rustic style of a farmhouse. Wood being the primary material used in this design style, the modern farmhouse is pretense-free, utilitarian, eclectic, and sophisticated – all at the same time.
The core idea of the farmhouse-style interiors is to use the chic elements from the countryside, modern industrial elements, heirlooms, and artistic elements to piece together a unique, luxurious and relaxing home.
Read also – Steampunk Interior Design Features
How to Choose the Right Interior Design Style?
To find the interior design style that fits you make sure to do some extensive research on each of the styles and choose the one that best fits you, inspires you, and accommodates each and every need.
Conclusion
Design styles are abundant and unique, so it is up to you to find the style that will work best for you. There is also the option of combining elements of several styles in order to get that personal touch. Before commencing with your interior design plans, be sure to research deeper about each of the styles and how different they are from one another. Try Foy Neo for 14-day free trial to design your home with all these interior design styles