Home » Design Ideas & Inspirations » 11 Modern Rustic Interior Design Ideas For Your Home
Rustic Interior Design
Interior design is a reflection of the homemaker.
No matter if you live in a bustling city such as New York, or accommodate farm living in Missouri, or simply dial it down in a small town in Wisconsin, interior design is welcome imagery of yourself.
Consider this – You enter a home and immediately fall in love with the furniture because it screams you. The color palette personally speaks to your psychological cues, whether you prefer cool shades for serenity or warm and hot shades to reflect your passion. The design styles made from natural materials make you feel connected to nature and an array of DIY items and home decor makes you feel closer to your spirit animal or simply your inner thoughts. Now, wouldn't this be a lovely home for you?
As we have said, the home must reflect your personality.
However, in recent times, there have been some misgivings about the concepts of interior design. It appears to have become synonymous with modern design ideas and home decor. We assure you, nothing can be further from the truth.
Interior design encompasses a wide array of design styles and a good interior designer can blend French country-western with modern rustic designs or create a farmhouse style with minimalist design ideas. Nothing is far-fetched and everything reflects upon the personal style of the homeowner.
Rustic interior design, in particular, holds a special natural beauty that cannot be mimicked with modern and contemporary interior design ideas. The repurposed natural wood, DIY decor ideas, neutral colors, not to mention the stone fireplaces can all bind together exquisite styling and home design. They bring about a rustic feel to the house which makes the entire rustic space seem cozy and comfortable. It is a never-ending vacation for the senses.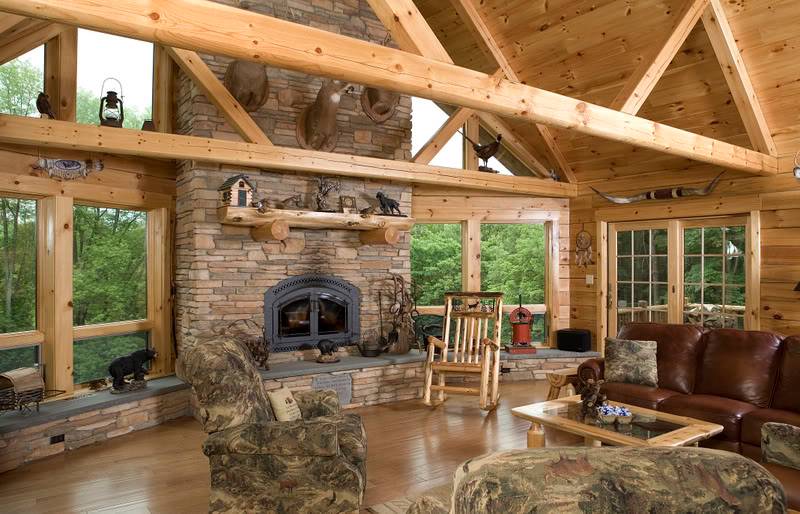 Image credits: factorydismantling.com
Today, let us take a closer look at rustic interior design and how it can enhance your living space with appropriate sectionals and natural beauty.
So, what is a rustic interior design style, really?
When we say rustic, most people instantly think of a log cabin with boar heads and spears to go hunting or fishing or simply sit by the fireplace during a weekend in the woods.
This misconception about a rustic theme arises from the predominant use of natural elements. You rightfully assume that to instigate a rustic look in your living room design or to create an overall rustic space, the home design must be accentuated with natural wood, repurposed wood, neutral colors, wood floors, etc. However, did you know that rustic design also includes French windows, exquisite chandeliers, Japanese entryways, stone fireplaces, pendant lights, DIY home décor that does not necessarily need to be made of wood, and so much more?
No, we are not condescending. We are trying to debunk a myth that has surrounded rustic home design for generations.
You see, people misconstrue the design ideas and opt for contemporary interior design instead, even though their hearts long for something cozier and personal. Once we demystify the common myths about rustic interior design, you will see how easy it is to incorporate this form of styling in your beautiful home and transform the space in no time.
Regardless of whether you live in the city or a small town, a rustic interior design suits all.
Now, let's get to it, shall we?
Read also – Japanese Interior Design
What are rustic elements?
Simply put, rustic designs celebrate the bond between nature and man. Therefore, using wood furniture made of reclaimed wood, sprinkling decorating ideas that scream natural materials, and using wooden beams are certainly efficient ways to add a rustic feel to your living space.
Adding wooden backsplashes to your rustic kitchen and a splash of color can also go a long way into creating that rustic look. You see, flowers and fruits are all just natural elements. Therefore, if you use neutral colors with a dash of bright sprinkles, then your home easily goes from farmhouse style to modern rustic. Scroll down to see more detailed ideas of how to add a bright color palette to your rustic design ideas.
Glass can also add a rustic look. Even though the design style reflects contemporary, large glass French country doors and windows, even walls, allow the natural light to enter the household. Not to mention, it provides a great view of your patio, garden, streets lined with trees, etc. This element provides a rustic feel to your home by extension if not in itself.
It's true that rustic elements are pretty minimalist. That does not mean you cannot play with them. The resources may seem restricted but you are only limited by your imagination. A good interior designer can do a lot with these natural elements. Additionally, interior design is still about reflecting your personality. So go ahead and create some authentic DIY decor ideas such as wood furniture, or sconces, even flower pots, and hanging shelves.
As long as you can combine the colors and natural elements for a smooth flow, the house is still your blank canvas.
Read also – Commercial Interior Design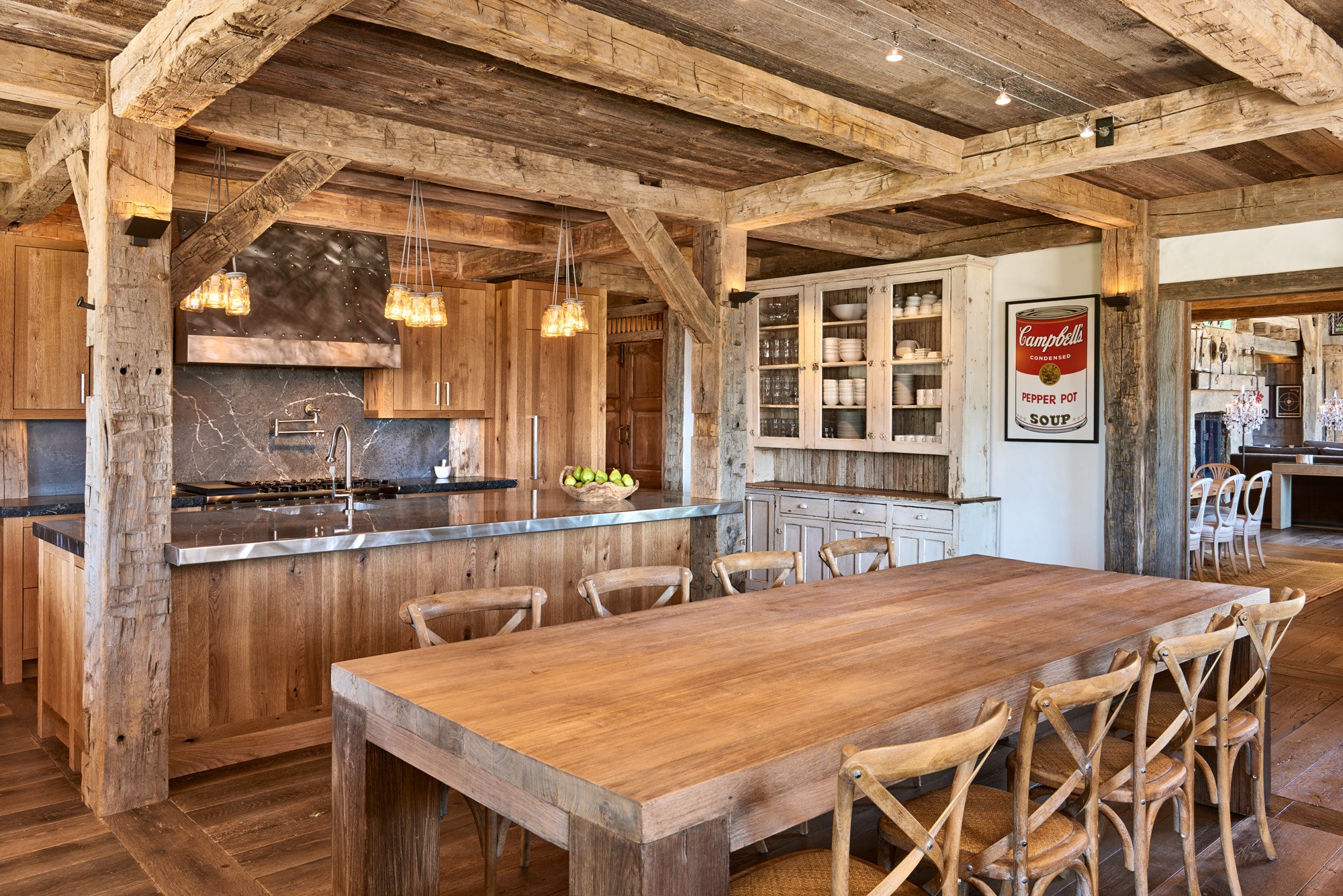 Image Credit: dallasandharris.com
11 Modern Rustic Interior Design Ideas:
Without further ado, allow us to share a few rustic home design ideas to incorporate this cozy styling technique with natural elements. You can combine them with contemporary pieces for a modern rustic look or opt for a farmhouse style with rustic furniture and decor ideas.
1. Embrace natural elements
One of the stereotypical contingents about rustic interior design that stands true is the use of natural elements.
Rustic, by definition, means rural. But who says that rural architecture and interior design cannot reflect a bit of modernism?
In order to incorporate natural elements such as natural light, natural wind flow, natural wood, etc. you can still use modern architectural elements and interior decorating items.
For instance, if you have a small studio apartment in a bustling city such as New York, Seattle, and others, consider using glass sliding windows and doors, maybe even install a skylight if you have the facility. These sliding doors are a veritable source of minimalist interior design used in Japanese cultures, which as we all know, is heavily influenced by rustic, natural elements.
Even if you have a big suburban house, you can still install French country glass doors or large French windows to let in the natural elements. Consider a brown, wooden frame to add the rustic look while still maintaining minimalist design styles.
Make sure to introduce some natural plants and wood furniture to further enhance the use of natural elements within the household. Natural wood provides a better rustic style as compared to tarnished ones. However, you can still use them.
For an authentic rustic decor, opt for open spaces such as large doors to allow a ton of light and wind, a patio that doubles as a sitting area, etc.
2. Incorporate neutral colors with a dash of spice
It is customary to use a neutral color palette when designing a rustic home. the theme is largely influenced by shades of brown, beige, off-white, eggshell, faded shades of yellow, and such.
Nevertheless, you can always add a touch of color.
You see, natural elements and a rustic theme can easily accommodate brightly colored flowers, throw pillows, table linens, what have you. The entire concept rests upon creating a natural outdoor environment within the confines of your rustic home.
Who says that rustic design must reflect gloominess? Natural elements and neutral colors inspire liveliness and vigor. So let your imagination run free.
In order to add colors, you can use flower pots with colorful flora or evergreen indoor plants. Instill table cloths, bedsheets, curtains, cushions, etc. with colorful floral themes. You can even go as far as to install area rugs with animal prints or faux fur carpeting. Don't use real ones though, because, what did the poor animals ever do? It's just cruel. The artificial ones, on the other hand, add color, texture, and if you are so inclined, they can make your rustic living space feel like a log cabin.
You can pull these design ideas together with a neutral color on the walls. Keep the backdrop simple and minimalist with shades of beige, white, or grey. Add to the color palette with brightly featured styling and home decor.
Read also – Colors in Interior Design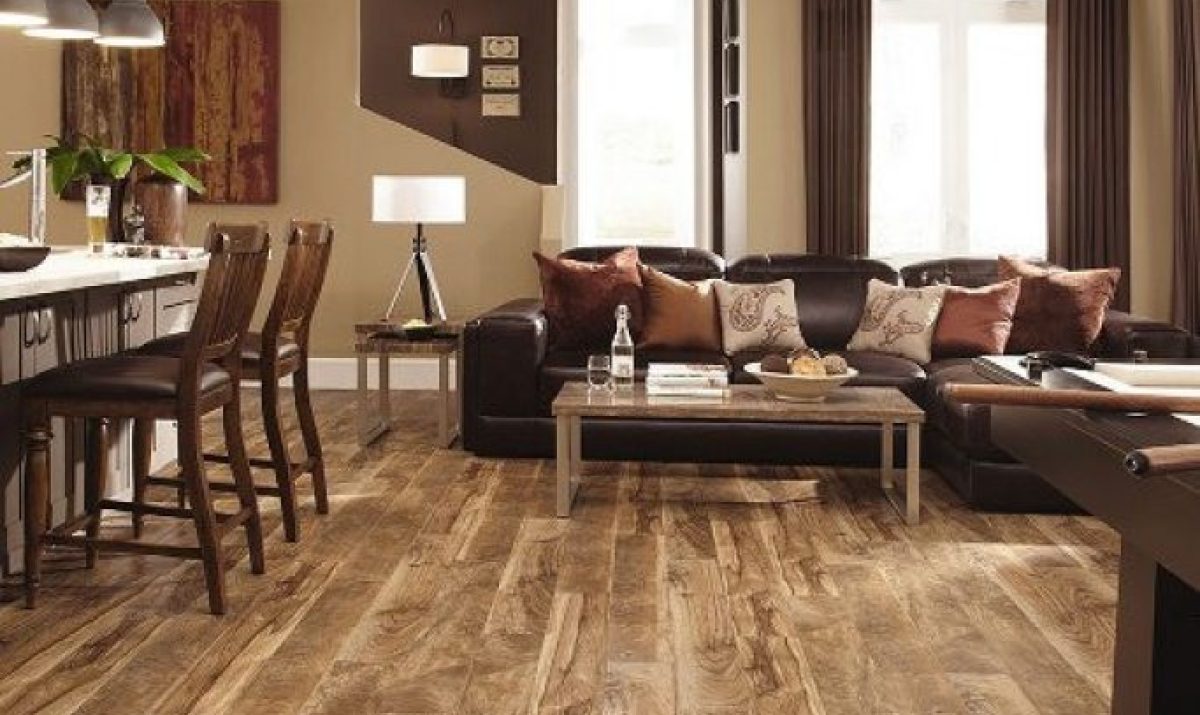 Image credits: shannonwaterman.com
3. Use natural materials and fabrics with texture
Ideally, in a rustic design plan, you can use a lot of texture.
Natural materials such as wood, jute, tatami, wool, etc. always tend to add texture to the otherwise dull fabrics and products. Use these incredible natural materials to your advantage in order to transform your simple contemporary house into a rustic home.
Minimalist interior designs used in Japanese or any Asian culture for that matter incorporates tons of natural materials. These resources not only make for an excellent natural aura but also add a rustic feel to your home design.
For instance, consider using unpolished wood for farmhouse-style coffee tables, dining chairs, lounge seats, bed posts, headboards, dining tables, and cabinets. Be careful when you select the type of natural wood though. You need to avoid splinters and indulge in safe wood furniture designs. Consider using woods such as sesame, teak, and kinds.
Similarly, utilize some textured fabrics in your sofa covers, seats of your dining chairs, armchairs, floor mats, rugs, cushions, carpets, etc. These textural materials and fabrics add vigor and authenticity, not to mention character to your rustic home design.
Read also – Modern Interior Design vs Contemporary Interior Design
4. Add a bit of warmth
No rustic interior design is complete without a fireplace.
Be it a French country home, a city apartment, or a large suburban house, every rustic home deserves a warm, cozy inglenook that ties together your design ideas.
When it comes to fireplaces for a rustic home, you can choose from a variety of options, regardless of which part of the country you reside in. Ideally, as an interior designer or decorator, homeowner, you may be leaning towards a stone fireplace, which is undoubtedly a great choice. They truly add personality to your rustic home.
Nonetheless, in these modern times, don't limit your imagination to antique designs. If it is your preference and your home decor already reflects your love for antiques, then it is probably the best choice for you. However, if you wish to explore other options, you can choose from a number of contemporary fireplace designs.
You can install a modern hearth, which is to say, an electric fireplace. Then convert the space to fit your rustic home by adding a wooden mantle, stone textures on the exterior, or even a brick lining to make it appear more like a furnace heating system.
If you wish to follow a traditional route albeit with slight modern touches, consider using a stone fireplace or a brick one and use paints and bright home decor to liven up the overall space. You can also add a chimney space to further accentuate the rustic theme.
With a fireplace and a rustic design, you cannot go wrong no matter what you choose.
Read also – Bohemian Interior Design
5. Play with repurposed and reclaimed wood
Repurposed and reclaimed wood is all the rage these days. In order to conserve the natural resources on our beautiful planet, people are constantly opting for recycled wooden products.
A rustic home design relies heavily on natural elements and the bond they share with mankind. Therefore, installing wood furniture, wood beams, wood floors, and everything wood that is created from repurposed raw materials only adds to your home design.
Imagine an entryway lined with wood floors, subtly reflecting your love for oriental interior design styles. Couple this with some shoe racks created from repurposed wooden pallets makes your rustic home feel more cozy and personal.
Don't worry, Sheldon Cooper is wrong when he thinks that the original owners of reclaimed wood will come back. These raw materials not only brighten up your house while protecting the environment but also add safety measures. You see, reclaimed wood inadvertently means that someone else has used it. Therefore, it is safe to say that any loose wooden chips, hanging nails, etc. are already removed. When you further process the wood to create your pieces of furniture, all manners of hazards are discarded, providing you with polished and risk-free usage.
If you have children in the house, this is definitely a welcome factor. Nevertheless, choose the type of wood wisely. If someone in the household is allergic to certain types of wood then ask your furniture designer to closely examine the source and analyze the blends of raw materials used in your wood furniture and fixtures.
Read also – Futuristic Interior Design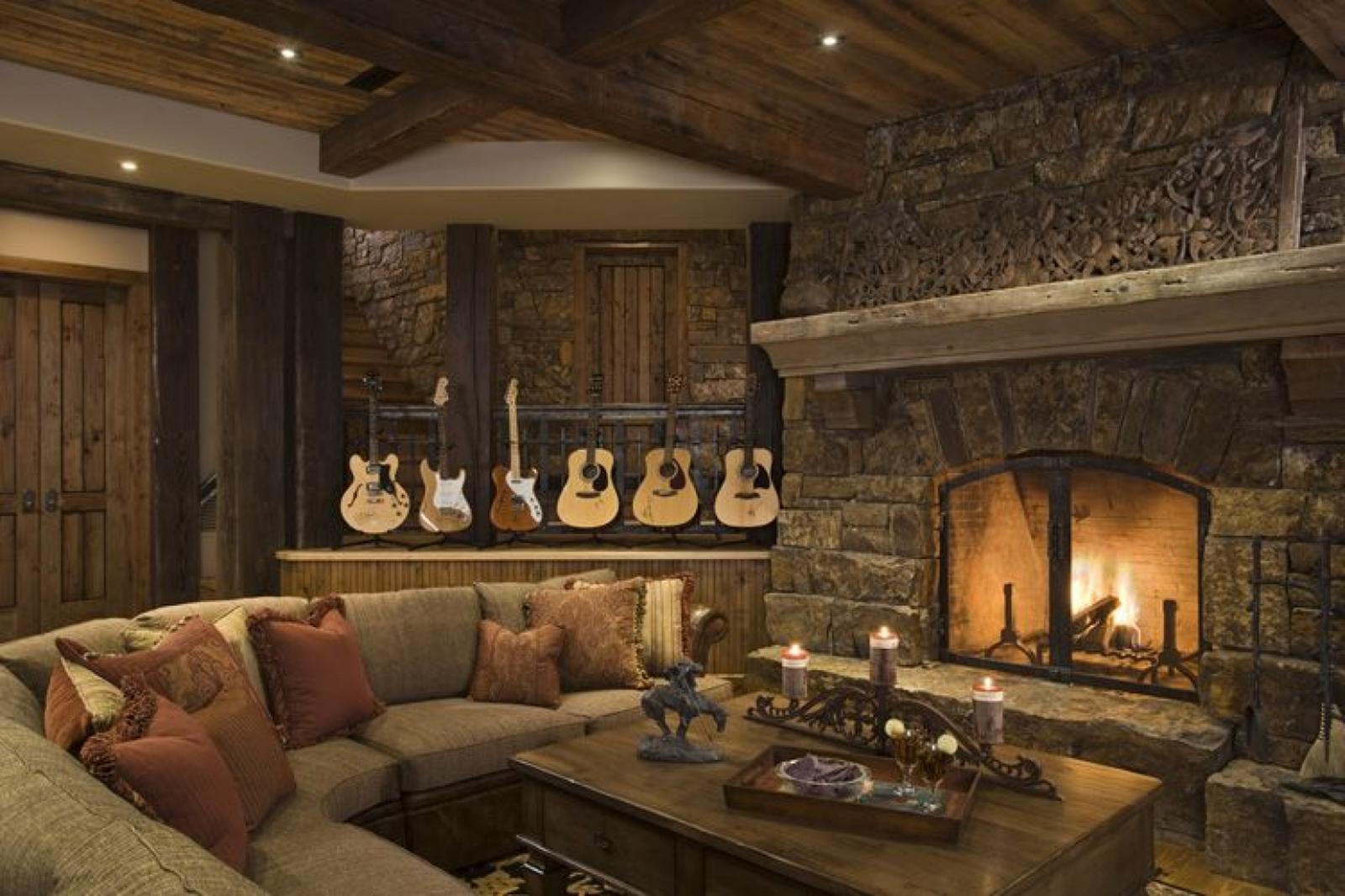 Image Credit: pinterest.com
6. Don't be afraid to use minimalist design trends to your advantage
Oriental cultures largely implement minimalist design trends to create more space in small homes. The most incredible attraction about rustic interior design trends is in the incorporation of natural elements. Therefore, even though the interior design style is often referred to as Japanese, Mandarin, Korean, and more, they really are rustic interior design plans on a theme.
If you wish to incorporate rustic design in your beautiful home, then do not shy away from minimalist design. True, rustic furniture and design styles tend to look a bit old-worldly. However, with changing times, the design trends have also experienced significant upgrades.
For example, if you have a small space in your rustic living room that also doubles as a dining room, then consider using foldaway wood furniture. This will help save space and it gives a rustic look to the room. Similarly, you can use the infamous dividers used in minimalist interior design trends to create sectionals within your studio apartment or even inside a single room. Remember Kiera Knightley's room in Pirates of the Caribbean?
You can also add small wooden dividers within the confines of your wood furniture to create more sectionals for more storage space. A rustic space can seem easily congested due to the overpowering use of natural materials. Use the opportunity to make more space and decorate them with some incredible styling.
Read also – Mid Century Interior Design
7. Good lighting can change everything
Most interior designers and homeowners are opposed to using pendant lighting in a rustic home. However, even though stone fireplaces, candles, and rustic sconces can be quite attractive, innovative lighting can transform the rustic living space.
Picture a room that is filled with wood furniture, décor, and natural elements, with a splash of neutral colors on the walls. Now, add a few twinkling string lights, hanging pendant lights, electric aromatherapy lamps, and some DIY sconces and lamp heads.
You can even create fascinating designs on the fabric of the lamp head or light casings. Since most rustic homes use yellow lights for a cozier feel, these decorative pieces add shadow effects that delight and comfort your guests as well as the members of your household.
People often prefer rustic interior decoration as it requires minimal expense while adding a much-needed flair to home décor. Therefore, simply adding some light fixtures with great effects can transform the inexpensive rustic living space into a divine rustic home.
Not to mention, the right kind of lighting can also uplift your mood and affect your productivity. Since rustic themes are usually interpreted as dull and ancient, even rural, some effective light fixtures can brighten up the rustic living space and help you see more clearly. Furthermore, they add special touches and vigor to the otherwise natural environment.
Don't shy away from installing chandeliers in a rustic home. They are incredible additions to incorporate a French country style with a touch of elegance. You can choose small chandeliers over the dining table or in the rustic living room. If you have a big home, consider a large chandelier in places where you entertain guests. There is no limiting the use of chandeliers. They add grace and personality to any rustic living space.
Read also – Best Kitchen Lighting Ideas
8. Avoid geometric shapes
Although a rustic home accommodates a lot of contemporary and technological design trends in this era, one thing you absolutely cannot implement is geometry.
As we have said before, rustic design themes hover around rural decor ideas and natural elements. Therefore, adding geometric shapes to your rustic home will immediately negate the underlying effect.
Of course, you can add a square-patterned hand-knit blanket or a stylish throw with some polka dots or mesh fabrics. What you need to bear in mind, however, is to keep the designs simple, soft, and on par with the living room design or bedroom plan, or whichever room you choose.
You see, bold geometric shapes scream cutting-edge modernism. Although modern rustic design styles are quite trendy, bold shapes are a big no-no. Most of your wood furniture must have curved edges or a traditional, dated, rustic look. Geometric prints do not sit well with them. It creates an unsightly contrast to the otherwise rustic home.
Additionally, geometric shapes also appear rather cold, uninviting, extremely organized bordering on OCD and trendy minimalist design trends. This is exactly what you want to avoid in your rustic home design.
A rustic home is meant to be cozy, comfortable, and warm like sunshine. Hence, avoid bold geometric shapes and opt for subtle, soft patterns to tie your home decor together.
Read also – Office Interior Design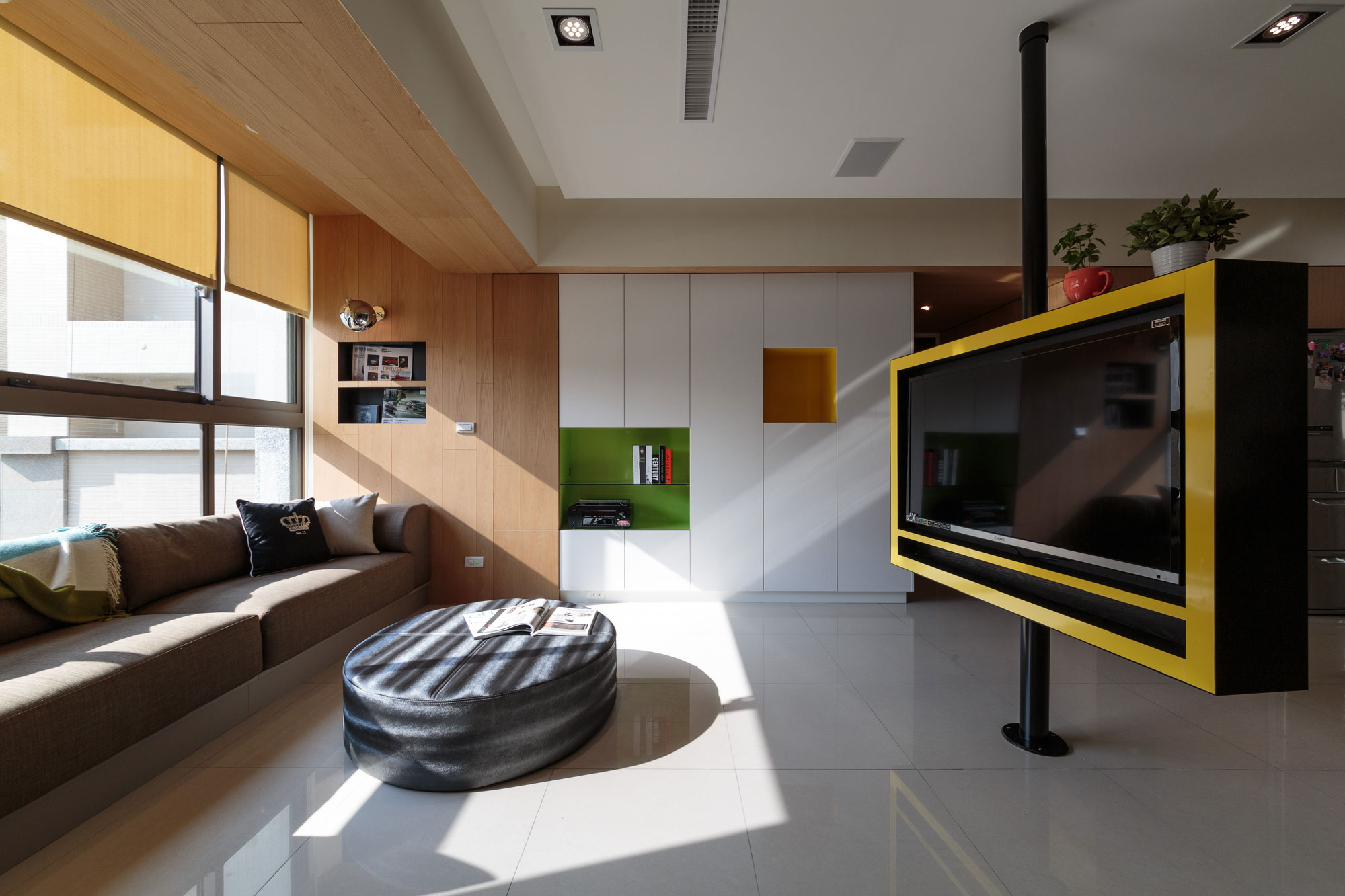 Image Credit: pinterest.com
9. Create some beautiful DIY pieces for a personal touch
Interior design and home décor shine much brighter when you add your personal touches to everyday living. This stands just as true in the case of rustic interior design as it does for modern, minimalist, or Mediterranean homes.
Who doesn't enjoy watching those exclusive DIY videos by 5-minute crafts, Blossom, Home decor ideas, and several other channels? You may have saved them because you are unable to decide how to implement them in your house.
Well, here's your chance. Each DIY project has a theme. When you select a rustic interior design for your home, you are halfway there. Now select some of the beautiful rustic designs and start creating them.
You may have old wood pellets, broken pots, ceramics, etc. just lying around the house, or stored in your attic, maybe even in your outhouse. Take the opportunity to incorporate them into your home decor.
For instance, you can use wood pellets to make a porch swing, a single-seater, an ottoman, or even a low-bearing coffee table. Throw a plush fabric over them and Voila! You have DIY rustic furniture that befits your home design; something you can point to and say, "I made that."
You can also use broken flower pots and ceramics to create an indoor garden with some flair or decorate your patio. You can also create hanging flower pots, picture frames, display cases, etc. by combining them with other elements such as glass.
Another place to implement your excellent DIY decorating ideas is to create sconces and small chandeliers, lamp heads, and so much more, using discarded wooden fragments, textured fabrics, etc.
The best part about repurposing these objects is that they add a rustic flair to the otherwise dull design ideas. Personalize your space and create a unique rustic home.
Read also – 7 Best Balcony Design Ideas
10. Utilize the outdoor spaces
When designing a home, people often neglect the outdoor spaces. However, in the case of a rustic home, this provides an additional if not preliminary space to implement several primitive design ideas.
For one, you can create a cozy outdoor sitting area on the back porch with some wooden beach chairs, a small fire pit, wooden tables with floral table liners, hanging flower pots, and some string lights.
If you prefer to decorate your patio instead, then opt for some wooden lounge chairs, a range of colorful flower pots, a wood floor deck, and some rustic sconces to brighten up the outdoor space.
Secondly, if you have a swimming pool, consider building a wooden deck with repurposed natural materials. You can also add some wood furniture on the deck and surround the space with gardening.
Thirdly, don't forget the garden itself. It is an ideal location to build a she-shed or a gazebo, all the while keeping the rustic theme in mind. These spaces can be lined with wood beams and rustic-style décor. Some creepers and hanging flower pots can do wonders in these beautiful outdoor spaces.
A rustic home also offers incredible opportunities to open up living spaces. You can add some wood beams and add a tarp over an open outdoor region. In most homes, these may appear out of place. However, in a rustic home, they only add to the countryside appeal. They provide a space for you to sit and enjoy the morning breeze or watch the pitter-patter of rainfall while protecting you from bad weather. They also make the outdoor space seem considerably rural.
As far as keeping up with the rustic theme, don't ignore your outdoor space. Instead, transform it into an area for cozy living.
And there you have it. The rustic home design ideas mentioned above can transform a modern city house into a rustic home in no time. If you live in the countryside, then you have the added advantage of using the natural elements, free spaces, and foliage to your benefit. Your work is half done.
It may seem like an unusual plan to have a rustic home in these modern times, but hey! It's always best to be unique than be part of a crowd, right?
Rustic home decor is undoubtedly a great way to bring back the days of which we now only reminisce. You can embrace technology with an electric stone fireplace or a heating system in the house. Maybe add that 60-inch LED you have coveted for years, in your rustic living room, with a home theatre system. As long as it fits into your overall rustic design style, you can add whatever tickles your fancy.
The ultimate goal with rustic interior design is to create a cozy and comfortable feel in your home.
Read also – Best Home Garden Ideas
11. Visualize before you incorporate
If you are still at a loss for ideas or simply unable to envision how to incorporate rustic interior design in your home, then we have a secret weapon.
The Foyr Neo cloud-based application is an innovative solution for interior designers and homeowners alike. You can use the app to create customized floorplans and design them with furniture and a color palette of your choosing.
Furthermore, you can render 3D pictures and videos of these design ideas and get an accurate rendition of what your rooms are going to look like when you are finished with your home makeover.
If you are an interior designer, you can use the application to generate electronic 3D models of your rustic design ideas and share them with your potential clients via the internet. If, on the other hand, you are a homeowner, feel free to create some generic design plans or add some specifics and share them with your interior designer. Your communication remains transparent and easy thus enabling you to expect your dream home without any anxiety.
Conclusion
Interior design or a home makeover can seem like a cumbersome task. But if you have the right tools and an array of incredible and implementable design ideas at your disposal, then it is a cakewalk.
With rustic style decorating ideas and home design, the important thing to bear in mind is to not go overboard. Be it your pieces of wood furniture, lighting, DIY items, paneling, flooring, or even simple things like the color palette, you must keep it simple.
It is easy to overcrowd a rustic home which makes it seem unsightly and cluttered. Therefore, use the Foyr Neo app to get a precise idea of just how you can implement your design plans. Go ahead, give it a try. You will thank us for introducing you to this innovative home design app.
A rustic home is a beacon for comfort and love. With an extraordinary design plan, you can make your home cozier and definitely more comfortable. Transform an ordinary modern house to a modern rustic home or simply redecorate the entire living space to reflect your penchant for days long gone. Add special touches and some personalized items without neglecting the natural materials and textures. Improvise on the design ideas we shared and in no time, you will have yourself a house that combines classic design trends with modern styling.