In today's post, we will discuss the top 10 innovative ideas for office interior design.
This will help you get the most out of your office space – whether you're looking for a design for a small office, a modern office, or something else!
But, before we get into the top 10 office interior design ideas, let's review some essential aspects when it comes to designing an office space.
How do you choose an office design?
Office interior design refers to designing and organizing a workplace to optimize workers' performance and safety. These design ideas need to be a combination of aesthetically astounding and optimally efficient. When it comes to designing an office interior, workspaces should be flexible enough to provide a variety of areas for people to work in, as well as promote movement throughout the day. This is true whether you're designing a small office, a modern office, or something in between.
While many companies are doing a good job of incorporating some of these elements into their offices, there's certainly a need for more awareness and implementation of this holistic way of thinking, focusing on productivity and workers' health and happiness. Thus, there is a growing emphasis on impactful office interior design ideas, which is why we will be discussing that in this post.
Why is office interior design important?
Office interior design is important for several reasons. First, if the effort is put into making office space designs beautiful, creative and unique, employees will be more motivated to work (as the work environment will keep them feeling satisfied and fulfilled). Second, since the office is the place that witnesses the innovations and ideas that will fuel the future, it is vital that the workplace design matches these innovations and provides employees with an atmosphere where they can be their best in terms of performance, creativity, and expression.
Finally, particularly in high-risk office environments (such as construction sites), it is important to make the office space safe and in accordance with all related guidelines. This will ensure that all workers are healthy and able to complete their work with minimal risk.
Now that we've reviewed these important aspects let's jump right into the top 10 ideas for an amazing workspace design.
Here is the list of the top 10 office interior design ideas:
Textured Interiors

Blending Perfection and Simplicity

Display Bold Colors

Professional Conference Room

Play with Shapes and Materials

Give the Office a Modern Look

Bring the Outdoors In

Multi-Purpose Workspaces

Designated Lounge Areas

Transparency
1. Textured Interiors
One of the most popular office interior design ideas nowadays is for the workspace to be given a stress-free look by incorporating art and textures into walls. Looking at art pieces during breaks has been proved to be a great relaxant, and hence, a strong morale booster. Thus, you can create a unique, modern office interior design by simply adding art to the walls!
Read also – Office Decor Ideas to Make the Workplace Fun and Efficient
2. Blending Perfection and Simplicity
Our second office interior design tip is to blend perfectly with simplicity. The office space should be furnished to perfection, including adding elements that provide comfort and privacy and give the space the look of a well-organized workplace. At the same time, the office space design should be simple and not over the top, as the design should not distract the employees from their core work responsibilities. The commercial interior sets the tone of the workplace and requires crucial space planning. The startup culture has a minimalist approach towards new office spaces and sticks to a color scheme that resonates with their brand.
3. Display Vibrant Colors
When mulling over office interior design ideas, most people tend to opt for plain traditional color options. However, it's a good idea to break away from the usual dreary, boring look and include more lively colors. Displaying more vibrant colors will give the office space an extra dose of energy and exuberance. This is especially true with small office interior designs, as these can tend to feel cramped and plain if not decorated well. Contrary to popular home office design, an atelier with natural light is the best work area to produce high-end work. Many decorators in New York, San Francisco, and Los Angeles choose to incorporate vibrant colors for their design projects.
4. Professional Conference Room
One of the most important rooms in an office interior is the conference room. This is where a lot of the work and collaboration happens – so you want to ensure that this space is as functional and aesthetically pleasing as possible. This professional conference room should certainly be included in any office interior design. It should be designed in such a way that reflects the true image and values of the organization.
Read also – Best Office Partition Ideas
5. Play with Shapes and Materials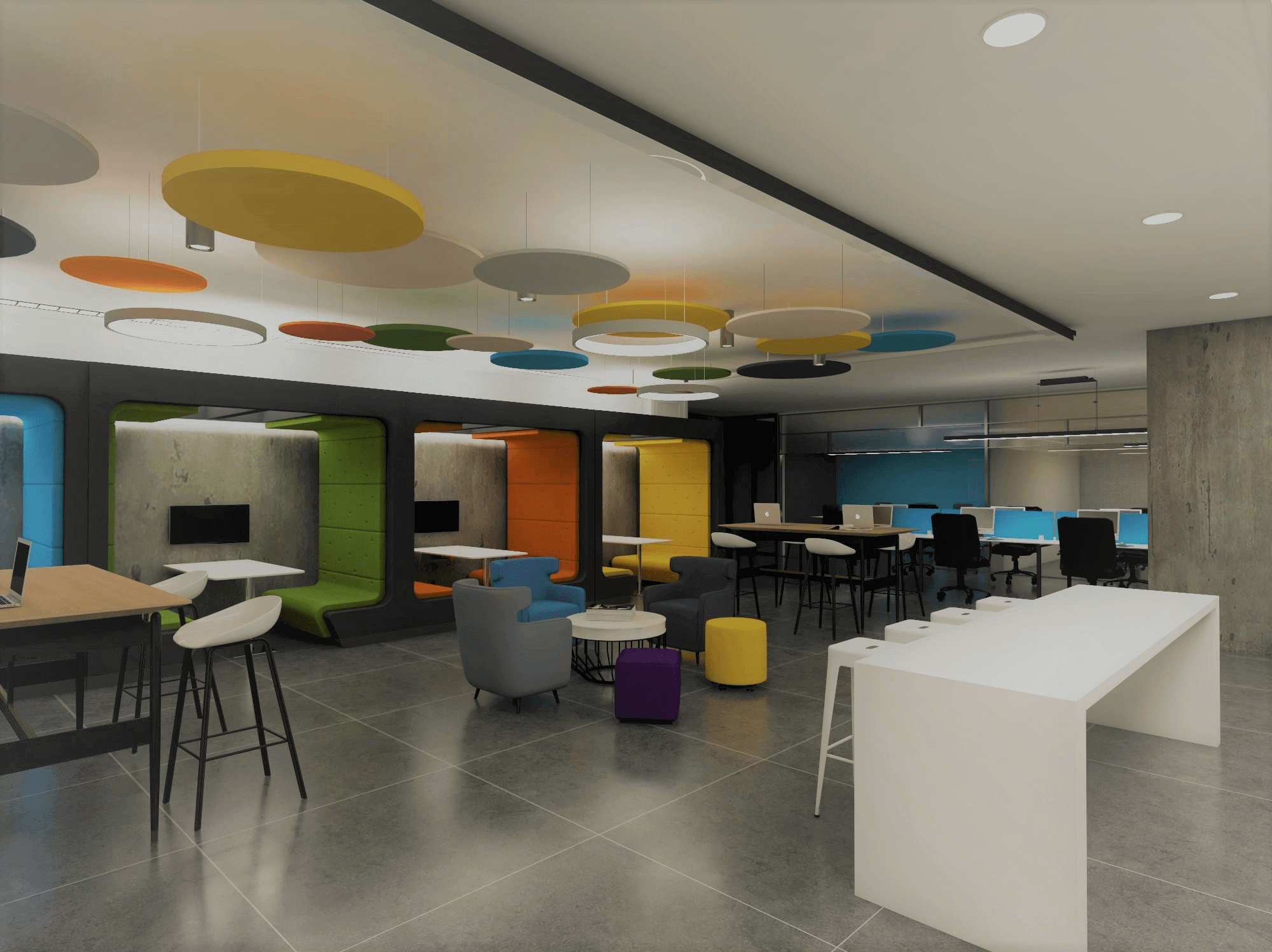 Our next tip for creating an innovative office interior design is to play with different shapes and materials that wouldn't typically be included in an office space. For example, you can try adding stripes and lines across the floor for extra visual intrigue, something you would typically choose for a design studio. You could also add separators between desks, perhaps made from polished wooden planks. There are many ways to incorporate different structures and elements in your office interior design, so our best tip is to experiment and see what feels right for you.
6. Give the Office a Modern Look
If you're looking to create a modern, aesthetically-pleasing office design, then this is the tip for you! We recommend modernizing your space by including an office chair, a low desk, and a sleek table. You can also add fun furniture to your office interior design – such as oddly shaped bookshelves – to significantly freshen up the look of a dull office with a touch of your living room to make your space fun and engaging. Adding a statement piece, such as a gallery wall, helps create a focus center and sets the room's tone.
7. Bring the Outdoors In
There's no better way to create a unique, lively office design than incorporating elements from the outdoors. Some of the more prominent office interior designs these days include reclaimed wood panel installations, exposed concrete flooring, and natural flora patterns in fabrics and artwork. Adding natural elements or imagery into the office design relaxes the usually tense atmosphere in any office. It is a great way to soothe employees and keep them at their productive best.
Read also – The Interior of Workplace for Business Well-being
8. Multi-Purpose Workspaces
In the latest office design trends, we've seen the removal of cubicles, benches, and assigned seating. Instead, office interior designers favor multipurpose spaces, which can be utilized for everything from multimedia presentations to casual breakout areas. We've also seen more oval-shaped office desks, which allow for a more convenient place for 4-6 people to meet, as well as a shift toward adjustable-height tables for standing meetings. Shelving the space also helps create an extra storage area helping stay organized.
9. Designated Lounge Areas
As lighter, powerful, wireless technology has untethered the workspace more than ever, this has led to people working in areas other than their desks. As such, office interior designers have seen a rise in designated seating areas included in office floor plans. This inclusion of dedicated lounge areas can make working more enjoyable by moving employees away from rigid straight-backed chairs and a more relaxed environment. These lounge areas have also proven to be very effective in encouraging dialogue and collaboration.
10. Transparency
In today's business world, it's all about transparency. That's why our final idea for an innovative office interior design is to include this element in your workspace! Instead of opting for the normal opaque dividing surfaces, we recommend making the dividing walls of your office space transparent. Clear colored glass adds a nice look too! This transparency will allow all workers to feel like a united community and know that they are working together towards a common goal.
These innovative office interior design ideas can go a long way in making your office space more aesthetically delightful – and efficient to boot.
Final Thoughts
Whether you are looking to create an office interior design, or you're just interested in the office design ideas out there, as an interior design firm and as a friend, we're here for you!
To make the design process even easier and get even more office interior design inspiration, check out Neo, our lightning-fast interior design software. This tool comes with a massive catalog of world-class design presets that can inspire designs for rooms of all shapes and sizes. You can browse through the collections, filter by different styles and themes, and find one that works for you!
For these interior design inspirations (and more!), sign up for a free 14 day trial of Neo today. No strings attached 😊
P.S. We're a brand new software and always looking to improve. If you need a product or feature that is not currently available, let us know, and we'll work with you to make it a reality.
Click to rate this post!
[Total:

1

Average:

5

]