Irrespective of the work-pressure in a job, the office is a site of unleashed efficiency and creativity. The office can also be called the second home because of the long hours of work and social interaction that an employee indulges in that space. While we decorate our homes with an aesthetic collection of antiques, art, and photographs, the office-desk is limited to employee-accolade and maybe a family photo for reminiscence during stressful work-hours. This is counter-productive because a drab environment acts as a buffer to innovation and productivity.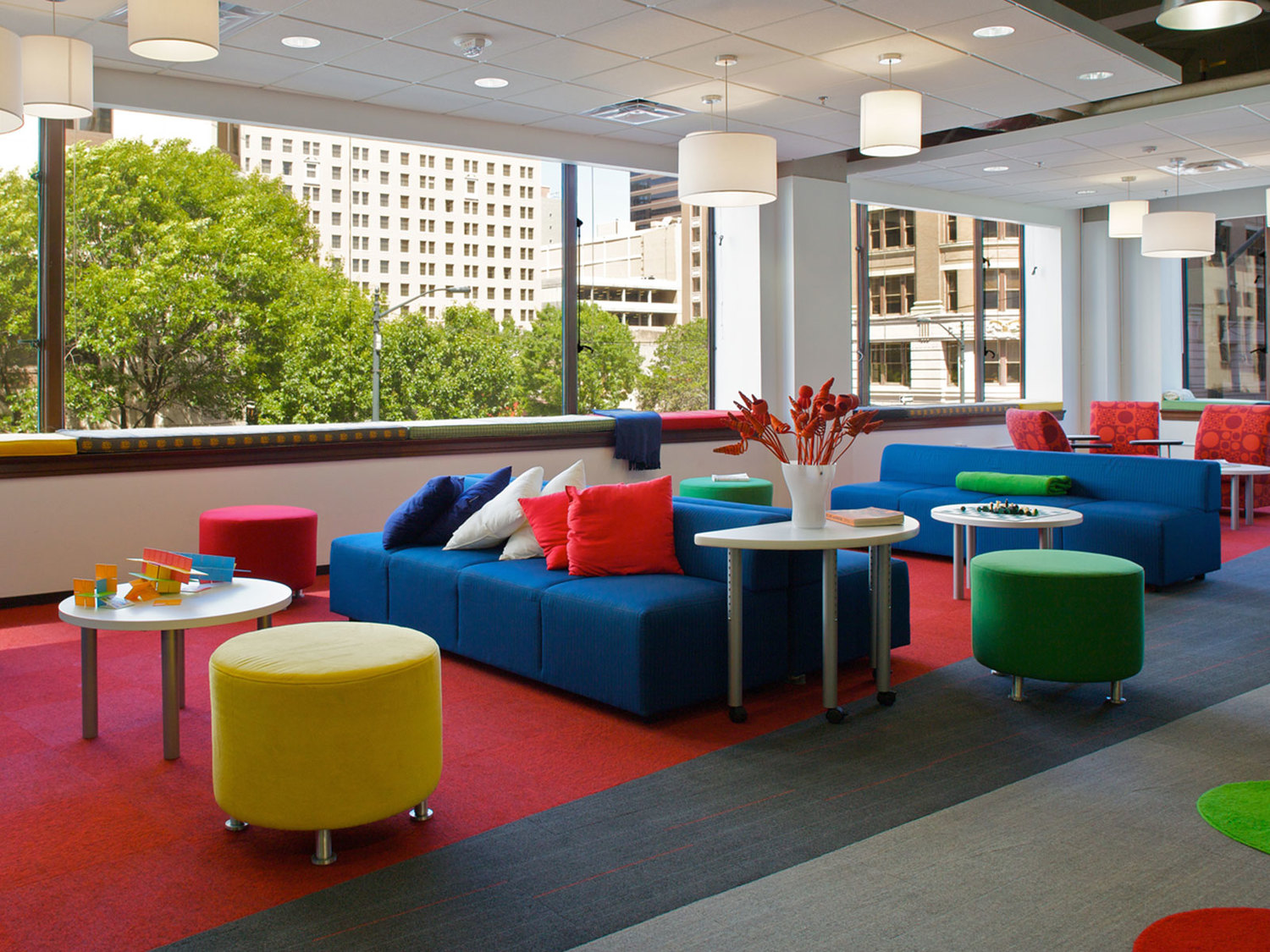 Image credits: google.com
A gray and lifeless cubicle is not particularly a source of positivity and motivation for the employees. Similarly, under-sized workspaces with inadequate lighting can prove to be detrimental to their output. A comfortable and refreshing environment at the office can do wonders with the mood and morale, and consequently the efficiency of the employees.
It is not possible to equip all the rooms and cubicles with natural sunlight and perfect wall colors. However, certain decor ideas may help to add life to the workplace environment. It is quite possible to retain the professional setting of your office while ensuring that your employees feel at home. An office that seems sleek and productive goes a long way in impressing a client. First impressions are very powerful, and the appearance of your employees and the office act as major indicators of your quality of work. Hence, an office should embody the company's vision and impress both the employee and the client.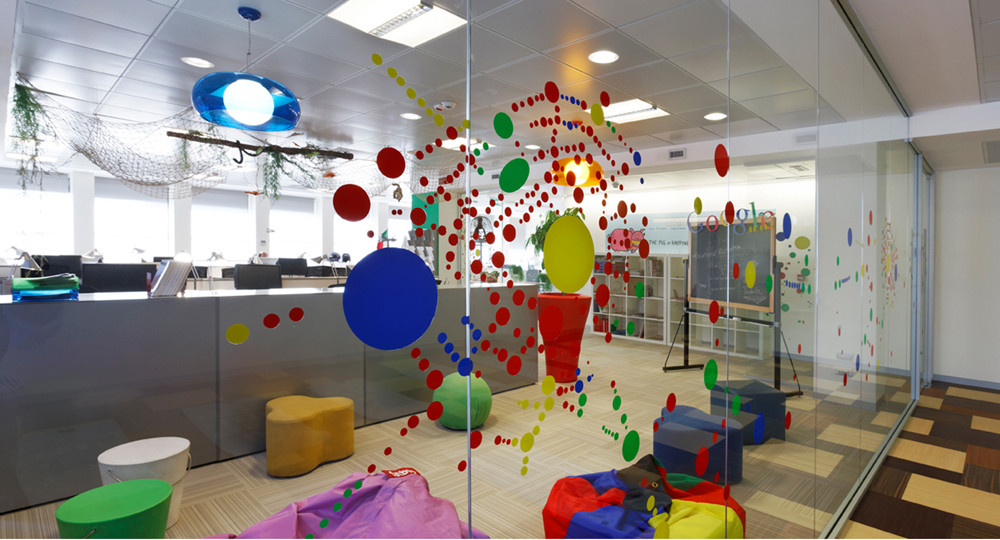 Image credits: google.com
Display the Company Logo and Vision Strongly
Place an enlarged image of your company logo and vision in an important common area, especially the entrance. This has a dual benefit—it creates a sense of loyalty and unity among the employees, and a strong impression on existing and prospective clients. It is an effective way of showcasing your company's values to visitors and reminds the employees of the greater cause. You could take this representation a little higher by incorporating your brand's colors into the color scheme of your office.
Add to the aesthetic: Art and Rugs
Invest in the art to make your workplace look interesting, thoughtful, and lively. You could go for classic black and white pieces or experiment with bold and abstract works of art. You could also add rugs to embellish the floor as they add a warm and colorful vibe to the surroundings. Use rugs in common-places, especially during informal meetings and presentations. Get your employees to knock their shoes off, grab a coffee and fall back on a chair.
Image credits: google.com
Invest in Unique and Comfortable Furniture
Increasingly, offices are adopting a fun organization with comfy furniture and interactive spaces for brainstorming. The traditional large desk and the swiveling chair are being replaced with architectural chaise lounges, low-rise tables, and bean bags. The shift in seating-arrangement is on the forefront with offices choosing outdoor spaces and prioritizing comfort over traditions. This has greatly improved not just the productivity but has also enhanced employee relations in the workplace.
With respect to your clients, it is necessary to maintain a formal demeanor. This can be achieved with sturdy teak-tables and rich colored and cushioned setting for the conference room. An accented center table also acts as an attractive piece of furniture that is sure to catch your client's eye. Such informal decor can be used to develop a close relationship with your client and a stronger bond of trust.
Open up the Office Space
While the conventional office has had walls that demarcate territory, studies indicate that open spaces can facilitate better communication and team-work. Using dividers instead of walls can induce a sense of company-unity among the employees. The best color scheme and unique furniture will not reflect as positive vibes if the room looks dark and sad. Here, sunlight can be your best friend as natural sources of light are great sources of energy. Design large windows and ensure that no item in the office obstructs them.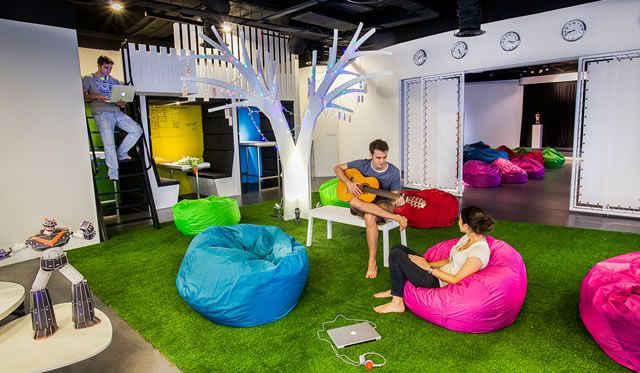 Image credits: google.com
Have a Functional Break Room
The break-room is an indispensable part of any office. Make sure that it is stocked with adequate food and basic cooking equipment. However, ensure that you provide your employees with healthy snacks that will benefit their productivity and health. Revamp your break-room with a quaint little coffee-table, a comfortable sofa, and even a bookshelf that stores a few all-time favorites. This will show your employees that you care for them and encourage better company-employee relations.
Don't forget to check the office smell
While this might seem like a bizarre tip, the smell of the surroundings strongly impact the productivity of the employees. An office that smells of employee socks, paper, ink, and coffee all-together is not exactly a healthy first impression for the clients. One option is to place flowers in common areas as this will add visual as well as olfactory enhancements. However, you will have to ensure that the fragrance is strong and that the wilted flowers are replaced with fresh ones.  Alternatively, you can make space for quality air ventilation and invest in air-fresheners to induce a pleasant aroma.
While these are ideas for the office as a whole, one of the best ideas for office decor is to give your employees the freedom to experiment with their work-desks. This not only goes well with the employees but also acts as an aesthetic reflection of the individuals and represents the diversity in your workspace. This is also sure to impress your client as unity in diversity is always a stronghold for any organization. On the whole, implement large-scale changes and offer all employees the right to explore their tastes. Wishing you a very happy decorating!
Click to rate this post!
[Total:

0

Average:

0

]