Home » Design Ideas & Inspirations » The Average Bedroom Size For Standard Bedroom and Master Bedroom
Average Bedroom Sizes
When you think of your bedroom, the first thought that comes to mind is a beautiful living space where you rest your head after a weary day of work or homemaking. Regardless of whether it is the master bedroom, kids' room, guest room, or smaller bedrooms, the square footage must be convenient for the bed along with a little section allotted for storage space.
A majority of homeowners envision a larger room where they can fit a California king or at least a queen-size bed with a closet, preferably a walk-in. This, however, may not always be possible in smaller homes with small bedrooms. That doesn't mean you cannot have the beautiful bedroom you covet in your dream home. All it needs is a little bit of planning according to the available square feet of the room.
Hence, today, we shall discuss bedroom dimensions with their standard sizes and incredible design trends you can still implement, regardless of the square footage.
Read also – 9 Best Master Bedroom Ideas
Standard Sizes of Bedrooms
Depending on the house size, the square footage of your bedrooms will differ. Your new home may be a studio apartment with considerable ceiling height, or a townhouse with small bedrooms, or a villa with bigger bedrooms, or even a penthouse with expansive master bedrooms.
The first thing you need to determine is which room is allocated for what purpose.
Of course, homeowners will choose the larger rooms for their own bedroom and that of their children. The smaller bedrooms are then repurposed into guest rooms. These may not necessarily call for a walk-in closet but they do require a little closet space or cabinetry.
Image credits: homenish.com
Let us Consider the Bedroom Sizes for a Second:
The average size of a master bedroom is 14 x 16 feet. It may be bigger than that but 224 square footage is a minimum. This ensures that you can easily accommodate a king or queen-size bed in the master bedroom while still leaving enough closet space.
The standard-sized bedrooms, however, can be considerably smaller ranging anywhere from 10 x 10, 10 x 11, 11 x 12, to 12 x 12 feet. The square feet of these rooms determine whether you are going to convert the living space into an individual kid's bedroom or for twins, siblings, etc., or simply transform it into a guest bedroom.
Once you have analyzed the minimum size required for the bed, you can purchase your furniture and fixtures accordingly. Let's see what you can do in each of these bedroom spaces.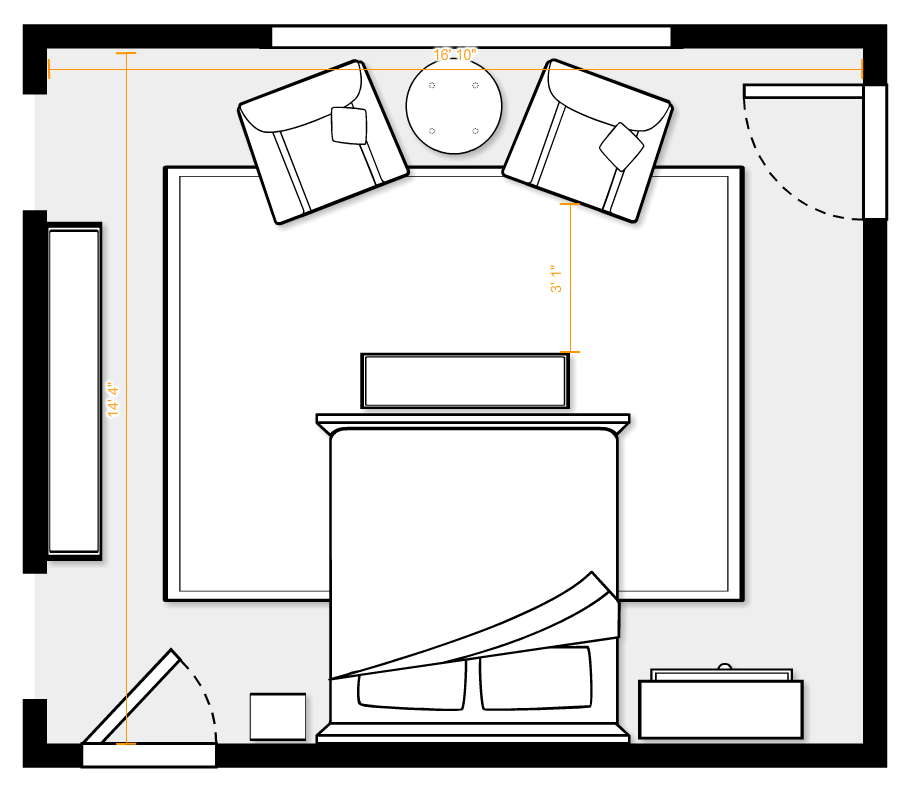 Image Credit: pinterest.com
Bedroom Design as per the Types of Bedrooms in your New Home
Given the types of bedrooms you have constructed in your dream home, you need to consider the furniture, décor, and fixtures to install. An average home has allocated spaces for a living room, dining room, home office, family room, kitchen, and bedrooms (one or several).
If you are blessed with floor space in your home size in terms of square meters, you can expect average rooms with a significant floor area. However, if you have a studio apartment or a small home, then you need to get creative. On the plus side, smaller houses with limited floor space usually feature high ceiling heights so you can utilize the vertical space to design your home.
Read also – 30 Best Modern Bedroom Ideas
Design Ideas for Smaller House Size
If you do not have full-size rooms allocated for a variety of functions, then consider creating a mirage of a larger floor plan with tall furniture pieces instead of wide ones. Always measure the square footage of the available space and utilize each inch to the fullest. You can refer to our article on designing small houses for some creative planning in home design.
Choose furniture with in-built cubbies and storage spaces as walk-in closets and large furniture may not be plausible. Since the size of your bedroom is smaller than usual or the overall space may double as a living room, you can consider double-duty furniture or those that can be wall-mounted for convenience.
You can add long curtains, canopies, or, wooden screens to separate significant areas to fully utilize the floor space in your small bedrooms.
Read also – 10 Best Ways To Enhance Your Master Bedroom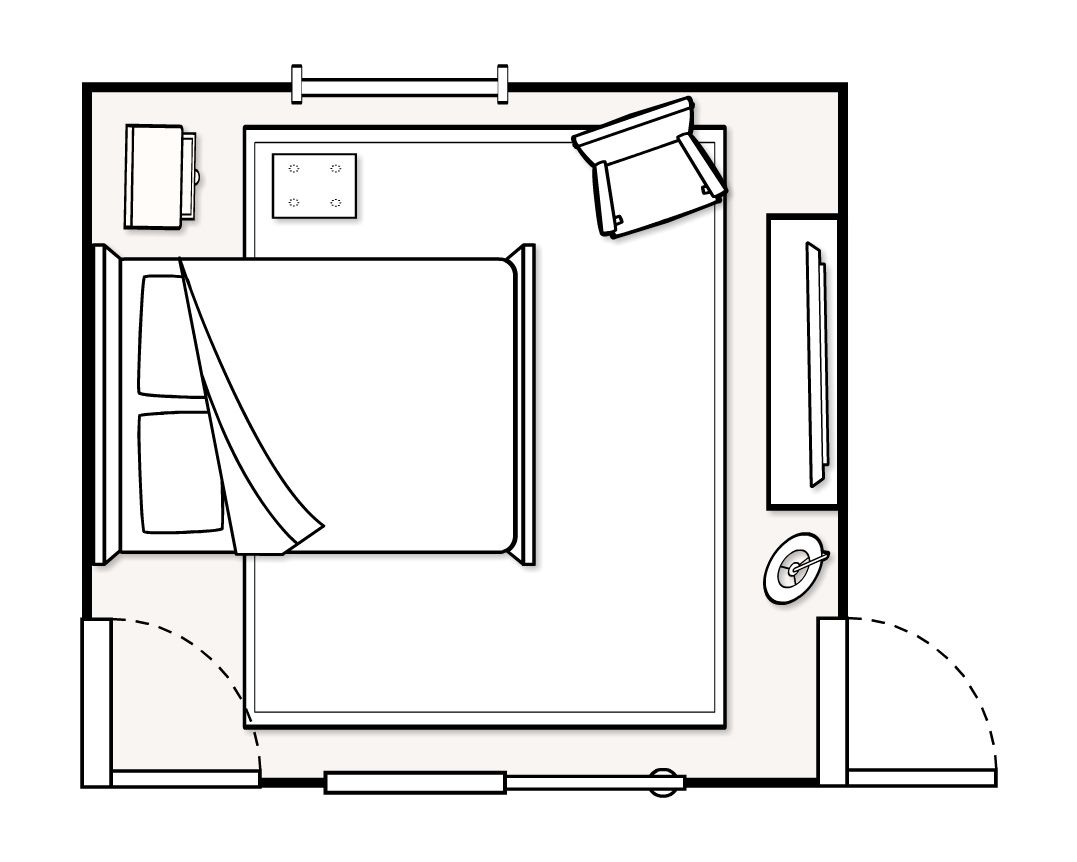 Image credits: pinterest.com
Design Ideas for Standard Bedroom Sizes
These bedroom dimensions are versatile and accommodate several room ideas. Depending on whether it is a kid's room, guest room, or full-size bedroom for the parents, you can instill furniture and fixtures with creativity.
1. For kid's room
How many children do you have and what age groups do they belong to?
If you have one child, then the ideas for the bedroom are simplistic and quite cost-effective. If, however, you have more than one child in the house, then you can build a kids' room with enough space for bunk beds and twin beds. Keep in mind, though, that as they grow up, they might require separate bedrooms.
Now, drumming down to the bedrock of our design plans, consider the size of the bedroom. Is there enough space for twin beds? Or can you install a single bed of standard size?
If yes, then consider installing the beds near the wall and add the closet in between or near the foot of the bed. This way, the room seems spacious enough for your children to move around freely.
A kid's room doesn't necessarily call for an attached bath so you can save some space in the small rooms and revitalize it for study tables, bookshelves, a creative corner, etc.
If the room is smaller than the standard bedroom sizes, then consider bunk beds to utilize the vertical space. Some children may want bunk beds even if there is enough space in the room for twin beds, and some single children may want them to feel like they are not alone. Take your child's suggestion into consideration as they are the ones who will occupy the space.
Read also – Best Teen Girl Bedroom Ideas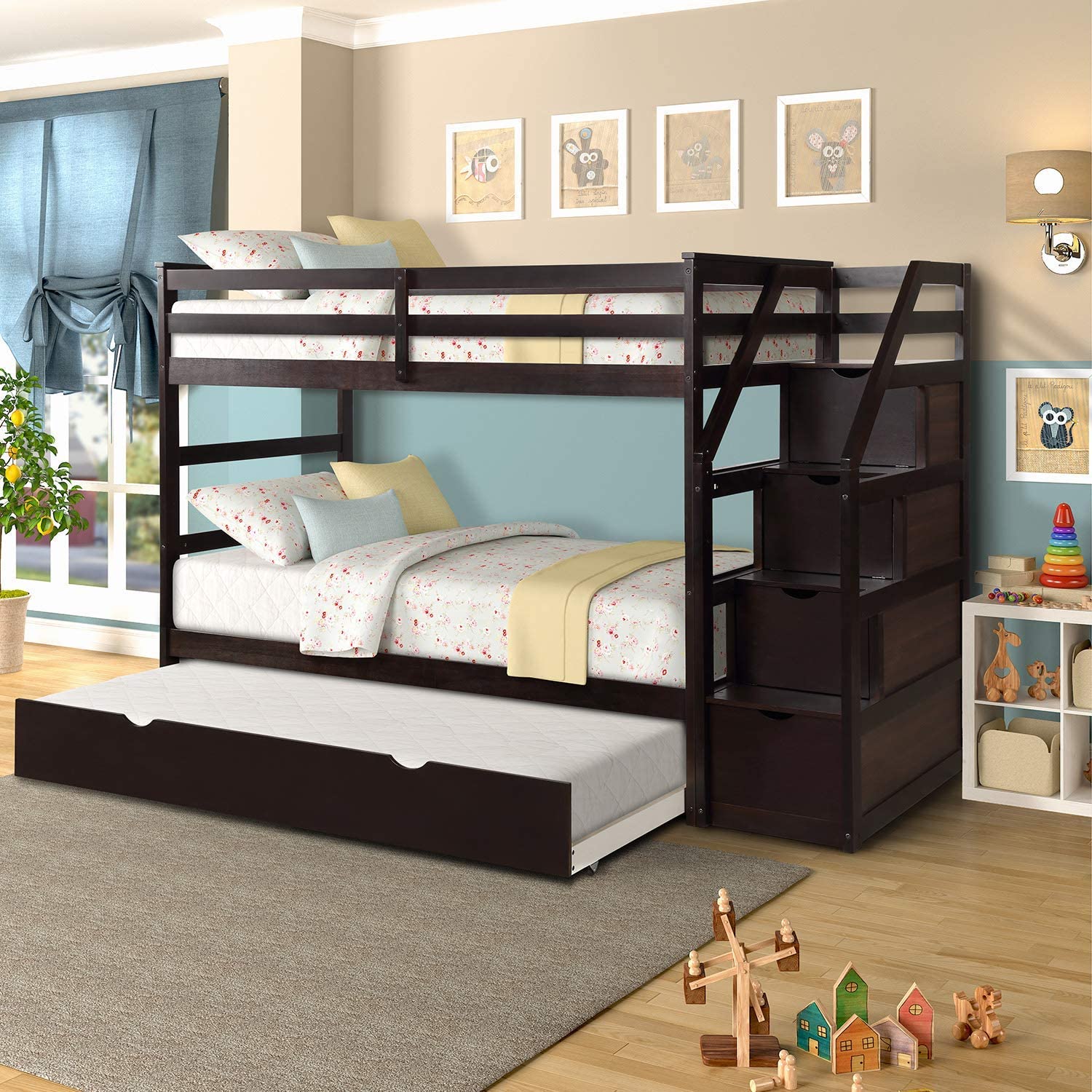 Image Credit: oco-7.top
2. For guest room
Guest rooms need not be overly spacious with walk-in closets either. However, to make them more comfortable an attached powder room is the polite way to go.
You can install queen-size beds here for families or standard-size single beds for bachelor friends and family members. Considering the smaller bedroom dimensions, you may want to fit a cabinet or single-door closet to save space.
Also, this is the place where your overnight guests spend their time, so put some thought into the décor of the room. Since there is limited space, most of the time, you can use creative home design to install a focal point by the cabinet or along the side tables to divert from the smaller size of the room itself. Consider brighter colors and reflective wall art to create an illusion of a larger room to impress and amaze your visitors.
Read also – Best Guest Bedroom Ideas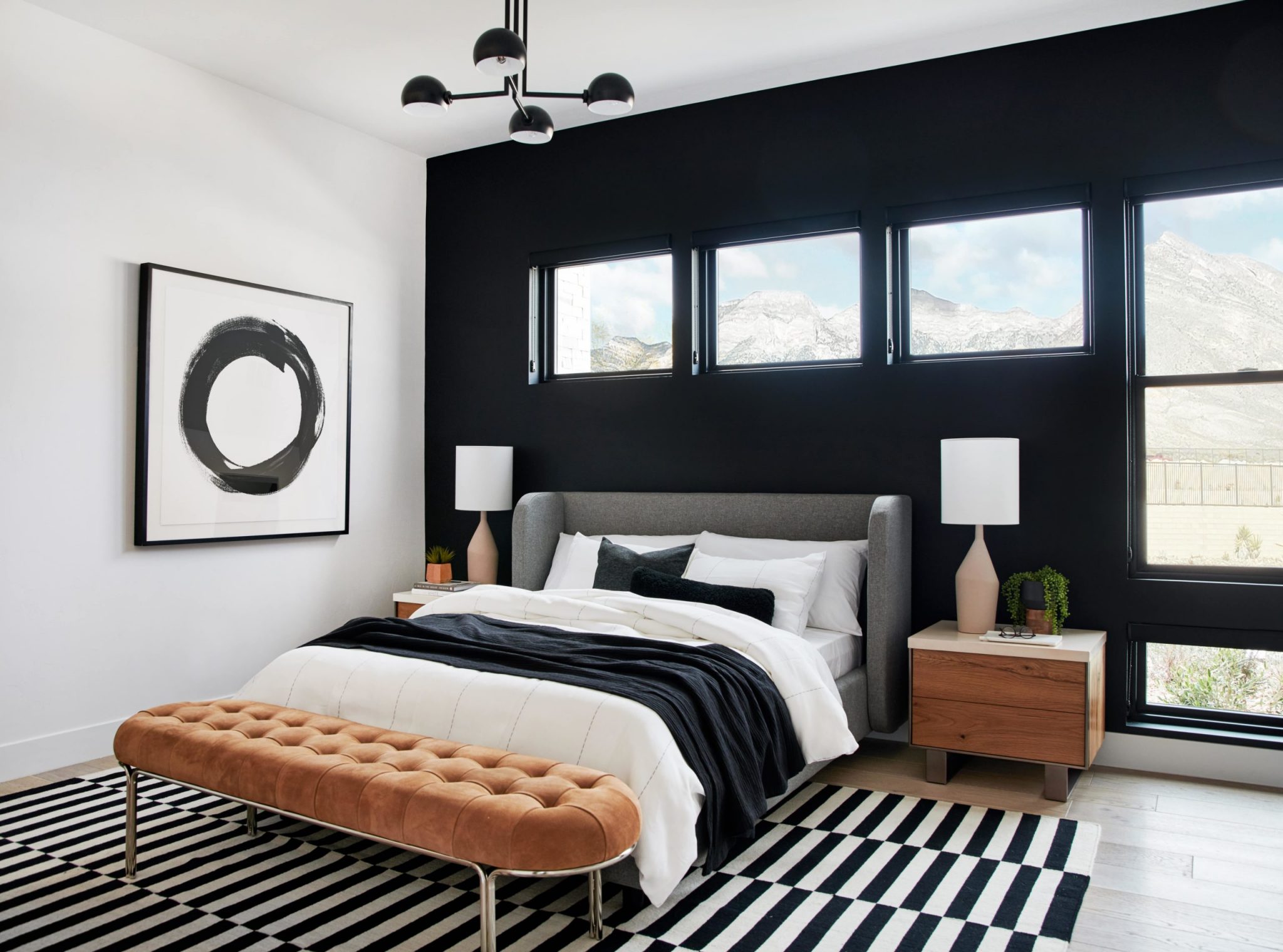 Image credits: bobbyberk.com
3. For the standard bedroom
A standard bedroom size is one that fairly accommodates the necessities of the living space. It may not be big enough to fit a king-size bed, or perhaps will be completely occupied if you decide to install one, but it does have a lot of character.
These rooms accommodate standard-sized beds with enough space for built-in storage space or a wardrobe. You usually have enough floor space available to install an area rug, bedside tables, additional shelving, and even a small vanity.
Since these rooms are smaller than master bedrooms yet require almost similar amenities, you can get creative. Install box windows for plants or a bay window for a reading area. Use bold colors for a couples' room and lighter neutral colors such as white or beige if it is for grandparents, other members of the family, teenagers, etc. This opens up the scope to explore innovative design trends.
A standard size bedroom also does not necessarily call for an attached bathroom but if you have some space available, consider building a small one at least. If you do not have a master bedroom in your apartment or new home, then one of the standard bedrooms will double as one. So consider the available space and make necessary adjustments in order to set one room apart from the rest.
Read also – Standard Bathtub Dimensions
Design Ideas for Master Bedrooms
To begin with, a master bedroom often comes with a master bathroom or at least a small bathroom with a shower stall, sink, toilet, and if space permits, then a tub as well. When designing your dream home from the studs, you may want to plan the master bedroom on a higher floor or a region of the house where you can install a bathroom within the room.
Now, in terms of square footage, the master bedroom is definitely bigger than your standard-sized bedrooms. Therefore, the design and décor call for better form and functionality.
You can easily install a California king bed in this larger room with perhaps a designer headboard, exquisitely crafted bedside tables. You can even choose platform beds or canopy beds for some added flair.
Since the room is bigger in size, you can choose bright and instigating color schemes. Red is a preferred choice but use it sparingly as it also induces rage and danger. You can also splash shades of orange, yellow, brown, and white. These colors brighten up your mood when you wake up in the morning and they destress you at the end of a weary day.
Read also – Best Master Bedroom Decor Ideas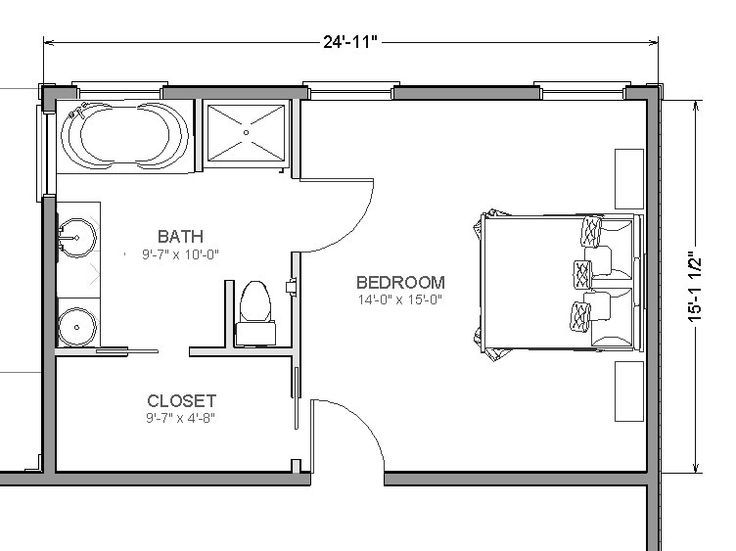 Image Credit: pinterest.com
As for the rest of the living space, a master bedroom can accommodate a small seating area near the windows where you can enjoy your morning coffee or breakfast. It is a nice little space carved out for you and your spouse to relax each other's company. If you are a bachelor, then this space makes for an excellent, tranquil reading area, or a place to watch the sunset.
You can install a walk-in closet in your master bedroom which definitely makes it feel more distinguished. Consider adding cabinetry or shelving to proudly display your exquisite acquisitions and décor pieces. If you already have a trophy room and designated spaces for your wall art then consider lining these shelves with customized decorations for the bedroom. There are excellent choices available on Amazon, Etsy, and other online forums. You can also install designs by local artists that appeal to you.
Space-wise, the master bedroom provides enough floor and storage space for all your needs. So, take the opportunity to get a little creative. Add a comfortable armchair, maybe a flat-screen TV, or a fireplace, or perhaps some indoor plants to liven up the living space.
Read also – 35 Spring Decor Ideas for Bedroom
Conclusion
Designing and constructing a bedroom requires passion and creativity. This is the sole space in your home where you can close the door and let your thoughts consume you.
If you are renting or purchasing an apartment, then see if there is space available to convert a standard-sized bedroom into a master. If not, use your creativity to design the room such that it feels more expansive, not to mention, extremely relaxing.
If, on the other hand, your apartment already has a master bedroom or your architect has designed bigger bedrooms in your new home, then take the floor area into consideration while designing the interiors.
Here's an idea: If you are unable to envision what your master bedroom in an average home should look like, then use the Foyr Neo app for ideas. This cloud-based application is extremely user-friendly and features a multitude of options to choose from when designing your small or larger homes.
You can choose your floor plans, floor space, color palettes, furniture pieces, and home décor. Then convert it all into a 3D rendering and visualize what your bedroom or the whole house should look like. This way, you can adjust the floor plans of your new home before commencing the construction process and save money on renovations.
Whether you want a full-size bedroom or smaller living spaces with a bed and closet space, a bedroom is where you go to unwind and relax. Make sure to create a haven that hugs you at night and awakens your senses in the morning.
We hope that with the average bedroom sizes in mind, you can build your dream home to perfection.