Home » Design Ideas & Inspirations » 20 Wonderful Pool House Design Ideas To Create Modern Pool House
Pool House Designs
In the summer season, the best idea to cool off yourself is a pool house. As multi-purposes places, a well-decorated pool house with patio furniture may improve the way of living outwards. A marvelous stylish pool house is clearly not only excess but also fulfill a place in the courtyard and perfects the pool room optically in your home design. The pool house area designed with a cozy outward decoration, a fine sofa, chairs, a table for coffee which would generate a placing zone, a dining area, etc.
There are so many things that have to think about while planning to construct a cabana pool house with changing areas. This beautiful pool house with an outdoor shower is designed with a modern style. Generally, the size of the pool house is very with the pool house design like the average size of the lap pool is about 10 feet wide along with 50 feet long, the size of the ground pool is about 10 feet wide and 20 feet long and the size of the cabana pool is between 8″ x 12 ″ and 10″ x 4″.
Read also – 50 Best Patio Design Ideas
A pool house would be about any shape which assists change the courtyard pool place into a complete amusement or mind-fresh area featuring amazing landscape design for a wonderful complete look. The fundamental motive of the pool house is to offer a personal place near the pool so that may change in and out of swim-clothes, go to the washroom, bath, have a nap, eating food & drinks place like a kitchenette and enjoy with friends & family.
A pool house permits you to retain the events outdoor in your courtyard rather than indoor your house. In the pool house everything, you have like the living room, bathroom, kitchen, bar, etc. so a beautiful pool house provides you a dreamy vacation at your home. You can enjoy your vacation in the pool house with friends. It gives you great pleasure.
Read also – Best Small House Design Ideas
A Good Pool House Contain:
A pool house ideas building plan or house plans needs to be according to the building codes and should accommodate a variety of needs serving as a pool house plus it offers a study, exercise room, and recreation area. Flexible design for homeowners serves as a guest suite for weekend visitors and doubles as a pool house when
you host pool parties in your outdoor lounge featuring an outdoor fireplace. Features a kitchen, living area, pool deck, and full bath.
Select the Style of the Pool House:
At first, select the style of the pool house. There are so many different types of pool house like as,
Above-round Pools.
In-Ground Pools. (Fiberglass Pools, Concrete Pools, Vinyl-Liner Pools).
Infinity Pools.
Lap Pools.
Swim Spas.
Hot tubs & Spas.
Decorate your pool house and make it look like you are having vacations throughout the year.
The pool itself can serve as inspiration for the design of your structure. In designing a poolhouse for most clients the decorator and interior designers employed the idea of genius loci, or spirit of place, reflecting the elliptical swimming pool in the shape of the roof. Give your poolhouse all the comforts of home like your favorite holiday getaway beach house.
Prep a Bar Space. You can optimize the pool house for outdoor space hangouts with a bar area for cocktail prep and an outdoor living area for lounging.
Use a Crawl Space for Storage. Aside from being a nice place to hang out, your pool house should also provide a storage area.
Use Durable Materials. Family-friendly materials like DIY rattan lounge chairs or a Firepit with durable material can be an amazing design inspiration.
Read also – 35 Spring Decor Ideas for Home
Pool House Design Ideas and Notions
Selecting Furniture:
While selecting an appointment, it is judicious to use outward furniture. It is featured to arid faster compared to common furniture. It is supposed to be more portable and permits you to reorganize it regarding your requirements. Spending in versatile pieces such as a large day-coach, for dawdling and relaxing out of the day and a big coffee table, amazing for foods on the patio and games through the pool.
Generate a flawless transition from pool place to pool house by utilizing glass gates. Also, include the inflow of long-lived insects by the summer periods. It is essential to place covers within regard while designing the stream and availability of the backyard pool house.
Tiles and Texture:
In the pool house, there have been used so many different types of tiles. Like as,
Silver Travertine: It is one of the well-known tiles for the pool house. It is featured with maximum density, less leaky, and less water exploitation. So, it is suitable for pool house design.
Classic Travertine Tumbled: Nowadays, Classic Travertine is the best utilized natural minerals and is generally utilized for outward paving, parapet covering, and indoor flooring. Moreover, these tiles are famous to utilize around the pool places.
Sunset Hexagon Paver: Sunset Hexagon is famous due to its flexibility as long as its elegance attainable in a diversity of shades and fines.
Profile Like Tiles:
Bullnoses would be utilized inward and outward too to commend and improve in the poolside areas.
Shower:
To assist remain indoor of the pool house clear; set an outward shower to permit visitors to clean off before entering the house. It gives a better feeling and helps to keep the home area dry.
Party House:
Having a party-house in the pool house may provide much enjoyment with the friends and family. A party house in the poolside enhances the beauty of the pool house.
Small Kitchen:
Enjoying a small kitchen with ample countertop space in the pool house may come in convenient due to meal arrangements. Having a small refrigerator and it is amazing for stocking new beverage and fruits. So, having a small kitchen in the pool house gives much enjoyment.
Landscaping View:
Landscaping is tough also. If desire to construct the pool house comparative toward the pool and surrounding landscaping. While setting a pool, the owner of the home generally puts a cordon to adjacent the pool place. It is essential to regard if or not the pool home would be in the encompassed pool place. While scheming to set a pool in the courtyard, make sure to mention native by-laws and orders for any rules which would stay in the hometown.
Scenic View:
It is essential to image the esthetic of the main house in the model of the pool home as the construction should be in harmony with the living space and not so different than the whole house.
Guest Room:
Having a pool house featuring a guest house or guest room may convenient to the visitors who want to stay in the pool house for a company the others. It enhances the view of the pool house.
Read also – Best Guest Bedroom Ideas
Washroom:
Having a bathroom in a pool house may work as a game-changer, particularly while the chief room is a trek from the swimming place. Ensure that the pool house has a place to simply grab bathe towels and set them aside while it prepares for a wash. Beautiful decor can enhance the pool house view also.
Prints & Shade:
It is important to notice the consistency of the prints and shade of the pool house. To generate the entire pool place realize as one connective area, search a path to knot the pool house and patio furnishing all together. The theme of indoor and outdoor interior design can vary but not too different than the main house.
Media Room:
Without having a general room in the pool house may create a family room or media room which helps to feel like a personal living place.
Bar Room:
To remain the pool house airy may construct a window and bar on the poolside. If the pool house has a bar it provides an amazing feeling to spend some time outside.
Greenhouse and Plants:
Having a small greenhouse and four-period living places to a pool house. The fundamental of generating the perfect environments due to plants flourish is to set weather control characteristics such reserved screens while till now permitting for complete bright filtration for a summery feel.
Amenities:
Materials of the pool house need comprise a half-bath including an attached inward and outward bath, a little cookhouse, bar room, and storeroom for outward furniture and coach at the time of 'off" period. An outward fire-pit and grill station are an enhanced amenity which would desire to think.
20 Modern Pool House Design Ideas:
1. Feel Like A Cacation
To make an absolute vacation a pool house helps to make it in any torrid period which comforts a summer vacation. So, whether desired to the courtyard actions like reading book, enjoying TV in the poolside or outward cooking and serving food then these pool home designing concepts will make the lodging ready.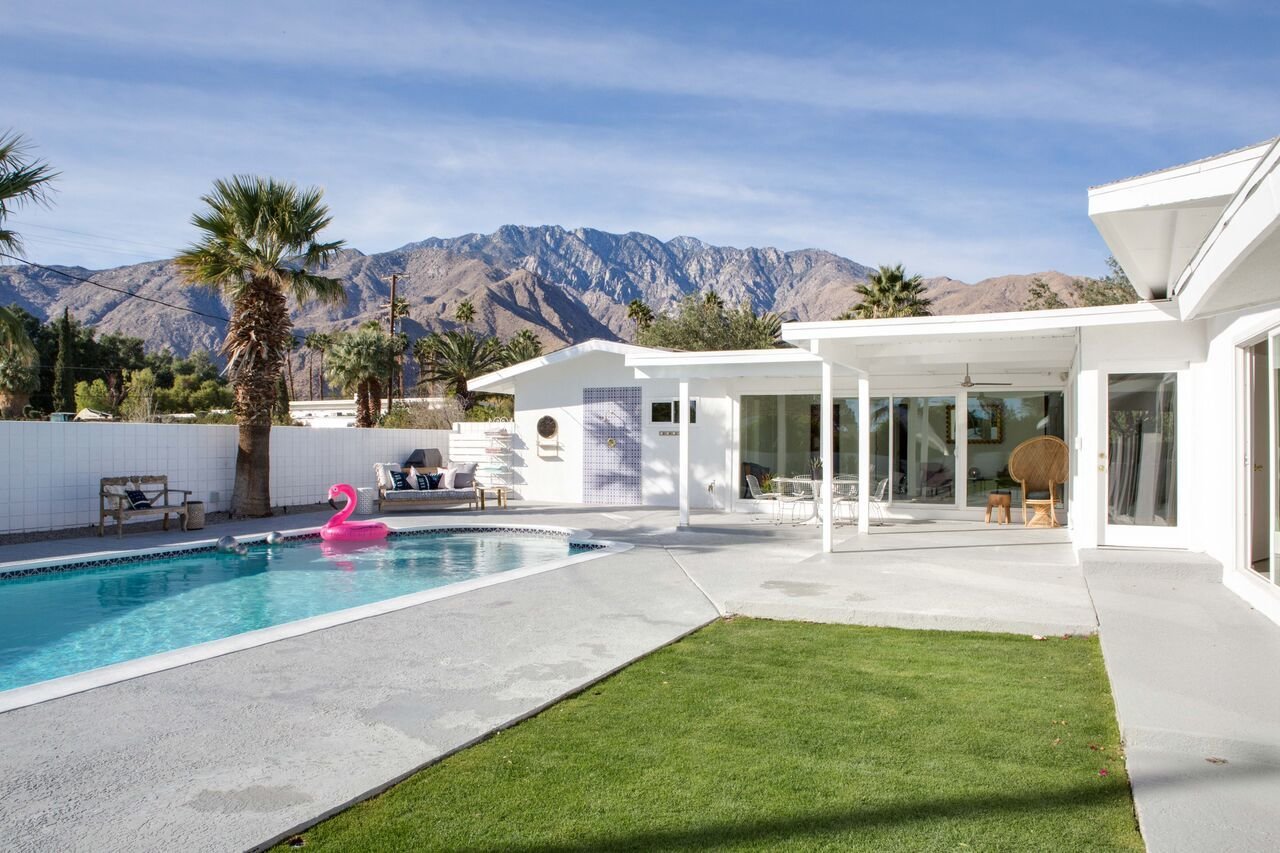 Image Credit: dwell.com
2. Pool House with Vaulted Ceilings
This viewable pool house with Alisberg Parker Architects schemes laps glass doors that shut up toward a partly locked patio. Hanging from the elevated vaulted roofing is an elegant candelabrum that matches the veranda outside.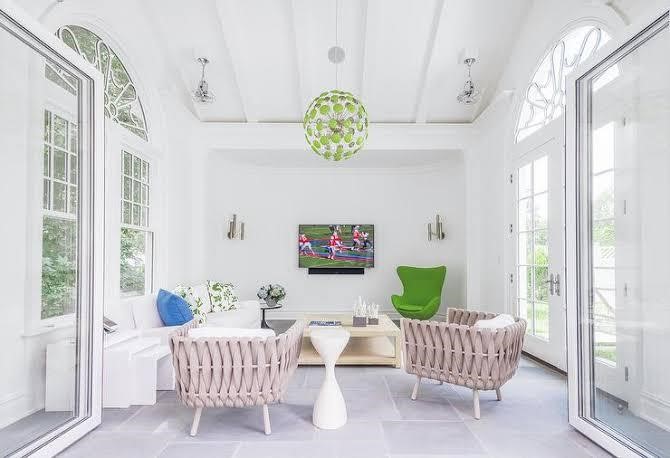 Image credit: pinterest.com
Read also – Best Front Porch Decorating Ideas
3. Pool House Including a Complete Loaded Kitchen
For the passionate chefs, the elegant pool houses are designed with a little courtyard cooking house and it is furnished with all required to sharing foods and beverages poolside.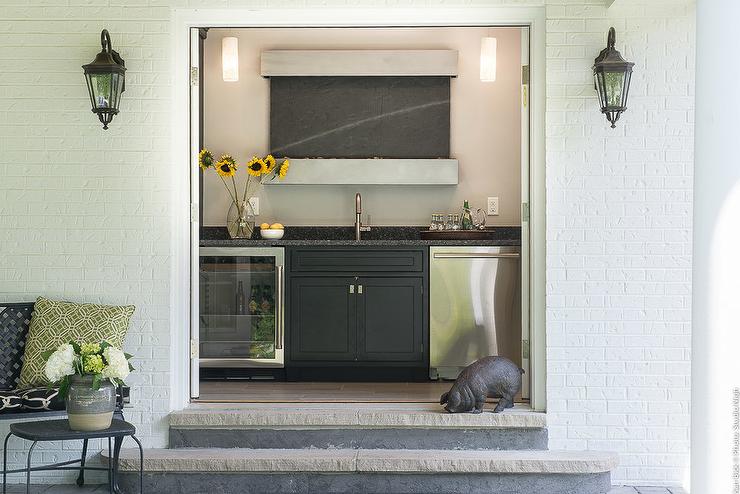 Image Credit: decorpad.com
4. The Pool House of White and Green
This pool house wall is featured with white shingles along with a tier of ocular texture. Elegant wicker appointments with green and white designed accents since the cushions to purdahs mark the deal on this outward room's warmth vibe.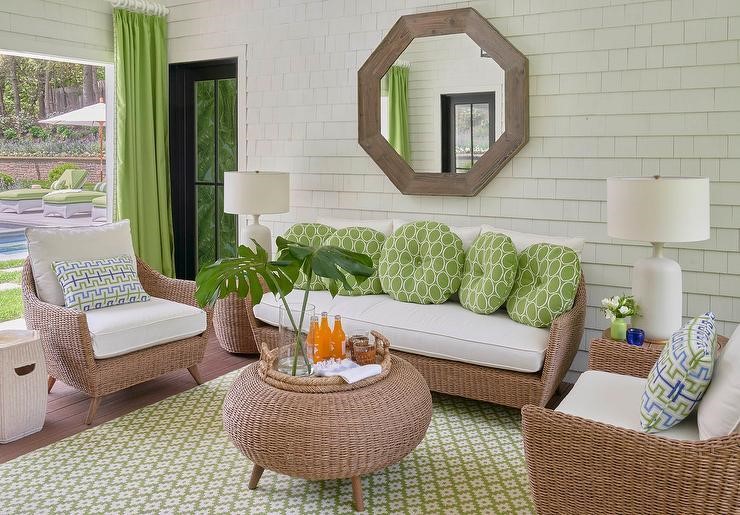 Image Credit: decorpad.com
Read also – Best Kitchen Island Design Ideas
5. A Two-Story Pool House
This two-story pool house comes with stone and stucco on the floor of a Dominican Republic retreat and was featured with Genevieve Faure. Also, it has an amazing balcony.
Image Credit: architecturaldigest.com
6. An Open Escape:
This Westport, Connecticut poolhouse is featured with New York City architecture firm SPAN. The pool house design is largely open and it is permitted to feel jointed to the neighboring landscape.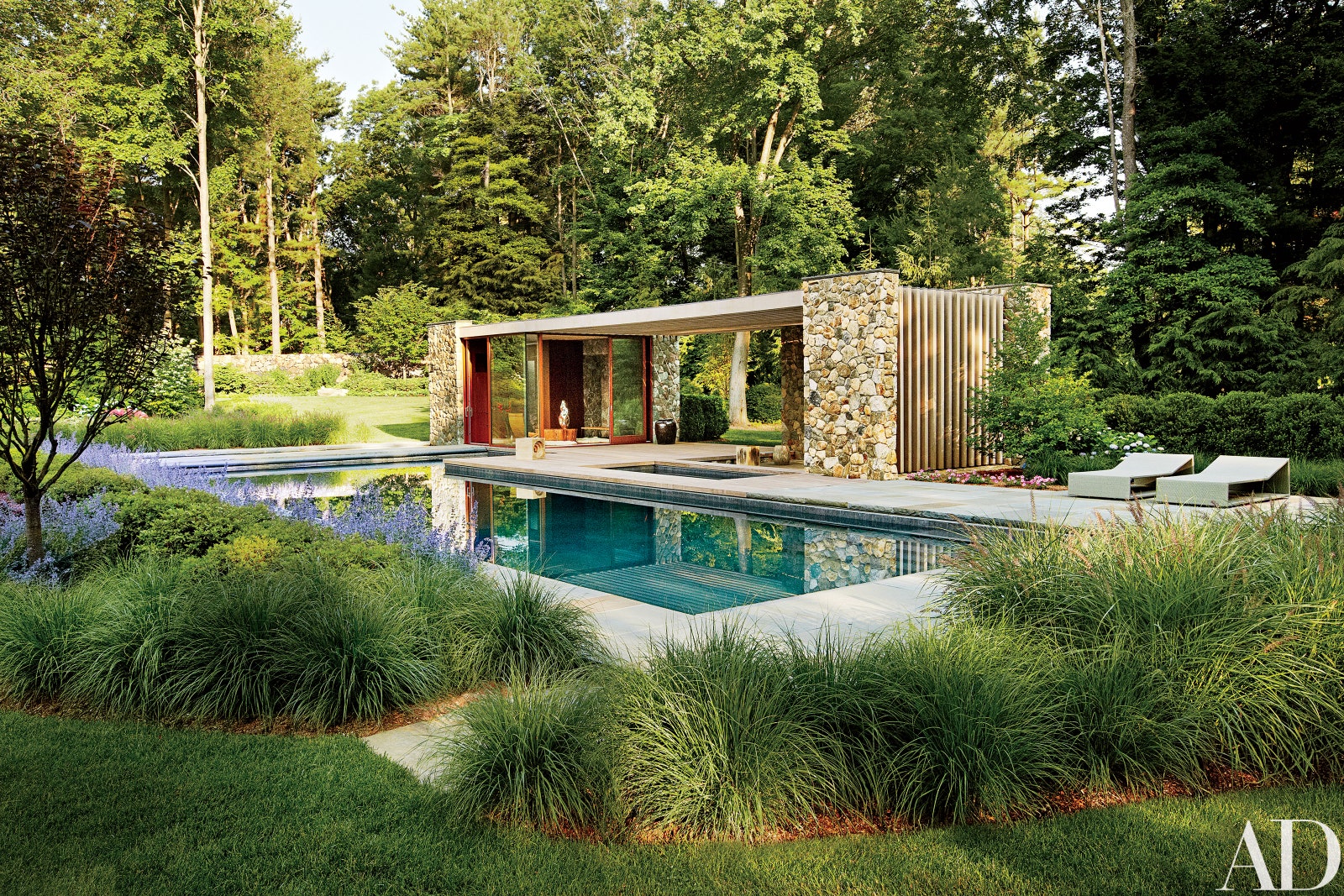 Image Credit: architecturaldigest.com
Read also – Best Modern Kitchen Design Ideas
7. A Shady Spot for Dining
A passionate chef would think the pool house can be the best location for showing their culinary skills and generate an amazing memorable dinner will be an outdoor kitchen. This design of poolhouse is suitable for passionate cooks.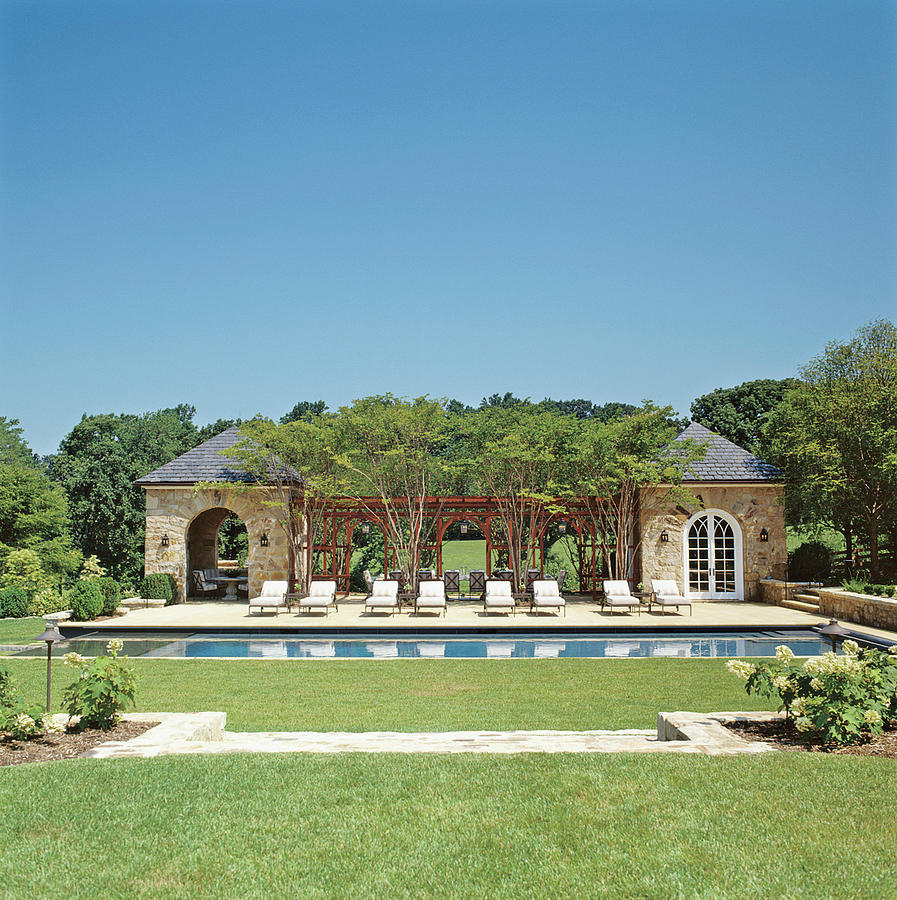 Image Credit: condenaststore.com
8. A Pool House for Recreation:
A pool house would be considered as an entertaining place by creating this structure. The Pavilion at a Palm Beach place, that consists of a dance hall, a cookhouse including two visitor retinues.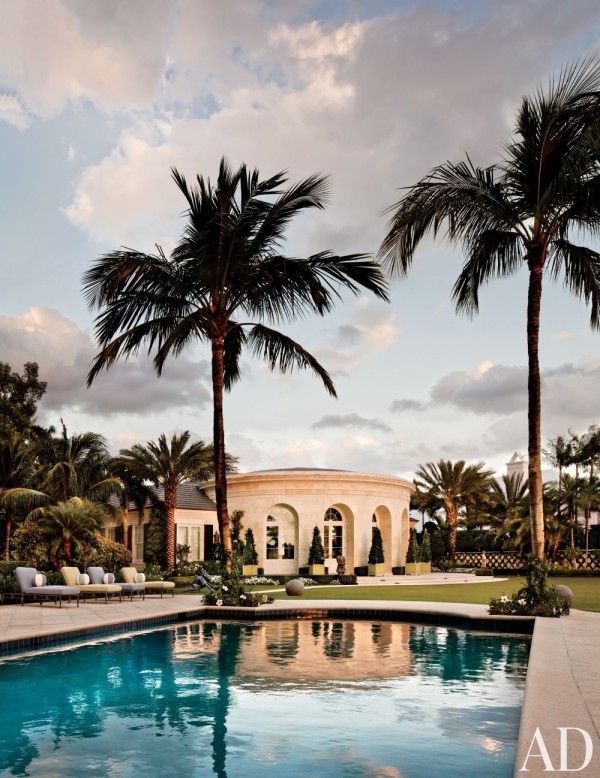 Image Credit: architecturaldigest.com
Read also – Best Kitchen Lighting Ideas
9. A Comfortable Pool House Placing Area
Offer the visitors a comfortable location which gives them refreshment. The pool side placing room of a Hamptons house designed by Steven Gambrel schemes brass glim from just flaming and appointments of Munder-Skiles include perennials-fabric pillows.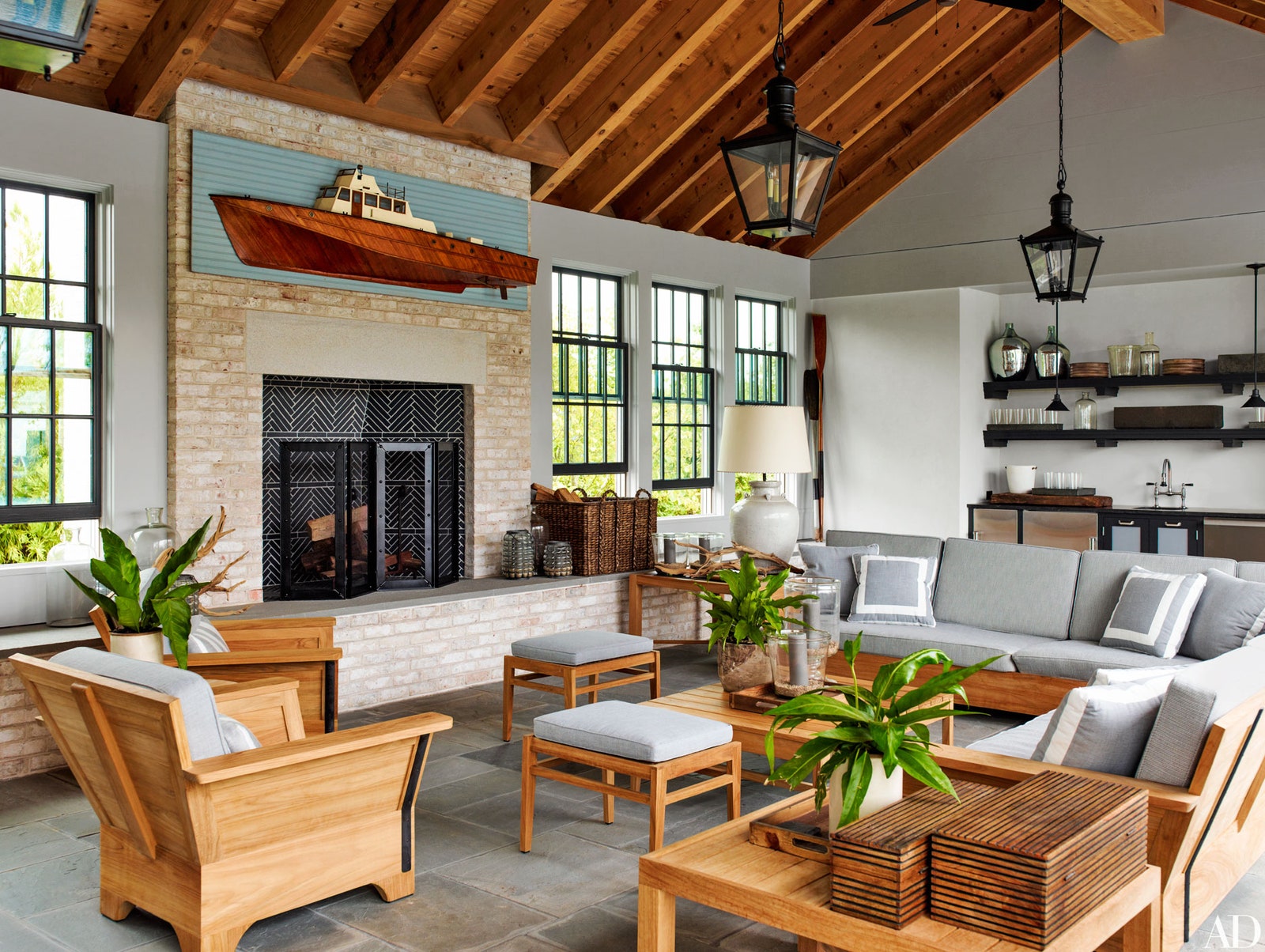 Image Credit: architecturaldigest.com
10. Forgo Rugs
This design is featured with porcelain or ceramic tiles. It is the best choice because it is made from natural rock and concrete. This ceramic tile provides a rustic and keener feel. This pool house comes with endurable grounding elements like bricks, ceramics.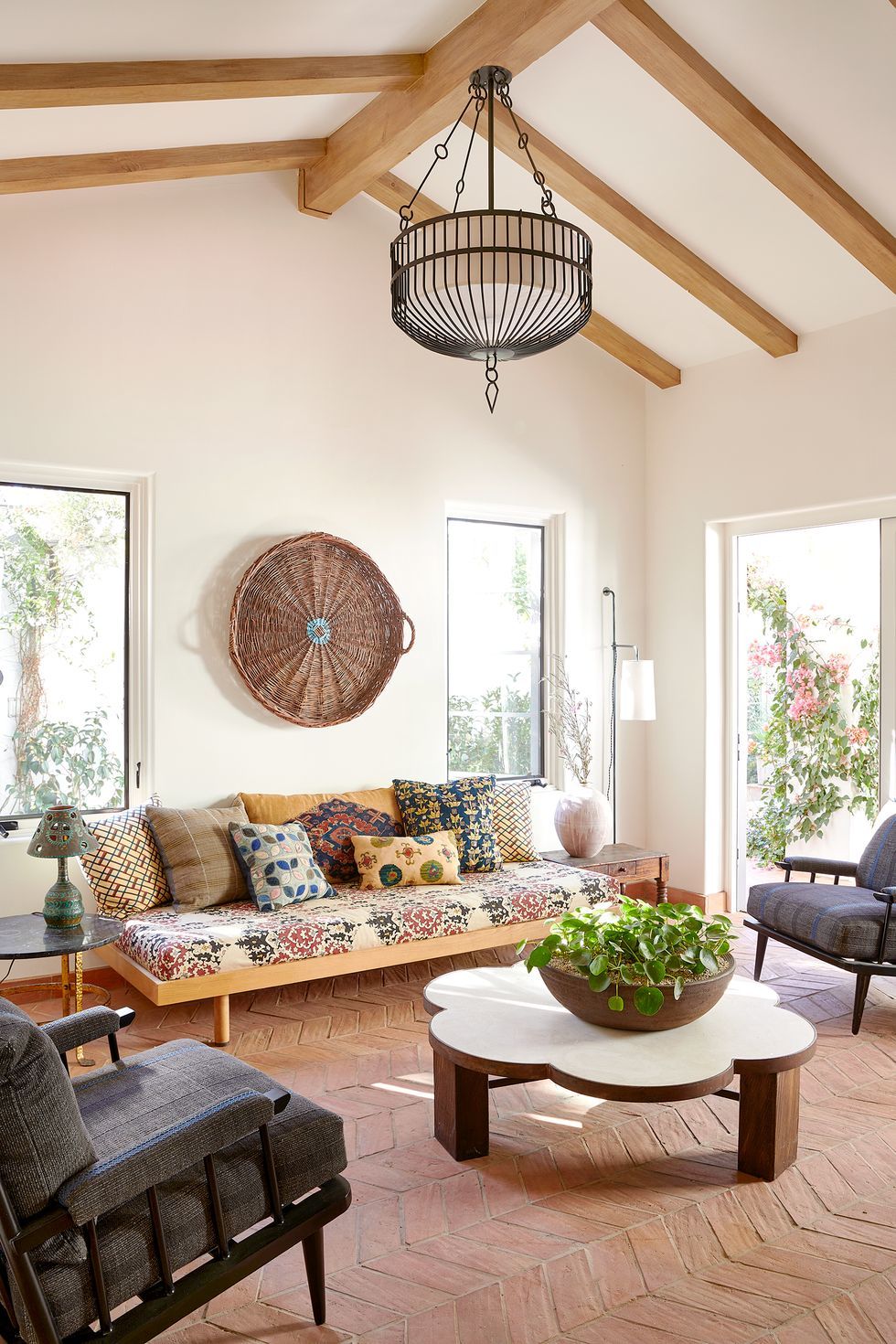 Image Credit: decorreport.com
Read also – Best Porch Design Ideas
11. Made the Entrance Elegantly
This Pool house is featured by john wooden. In this design, the door boarded with great planters with arc lamps for an elegant entranceway.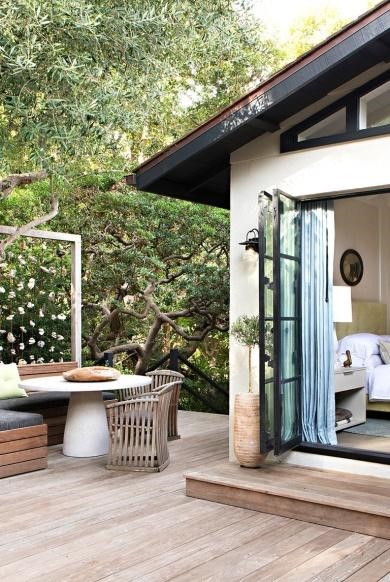 Image Credit: wayfair.com
12. Build a Cabana Blue Pool House
The Center of the fascination of this beautiful pool house is a viewable faux box table of coffee and it is designed by Kate Coughlin Interiors. Blue is known as a traditional shade. In this design blue color is the mix of the color of natural linen to attain a laid-back result.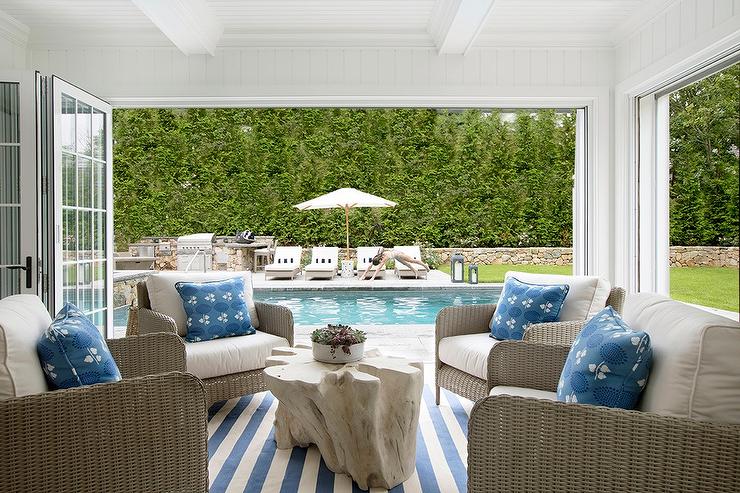 Image Credit: decorpad.com
Read also – Best House Renovation Ideas
13. Pagoda-Inspired Pool House
This beautiful pagoda-inspired poolhouse is designed and constructed by North works Architects. The ground to the surface is designed by glass-back shapes and it is also designed with weather-safe wicker appointments.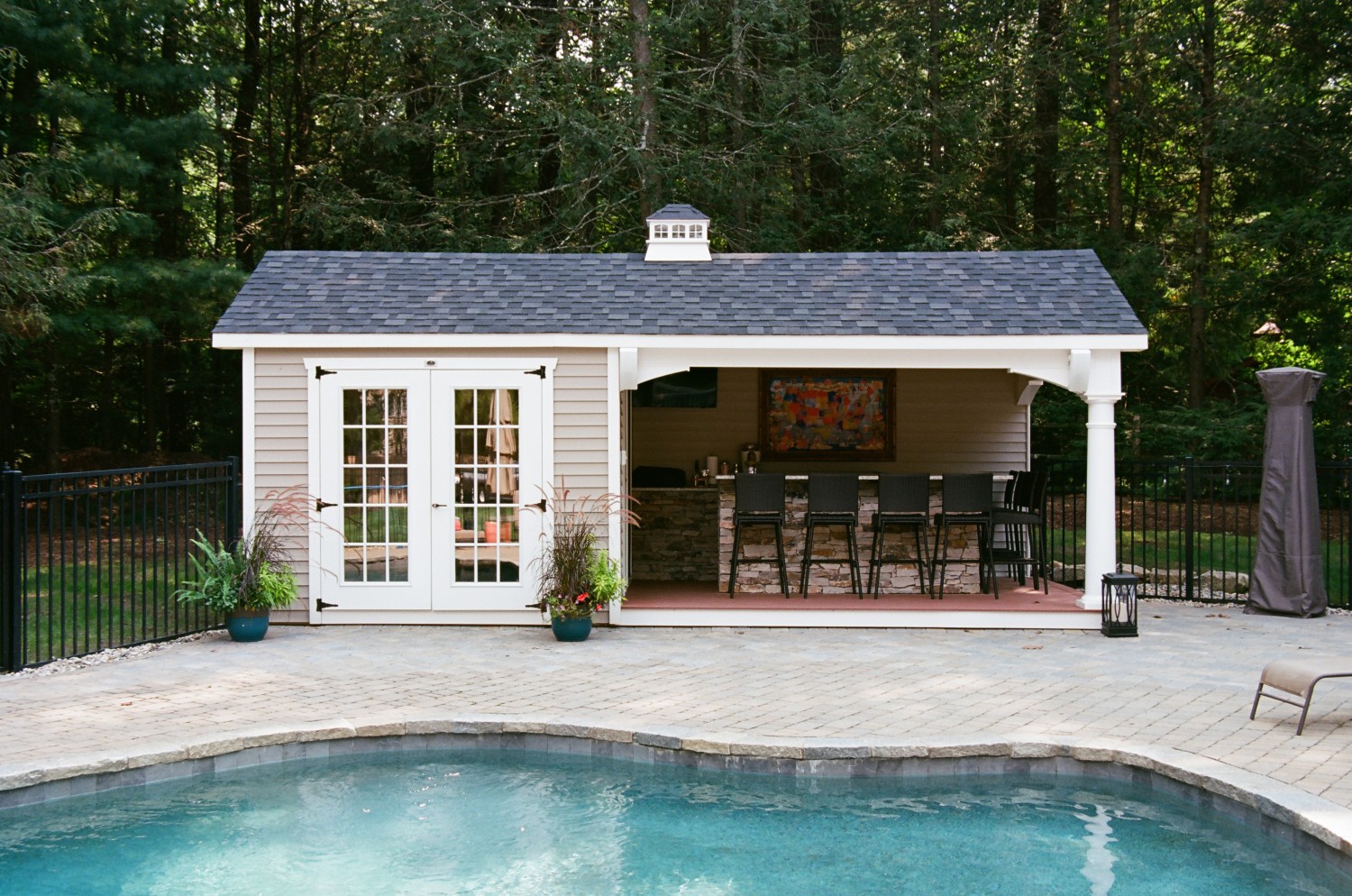 Image Credit: thebarnyardstore.com
14. Small Backyard Mini Pool
This white and green poolhouse is designed by Urban Grace Interiors. It comes with natural teak appointments which add a splash of savage flair. While the desire to spend some private time then closes the curtain and enjoy the time.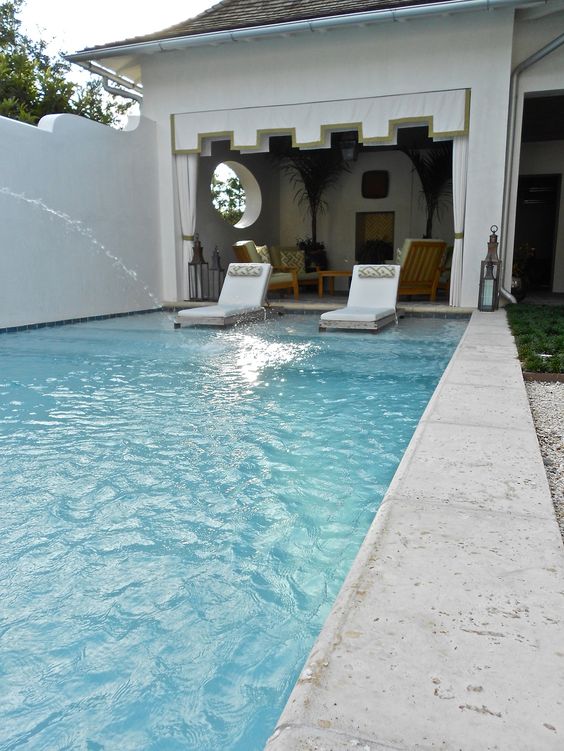 Image Credit: pinterest.com
Read also – Best Outhouse Design Ideas
15. A Dreamy Poolside Placing
Gorgeously landscaped surroundings constantly improve a pool house. The pool house terrace is designed by Delphine and Reed Krakoli.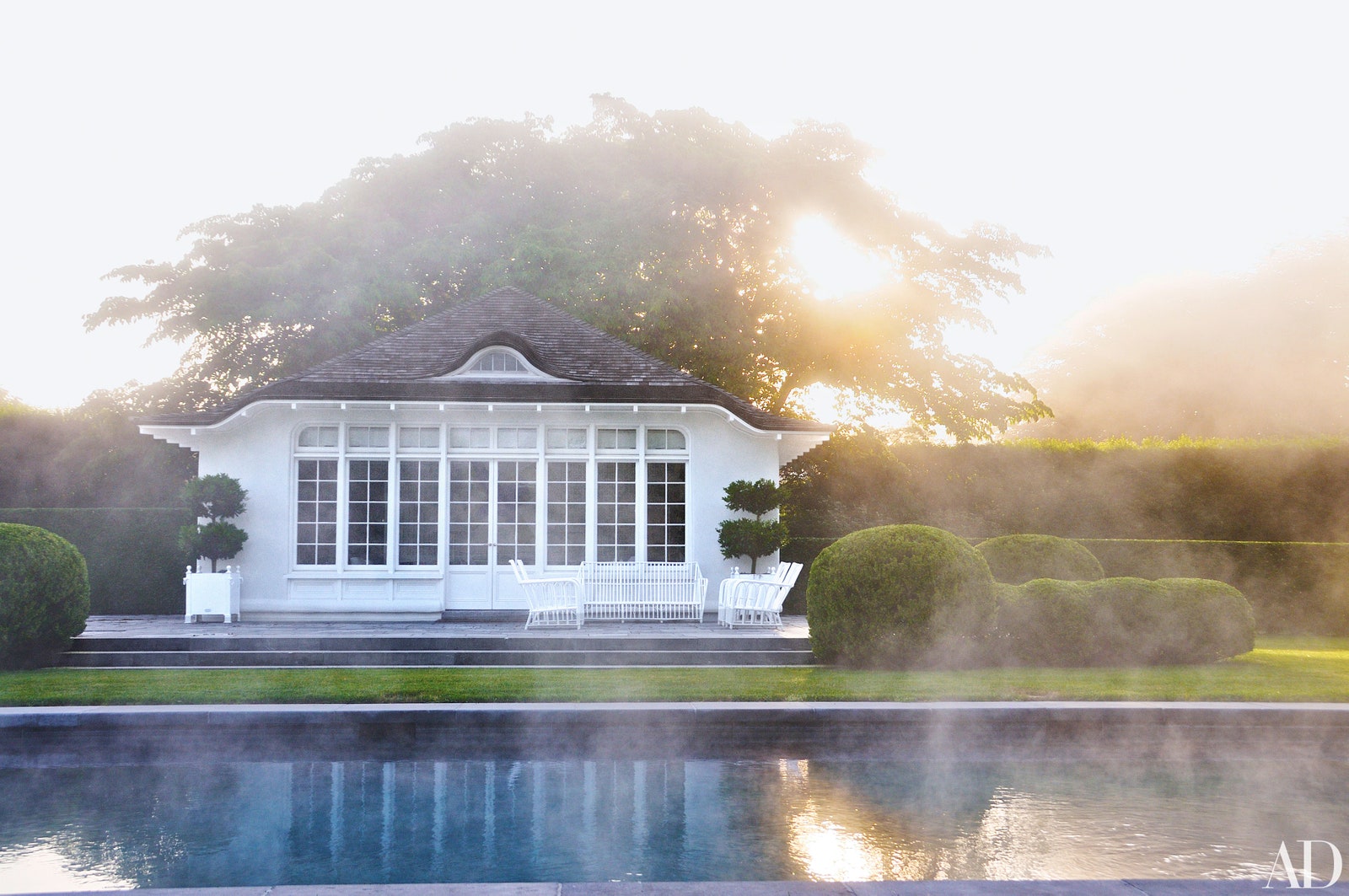 Image Credit: architecturaldigest.com
16. An Airy Transformed Greenhouse
This pool house is designed from the other buildings which would be transformed into a pool house. This pool house design is featured by Timothy Corrigan in 1990. The pool house is featured with a lake Forest, Illinois, house schemes a placing area including wicker chairs.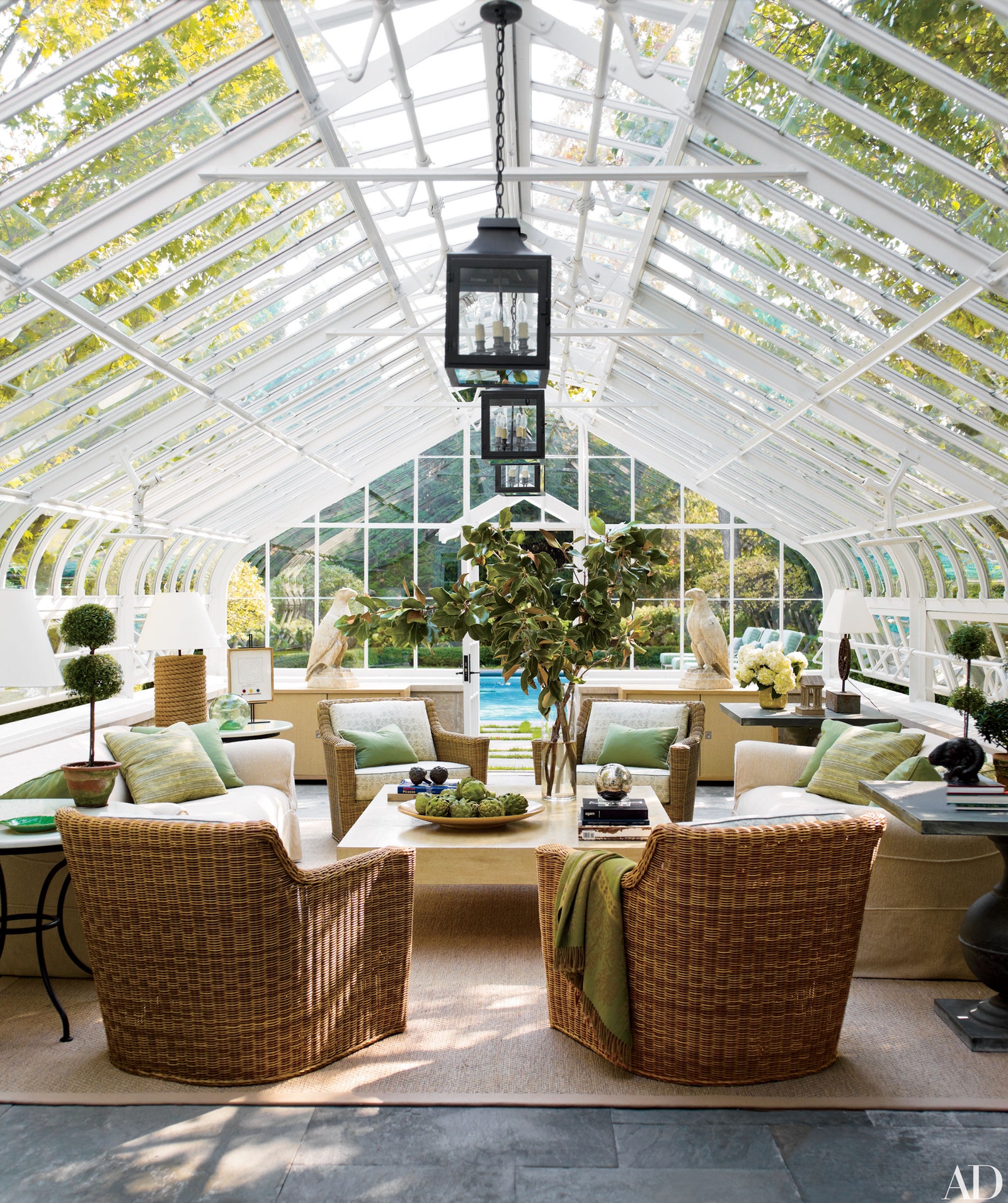 Image Credit: architecturaldigest.com
Read also – Creative Terrace Design Ideas
17. A Patio Pool Side Formation
A pool house consists of shady spots for placing and a personal area for changing. Designer Waldo Fernandez displaces ancient pools at this Los Angeles house including a limestone style of his model and constructs a pool house.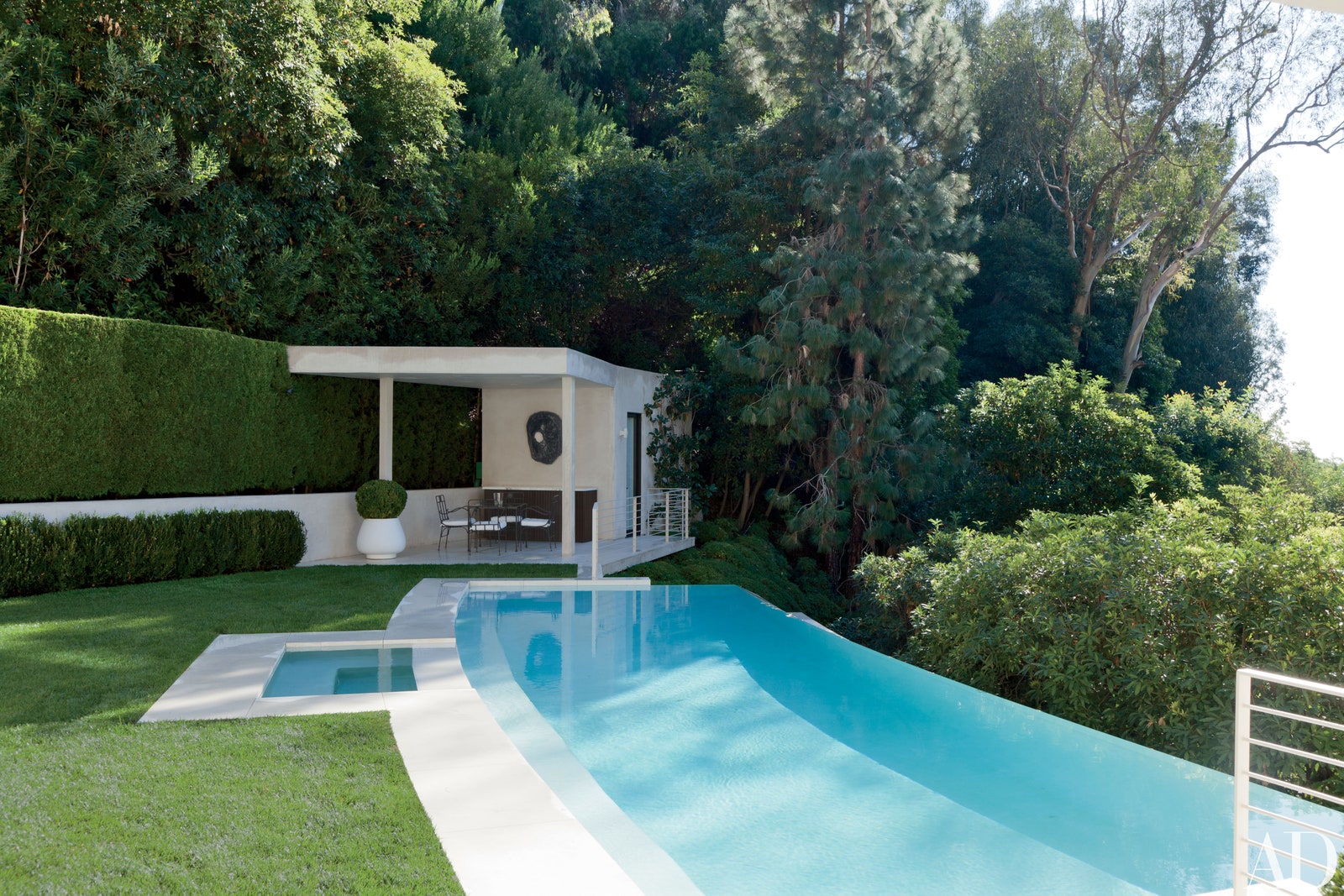 Image Credit: architecturaldigest.com
18. White Pool House including a Pergola Covered Porch
This pool house is designed by the Cari Berg Interior model and it is featured with a beautiful pergola roofed porch. The outward place is decorated with entire eases of home, with an inward /outward TV for enjoying Netflix poolside.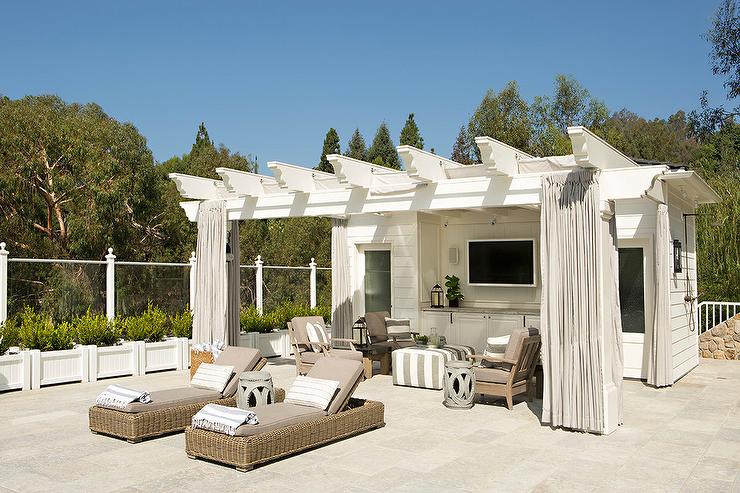 Image Credit: decorpad.com
Read also – Best Studio Apartment Decorating Ideas
19. Guest and Pool House
This pool house is designed by Tim Barber Architect. It is featured with bi-fold doors which could be opened to remove the boundaries within the inward and outward living places.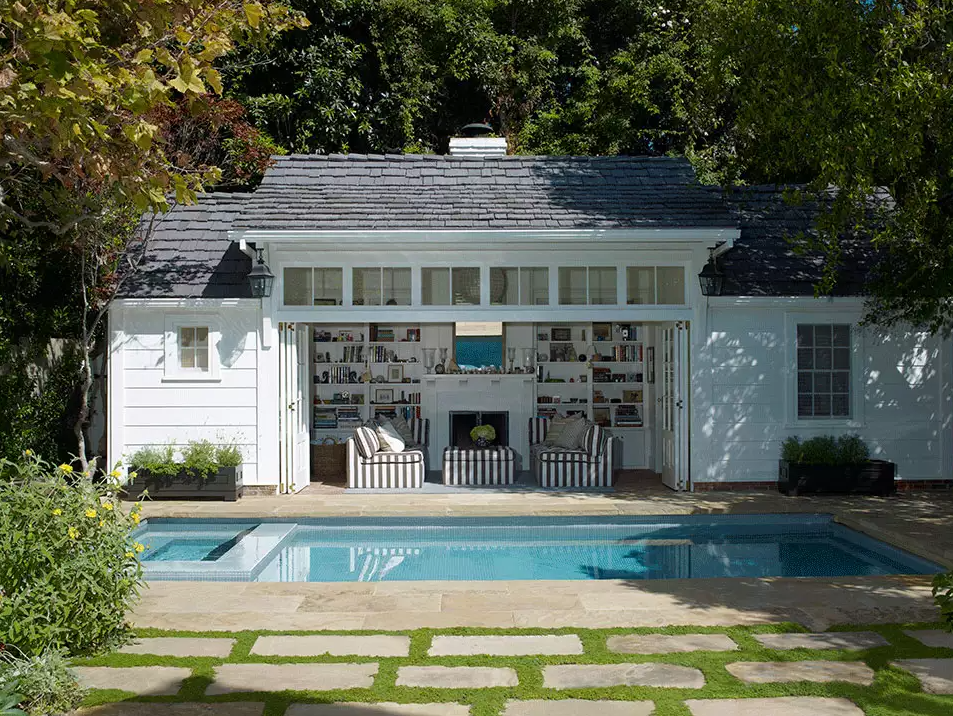 Image Credit: thespruce.com
20. Enjoy Nature
This pool house is designed by Crisp Architects. It helps to comfort and pleasure in the pool area throughout the day. The pool house is featured with a kitchen, setting tables with chairs. In the evening anyone can relax the fire pit under the ceiling of the poolhouse.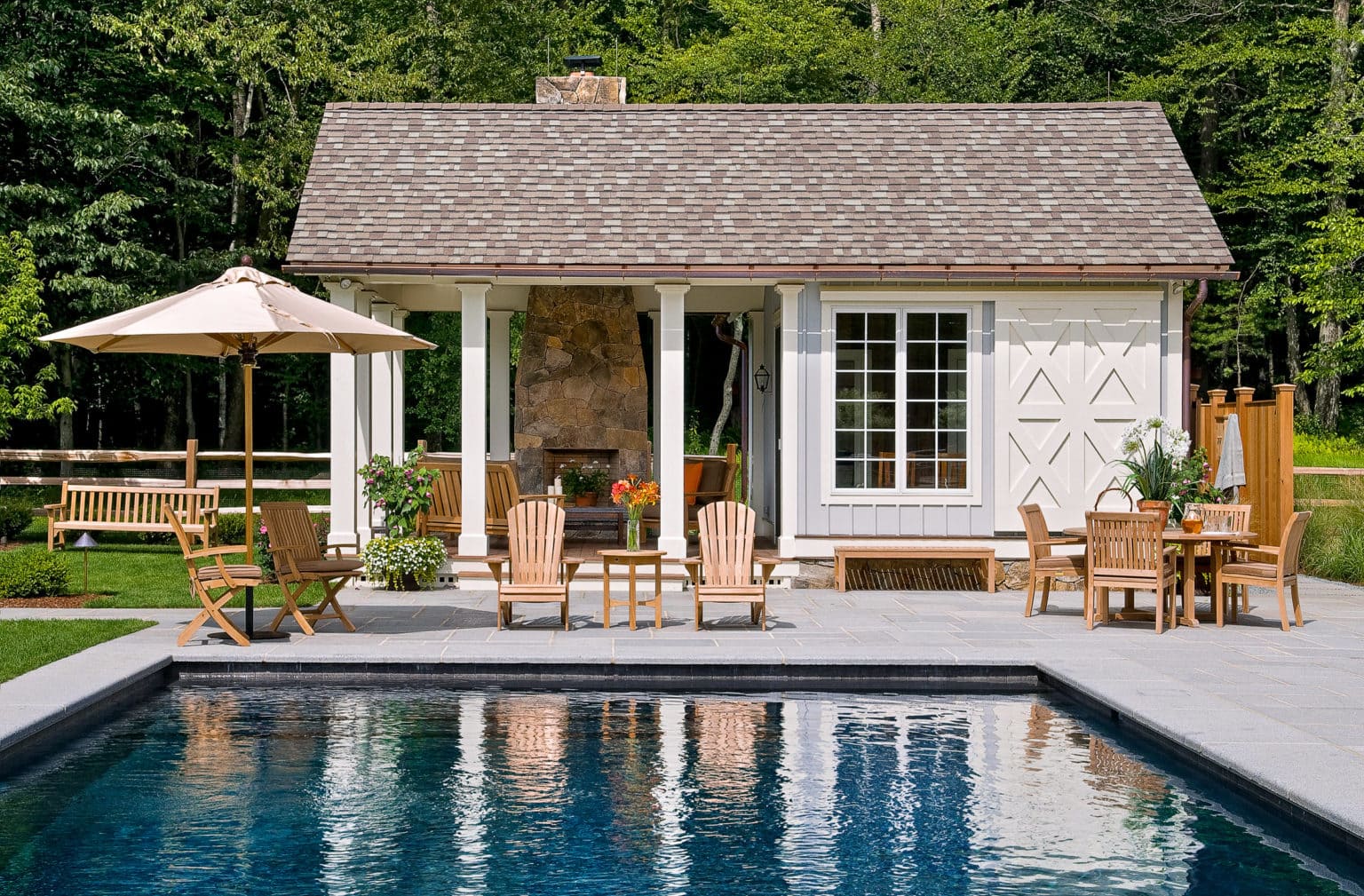 Image Credit: crisparchitects.com
Conclusion
A pool house may generate the pool place vibe more as a resort compared to a portion of your own courtyard. A pool house may address each requirement so the time would be enjoyed there except moving from the chief home for each simple thing. Basics place covering with a lounge place, changing room, bathroom, vanity and the bar spaces. A pool house is generally a safe-standing construction, not connected to the chief home or garage. The pool house is an amazing space to keep pool and bath towels, as like as pool toys, games, and chairs.