Home » Design Ideas & Inspirations » 10 Best Front Porch Design Ideas and Back Porch Design Ideas
Porch Design Ideas
The front porch is quite literally the first thing anyone sees in your beautiful house. It is the part that creates the first impression and introduces your personality and style. Thus, an understated porch really won't do, now would it?
That's why today we decided to share some incredible porch design ideas that will impress and amaze your visitors and you when you look at your stunning house. After all, interior design is not just for the living room and bedroom.
Before we move any further though, let us understand which area of the house is categorized as your front and back porch.
Read also – 50 Amazing Front Porch Decorating Ideas
What is a front porch?
The entryway to your house is either a small space enclosed by your outdoor walls on the front of the house and probably your main gate is categorized as the front porch. It usually holds your house numbers and preferably a decking that provides a great view of the front yard and the street.
The front porch usually has an awning or fencing to separate the area from the street if you do not have a front yard. It adds a certain curb appeal to the overall appearance of your house at first sight.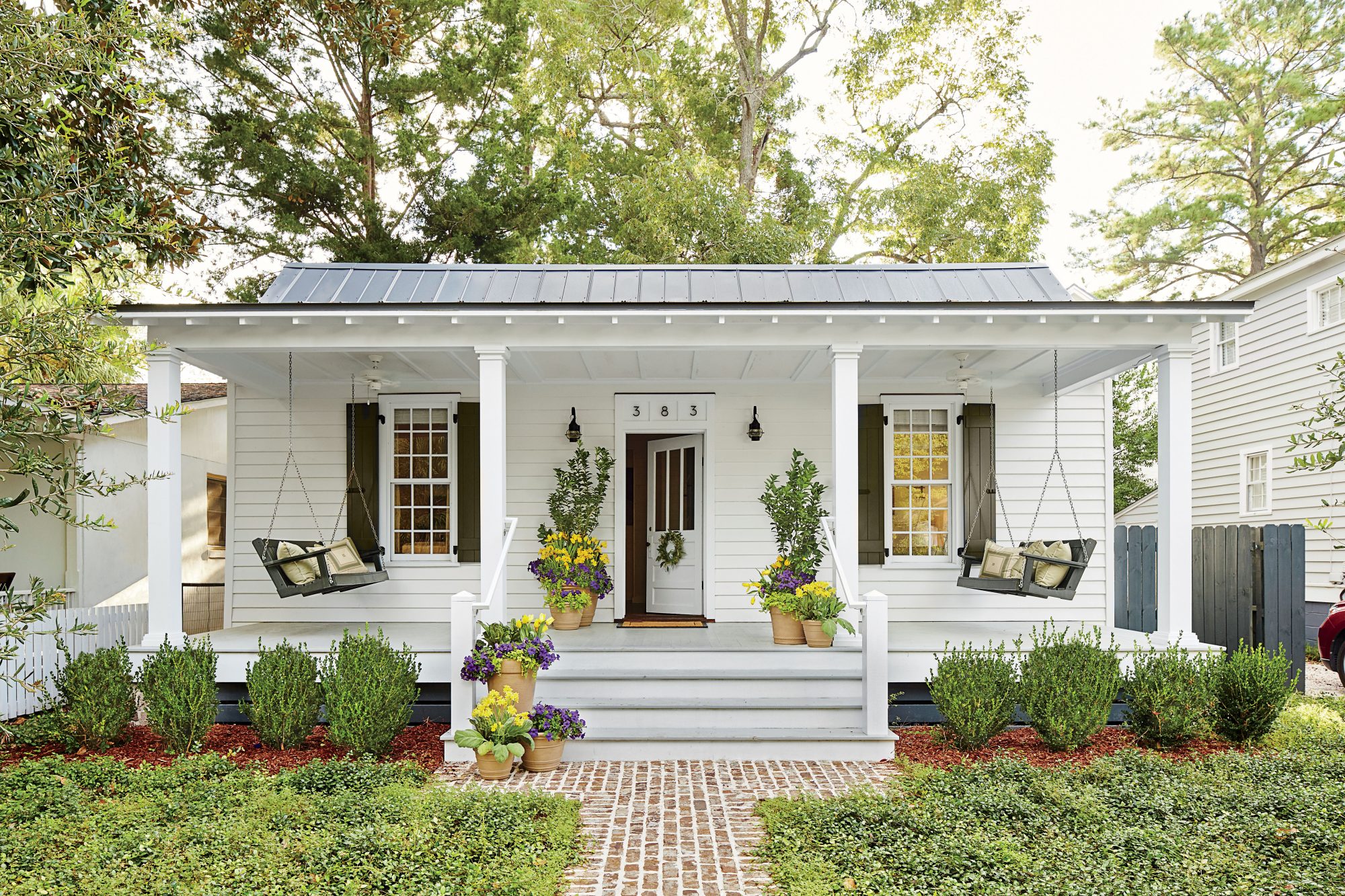 Image credits: nookrealestate.com
What is a back porch?
Unlike the front porch, the back porch is hidden from sight. This area can be allocated on any side of the house, not necessarily the far back. The back porch is usually the small screened porch area where you prefer lounging after a tiring day. Mostly, it faces your open garden or landscaping, maybe even a pool.
A back porch is an excellent addition to both big and small houses. You can enjoy your breakfast or evening tea here on a covered porch with a beautiful sitting area. It can also raise the standards of your date night or add a little flair when you want some time to yourself after a long, hard day.
So now that you know where the front and back porches of your house are located, let us discuss some design ideas to magnify the overall aesthetics of your porch. You can utilize these incredible porch design ideas for the front or the back of your house as you please. As long as it appeals to you at a personal level, there is no jet-set rule as to what goes for front porch ideas and what goes in the back of the house.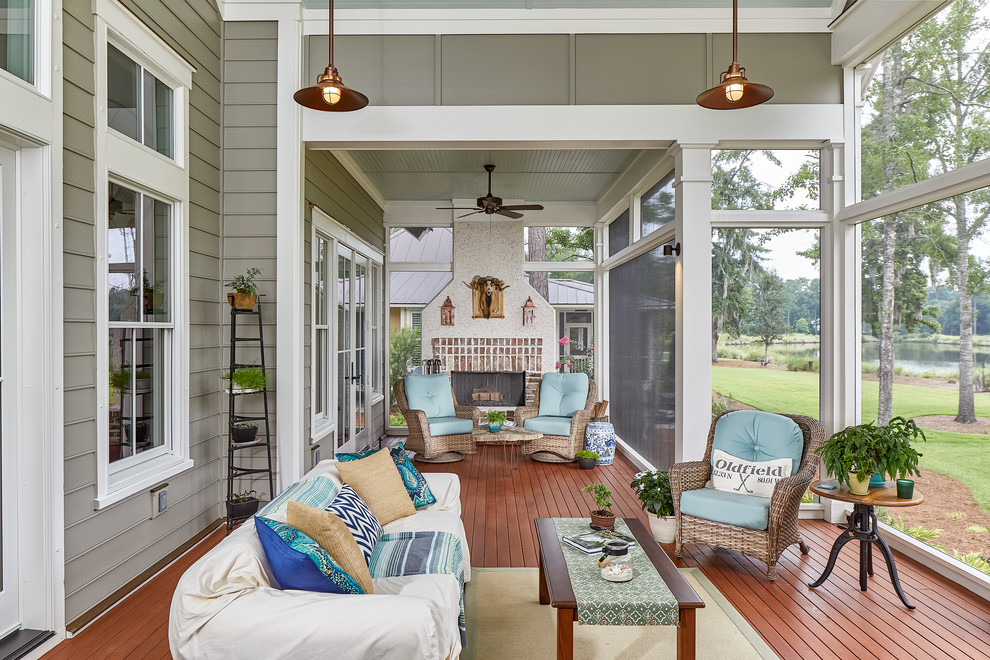 Image Credit: houzz.com
10 Best porch design ideas for your home:
1. Open space seating area
Porch seating areas are a lovely way to spark up your home design. This beautiful open space provides a stunning view of your front yard, back yard, neighborhood, as well as your garden pergolas and sheds.
You may have seen it in movies like the Notebook or Elena's home in the Vampire Diaries where an open space seating area really helps brighten up the overall purview of the house.
Consider using a range of single-seaters or a small couch with a coffee table on the back porch. This area can easily double as a space for relaxation as well as hi-teas and small garden gatherings. You can also create a covered porch where you can sit and admire the pitter-patter of the rain without getting wet. It makes for a seamlessly romantic setting year-round.
For the front porch, consider installing a porch swing or some porch chairs and loungers. You can also add an outdoor area rug to brighten up the entire space. The overall atmosphere is set to provide a place to sit and connect with your loved ones or relax in the lounge at dusk while you watch kids playing in your neighborhood. It is really serene and a lot of fun.
Whether you live in a high-bustling city like New York or in a small town in Minnesota, an open porch seating area can really help connect with the environment while enjoying your time of relaxation. You don't need to be in Florida to experience its tranquility.
Read also – Outhouse Design Ideas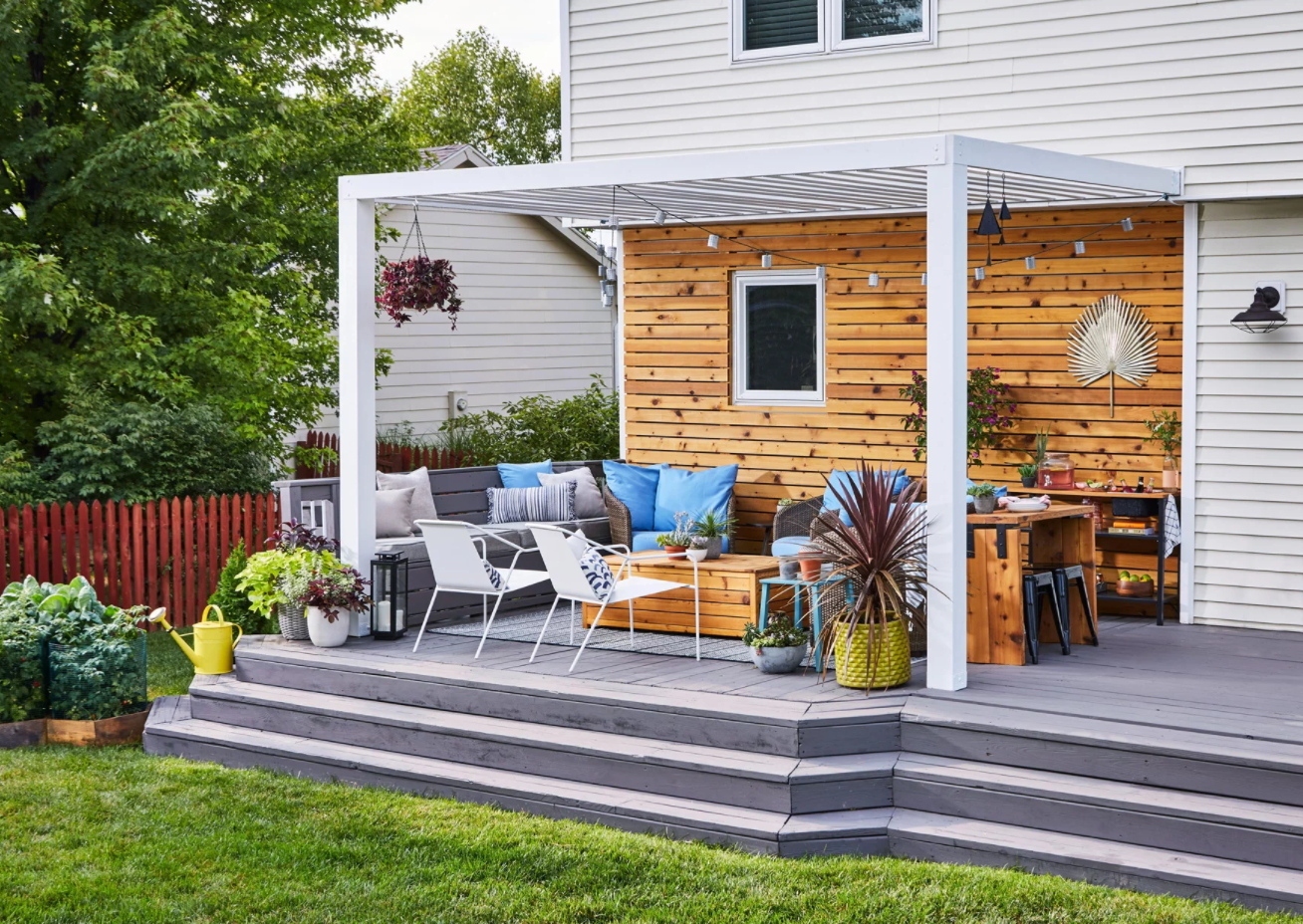 2. Adding a fire pit
Have you always wanted a fire pit to sit around with your family and instigate a feeling of a campfire?
Well, here's your chance. Whether you choose to instill it in the front porch decor or your back porch, it really adds flair to your outdoor living. This incredible decor idea can fit right into your remodel with very little effort. Just place some rocking chairs or create a porch seating area in your outdoor living space and see for yourself what a relaxing effect it has on the overall aesthetics of the house.
Do keep in mind, however, that the porch is a breezy zone, therefore, your fire pit should be well shielded.
Read also – 50 Beautiful Patio Design Ideas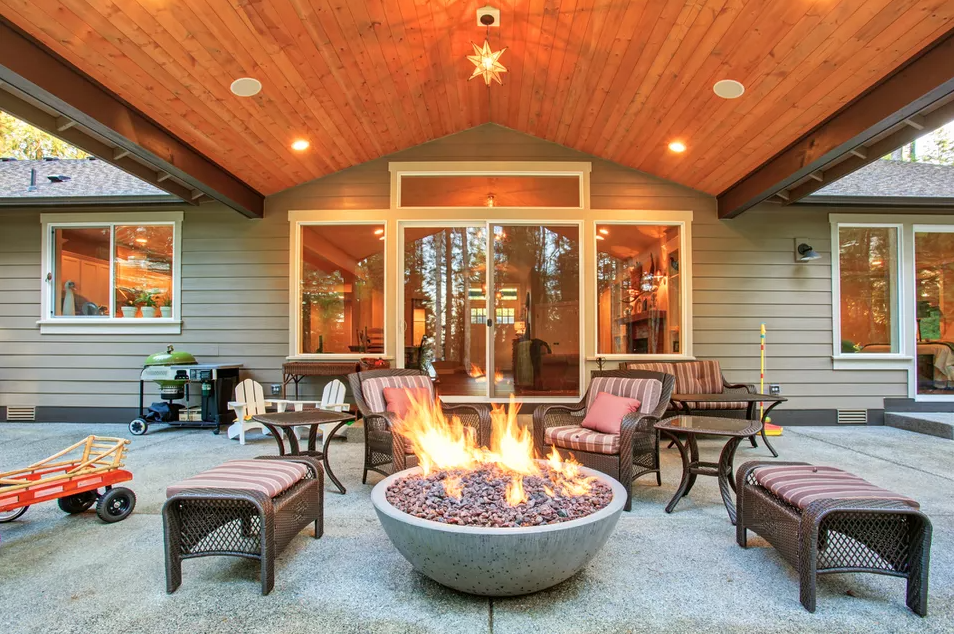 Image Credit: homestratosphere.com
3. Decorate with light fixtures
You may think that being an outdoor living space, the porch would do great with some sconces and not much else. But trust us when we say that hanging string lights from your porch ceiling or adding them to the outer walls can make the place seem so much brighter.
You can even consider wrapping string lights around the pergola while you sit on the porch. This creates a magnanimous effect which is great for small garden parties or a romantic dinner with your spouse in the outdoor area.
Sconces are still necessary for the front porch, of course, where visitors should find an illuminated space at your front door. Not to mention, your house numbers need to be visible at night which is easier done when you keep your porch light on. Some decorative DIY sconces can really add a personal touch to your front porch décor while brightening up the entryway.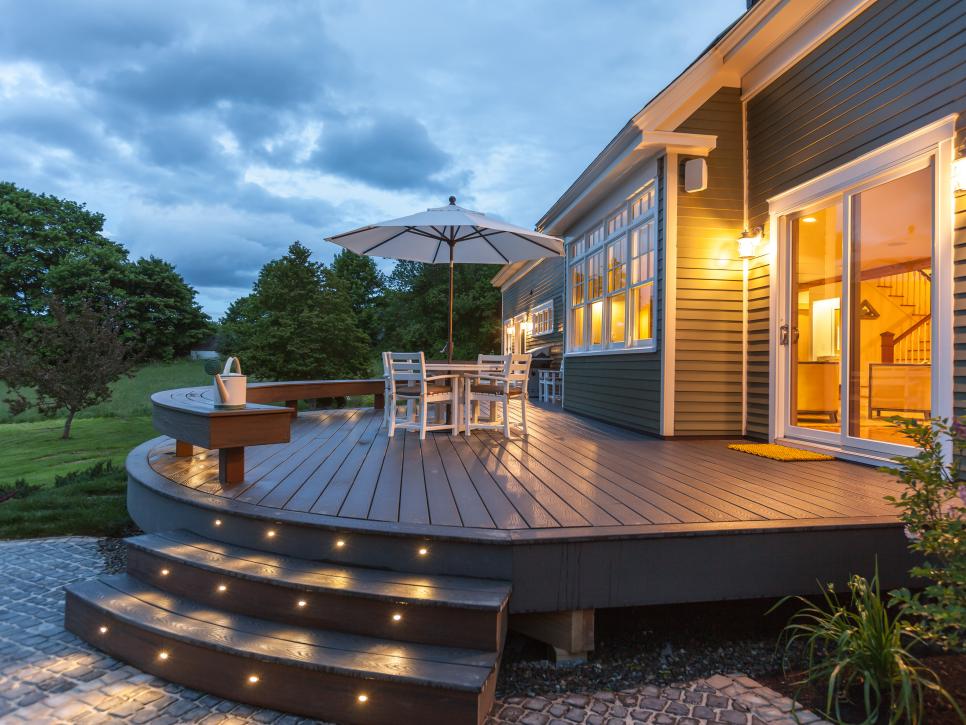 4. Choose appropriate paint colors
Normally, you can choose bright colors for the indoor living space such as the living room, kitchen, even for the interiors of an outdoor room. However, the exterior walls of your house create the backdrop for your porch design ideas.
Thus, select some mild and light paint colors for the walls. You can add vigor with an extensive color scheme in your furniture and pavers. But the walls must remain neutral for the most part as you don't want the house to look overly colorful from the outside when your lights aren't turned on.
If you feel like the exterior and the porch look too dull, consider implementing a vertical garden during your home makeover to add some color and liveliness to your design plans.
Read also – Psychology of Colors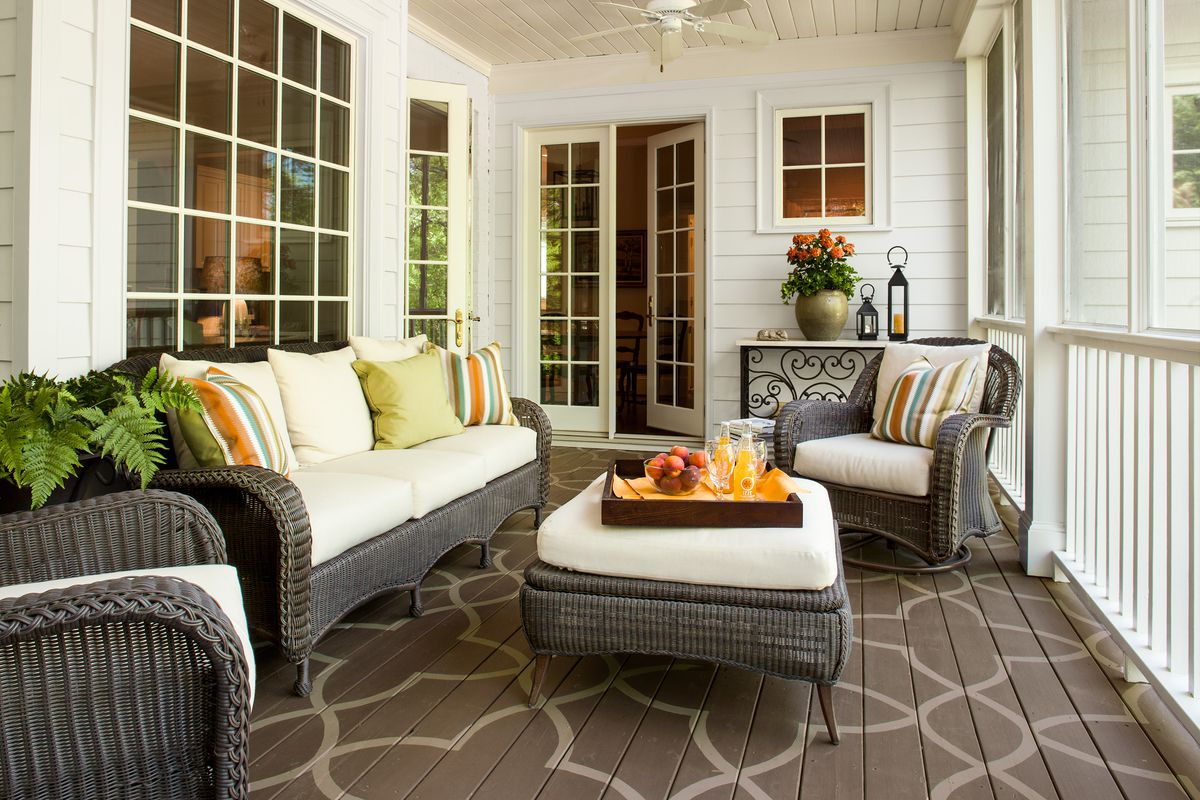 Image Credit: thisoldhouse.com
5. Select a style of interior design
The style of your interior design, or in this case, exterior outdoor porch decorating, must follow a substantial theme. Just because these are outdoor living spaces doesn't mean you cannot use a Victorian theme or a modern eclectic décor or create a farmhouse porch.
You can choose furniture that reflects your style. Maybe instill personal touches to a simple porch design. You can never go wrong with greenery. It adds spark and vigor to any household. If you already have a beautiful front yard and exquisite landscaping, you can still place a few plants around the perimeter of your small front porch.
Whatever decor ideas, decking, and furnishing you choose, make sure to follow a specific theme. A modern house can have a modern front porch while a Victorian house can have anything from a retro theme to a minimalist design as per your preferences.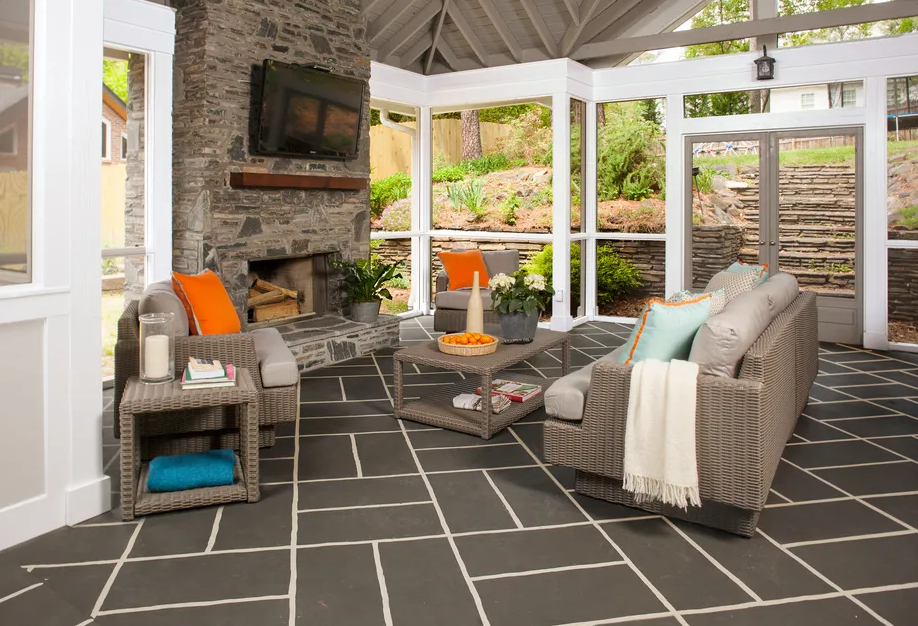 Image Credit: thisoldhouse.com
6. Install a porch ceiling
A porch ceiling is a great addition to your front porch design ideas. Not only does it shield you from the sleeting weather and the rain but you can use the additional support to hang your decor.
Some hanging baskets or flower pots along with some string lights, maybe artwork made by your kids in the homeroom can all help personalize the outdoor living space. You can implement an awning in your front porch ideas and a screened porch for the backyard with a porch ceiling. It creates an illusion of an outdoor room, thus providing space to hang a ceiling fan or protection for your fire pit. It can also serve as a pleasant little sunroom.
A covered porch not only feels cozy but immensely improves the aesthetic appeal of the house.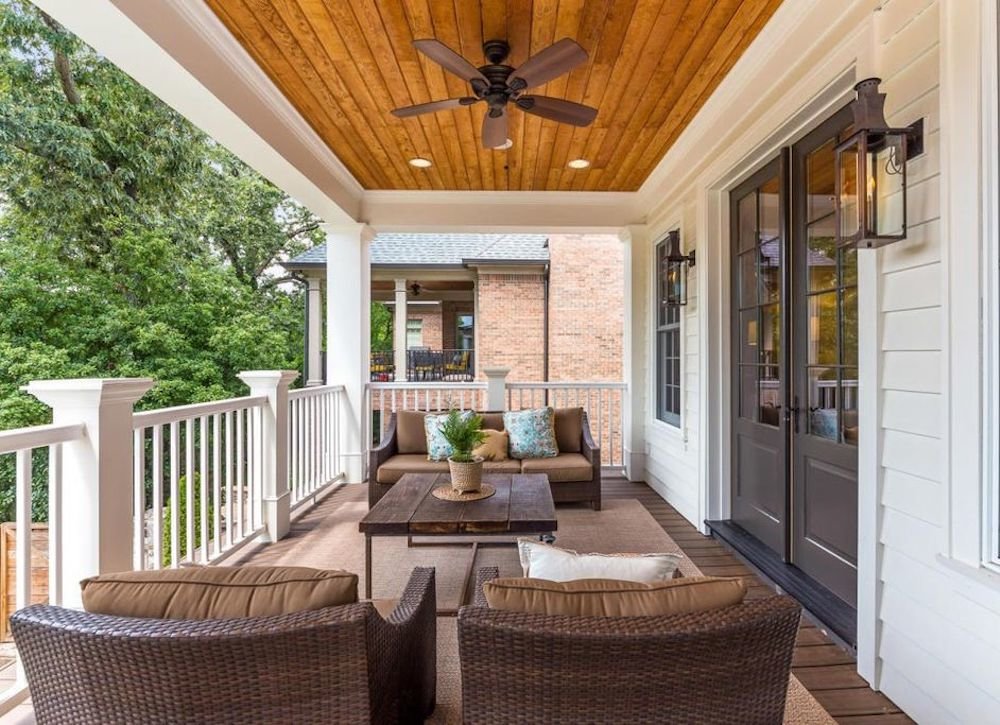 Image Credit: bobvila.com
7. Implement DIY projects
Porch design ideas are one of the best places to install your DIY projects. If you are a craftsman or have a knack for creating things with your own hands, then the porch is your open canvas.
You can build a porch swing or a low-bearing couch with discarded wooden pallets or make some extraordinary market garden solutions with them. Use the open space to instill some greenery by building a small front porch garden with DIY projects. Blossom and 5-minute ideas have excellent solutions that you can easily implement.
Your DIY projects are like a badge of honor. Why not use your creativity and style to decorate the outdoor area with them and impress not only your visitors but also find pride and joy in your handiwork. As homeowners, it is your prerogative to add whatever makes you feel most comfortable in your own home.
Wouldn't it be nice to sit by the DIY project you created while you sip on your evening tea while watching the sunset?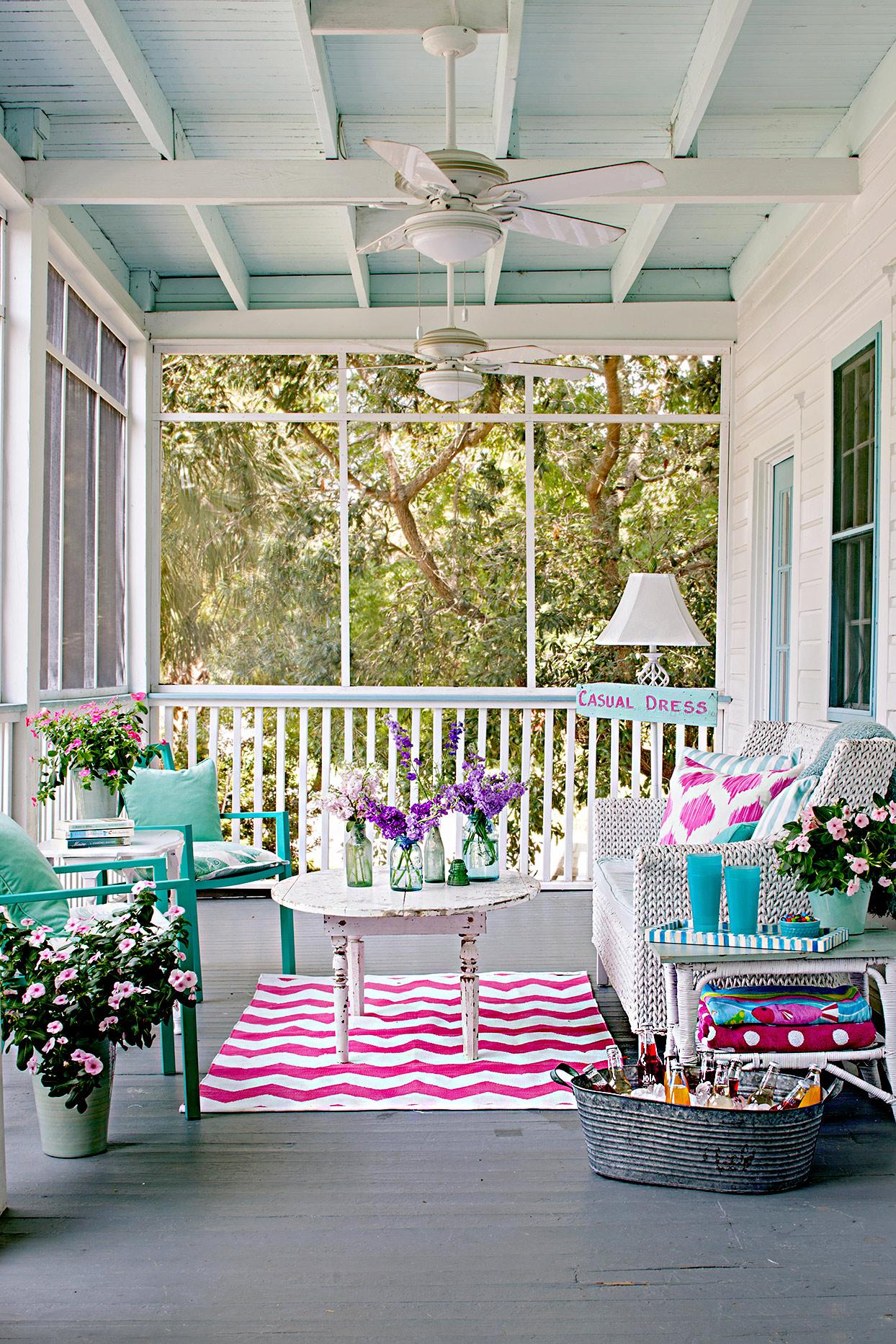 Image Credit: pinterest.com
8. Use pavers to improve the home's curb appeal
Pavers make excellent pathways, sure. But did you know you can also use them to line your front and back porch?
If you don't have enough space for a substantial decking then consider using pavers to create an illusion of a separate outdoor area. You can create a screened porch with pavers too. Just install some outdoor furniture, maybe a round, stainless steel table with a couple of chairs and some hanging baskets, twinkling string lights, and some creepers along the perimeter. Presto! You now have a beautiful porch area with excellent curb appeal.
The pavers add a rustic look and when connected with the pathway leading up to your front door, it makes it feel more like a castle or a farmhouse porch. Your home's curb appeal is boundlessly hyped with minimum effort and a lot of value.
Read also – 14 Best Studio Apartment Decorating Ideas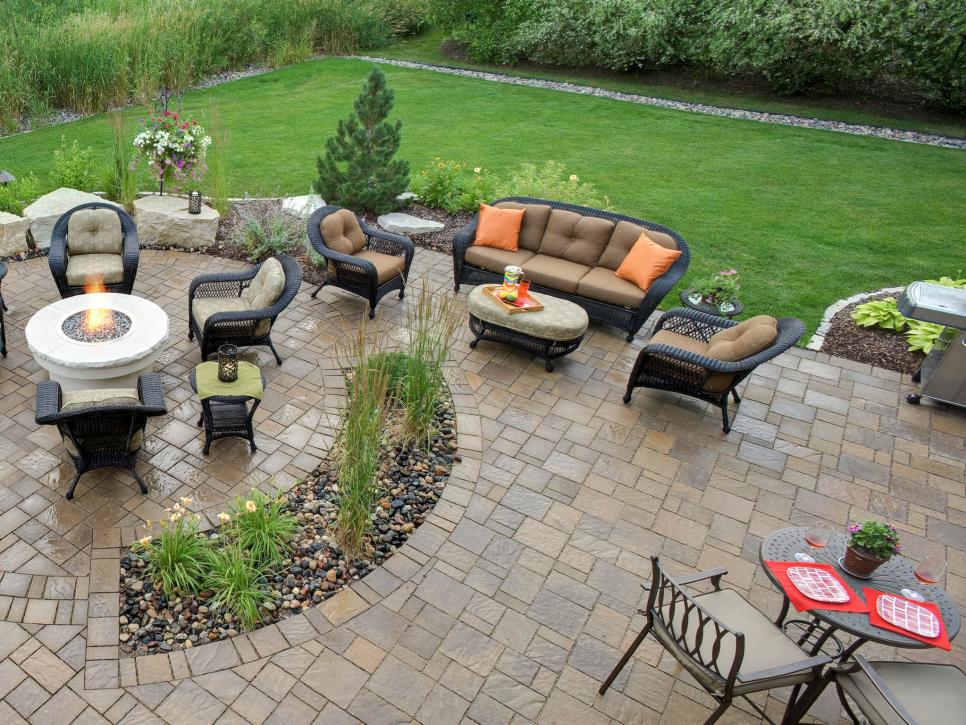 Image Credit: diynetwork.com
9. Install decking
If you happen to have a huge open space near your front door or the back yard then you definitely need to consider decking. Of course, you will need permission from the zoning committee but it is absolutely worth it.
Remember Charlie Harper's beautiful beach deck in Two and a Half Men? That can be your house. Even if you don't live by the beach, decking provides aesthetic appeal to your home.
For instance, if you have a swimming pool in your backyard or a beautiful Zen garden, then a deck helps keep out the dirt and moisture from tracking indoors. You can arrange outdoor rugs on your decking to wipe off your feet or soak up the water when you come out of the pool.
Decking also helps elevate your front porch and back porch from the ground. This is a truly incredible solution as it allows you to create a small crawl space underneath the house and your porch design plans. It invariably assists in screening all manners of rodents and insects that would otherwise be infesting your beautiful home.
Not just that but a decking around your porch design ideas makes your house seem more distinguished and exclusive. If your home is going through a makeover, by all means, consider getting the permit and installing a beautiful decking around your back and front porch. You will definitely cherish it.
Read also – 80 Modern Kitchen Design Ideas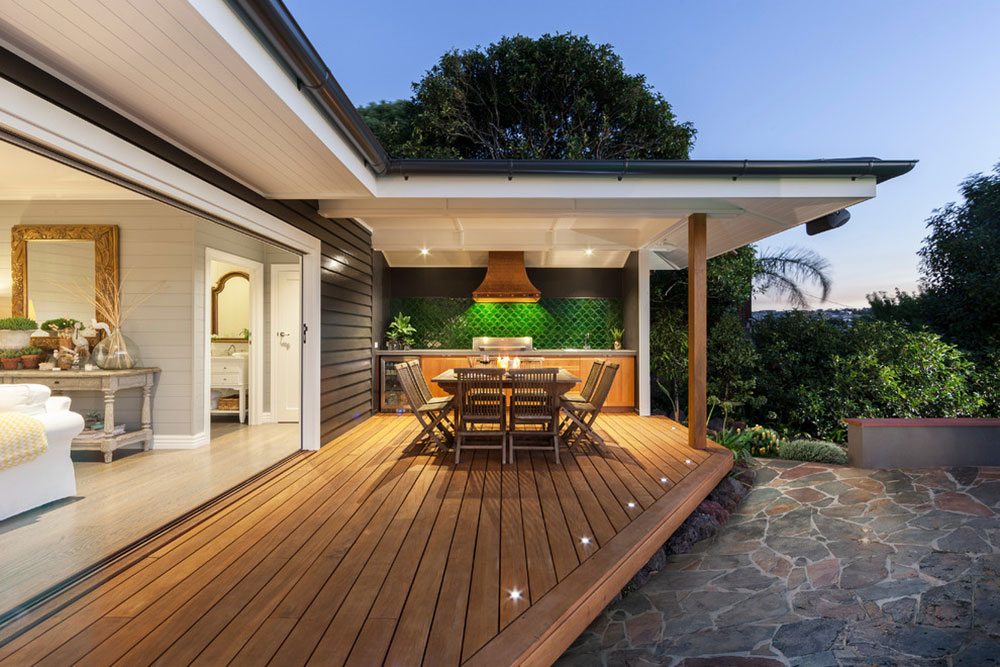 Image credits: impressiveinteriordesign.com
10. Create a focal point as a craftsman
As we have said before, porch design ideas are a craftsman's dream space. Among the hustle of the overall interior design of your home, you often find things that don't fit the indoor plant. Perhaps you designed a piece of furniture or created a line of hanging home decor pieces that just don't seem right to your interior designer.
Bring it out into the natural world. Who says that all manners of home décor must sit indoors?
Of course, you can't really bring out expensive artwork or designer décor in the open where they might be damaged by dust and dirt, not to mention, get stolen. But any DIY projects or beautiful pieces you may have designed or picked up at the flea market can definitely be displayed on your front porch; your back porch too actually.
Maybe there's that authentic cowbell or a colorful wall hanging that doesn't fit the interior décor. However, when placed in contrast to the front yard or the beautiful garden in the back, it really does create a focal point for your porch design ideas. These little touches not only brighten up the exterior of your house with flair but also reflect your personal style to the world at first sight.
As a craftsman, you can also create porch décor ideas with scrap which definitely do not fit the exquisite style of your indoor designs but they certainly sit well in the outdoor area. Creating a focal point in your porch design ideas actually pulls focus to the item in question and distracts from the otherwise small space.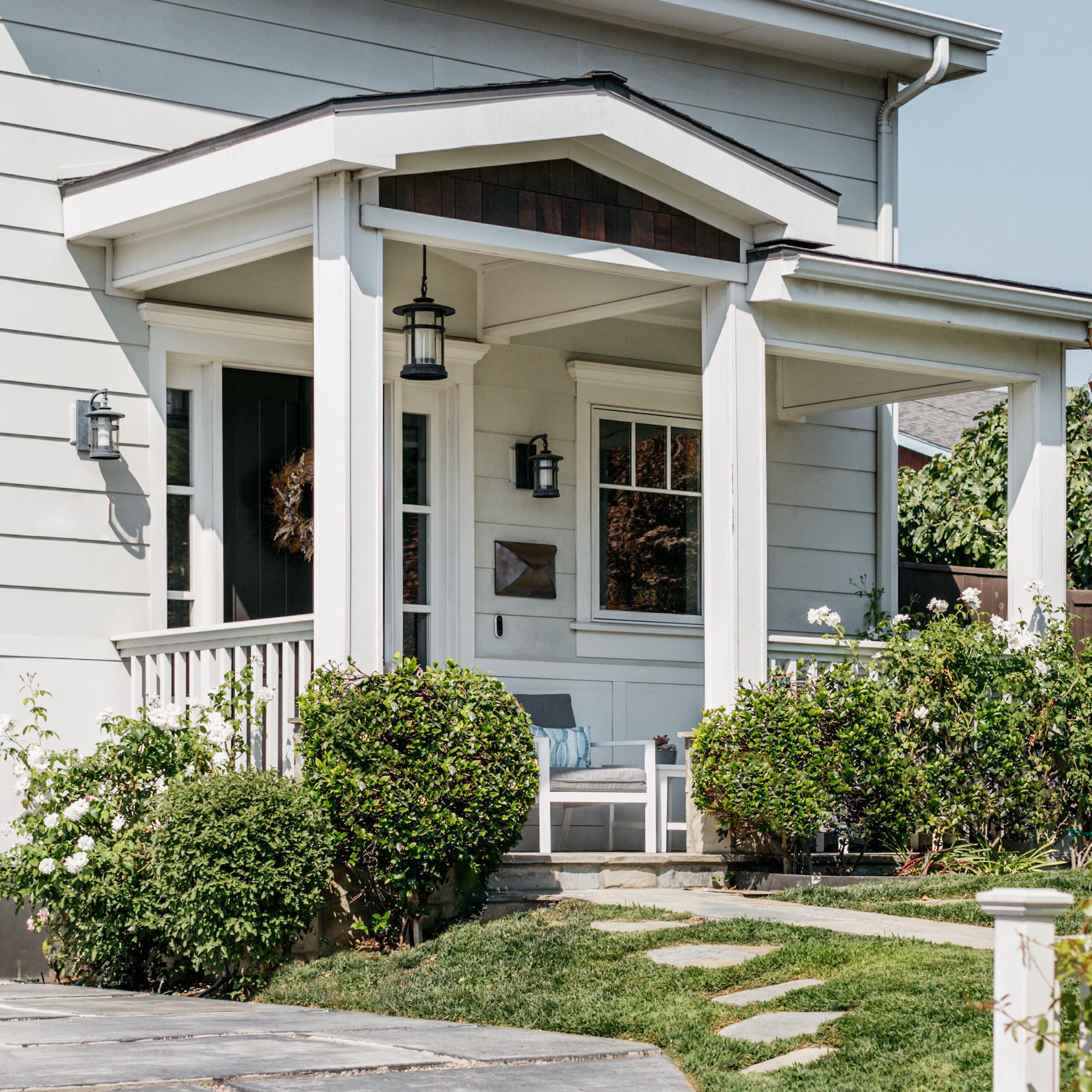 Image Credit: thespruce.com
Now that you have a defined set of ideas, get to decorate your front porch and back porch for better living. These incredible porch design ideas are quite simple and handy and with a little creativity, you can really transform this living space into a haven for yourself and your loved ones.
If you are uncertain about how to get started, consider using the Foyr Neo app that is available on desktop and mobile phones to pre-design your porch ideas on a 3D platform. This cloud-based application will help you choose various decking styles, furnishing, greenery for the front yard, etc.
Not only can you design the home's curb appeal, but you can also test your design ideas before you implement them. This will help prevent errors and provide you with your dream porch for your exquisite property.
So what are you waiting for? Get started and build yourself a beautiful front porch or back porch as per your preference for lounging, chilling, and bumping up the aesthetic value of your real estate property.