Home » Interior Design Concepts » Best Home Interior Design Tips To Improve Your Home Value
Home Interior Design
Interior design has become the next consumer need, especially since the pandemic locked us into our homes. People started to realize the value of a well-decorated home that comforts them and invites them when the world is in turmoil.
For interior designers, this is an opportunity to enhance the lives of more people with the wave of their talent wand. You can literally go from zero to a top designer in no time.
For homeowners, this is a wake-up call to remind you that life is short. It can change any second to lock you back up in that real estate property you purchased. Do you want to be stuck in a lifeless, dull living space that wrings your energy out of you? Or would you prefer to be locked in a beautiful home that feels more like a spa facility with warmth and invigorates you towards your passion when you need it?
It can be hard to determine what themes, colors, light fixtures, pieces of furniture, and floor plans that best suit your sensibilities. That is why today we shall discuss a few home interior decorating tips to help you out.
Home interior design ideas for this era
Mostly, we tell you about the interior decorating components, and sometimes, it may seem challenging to identify what is best suited for which room during a home makeover. So, why don't we take this room-by-room for a simpler design process?
1. Living Room ideas
Whether you have a small home or a big one, the living room design makes a lot of difference in your overall decorating plans.
Color scheme – The living room is a lively space where you entertain guests and your loved ones alike. Therefore, you can use bold colors such as bright yellow, red, orange, maroon, jewel tones of blue and green, and any other color scheme that excites you. You can also use wallpapers with bold patterns, festive designs, or even elegant ones with a touch of style.
For the rest of the furnishing and decor, make sure that it complements the color of the walls. You can use gradient accent walls and fill the room with monochromatic shades as well. If you like minimalist home design, you can also opt for neutral colors in which case you will need ambient lighting to create a mood.
Lastly, for window treatments, consider monochromatic dark shades or geometric prints for a little flair.
Lighting – The lights in your living room must have an option for brightness and a favorable ambiance. Choose LED lights or bright lights for when you converse, watch television, and game nights.
For a subdued ambiance during a romantic evening or when you just want to chill out and relax after a long day, you can opt for decorative sconces and lampshades. Yellow lighting hues relax the mind.
If your living room design includes extravagant party scenes then consider a chandelier.
Furniture – The living room furniture has to support a lot of activities. Consider a wooden coffee table in your seating area and a lot of comfortable seating options. This is also an ideal place for your bookshelves, cabinets to hold entertainment options, cubbies for children's toys, and preferably a shoe rack in the entryway that leads to your living room.
If you like minimalism then spread out some comfortable floor cushions around the coffee table. You can have built-in cubbies to avoid installing excessive storage options around small spaces.
For spacious living rooms, you can install a daybed with throw pillows apart from the sofas in your seating area for a transitional extra bed. You can also have armchairs and rocking chairs by the fireplace which is great for cold weather in New York. You also need side tables in the seating area and a little shelving to display decor items.
Decor items – The decor in your living room design can include a focal point. This is where you hang your wall art or display an antique with style. This focal point draws all the attention and makes a style statement.
Apart from that, consider a centerpiece on the coffee table, picture frames and DIY objects on the wall, a few souvenirs on built-in wall shelving, or a converted bookcase.
You can also use tons of greenery in your living room. Consider tall plants, cut-up long-stem flowers in ornate vases, hanging baskets from the ceiling, and small potted plants on the cabinets near the wall.
You can also use area rugs or carpeting all the way from the front door to the living room and lead to the dining room. Area rugs are great to create sectionals in your home, especially in small spaces with Scandinavian and minimalist designs.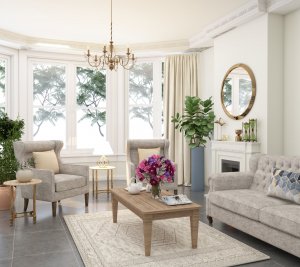 Read also – 11 Amazing Home Decor Trends
2. Bedroom decor ideas
Color palette – The color palette in your bedroom is not just to inspire serenity and sleepiness. The purpose of this room call for design ideas beyond the ordinary. You need to have passion, vigor, and calmness all at once. This is where you will go to sleep but you will also wake up preparing yourself for the challenges of the day.
Consider stimulating and passionate colors such as red and pink but make sure not to overwhelm the room with them. You can use them as paint colors and balance the color scheme with neutral shades of beige, white, or grey. Pastel shades of blue can also add a calming effect.
The linens can be monochromatic or patterned. You can install a rattan headboard to add a splash of natural color or opt for textiles to escalate the elegance factor. Keep the window treatments simple but dark shades in order to block out the light for uninterrupted sleep.
Jewel tones are good for bedroom linens, window treatments, and tapestry.
Light fixtures – The lighting in a bedroom design is a little tricky. You need dull hues to calm your mind and body with an option for some light reading before bedtime.
Consider floor lamps and LED ceiling lights with a dimmer for a little brightness that can be easily adjusted as per your mood and activity. You can have beautiful table lamps on bedside tables for ornamentation. You can also create DIY sconces, hang string lights in teen rooms or for mood in adults' bedrooms.
Furniture – The furniture in minimalist designs can include wardrobes with sliding doors, beds with storage, and side tables with cubbies and cabinetry.
For mid-century modern themes and Victorian themes, consider bedposts or ornate headboards. You can have antique wardrobes with some styling and accent lights. You can also create a small seating area with a chaise lounge by the French windows with a claw-foot coffee table or high-back chairs.
For a modern feel, you can include a reading area, especially in children and teen rooms with a bookshelf beside it. You can carve out the space by the bay window to accommodate a comfortable seating space with cubbies underneath for books, toys, and accessories.
Ornamentation – The ornamentation of the bedroom begins with your furniture. Consider ornate doorknobs for the wardrobe with honeycomb designs, crystals, or large rectangular handles.
You can hang a curtain around the bedpost like a tapestry or a tent. You can also introduce BOHO string and beadwork for coziness.
Consider potted plants by the windows and thicker window treatments. You can have mechanized blinds for modern living to block out the early morning light.
Decorate the room with personalized pictures, DIY objects, and maybe even special pieces of artwork or ornaments that you created with your spouse. This is a private space so you can hang all your private items without judgment.
Here's a thought. Use paint colors with light or neutral shades on three walls except the one behind the headboard. Create an accent wall here with red paint and accent lighting. You could even hang a portrait under a beautiful tapestry for effect.
3. Powder room and bathroom design ideas
Color scheme – The color scheme in your powder rooms and bathrooms can be subdued for minimalist homes and you can use jewel tones for Victorian, steampunk, and BOHO designs. In a modern home, you can consider neutral colors with geometric patterns on the tiles.
Make sure that your cabinets and fixtures align with the color scheme of the walls and floor tiles.
Lighting – You need bright lights near the mirror where you groom yourself so LED ceiling lights, mirror lights, and bright sconces could do the trick.
For the rest of the space, especially by the tub or shower, consider dimmer lights that don't draw much attention and make you feel serene. Make sure to hang any lights around the powder room at a height to prevent accidental electrocution.
Fixtures – Measure your bathroom before purchasing your fixtures. In small powder rooms, consider pedestal sinks and shower stalls. If you have enough space for a tub, consider a shower nook above a wall-embedded sinker. This saves space while providing all the necessities, especially in minimalist designs.
For master baths, you can have a slipper tub in the center or a corner tub with jets. Build a shower stall separately but at a distance from the toilet. Consider sink designs that befit your theme and the area you have available. You can easily fit a two-person sink with cabinets underneath to hold the toiletries and a medicine cabinet behind the mirror.
Decorating style – For small spaces, you can hang shower curtains around the bathtub. Place a few area rugs in optimal places and decorate the overall space with scented candles, potpourri, bathroom plants, etc.
The bathroom doesn't require extensive decorations but you need shutters or blinds for the windows.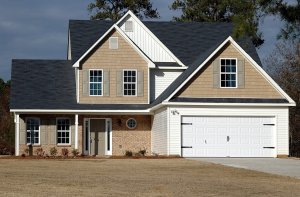 Read also – 10 Most Popular Types of Interior Design Styles
4. Home Office decorating ideas
Color Palette – The home office is where you generally come up with great ideas, meet clients, and conduct all your important business. Therefore, the color scheme should inspire you.
Consider colors like red, gold, yellow, maroon, and blue for the paint colors, upholstery, window treatments, and artwork. Use natural brown wood and white for the pieces of furniture and preferably all-green plants for vigor.
Lighting – You can have table lamps on the desk or LEDs around its perimeter to avoid straining your eyes. Consider floor lamps in the backdrop and ceiling lights for the overall space.
Furniture – You need the basic desk, seaters for your clients, and a comfortable office chair, of course. Consider a breakfront, preferably antique, with a glass framework. You can also have a seating area with a comfy couch and a coffee table.
You need a bookshelf and filing cabinet too for all your storage needs and a dedicated space for your Wi-Fi, graphic chips, and other items associated with your trade.
Design trends – The home office space design must be on par with the theme of the house. Hang your unique items as wall art, especially those associated with your trade. It gives clients a glimpse into your design style.
Make sure that the entire space is clean-looking, which means clean edges, sharp design, and trimmed plants. Keep the decor items relevant to your business instead of fancy artwork.
5. Kitchen design plans
Color scheme – The color scheme of your kitchen should be bright as well as enough to hide the stains.
Consider white and yellow for the walls, even if you opt for tiles. Use wooden furniture and cabinetry with a bright color palette, and dark brown backsplashes if possible. You can have colorful appliances if you prefer but keep them complementary to the overall color palette.
Light fixtures – Bright lights are important for the kitchen where you prepare meals. Consider ceiling lights above the countertops and cabinetry. You can also install built-in lights.
Hang pendant lights above the Kitchen Island for ambient meals and LED lights around the perimeter.
Storage – You need tons of storage space in the kitchen.
Opt for customized cabinetry and pullout drawers to hide away the pots and pans. Stain-glass frames with wooden craftsmanship around the edges add flair to your decorating style. You can also have a china cabinet in an open floor plan for added elegance.
Appliances – Utilize stainless steel appliances and fixtures in modern and steampunk homes. You can install iron grate ones for rustic and country themes.
9. Go Solar to Save Some Green
From wall decor to furniture all the way to your window treatments, you now know what the magic of interior design can do, even for a humble home. Don't do it for others, do it for yourself. Implement these home decor ideas so you have a beautiful living space that you can call home, one which actually reflects your personality and brings you untold joy.
We hope as homeowners and interior designers you find this article helpful enough to start designing the best, most attractive place for your serenity.
Good luck!