Home » Design Ideas & Inspirations » Home Decor Trends 2023: For Comfort, Classics, and Convenience Home
Home Decor Trends
That the past year turned our life upside down is an understatement. Holed up at home, we worked, studied, exercised, vacationed, and even socialized from the confines of our living spaces. To cope with the chaos outside, many people turned to interior design trends. They reimagined their home design and updated it to match their aesthetic and functional needs.
As per a Statista report, 76% of Americans ushered in at least one modification to their interior design. From renovating their interiors to making homes more eco-friendly, people took on various home improvement projects during the pandemic.
With that in mind, we list the top 2023 home décor trends to help you create your dream interior design for this year. From timeless classics to pieces that boast individualism, there is something for everyone in the home décor trends 2023.
Read also – Kitchen Trends 2023
11 Top 2023 Home Décor Trends:
1. Comfort Design Trends are a Priority
Traditional styles, soft materials, and expressive color palettes are the design trends defining 2023. They are evocative of comfort, which is the need of the hour for many. Given that we spend most of our time at home, it is essential to ensure that our living spaces exude comfort and functionality. By incorporating plush sofas, lounge chairs, comfortable rugs, houseplants, and more, one can set up a cozy home.
In your home office, you can incorporate comfort by investing in ergonomic chairs that are good for your physical wellness. For the walls and décor elements, count on warm paint colors (think shades of yellow, blue, and teal) or look to the home décor color trends 2023 for inspiration.
Read also – Top 7 Summer Interior Design Trends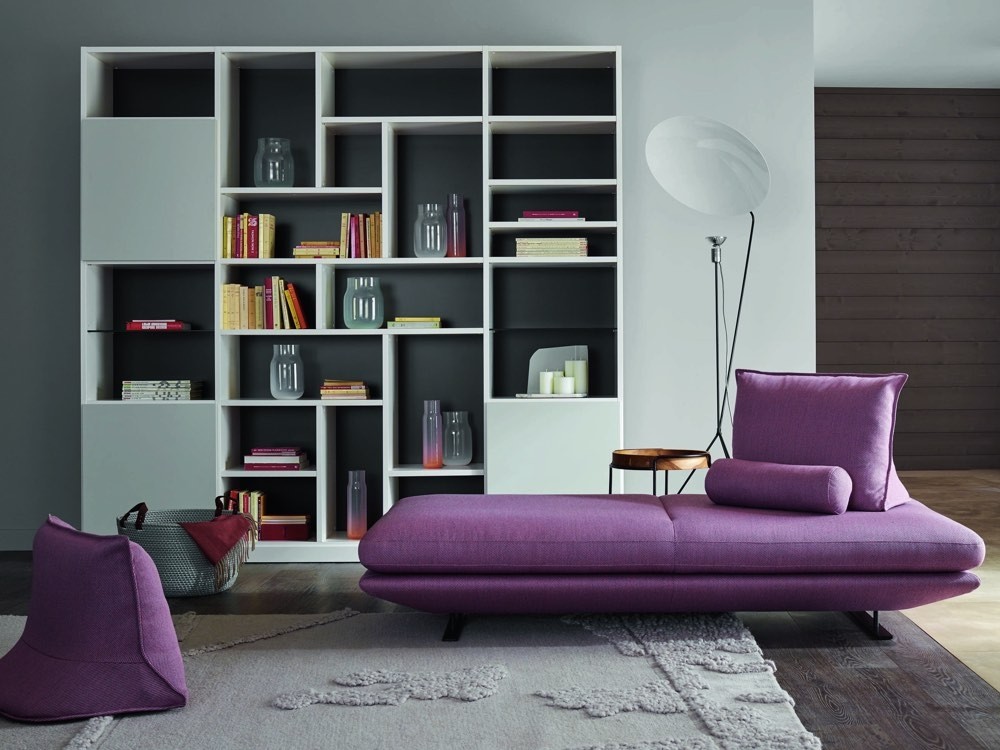 Image Credit: chaplins.co.uk
2. A Return to the Mid-Century Modern Classics
Little compares to the classics when it comes to upping the style quotient of your homes, making them a noteworthy part of the home décor trends 2023. Timeless and durable, mid-century modern furniture, such as rounded armchairs, sofas, and tables with clean lines, is here to stay. Whether you have a small apartment or a large house with outdoor spaces, the mid-century modern classic furniture elements instantly elevate the look and feel of any room.
In your living room, you can incorporate a wooden-legged sofa in a neutral hue or one of the home décor color trends 2023. The sofa is versatile and will lend a cohesive appearance to your room. In your home office, you can add a statement accent chair for when you take a break. It is an eye-catching interior design element to have in your dining room, too.
Read also – Latest Home Design Trends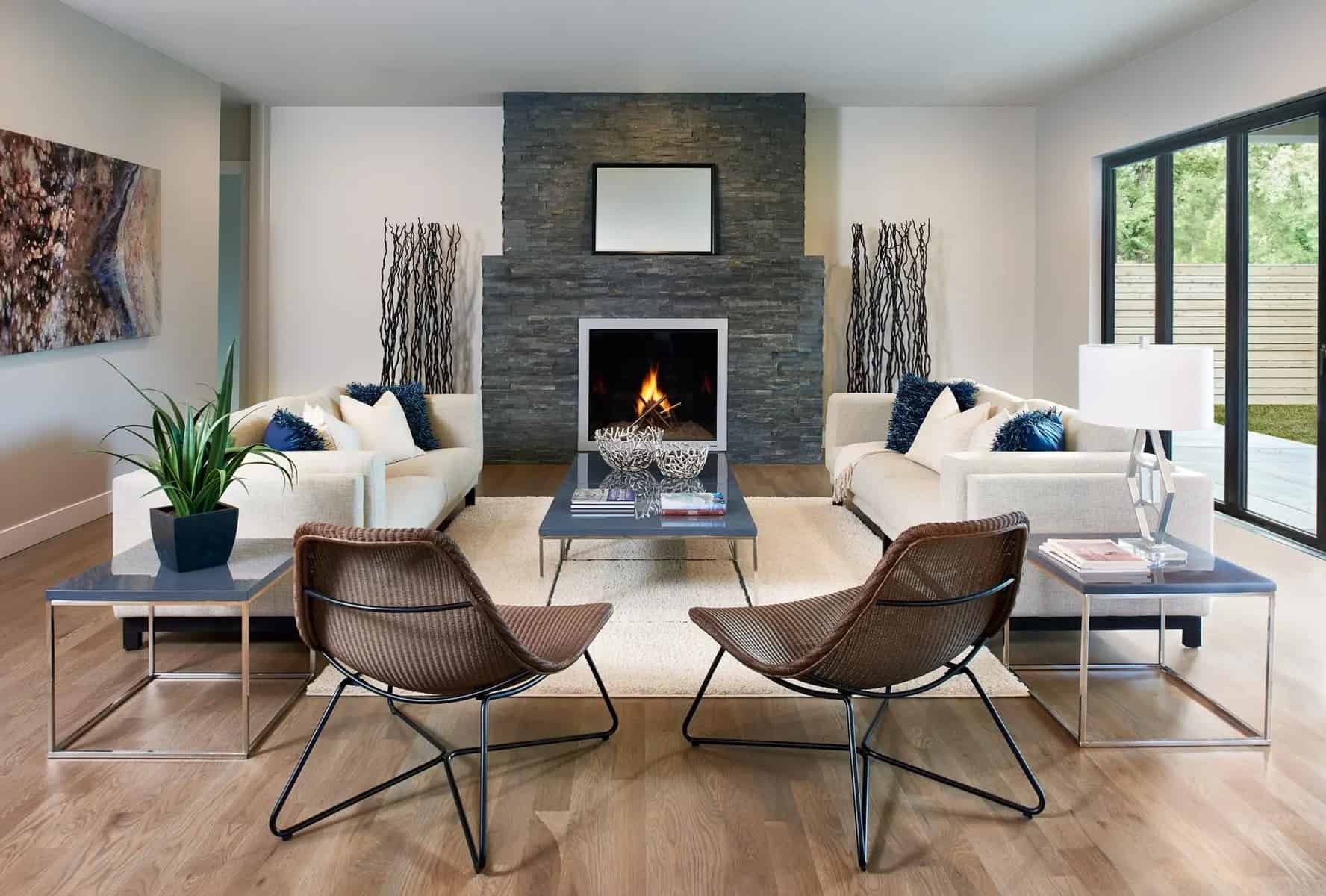 Image Credit: laptrinhx.com
3. Mindful Home Decor Color Trends 2023
The home décor color trends 2023 are all about self-expression. For instance, when choosing a wall paint color, people give due attention to colors that make them feel good. Neutral colors like beige, pink and brown are a fail-safe way to upgrade the visual interest of any room. Another safe option is the Pantone color of the year which is ultimate gray and illuminating. The Pantone color trends perfectly encapsulate the need of the hour and mindful home decor color trends 2023.
If your color palette leans towards bolder and brighter colors, explore trendy options such as black and gold, Fuschia, neon, and more. Still, if you are afraid to commit to a single bold hue, you can opt for an accent wall and paint only one wall a bold color.
Read also – Colors in Interior Design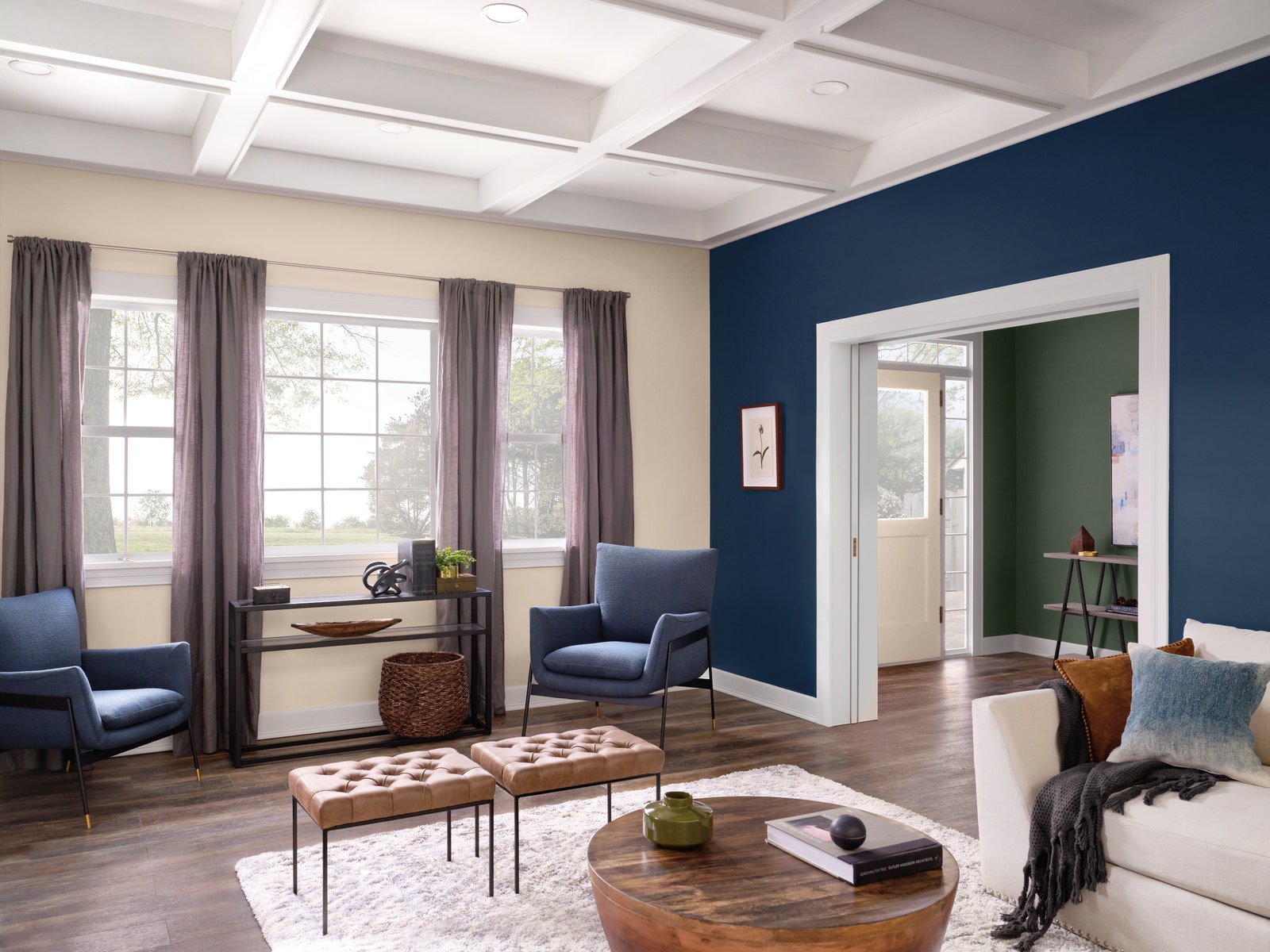 Image Credit: Pinterest.com
4. A spotlight on personality
Personality is an essential player in the 2023 home décor trends. Interior design trends, while being all-encompassing, prioritize the homeowner's personality. Since you will be living in the space, it will match your aesthetic sensibilities. By investing in trending wall colors and designs, living room furniture, home office art, and more, your home can reflect your personality.
Your home is an extension of yourself. This year, more than ever, home décor trends 2023 reflect people's desires to understand and express themselves. Interior design is a reliable way to do so. You can also showcase artifacts, paintings, and other décor elements to develop the personality of your home.
Read also – Small Space Interior Design Trends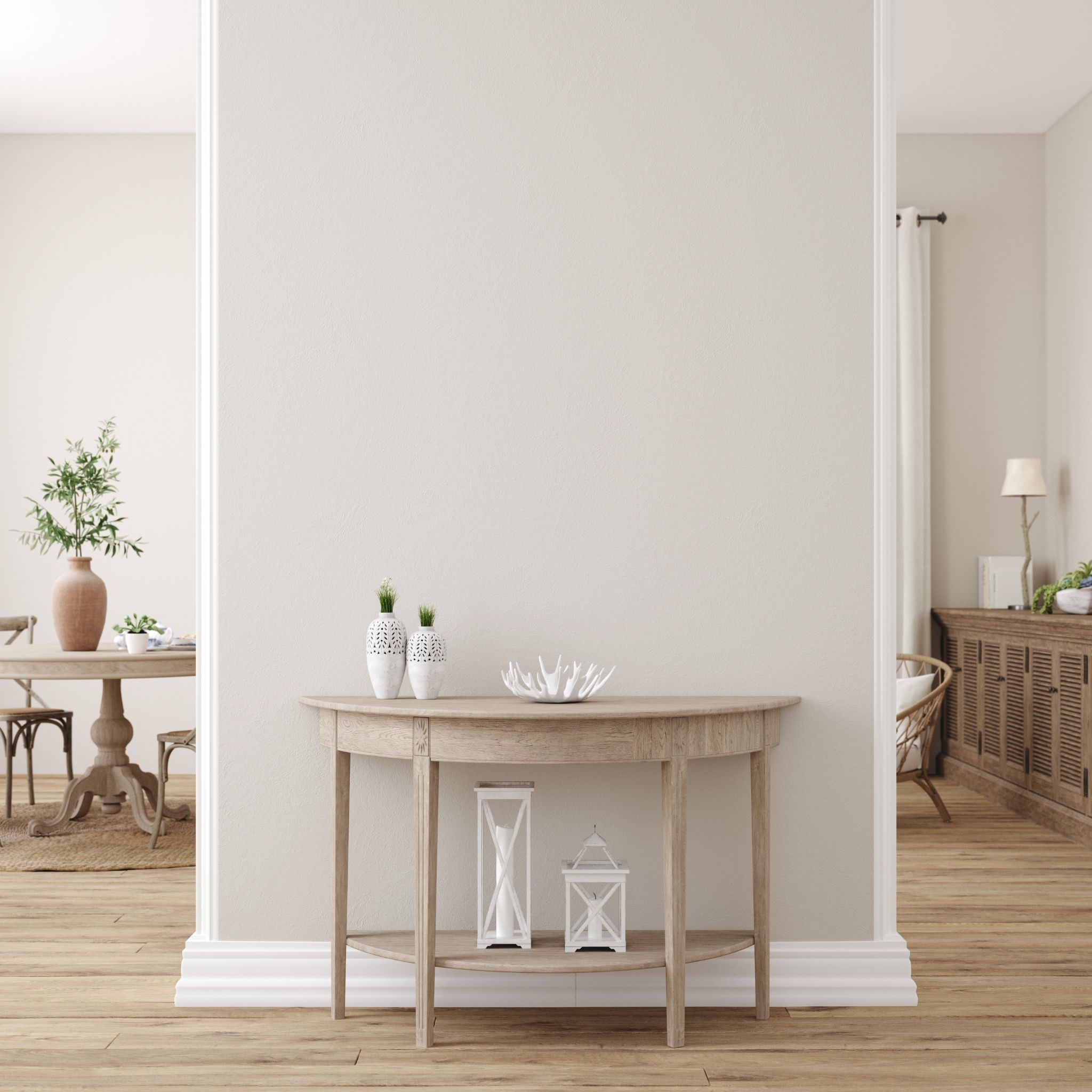 Image Credit: shutterstock.com
5. Sustainable and pocket-friendly design trends
Like many other things, home décor trends 2023 are not exempt from environmental responsibility. Given the newfound eco-consciousness among people, design trends emphasize sustainability and affordability in interior design. For instance, by shopping from thrift stores and antique shops, people bring home timeless classic furniture.
As most of the old furniture is durable, people can count on these interior design elements to last for a long time. This way, they are sustainable in their approach to home décor while saving money.
Look for wooden tables, pillows made with recycled fabrics, jute containers, and more. Remember to ask for a reliable certification to ensure that the element is sustainable before making the purchase.
Read also – Eco-friendly Interior Design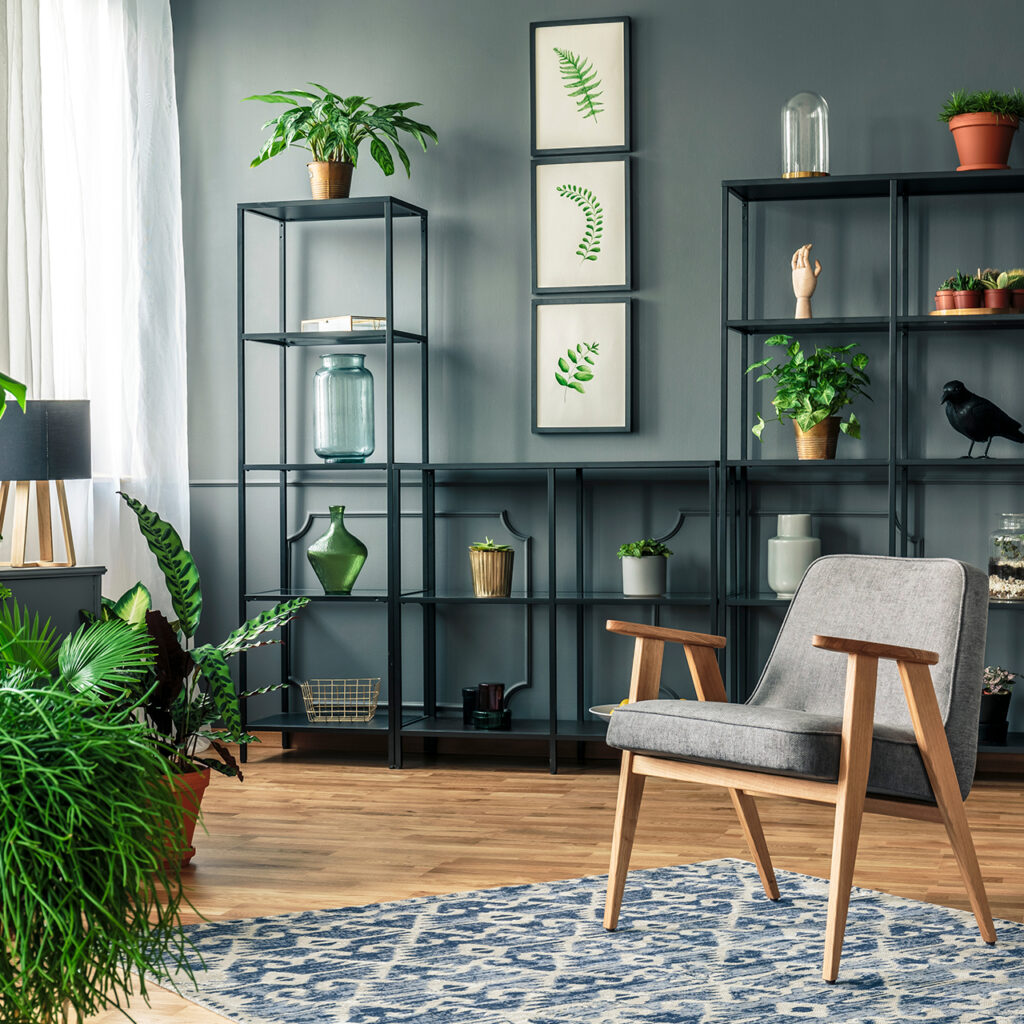 Image Credit: designcafe.com
Earthy palettes are enjoying their interior design moment right now as people incorporate nature into their living spaces. Having spent a lot of time indoors, people understood the importance of the outdoors for their well-being. As per research, greenery is good for our physical and mental wellness, and it also encourages responsible behavior. So it's no wonder that people are infusing natural elements into their abode.
From cane and leather chairs to a variety of houseplants, rattan furniture, and more, home décor trends 2023 are all about enhancing all that is naturally available. It perfectly aligns with people's desires to be more sustainable and shop affordably.
Besides furniture, interior designers count on hues of brown, beige, and sand to be accent wall favorites. Nature has a calming effect on the mind, and this is the year to infuse elements of it into your living room and home office.
Read also – Furniture Design Software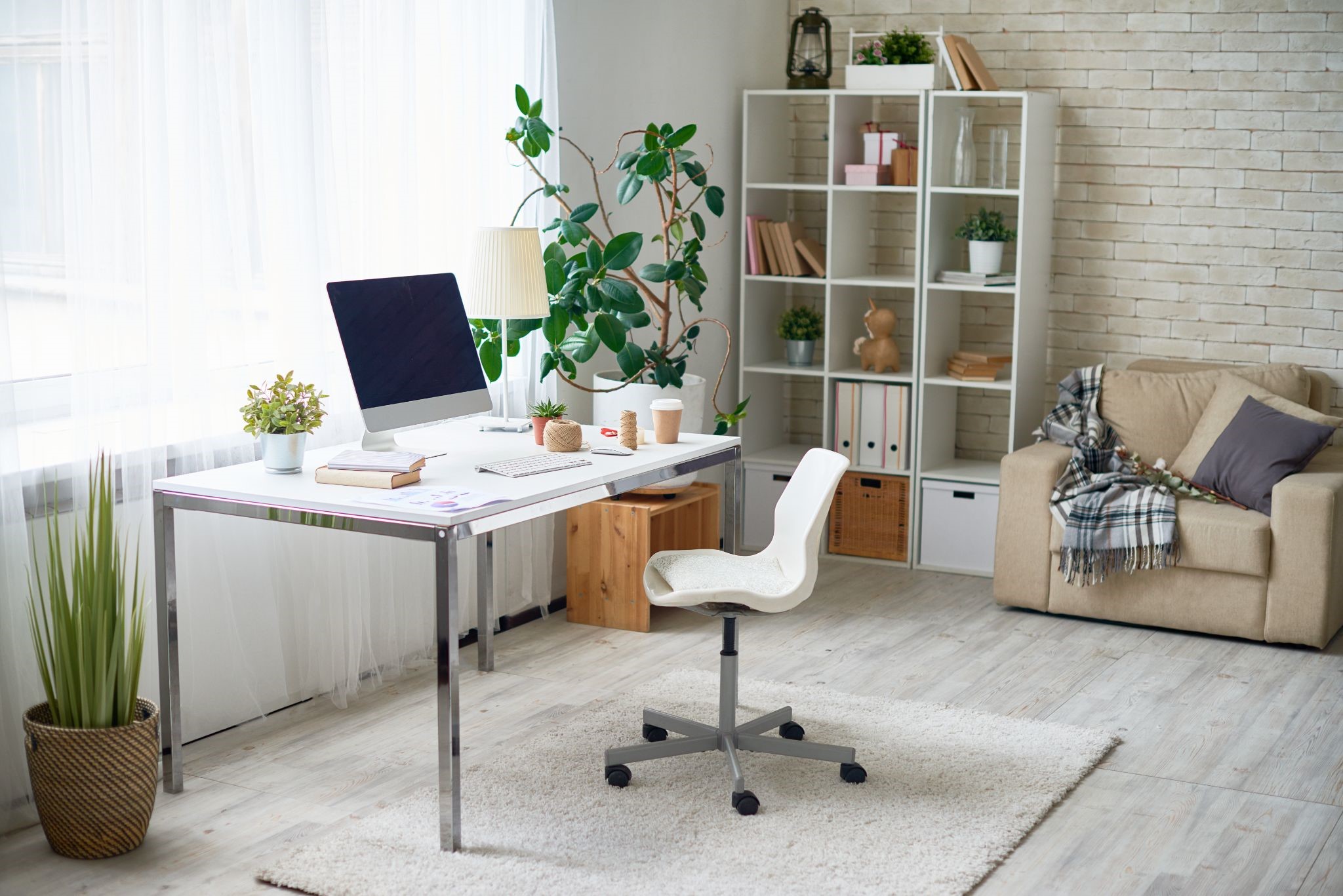 Image Credit: shutterstock.com
7. Lighter-toned woods for interior design
As per Modsy's Trend Report, elements in lighter-toned wood are right after nature-inspired materials in terms of popularity. Since home décor trends 2023 are all about comfort-meets-traditionalism, lighter-toned woods provide the perfect opportunity to experiment in interior design trends. Lending a Scandinavian rustic touch to your living room or home office, trust a chair or table in lighter-toned wood to enliven any space.
First off, they exude a minimalistic vibe and perfectly blend in with the other furniture in the room. Secondly, lighter-toned wood makes any room feel lighter and spacious and doesn't distract from the bolder elements in the space.
If you are a minimalist, lighter-toned wooden furniture is what you need, especially in your home office, wherein you might want the illusion of more space. Woods such as maple, oak, or hickory are ideal for that. You can also whitewash your choice of wood. The woods will help balance the busy elements in the room.
Read also – 11 Modern Rustic Interior Design Ideas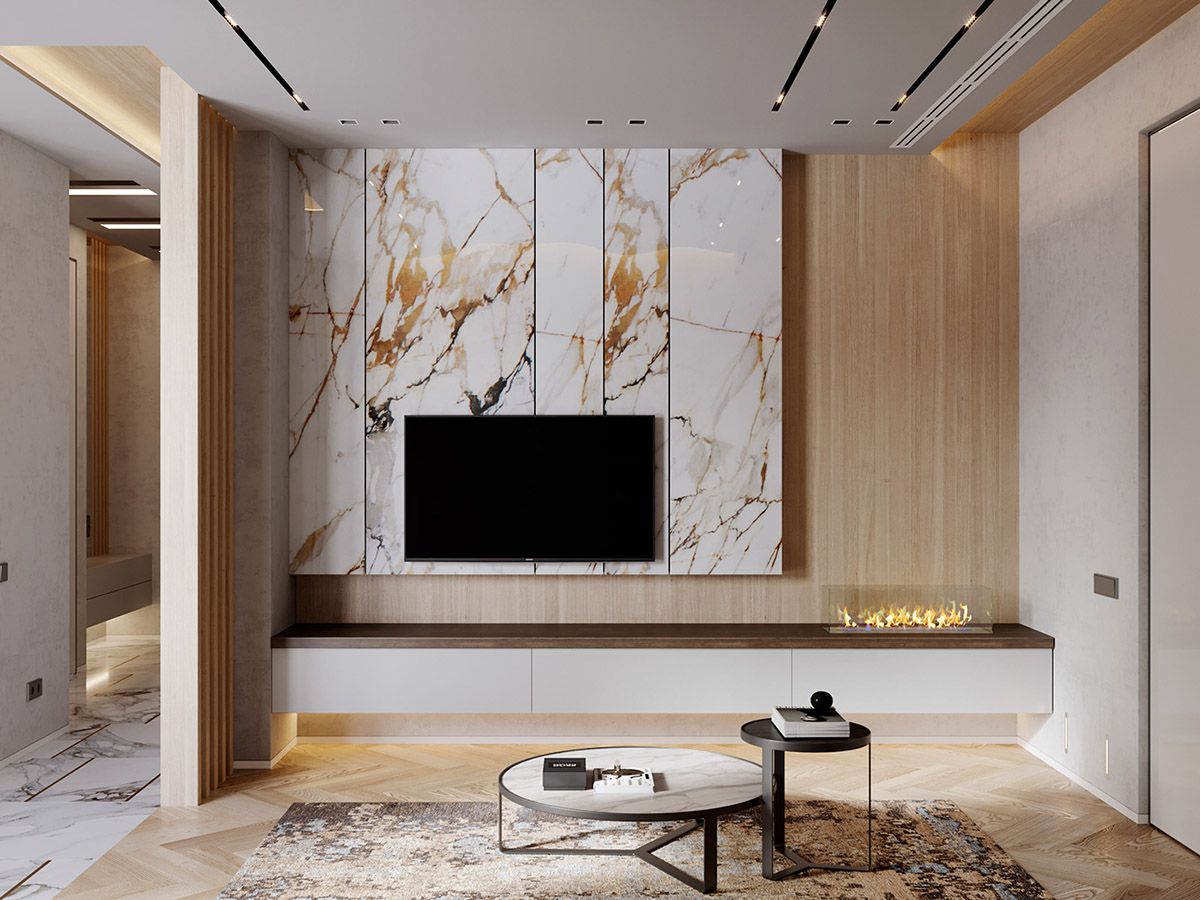 Image Credit: pinterest.com
Ah, the 80s – the year of hip hop, big hair, leg warmers, and fluorescent hues. The 1980s were also the year of dramatic interior design, retro colors, geometric shapes, and more. Last year saw people making a return to the 80s as home décor trends 2023 put focus on angular tables made with glass or stone (think: marble!), accent pieces, and more. Structure and form were a big deal during that time.
The home decor color trends 2023 for the 80s comprise terracotta, teal, and pastels. If you plan on styling a living room inspired by the 1980s, invest in round-shaped sofas and beds.
When deciding on the colors of the elements, count on high-contrast color palettes like black and gold, dusty rose and ultimate gray, and more. If your style sensibilities lean towards a more boho interior design, infuse it with the 80s using natural materials. The era is evocative of authenticity and transformation – both of which are super relevant today. Blending form, function, and oodles of funk, the 2023 home décor trends pay a well-deserved homage to the design trends of the 80s.
Read also – Japanese Interior Design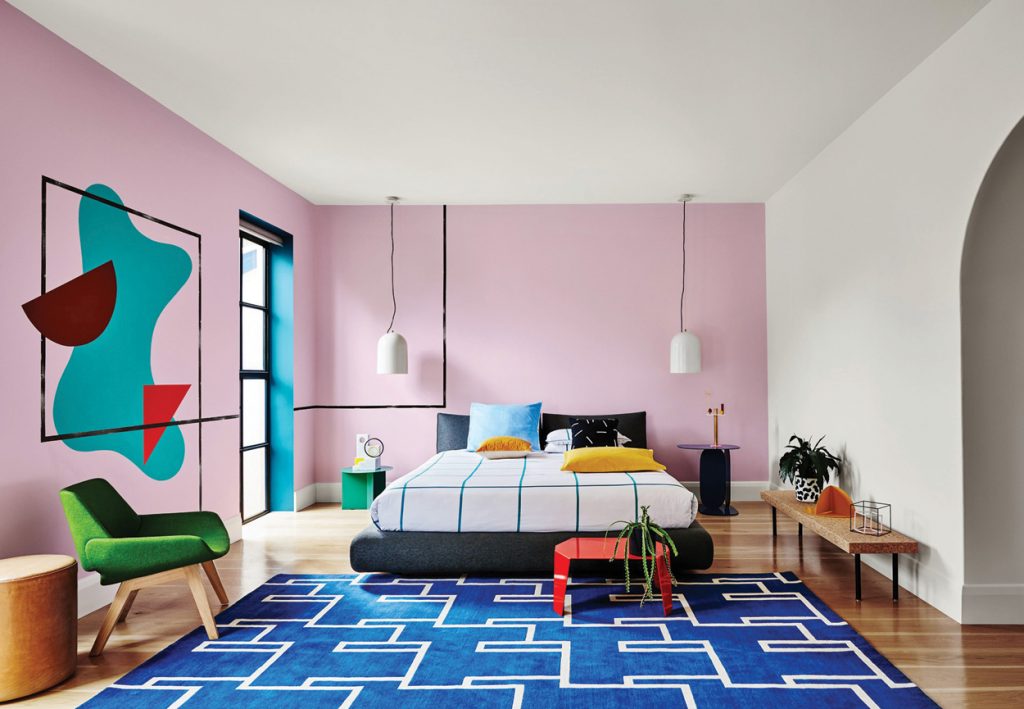 Image Credit: houseandhome.ie
9. The "grand millennial" design trends
No longer old-fashioned and outdated, the living room of your grandparents is the latest interior design trend. The grand millennial is one of the home décor trends 2023 that centers on grandmother-style interior design with contemporary elements. Stunning antiques, ruffles, pleated throws, floral wallpaper and more, underline this granny chic interior design style.
If you are all about Victorian tea sets, overstuffed sofas, and chintz pillows, this is the style for you. It is a far departure from the mid-century modern 2023 home décor trends. Grand millennial interior design is about embracing and flaunting the interior design taste of your grandmother.
To achieve this, experiment with old design trends, like patterns, structures, and embellishments. An interior designer can add a contemporary touch to it by incorporating abstract art, statement décor pieces, and metallic elements. Go on and breathe old life into your home!
Read also – Minimalist Interior Design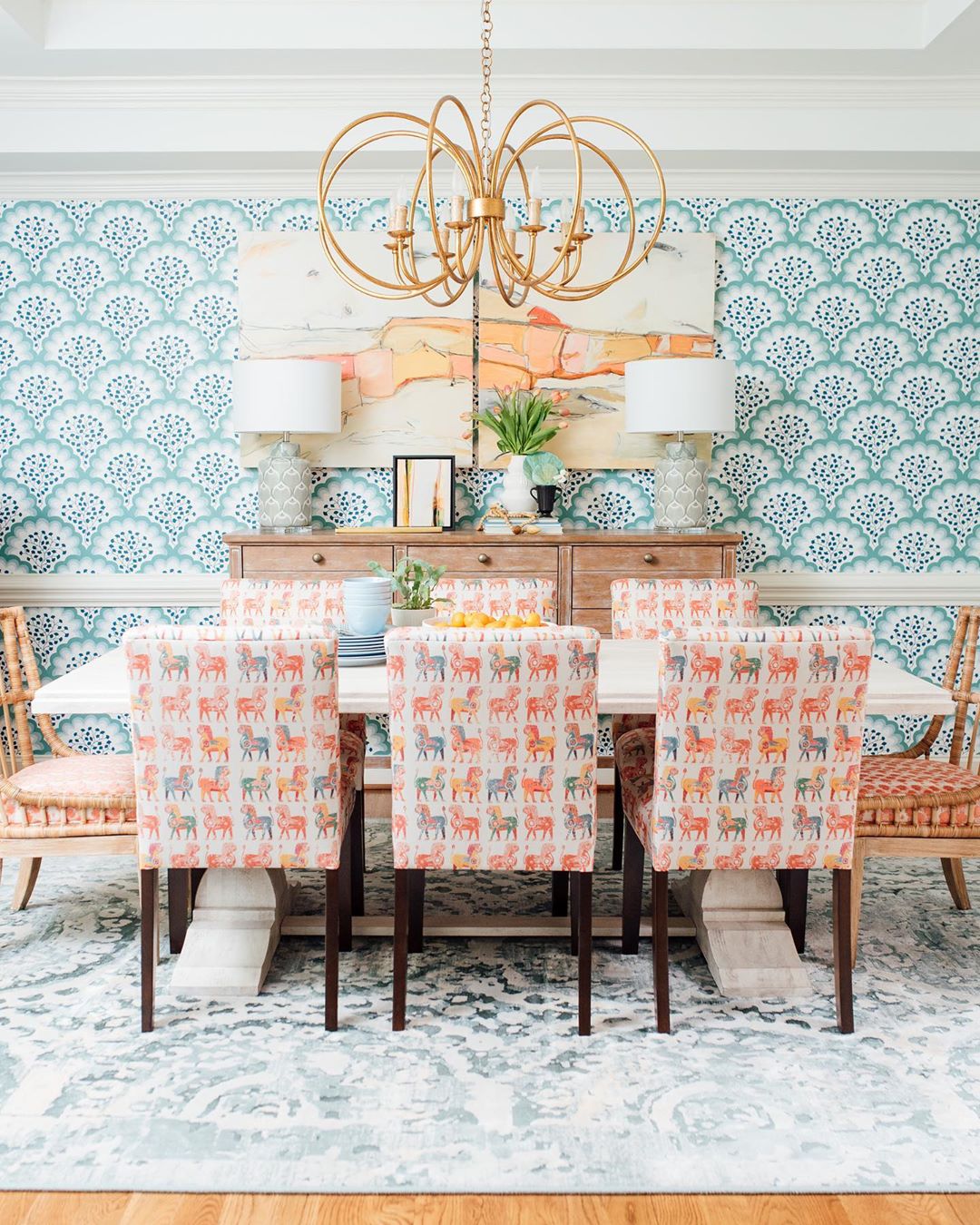 Image Credit: gabbyhome.com
Layers add a sense of depth and dimension to your living space. The 2023 home décor trends put great emphasis on cohesion and storytelling in interior design. It also leaves plenty of room to experiment for the interior designer. Start with layering carpets. After factoring in the different fabrics and textures, layer two rugs or carpets over each other. Depending on the layout of the living room or home office, choose the carpets to layer.
For instance, if your room doesn't have too much furniture and has a muted color palette, opt for two eccentric carpets and layer them at different angles. On the other hand, if your room has too much going on, opt for two rugs—one in a solid shade and the other featuring patterns.
Ensure that the colors of your carpets are not mismatched (refer to the home décor color trends 2023 for best results). Also, when picking out your rugs, pick two of different sizes so that one is dominant and the other is complementary. Play around with angles and team it with the other home décor trends 2023.
That's not all! Layering is not limited to carpets. Pillows of varying sizes, throws and more are all ideal for layering.
Read also – 30 Traditional Living Room Ideas
11. Creating cozy corners
Think comfort, and one is instantly transported to a plush sofa or bed, curled up with a good book or watching a favourite movie. The past year has been about finding semblances of familiarity and comfort to cope with the chaos outside. It's more important than ever to have corners in your home that make you feel safe, cozy and happy. You can achieve that with color trends, houseplants and other 2023 home décor trends. Inspiration for cozy corners is everywhere (think: Pinterest, Instagram and more!) Bear in mind that your cozy corner can be different from someone else's.
Still, there are some fail-safe ways to ensure that your room has the best comfortable design trends. Incorporate soft lounge chairs, statement pieces, sofas and more. Try out layouts that are not only visually appealing but also enhance comfort.
An important aspect of comfort is convenience. Home décor trends 2023 are all about ease and relaxation. So, go for fabrics that are soft and easy to clean, like linens and slipcovers. Kitchen cabinets in neutral colors keep visual clutter at bay and lend a spacious appearance to any room. Don't forget to stock up on houseplants as indoor plants are known to reduce stress.
Read also – Gaming Room Decor Ideas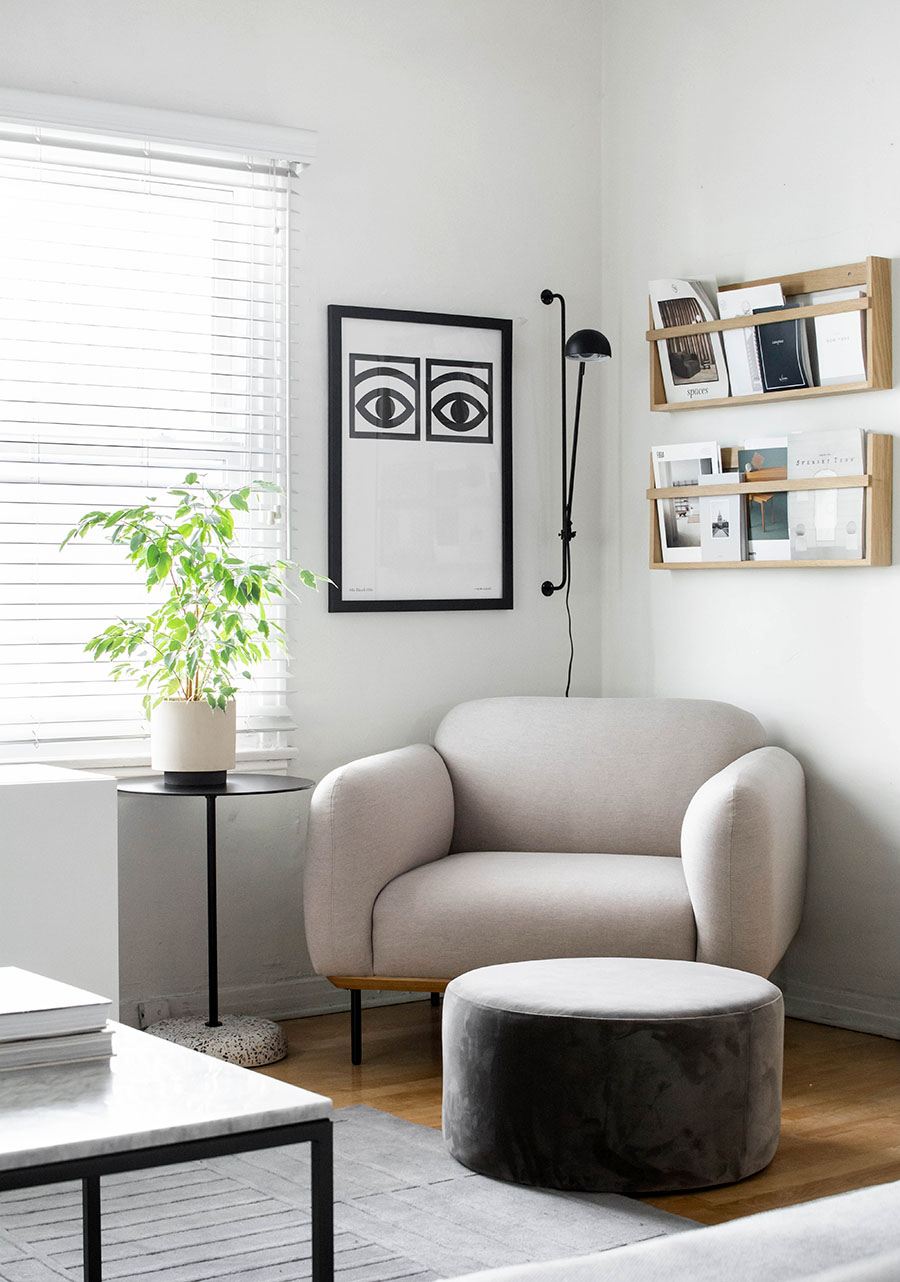 Image Credit: homeyohmy.com
The 2023 home décor trends focus on creating a sense of comfort and luxury while expressing one's individuality. From reviving old trends to celebrating new ones, incorporating eccentric elements to upcycling classics, there is plenty to inspire your interior design. 
While designing your living room, bedroom or home office, make sure to give due attention to sustainability. This year has not only turned our attention to the importance of health but also the environment. When picking furniture, cloth, and other décor pieces, ensure that they are sustainable, are durable and don't break the bank. 
Whether you choose the striking mid-century modern design trends or the timeless grand millennial home décor trends 2023, Foyr Neo can help you achieve the home of your dreams with ease with our high-quality and beloved design solutions. With your style sensibilities, the latest home décor color trends 2023 and your budget at the heart of our interior design, we help you reinvent your home to reflect your ideal aesthetic.