Studio Apartment Decoration
Studio Apartments have quickly taken over the major sections of the real estate market. These nifty little living spaces are not just cost-effective solutions in high-bustle cities such as New York and Brooklyn, but they are also extremely functional.
However, most people tend to face quite a bit of challenge in these tiny apartments due to their limited square footage.
But what if we told you that you can modify and style your small rooms with these incredible studio apartment decoration ideas and transform them into something more exquisite?
You see, although studio apartments do have a very small square-foot problem, they are also a cornucopia of opportunities for interior designers and homeowners to implement creativity at its pinnacle.
That is why today we are going to share with you a series of home decor and small space living tips that will glorify and brighten your studio apartment layout in no time. So, without much further ado, let us get started, shall we…
Read also – 6 Tips for Furnishing Small Apartments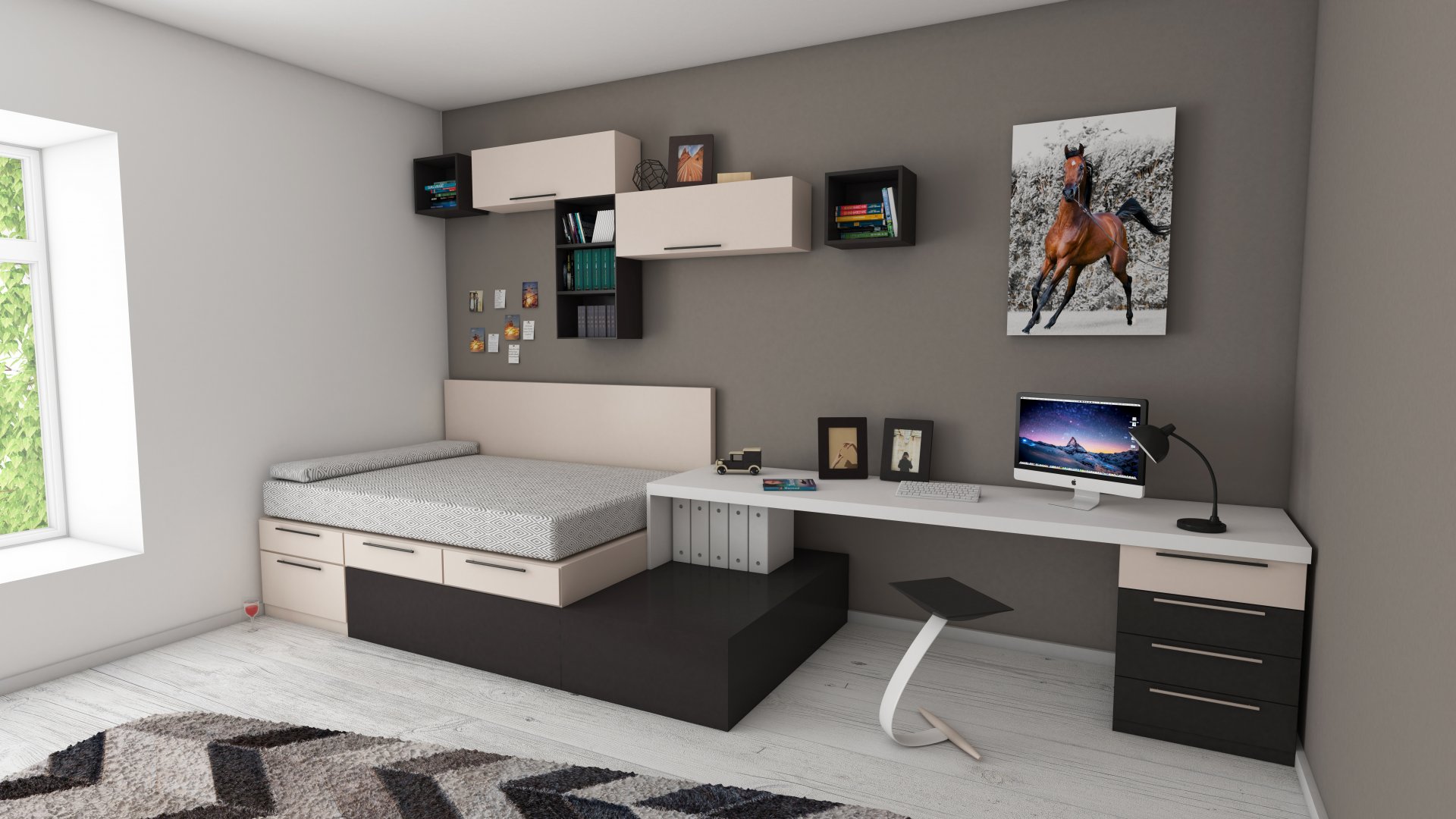 Image Credit: pinterest.com
14 Best Studio Apartment Decoration Ideas:
Here we have listed the best small studio apartment design ideas to transform your home into a haven:
1. Install glass partitions and room dividers
When you have small spaces in your house, you can't always go for a separate place to instigate a living room, a home office, a closed kitchen, or a dining room. Yet there will be times when you need that privacy. So what do you do then?
Install some glass partitions. Studio apartments are usually accommodated by couples, best friends, or individuals; maybe even small families at times. In such instances, a glass partition offers much-needed privacy while still leaving a sense of camaraderie and care due to the visual aid.
You can also choose some room dividers as they are used in Japanese interior design. You can find excellent choices at Ikea or similar furnishing stores. Even Pottery Barn has a good selection of room dividers that are optimized for the overall style of your studio apartment. These subtle partition products provide a sense of separate living space while still keeping the home décor to a minimalist design plan.
Consider using some DIY room dividers or glass partitions. You can use plate glass or use your sense of art and styling to create beautiful patterns on them. It will add some color and vigor to the overall space, thus making the overall space feel cozier and personalized.
Read also – Best Office Partition Design Ideas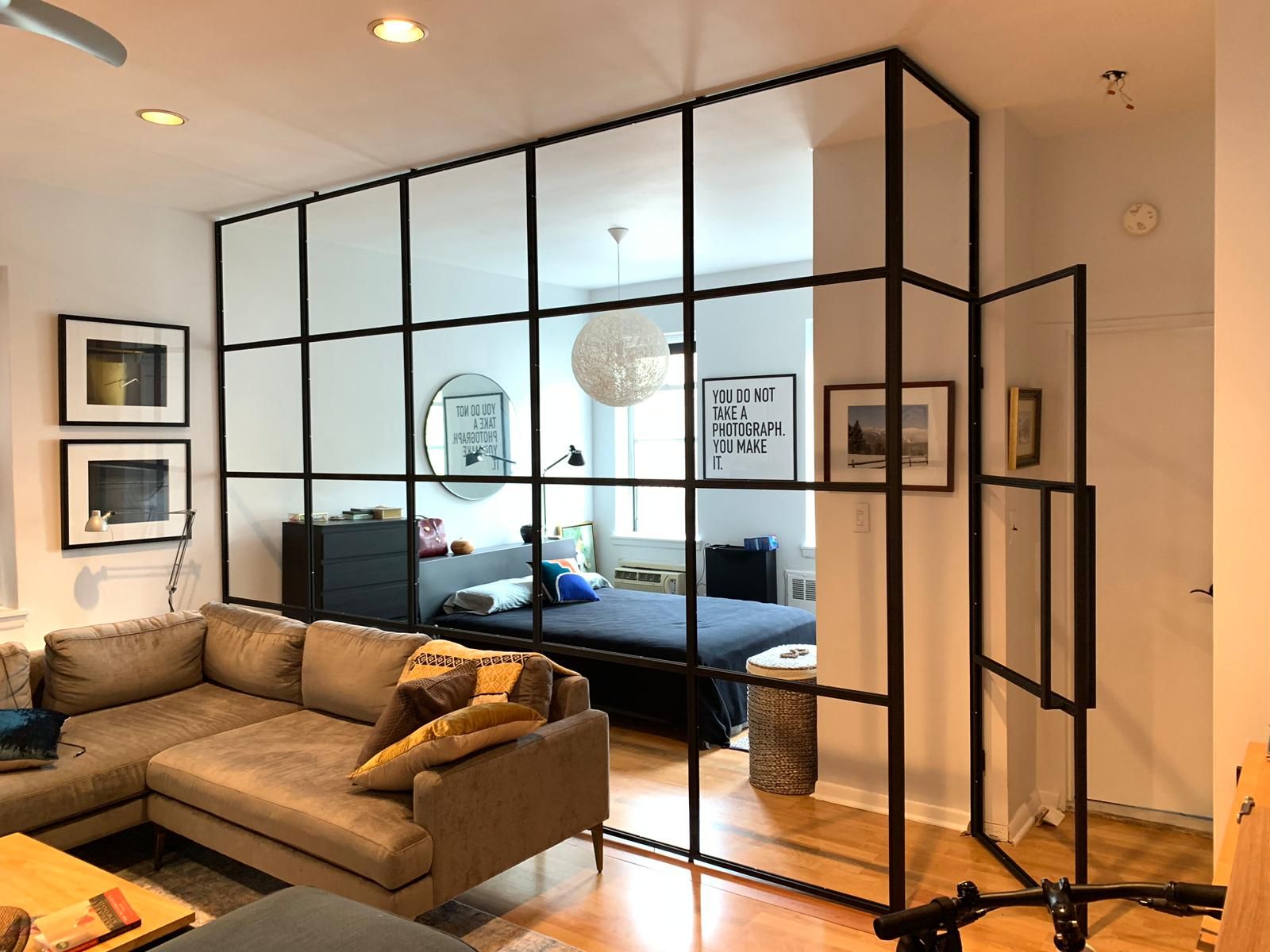 Image Credit: crystaliaglass.com
2. Create a small foyer
Just because you live in a studio apartment layout does not mean you can't have a beautiful entryway. If you have a narrow passage leading to the room, use the space to install a shoe rack or small shelving to keep footwear out of your tiny apartment. You can also install small plants near the door and implement Japanese interior design ideas.
Not only does this create a beautiful foyer for your room but it also keeps the small space clean and makes it easy to maintain. Furthermore, it opens up your horizons to try minimalist Japanese or Scandinavian cultural design ideas. These apartment décor plans follow a minimalist trend thereby reducing the amount of clutter and enhancing its multifunctional aspect.
If you do not have a designated space to create a foyer, consider using a mud path near the entryway for a small welcoming home design. You can add a rug leading to the living area or a floor mat at the very least and a shoe rack next to the main door. Place your furniture pieces at a distance to open up the entire space and create an illusion of an entryway.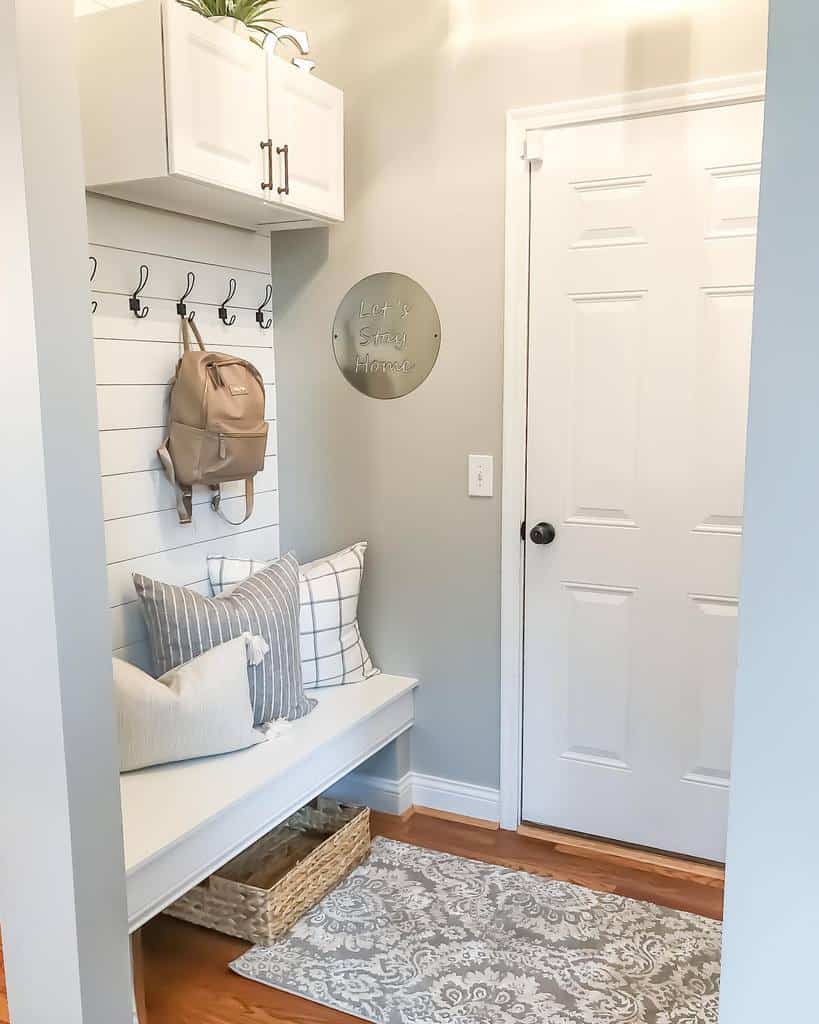 Image Credit: trendey.com
3. Utilize the abundance of architectural anonymity to your advantage
Studio apartment layouts often instill bay windows and small secluded spaces that can be used for further separating the space to fit more than you think. These little spaces can accommodate innovative studio apartment decorating ideas such as creating a reading space with bookshelves next to the bay window. You can also convert it into a home office or incorporate it in your living area for extra seating.
Studio apartments are also a cornucopia of opportunities. Architecturally speaking the limited space does offer a variety of options that you never think of exploring in a large house, not even a one-bedroom apartment.
For instance, the window treatments and kitchenette often offer hideaway storage spaces. You will also find that most studio apartments are built in an angular layout in contrast to the regular rectangular or square spaces. This is, of course, implemented to fit the apartment space in the limited square footage while allocating the necessary bathroom, kitchen, and sleeping area. However, these angular corners are ideal to hang clothes, create special storage solutions in the nooks or use the momentum of these spaces to fit some in-built furniture.
Read also – Best Outhouse Design Ideas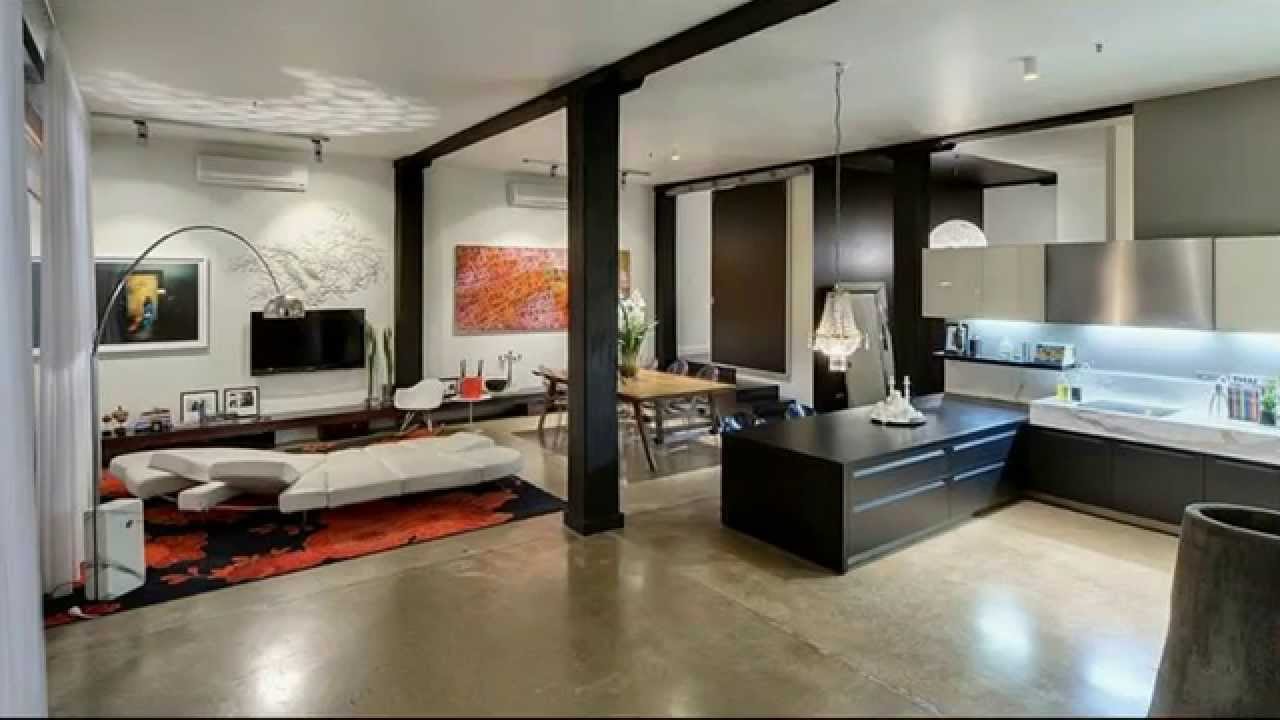 Image credits: homedecomalaysia.com
4. Develop a convertible workspace
In a small space living scenario, it can be very difficult to install a home office or a stable living room. Therefore, you can look into convertible workspaces that can be easily utilized for multiple functions.
A desk and chair with preferably a bookcase close by doesn't only serve as a home office or study area, but it can also be used to hold your cookbooks, small home decor items, an entertainment unit, etc. It is a combo corner designed for double duty (triple even) if the need arises.
Similarly, your workspace in the kitchen can serve as a dining area for intimate meals aside from cutting, chopping, and dicing stuff. In a studio apartment layout, every piece of furniture, every corner of the house can be convertible to serve more than one function. Remember, your space is limited, but you are not.
Read also – Best Studyroom Ideas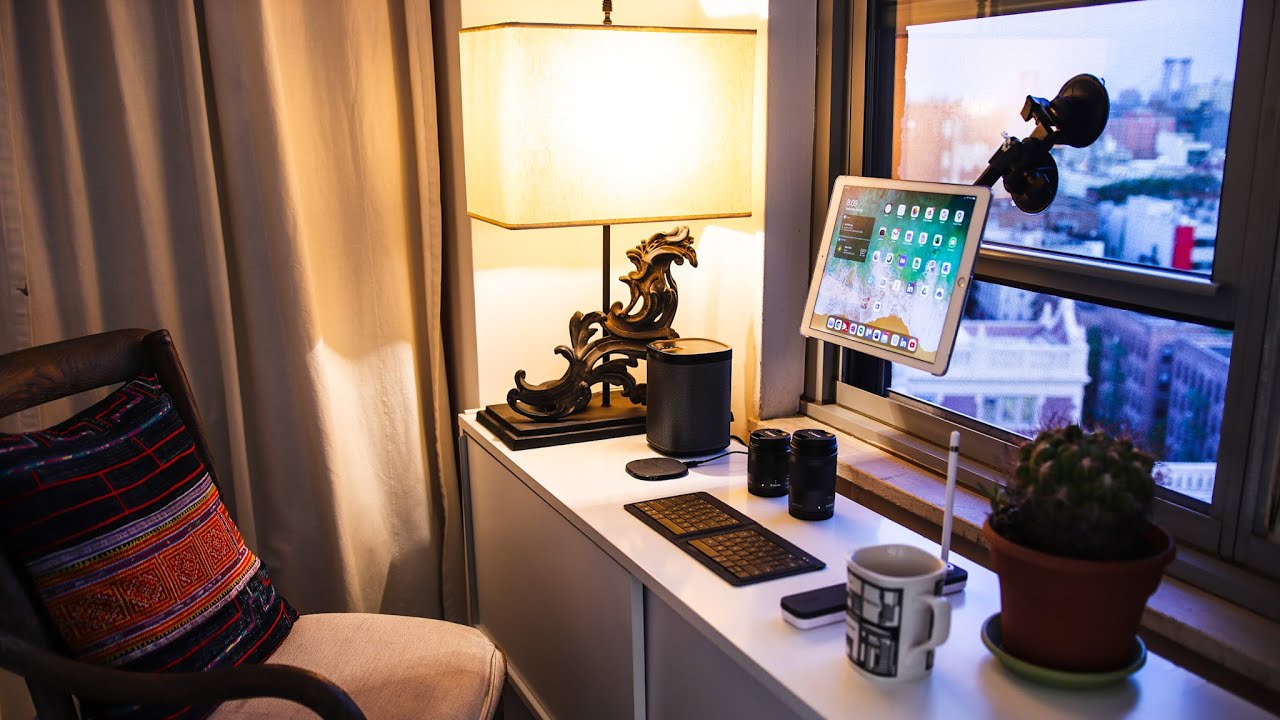 Image Credit: youtube.com
5. Choose a monotonous color scheme
Everyone likes their home to be colorful and invigorating. However, monotones of a color palette actually offer a better vantage point. These days, modern architecture and contemporary home decor are all the rage. These homes are highly functional and optimized for efficiency. What fascinates homeowners of modern homes most is the lack of redundancy in respect to furniture pieces, home decor, and the needless rainbow colors.
Although, the psychology of color dictates that happy colors such as yellow, orange, etc. along with cooling shades of blue and green help to calm the senses while hot colors like red help stimulate the inner drive. It is true, yet there are colors such as white, grey, or black which signifies personality, balance, and organization.
Don't get us wrong, you can still use bright colors or cooling shades. But whatever color scheme you choose, make sure to keep it as singular throughout your living space as possible. So if you want a powder-blue house, then run wild with it. If you want a completely yellow color scheme, mix it with a little lighter shades of the paint. But if you want a red house, then think it over and refer to our article on the psychology of color to learn the kind of effects the tint has on your mindset.
A studio apartment layout is quite limited as it is. White shades are actually recommended for small spaces mainly because they make the overall space feel and look more expansive. The refractive quality of white tints works wonders in tiny apartment living. You can consider white for the walls and floors. A combo of light shades of blue and green which are close to white tinting may help add some color but still keep the space open and expansive.
You can also take the completely opposite route and go all black. The darkest color of the spectrum makes things appear more organized and helps hide grime and clutter. This solves a major problem in studio apartment living. Although the color scheme may seem a little dull, consider using shining materials such as black marble or tiles. You can add silver to most furniture pieces and use stainless steel appliances, thus, making the home seem more futuristic and functional.
Read also – Futuristic Interior Design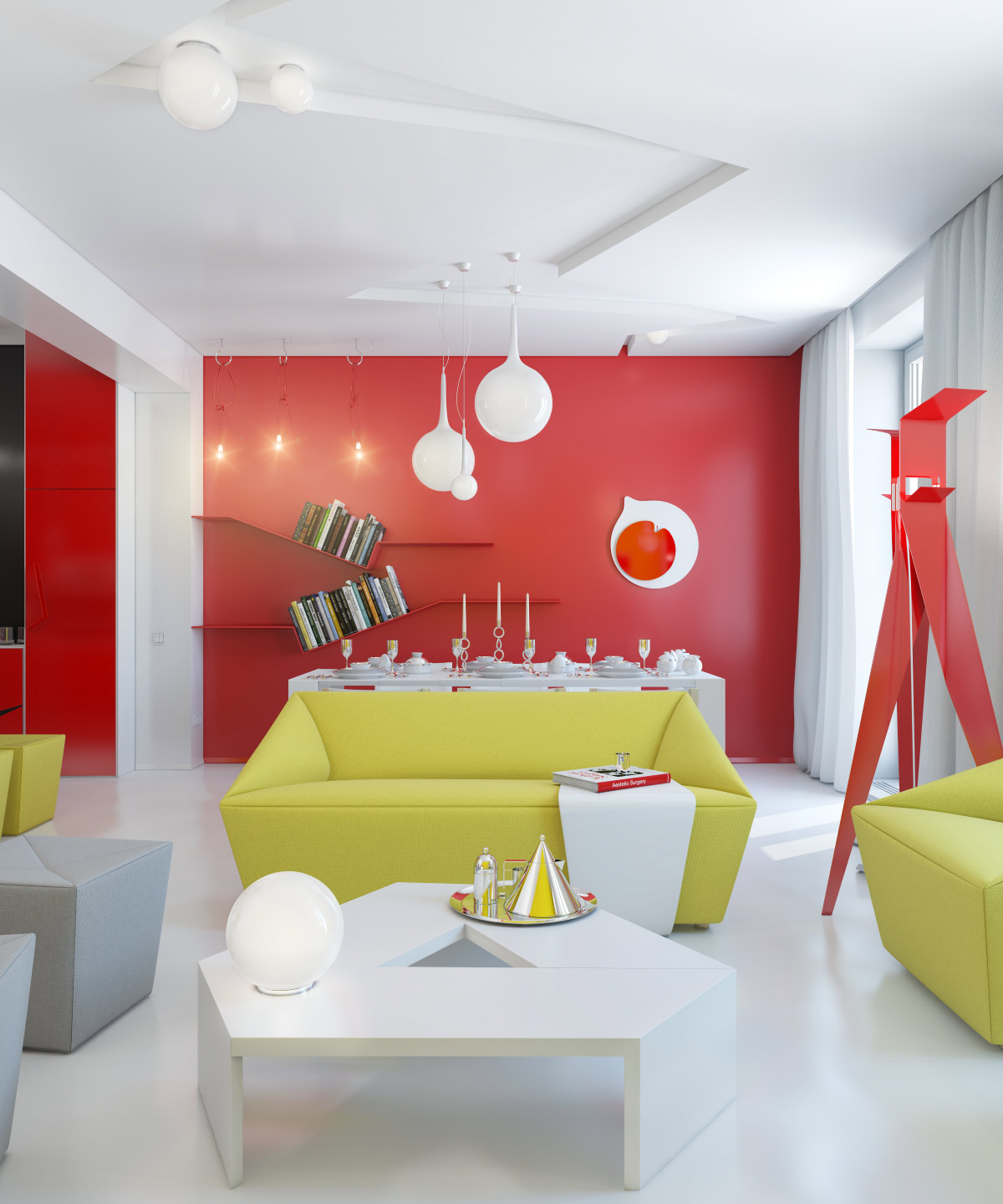 Image Credit: home-designing.com
6. Use folding screens and hideaway furniture pieces
You know those DIY videos all over Instagram, Facebook, Snapchat, what have you… Well, these videos are actually quite useful. The furniture design and home decor ideas that they share are actually very resourceful, especially for small apartment living. Studio apartments with their limited square footage, call for furniture pieces and home decor that can be easily removed or tucked away.
Therefore, consider using folding screens in your home instead of installing massive doorways to separate the living space. You can bring them out when you need them, otherwise, the floor plan remains open and spacious during the day.
Additionally, studio apartments actually, usually, come with optimal nooks and nails. These are optimally located to support wall-built furniture pieces or to create more storage space. You can use the nooks on the wall to install a foldable dining table or coffee table, maybe even your ironing board. They are also great to hang chairs and laundry baskets in enclosed shelving.
You can also use the nooks to mount foldable, wall-hanging closets rather than installing a walk-in closet. They also make great hiding places if you implement some curtains or sliding doors that take up limited space but help keep your clutter away from view.
Read also – First Apartment Checklist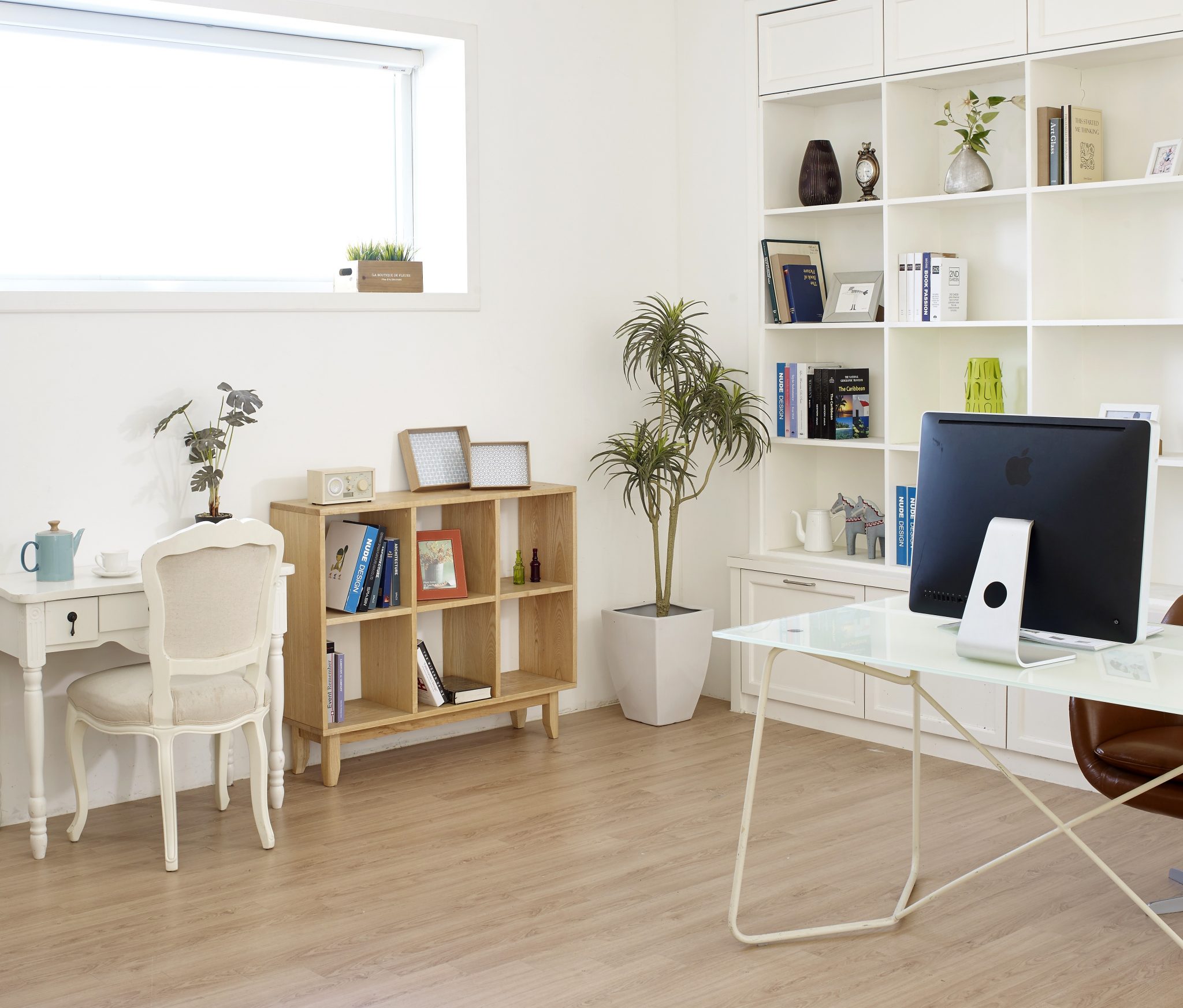 Image credits: pinterest.com
7. Enhance your home with creative solutions
Creating doorways tends to block a chunk of the living space. If you have the limited square footage, consider using curtains instead of doors to mark a small bedroom or the home office. You can also install sliding doors which tend to take up less space as compared to ones that swing inward or outward. This frees up more living space while adding a touch of minimalist Scandinavian interior design solutions to your beautiful home.
You can use these little curtains and sliding doors to separate open living spaces to get some privacy or even a little quiet time to yourself when you need to think. They are also great means of hiding clutter or furniture pieces, not to mention creating extra storage spaces away from the watchful eyes of your guests.
Modern studio apartment decorating ideas often instill the use of such creative solutions to increase functionality while reducing the amount of floor space utilized by swinging hinges. These solutions can be easily implemented on walk-in closets and kitchenette cabinets as well.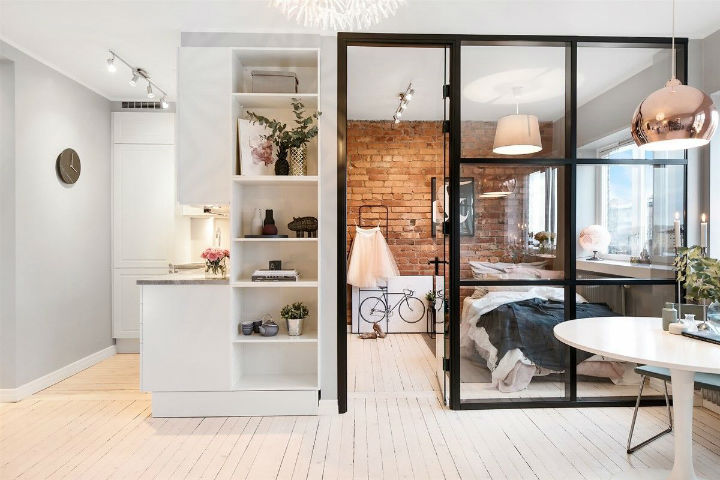 Image Credit: decoholic.org
8. Create extra storage spaces with innovative furniture pieces
A lot of the time, people tend to get low-bearing furniture such as a stage bed for a studio or one-bedroom apartment. Although they do look very trendy and save a little vertical space, they tend to miss out on extra storage spaces.
You see, a stage bed is pretty much attached to the ground. Therefore, not only does it stop you from tucking it away when not in use, but it also eliminates a major chunk of the floor space. Instead, if you have furniture pieces that you will not be moving regularly, get high-bearing ones. You can tuck away redundant items under them and cover them up with linen.
Let's say you have a coffee table or dining table that is constantly upheld. Use the space underneath to store items or create cubbies or pull-out drawers for additional storage space. You can easily cover them with a beautiful table cloth, thus hiding the shelving and storage solutions from sight.
Similarly, using a high bed facilitates storing items under it while you can still cover them up with a bed-skirt or creative linen. All your unnecessary clutter is stored away safely and your home remains a sight for sore eyes.
Read also – Amazing Bedroom Design Ideas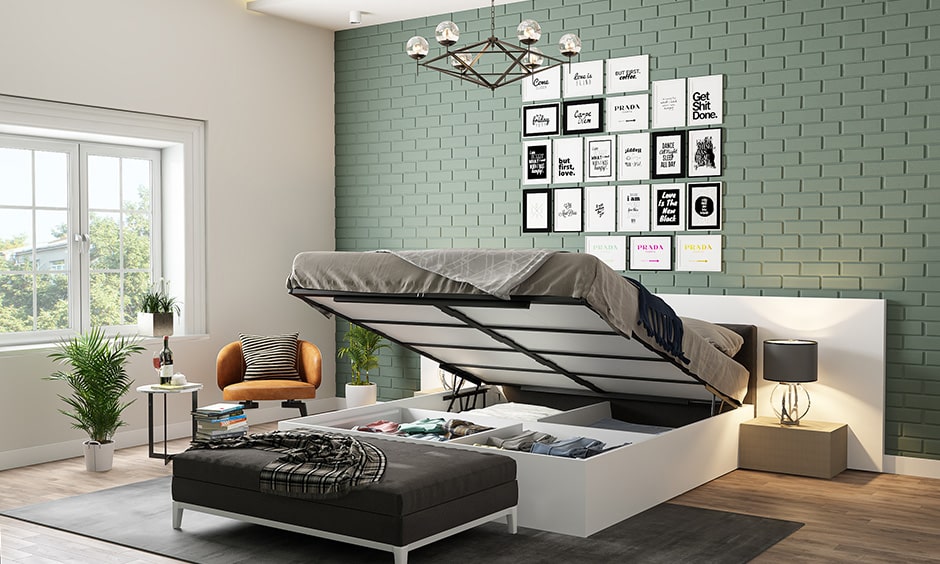 Image Credit: designcafe.com
9. Use floating furniture pieces and artwork
Who says that your artwork must be glued to the wall?
Embrace this innovative form of hanging up your curated pieces in style. Choose a corner or hanging rods of curtains to display your artwork as a focal point of the room.
Furthermore, you can actually install some hanging furniture in the room too. Studio apartments are highly optimized to accommodate non-intrusive furniture pieces. There are designated corners and hooks where you can make space for a hanging dining table, a bookcase, a removable desk for your home office, or even a stylized hanging wardrobe.
Floating furniture and artwork really are quite trendy in home interior design and add extreme aesthetic value to the living space.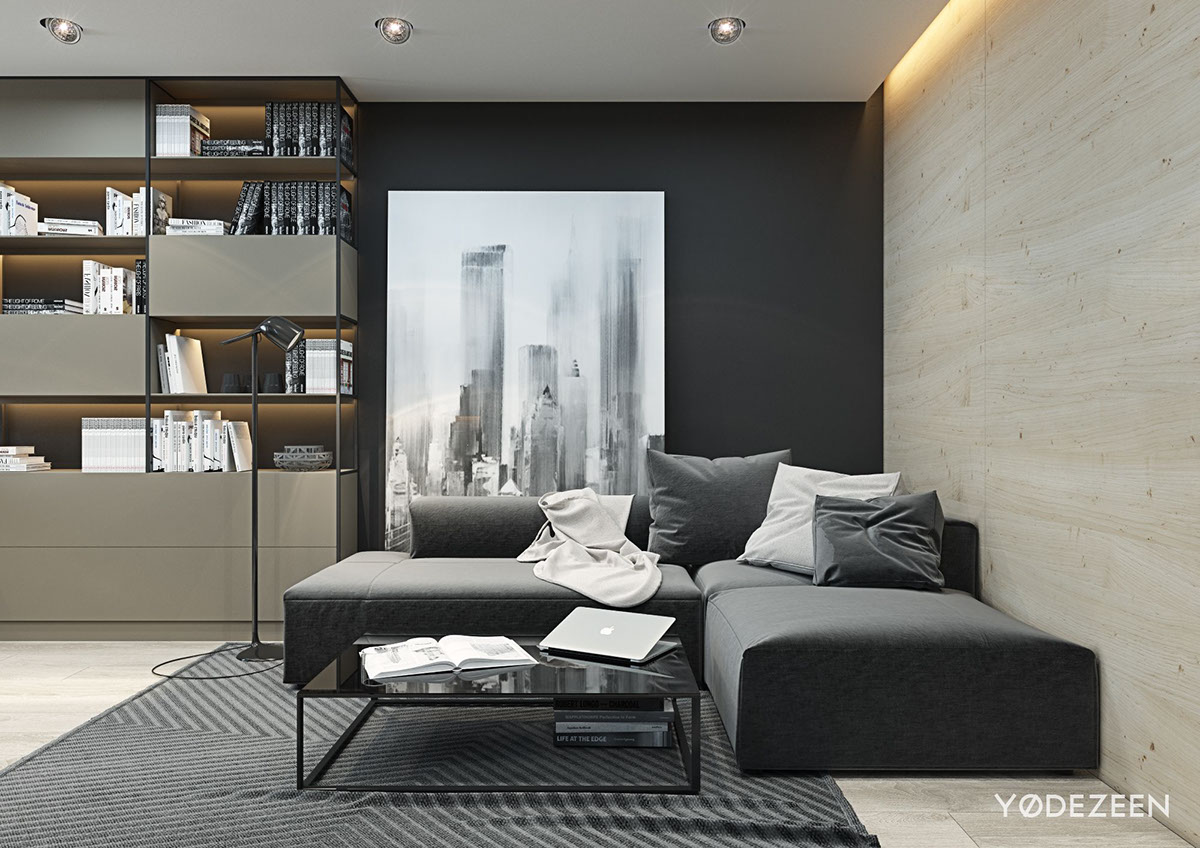 Image credits: pinterest.com
10. Capitalize on every bit of space without cluttering
Cluttering is never sexy. Consider optimizing your storage solutions and use your creative skills to find a place for everything. Although the overall square foot of a studio apartment may be small, you need not compromise on your preferences. You may want a comfortable sleeping area with a headboard or create a proper but small bedroom. Go for it.
Every bit of floor space in a studio apartment can be used for optimized functionality. Space out your furniture to create an illusion of an expansive floor plan while avoiding clutter. It is all about keeping a clean midriff.
Studio apartments tend to be smaller, therefore placing large, overbearing furniture pieces overwhelms the small space. Consider using vertically enhanced furniture rather than horizontally long ones. Keep your furniture and décor closer to the walls and open up the center for entertainment and activities.
This way, every inch of your small studio apartment is optimally used and you can still have enough floor space to move around without bumping into things. Additionally, it prevents clutter which can destroy the overall aesthetics of your beautiful living space.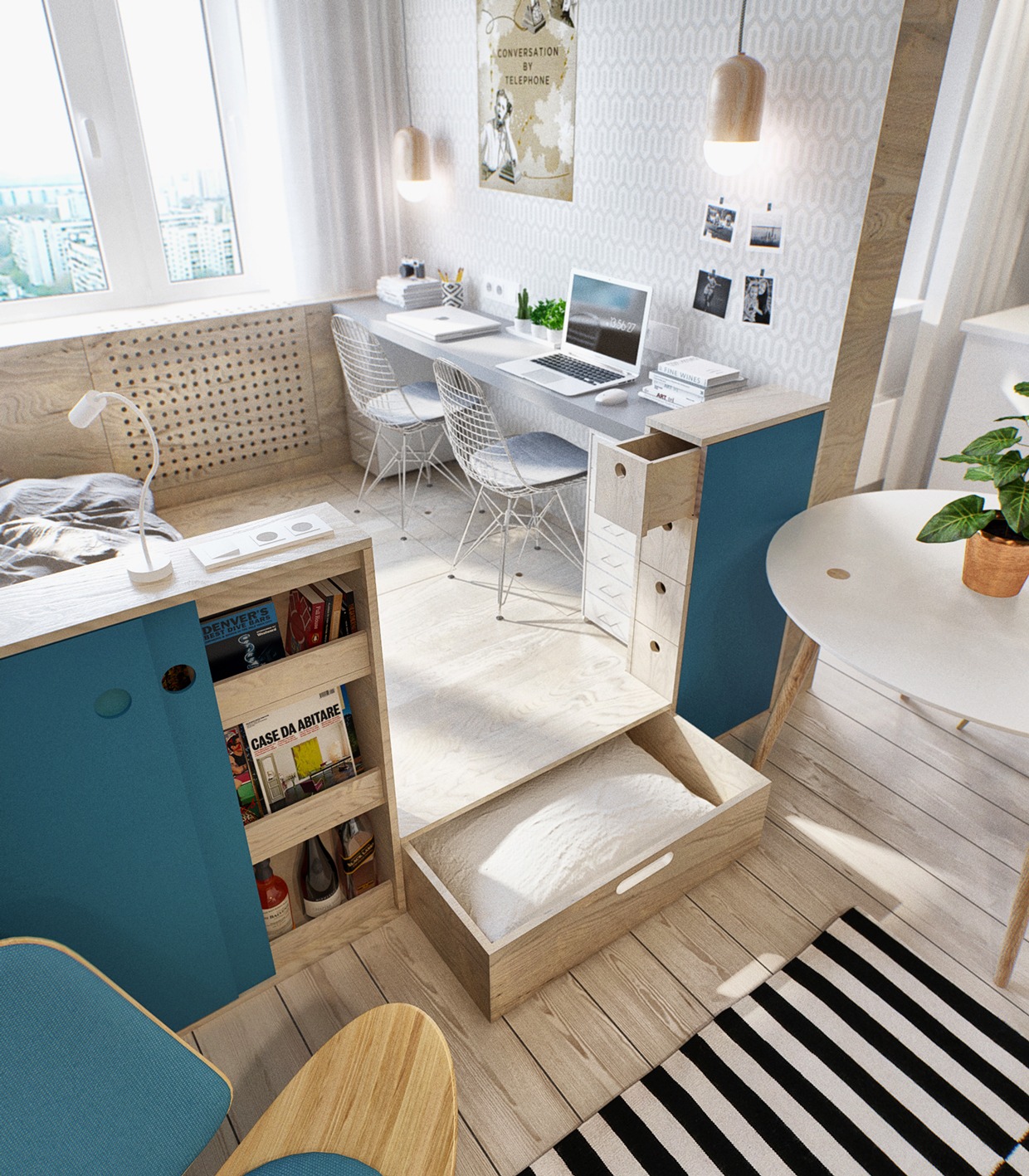 Image Credit: home-designing.com
11. Remove anything that doesn't serve a purpose in increasing functionality
Studio apartment layouts are best utilized when everything you have serves an integral function in making your life simpler and easier.
In order to rationally optimize the entire outlay of your furniture pieces, appliances, and home decor, ask yourself, do I really need this?
When you wake up in the morning till the time you go to bed, does the particular piece serve a function?
If the answer is no, then discard it, or if it holds sentimental value, consider storing it away where it won't unnecessarily clutter the space. Remember, a studio apartment offers limited space, therefore you cannot afford to entertain redundancy.
If you absolutely need to keep the item close by or if it is too large to throw away, find some use for it. For instance, if it is an antique coffee table that you no longer use because you have a brand new one, then convert it into a holder or shelving for your other, more important stuff.
12. Use carpeting to segregate the floor plan
Remember what we said about placing a carpet to create a foyer? Well, you can expand further and differentiate several segments of the house with area rugs and carpeting. Of course, if you use Murphy beds or foldable hideaway bedding then you need even carpeting of the entire floor plan. However, if you have designated areas for each section of the house, then creative carpeting is the way to go.
Bedroom ideas can be incorporated with a plush carpet to line the perimeter of your bedstead while the living room can be an extension of the foyer with long carpeting or serial rugs. You can also place bamboo floor mats for comfort and easier cleaning.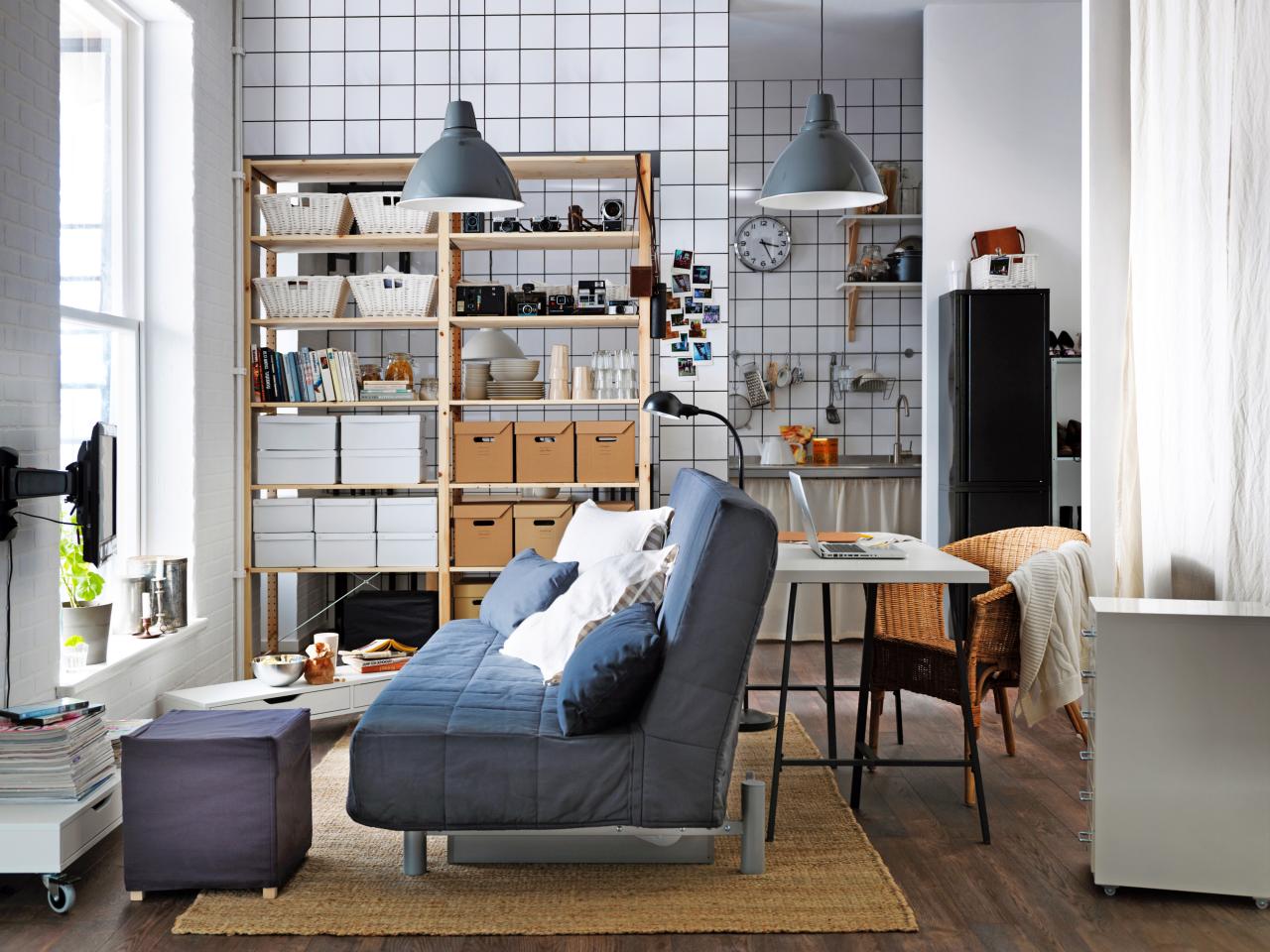 Image credits: pinterest.com
13. Install reflective surfaces as much as possible
Mirrors and other shiny surfaces are not just for checking your perfect god and goddess-like reflections. You are a prize anyway. But more importantly, these shiny objects actually present an intense potential to magnify the size of your studio apartment, seemingly.
You see, reflective surfaces tend to redirect the natural light streaming through your expansive windows or overhead light fixtures. When properly illuminated, these small studio apartments look much bigger. The refracted light creates an illusion of larger floor space, thus allowing you to impress your guests and yourselves.
Thus, a black interior color scheme with silver, shiny surfaces would still look incredibly trendy and spacious. Don't even get us started on how much a few strategically placed mirrors in a white room could do. It could literally make your micro apartment seem like a much more accommodating one-bedroom apartment.
As interior designers, choose reflective surfaces not just for mirrors but glass coffee tables, stainless steel appliances, crystal home decor, etc. Modern studio apartments, in particular, can benefit greatly from these exquisite design plans.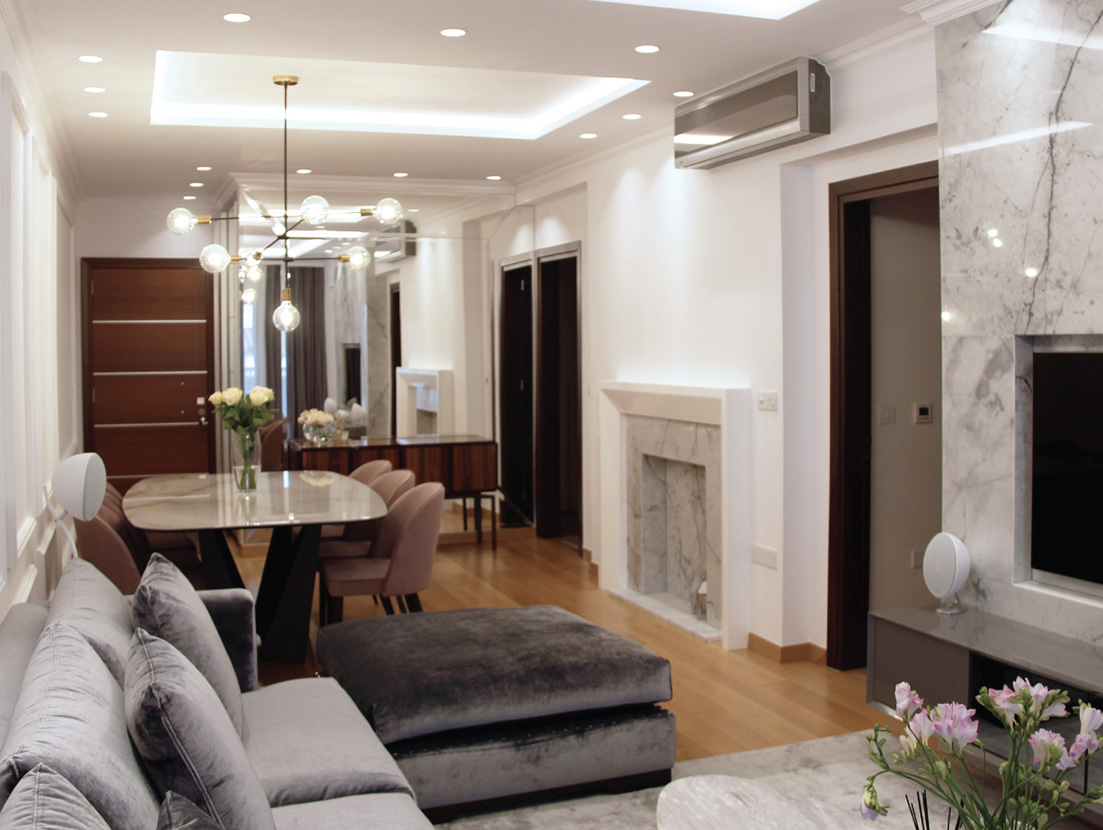 Image Credit: epsilondesigns.eu
14. Utilize the vertical living space
Oftentimes, people tend to cumulate all their furniture pieces along the horizontal surface, thus creating clutter. But this can be easily evaded by exploring the vertical space to your advantage.
Remember those bunk beds you used to fight with your siblings to get?
Well, as a grown-up, consider loft beds. You can have a removable ladder or pulley system to hoist the structure above and create a non-intrusive space underneath. This lofty bed space is great for keeping the living space uncluttered while the bed remains out of view and organized at all times. Not only that but it also rekindles fond childhood memories as well as provides a bit of adventure with your contemporary interior design plans.
Then comes using the vertical spaces for shelving. There is no hard and fast rule that all your shelves must be reachable only up to your tiptoes. Use your imagination to organize storage spaces with increased height and find innovative solutions such as digitized systems, pulley systems, or a simple ladder to access these carefully-created loft shelving. You can keep them covered too if they seem a little haphazard.
Studio apartment decorating ideas are only limited to your imagination. Explore your creativity along with the floor space and vertical spaces for new-age storage solutions.
The best way to maximize the productivity of your living space is to get creative. Conventional purchases from Ikea may not always be the ideal choice. Ask yourself what it is you can do to enhance the multifunctional aspects of your furniture pieces and home décor. You will be surprised as to how much you can accomplish with just a little DIY touch to your studio apartment decorating ideas.
If you still need some inspiration, try our Foyr Neo that allows you to customize your floor plans and create 3D renderings of your interior design ideas. Whether you are a homeowner or an interior designer, the app is a useful addition to your apartment decorating plans. Try out the types of color schemes and furniture design that you wish to install before you implement them.
With a clear and concise idea of how your tiny studio apartment can be transformed into an incredibly small space living, you can definitely make it a happy home. So what are you waiting for? Get started already.