In today's post, we're going to discuss the top 30 living room interior design ideas. 
Whether you're looking for interior design ideas for a small living room, or you're looking to furnish a larger floor plan, we have the solutions for you! These living room design ideas will ensure that you create a beautiful space, and wow your clients – every time.
But, before we review these top 30 living room interior designs, let's answer a key question: how exactly do you design your living room interior?
How should you decorate your living room?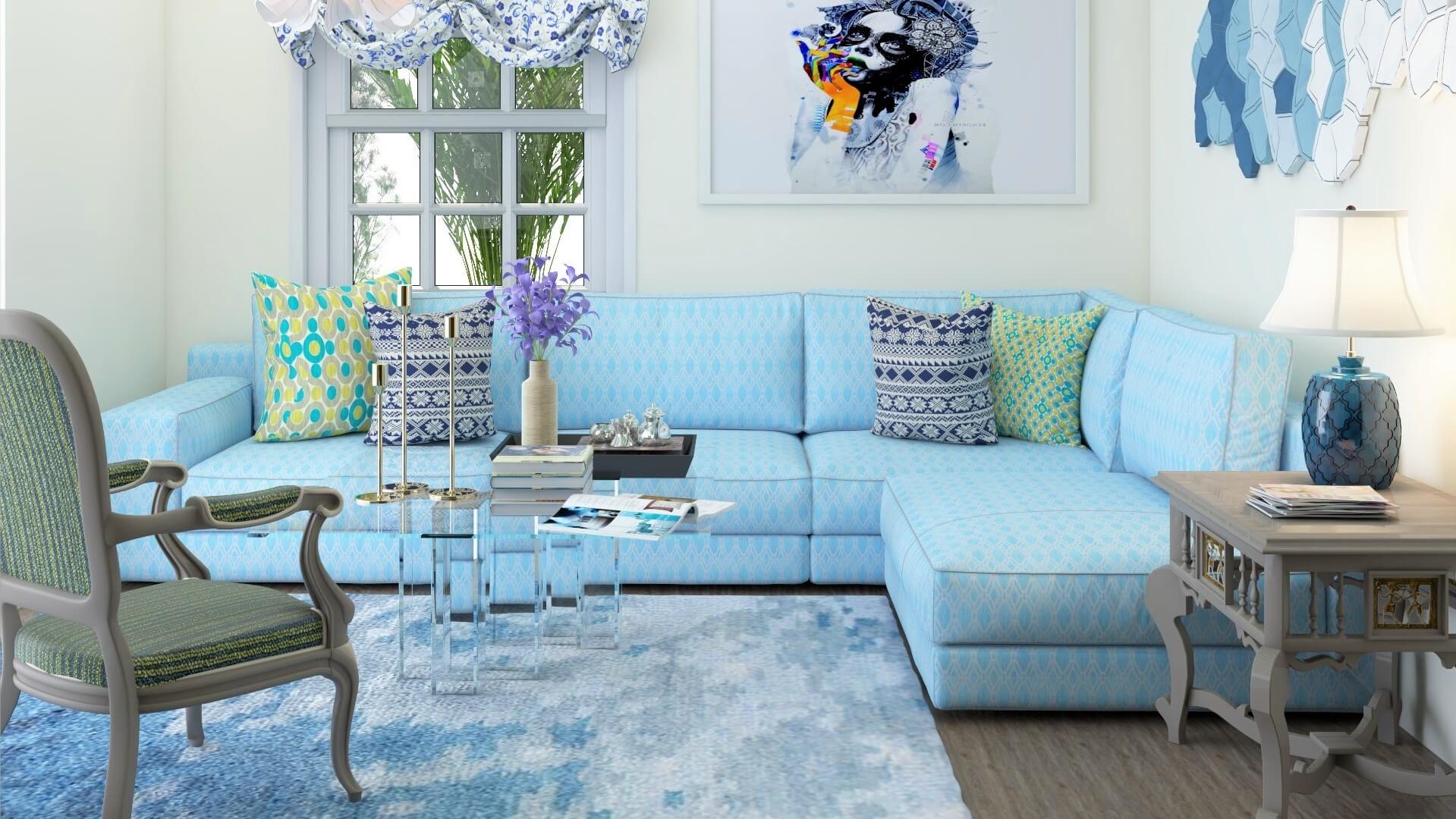 When looking for ideas for your living room interior design, you should first consider how this space will be used. The living room is often the place where you spend a great deal of your day. As such, it is essential to have a design that accounts for each of your needs.
For example, when the living room is an area of socializing, you need to make sure there's enough room for everyone to comfortably sit. In addition, when the living room is used as a space for relaxation, it must fit that need as well.
As you can see, it can be challenging to create the ideal living room interior design. But not to worry! Simply read on for 30 different living room interior design ideas that you can implement right away for the perfect design. 
Even better, we've split these tips into two categories – small living rooms, and large living rooms – so you can find solutions that truly fit the space you're working with.
Here are the top 15 living room interior design ideas for small living rooms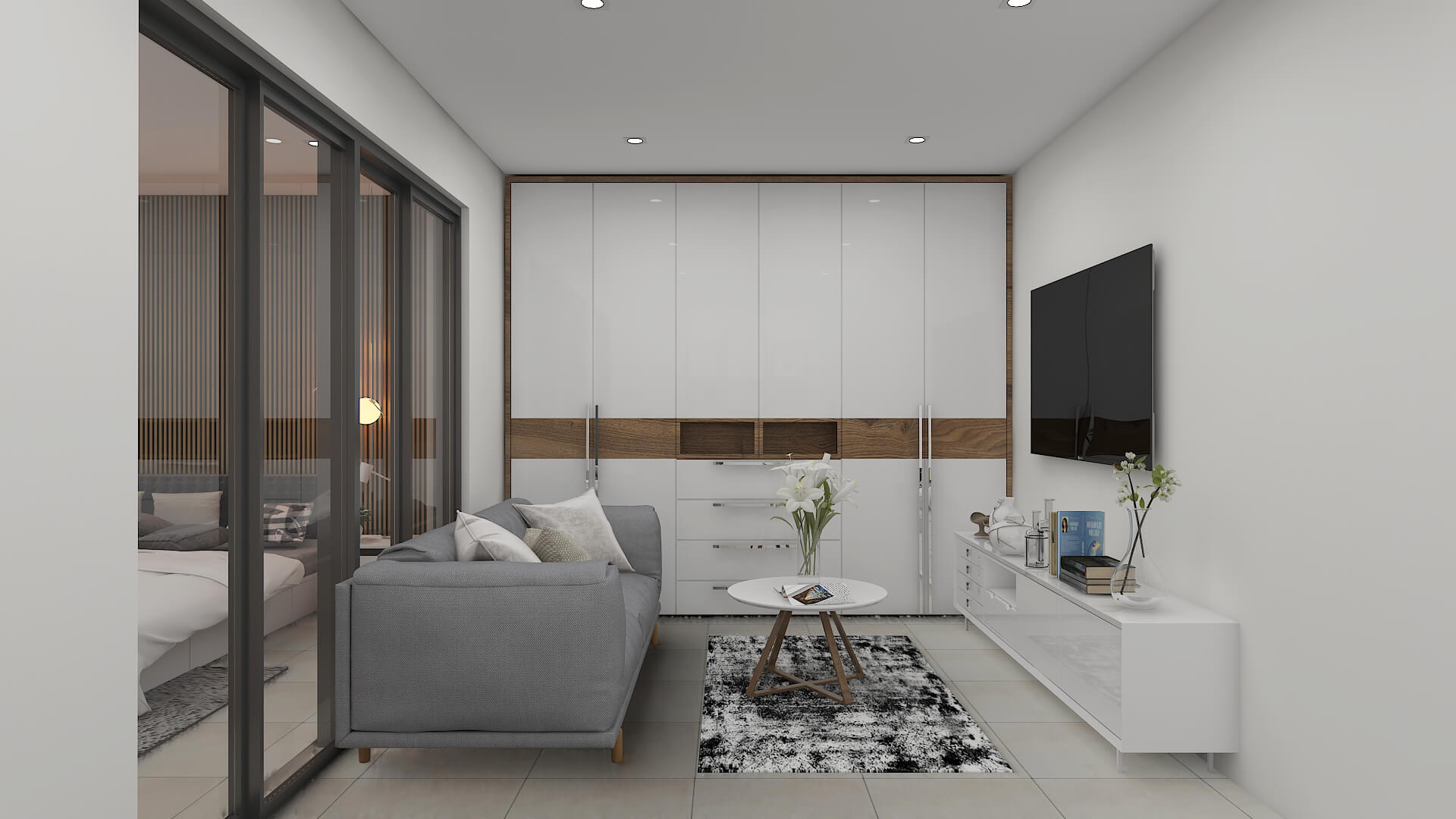 Decorating a smaller living area can be challenging and often very difficult. You of course want to bring in the latest, elegant piece of furniture for the room, but, due to a smaller floor plan size, it might not create the visual appeal you had imagined. The result will be an inappropriate use of money – and an unsatisfied client. To make the best use of your small living room space, here are the best 15 living room interior design ideas: 
The rule of colors states that lighter colors make a space feel more open. Thus, you paint your small room in a light tone to make it feel more spacious and comfortable.

Applying the same trick, be sure to choose light-colored furniture to fill your living room without making it feel cramped.

Choose furniture with visible legs. The open spaces between the furniture will make your  living room interior design feel more spacious.

Opt for small chairs or stools as seating options, instead of spending money on bulky furniture.

When shopping for small scale furniture, antique furniture will be a good option; these pieces are often the perfect size, and they bring home a totally different kind of elegance.

For an added advantage, shop for furniture that comes with built-in storage. This way, you won't be adding storage clutter to the room.

Use an ottoman if you plan on accommodating a large number of guests in your space. When people are over, it can be used as seating – and it often includes built-in storage as well.

Instead of choosing a traditional sofa, go for sectional furniture. It both looks aesthetically pleasing and provides more seating and arrangement options.

Don't push all your furniture against the walls. Instead of making your space feel open, it will actually make the living room interior design feel crammed.

Include a large rug with a vibrant pattern to make the room look larger than it actually is.

Add mirrors to your walls to reflect light across the space and provide a feeling of openness.

Place small storage cabinets near light sources so that the light out shadows the bulk. Proper lighting always makes the space feel more open.

When arranging your seating, either define a pattern, or arrange it vertically. The patterns will visually complement the room, while a simple vertical arrangement never fails to give the impression that the space is big.

If you're using the tip to include stools and other small seating options, try arranging them in a circle with two small tables. This will define your seating space, without making it take up the whole room.

Finally, if you anticipate having a lot of guests over but don't want to permanently have that amount of seating, keep folding chairs stored in the house that you can add and remove as you wish.
Here's the list of the 15 best living room interior design ideas for large living rooms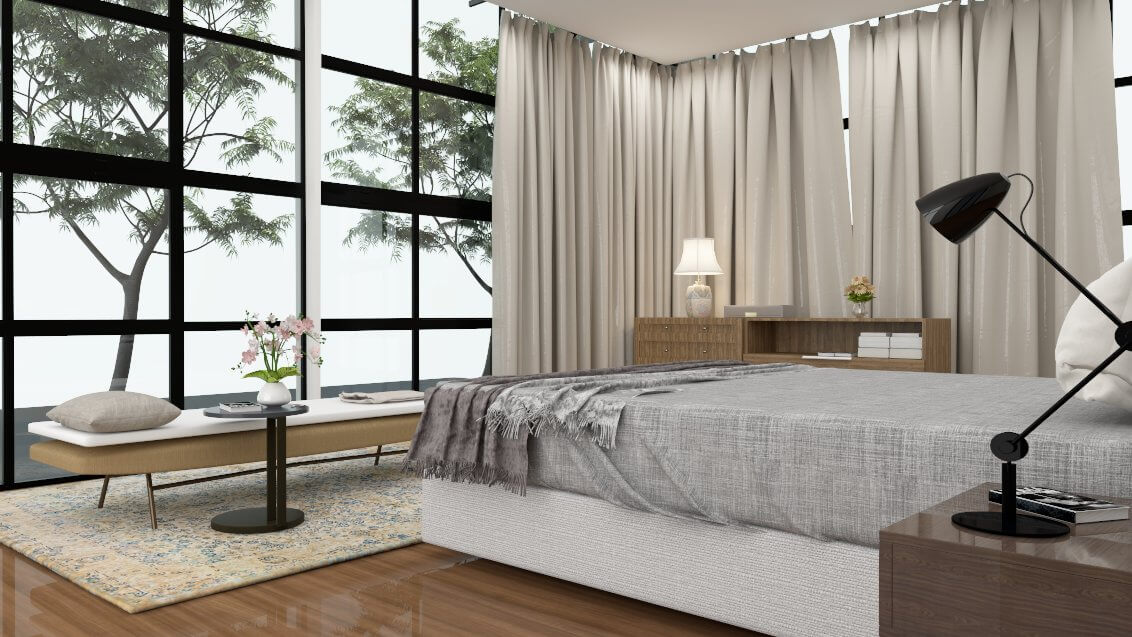 While small living rooms are notoriously tricky to decorate, you might not be off the hook just because you're dealing with a larger living room. Just as you don't want a small living room to feel cramped, you don't want the larger living room to look empty. To ensure you can create the perfect living room interior design for your large living room floor plan, read on for our top 15 tips!
With a large living room interior design, we recommend arranging the seating in the center of the room to create a cozy, warm environment.

Make sure you place the seats opposite one another, in order to engage in a conversation and fill your space.

Use ottoman tables that are bulky and match the sofa, rather than choosing a coffee table.

Fill the empty spaces around the bulky furniture with X-benches. These can serve as stools or mini-tables as well.

Bring in some extra chairs to fill in the empty space. This serves a dual purpose of filling your space, well as storing furniture for use according to the needs.

For large rooms, you can also create different sections by adding dividers or small card tables.

If you're including a big sofa in your living room interior design, we recommend placing it in the center and adding console tables on either side.

Consider using a stylish modern L-sectional sofa or an elegant daybed as the main seating area in your room.

If your living room is especially large, you should also decorate the walls in order to add a sense of closeness and intimacy. One option is adding decorative screens behind the sofas and chairs.

Be sure to adjust your furniture scale based on ceiling height. If you have high ceilings, your furniture will appear dwarfed, while in a room with a low ceiling, your furniture could appear too tall. 

Place a rug at the center seating table, and extend it a little further than the seats. You can also make the rug cover the floor length completely to make it cozier.

While arranging the furniture, make sure you do not obstruct the windows and the natural light that enters through it.

Consider adding narrow tables to your living room interior design. These can both serve as storage and also close up any empty space.

Don't use too many clashing patterns and colors – stick to one main theme for the harmony of the space.

Finally, we recommend choosing one piece of furniture to be the anchor or focal point of the room. Create the rest of your living room interior design in accordance with that centerpiece!
Final thoughts
Whether you're looking to design the living room of your dreams, or you're just interested in the various living room interior design ideas out there, we at Foyr are here for you!
To make the design process even easier – and to get even more living room interior design inspiration – check out Neo, our lightning fast interior design software. This tool comes with a massive catalogue of world-class design presets that can inspire designs for living rooms of all shapes and sizes. You can browse through the collections, filtering by different styles and themes, to find one that works for you!
For these inspirations (and more!), sign up for a free 14 day trial of Neo today. No strings attached 😊
P.S. We're a brand new software and always looking to improve. If you need a product or feature that is not currently available, let us know, and we'll work with you to make it a reality.
Click to rate this post!
[Total:

0

Average:

0

]