Home » Design Ideas & Inspirations » Best Kitchen Lighting Ideas and Trends to Style Your Kitchen
Kitchen Lighting Ideas
The right lighting design can truly tie a room together. This is especially true when lighting properly balances adequate brightness with overall aesthetic appeal. Navigating all of the potential kitchen lighting ideas can feel overwhelming. Our comprehensive guide to lighting your kitchen will help explain the differences in available kitchen lighting options, including specific considerations for kitchen lighting and current design trends.
What are the different types of lighting for kitchens? Most kitchens use one or more of the following types of lighting to achieve functional, stylish, and consistent layers of illumination:
Task Lighting
Accent Lighting
Ambient lighting
Mood Lighting
Each of these lighting types offers a unique function and has a noticeable effect on the kitchen's overall atmosphere. While some types of kitchen lighting are preferred for their clear utility in lighting a specific area or function in the kitchen (e.g. lighting placed over a sink), other lighting types may be chosen primarily to match existing decor or due to spatial limitations.
Read also – Best Kitchen Design Software
How to choose the best lighting for your kitchen?
Ultimately, choosing the best option from your kitchen lighting ideas should be based on three key considerations: practical needs, stylistic preferences and design limitations. While it does take time to confidently determine the best kitchen lighting design, there are several questions that will help narrow down the options. Before addressing these questions, it's important to understand that no single type of lighting or specific fixture will meet all needs and preferences. Instead, multiple types of lighting will likely be required to achieve the desired functionality. Interior designers call this "layered lighting."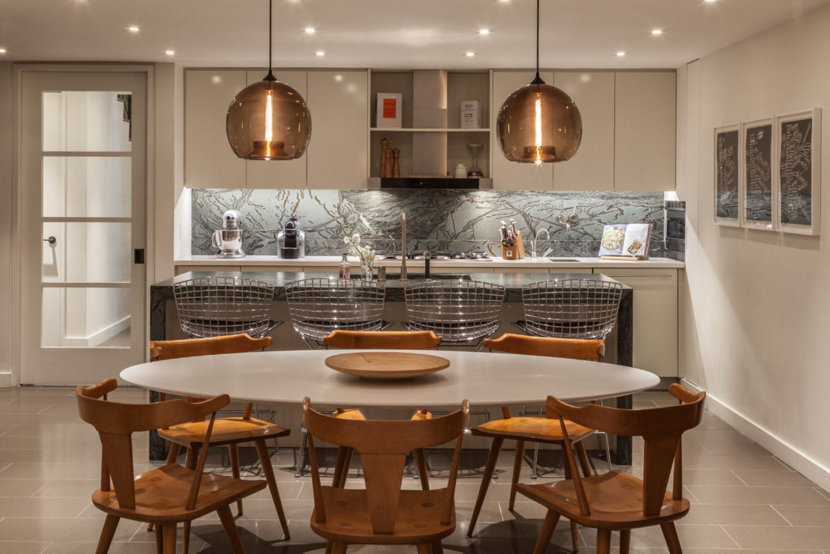 Image Credit: Kati Curtis Design
The specific layers of light are outlined in detail later in this article, but suffice to say that using layered techniques is the best way to ensure consistent lighting that has a sophisticated appeal and intentional design. Knowing which layers to apply and how will become clearer as you begin to assess your kitchen lighting needs in greater detail.
Read also – 10 Best Kitchen Remodeling Ideas
Assessing Your Kitchen Lighting Needs
To pick kitchen lighting that is both functional and stylistically representative of your personal tastes, begin by listing some of the ways in which you most commonly use the kitchen space. For example, do you spend a lot of time in the kitchen? Is the kitchen a common gathering area for friends and family? If you answered yes to either of these questions, you'll likely want to have multiple types of lighting options available and dimmers to control the brightness.
How often you cook is another key factor that should inform your kitchen lighting ideas. Additionally, your personal desire to enjoy the time spent cooking matters immensely. Poorly lit kitchens can drain the joy from cooking by creating a drab, uninspired environment. Many avid cooks and bakers prefer to have bright, well-placed lighting that makes it easier to see ingredients, read labels, check dishes, and enjoy a beautifully crafted meal.
Will your kitchen also contain dining space? It is quite common for kitchen and dining rooms to blend together through shared floor plans, counter-height bars, or other creative methods. While bright, focused light is best when preparing food, most people prefer dim, soft lighting while eating, sharing drinks, or playing games at the dining room table. Having multiple types of lighting will help you set the appropriate tone no matter what activity is taking place.
To summarize, some of the critical questions that will help you assess your kitchen lighting needs include:
How much time will be spent in the kitchen?
How will time be spent in the kitchen (e.g. dining, relaxing, cooking)?
How often will the kitchen be used for cooking?
How should the kitchen feel (e.g. relaxed, cozy, elegant)?
Read also – Best Kitchen Layout Ideas
Stylistic Preferences in Kitchen Lighting
Finding the best kitchen lighting options for your home depends largely on personal preferences. Once you've determined the functional demands and long-term vision for your kitchen, be intentional about finding ways to effectively layer light with lighting types that match your individual tastes and other home decors.
Design continuity throughout a home can be reflected through small, intentional decisions like matching accent colors or fixture finishes, especially with an open floor plan where multiple rooms can be seen at once. If you prefer a minimalist, modern kitchen style and the rest of your home reflects those interior design priorities, make sure your kitchen lighting reflects the same aesthetic. Big, hanging pendant lights or chandeliers may not suit your style as well as a flush ceiling light, stainless steel sconce or industrial track lighting.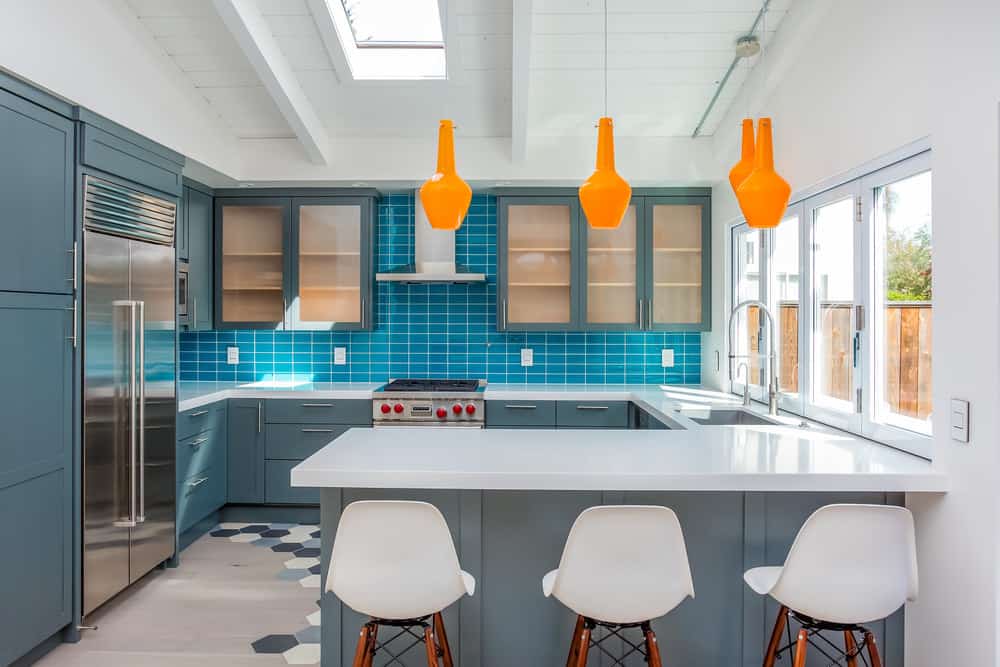 Image Credit: homestratosphere.com
Lighting Tips Based on Kitchen Design
Personal preferences aside, there are some objective, design-driven tips to consider when creating your list of kitchen lighting ideas. The list below captures some of the most critical "non-negotiable" design aspects that may influence your decision on the best kitchen lighting for your home.
1. Ceiling Height
The height of your kitchen ceiling, whether varied or uniform, could automatically rule out options like chandeliers and lengthy pendant lighting. There are also certain design standards that should be followed to make sure that your kitchen feels open and has clear walking paths. Interior design experts recommend that the bottom of a hanging light fixture be at least seven feet from the floor in areas with foot traffic.
2. Kitchen Size
One of the most common interior design mistakes is trying to do too much in a small space. Before making a final selection, make sure you've considered how many types of lighting can realistically be used and effectively layered within the available space.
3. Natural Light
Some kitchens have ample windows or skylights that provide abundant natural light. The size of these windows, their placement, and which direction they face (e.g. East, West, etc.) will all affect where the lighting should be used and how it can be layered for the desired brightness and variability. For example, if your kitchen sink features a window then a small pendant light might provide the focused illumination needed when blinds are closed or the sun has set.
4. Kitchen Aesthetic
Dark kitchen cabinets and flooring might require extra lighting to properly brighten the room. Illuminating a dark kitchen without adding too much light requires tactful and tasteful decisions about the types of lighting that will work best. A primarily white kitchen with bright cabinets, countertops, flooring, and appliances will likely need less overall lighting.
Read also – Kitchen Renovation Design Tips
Types of Kitchen Lighting:
1. Task Lighting
Task lighting is used to provide extra illumination in a more focused and concentrated way over a specific area. As its name implies, this type of lighting is most often used to make tasks easier and safer by increasing visibility. Common examples of fixtures that are used to provide task lighting in kitchens include pendant lights, track lights, puck lights, sconces and downlights (e.g. recessed, gimbal, etc.).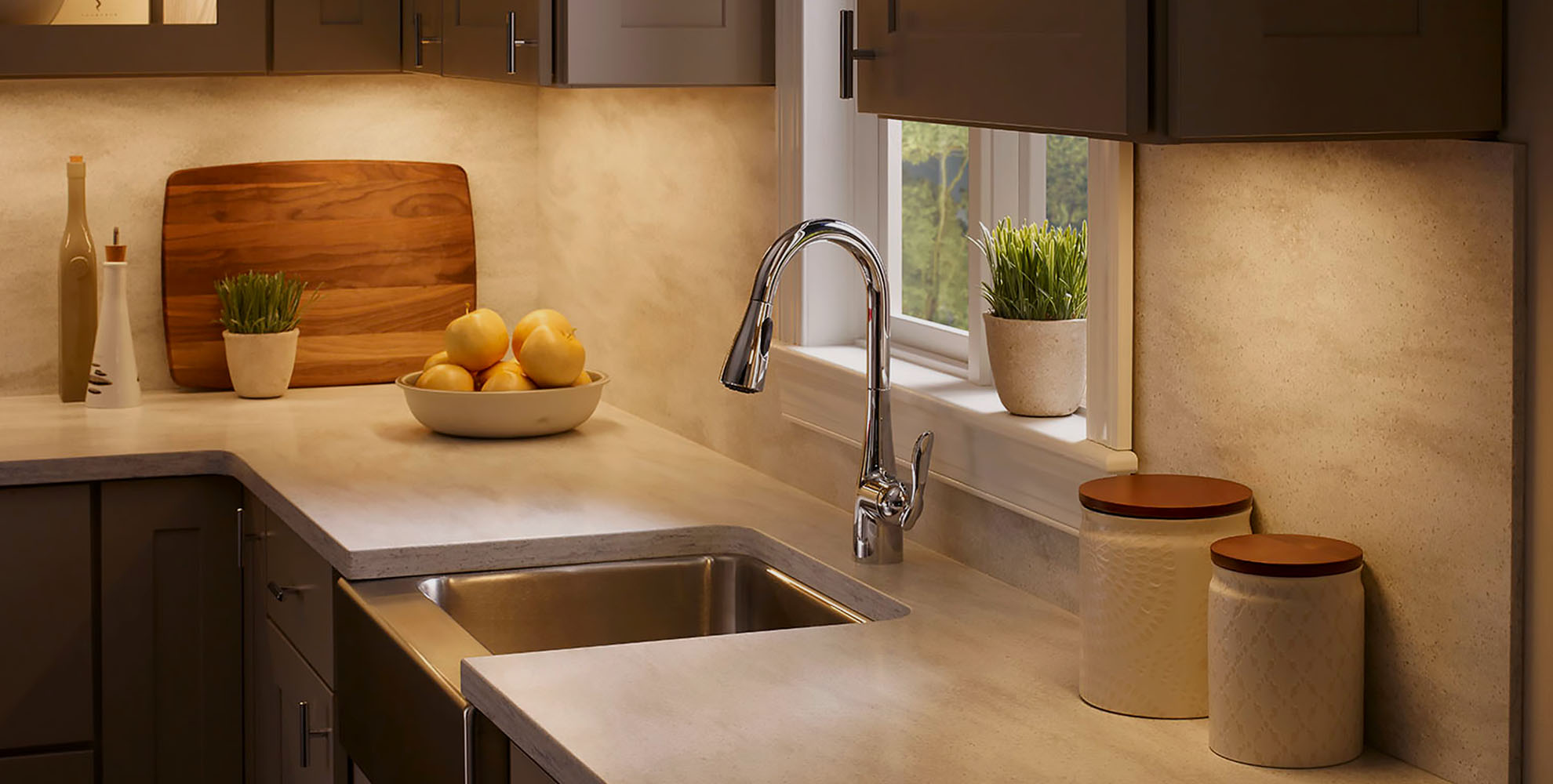 Image Credit: lumens.com
Certain light fixture styles are better suited to provide task lighting for specific kitchen design features. For example, in a kitchen where most or all of the countertops are underneath cabinets, under cabinet light fixtures can help brighten the back edges of the countertop or space in between the bottom of the cabinet and the countertop (often covered in backsplash). This additional lighting will help significantly with safe food preparation and cleaning.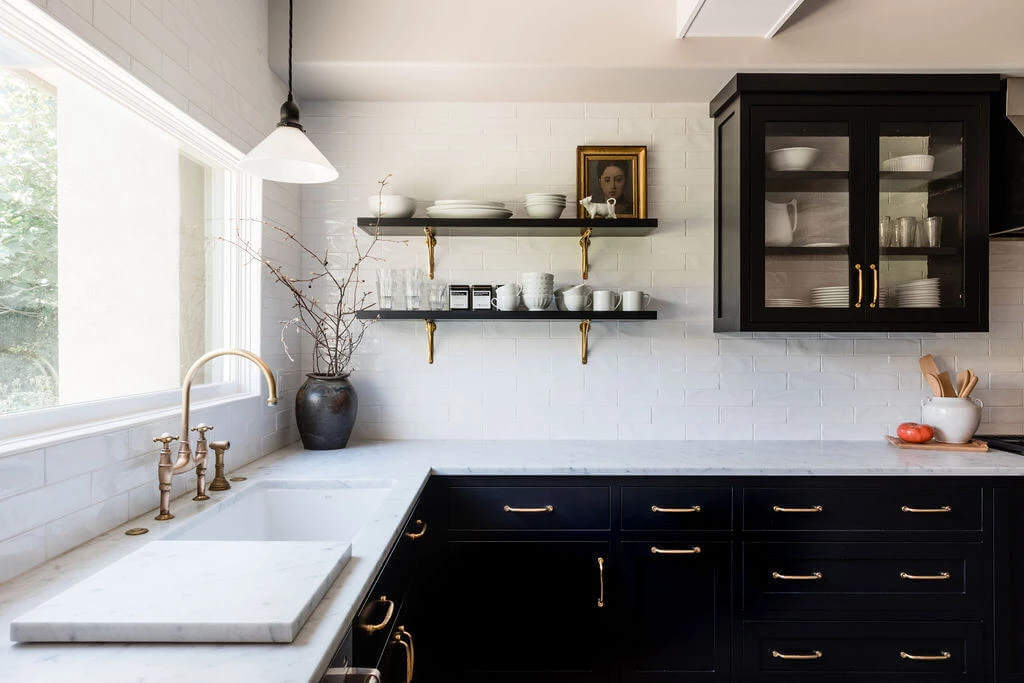 Image Credit: pepuphome.com
Regardless of kitchen size, most people prefer to have some form of task lighting available in two main places: above the sink and over the primary work surface like a kitchen island.
Small kitchens can often be lit effectively with a single flush mount or semi-flush mount ceiling light and one or two additional fixtures like a pendant light or a single recessed downlight. Sconces can be a stylish kitchen lighting idea for those who dislike pendant lights but need concentrated illumination in one area.
2. Accent Lighting
Take your creative kitchen lighting ideas to another level with beautiful accent lighting. While task lighting intentionally brightens areas used to complete routine activities, accent lighting is often applied to strategically highlight a unique design feature or piece of art. Accent lighting is usually softer than either ambient lighting or task lighting, though the brightness and tone of accent lighting can easily be altered by using different light bulbs. Popular examples of accent lighting include in-cabinet lighting and cove lighting.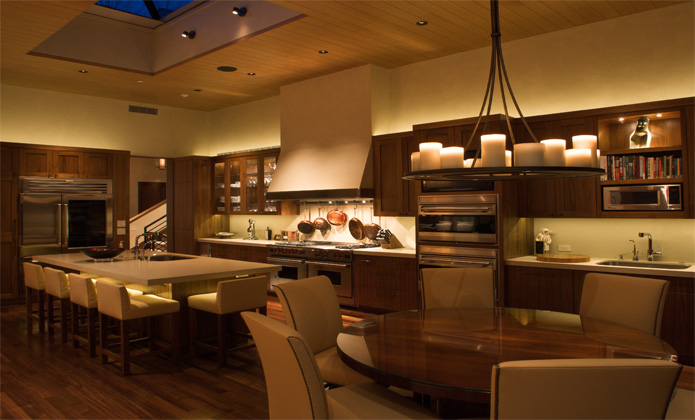 Image Credit: flexfireleds.com
Cove lighting is one of the best ways to intimately lighten parts of a room with a soft glow. Practically, cove lighting above cabinets can outline the shape of the kitchen for obvious reference points.
Larger kitchens might find accent lighting useful to highlight specific appliances or an architectural focal point. Small kitchens can use accent lighting within cabinetry to highlight dishes or items on display, and well-placed accent lighting can make a room feel larger.
3. Ambient Lighting
A must-have feature for all kitchens, ambient lighting makes an entire room feel evenly lit. Think of ambient lighting as a replacement for natural light; its purpose is to make sure that you can generally see all parts of a room when natural light is insufficient or if there are no windows in the room. Ambient lighting is accomplished by using a fixture or style of lighting that illuminates consistently throughout a space.
The ambient kitchen light is often provided from a central ceiling light and a combination of recessed downlighting installed around the perimeter of the room. Because recessed downlights are usually dimmable, they are a preferred option for general lighting in a kitchen space. Dimming the recessed lights can change the kitchen's ambiance and allow the central light fixture to become more of an accent or task light (especially if it's centered over a dining table or kitchen island).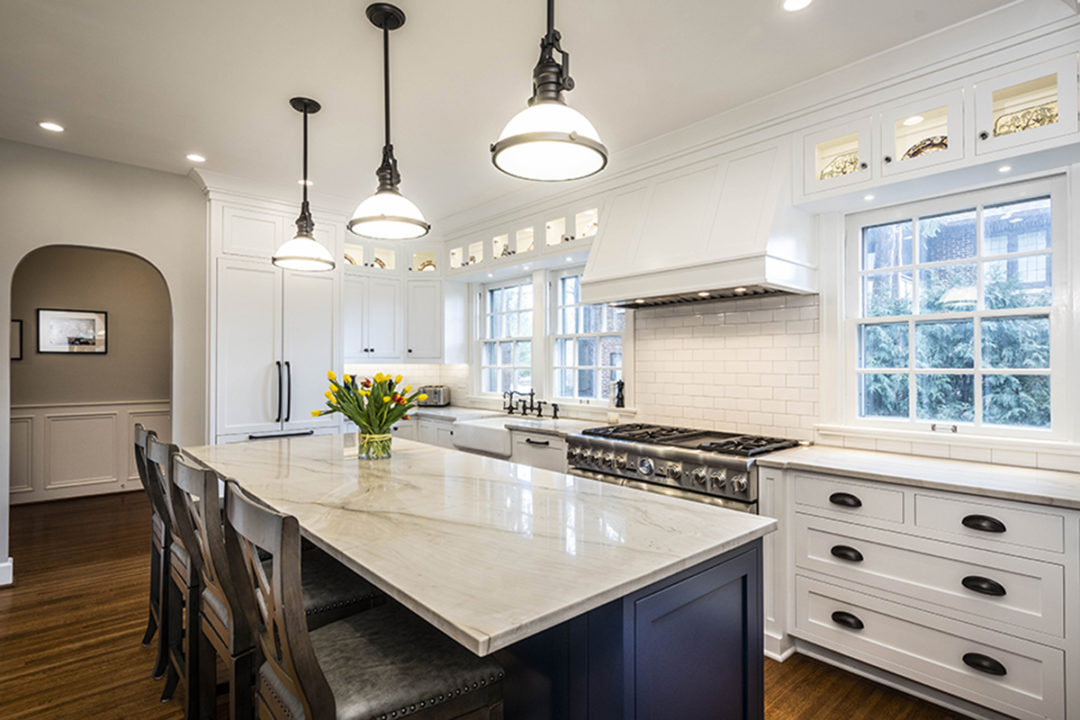 Image Credit: corinthianinc.com
Large and small kitchens should have some form of ambient lighting. If you are just beginning to create a list of potential kitchen lighting ideas, make sure to plan for how the entire space will be evenly lit.
A spacious or modern kitchen with an open floor plan can achieve ambient lighting with hanging fixtures that cast light in all directions (including glass pendants). Longer fixtures like track lighting or linear suspension lighting are often used over a bar or long counter to make sure that additional light can be cast evenly over the entire area.
Smaller kitchens can stylishly achieve ambient lighting through a centrally fixed flush mount ceiling light or a combination of recessed downlighting. These styles of kitchen light fixtures leave plenty of walking space underneath and also cast light in all directions, providing the general light that is desired.
4. Mood Lighting
Not explicitly practical, mood lighting is all about setting the right tone. The atmosphere of a kitchen can be easily altered with the right lighting style and the proper amount of light. The simplest way to create mood lighting in a kitchen is by adding dimmable lights and dimmer switches. Using softer light bulbs or darkening lampshades will create a more relaxed mood while bright or colorful LEDs will energize the space, making it feel more fun and exciting.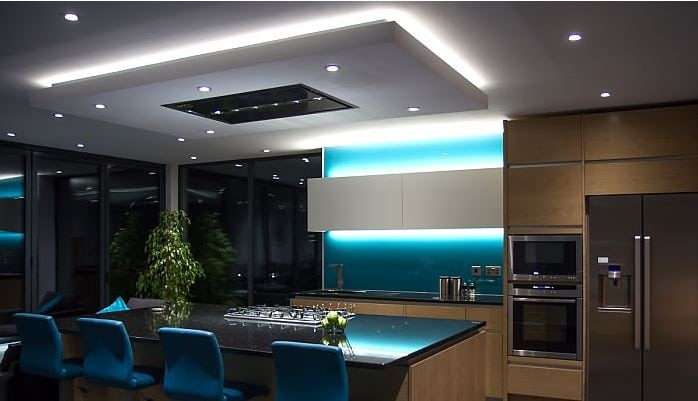 Image Credit: visualchillout.co.uk
What's trending in kitchen lighting ?
Although the types of lighting that work best in a kitchen (ambient, accent and task) don't really change, trends in kitchen lighting fixtures and design are constantly evolving and are heavily influenced by broader interior design trends. Some of the top kitchen lighting trends for 2023 include under cabinet lighting, wall sconces and large hanging fixtures.
Read also – Top 22 Kitchen Design Trends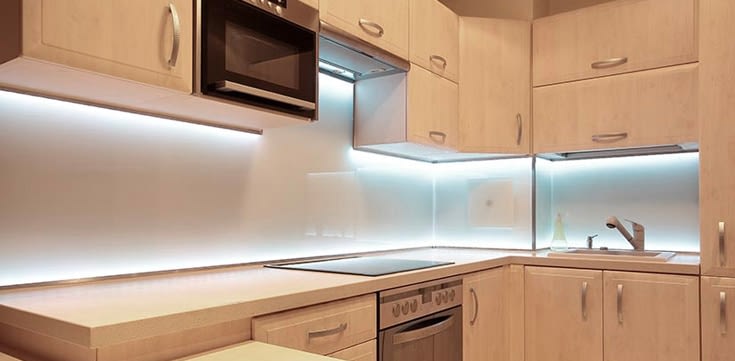 Image Credit: pinterest.com
Under-cabinet lighting has grown in popularity due to its high functionality and aesthetic appeal. There are many benefits to using lights underneath kitchen cabinetry, including increased visibility for working on countertops and the ability to show off backsplash designs or marble countertops. Under-cabinet lighting can also help save on energy costs (particularly if LED bulbs are used) because it prevents the need to use brighter or larger kitchen lights. Lastly, cabinetry lighting can be increasing the resale value of your home by wowing potential buyers.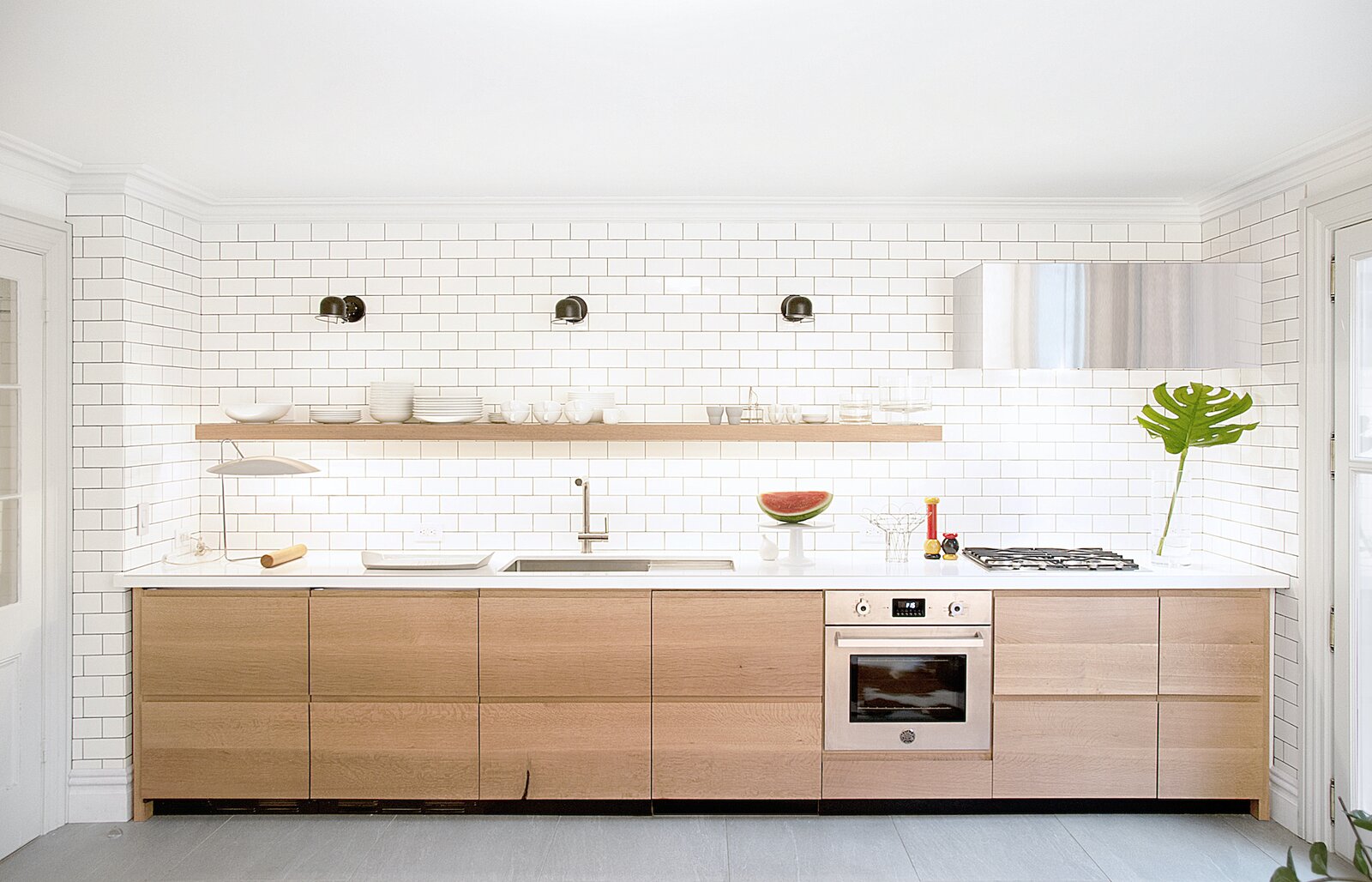 Image Credit: dwell.com
Sconces can be a remarkably stylish kitchen light fixture that illuminates narrow spaces or indicate an entrance or exit. Other creative uses for sconces include framing either side of a painting or photo, over a small dining nook, or above a kitchen sink.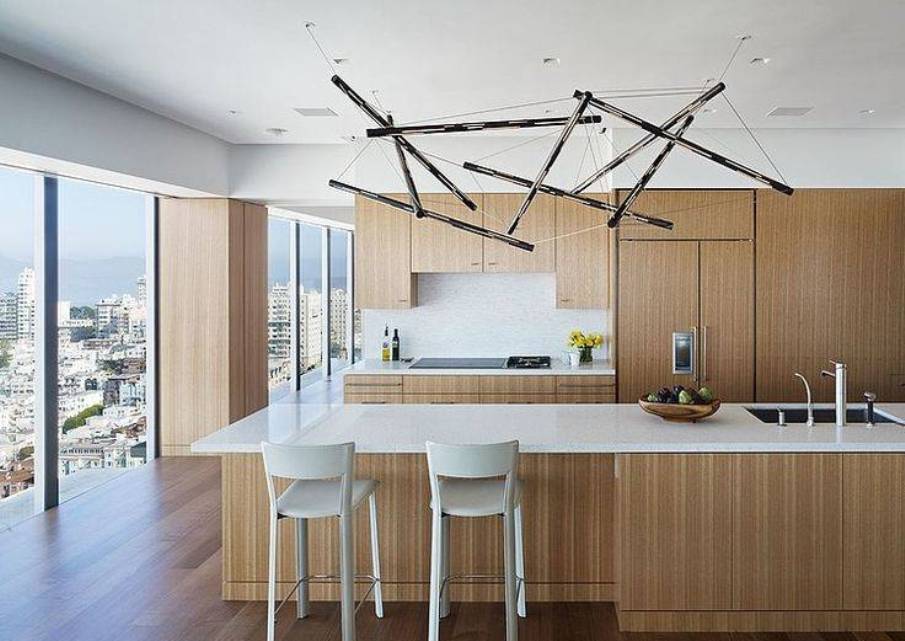 Image Credit: than.info
A relatively simple way to provide ambient lighting and make a design statement is with large hanging fixtures. Hanging fixtures come in all shapes and sizes, including custom designs that are matched perfectly to your tastes. Hanging fixtures can be jagged and angular with a distinctively modern feel or abstract and fluid with impressionistic tones. Regardless of your design preferences, a unique hanging fixture can easily become the focal point of your kitchen.
Read also – Best Kitchen Decor Ideas
Foyr Neo: The easiest way to plan your next project's Kitchen lighting
Foyr Neo is an easy-to-use, cloud-based interior design program used by professionals, students and passionate homeowners to bring design ideas to life.
What better way to test your kitchen lighting ideas than by visualizing each detail before making a decision? The intuitive functionality and AI-powered auto lighting capabilities allow users to select specific fixtures and brightness. Once your design is finished, Foyr Neo lets you create 4K photorealistic renderings in just minutes.