The kitchen of a house is called the powerhouse of the home for a reason- it is not a place just to merely cook. A home cannot function without a kitchen, and the kitchen is known as the heart of the home as it is a site of indispensable. A kitchen can harbor so many beautiful memories- a romantic dinner with your significant other, a fun baking session with your children, or hosting brunch on special occasions with friends and family.
Renovating your kitchen or designing one for a new home is no easy task; the list of requirements is quite long and so are the choices available in the market for each facility or item on the list. Whether you're renovating, redecorating, or simply updating this space, the first step to kitchen decor is to analyze your lifestyle and needs. The layout of your kitchen is determined by the frequency, variety, and quantity of cooking. Think about the purpose of your kitchen- is it just a space for cooking or will it have dining too? Are you planning to extend your kitchen into a utility space where you can also place the washing machine? While we always jump at the prospect of an aesthetic makeover with the perfect color scheme and so on, all this decor depends on the layout of the kitchen.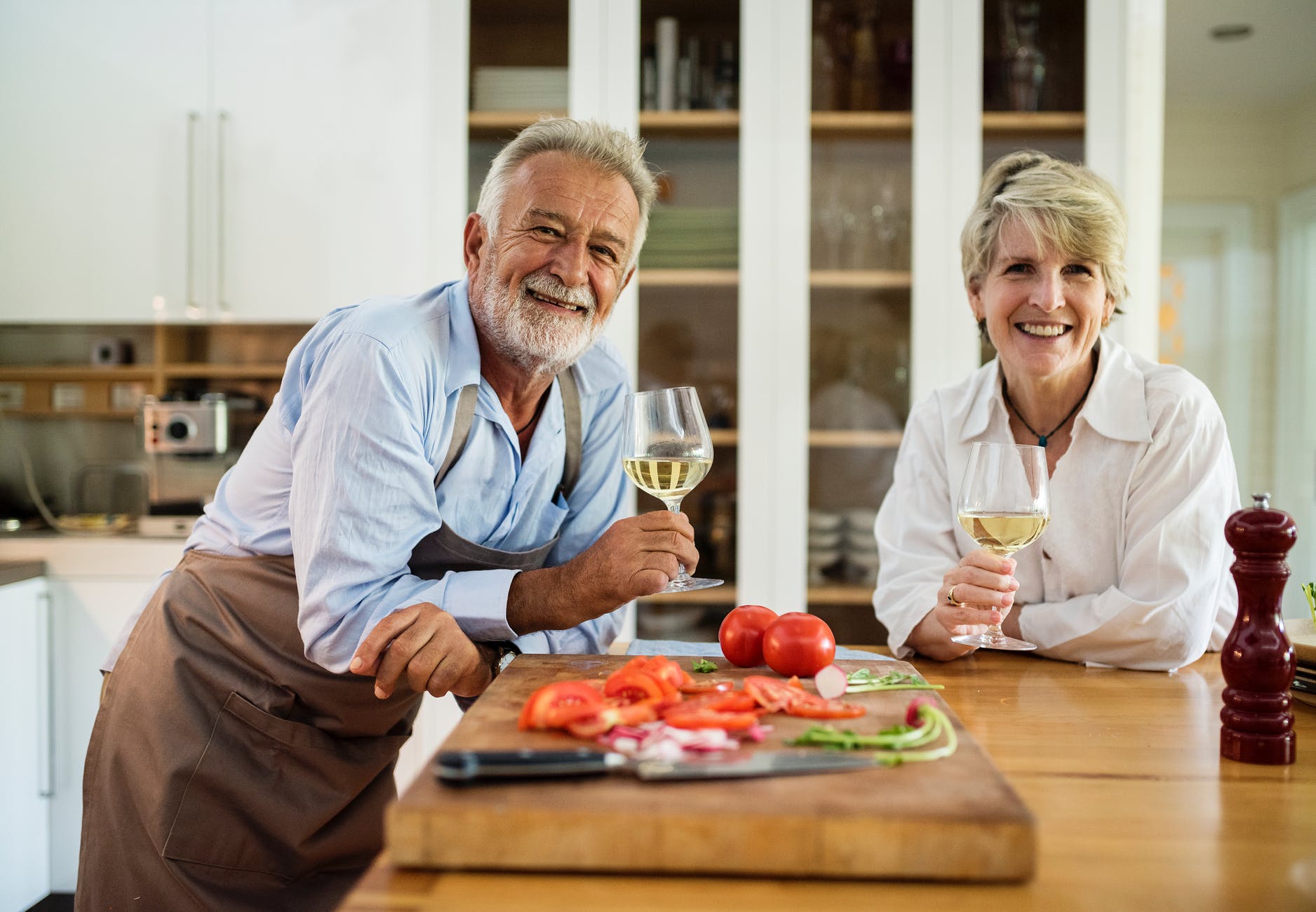 Image credits: Unsplash.com
Keeping all these necessities in mind, you can choose from three popular layouts of a kitchen- a galley kitchen, an L-shaped kitchen or a U-shaped kitchen. Here are some tips to help you choose the right layout and each of their best features:
Space Optimization: The Quaint Galley Kitchen
A galley kitchen resembles a narrow passage between two walls like that of a cabin in a ship or aircraft. Its simple design allows a lot of space for storage and makes sure that the chef just takes tiny footsteps around. Though it might initially seem very cramped, it has a lot of scope for design as much as the other layouts for kitchens.
Space efficient style of cooking in a  galley kitchen is an experience of its own; however, the wrong selection of a galley layout and clumsy arrangement of items in the galley kitchen might prove to be a bane rather than a boon. If you're the one looking for an open plan living, the galley kitchen will end up giving you a congested feeling. However, its minimalist and space-optimizing character act as a strong advantage. Apart from the dual wall feature, the galley kitchen can be strategically placed in such a manner that connects the dining room to the backyard proving to be a very convenient arrangement for cooking, dining and also cleaning up. You can plan a work triangle where the fridge and the oven would be on the same side and the sink would be on the opposite wall to form the third corner of the triangle. Light and bright colors will make your galley kitchen seem more open and airy. Make maximum utilization of the wall space by hanging shelves on the walls or stacking cabinets vertically.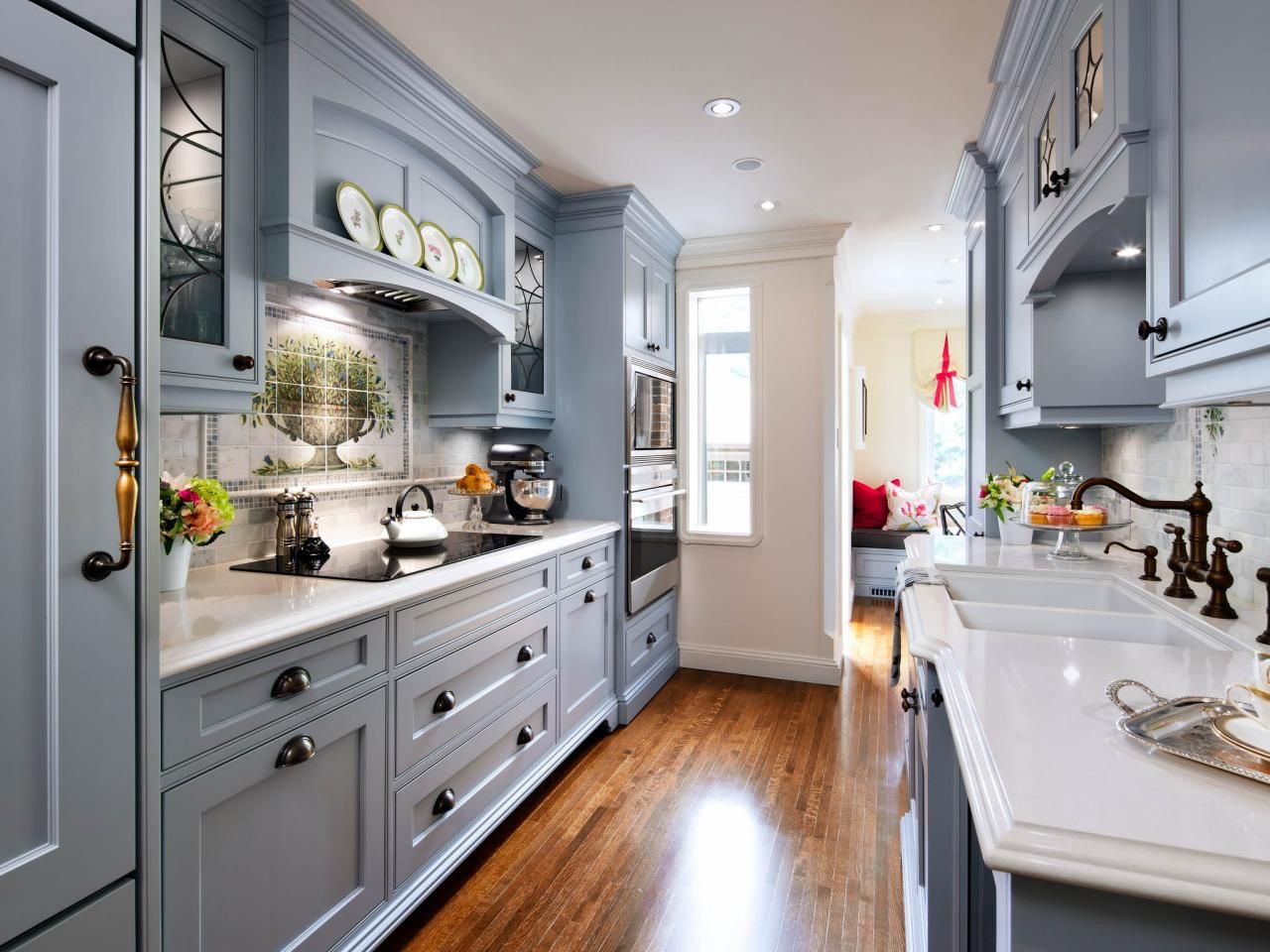 Image credits: co.pinterest.com
Maximizing Corner Space: Compact Setting in an L-Shaped Kitchen
As the name suggests, the L-Shaped Layout of a kitchen is shaped like the letter L and makes maximum utilization of corner space, that is, two narrow and long spaces. It is one of the most popular options for kitchen layouts. Most L-shaped kitchens come with a multipurpose kitchen island and can accommodate multiple chefs, making it the perfect option for gourmet menus and fun family cooking activities. In general, an L-shaped kitchen with a functional island for working space and storage requires more space than a galley or a U-shaped kitchen, but the benefits of this size and arrangement are numerous, particularly the adaptability of this kitchen layout.
Kitchen islands are very useful in L-shaped kitchen: countertops can serve as additional working space and can also be furnished with combinations of open shelves and closed cabinets for storage. This not only cuts on clutter but also adds an aesthetic appeal to the kitchen. An extension could be built for the kitchen island to even be used as a dining space. You could also place the sink of the kitchen on the island, as this would create a very efficient work triangle. Similar to a galley kitchen, the narrow pathways have a lot of potential for well-stacked wall cabinets and you have the added benefit of two such structures. Natural light can be harnessed for quality lighting as well as aesthetics, particularly near the corner. He L-shaped layout accommodates easily into open living floor plans where the kitchen island can be used as demarcation and is highly functional as a whole.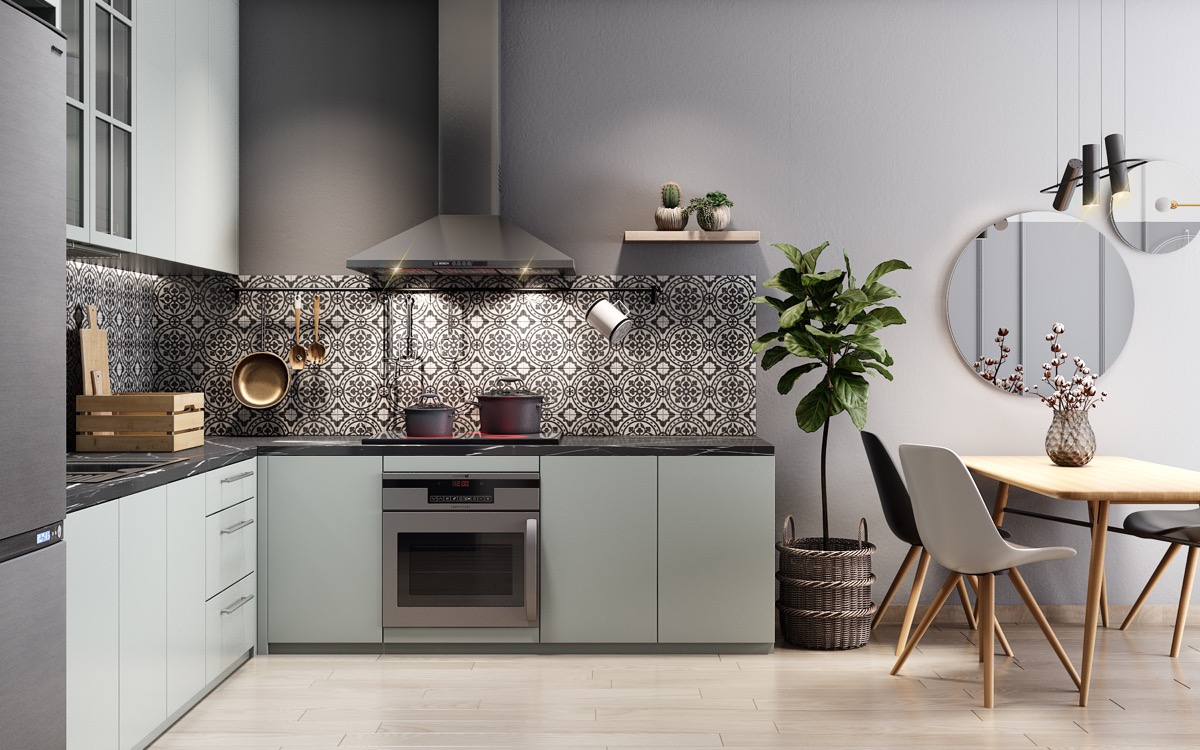 Image credits: Homedesigning.com
The Best of Both Worlds: U-Shaped Kitchen for Storage and Space
The U-Shaped kitchen is a layout that allows for clear demarcation between working space and storage. Hence, it is an high-efficiency cooking setting that helps avoid distractions while simultaneously providing an ample and accessible place for storage. By closing off one end of the kitchen, the U-shaped kitchen layout is ideal for individual intensive cooking and wards off any potential traffic.
In short, it is designed in such a way that it accommodates the perfect work triangle between the fridge, stove and the sink. However, one problem with the U-shaped kitchen is that it does not have any facility for seating. Usually, refrigerators are placed right in the middle of the U, but you can place it just outside the U so that it still fits in the work triangle. One way to tackle this issue is to place a square kitchen island in the center of the U-shaped layout to be used for workspace, storage, and dining, and place a few stools for seating.  Alternatively, if space is a constraint, you could add a kitchen peninsula which acts as a unit of the kitchen.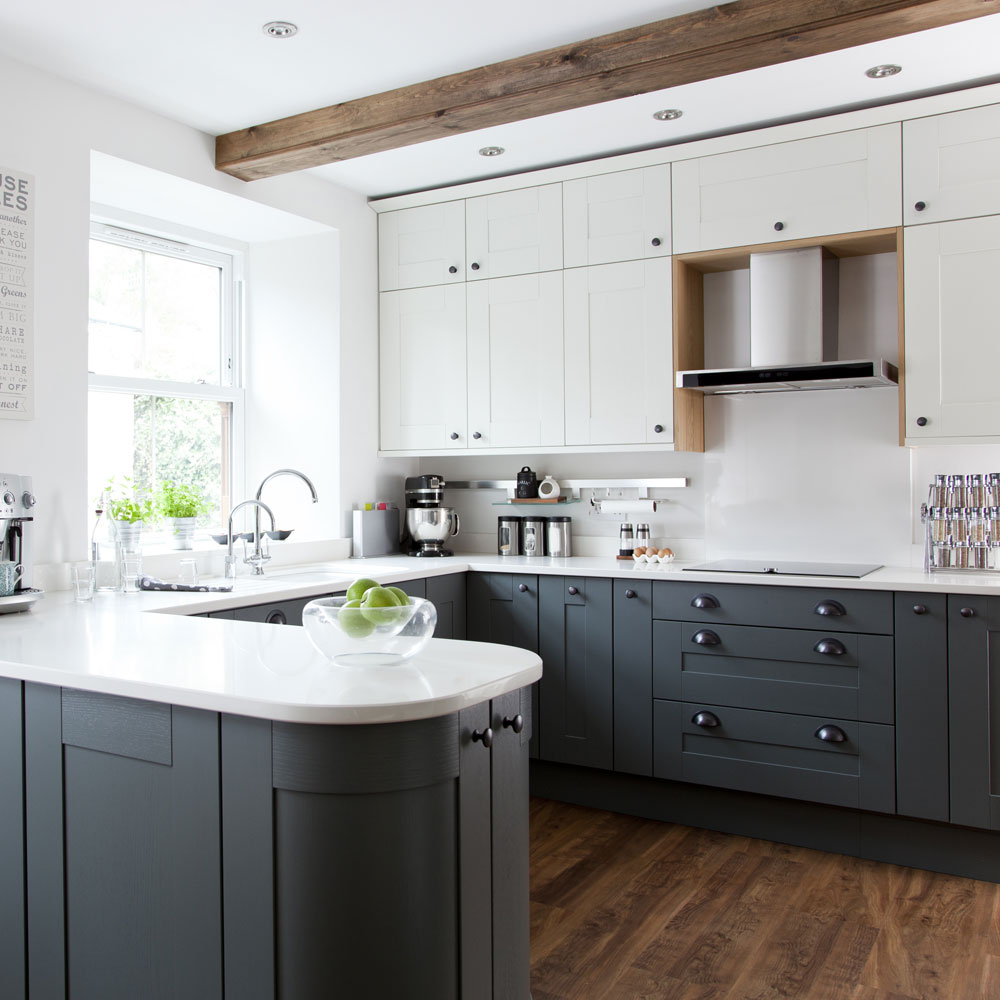 Image credits: Idealhome.co.uk
There are other layouts that can be used to design a kitchen; however, these three layouts are the most popular options which have scope for multiple customizations. Choose your layout wisely based on space available and your eating lifestyle. Hope these ideas help you have an enriching experience!
Click to rate this post!
[Total:

0

Average:

0

]