Your kitchen is one of, if not the most important room in your home. Whether you are an aspiring chef or just someone who likes being able to put together a nice meal or two for your family over the holidays, a beautiful and functional kitchen is a gift that keeps on giving. Like all art and style, interior design goes through phases. A few years back, granite kitchen cabinets were in style, and now light a kitchen cabinet and countertop is all anyone can talk about. But there is more to designing a kitchen than just following trends. There are many steps you can take to put a beautiful personal spin on your kitchen's appearance. And, of course, any kitchen makeover starts with your cabinets.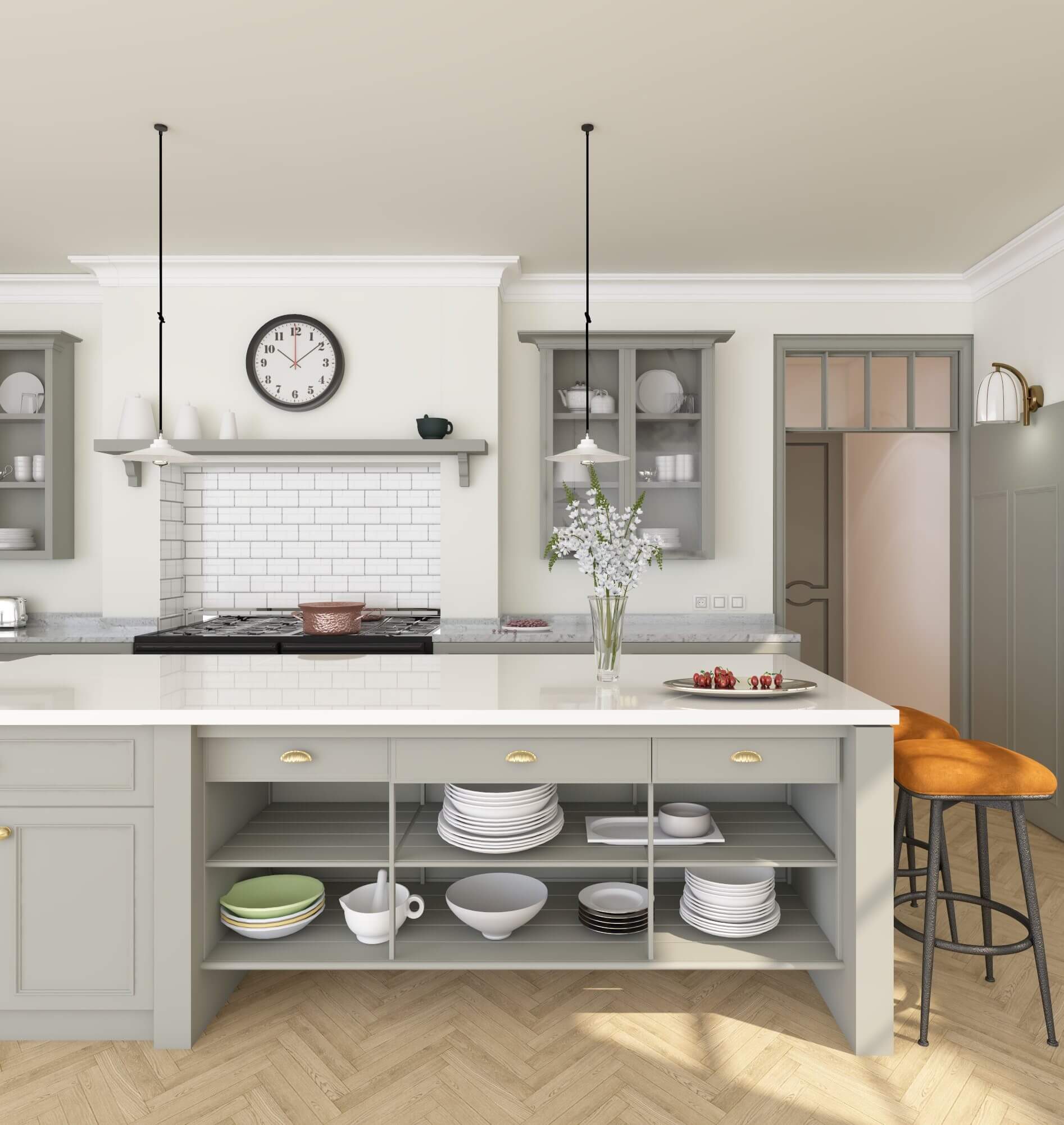 Important components in your kitchen
Now, when we talk about a kitchen makeover, there are several points of interest:
Lower kitchen cabinetry
Countertops
Upper cabinets
Kitchen Island
Kitchen backsplash
Paint colors for the walls
Flooring
Rangehood
Oven/ Stove
Kitchen decor
Other assorted appliances.
You may have noticed how the kitchen cabinetry is divided into lower and upper cabinets. No, that is not a mistake. It is because that's how important the detailing for your kitchen cabinets is. You can't consider the same kitchen design ideas for both because they each serve specific purposes and add different aesthetic value to your overall kitchen design.
Hence, today we are going to take the time to discuss kitchen cabinet design ideas in a little detail. The reason for this is simple. We want you to have an impressive new kitchen that defines the functionality, brings you joy, and inspires you to cook delectable meals for your loved ones.
And it all starts with the kitchen cabinets…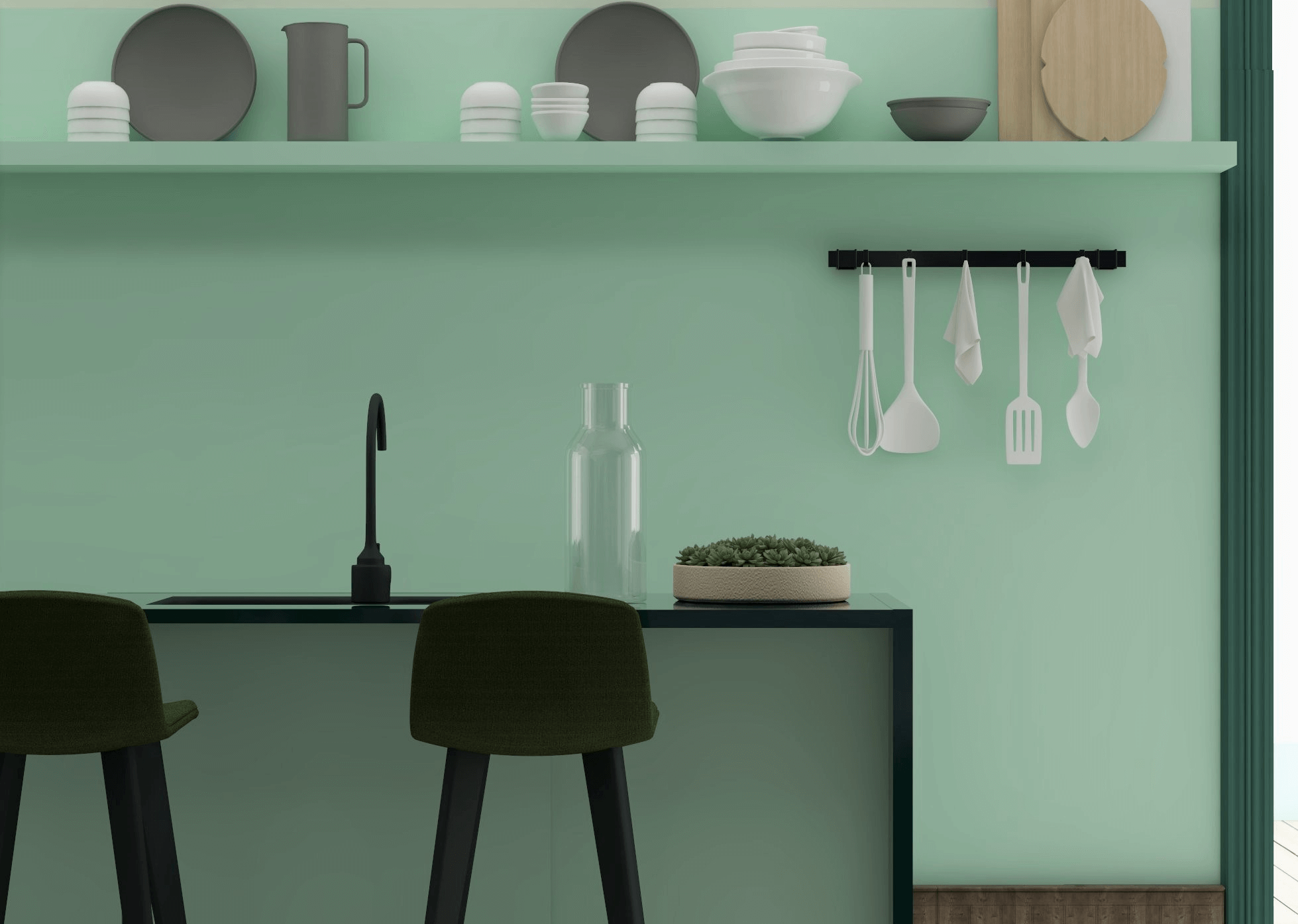 Kitchen cabinet ideas to add a special touch to your interior design
When selecting your kitchen cabinets, think of the feeling they should inspire. We know, that sounds strange but psychologically speaking, every element on this planet has an effect on your psyche. You already know about the psychology of colors we discussed extensively but there is more to interior design.
The materials you choose, the patterns and textures that surround you, every item of home decor, and every piece of furniture and fixture inspire memories. They act as triggers.
Perhaps oak wood cabinets remind you of childhood Hanukkahs when Grandpa would sit in his wooden armchair and read stories to you. Maybe the open shelves in your exposed cabinets remind you of the times you sneaked Christmas cookies from the open shelving in your mother's kitchen cabinet. Perchance, when seeing a green kitchen cabinet, you recall the time you were backpacking through Europe and stopped at a small diner to taste the best beef stew you have ever had.
Memories are important. They instigate good vibes and positivity. So here are a few intricate kitchen cabinet design ideas to not only add aesthetic value to your new kitchen but also bring back beautiful memories. You can mix and match these design ideas to customize your kitchen cabinets.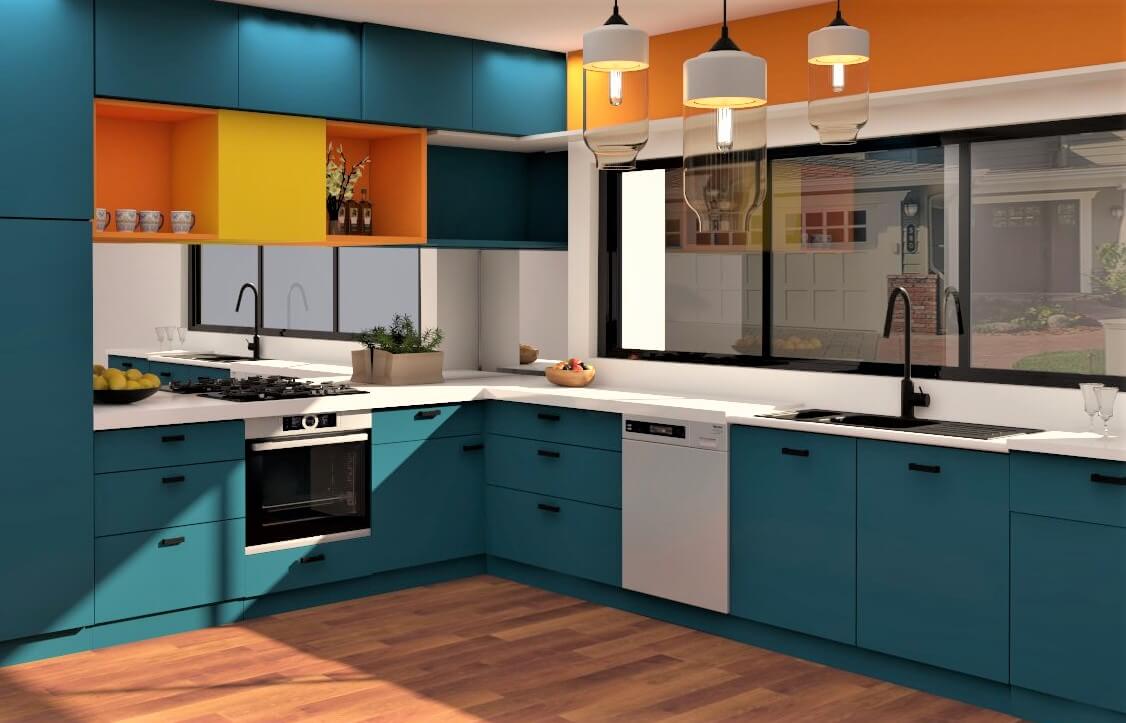 Pick a theme for your cabinet designs
Much like selecting a theme for your overall home design, you can pick a theme for your kitchen cabinets as well.
In a rustic kitchen, you can install ornate cabinet doors with exposed wooden structures. You can also go for open shelves to stimulate a classic country kitchen look. This could also work in a farmhouse kitchen style where you can tie the cooking space together with a rustic chimney, a farmhouse sink, and a small furnace for show or functionality as you please.
In other kitchen cabinet ideas, you can incorporate a contemporary kitchen theme with a minimalist design consisting of clean lines. A dark, black kitchen adds a sense of functionality to these modern kitchen design ideas and allows you to merge into the interior design of other rooms such as the living room, dining room, basically any room that surrounds the kitchen.
You can also opt for the oriental minimalist kitchen cabinet design trends and install sliding cabinet doors to make the kitchen look more simplistic. Consider using subway tiles and wooden backsplash to tie the kitchen design ideas together.
Lastly, and most commonly used kitchen cabinet design theme is the traditional kitchen plan. You simply need to select a basic kitchen cabinet design made of wood or glass doors. Throw in a tile backsplash, an array of appliances that only adhere to their utility, and some light paint colors on the walls. These traditional kitchen designs call for minimum creativity but you can always spruce them up by accessorizing your kitchen cabinets with personalized items. More on that later…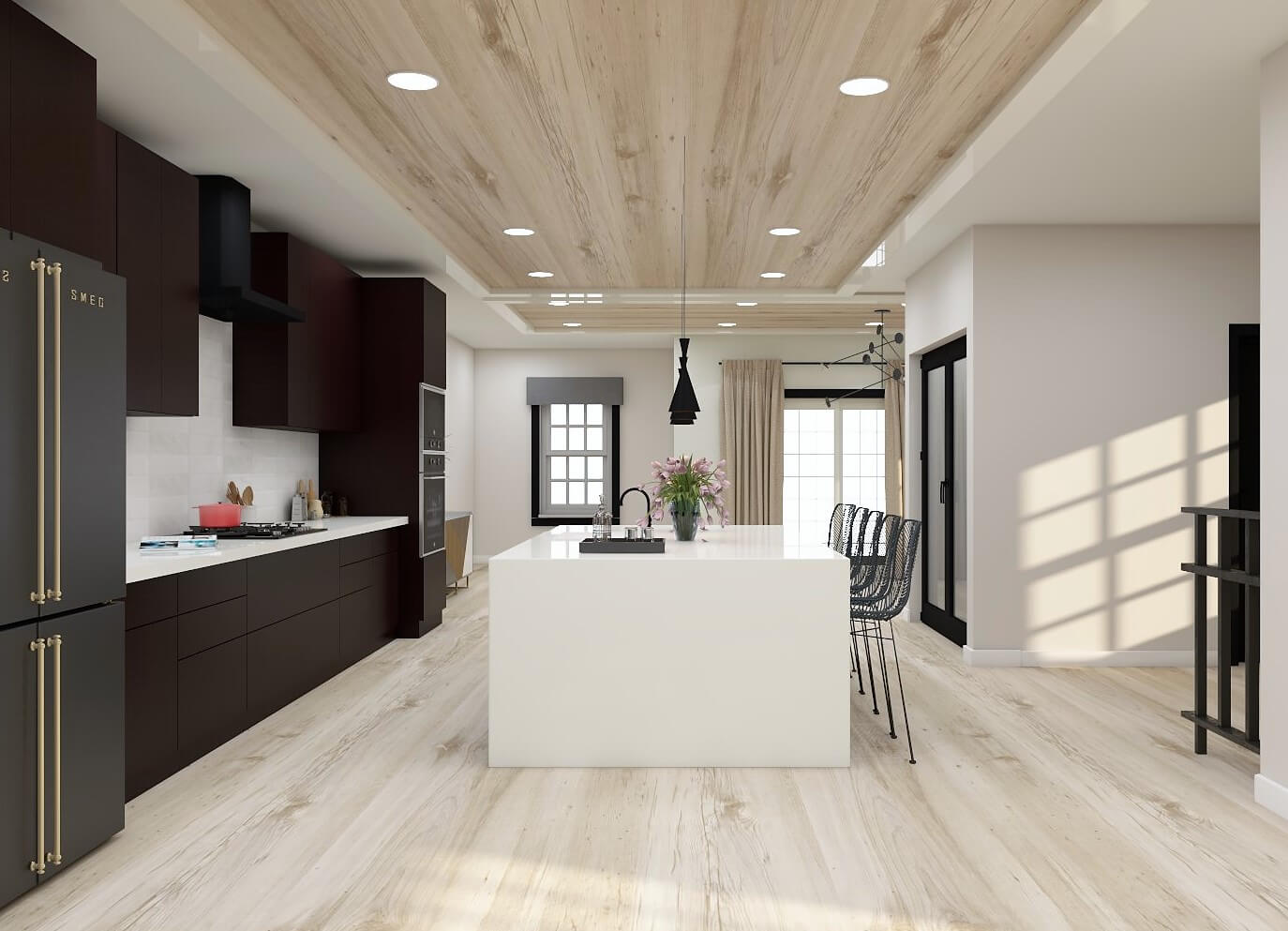 Decide on a material for the kitchen cabinet body
Once you have selected the theme of your kitchen cabinet design, you need to start considering the material you will use to build the actual cabinets.
Most commonly, people opt for wooden bodies for their kitchen cabinets, which is a fine way to go. However, keep in mind that often various types of wood instigate allergic reactions in family members. Therefore, you need to evaluate your options carefully so as not to make the kitchen a hot zone for hypersensitivity.
You can choose from a number of wood cabinet bodies such as:
Maple wood
Pinewood
Oakwood
Mahogany
Alder wood
Walnut
Hickory
Birch
Check which of these types of wood cabinets are safe to use around your loved ones. Also, check the porous content of the type of wood you select before planning the cabinet design with your designer or carpenter.
Another incredible kitchen cabinet material is metal, specifically stainless steel. These are not popular choices but with the evolvement of interior design, they are catching on quickly.
Choose cabinet colors in accordance with the kitchen design
As we have said on several occasions, colors play an important role in home interior design.
When selecting your cabinet colors, you must first visualize how it works with the paint colors of your kitchen walls.
For instance, if you have a small kitchen, the ideal colors on your walls and flooring would be light shades or white since a white kitchen looks more expansive. Therefore, keeping a similar concept in mind, you can also choose white cabinets to further enhance the reflective properties of light and create an illusion of a large kitchen.
Similarly, if you have an open planned kitchen that subsequently blends into your dining room or living room then choose cabinet colors that complement the color scheme of the surroundings.
A dark brown cabinet or natural wooden shades blend well with light green, light blue, and yellow paint colors on the walls and a subdued, serene color palette.
You can also choose bold cabinet colors such as red, orange, navy blue, magenta, etc. try to alternate the color scheme on your base cabinets with bold and light colors to stimulate a texture in your kitchen cabinet design.
Finally, you can take inspiration from high-end modern interior design and choose a black kitchen with black cabinets. These look extremely trendy and instigate a superior feeling of functionality in your kitchen design.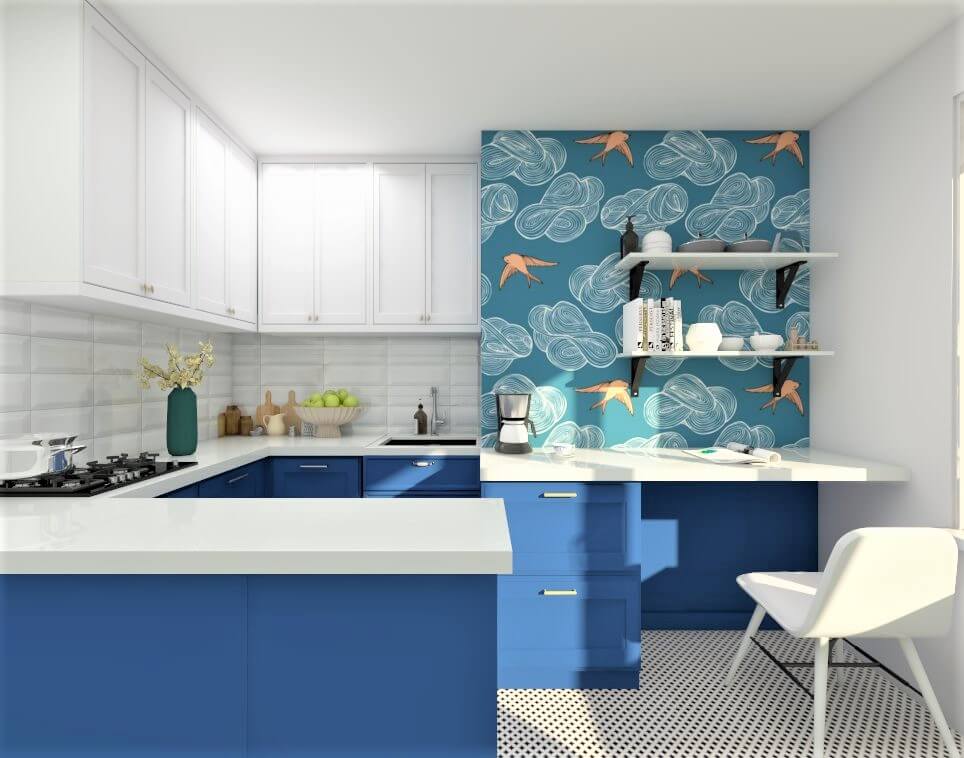 Be careful with your cabinet hardware
Since the evolution of interior design and building cabinetry structures, the use of cabinet hardware has changed.
Gone are the days when your hinges and bolts fell apart from rusting. Now, you have options to select stainless steel ones to protect your cabinetry. Additionally, you can also choose the installation of the cabinet hardware to improve its lifespan.
You can opt for vertical or horizontal installations for swinging cabinet doors. You can select a whisper-soft glider system for sliding doors and pull-out drawers. You can even have roller tracks to support the movement of your kitchen cabinet doors and drawers.
Revitalize the storage spaces
An important part of cabinet design is analyzing the amount of storage space you need.
Base cabinets, which are located under the countertops and sink, are usually used to store different manners of cookware. You can simplify the design to make the cooking process a lot easier. Here's an idea:
Create a set of low-height pull-out drawers just below the countertops, preferably beneath the assigned spot for your burners. These are good to store your ladles, spatulas, brushes, strainers, peelers, knives, and other small cooking accessories.
Then, install deep-set pull-out drawers underneath the accessory drawer to hold larger cooking utensils. For the rest of the cabinetry, you can choose swinging or sliding cabinet doors or leave open shelves for storage.
Next, focus on the upper cabinets. This is where you store your dinnerware, namely your plates, bowls, etc. Make sure you not only have enough storage space but also facilities organizing the crockery with proper alignment.
Furthermore, you can create a section dedicated to stemware and glassware. You can also store your coffee mugs, ceramics, etc. in this specially designed storage space that is unlikely to let the precious, not to mention expensive items roll away.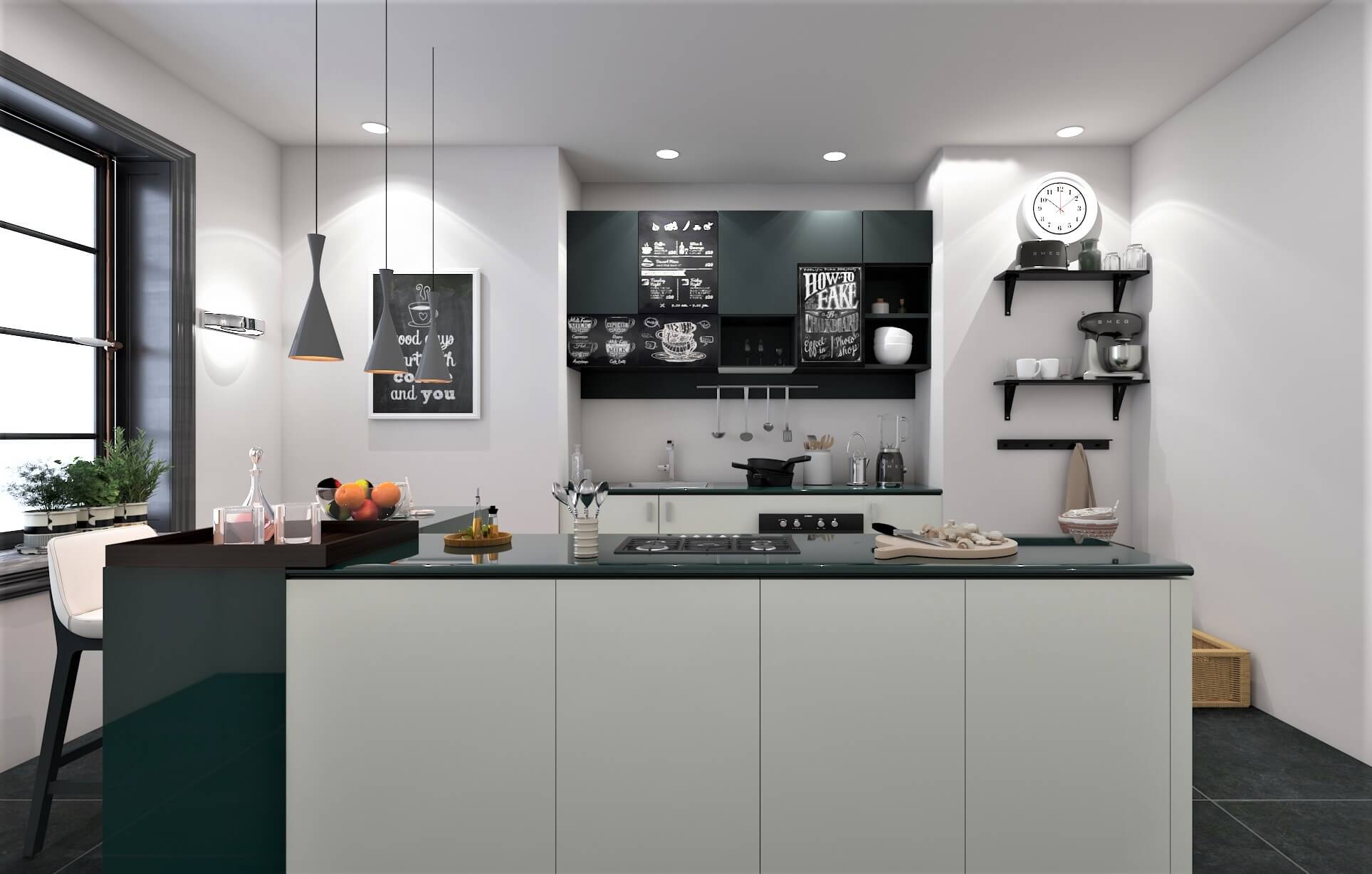 Select your cabinet doors
Ok, now that all the little items are in place, let's close that cabinet with a nice door.
For your cabinet door designs, you have a selection of options anywhere from plain wood, ornate patterns, cut-outs, or glass doors.
For starters, plain wood cabinets with an articulate but simple door with laminates go well with modern kitchen plans. These basic cabinet doors may are classic choices for traditional kitchens as well. You can use ornate doorknobs if you find the design too simplistic.
Secondly, you have ornate or cut-out cabinet designs. These cabinet doors utilize wooden planks for the framework, however, you can have customized designs or carvings on them for a trendy and beautiful kitchen.
Thirdly, you can choose metal grate doors for your kitchen cabinets. As you can probably guess, these cabinet doors use metal mesh for the paneling. They can either be incorporated within a wooden frame or a metal one depending on your convenience. You can befit them with tiny circular handles instead of the traditional ones. These cabinet doors seamlessly fit the rustic, country, and farmhouse kitchen designs and are quite whimsical.
Lastly, you have the glass doors. These cabinet doors use a wooden framework fitted with plain glass, designer glass, or plate glass as per your choice. Depending on the transparency of the glass doors, you can determine what you store in these cabinets and how you organize them for superior aesthetic value.
Utilize designs for corner cabinets
These days, people tend to design rectangular kitchens with clean lines that run at perpendicular angles. Although these designs are trendy, they pose a real world problem. You either have to eliminate the use of the corner space or strain your back while trying to utilize it.
Our ancestors sure knew something we didn't so they put the corner cabinets in place.
Strictly from a design perspective, corner cabinets offer innovative storage options. These designs not only facilitate using the corner space on countertops but also provide cabinetry for storing extra gas cylinders, a pipeline for your kitchen sink, or the gas line if your utilities are combined.
The corner cabinets add an edge to your kitchen design ideas thus creating a unique trend as compared to your neighbors and friends.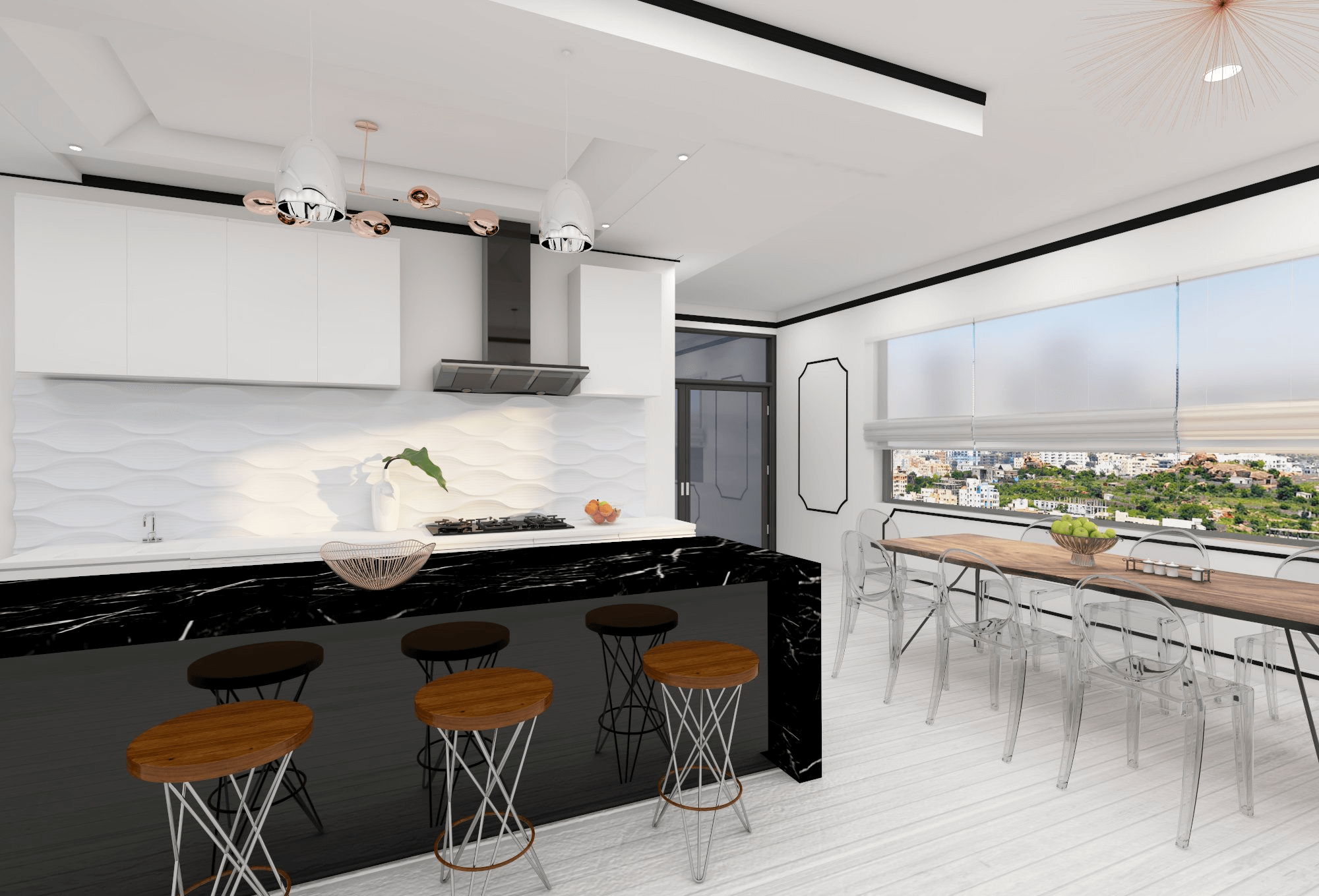 Consider Shaker cabinets
These days, shaker cabinets are all the rage. We know when we say shaker, the first thing that comes to mind is a beautiful bar space. *wink wink*
Although we are a little sad to say that is not what we are talking about, shaker cabinets still keep us pretty pumped.
So, let us start by explaining that shaker cabinets are an extension of our cabinet door ideas. These simple but innovative designs style cabinets with a classic look. Normally, these cabinet doors come with center panels amidst five-piece doors but if you have a good cabinet designer then you can have one custom-made to your preference.
Shaker cabinet doors are the epitome of minimalist cabinet design. They use featured edges around the recessed panel without any carvings or decorative enhancements. You can get them with a laminate finish to preserve their condition for an extended period of time. If you are leaning towards a simplistic but modern kitchen design, then shaker cabinets are your new best friend.
Add lights in and around the cabinetry
Lighting is an important feature in your kitchen design. Needless to say, you can use overhead lighting, pendant lights, and sconces at your convenience.
However, did you know you can now install lighting in and around your cabinetry as well?
Yea, that's a reality. You can use accent lighting around your upper cabinets or install fixtures inside the cabinet itself. If you have glass doors, then this adds significantly to your overall kitchen design.
You can also use targeted lights above base cabinet drawers. We probably won't rely on pendant lighting for these but LED ceiling lights are surely great choices.
Another solution for your lighting needs is to use rotational lights around the kitchen. These LED offerings are angled such that you can see what you want to see. They are excellent for when you just want to fetch utensils or stemware without turning on all the lights in your kitchen.
Lastly, you can use UV lights inside the base cabinets and drawers that keep away all manners of insects. These lights are specially developed to kill any infestations on wet cutlery and crockery. Sadly, they have become a necessity in today's era.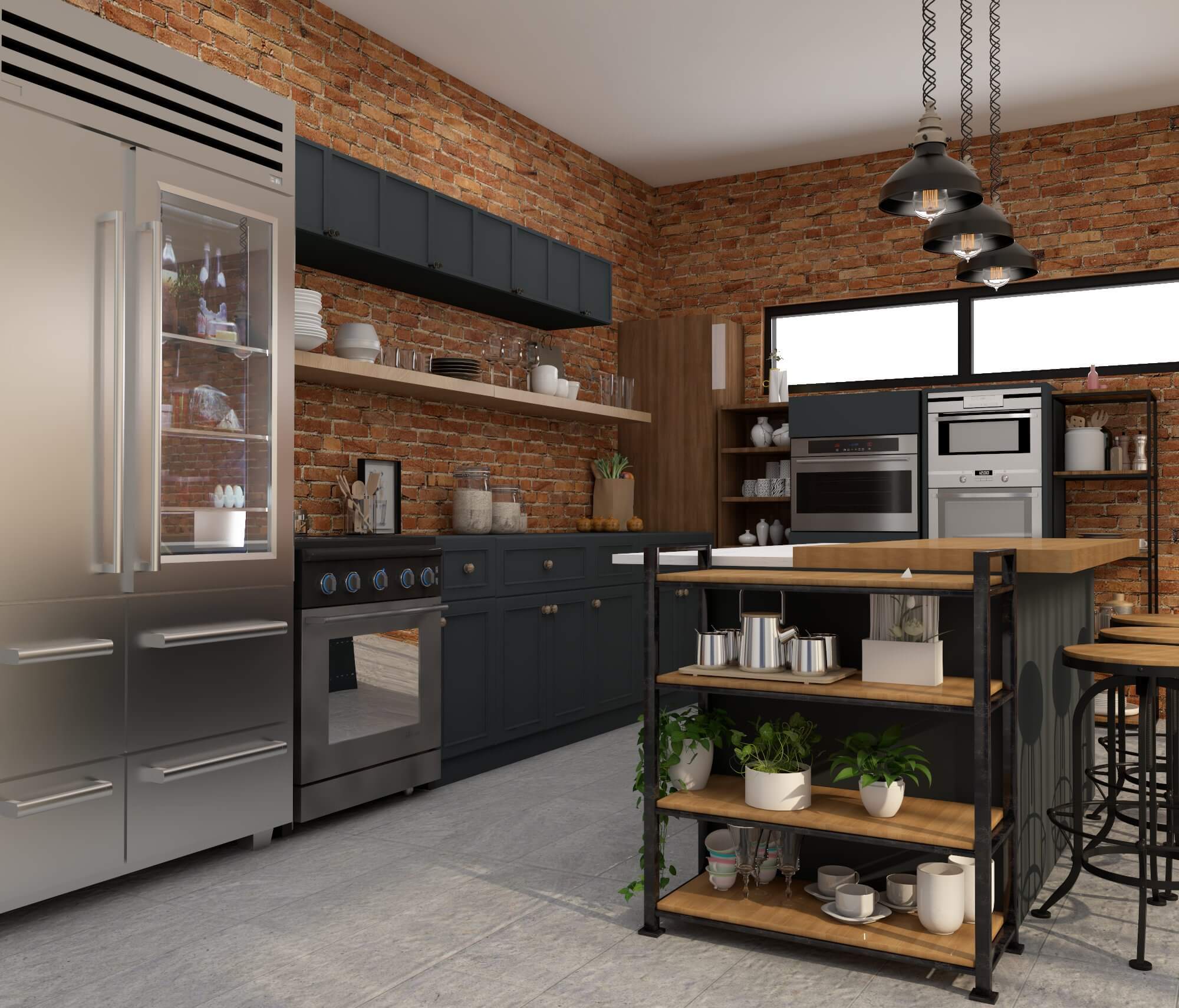 Accessorize your kitchen cabinets
Lastly, just because your kitchen cabinets are basically small doorways to your necessities doesn't mean you can't decorate them with accessories.
To start it off, we have already discussed the glass doors. You can simply choose a designer glass panel with ornate designs and just leave it at that. It's like a mini Sistine chapel within the confines of your kitchen.
If, however, you prefer a bit more flair, then consider wall art stickers on your cabinet doors. You can use whimsical stickers or some with flowers or food designs. These sure make the kitchen look fresh and feel cozier.
You also have an option to paint on your cabinet doors. You can easily use bold patterns or line them with fabrics and DIY textured papers. Perhaps animal prints and fur are a little uncalled for but a blossoming color paper might do the trick.
Once you have the surface accessories in place, consider further beautifying the kitchen cabinet with magnets, although those work best with metal grate cabinet doors or on metallic cabinet hardware. You can also opt for simple string lights along the sides of the kitchen cabinet to enhance the feel of your beautiful kitchen.
We can never say kitchen cabinets are neglected because anyone who gets a kitchen renovation undoubtedly thinks about their kitchen cabinet. However, narrowing down the color, materials, cabinet design, their functionality, and putting together the ideas to style cabinets can be quite challenging.
Conclusion
If you are unsure about what kind of cabinet design speaks to you or if you want your cabinetry to remind you of a blissful song, then talk to your interior design openly about your expectations. As homeowners, it is your prerogative to get your dream kitchen out of the renovation and almost all interior designers are well-connected with custom cabinet artists.
In case you are still unsure about the plans for your kitchen remodel and cabinetry layout, feel free to check out the Foyr Neo app. You can test different cabinet designs and how well they fit in with a farmhouse sink with an ornate faucet or the stainless steel appliances you prefer, or maybe both, because, why not…
Interior design is all about creating a feel-good atmosphere, be it in the bedroom, living room, bathroom, or kitchen. Therefore, choose your cabinet designs so that every component such as the appliances, the storage spaces, the range hood, even the bar stools around the Kitchen Island seamlessly create a beautiful home design for this cooking space.