Home » Design Ideas & Inspirations » Design Tips to Note Before Renovating Your Kitchen
'Home is where the heart is.' And the Heart is in the Kitchen.
The kitchen is possibly the most important, most invigorating, and most endearing part of any household. It is where you drown your sorrows in a tub of ice-cream or cook delicious meals for important events like an anniversary, or a birthday, or a stay-at-home-date night. Its purposes are endless really.
That's for your heart.
Now let's talk money.
The kitchen adds value to your property. Whether you are a homeowner or prospective seller, the kitchen is the underappreciated room that adds the homely feeling to your real estate. People walk into it and immediately feel the warmth imagining their loved ones in there. It is where they have memories of their mothers cooking a hot meal after a tiring day, or where spouses work in sync to prepare a meal together. It's always joyful.
Therefore, when you think of renovating your house, you need to pay special attention to the kitchen. If you plan on renovating your kitchen already, then congratulations! You have just made the best choice for your property.
Adding new stainless steel appliances, a powerful range hood, some quartz countertops, or oak cabinets can really add character to your kitchen makeover. These small or large changes boost the functionality and make your house feel like a home.
Given how important the kitchen is, we decided to put together some kitchen remodeling design ideas to help you out. Take a look at the outstanding things you can accomplish with some pendant lighting or open shelving that adds the wow-factor in the warm space.
Keep reading for 12 well-thought-out remodeling suggestions that you may want to keep in mind in order to design the kitchen of your dreams, regardless of its size and space.
Here are the 12 design tips to renovate your kitchen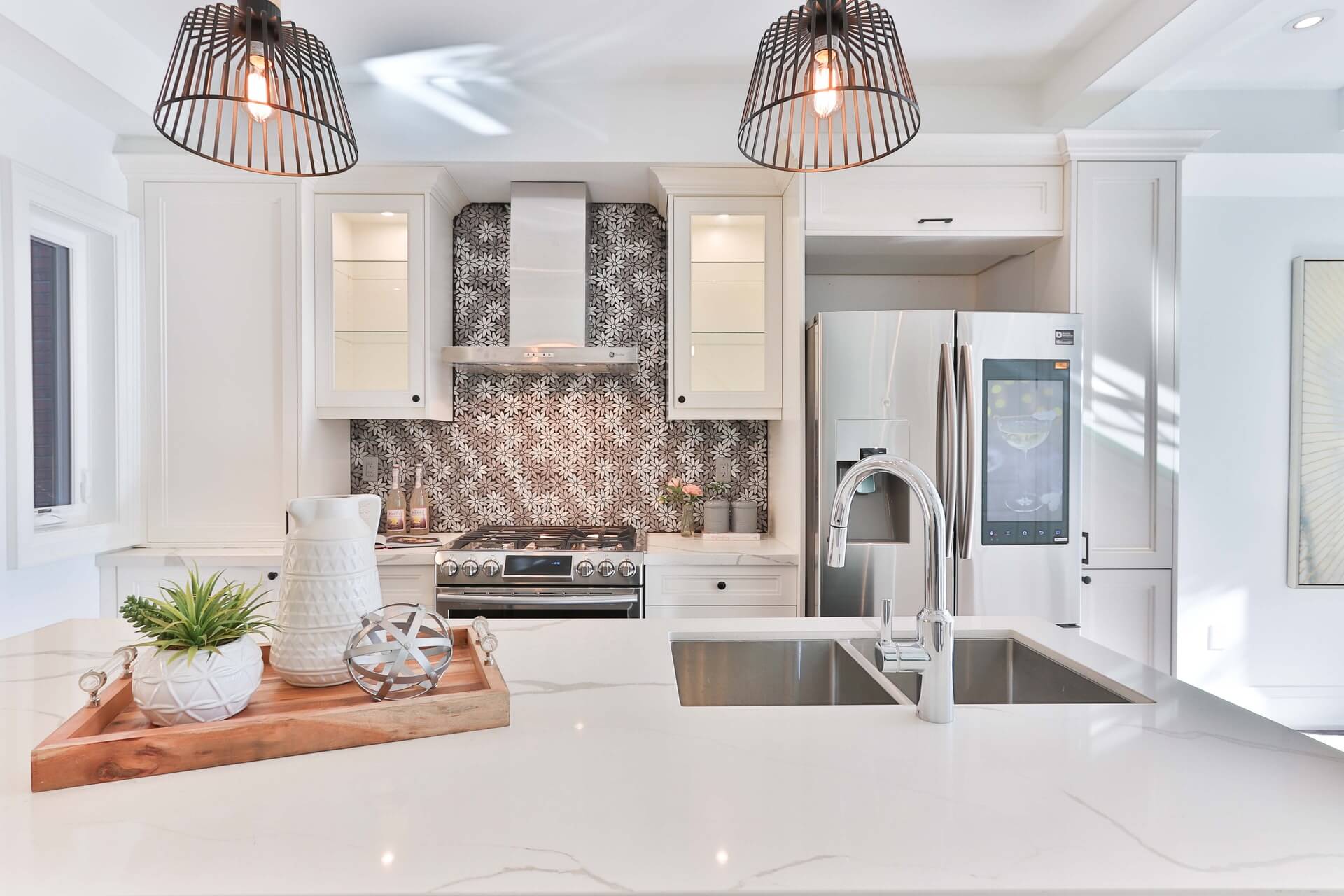 Form Follows Function
While form is what adds the aesthetic appeal to any room of the house, functionality is a priority for the kitchen.
Each section of your kitchen design should be dedicated to easing your work while you cook while still keeping the space clean and organized. All your cabinetry, countertops, shelving, your kitchen island, even the placement of the butcher block should all serve a specific purpose.
How you choose to arrange your kitchen afterward to improve its form should be secondary. The entire space must facilitate a smooth flow of activities. You don't want to stumble or be delayed when you're cooking a delicious meal for your family.
Kitchen Space Utilization
Before you start renovating your kitchen, ask yourself, what are your priority functions?
Of course, there's the cooking, but there's also the cleaning of the dishes. If you're a non-vegetarian then your focal point would be to keep the kitchen clear of flies and other infestations. You will need special disposal systems, a butcher block, a laminate to keep the tiles and countertops free of backsplash, etc.
Similarly, if you are a bachelor, you probably need a kitchen that is easy to clean and cook in. While the oak cabinets or a farmhouse sink may seem appealing, you need to remember that they may not be a perfect fit for your special needs. Therefore, you need to identify what you absolutely require in the kitchen that makes your work easier and more accommodating.
The important thing to remember when you redo your kitchen is to ensure that everything has a place and purpose in your interior design making the kitchen feel more inviting.
Maximizing What You Already Have
During a kitchen renovation or any remodeling for that matter, people tend to believe that they need to change everything to make it brand new.
That really can't be further from the truth.
Before a kitchen makeover, you must always first take a look at what you have, check the condition, and determine if it can be fixed or revitalized.
Sure the custom cabinets to replace the open shelves storage spaces are appealing choices. But first check if any of the existing features such as the kitchen cabinets, the subway tiles, the faucet, or any part of your existing kitchen design can be repurposed into your kitchen remodel.
Kitchen Backsplash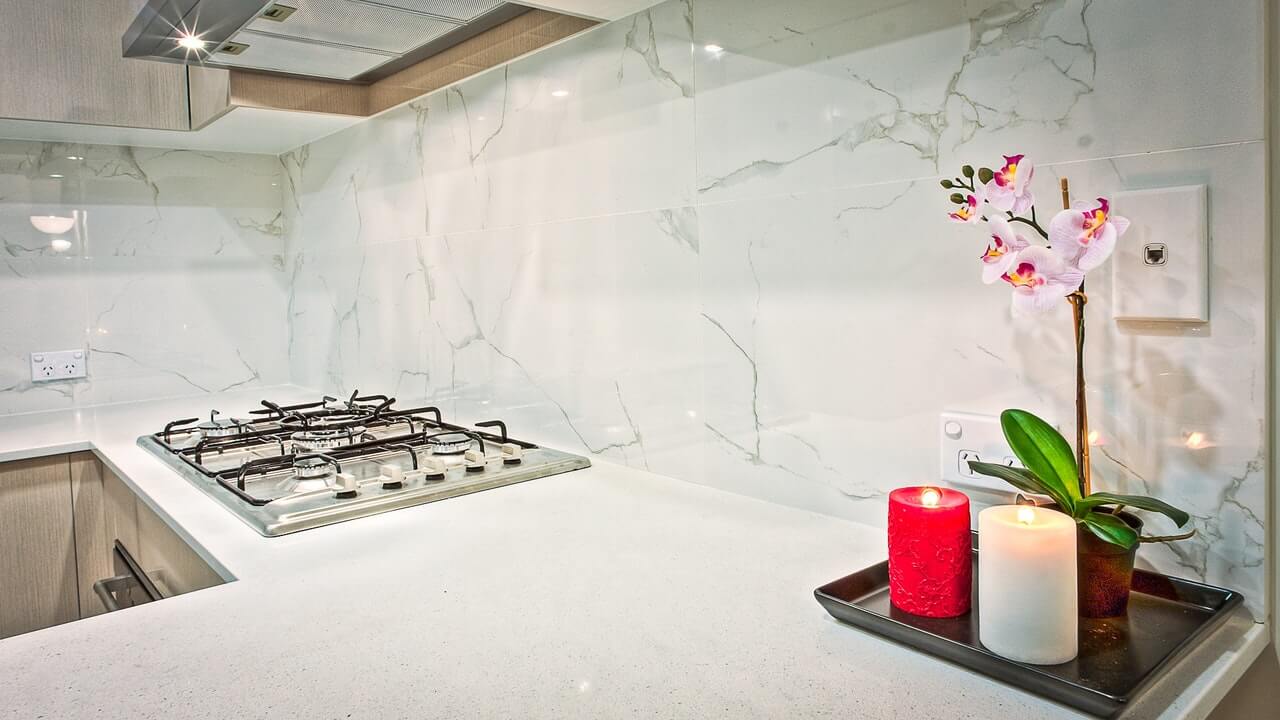 A serious concern in the kitchen while cutting or cooking is the backsplash. You spend inordinate amounts of money on those beautiful ceramic tiles and flooring. Do you really want to see them filthy?
We think not.
That is why tile backsplash is a serious concern among homeowners, especially if you have a white kitchen or white cabinets. It may seem like an eye soar to install a backsplash board, so you can put in some thought into installing a permanent structure or a temporary drop-down material.
You can also consider using a good wax so all the unnecessary moisture and grime can just roll right off. You will however need to clean those later though, so there's that.
Positioning is Key
Kitchen renovation doesn't just imply that you have to install appliances and change the tiling. You can change the floor plan or knock down the walls to create an open-planned space or almost anything you want.
You can create an open archway to face the dining or living room. You can also create a breakfast nook in the corner where you can convene with your family every morning to start a new tradition. You can even arrange some bar stools and create a small seating area at the counter to talk to your friends and loved ones while you cook.
A kitchen remodel is an opportunity to shake things up and utilize the space for elevated functionality.
Prevent Hazards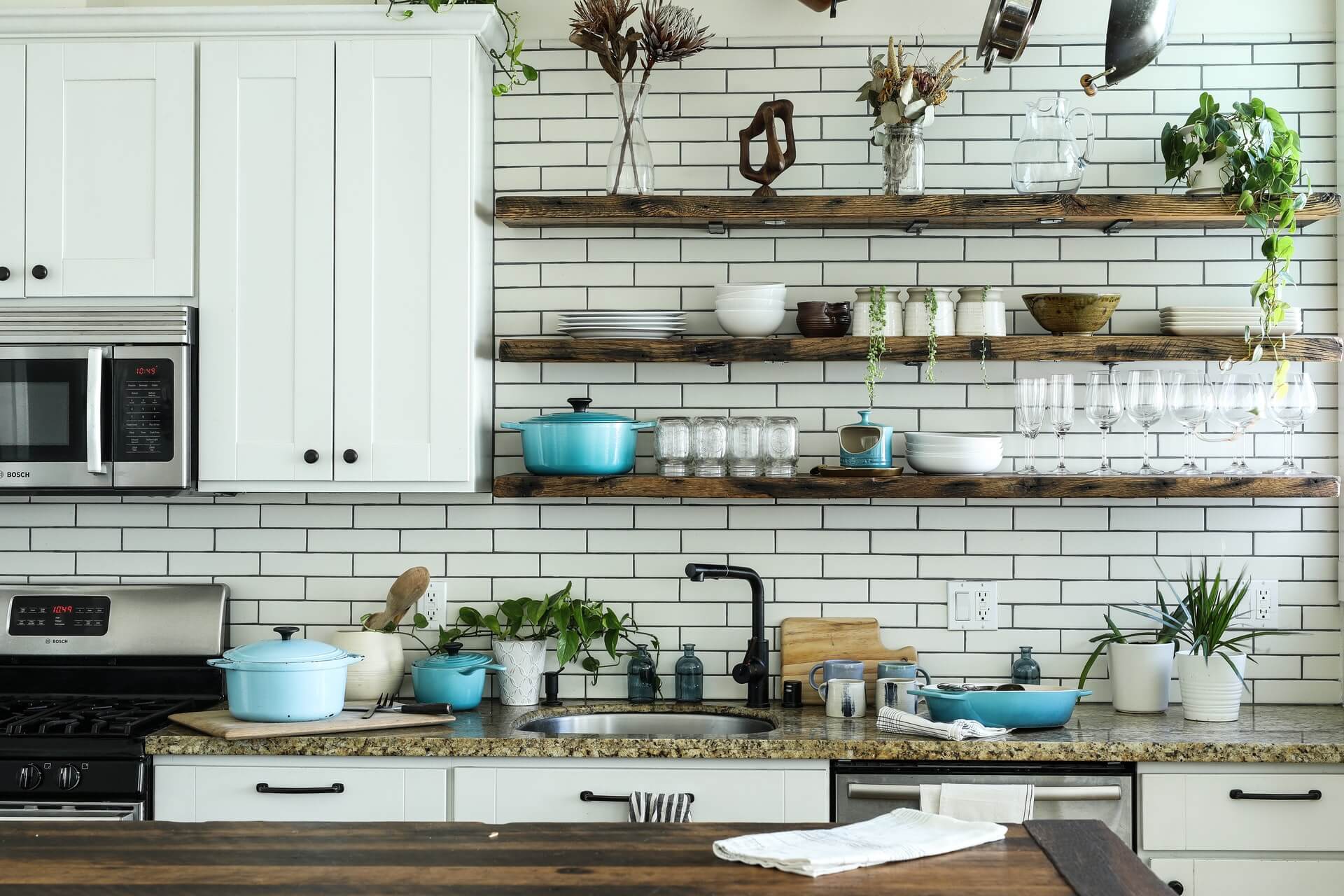 When your kitchen makeover is underway, there is one very important thing you need to keep in mind: The potential hazards.
You need to find a balance between keeping it trendy while still managing to install all manners of safety measures.
Of course, you would have already thought of putting the ugly fire extinguisher under the sink or in a pull-out cabinet, but there are also other things to factor in.
For instance, you may want to consider a broad and powerful range hood that will not only get rid of the smell of burning on stovetops, but also the oven, microwave, and toaster. Those smells can be suffocating, and it is best to keep them at bay.
You also need to install windows closer to the gas stove in case of leaks or accidental power-on.
And then there's the garbage disposal.
You need to ensure that the switch to the garbage disposal is closer to the actual sink because you don't want to put your hand down there to clear it while someone accidentally turns on the switch.
These are serious concerns that you definitely must consider before your kitchen renovation begins, and plan them accordingly.
Consider all the outlets
When we talk about outlets, we mean every fixture in your beautiful kitchen. There's the water outlet, the gas outlet, and even your electrical outlets.
When redesigning your kitchen, you need to take into account exactly where your faucet can be fit, and install a sink that allows you to reach it conveniently, without straining your back.
The gas must obviously be placed where the gas outlet facilitates it.
The problem arises with the electrical outlets. You need to place the refrigerator, dishwasher, and oven in spaces with easy access while still ensuring that they do not cause any electrical shortage. The microwave, blenders, coffee machine, and a toaster can be placed in ideal locations permanently or stored away in the lower cabinets and used alternatively.
This works well for small kitchen spaces in New York for a 'form follows function' style.
In any case, make sure to keep your appliances with open spaces in front so as to avoid any damage to them or yourself.
Sticking to Budgets
Maybe we should have mentioned this before, but the first step to interior design or remodeling absolutely anything should start with setting a reasonable budget. Depending on whether you have a large or small kitchen, or if you want contemporary or modern stainless steel appliances, or what kind of paneling and cabinetry you wish to install, you need to choose the budget.
Now if you desire an IKEA-themed kitchen with minimalistic features and over-the-counter woodwork, or a DIY feature then it is ideal to set a small budget for your kitchen remodel.
However, if you're craving those quartz countertops and designer knobs, or to even expand or change the floor plan for your cooking space, then you will need to set a higher, more reasonable budget that accommodates your interior design ideas.
Basically, setting a budget helps determine just how much you can and should do. This will keep you from falling for any up-sell sales pitches and impulse buys when you're purchasing your furnishings and fixtures.
Saving Money
A kitchen remodel is not about how much money you spend. Even if you set a sufficient budget, does not mean that you have to utilize it all.
A good interior design plan offers you everything you want and needs, while still helping you save some money. You don't really have to purchase cheap furnishings and fixtures for that. However, don't shy away from a good bargain. It may do more for your kitchen remodel than you think. With the money you save on overly-expensive things that can be purchased at a lower price, you can get the noiseless pull-out shelving or the pendant lights that can brighten up your entire kitchen.
Don't get caught up in trends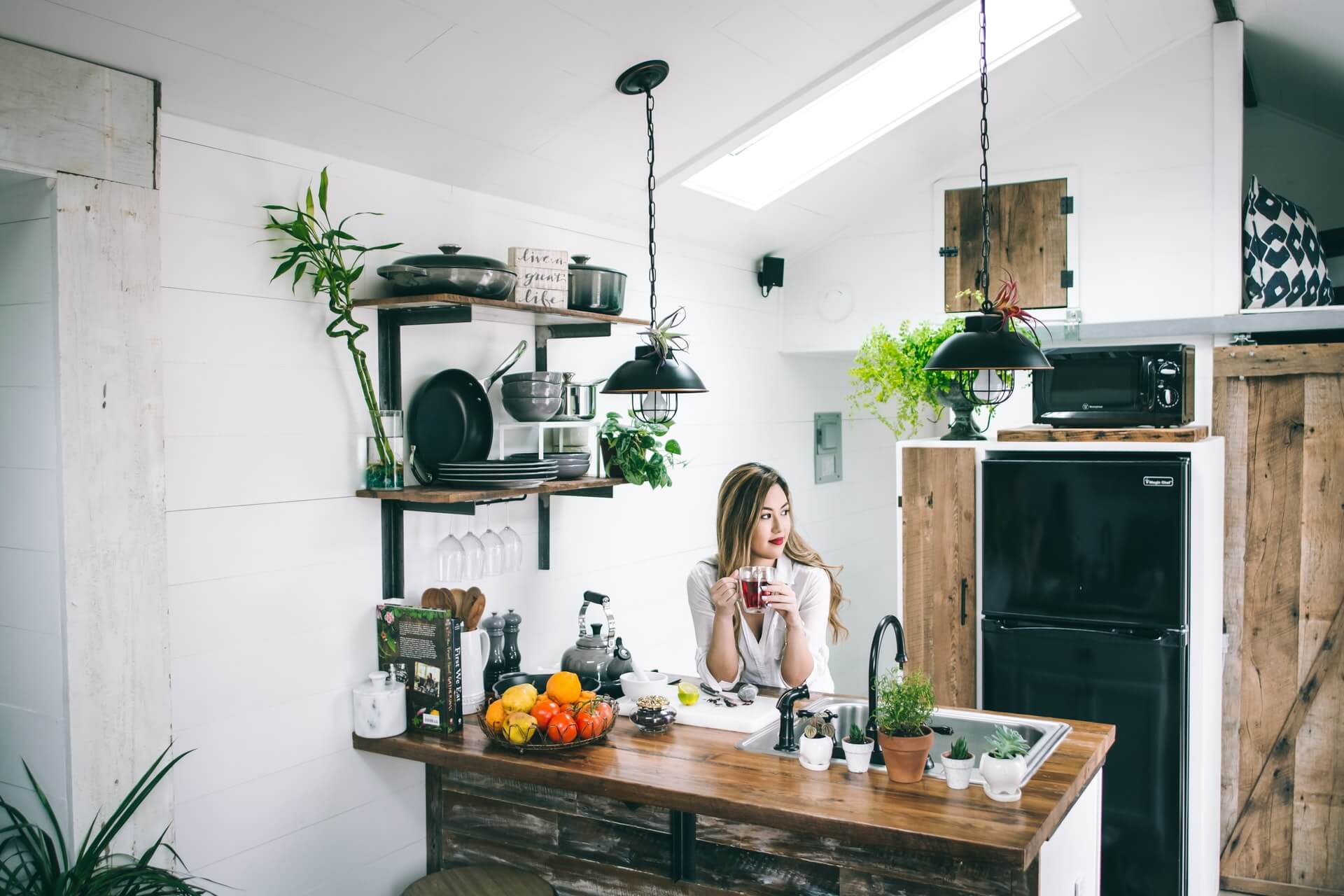 Yes, we did say keep it trendy before. But what we mean here is don't try to indulge in the latest trends advertised in architectural or interior design magazines.
While those design ideas are truly magnificent, they may not be ideal for you. Your personal style and preferences are the only factors that must dominate your overall kitchen design.
It's you who has to spend time cooking in there, not the editor from Architectural Digest.
Enhance Your Creativity
Kitchen renovation is your opportunity to explore your creativity in the cooking space. You can redesign it to fit your penchant for trying new recipes or explore new cuisines.
These creative choices require special gear, setup, and functional equipment. You may need to arrange your upper cabinets strategically to store various ingredients that you can easily access while the cooking process is underway. You may also need to install better quality stainless steel appliances to help ease the cooking process.
You can do anything right now to enhance your experience.
Consulting a Professional Kitchen Designer
Last but certainly not least, we suggest you hire a professional kitchen designer for your needs. Whether you plan on a kitchen remodel for personal use or as homeowners who intends to sell the property, it is best to get professional help in order to define the proper functionality in the kitchen.
These professional interior designers can help you specify spaces and choose fixtures with expertise. They know what you need and they can help you get it.
Kitchen renovation can be a really exciting and endearing process to explore your desire for a better and warmer home. Even if you don't plan on using it on a regular basis or selling the house to a potential buyer, it is always a good idea to put some extra thought into the kitchen.
It is the one space in the house that uplifts your mood and offers an opportunity to use your creativity, unless, of course, you're an artist with a home studio. Still cooking is a therapeutic process that enhances your abilities and soothes your brain with assistance from your olfactory senses. It should be used as an opportunity to find your inner creativity and push the envelope.
We hope you find this article helpful for your upcoming or on-going kitchen renovation, and we hope that it is a grand success.