Home » Design Ideas & Inspirations » Best Small Kitchen Design Ideas to Maximize Your Kitchen Layout
Small Kitchen Design:
Whether you are building a home, moving to a small space, or undertaking a renovation, a small kitchen can offer significant advantages that will help you save time and money if planned for properly. A small kitchen does not mean that your design ideas have to be limited; contrarily it should inspire creativity with the goal of maximizing all your available space.
This article will highlight some of the top advantages of a small kitchen layout, the most common types of small kitchen designs and unique ways to use your kitchen's fullest potential.
Read also – Best Kitchen Design Software
Advantages of a Small Kitchen Layout:
1. Efficient & Ergonomic Kitchen Design
A properly designed small kitchen layout should mean that you are maximally efficient in the kitchen. This efficiency is produced by ensuring that each of your movements can have a purpose and help you complete a task or reach a needed item. In some small kitchen designs, space can be so efficiently utilized that only 1 or 2 steps in any direction bring you to a critical appliance, tool, or ingredient. When considering how to produce the most efficient layout for a small kitchen, ask yourself a simple question like:
Where will commonly used items and ingredients be stored?
Would I prefer to frequently reach high or squat to access dishes, utensils, and appliances?
What kitchen stations (e.g., sink, fridge, food prep) do I want to be accessible from which other parts of the kitchen?
Later in this article, we will explain in detail the concept of the "kitchen triangle," which provides specific guidance on the layout and distances that are recommended for any kitchen to become an ideal workspace.
Read also – Top 22 Kitchen Design Trends
2. Lower Cost for Building Materials
High-quality building materials like cabinetry, countertops, and sinks cost more money and their price continues to rise due to material shortages, regardless of whether you have a DIY approach to renovations. If you're paying a contractor to complete the work, that's an additional cost incurred in direct proportion to your project's size.
For reference, the most expensive item when renovating a kitchen is typically cabinets, which can cost approximately $15,000 on average in a normal-sized kitchen. Other pricey parts of a kitchen remodel include appliances and countertops, which add up quickly. Countertops and cabinets are usually priced by the square foot or linear foot, so the equation for saving money is simple: less space equals lower costs.
Small kitchens can also use smaller appliances, which help save space and reduce energy costs.
3. Small Kitchen Ideas Make Easy DIY Projects
If you are someone who likes to roll up your sleeves and DIY for home projects, smaller spaces will feel less daunting and require less time investment. While a DIY kitchen makeover does save money on contractor costs, completing projects yourself can be overwhelming as well as time-consuming.
In fact, at any given time the average American homeowner has 9 DIY projects in progress and 57% of homeowners feel that their home is still a "work in progress," according to a report from Porch.com. The same study found that only 31% of homeowners felt their DIY projects were completed successfully.
A small kitchen will help you quickly tackle renovations and keep those protracted projects from turning your dream kitchen design into a nightmare.
4. Maximum Living Space
While many homes highlight spacious, cavernous kitchens equipped with lots of cabinets and floor space as a selling feature, the truth is that kitchens are actually more about utility than expensive and space-consuming design features. By focusing on a limited but practical kitchen design other home renovation options become available, including expanding a dining room or other living area. The space, time, and money saved by choosing a small kitchen design can all be used elsewhere!
5. High-End Materials Cost Savings
The aforementioned kitchen materials like cabinets, countertops, and a sink are required just for a small kitchen to be functional. However, keeping a kitchen streamlined and efficient within a small space doesn't mean you have to sacrifice luxury or style. Custom kitchen elements like lighting, marble countertops, butcher blocks, subway tile, backsplash, and other accents can easily cost more than anticipated.
A big incentive for keeping your kitchen space small is that you can save extra money on expensive custom materials. Be proactive in prioritizing which elements of design you most want to be incorporated into your kitchen. Budgeting and planning for those high-end accents will lead to less compromise and buyers-remorse in your total kitchen renovation journey.
Read also – Best Kitchen Cabinet Designs
6. Small Kitchens are Easy to Maintain
How many nights are spent walking around a big kitchen, sweeping dirty corners, dusting high ceilings, collecting dishes, and bringing them to the sink? Say goodbye to the multi-hour cleaning marathons with a small kitchen that concentrates your efforts in a reduced area.
Common Types of Small Kitchen Layouts:
The last thing you want to experience when using your kitchen is constantly tripping over your partner or kids; especially when you're in a hurry. It's extremely inconvenient and even dangerous to not have clear walking paths while carrying sharp knives or moving hot dishes from a stove to the countertop. Enjoying your small kitchen will require you to be intentional about planning a natural workflow by asking questions like the following:
What are the adjoining rooms to the kitchen?
Will foot traffic frequently pass through the kitchen to reach a commonly used area (e.g., main door, restroom, etc.)?
Will you be using the kitchen for entertaining (e.g., a countertop bar or small, attached dining space)?
Do you plan to regularly use the kitchen for food preparation?
Are you planning to completely renovate the kitchen, or focus on redesigning a few key areas? A total renovation will open up more opportunities, while a redesign will save money and time.
One of the most important guiding principles for effective kitchen design is the triangle concept. For interior designers, the kitchen triangle informs key aspects of a kitchen's layout to ensure uninterrupted flow between designated work areas and appliances.
For example, when working in your kitchen you will want easy access to your cooking appliances (i.e., stove or oven) and the sink. The distance between these sections of your small kitchen should be carefully planned out so that appliances can be opened and accessed safely and efficiently. As a general rule, interior designers recommend that the linear distance between any of the three central points in the triangle (as seen in the image below) be less than 9 feet apart but no closer than 4 feet.
Image Credit: housebeautiful.com
While this work triangle can't be perfectly replicated in all kitchen layouts, it still provides helpful guidelines for general kitchen setup. In the following sections, we will feature some of the most common layouts for small kitchens and discuss the commonly cited pros and cons of each option. These layouts are found in a wide variety of architectural styles and compatible with many design preferences from farmhouse to retro to modern kitchens.
Read also – Best Kitchen Layout Ideas
Galley or Corridor Layout
You've likely seen a galley kitchen layout before. A galley kitchen design is easily recognizable as a long, narrow space enclosed by opposing walls that hold all of the kitchen appliances, countertops and cabinets. This design is common in older apartments and homes, however, the galley kitchen layout has recently experienced a renewed popularity due to the rise in tiny homes and general interest in downsizing among homeowners.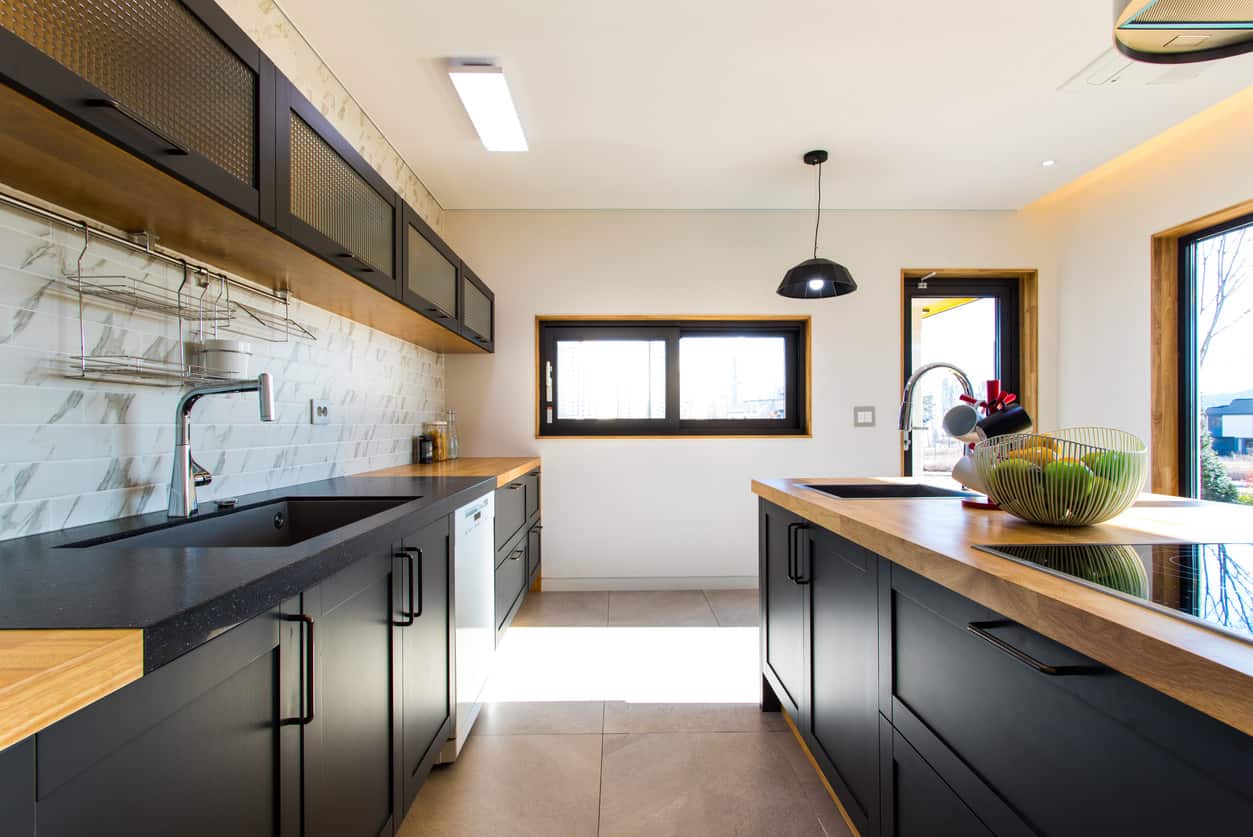 Image Credit: homestratosphere.com
Some of the best ways to maximize a galley kitchen layout include strategically adding countertop space that can be divided into separate working spaces. It's helpful to consider where you want to designate for food preparation versus other functions. If there isn't as much counter space available as you would like, think about how you might repurpose your dining area or countertop bar as an additional workspace.
Another important aspect of functionality to consider when mapping out a galley-style kitchen is storage. Common places to use for kitchen storage are under the sink and counter, on window sills, above a kitchen window, on the ends of hanging cabinets, etc. While designing your kitchen, ensure that all wall space is effectively set up for storage. There is limited aisle walking space in the galley kitchen layout which can lead to congestion between appliances if not laid out effectively.
Pros:
A galley kitchen allows for a proper application of the kitchen triangle principle (as long as the utility access for gas, water and power are available where needed). Even though the galley kitchen design is usually small, it can also provide ample countertop space beneath cabinets.
Cons:
Typically, galley kitchens experience frequent foot traffic between common areas because they function as a connecting corridor between two rooms like a dining room, living room or breakfast nook. The galley layout will exclude some design features like a kitchen island or hanging light fixtures, with the exception of over a sink or countertop bar. Lastly, you might find it difficult to comfortably fit in a cooking space with more than one person at a time.
One Wall Kitchen Layouts
A one wall kitchen looks pretty much exactly as it's described. This design is often used to provide open access to a dining room or other living space. A one wall kitchen can feel open, spacious, and almost minimalist, with plenty of room for incorporating unique design ideas.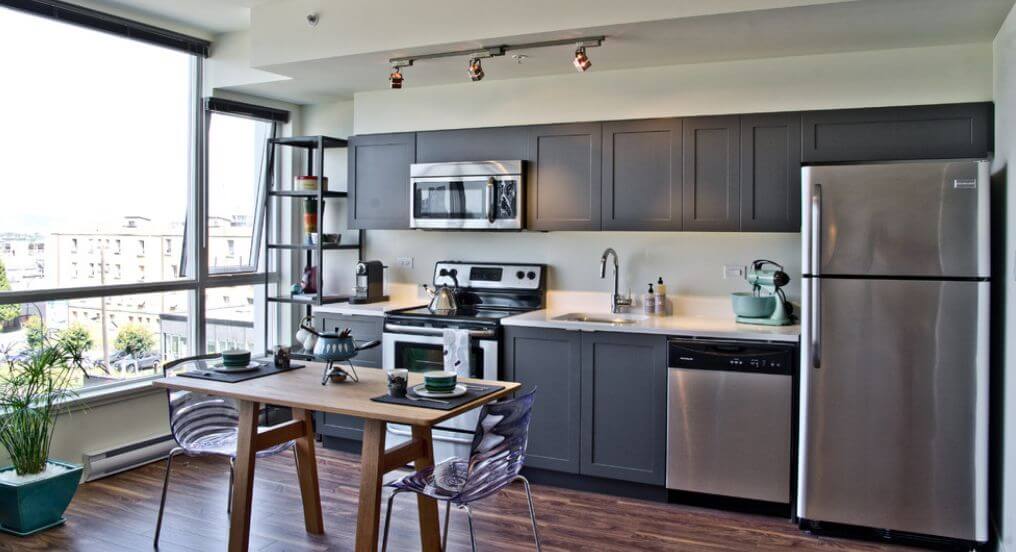 Image Credit: pinterest.com
The most common way to add extra countertop space to a one wall kitchen is by incorporating a kitchen island between the primary kitchen wall and the remaining open space. Some kitchen islands are equipped with wheels and can easily be used during food preparation or moved to provide more space when needed.
A permanent island can be outfitted with a sink, oven, composting and waste systems, or different storage spaces. Also, consider what lighting you'll need for cooking and eating. Adding stylish fixtures like hanging pendant lights and hanging pot racks can add efficiency and ambiance to your one wall kitchen.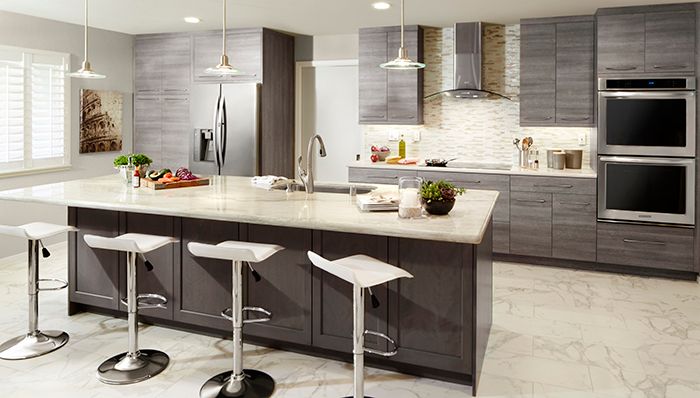 Image Credit: Lowes.com
Pros:
Even though a one wall kitchen might first appear to have limited countertop space and a less than optimal workflow (not the preferred kitchen triangle), it can also be a blank canvas – ready for some creative interior design ideas! Does the space feel cramped? Add open shelves, floating shelves, or incorporate glass cabinet doors.
Tired of painting but want to make space feel more chic? Install new fixtures like cabinet handles, light plate covers, baskets, kitchen backsplash, and more to your counter space and cabinets. Experimenting with the island and storage spaces can help you figure out the best ways to augment the functionality and aesthetic appeal of this kitchen layout.
Additionally, because the main kitchen appliances are typically all placed along a single wall, it means less construction cost when renovating or building. The inherently open nature of a one wall kitchen also means that it's easy to connect to a dining area or have multiple people in the space at one time, with relatively uninhibited traffic flow.
Cons:
A frequently cited downside to one wall kitchens is the lack of countertop space if no kitchen island is used (if a kitchen island won't fit) or a kitchen table isn't nearby. Plus, having all of the kitchen services installed in a single straight line might feel awkward for those who prefer highly efficient and organized food preparation (i.e., lots of walking alongside the countertops instead of turning to the side or rear to easily access the sink or stovetop).
However, if the stove, fridge, and sink can be installed in close proximity within the provided wall space you may not notice a loss of efficiency. Additionally, some home buyers might not prefer a one-wall kitchen layout, meaning that the perceived value or actual resale value is lower than the seller wants.
Read also – Best Kitchen Decor Ideas
U-Shaped Kitchen Layout
Similar to a galley kitchen, the u-shaped kitchen design features two opposing walls with countertops, cabinetry, and kitchen appliances. However, as the name implies, the u-shaped kitchen design has a third wall (called an end wall) that encloses one side of the space. In some homes, the end wall contains the major appliances or kitchen sink, and the opposing walls are used for countertop space and cabinet storage.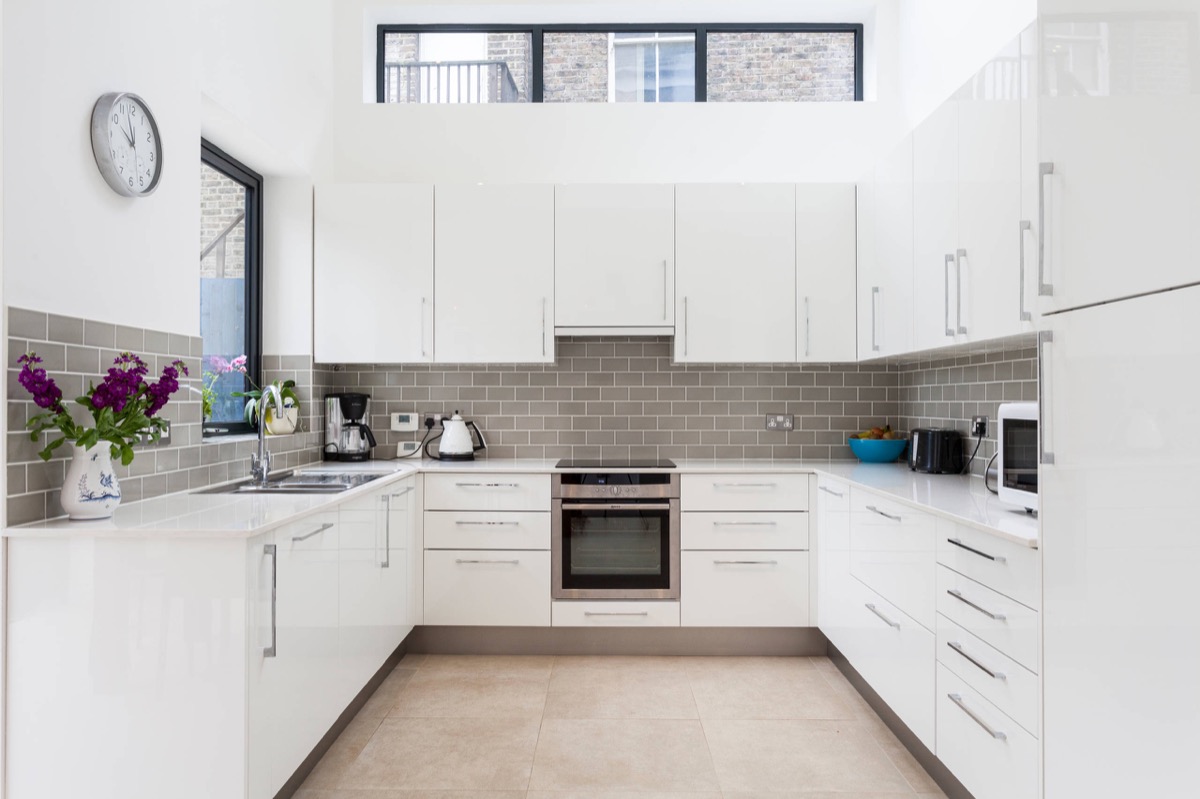 Image Credit: home-designing.com
It's important to note that, technically, a U-shaped kitchen can also receive its distinctive shape due to a wall that's not load-bearing. This means that the wall might primarily contain hanging cabinetry and countertops (see the picture below for an example). An easy way to change the entire appeal of a smaller u-shaped kitchen design is by removing any hanging cabinets to create a counter-height wall that is similar to an island. This type of renovation can create additional dining or food preparation space and make the whole kitchen feel more open while maintaining the efficient layout of a u-shaped kitchen.
Read also – 5 Best Indian Kitchen Design Ideas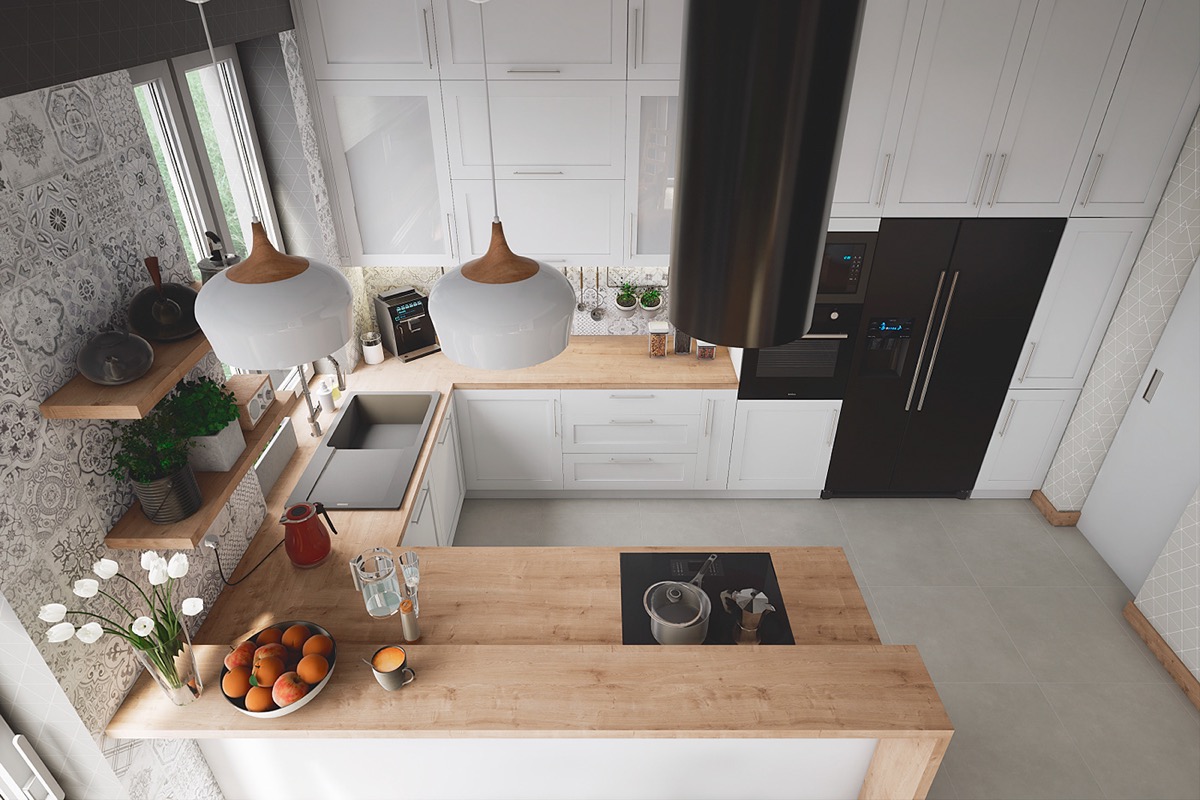 Image Credit: matchness.com
Pros:
U-shaped kitchens are often preferred due to their ample storage capacity and high functionality. Even in a small kitchen, a U-shape will make the most of all available space and allow you to explore fun options for adding unique touches like colorful tile backsplash, open shelving, breakfast bar, wine racks and other personalized design ideas. In fact, a U-shaped kitchen can take on a whole new aesthetic by removing cabinets to make the entire space feel much larger and more modern.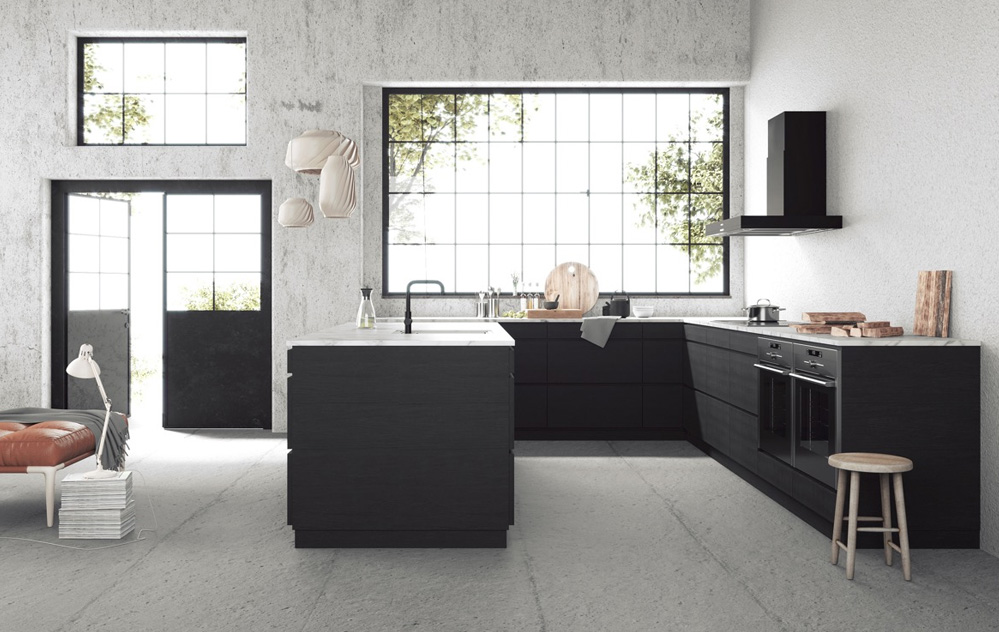 Image Credit: modularsworld.com
Cons:
The biggest drawback to a U-shaped kitchen is that the open end of the room has to remain open to maintain an efficient workflow and walking space. This makes it virtually impossible to incorporate a kitchen island or larger dining area. Some homeowners find that a three-wall kitchen feels too enclosed for the type of gatherings they prefer to host in the space. However, there are some simple interior design tips to make a small kitchen feel larger than we highlight in a later portion of this article.
Instead of just going with your gut, you can actually envision your small kitchen before making a final decision. After all, these design choices may be the difference between loving and hating a small kitchen for the next 30 years! Check out how to visualize interior design aspirations for your kitchen in Foyr Neo here, or view more common design ideas and inspiration on our site here.
How to Maximize Your Small Kitchen Design Ideas?
a) Natural Light and Colors
Before deciding on a color scheme or specific paint for your kitchen space, observe how much natural light the kitchen receives. Increased natural light can offset darker cabinets and appliances (e.g., in a black or dark blue kitchen). Regardless of how much natural light is available, kitchens with white cabinets and paint typically feel brighter, cleaner, and more open.
Image Credit: midwesthome.com
Installing dark cabinets, countertops and paint will make the space feel intimate but somewhat enclosed. If you're renovating a kitchen that has an exterior wall and you want to increase the effects of natural light, consider adding windows in addition to using white paint.
b) Lighting
Lighting is one of the easiest ways to express your inner creativity and unique decorating ideas. There are several strategic ways you can add lighting to your small kitchen without interrupting the flow of the design. While windows provide optimal lighting, you can still achieve a bright atmosphere by using track lights on the ceiling or under-cabinet lights to illuminate counter spaces. If your kitchen has a low ceiling, it's best to avoid any hanging light fixtures that aren't over a dining table or island and instead implement recessed lights. Consider using dimmer switches to save money on energy costs and easily change the ambiance.
Read also – Best Kitchen Lighting Ideas
c) Utility
There are several ways to organize a small kitchen space in a way that supports your daily routines. Cupboard pull-outs can save space and increase storage efficiency. Or, consider using open shelving to keep items accessible without cutting off a line of visibility or walking path. Keeping your limited counter space clear from clutter and spacing your appliances out thoughtfully will also greatly improve the visual flow and overall functionality of your kitchen.
Read also – Best Small House Design Ideas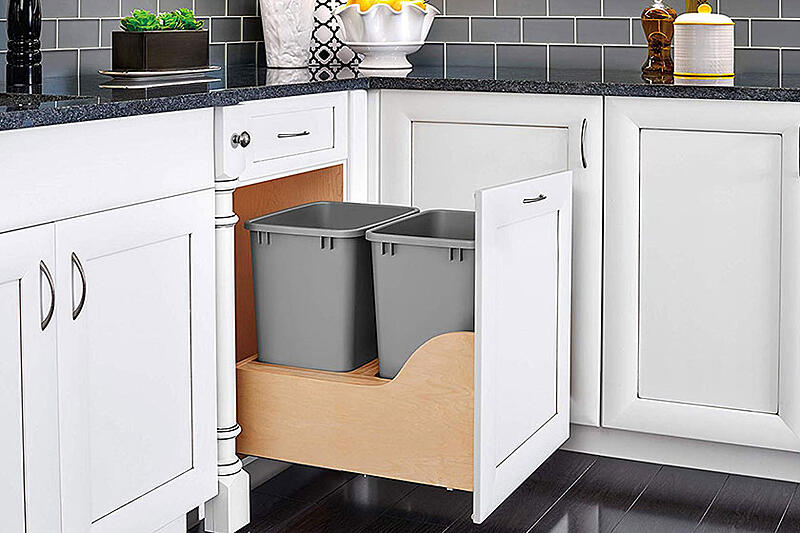 Image Credit: kitchenmagic.com
Bring Your Small Kitchen Design Ideas to Life
No matter if you're building out an entirely new kitchen or simply renovating, there are many advantages to thoughtfully designing a small space. Easily plan your dream kitchen using the full suite of interior design tools available in Foyr Neo. Foyr Neo lets you seamlessly select different layouts, building materials, paint, lighting and more to create photo-realistic renderings of a dream kitchen.
Don't have CAD or CAM experience? No problem. Our platform was built to be used by people from all backgrounds and experience levels, from professional designers to inspired homeowners. Try Foyr Neo free for 14 days and see for yourself.