Home » Design Ideas & Inspirations » Best Kitchen Decor Ideas To Make Stunning Your Kitchen
Kitchen Decor Ideas
The kitchen of a house is not just a space for cooking and eating, it is, in fact, the powerhouse of the home. It is rightly known as the heart of your home as a home cannot function without a kitchen. Be it cooking together as a family on the weekend or hosting friends or family during special occasions, the kitchen is more than a place to just make food; it is a place of bonding and making memories.
With the market introducing new facilities and innovative equipment that have expanded the horizons of cooking, it is quite possible that you would be very confused as to what things to invest in for your kitchen. Whether you are renovating or remodeling your home redecorating, or simply updating this space, the first step to kitchen decor ideas is to analyze your lifestyle and needs.
The frequency, variety, and quantity of cooking determine the nature of your kitchen. However, irrespective of these features, the key to kitchen decoration is to invest in aesthetic yet practical ideas. Here are some kitchen design ideas that are sure to make your kitchen look stunning!
Best Kitchen Decor Ideas To Make Stunning Your Kitchen:
Image credit: ecoartisticproducts.com
1. Identify Your Style
Although identifying your style is the most crucial step in designing your kitchen, it is important in decorating your kitchen too. By doing so, not only will your kitchen reflect your personal style and taste; smart decisions in decoration can also make your kitchen more efficient. Your preferred design style will determine the colours of bohemian, the construction materials, and the placement of items inside your kitchen.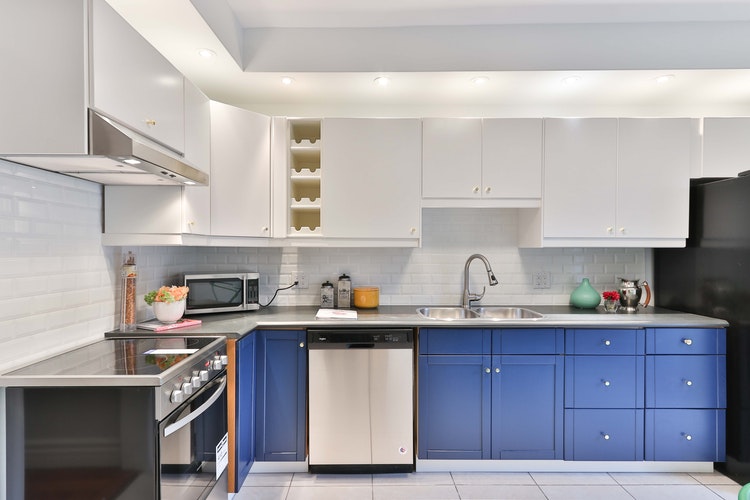 Image credit: visiteiffel.com
2. Decorating a Small Kitchen
If your kitchen is of a small area, then large vaulted ceilings and multiple windows can make your kitchen layout look larger than it actually is. If your kitchen is of the kind that extends into the living room, do not worry. The Great Room model of the kitchen can be quite exciting to decorate.
You could bring in a large wooden table which could be used not just for storage and dining, but also for entertaining guests or making your child's science projects. Ramp it up with lighting right above the table and some classy rugs underneath.
3. Workspace
The workspace is the most crucial part of the kitchen as the countertops determine the ease of work. Install tiny shelves close to your workspace to store your books and spices. You could also have a cutting board above your garbage can by installing a trash chute above the garbage. This way, you can just push away the waste or the inedibles and keep your cutting board clean while saving space and time.
In case you've installed cabinets across the workspace, make use of the space between the cabinets and the countertop by placing small-holders to store important cutlery such as knives. You can also use this space above your sink to fix a compact drying rack for your washed utensils.
Image credit: pinterest.com
4. Storage
It is quite difficult to find ample storage facilities for a small kitchen. One kitchen hack for storage facilities is to make maximum utilization of the wall space by hanging shelves for cutlery and containers. Another solution is to stack cabinets vertically or floating shelves on walls as they help to save space as well as provide an aesthetic fine dine look. Open cabinets even make the kitchen seem larger than it is. Alternatively, you can place a large shelving unit across one wall and line its back with a colorful wallpaper to coordinate it with your style.
In case there are no spaces for kitchen cabinets, you can bring in free-standing pieces such as metal stands or chinaware to store linen and appliances. This is sure to add an aesthetic appeal to your kitchen as it introduces variety in storage methods. A kitchen island is also an excellent way to store items. The countertop can be used to store perishable supplies and ingredients. To store rarely used materials, you can even build hidden compartments in a kitchen island. You can accessorize this island by using overhead lighting and bright coloured bar stools.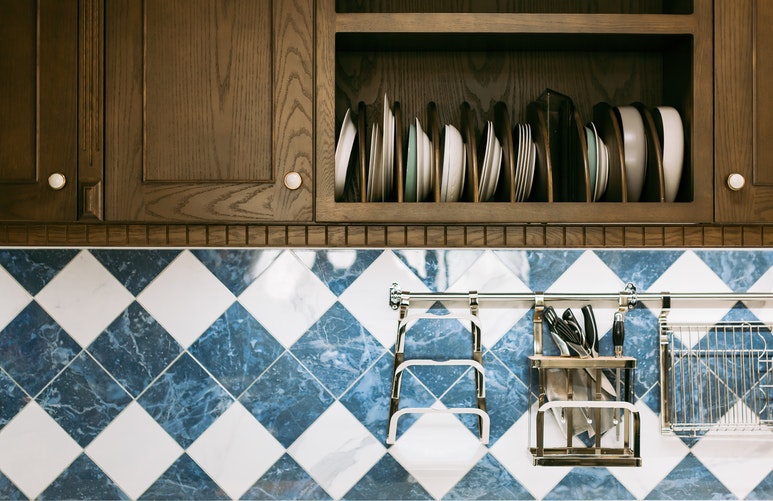 Image credit: pinterest.com
5. Colours
One popular trend is coloring the kitchen using a monochromatic palette. If you're wary about experimenting with bold colors, a pattern of black and white across your kitchen using paints and floating shelves can provide a very chic look. You could bring in an unexpected piece of wood furniture to add personality for the latest home design trends.
Another trend is going traditional by using neutral shades such as grey, ivory, or cream. This could be complemented with dark colored cabinets and other furniture – dark/navy blue or brown. Alternatively, if you have a penchant for a modern and bold style, you can pair with a dashing red shade for your room. However, if you opt for this, it is important to ensure that your equipment matches the color scheme. Refrain from other bold colors as it will clash with the kitchen palette.
Keep in mind that dramatic colours can make your kitchen look smaller, so if you're looking at making your kitchen look larger, then stay away from dark shades or pair it with a lighter shade.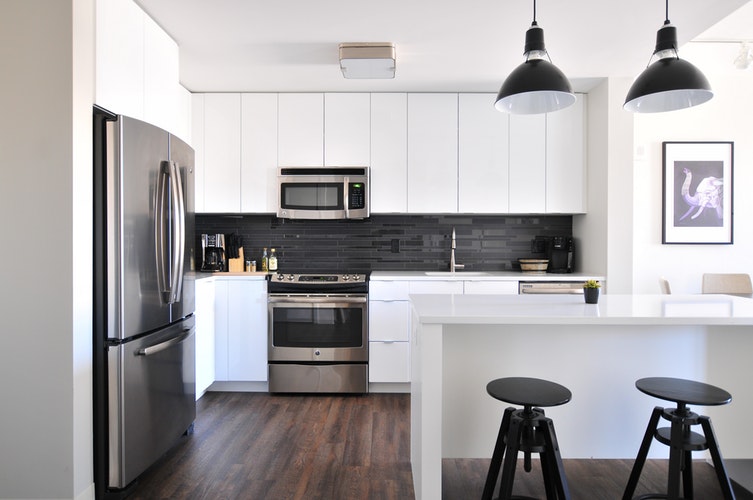 Image credit: avesdo.com
6. Flooring
Next comes flooring, and this is an extremely important part of the kitchen. First, it needs to be user-friendly. Ceramic tiles are extremely popular as they are durable, but if you're ready to invest time in maintenance you could have wooden or even bamboo flooring that adds a beautiful look. These options are eco-friendly as well as extremely strong with some furniture design software.
The market has also introduced carpet-tiles flooring. Although carpets have not been a viable option due to maintenance, carpet tiles have been designed and tested to be durable, easy to clean and install.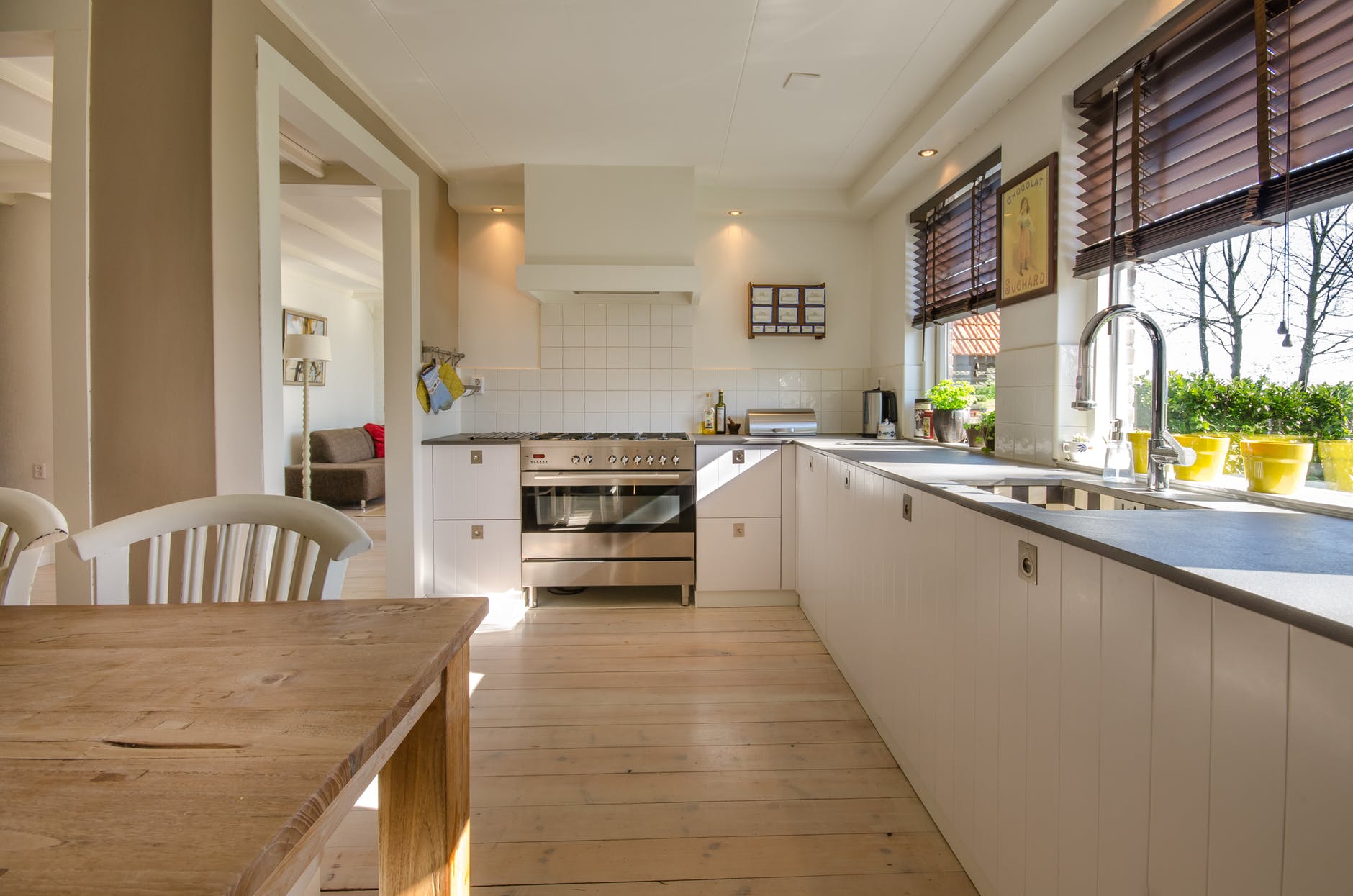 Image credit: pinturasunidas.com
Based on all these decisions, it is important to invest in the right kind of lighting for your kitchen. You could use chandeliers for an aesthetic look that provides lighting for the entire room. You can also use island lights and cabinet lights for specific areas that involve workspace.
On the whole, decorating a kitchen might seem like a lot of work. But identifying your needs and taste will definitely make the process fun! Here is a list of the best free kitchen design software available in the market. You can begin as soon you would like and design a kitchen you have always dream it of having.
Click to rate this post!
[Total:

0

Average:

0

]