Home » Design Ideas & Inspirations » 6 Best Kitchen Decor Ideas To Design The Stunning Kitchen
Kitchen Decor Ideas
'The way to the heart is through the stomach' be it your own heart or your loved ones'. The fastest way to please the stomach is with a delectable meal. And you cook that meal in the kitchen.
So by extension, we can safely say that the way to the heart is actually through the kitchen.
That is why today we decided to share some exclusive home decor ideas for your remodel to make your kitchen feel more like a haven.
As we have already established, the kitchen truly is the most important and essential part of your home. You spend a substantial amount of time here regardless of whether you are a bachelor or a family person. Therefore, it is important to pay as much attention to your kitchen makeover as you do to your bedroom or living room, or any room, really.
Not only do you spend time cooking a nutritious meal for your family or yourself but this is the space where you make all the memories. Perhaps the time you and your spouse were cooking together and they accidentally spilled sauce on your shirt as you both shared a laugh. Or maybe this is where your children sat in the breakfast nook, doing their homework while you made them a snack. Could be that this is where you were, talking on the phone with your family while you cooked for yourself when your parents told you about finally happily retiring to Florida for a serene time in their old age.
Read also – Best Kitchen Design Software
Image credit: ecoartisticproducts.com
The kitchen doesn't just please your heart. It is the heart of your entire household. It really deserves the kitchen renovation to make this room shine as per your preferences.!
Without further ado, let us discuss some incredible kitchen design ideas to brighten up your home:
1. Identify Your Personal Style
Any form of home makeover must always reflect your personal style. To say, your kitchen decor ideas must not be implemented to please others but yourself.
Think about what makes you feel most tranquil. Maybe being in a bistro sparked some new kitchen decor ideas, or perhaps visiting a friend with a retro kitchen look made you feel serene. You may be inclined towards a modern kitchen with stainless steel accessories and equipment or find a galley kitchen style more to your liking. Kitchen design ideas must always speak to you at a personal level. Even a farmhouse kitchen with large sinks or a country kitchen style with a cozy vibe may be favorable as per your preferences.
You will spend a lot of time in this space instigating your creativity. So ask yourself, do you want a blue kitchen or a white kitchen? Or would you like a black and white kitchen that reflects the balance of life. Whatever style suits your sensitivity is the perfect type of kitchen for you.
Read also – Top Kitchen Design Trends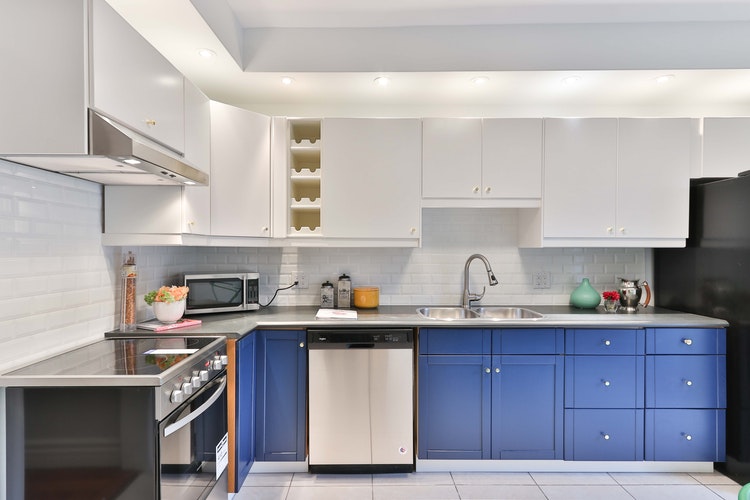 Image credit: visiteiffel.com
2. Decorating Your Kitchen As Per The Floor Space
Now, coming to the floor plan and space in your kitchen, we must consider home décor ideas that make the space more functional. Depending on whether you have a small kitchen or a large one, you can choose your décor and color schemes. It will also help you decide what kind of shelving and light fixtures will be best to brighten up the entire space and make the kitchen feel cozier.
If you have an expansive kitchen, then you can definitely install a kitchen island and capacious countertops. Your new kitchen can accommodate a butcher block, a range hood cooktop, and maybe even a breakfront for your china. You can also probably fit in a dining table if you are inclined on having full-fledged meals hot from the oven.
However, if you have a small space, then ample cabinetry and uncluttered kitchen countertops with roll-out drawers will help accommodate the items. You can also use open shelving to store your smaller appliances along with the butcher block, the graters, chopping boards, etc. Maybe even fit in a pot rack to hold your accessories in place so they don't get in the way.
Additionally, if you have some space to fit the kitchen island, consider placing some bar stools along the perimeter to create a nice little breakfast nook or casual space for dinner alone. You can also convert the kitchen into a dining room this way, which invariably saves space in your home.
Read also – Best Small Kitchen Design Ideas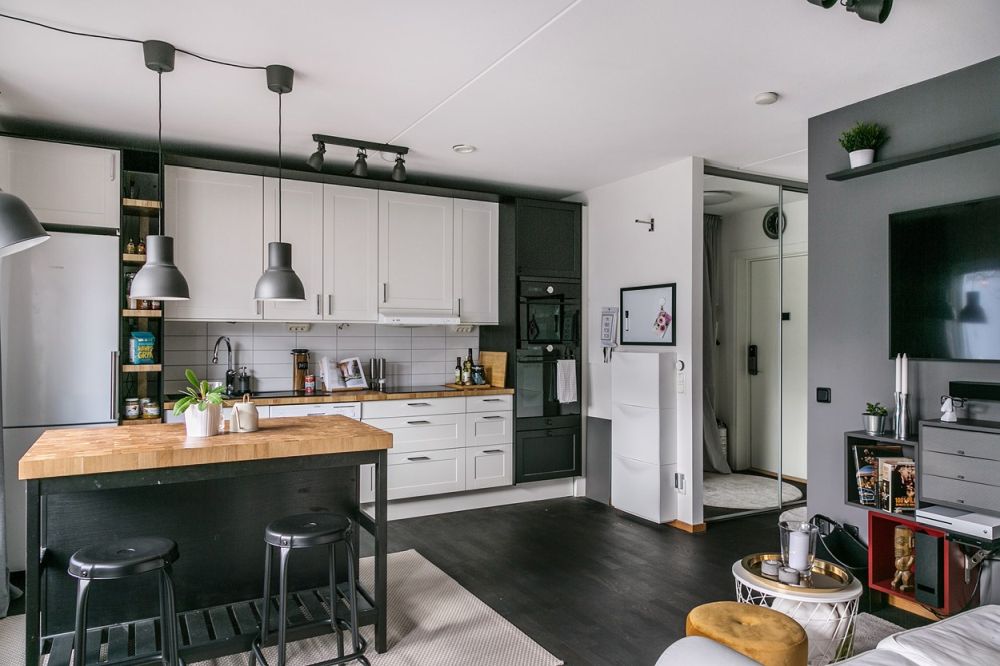 Image Credit: homedit.com
3. Developing Your Workstation and Installing Kitchen Storage
A well-organized kitchen makes for easy cooking. You need your work-station to be organized as well as beautiful. Form always follows function.
Everything has its own place in an efficient kitchen setup. To begin with, pay attention to your countertop. It must be at an adequate distance from the sink and cooktop so you have ample space to cut, peel, dress, what have you. But just because it has to be efficient, doesn't mean it can't be pretty. Consider using lacquer dark wood or granite countertops for a smooth and glossy finish.
Next comes organizing your appliances and tools. It is always ideal, whether you have a small kitchen or a big one, to line your essential cutlery and boards where they are easily accessible. You can install some built-in cubbies or drawers under your kitchen counters or go for some cabinetry to store your chopping boards, butcher's block, canisters, knives, cooking utensils, serving bowls, etc. place the items ideally where you will be needing them so you never have to waste any time looking for them while you're bustling in your kitchen.
Then comes the shelving above. Install some fine kitchen cabinets during your remodel. Open shelving is not really recommended for upper cabinets as things could fall out and break. Kitchen storage spaces must be ideally located and shelved to fit all your essentials. This is where you can store your food items in case your kitchen lacks a designated pantry. These shelving spaces can also support lighter canisters, excess spices, and even your plates and bowls.
Remember to install a spice rack close to the range hood stove or cooktop and make some space to keep any hot utensils while you season or transfer them to serving bowls.
Read also – Best Kitchen Remodeling Ideas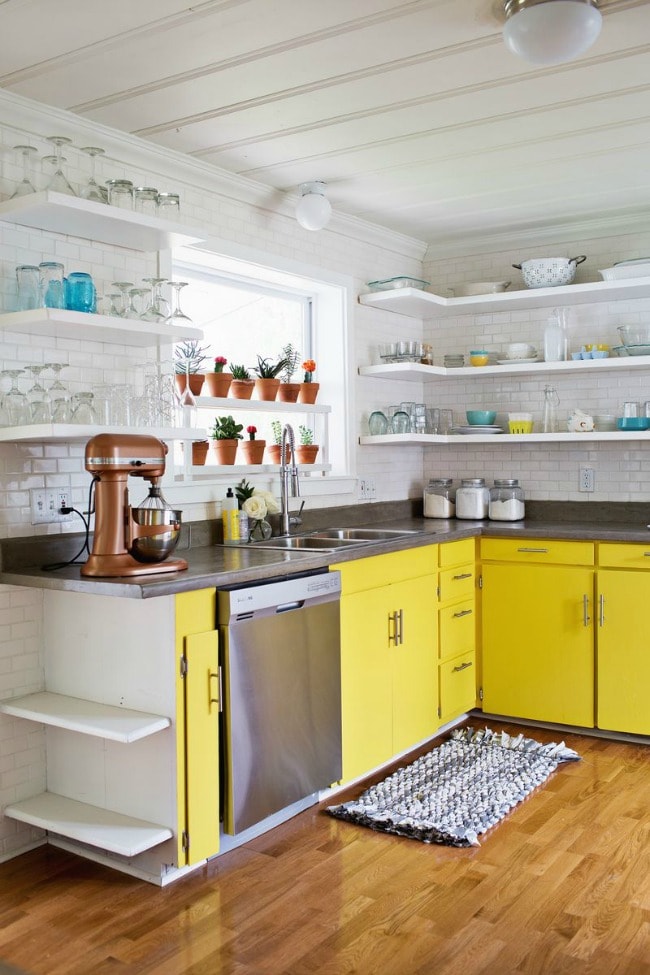 Image credit: ablissfulnest.com
4. The Color Palette for The Makeover
When looking for paint colors for your kitchen, you must always take into account the overall space and the floor plan. Essentially, the color palette for the kitchen utilizes joyful and vibrant colors such as yellow, orange, and shades of blue. In fact, a blue kitchen appears very elegant and contrasts the heat of the living space tremendously.
If you have a large kitchen, then a plethora of colors can be easily accommodated. You can use colored cabinetry and hang some artwork on the walls. You can also install open shelves around the farther wall to hold your cookbooks and some lovely kitchen decorating items.
On the other hand, if you have a small kitchen, it is ideal to use white paint colors in all its shades. A white kitchen looks more expansive. Using white cabinets combined with dark wood shades can really spruce up the cooking corner. You can also try a black and white kitchen that might make for a splendid yin-yang effect. You can use black countertops and upper cabinets while using white on the walls and floor.
If you are stuck for ideas, just slap on a fresh coat of paint on the walls and see how that brightens up your whole kitchen. In some cases, you may find that your kitchen already has everything you need. Just implement some geometric color schemes, add some flowery tiles, and voila! Your kitchen renovation is complete.
Read also – Psychology of Colors for Interior Design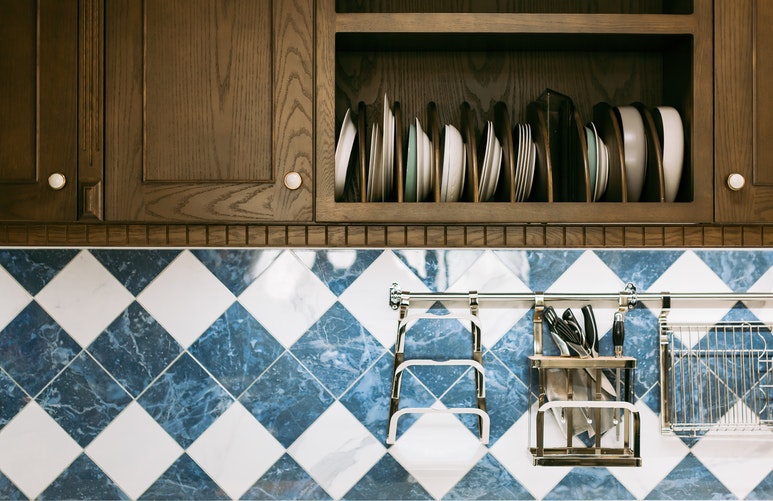 Image credit: pinterest.com
5. Your Kitchen Flooring and Backsplash
If you are in the middle of a kitchen renovation, this is the perfect time to upgrade those flooring and tired, old tile backsplashes. A lot of the time, people tend to install white tiles for their kitchen, disregarding how quickly they tend to get dingy and grimy. It's not just the walls and the ceiling, but the kitchen floor takes a tremendous beating against the fumes and falling food particles.
However, using dark wood flooring could not only reduce the amount of build-up that makes your kitchen look like the insides of a chimney, but it also helps prevent slipping. Additionally, with laminate flooring, you can make it easy to clean in case someone drops something greasy or sticky on your new kitchen floor.
Other popular choices include carpeted floors although, they can be very difficult to clean. You can also choose dark, ceramic tiles for your floor as well as the walls around the stovetop to hide the stains effectively.
Then comes the backsplash. Kitchen backsplashes are inordinately important in keeping the walls and tiles from curating build-up. When you cook, whether you are frying things or making sauce, or simply putting together a sandwich, splashes and spatter are inevitable. Tile backsplashes are usually the norm in kitchens. But if you want something extraordinary, try incorporating lacquer backsplashes in your interior design plans. These not only help in preventing grime and spatter on the walls, but they also make it easier to clean.
Read also – Best Kitchen Layout Ideas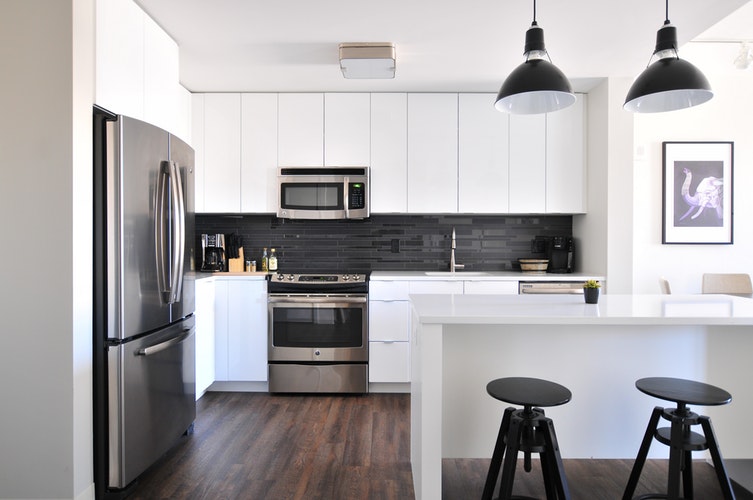 Image credit: avesdo.com
6. The Right Light Fixtures
Lastly, let us talk about the light fixtures you need in your kitchen. Ordinarily, bright lights are recommended in the kitchen in order to keep any unwanted particles to fall into your delicious food.
However, bright lights tend to attract insects which are then followed by lizards, and so on. There is a simple fix though. Consider installing some insect traps around the lights to prevent these uninvited guests around your food. There are some incredible options available on Amazon, and you can choose what suits your needs best.
People, sometimes, tend to lean towards pendant lights for atmospheric lighting. This may not be the ideal solution as these dim lights tend to make it harder to see. You need sufficient lighting when you use knives and forks without hurting yourself.
Here's an idea – how about some DIY lights. If you crave some mood lighting, just make some yourself. You can add some decorative sconces for a retro vibe or a series of overhead lighting for a modern kitchen. You can also use targeted lighting to highlight the kitchen counters, stovetop, garbage disposal, faucet, and kitchen island while keeping the rest of the kitchen considerably dim for a candle-light dinner.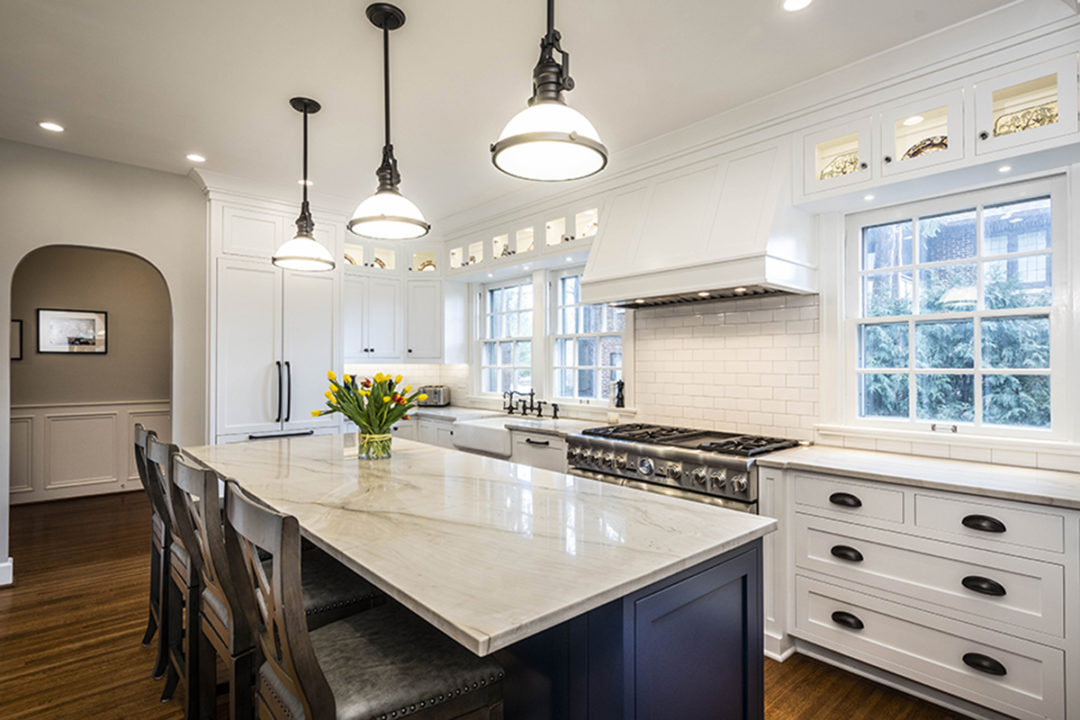 Image Credit: corinthianinc.com
These diverse kitchen renovation ideas can transform any kitchen into your dream space. As an interior designer or homeowner, it is ideal to first test your theoretical design ideas on a 3D platform to get a realistic rendering of what it might look like. That's why we suggest using the Foyr Neo to try out your design plans before you implement them. The application offers a range of floor plans as well as interior designing options so you can choose what suits your sensitivity. This not only gives you an idea of what your new kitchen could look like, but it also saves time and money in remodeling what you just finished renovating.
The kitchen is where you start your day and it is where it all ends. It is where you cook to celebrate a major accomplishment with a banquette and it is where you share sweet memories with your loved ones. With these incredible kitchen design ideas, get the kitchen that you have always desired.
Read also – Best Kitchen Lighting Ideas