Home » Design Ideas & Inspirations » 10 Best Alternative Formal Living Room Ideas for Your Home
Alternative Living Room Ideas
Gone are the days when the living room was seen as a mainstay of the Americans. The modern American home is bigger than the previous era's houses (2,687 square feet on average). It's an increase of about 1,000 square feet.
The homeowners and buyers are more concerned with utilizing every single utility out of every inch. Separate dining rooms, dens, and formal living rooms are perceived as a poor use of space rather than must-haves walls being knocked down in favor of a more fluid and open concept interior.
One may think of the formal living room as a waste of space. It renders investing in a bunch of unnecessary furniture that just sits to gather dust. The style favors functionality over formality. One does not have the option to always re-configure their home's entire footprint to just suit their preferences.
Read also – 25 Types of Rooms in A House
What is a Formal Living Room?

Before World War II, most middle-class homes had only a formal living room which was a place to receive guests and show off their fancy embroidered couch. After World War II economic prosperity and change in perception of what the family wanted from their homes called for a living space committed to leisure, relaxation, and family togetherness.
The family room came to a more pronounced designation of the formal living room as a showroom instead of a space for TV and playtime. The formal living room was becoming a relic in the mid-20th century. Out of habit and expectations, many homes and buildings have continued to be built with a formal living room in the place.
Read also – 25 Space Saving Furniture Ideas for Your Small Homes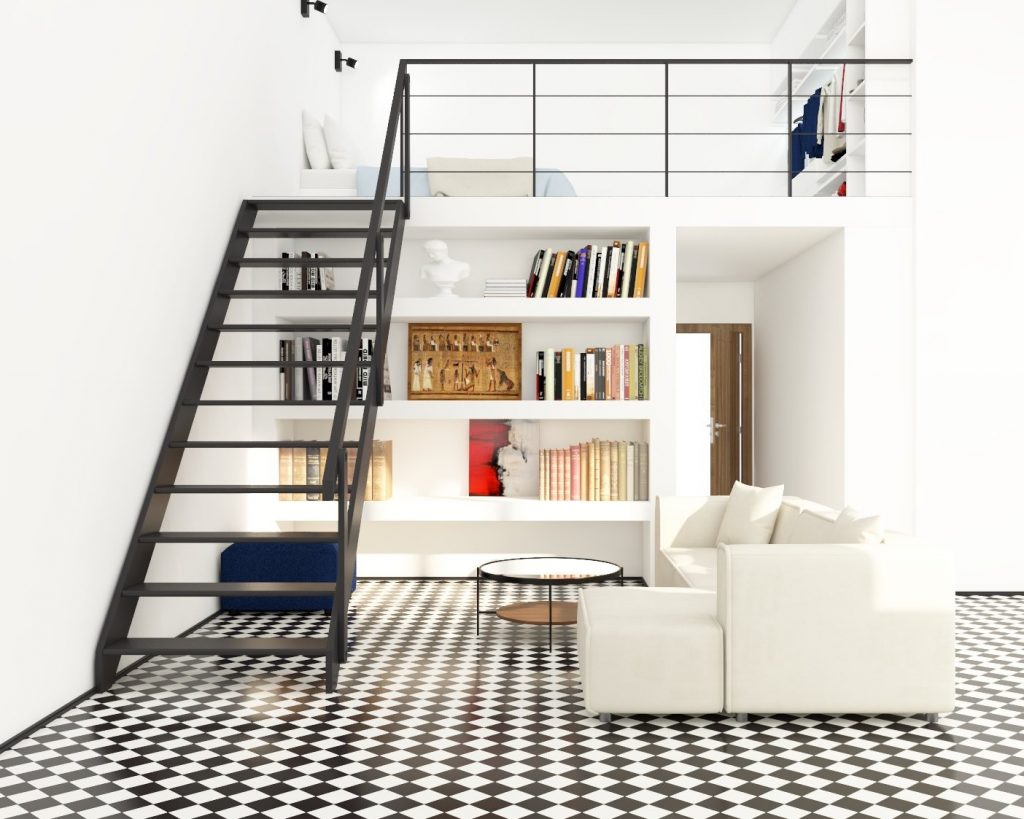 Image Credit: foyr.com
10 Best Formal Living Room Alternative Ideas
1. Convert living room into a home office
The trend has shifted from formal entertaining spaces to a need for designated living spaces. A separate home office is a luxury in the rising age of remote work. It, therefore, prompts one to make small renovations like adding a door instead of an open space for more privacy.
A lamp stand can be placed next to your office desk as a focal point in your living room design. The advantage is that the living area room can be reversed into something else when one demands to. One can consider making the room into multi-purpose using pieces of furniture like half for a desk, a living room sofa and bookshelves.
You can decide to create a crafts room. Then you can cover your dining room table with your latest upholstery project, DIY wall art, and latest DIY furniture painting project. You can also place your cozy nap daybed to unwind in the afternoon that can be decorated with a simple wool material and throw pillows.
For more design ideas to make the room more interactive or even convert it to a game room, a bean bag cushion can be placed in different corners of the room adorned in different colorful patterns for more home decor and seating options.
Read also – 15 Work From Home Essentials for Your Home Office Setup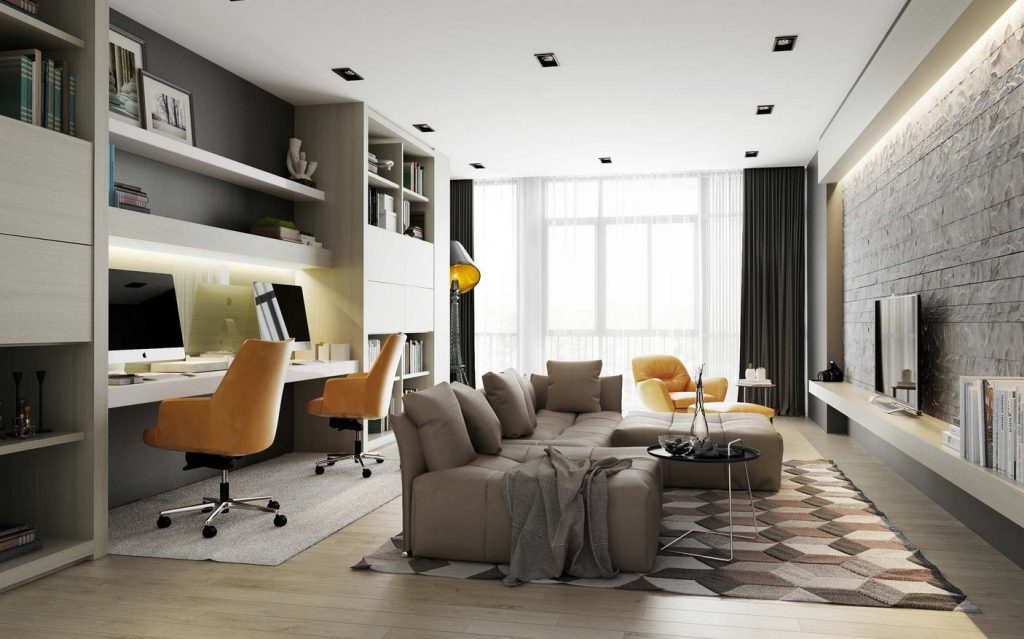 Image Credit: home-designing.com
2. Use living room as a Playroom
The place can be for play and leisure especially if you have little kids. A better solution will be to co-opt its formal counterpart as a sectional play area. It should also be complete with integrated storage when the family is coming over and wants to clean up fast.
Other than keeping toys out of the family room, it will offer more space to work in and for the kids to enjoy. You can incorporate art or a homework station in your small living room. You can also turn that Formal Living Room into a Home Theater with huge theater chairs, a popcorn machine, and a large screen TV.
With the current rise in illnesses from poor dieting and lifestyle, more and more people want a home gym, or exercise room, in their homes. You can repurpose an open Formal Living Room into a home gym by adding walls and doors, a wall of mirrors, a TV to watch workout videos on, and all of your favorite gym equipment. You'll probably also want some clean towels handy, exercise or yoga mats, and maybe a fridge full of cold water.
Read also – 15 Best Sunken Living Room Design Ideas for Your Home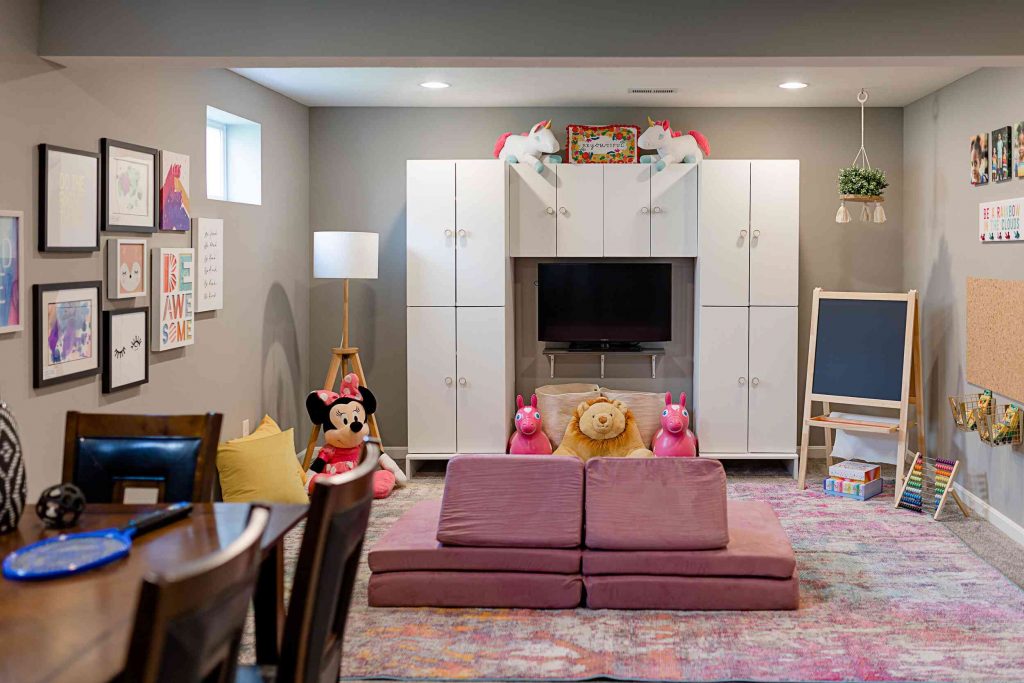 Image Credit: thespruce.com
3. Create an entertaining space in your living room
Change in the formal living room does not mean playing is out of the plan. It talks more about how one entertains with aspects like game nights, jam sessions, and post-dinner seats with sips of coffee. You can freely host your friends after including a scrabble board, chessboard, pool table, and poker cards.
You can watch Sunday sports games as you also include sound and a buffet table for snacks. Your entertainment is also dependent on the space left. Instead of a Sports Room, you can turn an Open Formal Living Room into a cool home bar or speakeasy.
Just think of the coolest bar or pub you've ever been to, then try to recreate that. The idea of a secret door leading into a total hipster speaks easy. Or English pub doors on a room full of wood wainscoting, furniture, and traditional wallpaper. You can also add a DIY Simple Coffered Ceiling to ramp up the design.
Read also – 10 Best Game Room Decor Ideas
Image Credit: houzz.com
4. Include an extra bedroom in living room
With little renovations, the space can be converted into an extra guest room. Converting your first floor to a guest room can be beneficial to your family member who's unable to utilize the space due to various reasons.
For a room to be considered a bedroom, it must have several qualities like a closable door, a window, and a closet. Spruce up the space with a chaise lounge near your bay window for extra seating and an area rug. You can as well utilize the services of your contractor for better results.
Read also – 15 Best Master Bedroom Makeover Ideas To Enhance Your Bedroom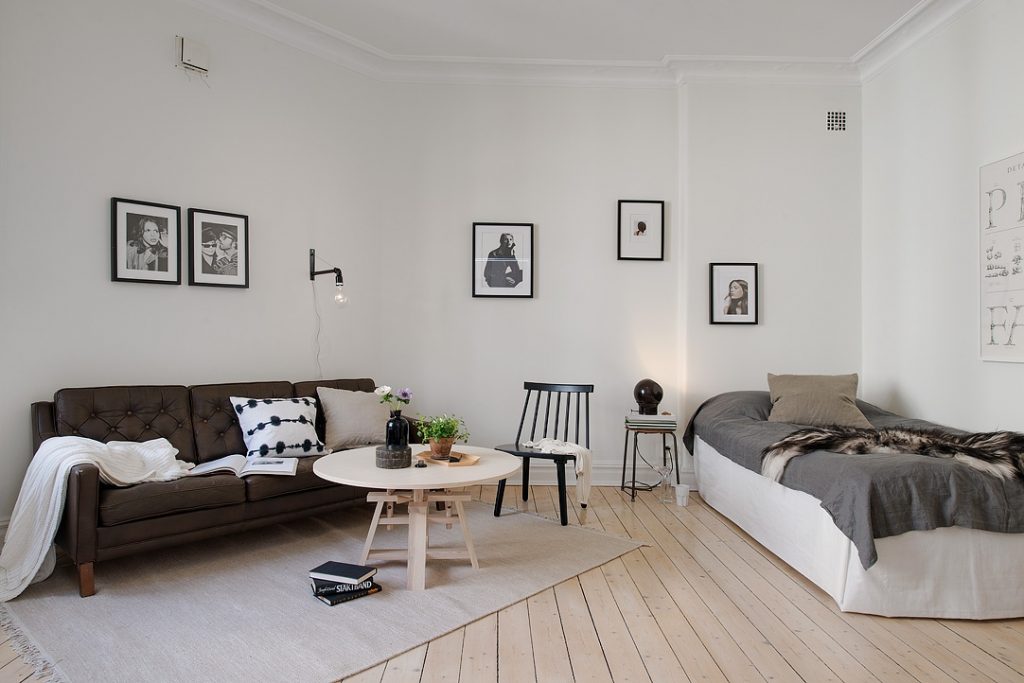 Image Credit: cocolapinedesign.com
5. Transform your living room into a library
Produce a little cozy niche along with a window seat or an inner bench with several cocoons. You can have custom-erected shelves and prefabricated bookcases. You can also decide to line up your walls with bookshelves for tons of books.
Add a cozy living spot like 2 velvet armchairs or a gorged leather lounge with a swish coffee table. Depending on your living room layout for your minimalist space, you can decide to use bottom cocoons rather than cabinetwork for further inflexibility and comfort.
Read also – 14 Best Living Room Interior Design Ideas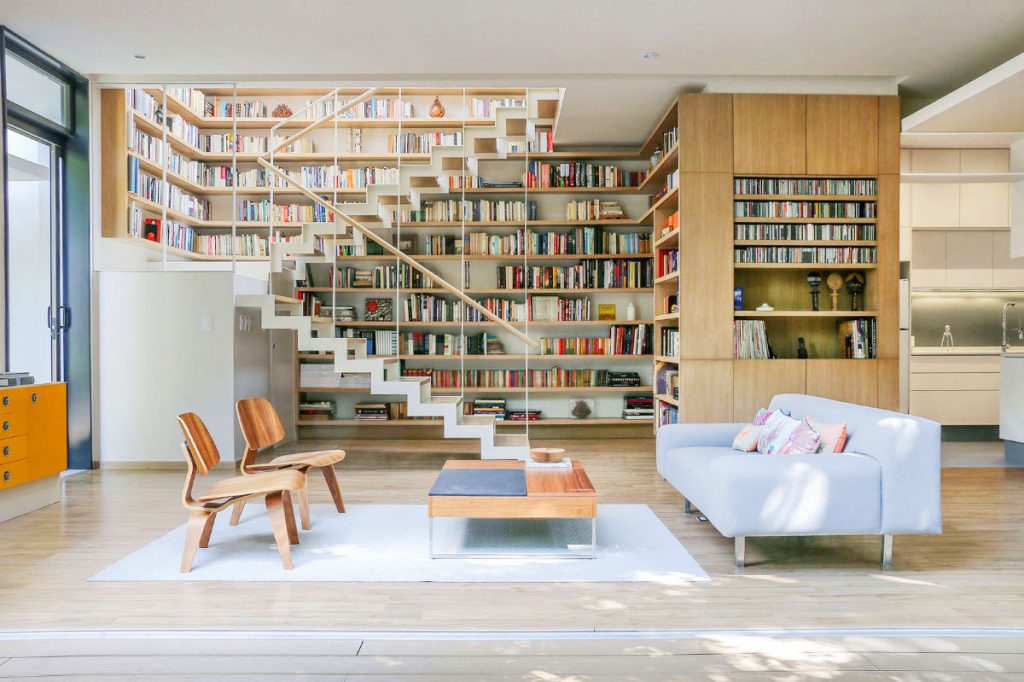 Image Credit: home-designing.com
Store your several craft and musical instruments in an informal way. Your craft room or gallery could be set up on a minor scale to enthrall. You can include divisions, storehouse areas, shelves, and bookcases to keep the space clean from clutter.
Your hobbyhorse in sewing, knitting, and crocheting can be rehearsed in the spaces. You can exercise your hobby horse seated in your loveseat that defines your living room space.
7. Homeschooling room/homework room
Once you have decided to switch to a home styling, repurpose your living room into a homeschool room where the children's play stuff can be stored in a separate place. The advantage of repurposing the living room will be on to you since the children will have a spot to do their schoolwork and a reading culture will be nurtured.
Your kiddies will do their schoolwork and computer works with total ease. You can set up a little kiddies' office for all books and papers while a large sundeck can be set up for the oil, trades and crafts.
You can as well offer a computer station for computer work and a chalkboard or a whiteboard. Also, have a timetable to track down the progress. This portion of the living room can be used as a play kitchen, train table, giant blocks, and toy cases.
Read also – How To Make Your Study Room More Productively?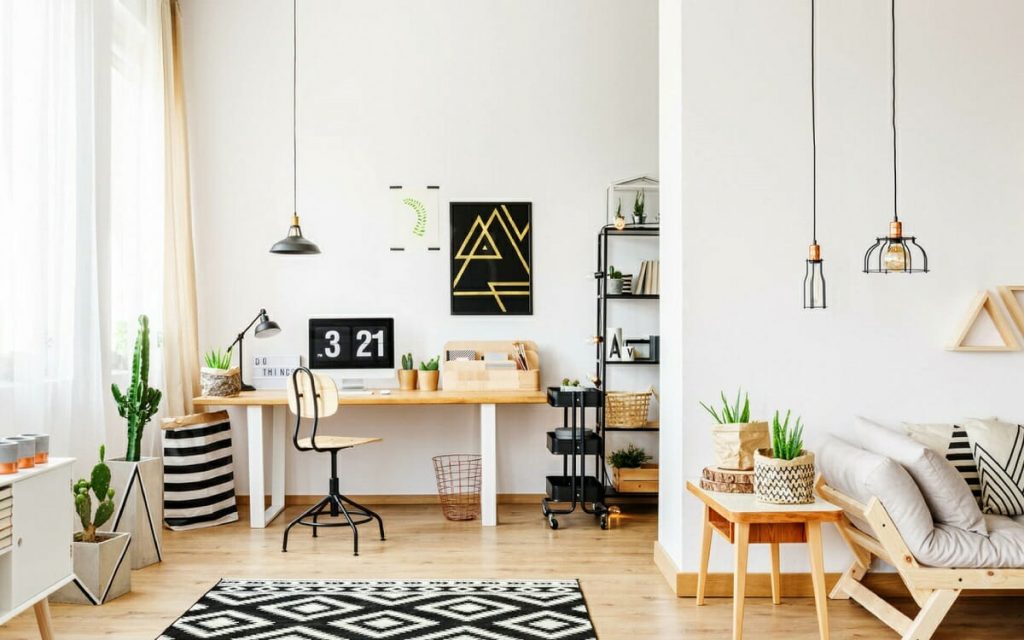 Image Credit: decorilla.com
8. Transform your living room into a music room
Produce a space to play the piano or other musical rudiments. A space to play the piano or other musical instruments that can be closed out from the rest of the house.
You can embellish the walls with your instruments. That always looks fantastic! You can indeed find nice-looking soundproofing panels and soundproofing curtains to reduce the sound outside of the room.
Read also – 15 Best Music Room Ideas To Design in Your Home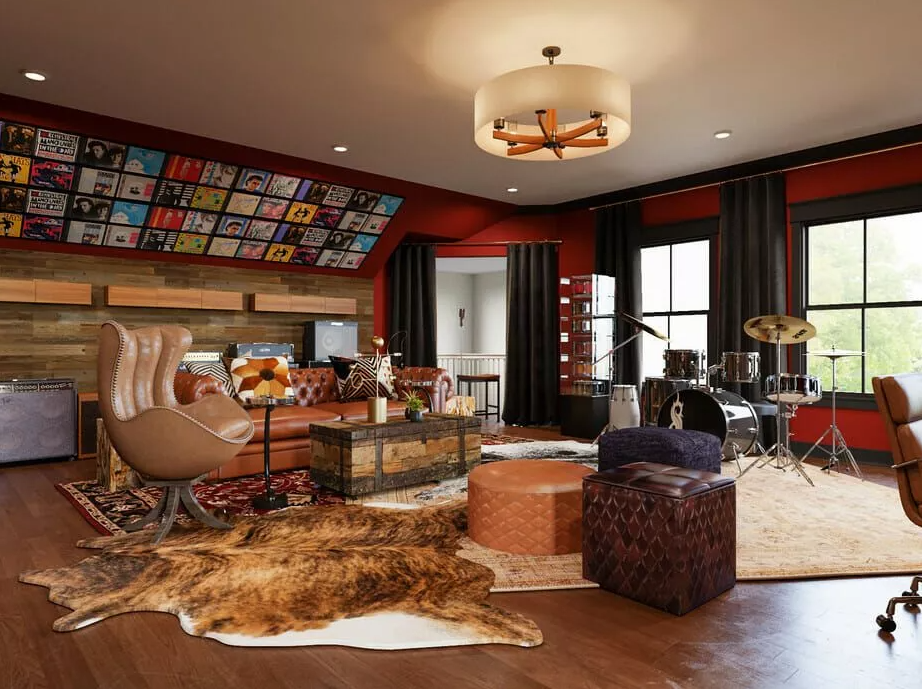 Image Credit: decorilla.com
9. Make it as Family room or den
A Family Room or Den is the casual version of a Formal Living Room. Instead of having a room that you keep perfect and never use, you create a casual, comfortable living space typically hidden out of view of guests.
This is the room where you can have magazines, books, and toys scattered around, puzzles out on the coffee table, and yesterday's coffee mug still on the side table. This is the perfect space for gaming consoles too. Add recliners or huge overstuffed couches with built-in cup holders too.
Read also – 15 Best Guest Bedroom Ideas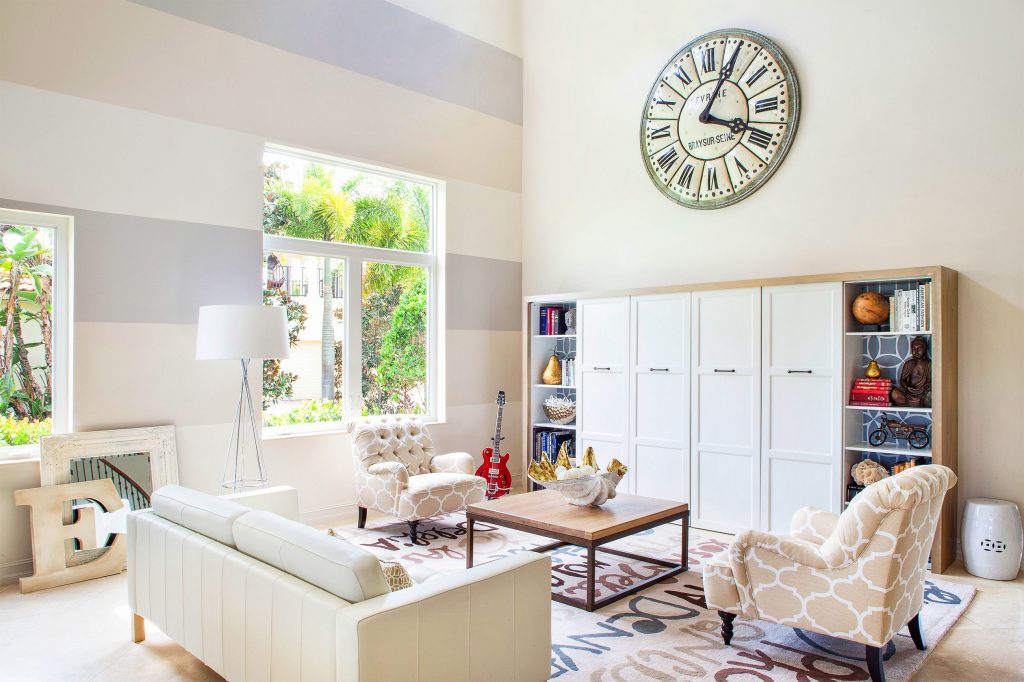 Image Credit: hearstapps.com
10. Tips to keep a Formal Living Room updated

a) Keep it cozy
The cabinetwork in your formal living room should still be usable, indeed if it is not getting used all of the time. Ditch the stiff and cosmetic fabrics in favor of comfortable innards for a room that is a lot more welcoming.
Repel the appetite to make everything match. An exorbitantly matchy space riots" exchange." Play around with textures, colors, and patterns to produce a space that is more directly aligned with ultramodern styles.
b) Add in many functional details
You can still borrow some of the further functional ideas over without going each- by. For illustration, devote a corner of the room to an office and president for use as an office when and if you need it, or put in a small corner bar for the enhanced amusing coming time you have people over.
c) Include many glamorous traces
You do not need to go completely utilitarian in your sweats to repel the formality of the space. Many glamorous but tasteful rudiments can celebrate the origins of what this room is each about, similar to a velvet lounge, some gold or brass décor, or a pop of jewel tones?
Read also – 30 Traditional Living Room Ideas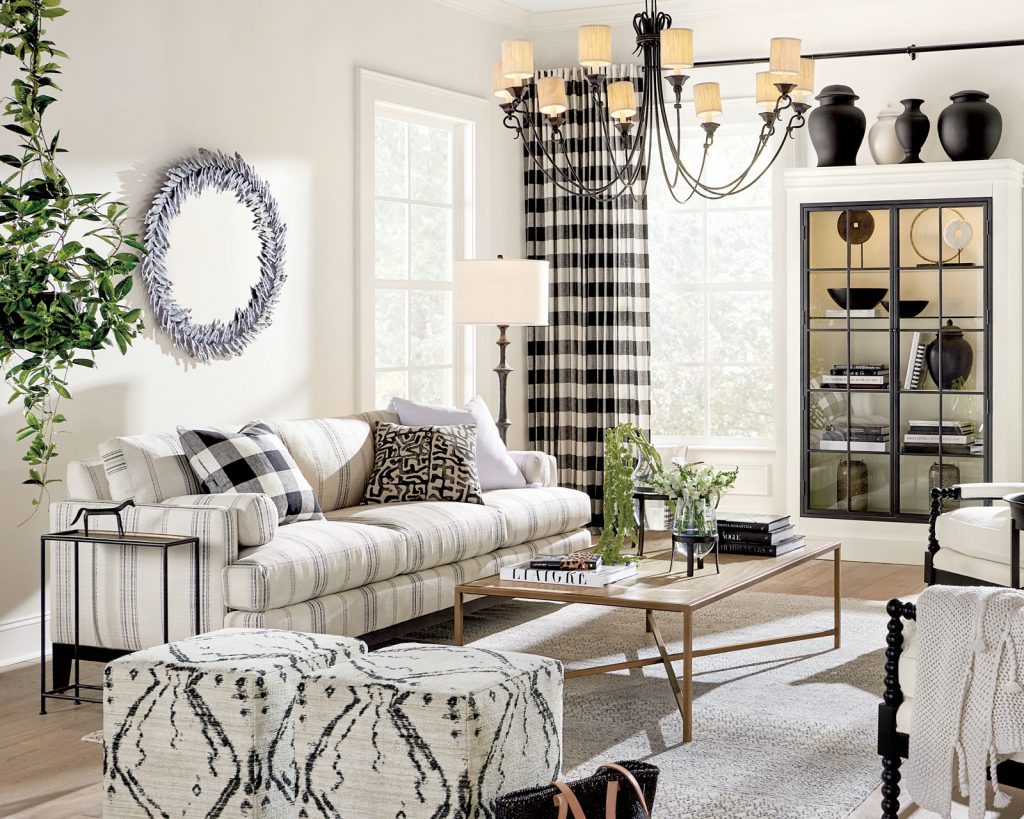 Image Credit: ballarddesigns.com
However, if you end up using your formal living space, make sure that it's practical for how your family lives and that it serves some kind of function for your home. That way, indeed if you do not use it every single day it's still not wasted space.
Aim for versatility, and continue the interior style that you maintain throughout the rest of your house. However, your formal living room will be a space that you love — rather than just one that you are not sure what to do with if you do it right.
Your living room can serve in different confines depending on your requirements. It can be converted to a home office, a homework area or home training area, a spa or indeed an entertainment joint. With the right cabinetwork type, lighting and home scenery, a single room can serve in different ways.
The advantage is indeed a minimum house can be converted to suit your requirements. You can bond with your children, family and musketeers in the comfort of your home in your living room. The essential aspects to consider include the lighting system that can range from sconces, beacon stands or indeed chandeliers depending on your preferences.
The brighter the light whether natural or artificial, the better and jocose the moods. You're also not limited to your seating style. You can decide to have bumper bottoms or your love seats, chaise longue or daybeds or settees.
Foyr Neo is specially built for interior designers to design your home and living room from a floor plan to a finished render in less than a couple of hours. You can select or draw your preferred floor plans, pick your furniture, and basically design your home on a 3D model. It will give you an accurate rendering of what your living room is going to look like after the makeover. Try Foyr Neo's 14-day free trial and start designing your living room.