8 Creative Dining Room Design Ideas:
6. Picking Your Lighting and Sconces
The dining area is ideally located to allow a little experimentation with lighting. Needless to say, if you have a large dining room, you will want to add a chandelier to make the room feel extravagant. But, at the same time, you can also use other forms of lighting treatments to highlight the focal point of your dining room.
For instance, if you can use pendant lights to high point the centerpiece, or use simple sconces around a piece of artwork or wall art. You can also install a couple of floor lamps by the gallery wall or install some imbrued light fixtures in a new breakfront that creates a backdrop for your dining room,
If you have a small dining room, however, consider using ceiling light fixtures or high-hanging sconces. With the limited space, you need non-intrusive light fixtures that adequately illuminate the dining area but also don't obstruct the open spaces.
The dining room lighting should always be sufficiently bright so you can see everything, yet not so brightly lit that it causes a strain. You see, dining areas are usually utilized right before bedtime. Therefore, it is necessary to let the eyes relax and prepare the brain to sleep soon.
Additionally, dining areas are also used for romantic dinners, during which you need subdued lighting. Not to mention, during formal dinner parties, you do not need bright lights illuminating each person's dining habits and etiquette. It is considerate to keep the lighting to an effective ambiance.
Read also – Best Kitchen Lighting Ideas
Image Credit: moderndiningtables.net
7. Storage Units In Your Beautiful Dining Room
You may be wondering, why would I need storage spaces in my dining room when I have a kitchen?
Well, the answer is simple. During a family meal or dinner parties, or even when you are eating alone, you may drop your cutlery, food particles, or any number of things. What are you going to do? Run to the kitchen every time? No. You use the built-in cubbies or bountiful wall cabinets to get what you need.
It is also not ideal to keep spare napkins, dinner mats, surplus cutlery, etc. just sitting around the table, taking up space. Everything you need in an informal or formal dining room can be easily and effectively adjusted into storage units.
Additionally, remember what we said about creating an exquisite backdrop in your dining room? Think about it… You may have a collectible set of mint-condition plates or a delicate oriental tea set or any other functional home décor item that pleases you. Wouldn't it be nice to display them in a new breakfront or china cabinet? Not only can your guests admire your exquisite taste but it also makes a beautiful focal point for your otherwise simple dining room.
Read also – Top 22 Kitchen Trends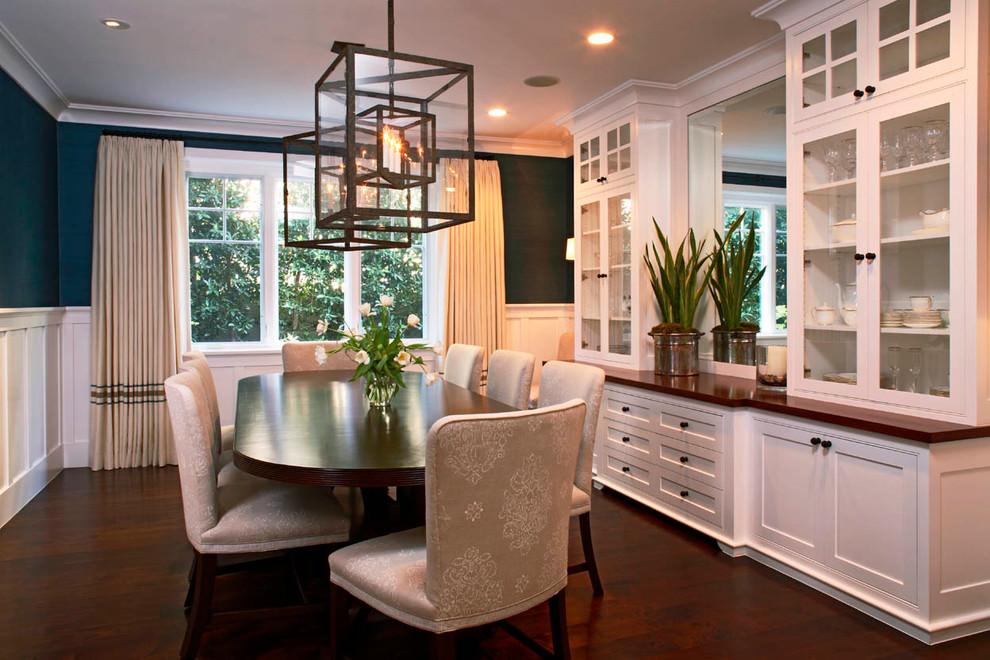 Image Credit: designtrends.com
8. The Cersatility of Use and Functionality of Your Dining Area
In these modern times, dining rooms are not just for dinner-time delicacies or just Sunday meals with family and friends. Nowadays, a multifunctional dining room is trendy. In small homes with small spaces, the dining room can double as the children's study area, a home office, or a space for family meetings in a lively environment without being distracted by electronics. The dining area is a multi-faceted space that allows you to gather everyone in one place.
Regardless of the size of your home or how much you actually use the dining room, this living space is a continuum of activities. Depending upon the functionality of the dining area, you can choose to furnish it with a home décor item that speaks of your taste and powers of organization.
It is best to design a dining room with versatility. The utility of this space extends beyond the conventional therefore some décor ideas using home screens and wall art could really provide character. Not to mention, if you have an open floor plan, then this area already is being used to its maximum capacity. Thus, as a decorator, you must do your due diligence and optimize this space as per its usefulness and efficiency.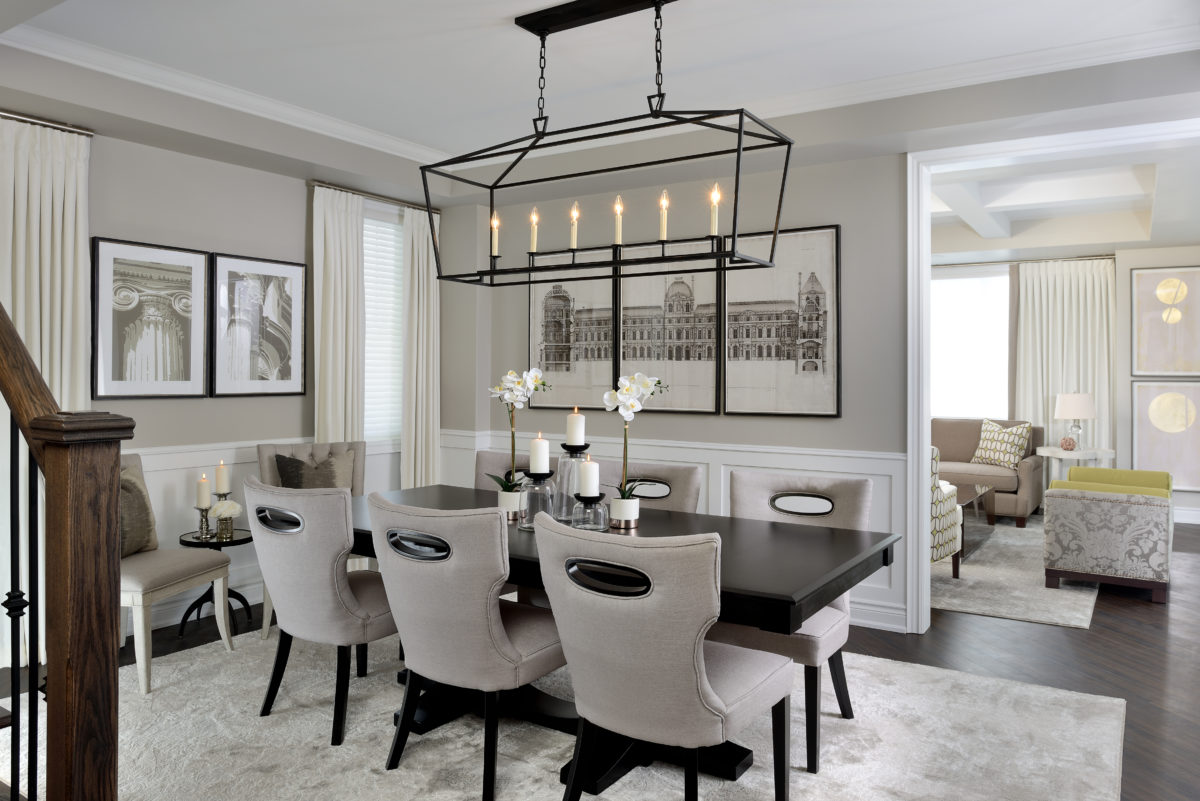 Image Credit: janelockhart.com
The dining room, by far, is the most resourceful corner of the house. Most people tend to overlook this space because they don't want to waste money or time on decorating ideas for the dining space. Instead, they focus their interior design plans on décor ideas for the living room, foyer, bedroom, and gardens. But the dining area is equally, if not more, important.
Much to your amazement, you may find that when your guests don't want to watch TV or talk sitting around your living room, they actually enjoy a conversation across the dining room table. This provides a midcentury modern experience and makes the room feel more like an interactive salon.
Additionally, there is your family who you may not even see throughout the day what with you working or busy maintaining the home, the kids at school or college, and your parents feeling bored and lonely. The dining room provides an ethereal experience of bringing everyone together and sharing a few hearty laughs. This room is the heart of a home and must not be ignored under any circumstances.
After all, the dining room is where they share their deepest secrets which bind you together for life. A little extra time to decorate this situation room is well warranted and definitely something worth considering during your home makeover plans.
If you are a new designer or a homeowner, you can use Foyr Neo, an extraordinary home design application that helps you create your floor plans and design your room from scratch. You can create a 3D rendering model to get an accurate idea of the dining room before you begin the makeover. It is certainly worth the effort.
So, now that you have a number of incredible dining room design ideas and a handy design app at your disposal, go ahead and design a fantabulous experience room for you and your loved ones to connect.