Terrace Design Ideas
In these times when overpopulation has pretty much pushed eighty percent of the population into apartment living, have a dedicated terrace is a luxury. Not that New York apartments don't feature terraces but you certainly cannot expect any of your outdoor furniture or decorating items to remain safe in the Big Apple.
Therefore, if you have the privilege of a rooftop terrace, even if it is in a secure building in NOHO, Manhattan, and similar upscale areas, we suggest you take the opportunity to build yourself a serene outdoor space.
Most people think that a roof terrace, being a zone outside the confines of your living area, has not much to offer. Well, we are here to tell you that you can disregard that. Don't even listen to them, for, with a little innovative rooftop terrace design, you can transform this mundane area into a haven for outdoor living. Interior design is not just for the bedroom or living room, friend.
Let's take a look at a few terrace design ideas you can inculcate to make that happen…
Read also – 14 Best Small Studio Apartment Decorating Ideas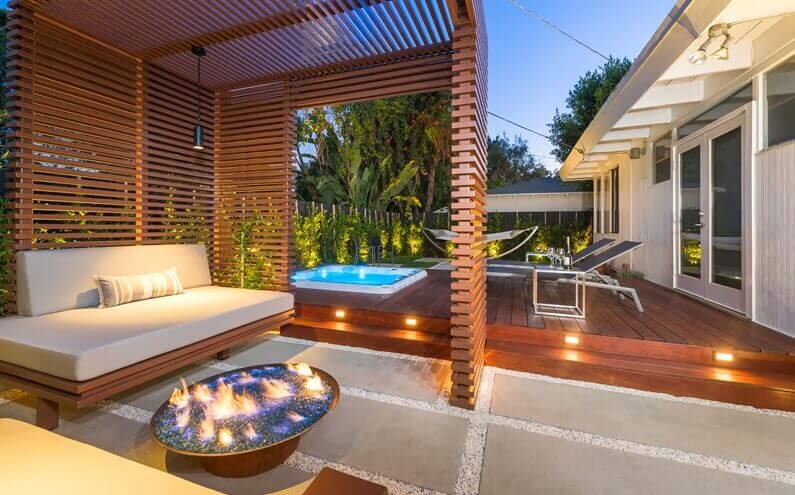 Image credits: pinterest.com
8 Creative Terrace Design ideas for Individual Homes and Apartments:
1. Scrutinize the view and work around it
Most people residing in upscale neighborhoods in New York usually have an incredible view of the Manhattan skyline. That doesn't mean the others need to be discouraged.
Take some time to check out the view from your apartment, villa, townhome, or multi-story house. Is your view great?
Then incorporate it into your terrace design ideas. You can add a coffee table and some chairs along the walls of the terrace to have a beautiful view of your surroundings. You can even push one end of a dining table against the fence and surround the free sides with dining chairs to create a dining area for special occasions.
If, on the other hand, your view is somewhat marred by unpleasantness, consider using the central area of the terrace while adding some tall plants, maybe some wooden screens, etc. to shield yourself and your guests from the horrific view outside while you enjoy the serenity.
Read also – 14 Best Living Room Interior Design Ideas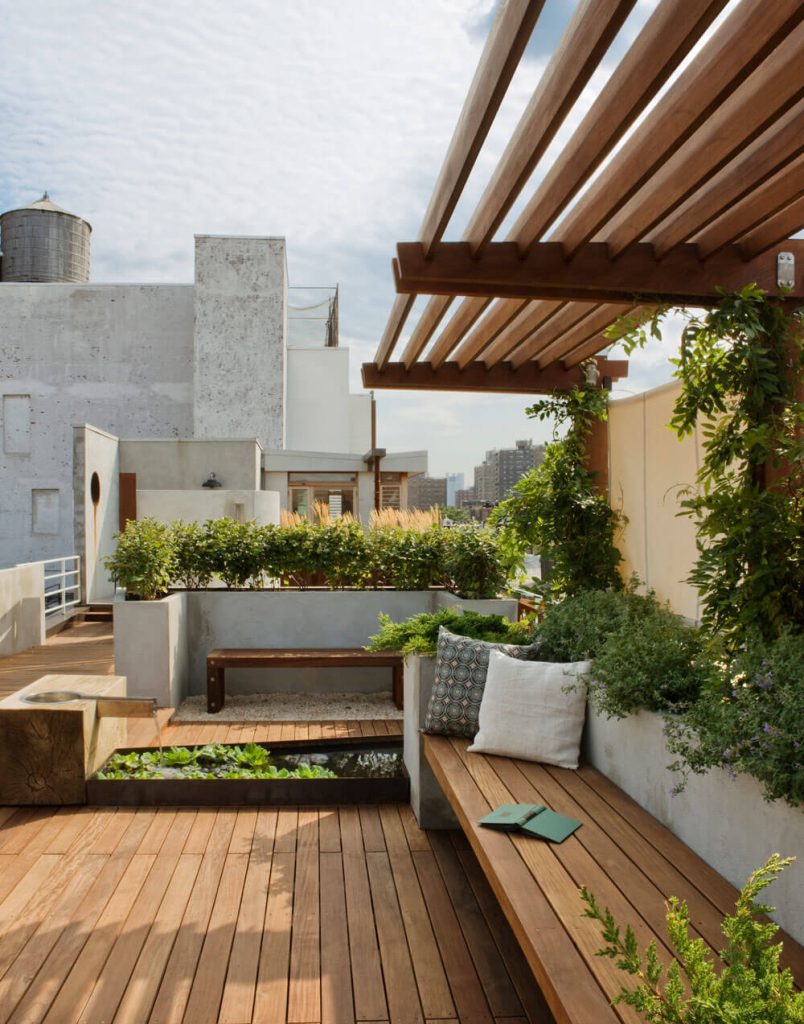 Image Credit: homebnc.com
2. Incorporate a rooftop garden design
You cannot go wrong with greenery, be it indoors, in the backyard, on a small balcony, or on your rooftop terrace.
If you like gardening, here's your opportunity to go all in. You can create a beautiful herb garden, get some planters and grow fruits and vegetable shrubs, even trees, or use succulents and rock gardens to beautify the area as well as purify the air around your building.
You can also use patio design ideas and incorporate indoor plants such as ferns, money plants, rose bushes, lemon trees, etc. It's your garden, you can do whatever pleases you.
If you have the means to grow climbers, build a small rooftop pergola and instill rattans to add color and liveliness to the area. The rooftop terrace is like an outdoor patio and a garden in one open space. Utilize to your advantage numerous landscape design ideas and create a seating nestled within greenery to connect with nature.
Read also – 10 Best Home Garden Ideas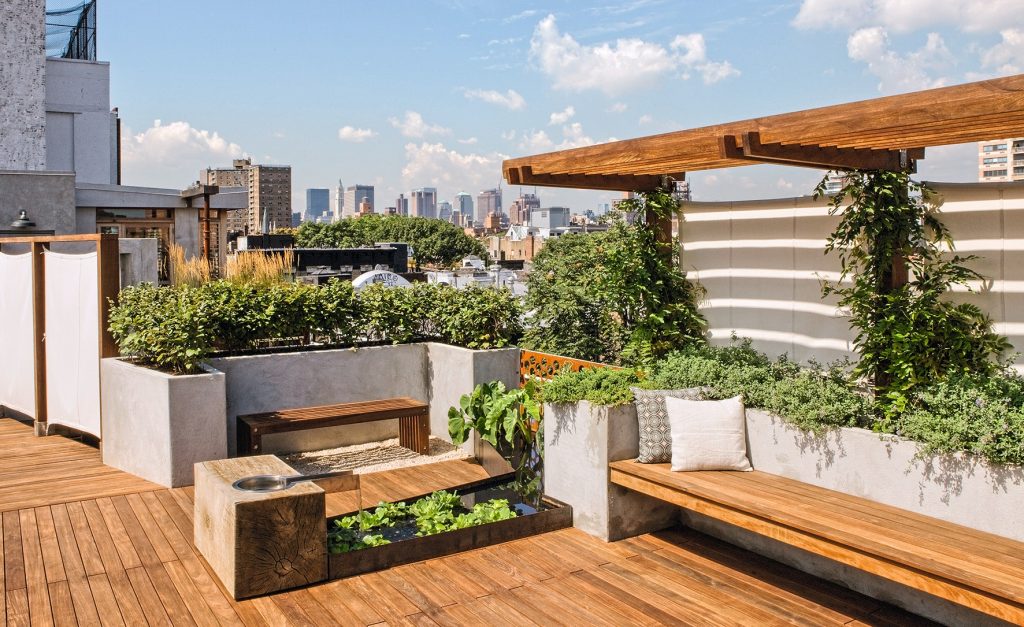 Image Credit: architecturaldigest.com
3. Choose a lively color palette
Now, just because a rooftop terrace is an outdoor space doesn't mean you need to disregard the color scheme. Of course, the usual textures, patterns, fabrics, and materials of interior design do not translate to your outdoor space. Nevertheless, you can still incorporate beautiful tapestry, colorful awning, table linens, etc.
You can install a day bed or a couch with colorful throw pillows. There is the terrace wall that you can paint with a vibrant color palette, perhaps even opt for wall art or go for some graffiti. Also, choose the plants for your garden design with care. Ideally, colorful flowering pots, fruit trees, shrubbery, etc. would add pops of color to your terrace design.
If you can install some beams and a roof over your terrace during the makeover, you can convert it into an outdoor patio. Hang some flower pots, create a seating area with loungers with magnetic colors, and use all your home decor ideas to beautify the place.
Read also – 50 Fabulous Patio Design Ideas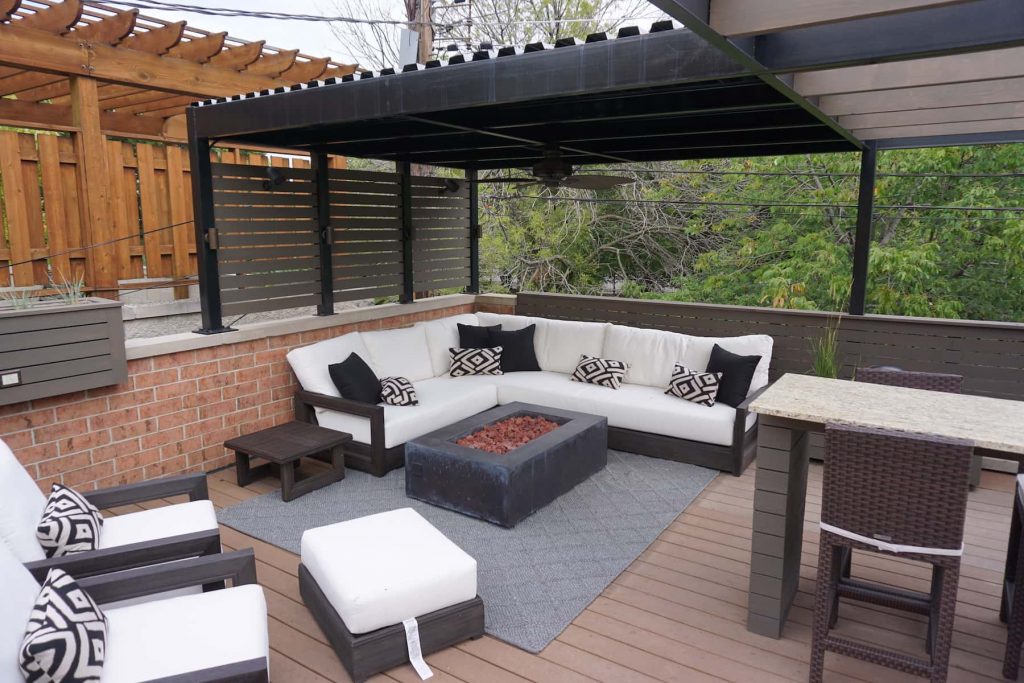 Image Credit: roofdeckandgarden.com
4. Choose appropriate outdoor furniture
A popular problem with designing and decorating a rooftop terrace is that your conventional home design ideas don't work.
A roof terrace can be easily transformed into an outdoor kitchen, an outdoor living space, an outdoor party zone, whatever you want. That is if you can choose the appropriate outdoor furniture to go with it.
For instance, consider a Sunday afternoon when your friends, family, or colleagues come over for a house party. But oh no! Your stereo isn't working or you are unable to cook the barbecue cheeseburgers in a poorly ventilated kitchen.
Fear not. Just take the party upstairs to your unique rooftop living space and use the barbecue grill, blast music without disturbing your neighbors, or simply initiate a lively conversation in the outdoors.
Ideally, terrace furniture is almost the same as that for the patio, so get some wooden furniture for a seating area with some side tables to keep their belongings. You can also get creative and build a few pieces of wicker furniture keeping the patio design in mind. They easily meld into your rooftop terrace design.
You can create a cozy sitting area around a coffee table or, if you're feeling bold, invest in a small fire pit. It is great to toast yourself on a chilly night when your heart just doesn't want to go indoors.
Read also – 50 Amazing Front Porch Decorating Ideas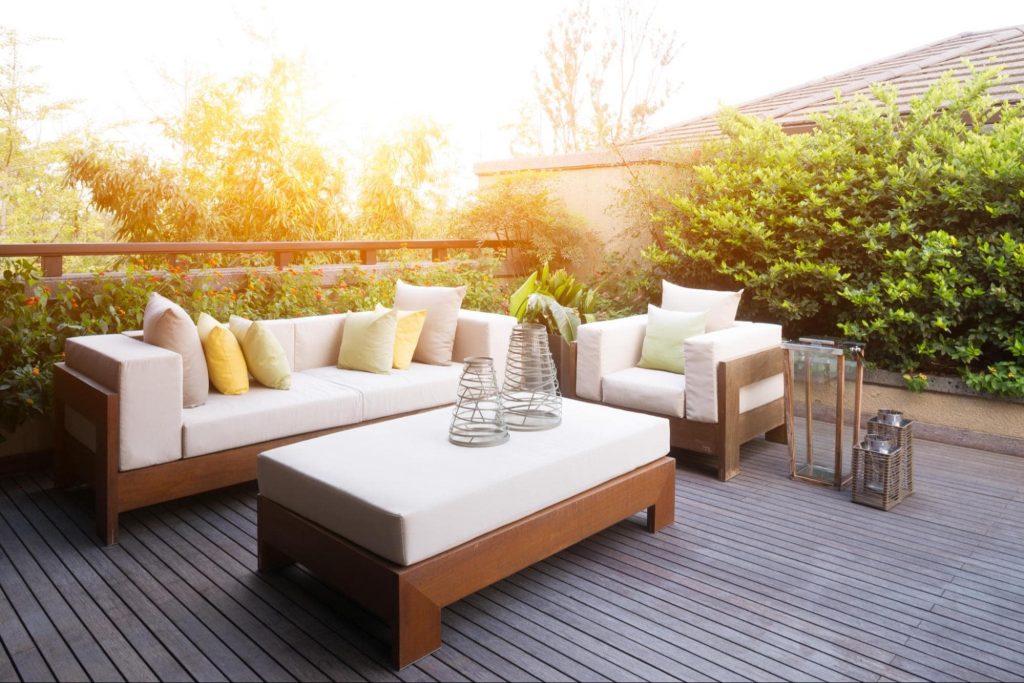 Image Credit: penndutchstructures.com
5. Play with lights
Lighting is an important factor in any form of home design be it indoors or outdoors.
Regardless of whether you have a big or small terrace, regardless of whether or not you choose to turn the area into party central, it is important to illuminate this outdoor space. The preliminary choices are, of course, overhead bulbs, enclosed sconces, and hanging lanterns to create a mood at times.
That's all nice and well but how about some string lights along the wall, maybe even draped along the vertical beams of your terrace pergola. Or, if you want to set a romantic mood for date night, why not consider tea candles lined along the fence or on the outdoor dining table.
A rooftop terrace is a mood in itself. Don't limit your lighting options to the bare minimum. You can turn this place into an outdoor disco with some wiring along the roof or tapestry above to attach a disco ball. You can also add accent lighting to highlight your graffiti and art deco.
But most of all, we favor the string lights because they are good for any occasion and they make the terrace space look like Elsa's castle.
See also – Psychology of Colors in Interior Design
6. Invest in a roof deck
Yea, that's not just for an outdoor swimming pool or patio idea.
You can build a roof deck for a modern terrace design and arrange few loungers, large umbrellas, even a sitting area around a coffee table with some cushions or wicker furniture. It looks absolutely breathtaking, not to mention, adds an aesthetic elegance to this incredible outdoor space.
Read also – Best Home Decorating Ideas
7. Get creative with a WOW factor
If you have sufficient space, consider installing a water feature such as a fountain, small waterfall, etc. to liven up your roof terrace. Speaking of a water element, do the little birdies a favor and also put in a birdbath. It will fill with rainwater when you forget to top it off. But trust us, the little creatures will bless you.
You can also go the other way and add a fire element, or unique garden ideas, or even a DIY Koi pond for the Wow factor.
If you have a small terrace, on the other hand, the birdbath is still looking good but a water feature or fire element may be pushing it a bit too far. Consider the fire pit though. It makes for a great outdoor scene mimicking a campfire which is nothing short of awesome!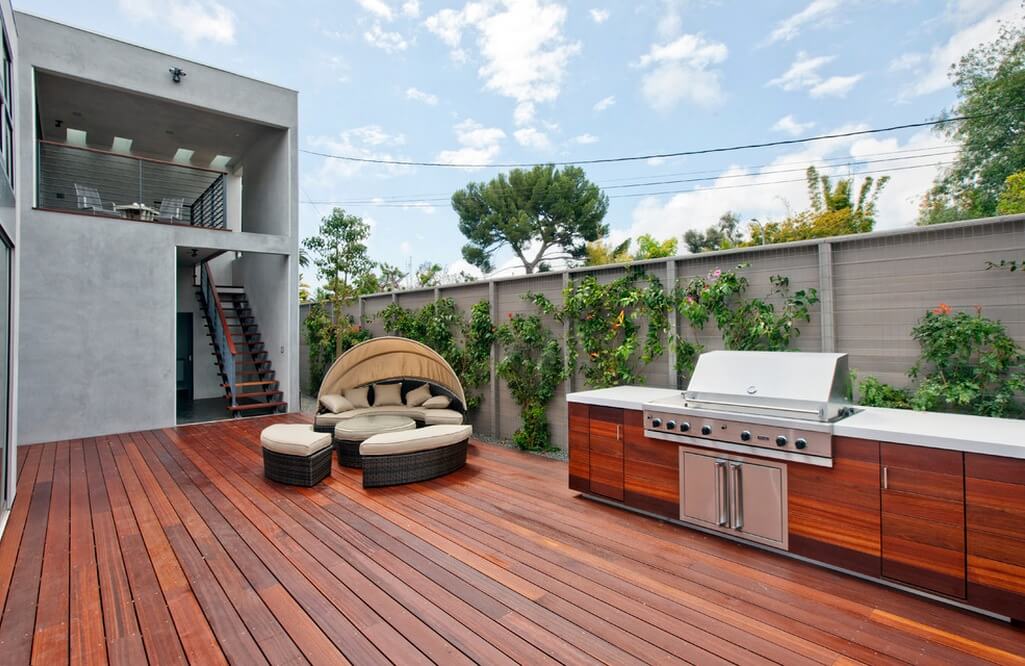 Image credits: Pinterest.com
8. Don't forget the roof over your rooftop terrace
Perhaps we should have mentioned this before but if you are going to invest in decorating your rooftop terrace then you need to think about installing a roof over the roof. Technically, it is now the ground, so…
Anyway, an awning at the doorway is an excellent addition but think about how you can protect your outdoor furniture and décor. Wooden beams around the perimeter would facilitate hanging designer tapestry all around but that can get wet in heavy rainfall or snowfall. It is still a good choice to combine minimalist decorating ideas around your terrace but not so much if you favor extensive home design ideas.
Here's an idea: install a tarp on the outside, then hang the tapestry on the inside.
Another way to build a roof over your terrace is to actually build a roof and convert the space into a rooftop patio design.
If all else fails, you can go for the segmented roofing system. Just build a roof over part of the terrace and incorporate all the furniture under it. Then leave the rest of the outdoor space open.
Read also – Bohemian Colours
Do you see now how functional, not to mention joyful a roof terrace can be?
You want an indoor pool, go for it. Want to incorporate patio design ideas in an apartment, here's your chance. Engage with your neighbors, throw an awesome rooftop party, whatever. With an incredible terrace design in place, you cannot go wrong.
If you are uncertain about the best theme for your roof terrace or are unable to settle on the design ideas for this beautiful outdoor living space, may we suggest the Foyr Neo app?
You can choose landscaping options and try out different outdoor furniture, pergola designs for the roof, create an outdoor dining area, what have you. Anything and everything goes as long as it makes you happy.
So, go ahead and design the best possible rooftop terrace to amaze your neighbors and guests while always having a designated space to chill out after a tough day. Trust us, you are going to love it!!
See also – Best Dining Room Design Ideas