Terrace Designs
Does a roof terrace need any design at all? Yes, it does because even though a roof terrace may not be inside the house but it surely is a vital part of the house. The best part is that with intelligent terrace design ideas, your terrace will not only look amazingly sophisticated and posh but will also convert it into a cozy garden, a serene swimming zone, a perfect tea party venue, or whatever you like.
Terrace design becomes even more relevant to the current urban infrastructures, where it's not always possible to have a spacious backyard or porch to fulfill the desires of your green fingers or the party host in you. With the following clever terrace design ideas, you can finally fill in that missing piece to complete your dream home.
See also – Small House Design Ideas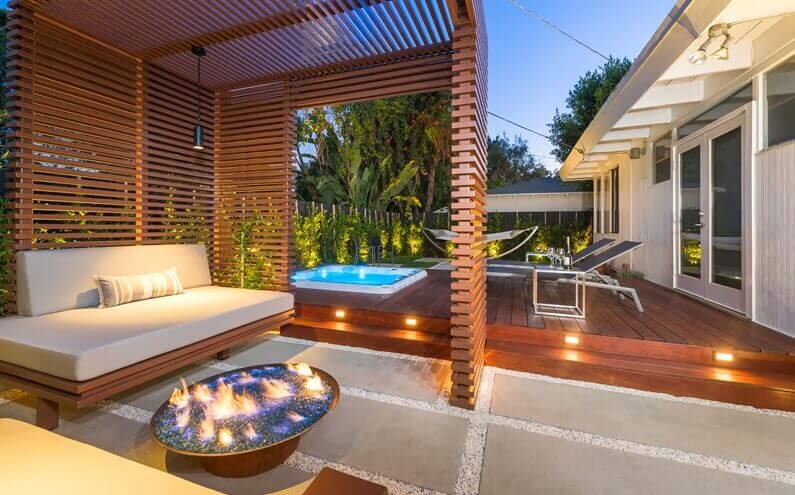 Image credits: pinterest.com
10 Best Creative Terrace Design Ideas:
1. Keep an Eye on the View
If the view from the roof terrace is a very scenic one, then one of the perfect terrace design ideas is to have a glass parapet. A glass parapet will provide you safety without disrupting your pleasant view. This terrace house design is also ideal for making small terraces look big through the optical illusion created by clear glass.
See also – Best Living Room Interior Design Ideas
2. A Garden in the Air
When urban plots hardly facilitate the space for conventional gardening, then a terrace garden is a good idea for a terraced design. Fix shelves at the inner sides of the parapet to place your pots. It will break the monotony of a solid concrete parapet. For a railing-infused parapet, growing colorful climbers and vines like bougainvilleas over ornately arranged wrought iron rods is a splendid idea. In case of a glass parapet, install a raised flowerbed adjacent to the parapet's wall. If your terrace is small it is wiser to grow straight and tall shrubs like bamboo, blue fescue, maiden grass, lavender, cypress, and final astable. Such plants render a neat and clutter-free look.
See also – Best Home Garden Ideas
3. Garden Ideas for a Spacious Terrace
Apart from growing all sorts of shrubs and flowers in regular pots, you can also construct some equidistant yet sparely located ornate pillars or columns over which you can grow some vibrant creepers. This terrace design will add further depth to your terrace.
4. Decorate the Tank Wall
A wide barren tank wall can rob the charm of your terrace. To add the element of warmth and coziness to your terrace design, grow a single type of creeper on the wall that supports the tank.
See also – Amazing Master Bedroom Ideas
5. Pay Attention to Colors
As a general rule, it's better to restrict yourself to three colors – one dominant hue and two complementing hues in lesser amounts. Opting for cool or neutral colors like shades of white, gray, light browns, etc. will only amplify the beauty of your terrace garden and furnishings. Painting the terrace walls too colorful and bright will only make it look stuffy and cramped, especially if it's a small one. Also, the colors can distract you from enjoying the view beyond the terrace.
See also – Psychology of Colors in Interior Design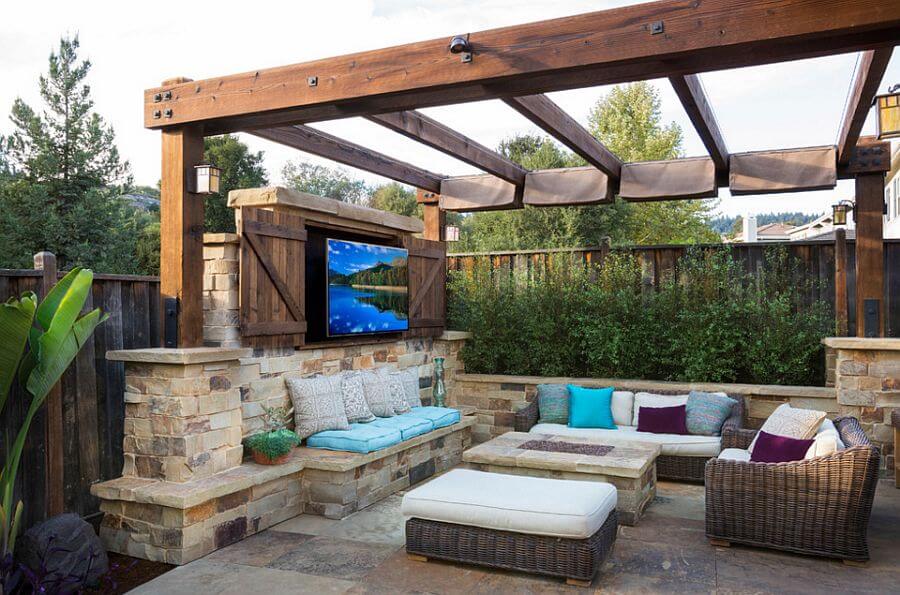 Image credits: pinterest.com
6. Furniture Matters
When the wall colors are neutral it's nice to have dark brown furniture to make a stylish statement. A practical terrace design idea is to use lightweight furniture which can withstand harsh weathers like – strong sunlight, strong winds, and rainwater. Foldable metal chairs and tables are minimalistic for a small terrace but for a classier and natural look opt for woven rattan furniture. Make sure the cushions and upholstery are removable sorts so that they can be retrieved when it pours. If you tend to use the terrace for lazing around, then a deck chair and a side table are all that you need. A roman style slender swimming pool will complete the beach image. If you intend to host small get-togethers then you'll need a center table and matching chairs.
See also – Best Home Decorating Ideas
7. Light Up Your Terrace
Now coming to the terrace design ideas for the night. Ample yellow-hued LED lights strategically placed in the flower pots/ beds and nowhere else will extend that calm and soothing effect to the night's softness. To add to the dream sequence effect, go for the "floating effect" – lights underneath the shelves that hold the flowerpots, under the coffee table, etc. At the parapet make use of some electricity or candlelit fancy standing or hanging lanterns to add some colors.
See also – Bohemian Colours
8. Watch Your Step
Even the type of flooring used can mar or add to the beauty of your terrace design. If you live in not so harsh climatic conditions then wooden flooring can extend a sophisticated and homely look to your terrace. A wooden flooring demands heavy maintenance though. Granite stone flooring is more durable and gives your terrace design a European tinge. For a more durable and weather-resistant option, you can opt for plain old concrete that bestows a rough look.
9. Water Feature
Adding an elaborately designed water feature can help contribute to an attractive focal point to your terrace design. It will give your terrace garden a more complete look and nothing sounds more beautiful than the whispers of the water in the night's silence.
See also – Office Interior Design Ideas
10. A Roof on a Roof
if you have any kind of seating arrangement, your terrace design must incorporate some sun protection options as well. Depending upon your taste you can choose from a bamboo shaft roof to a reed canopy, a delicate gazebo roof made of iron wrought glazed with climbers like Japanese Wisteria to a simple awning (a large stretched out cloth).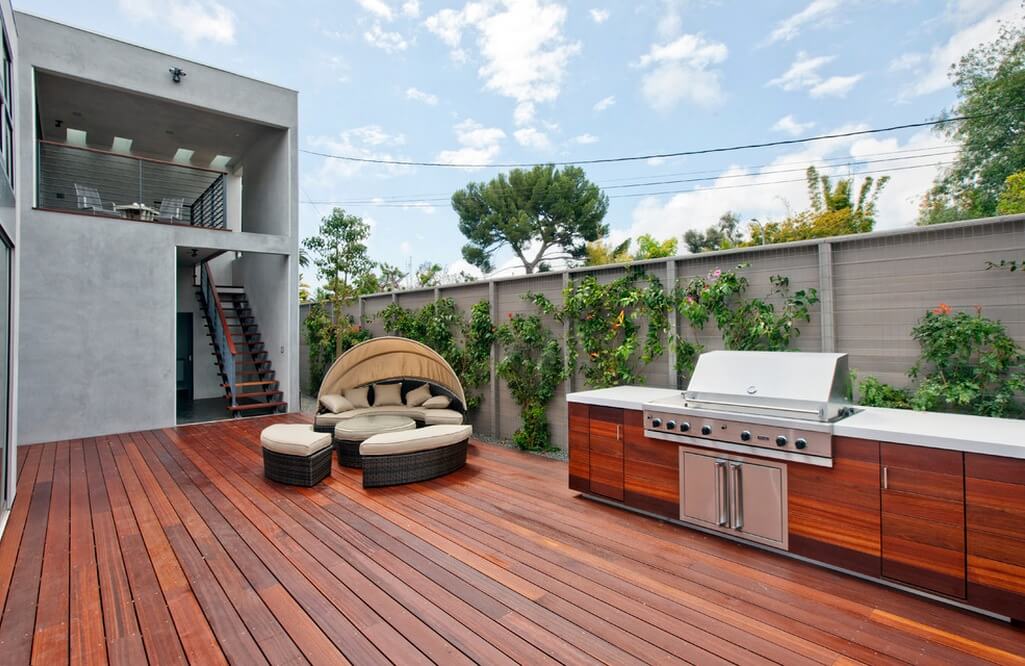 Image credits: Pinterest.com
The kind of terrace house design that will suit your home depends on many factors like – the size of the roof terrace, the view from the rooftop, the electricity options possible, your need or purpose of the roof terrace, the climate of your house's location, etc. That is why; with the expertise of a well-experienced and renowned interior designer you can attain the ideal terrace design possible. To get in touch with the best interior designers in the world, sign up for our 14-day free trial. at Foyr, we strike the perfect balance between aesthetics and practicality while combing the latest trends and technology.
See also – Best Dining Room Design Ideas
Click to rate this post!
[Total:

0

Average:

0

]