Home » Interior Design Concepts » Bohemian Interior Design Style for Colorful Decor
Bohemian Interior Design
The etymology of the word' Bohemian 'draws its origin from the French term 'La Boheme', meaning gypsy or a nomad which renders itself to fluidity not only in terms of place but also thoughts and approaches. It reflects itself in unconventional but aesthetic choices in art décor and is usually associated with an eclectic and out of the box style preference. The signature USP of the Bohemian style being individuality, therefore each Bohemian style is distinctly unique in style and approach.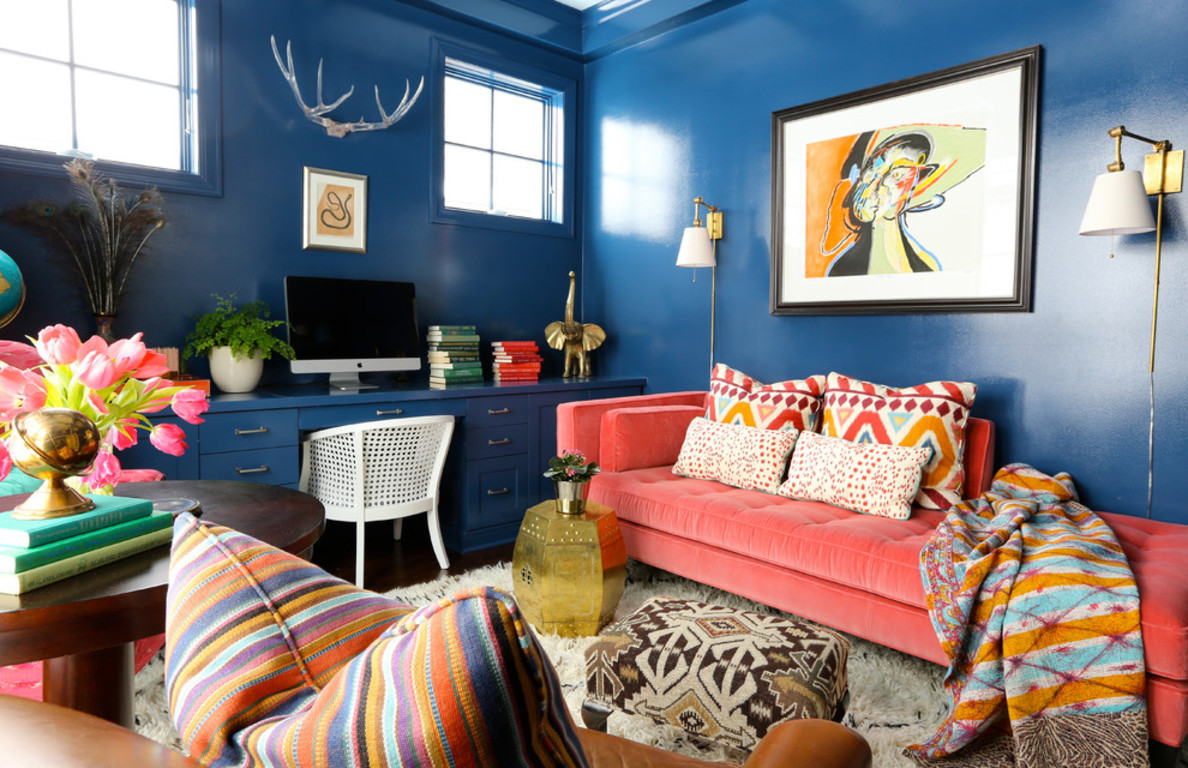 Image Credits: Houzz.jp
The Bohemian style is inspired by the free-flowing lifestyle and approach favored in the 19th century by artists, actors, travelers, basically; those who shunned the conventional approach. This innovation reflects itself in the choice of patterns, colours and objects which draw inspiration from myriad facets of life. So, if you are in the quest for a distinctively individualistic taste preference in master bedroom décor Bohemian / Boho, might just be the answer.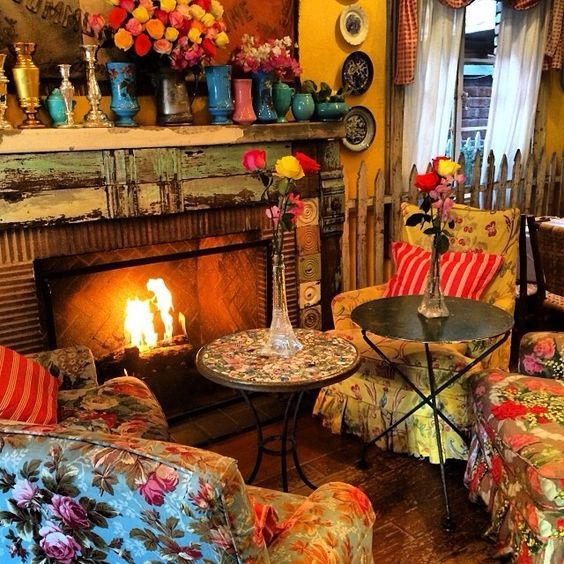 Image Credits: Pinterest
A: Characteristics of Bohemian Style Décor
The most distinctive trademark of Bohemian style in the unique mix and match of colours, patterns and materials and incorporation of eclectic influences from across the globe.
Bohemian Colours: The first rule of Bohemian décor is that there are no rules. So as much as the earthy tones of brown, greens and greys form the base, the highlights are bright orange, glitzy purple and electric blue. Combining and layering the muted tones with the vibrant jewel tones form the crux of this décor style.
1. Bohemian Patterns
If you feel that certain fixtures or textures of fabric would clash with another, use just that. The bohemian style encourages fluidity in the style which does not follow the beaten path. Dyed textiles from India like Bandhini or Ikat or Suzani from Central Asia add the much needed exotic oriental touch. Layers and shrugs draped over furniture and tapestries from Chins or rugs from Persia find a pride of place along with your family heirlooms and vintage photos.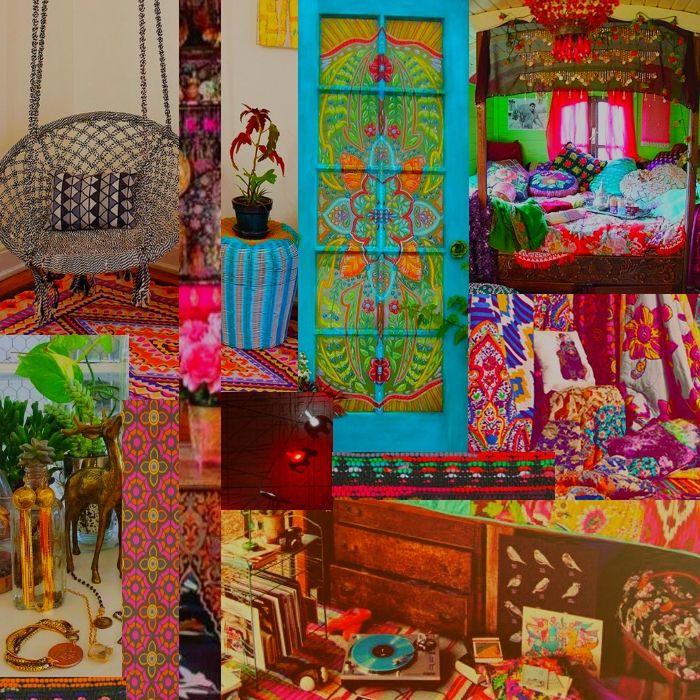 Image Credits: au.Pinterest.com
2. Bohemian Material
Bohemians shun ideas of minimalist interior design, sleek and functional décor. The tilt is more towards ornamentation and grandiosity. Natural materials like burlap and sisal are combined with silk and chenille. The materials must have a vintage appeal and not the shiny, gloss of modern style form. Fringe, lace, crochet all come together in the range of pillows, throw-rugs and curtains to provide a warm, comfortable and aesthetically inspired hangout zone. Canopies draped over beds and embroidered and patterned covers over furniture are distinctive Bohemian style embellishments.
3. Bohemian Furniture
These items are curated rather than sold off the counter. They are collector's items, much coveted and cherished and carry with them a vintage, rugged feel where each furniture lives to tell a story. The best bet to land with some authentic Bohemian furniture is an antique thrift shop in your area.
Bohemian décor, inspired by a Boho lifestyle loves to soak in the feel of indulgence. Therefore, chaise lounges, daybeds and overstuffed floor pillows with a snug floor – seating arrangement is more in the line of this style trend rather than straight-backed furniture with functional appeal.
4. Bohemian Lighting
More than overhead light, Bohemian décor is reflected in the use of candle stands, lanterns and floor and table lamps which throw warm, diffused light with a warm and welcoming feel.
B: Incorporate Bohemian Décor in Our Daily Life?
The world of art and décor moves around in circles. The bohemian trend is recently witnessing a revamp. People are not only lapping up Boho style in clothing and accessories but also in terms of art and décor. If the idea of replicating a complete Bohemian décor, sound too overwhelming or suffusing, then fret not.
Bohemian style décor finds favour with people who are attracted to a vibrant and playful use of colours against a not too structured backdrop. The homes of such people are basically extensions of their unique and free personality, which lens an element of liveliness and interest to their décor.
Today's global design market has accommodated this unique style décor in an innovative mix and match manner, in order to lend a touch of rustic/ free-flowing glamour amidst modern functionality:
1. Accost Nature Indoors
Bring in a touch of green with ferns and hanging plants which not only will make the room more colourful but lend freshness too. Succulents are great for people who want no-fuss greens since they can withstand a range of temperature fluctuations and light variations hence landscape architecture is also important. Just keep them in a sunny spot and water them once in a few days and they are good to go.
2. Choice of Accessories
Every Bohemian home tells a story. It is not a concept as much as it as a way of life. Boho style calls for the use of bits and odds of accessories gathered from random places to lend their aura to the room. So, while decorative gold mirrors or crystal chandeliers may be the showstopper procured from antique shops, even contrasting china clay cups, maps, vintage bottles and ornate boxes collecting from the journey across the world may add to the feel. Paintings, pillows and figurines prep up the decor
If heavy brick architecture is not your style, opt for a single piece of African wall décor to illuminate the room.
3. Signature Focal Points
Bright colours, bright coloured rugs, ottoman, lanterns and canopies, patterned fabrics, low mattresses, beaded curtains, take your pick from multifunctional products or use all, as your heart may desire.
4. Keep the Feel Unstructured and Free-flowing
Bohemian style is not for those who prefer clean lines and structured patterns, Hence there is no concept of empty space. Every blank canvas is meant to be filled with a kaleidoscope of colours.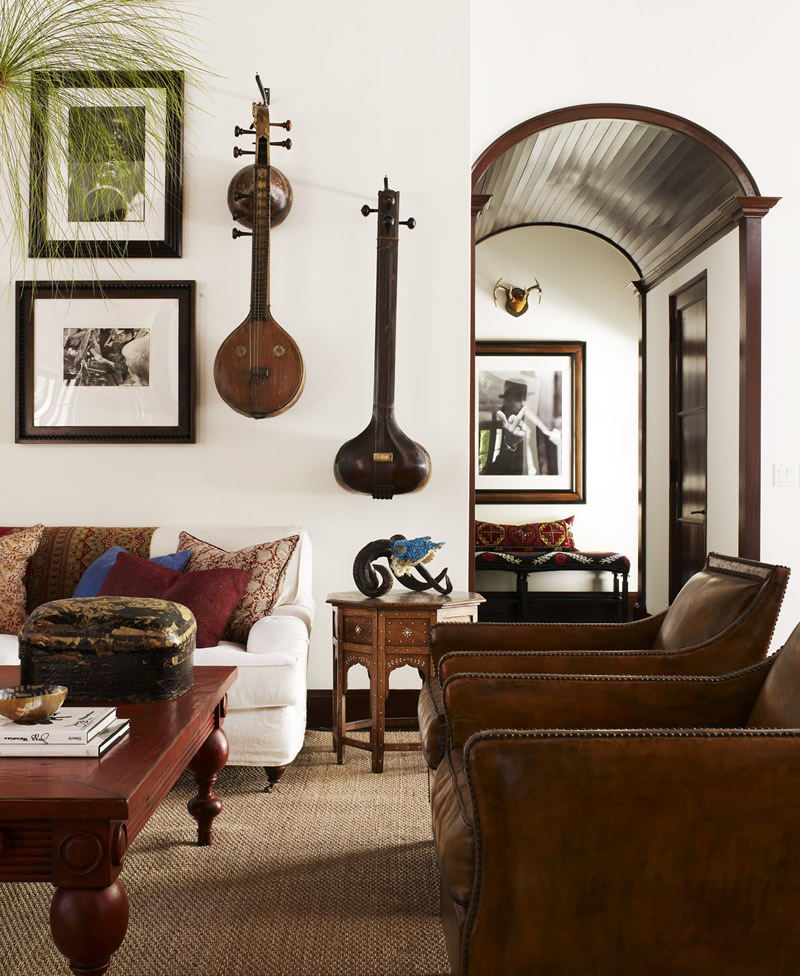 Image Credits: travelout.co.uk
However, at any time if the clash of colour and pattern seems too overwhelming, feel free to use white to add space and dimension to your décor.
Click to rate this post!
[Total:

0

Average:

0

]