Home » Interior Design Concepts » Bohemian Interior Design Style for Colorful Decor
Bohemian Interior Design
These days, when free energy manifestations and living independent lives are all the rage, Bohemian interior design style has quickly created a name for itself.
These cultural extraordinaire interior design styles were initially only associated with gypsies, nomads, and those who were deemed to care less about modern home décor ideas. However, ever since interior designer Justina Blakeney published her series of books, which by the way, made the New York Bestseller list, people really found a fondness for this eclectic style of Boho design.
The Bohemian style often referred to as Boho style most commonly employs a balanced combination of extravagantly bright colors and minimalist patterns of home décor. These design ideas are refined with natural materials while still employing functional layering and elements to create a diversified aesthetic.
Today, we'll introduce you to some specific Bohemian décor and styling ideas so you can customize your home or design a functional but bohemian chic home interior design for your clients.
Read also – Japanese Interior Design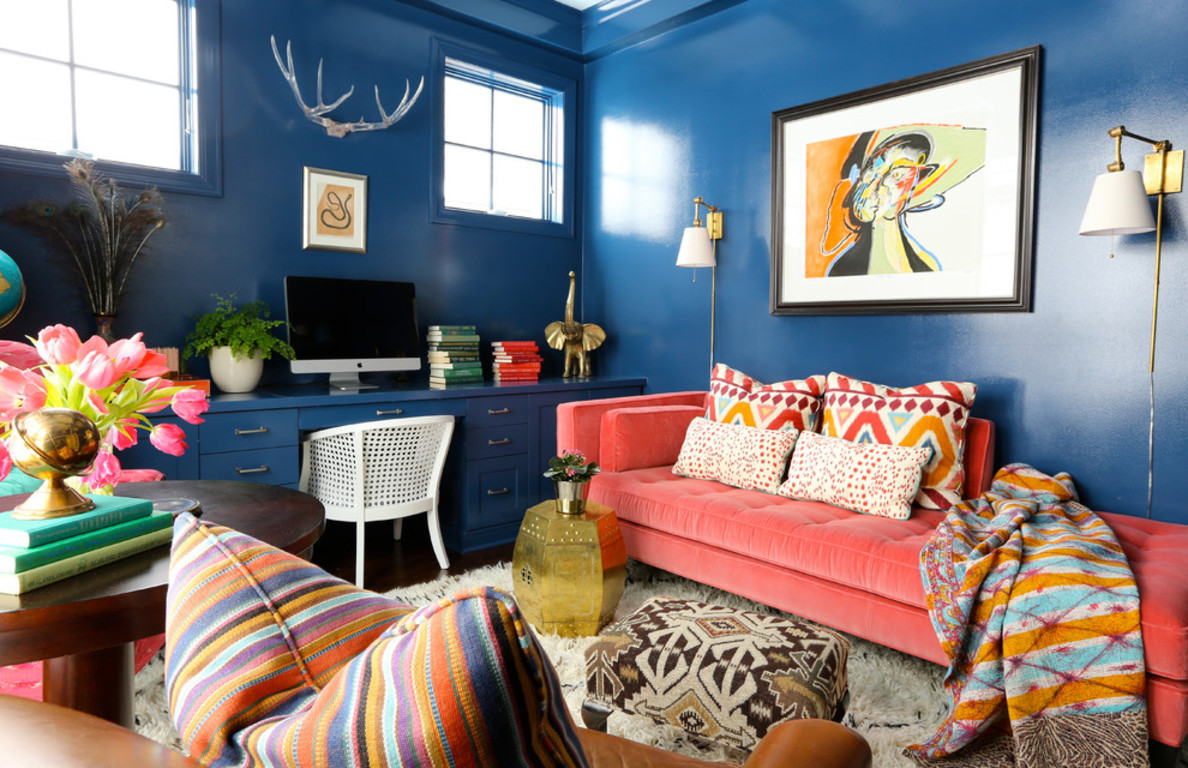 Image Credits: Houzz.jp
Characteristics of Bohemian Décor
Most people think the Bohemian style implies an unprecedented attitude against materialism and capitalism while hugging trees. This cannot be further from the truth. Bohemian cultural tastes employ a variety of materialistic elements and jewel tones that brighten up the home while still providing character.
Boho-style interior design doesn't mean filling your house with plants and succulents. No, what it means is that each piece of furniture, every design pattern you instill, and every home décor design trend that you incorporate, reflects directly on your personality. See, it's not just about loud design ideas but more about expressing yourself in all honesty.
Truly, Bohemian home interiors are refreshing and make the living space feel cozy and personal. Let us take a look at the specificity of creating a Bohemian home.
Read also – Interior Design Concepts
1. Bohemian Home Design Patterns
We'll start with the most basic design principle in Bohemian homes – the design patterns.
The Boho cultural design trends are not very stringent about matching colors and patterns for a modern feel. Instead, it heavily relies on mixing and matching various design ideas yet still creating a natural flow.
When you think about incorporating Boho design into your home, just think about what speaks to you the most. Do you like symmetric or asymmetric design styles? Do you want Scandinavian minimalism or Moroccan vigor in your Bohemian living room? Do you want macramé home décor or chaises and designer wall hangings?
You cannot go wrong with whatever you choose, and that is precisely what Bohemian patterns are all about.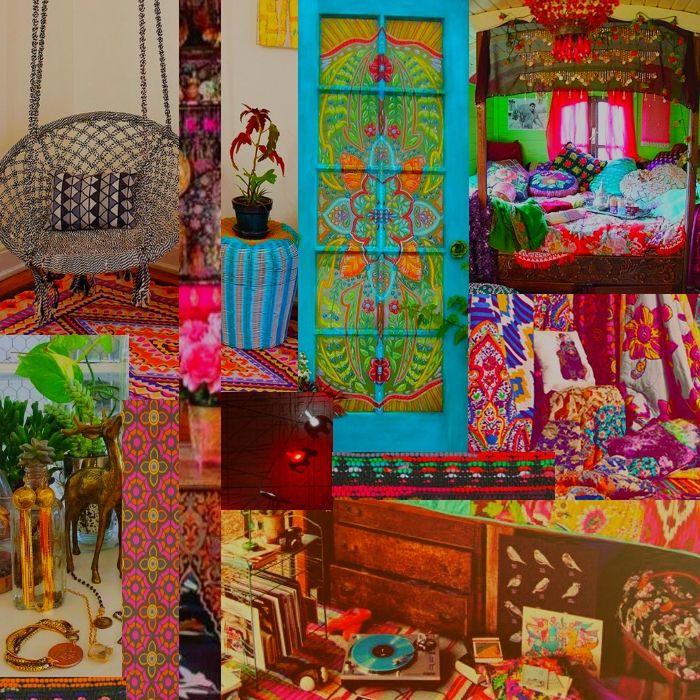 Image Credits: au.Pinterest.com
2. Bohemian Color Palette
Now for the color palette of the house. A boho room usually has a balanced and natural feel.
Most popularly, Bohemian design trends utilize a lot of neutral colors such as brown, green, and gray to create a blank canvas. However, do not mistake that for the only shades you can use in Bohemian home design. On these blank canvases run a myriad of bright colors and patterns that add personality and vigor to a boho room.
Bohemian style is expressed with rainbow shades that are combined in the most interesting and lively manner to tie the whole living space together. You can use any color you like, there is no hard and fast rule. Go from a bright yellow, all the way to a dull grey and you still have the most aesthetically pleasing living room, bedroom, dining room, etc.
Read also – The Psychology of Colors
3. Bohemian Style Fabrics and Materials
When it comes to fabrics, Bohemian style does seem to incline a little towards natural materials. Ikat, Rattan, Sisal, are all popular choices. These materials are unusual and quite diverse in texture, thus making them so desirable.
You see, for the most part, a Bohemian home is a reflection of the homeowner. Therefore, it is common for Bohemian interior design plans to incorporate hand-woven fabrics or DIY materials to customize their home décor.
4. Bohemian Décor and Furniture
This might sound a bit outlandish, but sometimes your furniture speaks to you. We are not saying that it will tell you where it wants to go or how it should be colored, but each piece of furniture has an appeal to certain people.
For instance, you might prefer furniture with clean edges or a minimalist design. Or you may like Moroccan-themed ones with intricate patterns. Either way, a certain style will always appeal to you. Go with it.
Bohemian décor is all about finding what makes you feel comfortable, therefore, if a second-hand piece of furniture calls out to you, then get it. You can also choose to incorporate personal DIY touches to customize the piece.
Since the Boho décor is somewhat inclined towards comfort, you can install chaises and poufs around the bohemian living room. A low coffee table, some throw pillows, and some table cloths with layering might pull together your design ideas effortlessly.
Read also – Futuristic Interior Design
5. Bohemian Lighting
When it comes to lighting, the Bohemian style is more inclined towards grounded materials rather than overhead lighting. This is an opportunity to purchase some exquisite table lamps with hand-crafted designs or learn how to create DIY sconces with beautiful patterns and reflective work. Not only do these lighting ideas generate shadowy effects in your living space, but they also create a 19th-century rustic feel in your home.
You can place these table or floor lamps to brighten up the focal points of your interior design or use sweet-smelling candles and earthen lamps for a cozier, country-side Boho chic look.
Read also – Kitchen Lighting Ideas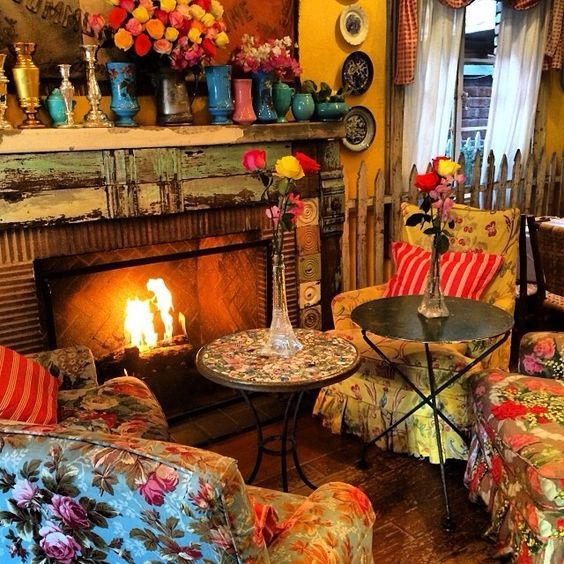 Image Credits: Pinterest
How to incorporate Bohemian Décor into your daily life?
It is easy to instill Bohemian décor and style in any home. All you need to do is ask yourself what makes you happy. The simple living of Bohemian culture encourages you to find unusual items for your home. You don't need to spend a ton of money on designer items and expensive artwork. All you need is what your heart desires.
It is unconventional, but you find the best Bohemian design trends in thrift stores and craft markets. These personalized items are like no other, and when you find something that appeals to you, rest assured that not everyone in the world will have it. Boho style celebrates uniqueness and cherishes eccentricities.
Here are a few design trends to incorporate in your Bohemian home:
1. Introduce Natural Touches Indoor
In order to start infusing boho décor into your home, start with the greenery. It's not just for the outdoors.
You can install various indoor plants such as bonsai trees, ferns, aloe vera, money plants, or even succulents. Not only do they add natural touches, but they also help to purify the air and cleanses your natural environment.
Bohemian interior design also encourages using natural elements such as wooden coffee tables, bed frames, dining tables, etc., that really brighten up the overall aesthetics of the living space. You can also use wind chimes and singing bowls to capture the naturally flowing wind energies to purify your home and add some desirable vibrancy.
Read also – Selection of Interior Design Styles
2. Choose Accessories that Speak to You
As we have said before, Bohemian styles are influenced by your personality. Choose wall hangings and home décor that holds personal significance to you. Maybe an area rug that you picked up at a thrift store or a chandelier that brings you happiness, or macramé décor that your kids created for a home-art project at school.
You can also install DIY photo frames to display your family pictures and the good times you had. You can also use deco with jewel tones and table lamps, floor lamps, what have you. These make for excellent additions to your Boho living.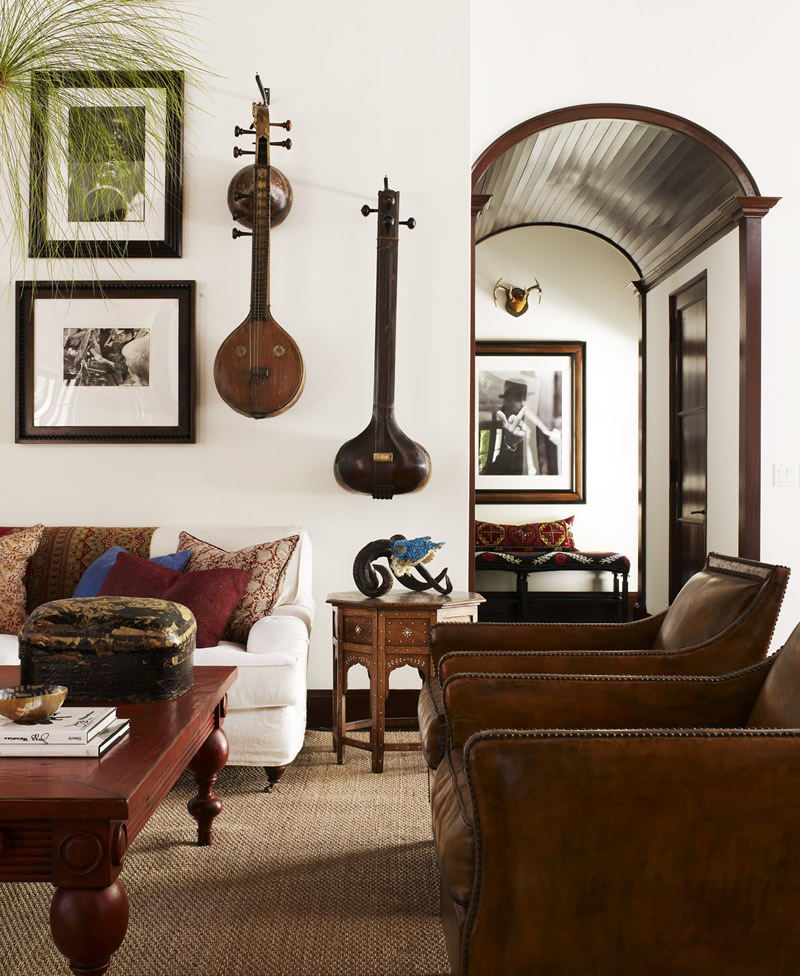 Image Credits: travelout.co.uk
3. Establish Focal Points
A lot of the time, people hide away their precious collectibles and pieces of artwork. But Boho interior celebrates your artistic side. You can create exquisite design plans for your living space and display a special piece of furniture you build or curated, or artwork with vibrant backdrops and lighting.
Create a focal point in several areas of your living room, bedroom, etc. to exhibit the décor that speaks to you. Not only does it create an ethereal feel in your living space but they also serve as conversation starters with your guests.
Read also – Contemporary Interior Design
4. Keep the Aesthetics and Energies Free-flowing
Most importantly, the thing to remember about Boho living is to keep the positive energies flowing. Your furniture and design ideas don't need to be perpendicular or even structured for that matter. All you need is a natural free-flowing environment.
Bohemian living focuses largely on mollifying the negative energies and attracting more positivity into your life. Therefore, as long as your home has a ton of natural light and airflow, the environment remains clean and balanced. And that is what Boho living is all about.
Remember, it's about capturing the natural vibrations of the elements and influencing them to brighten up your lifestyle.
And there you have it. The easiest and effective way to add aesthetic touches to your Bohemian home. It is all about the natural flow and reflecting your personal style. No matter how quirky your preferences may seem, trust your instincts and fill your home with exquisite design ideas.
Remember, the most important thing about incorporating Bohemian interior design is to keep your positive energies flowing and that is done best when you are surrounded by the things you love.