In today's post, we're reviewing the 7 best master bedroom decor ideas. Whether you're designing a new home, or simply redoing your master bedroom, we have the best tips and tricks for you!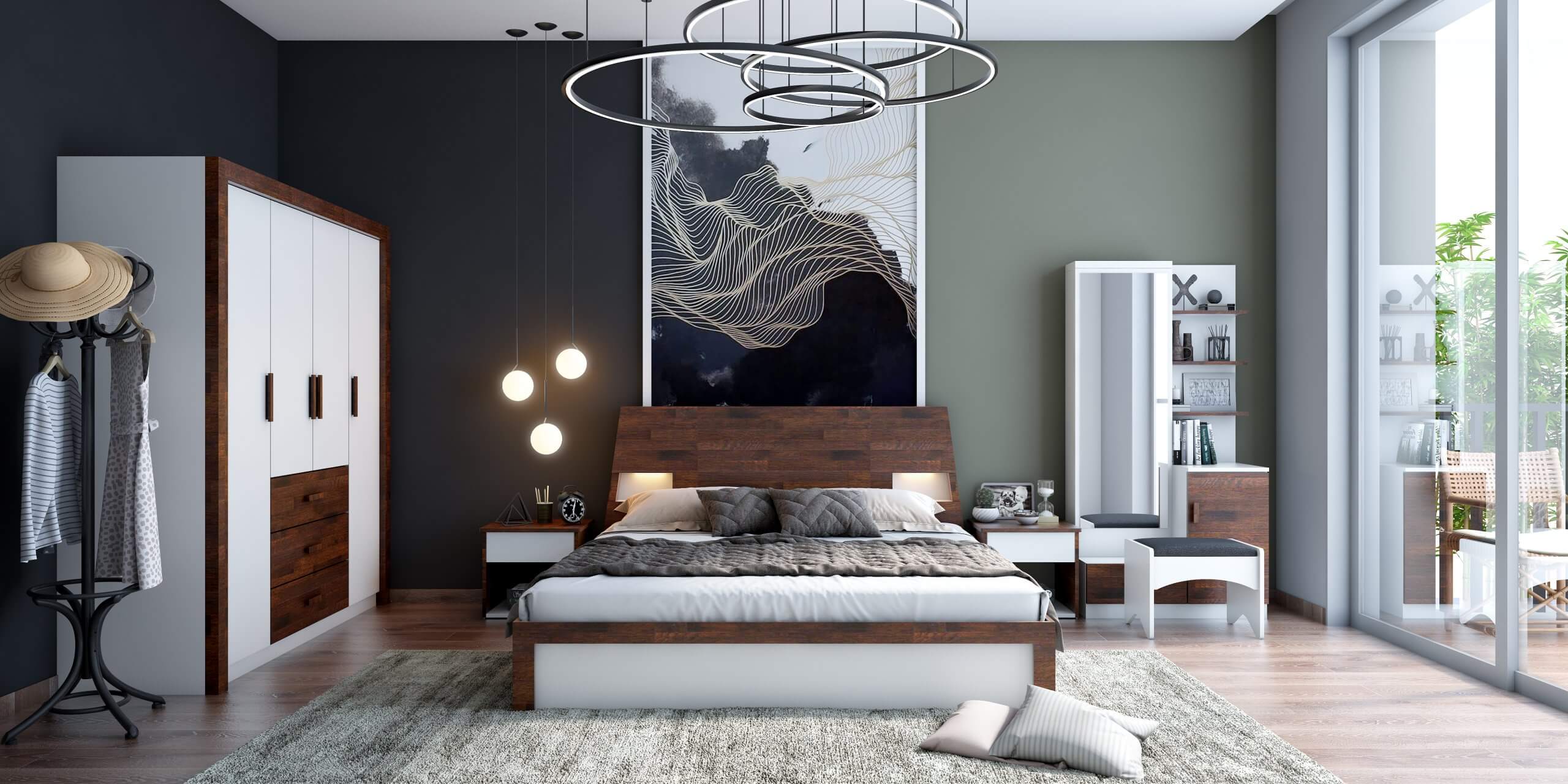 When it comes to a master bedroom, it's typically the case that you want to wake up in a room that fills you with happiness and positive feelings for the day. You also likely want to come home to a bedroom that is filled with relaxing, comforting elements after a long day at work.
Because the bedroom is so important in these ways, the process of designing your master bedroom should be given some extra thought and effort.
There are, however, a wide variety of different master bedroom decor ideas that you could use, all depending on the size of the space and your personal preferences.
If the task of designing your master bedroom is filled with uncertainty or anxiety, fear not! We at Foyr are here for you and will outline 7 of the best master bedroom ideas that you should consider for your own space.
But, before we get started, let's review a key question when it comes to master bedroom decor ideas: What do you put in a master bedroom?
What do you put in a master bedroom?
This is one of the most common questions we hear when it comes to designing a master bedroom. The answer could be simple – you put a bed in the bedroom!
However, we both know that the master bedroom can and should be more than simply a bed. It should include elements that make you feel relaxed and comfortable, as well as practical products like dressers and nightstands.
Of course, the specific layouts and furniture within a master bedroom can be quite varied, depending on how much space you have and the elements that would make the master bedroom work best for you.
As such, when designing your master bedroom decor, your first thoughts should typically be about the bedroom's size. How much available space do you have in your master bedroom? What furniture would fit best in your layout? Is there anything that wouldn't fit well but feels like an essential for your space?
Once this thinking is done, in order to fully determine what you should put in your master bedroom, you should next consider factors like your preferences and functionality. Is your bedroom going to be solely for sleeping and getting dressed? Or do you want any areas for doing work or hanging out? Do you need separate spaces for you and a partner?
These thoughts and questions will help you determine the layout of your master bedroom, so you can make space fit all of your necessities, preferences, and styles.
With these in mind, we're now ready to tell you our list of the best master bedroom decor ideas, so you can create the best design for your space!
Here are the 7 best master bedroom ideas you should know about:
Choose your bed wisely
Flooring should look as good as the walls
Adjust the master bedroom lighting
Use multifunctional furniture
Add floating shelves
Include ample storage space
Accessorize with decor
1. Choose your bed wisely
Remember, your master bedroom will need to accommodate more than just your bed. There needs to be enough space for any additional furniture, like dressers or tables – as well as enough empty space so the room does not feel crowded. Thus, our number one master bedroom decor idea is that you choose your bed wisely! Ensure that the product you choose gives you enough clearance space around your bed. And, importantly, do your best to choose a bed that both fits these requirements and feels relaxing and inviting to you.
2. Flooring should look as good as the wall
Oftentimes, when designing a master bedroom, people focus on the elements that are at eye-level – the bed, paintings, wallpaper, etc. But, the flooring is just as important as these aspects! Whether your floor consists of hardwood, carpet, or another material, you should consider the ways in which the aesthetics of the floor fit in with the rest of your space. If your floor feels empty, add an area rug! If your space feels cramped, try making the floor light-colored to give the illusion of more space.
3. Adjust the master bedroom lighting
Imagine this – you walk into a spacious master bedroom… only to be struck with harsh fluorescent lighting. That doesn't sound ideal, right? We didn't think so. That's why our third tip on this list is to adjust your master bedroom lighting! You can simply replace any light bulbs in your room with softer tone options, or you can add a stylish lamp or two to your master bedroom. Whatever you choose, just ensure the room is a relaxing space, so you can ensure a restful night's sleep.
4. Use multifunctional furniture
Furniture is bound to be one of the most space-consuming items in your master bedroom. As such, one of the oldest solutions in the book is to choose furniture that can serve more than one purpose. For example, a futon sofa can serve multiple purposes – both a couch and a bed – and there are a variety of tables in the market that can also be converted to desks or other furniture.
5. Add floating shelves
One of our favorite master bedroom decor ideas is to add floating shelves along your walls. Not only will this save you floor space – which comes in handy for small master bedrooms – but it will also let you decorate your room in a modern, clean fashion. When thinking about master bedroom paint ideas, we suggest using light, soft tones and matching the shelf colors to the wall colors. This will give your master bedroom a cohesive look and make the shelves feel like a true floating illusion.
6. Include ample storage space
Our next tip is helpful for any master bedroom – but it's especially useful if you're looking for small master bedroom ideas. That tip is: include ample storage space! If you store away your personal items, out-of-season clothes, blankets, and more when not in use, then your space will feel much more open and clean. We recommend using the space under your bed to tuck away bins; or, you can choose furniture for your master bedroom that includes built-in storage, such as nightstands with shelves or drawers.
7. Accessorize with decor
Our final master bedroom idea is to accessorize your space with stylish decor. Though this may seem like an obvious tip, there's one important detail to keep in mind. The decor that you use in your master bedroom should directly correlate with the rest of the space, in terms of styles and colors. That is, be sure to only choose decor that feels coherent with the rest of your master bedroom. Otherwise, your space will begin to feel mismatched and cluttered. This is especially true when dealing with small master bedrooms, as these have a tendency to feel cramped to begin with.
Whether you are looking to design a master bedroom, or you're just interested in the different master bedroom design ideas out there, we at Foyr are here for you!
To make the design process even easier – and to get even more master bedroom inspiration – we recommend you check out Neo, our lightning fast interior design software. This tool comes with a massive catalogue of world-class design presets that can inspire designs for master bedrooms of all shapes and sizes. You can browse through the collections, filtering by different styles and themes, to find one that works for you!
For these master bedroom design ideas and inspirations, sign up for a free 14 day trial of Neo! No strings attached 😊

P.S. We're a brand new software and always looking to improve. If you need a product or feature that is not currently available, let us know, and we'll work with you to make it a reality.