The 'master' before the bedroom in the word master bedroom indicates the significance of this part of the house; the room that you share with your significant other is home to the most important and intimate memories you share with him or her. Some people are lucky enough to have a large master bedroom with space for a king size bed, dressing table and cabinets, and a large bathroom that is the ideal place for a long relaxing bath. However, space constraints do not mean that you need to curb the passionate decorator within you! The key to decorating and enhancing your master bedroom is to make smart use of space and experimenting with options for furniture, especially storage. 
Here, we have put out a list of ideas for the colour scheme, furniture options and other decors for your master bedroom. Pick away and have a great time with the ideas!
1. Bedding
The bed is the most iconic piece of your master bedroom, so make sure that you choose a bed that is aesthetic and comforting for both of you. Experiment with all the features you wanted- memory foam mattress and ideas for master bedroom or a king size bed. Make sure that your sheets, blankets, and pillows combine together to provide an attractive pattern. For example, you could get a catchy and aesthetic pattern for your sheets and go solid for your pillow covers and blanket or comforter. Ensure that the colour scheme of your bed matches the colour palette of the room.
One way you could ramp up your bedding is by accentuating your bed with an upholstered headboard. This makes your bed cozy and is an extremely comfortable addition to watch movies or read a book with your partner cozily on the bed. Alternatively, you can opt for skinny frames that don't occupy much space and create a spacious look. Placing vintage shelves on either side of the bed also defines the bed and also provides a place for storage.
Currently, people are looking at designing master bedrooms that are a complete oasis of relaxation. Master bedrooms are not just meant for sleeping in, but the place where you interact with your significant other or even take some time alone. You could add a basic seating arrangement in the master bedroom using cozy bean bags or a couple of stately armchairs for some reading.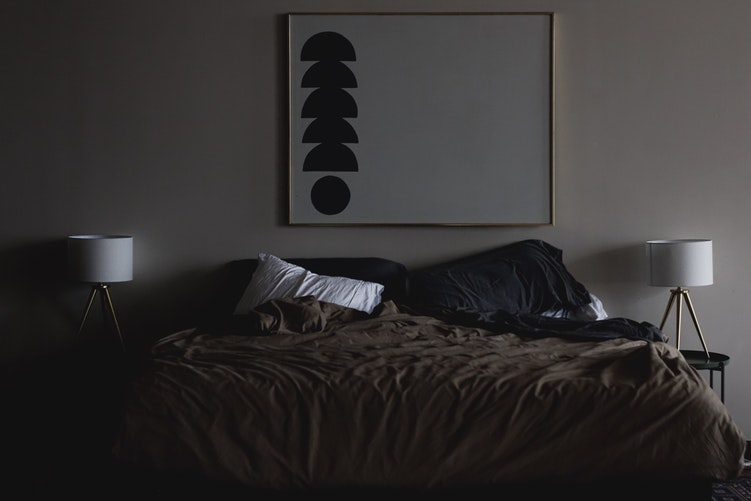 Image credits: Unsplash.com
2. Furniture and Appliances
One setting that adds glamour to your master bedroom is a classy place for dressing. You do not need space to add a large dressing table to make your master bedroom look regal, they are a lot of minimalistic options that can add glamour. You could mount an elegant mirror on the wall and pair it up with a small double shelf to stores accessories and makeup. You could buy a simple stool that can be put away under the shelf when not in use. You can aesthetically spice up this arrangement by fixing lighting around the mirror.
Another issue in a master bedroom is the question of where to place the television. Fit your television into the structure of a cabinet so that it is unobtrusive to the aesthetics of your room; a roll down cabinet which can cover the television when not in use is a great option like a delightful tropical porch of interior designing.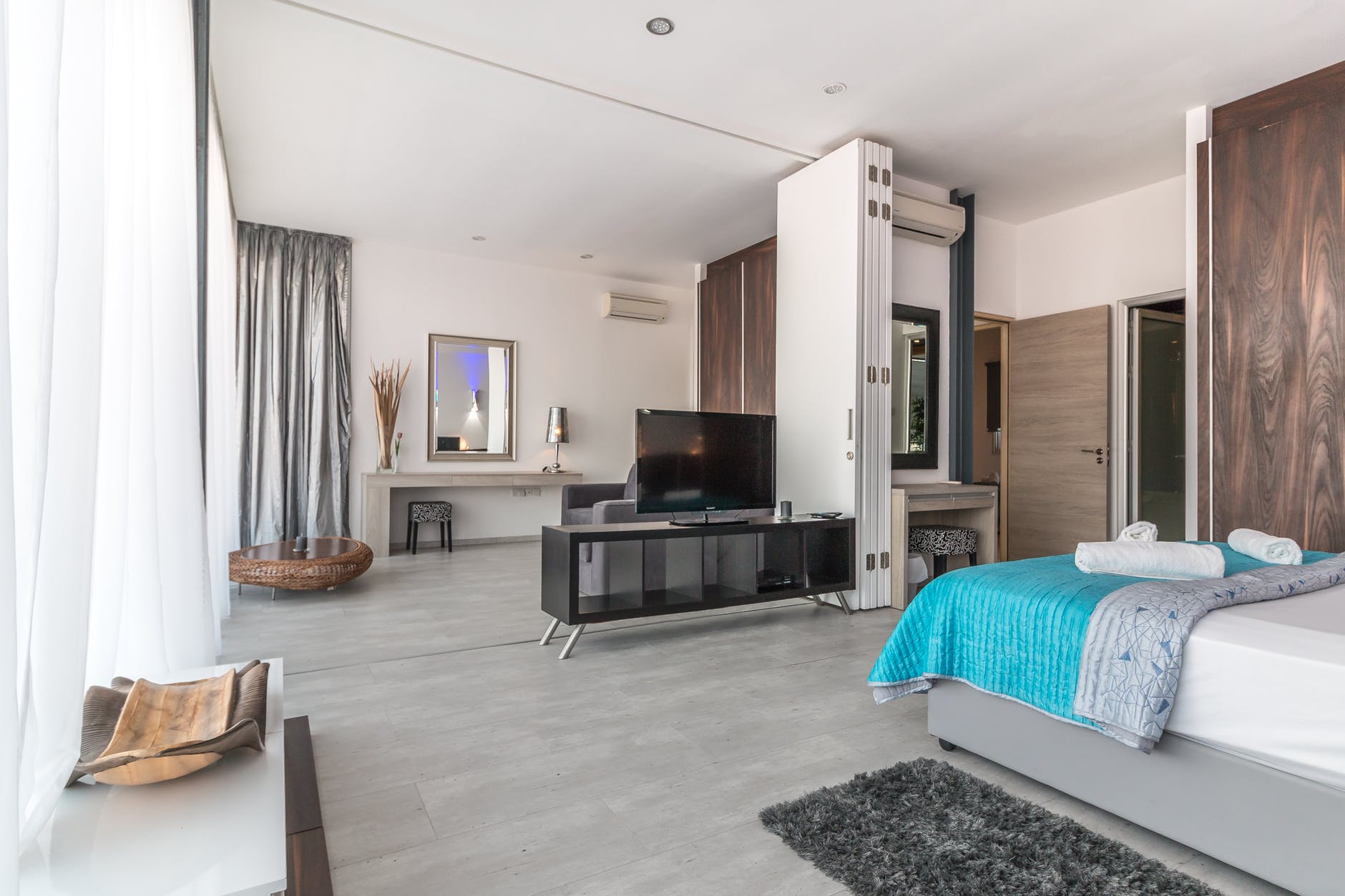 Image credits: Pexels.com
3. Storage
Storage is another aspect you need to concentrate on. Rather than hiding away cabinets for storage, try to make your storage arrangement aesthetic. One of the most common options is a double door inbuilt closet system, usually with rich wooden doors. While not everyone can afford the luxury of a large walk-in closet, place ample drawers and hangers in your closets for all kinds of clothes.  For books and appliances, you could employ open shelves, even as a divider as mentioned above. This shelve will make your master bedroom look bigger. Using this space to place memorable showpieces like photographs or antiques will add a beautiful touch of life to the room.
If you fancy a traditional touch to your storage, you could use a trunk to store extra bedding and heavy linen that warrant occasional use. This can also act as an alternative for a loft, as you can invest in ceiling height inbuilt cupboards instead of maintaining a separate loft system. Another way to integrate storage into your master bedroom is to have a storage-based seating arrangement. If an armchair is not possible due to space constraints, a window seat or a   can serve as great alternatives for seating. You could place deep-seated drawers along the window, and prep the top with a comfy duvet and a splash of coloured cushions with furniture and fixtures.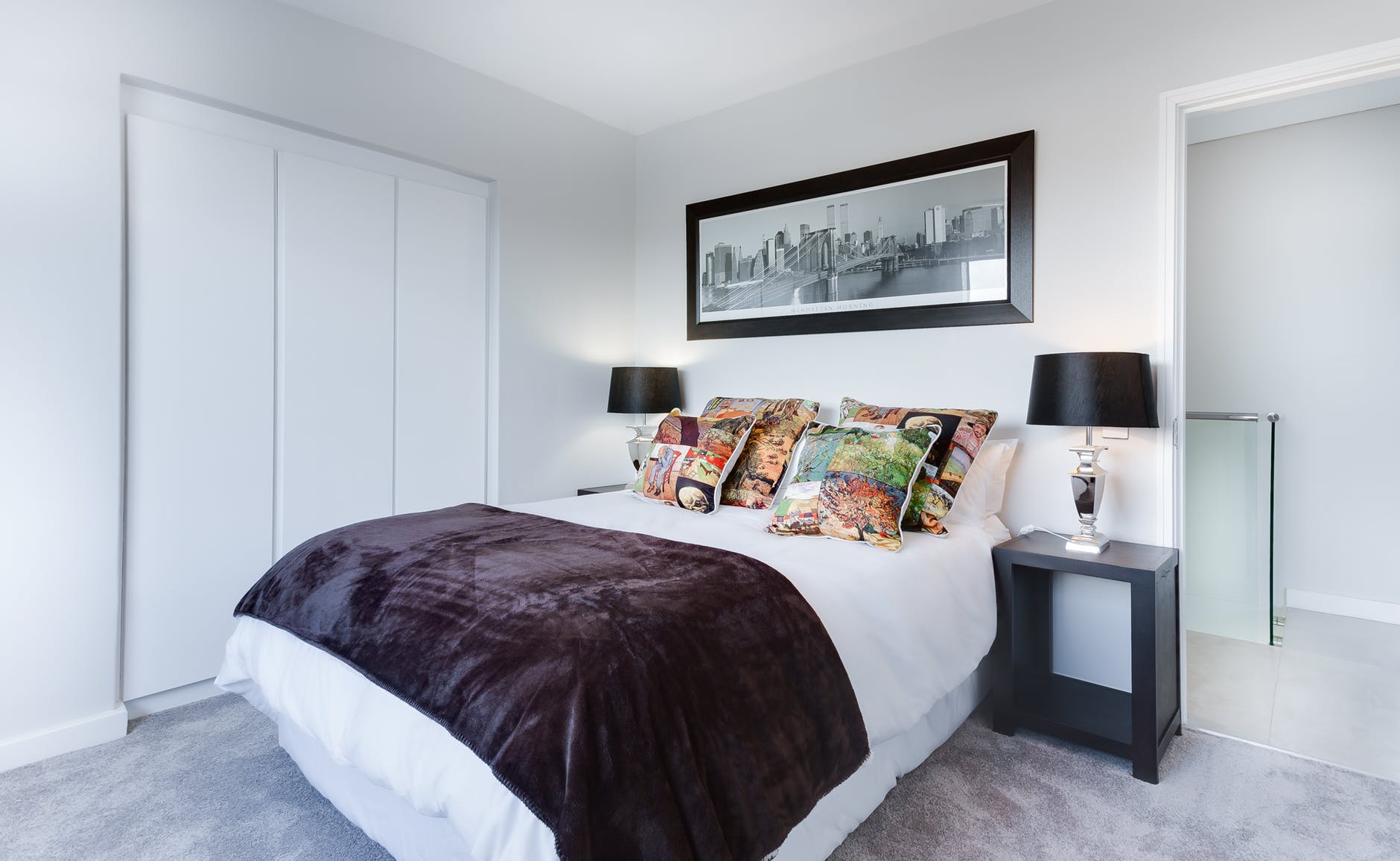 Image credits: Pexels.com
4. Colour and Lighting
This is an integral part of the master bedroom as it influences the aesthetic appeal of all the other aspects. Warm and neutral shades of ivory, light blue and cream are the safest options for any master bedroom. If you fancy a splash of colour, you can always add an ethnic or patterned wallpaper to one wall of the master bedroom. Complement your wall paint with carpeting and decor ideas. Another way to add substance to your master bedroom is to invest in art and antique. These will be the most significant reflection of your personal choices, so indulge in your visual buds as much as you want!
In terms of lighting, the best option is to go natural. Invest in classic glass windows, even French windows to fill your bedroom with warmth. Experts suggest that drapes are better optional than curtains for large bedroom windows. Apart from natural ventilation, invest in well-constructed lighting that brings a sense of serenity. Pendants near the bed, or plug-in wall lights for reading can be refreshing options apart from classic bedside lamps.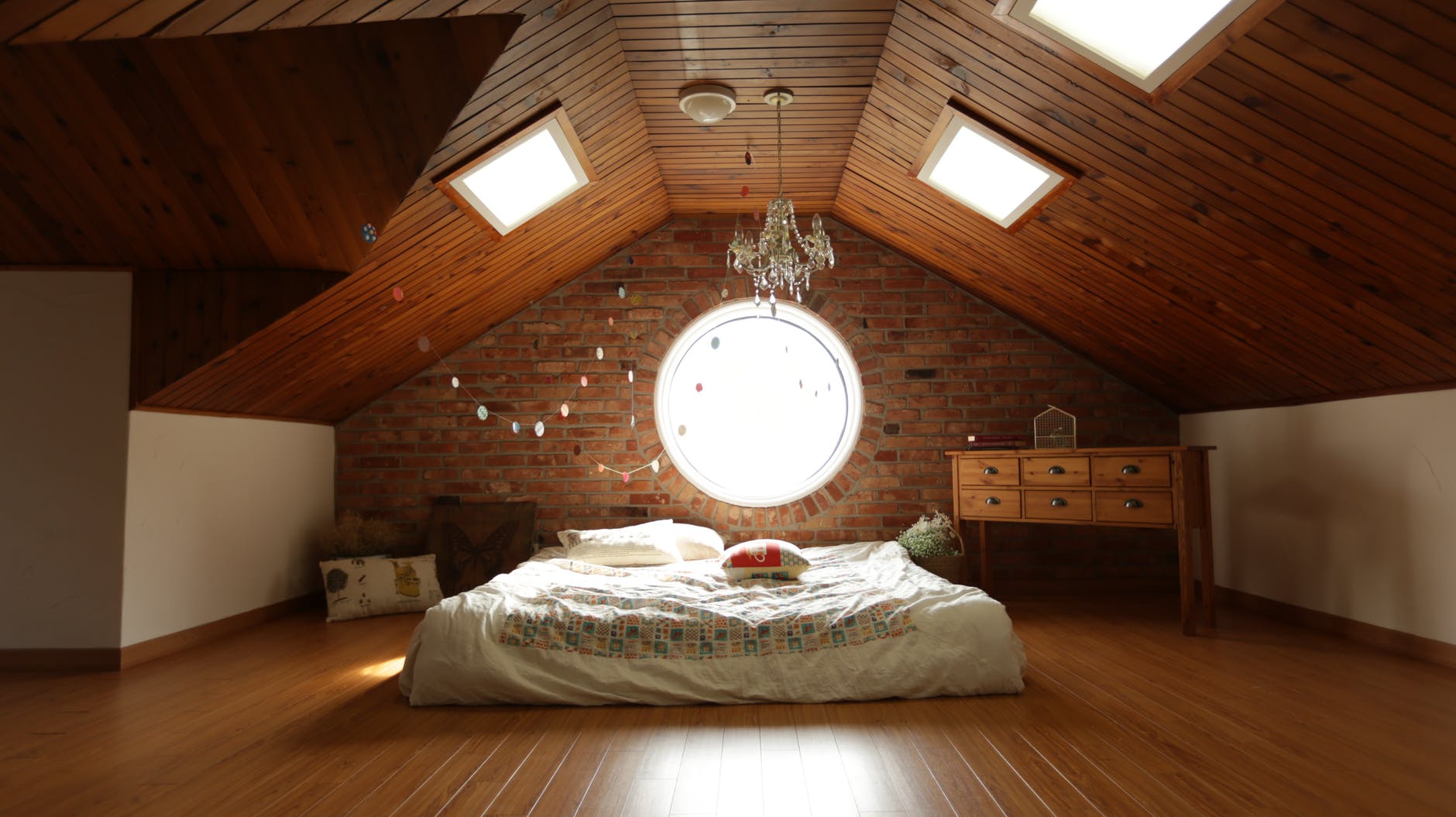 Image credits: Pexels.com
The master bedroom is the rawest reflection of both of your individual styles, as well as the bond that you share while accommodating each other's tastes. Hence, it is very important to decorate your master bedroom in a gorgeous and cozy manner that appeals to both of your aesthetic sense without clashing with one other.
Click to rate this post!
[Total:

0

Average:

0

]