Your home is your sanctuary but the master bedroom is your fortress of solitude. It is the largest, most comfortable room in the house that you built for your absolute convenience right?
Well, it deserves to be treated like royalty too because it is the only space in the house where you can close the door and convert a bedroom into a small studio, within the house. You have everything you need to relax: a comfortable bed, a huge wardrobe for a montage, a coffee nook, a view from the lounging area, a master bathroom with a tub, and we could go on but these are your necessities, aren't they?
Given how well this room serves your needs, let us take a look at a few master bedroom decorating ideas to customize it to your liking and make the space feel cozier.
Interior design ideas to inculcate in your master bedroom
The ideas we will discuss are customizable. Therefore, based on the motif of your home remodel, you can choose styling options that best suit your sensibilities. You can also incorporate a bedroom design that is not on par with the theme of the house. The entire living space is common but the bedroom is a private space that should entirely reflect your personal choices and style and as a homeowner, it is completely your prerogative.
1. Start with the color scheme
Every good makeover starts with the color palette.
Keeping in mind the purpose of a bedroom, there are a few bedroom design ideas you could try individually or mix them up as you go.
For small spaces, especially in New York, consider a white bedroom. Start with white walls, white furniture, and white doors. You could add a pop of color with vibrant decor items that have reflective surfaces. This bedroom design refracts the incoming light and makes the space feel bigger and cleaner.
For modern bedrooms, consider a trendy black and white theme. While the drapery and bedroom furniture can be black or gray, you can have white bedding with geometric prints on the duvet for a pop of color. You could also embrace the yin and yang concept and install wardrobe fixtures to reflect that. Keep neutral colors on the walls for a blank canvas and add a hue of yellow with table lamps on dark bedside tables.
For more vibrant master bedroom designs, you can opt for muted paint colors for the bedroom walls and introduce a touch of brown with dark wood and colorful BOHO patterns. You can also have a Victorian-themed master suite with jewel tones and golden accent walls. Your furniture colors can also be vibrant and you can add a touch of natural elements such as green, yellow, and brown.
If you like a vibrant bedroom that inspires passion, go for a red and gold color scheme. Although, you must remember to combine these colors with other neutral colors because red inspires rage too, which is not a sentiment you want in the bedroom.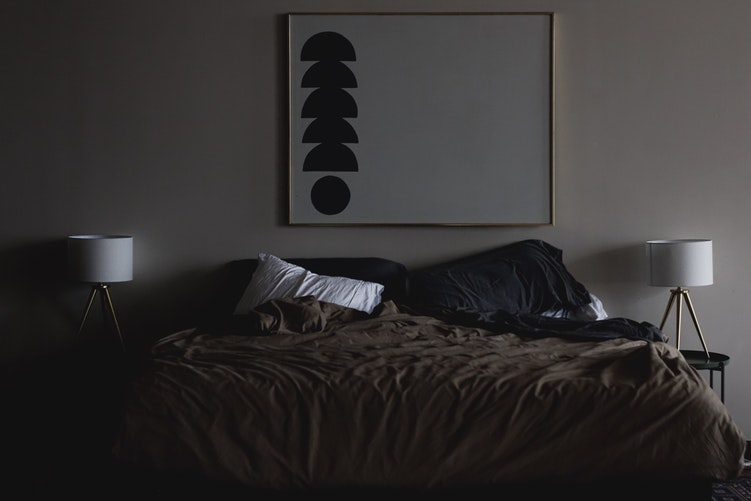 2. Next, we have the bed
The design of your bed pretty much dominates the look of the bedroom therefore choose a style that befits your taste.
You could have a King or Queen-size bed or a double King if you have room for it. Consider exquisite threadwork and comfortable bedding that even looks as soft as a baby's skin.
If you like a bit of royal treatment, go for a canopy bed. The drapery above can be made of fine silk or mesh as per your comfort. Either way, it adds style and elegance.
For rustic bedrooms, you can choose bedposts over modern bed designs. You can mix it up with BOHO touches by hanging beads and strings around the edges.
3. A headboard pattern that brings you comfort
The headboard designs add a lot of comfort and style to your master bedroom design.
You could choose an all-wood headboard with delicate craftsmanship and design. They are also great for a built-in bookcase behind the headboard or maybe a space to hold small but necessary trinkets.
Another idea would be to install an upholstered headboard that is either attached to your bed or the bedroom wall itself. These are elegant solutions for Victorian and rustic bedrooms. You can add them to a modern bedroom as well if you keep the design colors black or grey. The pin-cushion styling is particularly exquisite.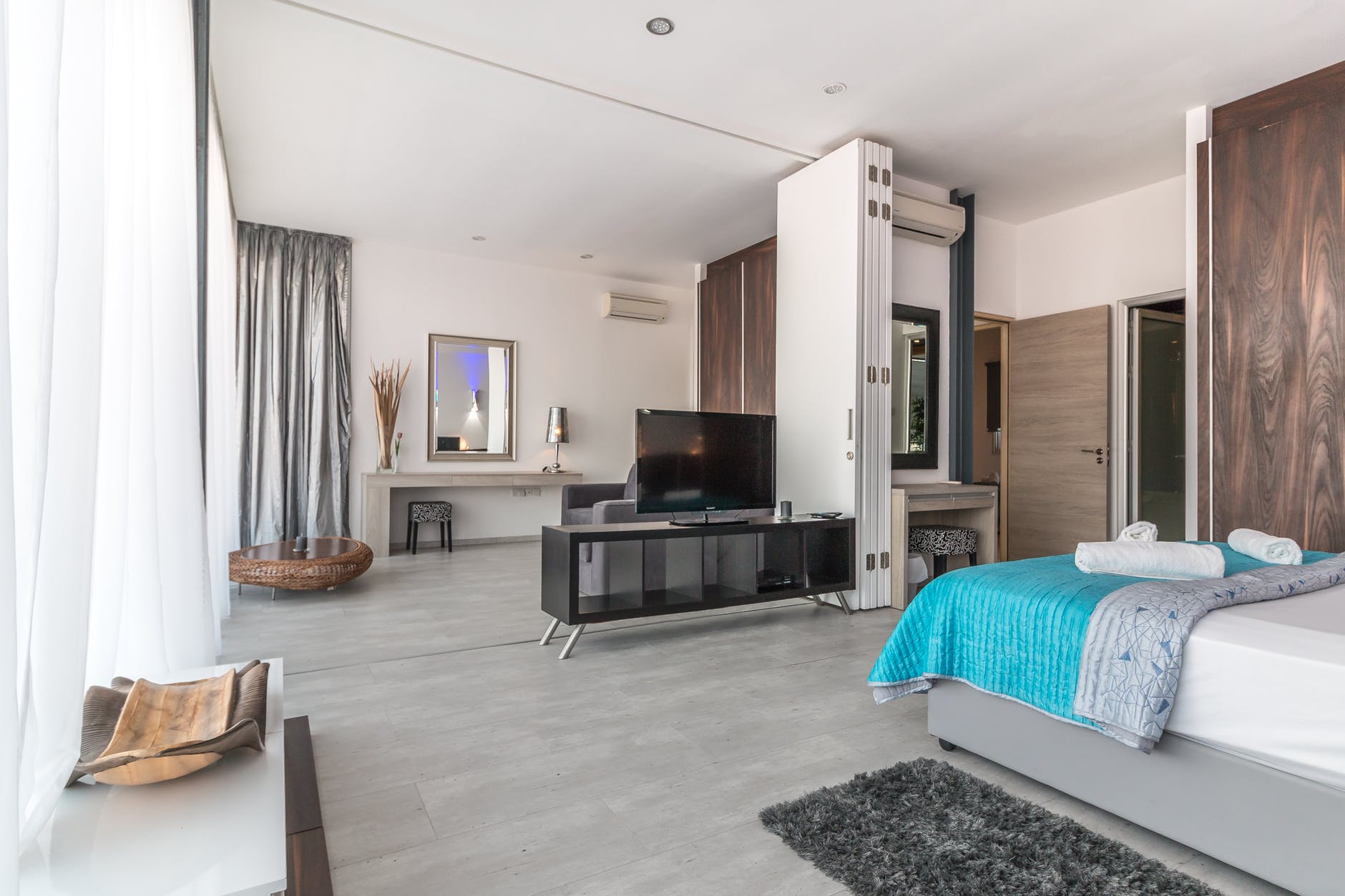 4. Do you like bedside tables?
Your bedside table is dedicated to holding your necessities and the bedside lamps.
If you prefer bedside tables then use clean edges for modern and minimalist bedrooms. For a touch of craftsmanship, you can opt for bedside tables with cubies and drawers that have ornate knobs and attractive woodwork.
You can decorate the bedside table with knick-knacks and an ornate table lamp with a beautiful lampshade. If you have drawers on your bedside table, they can hold your reading glasses, small items, and whatnot.
5. How about the foot of the bed?
An ottoman at the foot of the bed works for any beautiful bedroom design.
For minimalist homes, you can have an ottoman with storage facilities. For Victorian bedrooms, consider ones with claw feet and an ornate top. For modern styling, you can have clean edges and lines with dark color schemes and comfortable seating.
6. And the wardrobe to start your day
The wardrobe is another very important piece of bedroom furniture that contributes to your master suite in a big way. It is where you pick out your clothes for the challenges of the day and where you store all your expensive accessories.
Since this is the master suite, it is safe to assume that you have a little more space than your guest bedrooms or teen rooms. Think about adding bigger closet space.
For luxe bedroom designs, consider a walk-in closet with sliding or swinging doors. You can have shelves dedicated to clothing, categorized as per the occasion. You can also have large drawers to contain all your accessories such as sunglasses, belts, watches, tie clips, cufflinks, etc. You can even have a dedicated section for women's treasured jewels and dress accessories and a built-in shoe rack.
For small bedrooms, consider built-in wardrobes with sliding doors. They save space but still add to the design plan. You can have ornate doorknobs and large shelving to hold all your neatly-arranged clothing and linens too.
If you prefer antique bedroom furniture, you can always get an antique wardrobe with some styling. It makes for a beautiful bedroom design.
7. Perhaps a coffee nook for your special time
Carve out a space for your coffee and breakfast. Instill a small coffee table and a couple of comfortable chairs by the window for an exquisite view while you enjoy your morning time.
You can also install a chaise lounge by large glass windows or French windows for some vigor. This space is not only good for breakfast and snacking but also to chill out when you want to read a book or spend some time looking out at the beautiful skyline on a peaceful evening.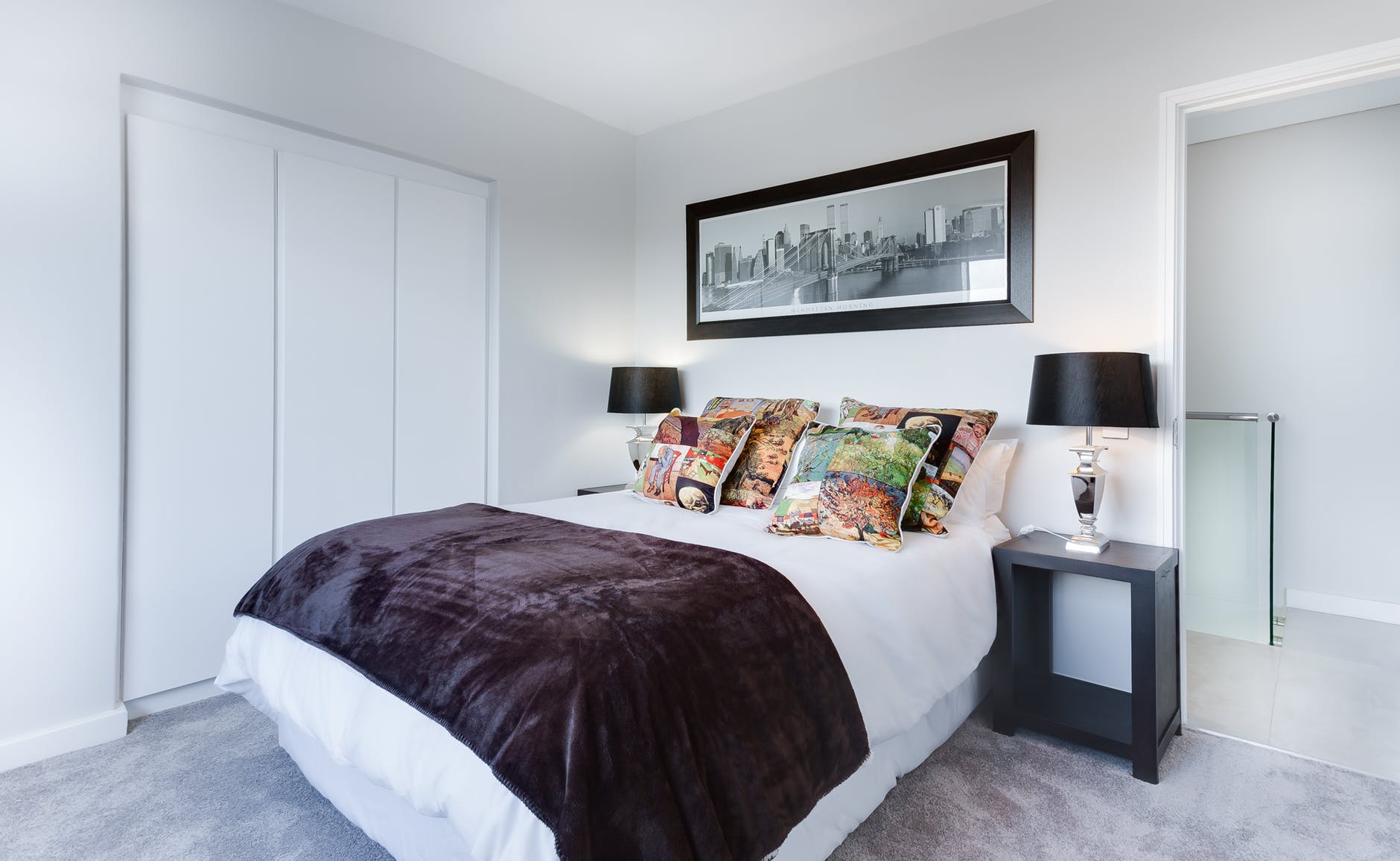 8. Window treatments are very important
Although we all prefer large windows that allow the natural light and a cool breeze to circulate the room, you need appropriate window treatments too. You don't want to be woken up by the morning sun on a lazy Sunday or, if you live at a lower elevation, you certainly need your privacy.
Consider the textiles you use in your window treatments. You can have thick curtains and blinds to block out the light but avoid shutters. Make sure that the design patterns of the drapery befit home decor for your room. You can also have a thinner layer of window treatments on the inside for those times when you wish to close the blinds but still want a little light streaming in.
9. Chandeliers, sconces, or lampshades?
All good choices for lighting fixtures in the master bedroom involve accents and effects.
If you have a very large space, such as a penthouse, you can have a chandelier in your room but keep it centralized, not over your bed.
For a cozier bedroom design, we suggest a combination of ornate sconces and lampshades. You can make DIY ones too with very little effort to personalize the living space. You can also add twinkling string lights around the coffee nook, the headboard, or the window treatments for some flair.
Another option is to run LED lights along the perimeter with a dimmer switch. It will illuminate the bedroom when you need brightness ad you can always dim it down during bedtime.
10. Now for the wall decor
The wall decor in your bedroom should be classy and inspiring.
Consider themed artwork with a positive message. It could be an abstract piece that enlightens the plights of the world or something that is closer to home. It can be brushwork that you created, or you can frame a bunch of DIY items and hang them on the wall.
For luxe interior design, consider personal portraits of yourself or you and your spouse and hang them above the headboard. You can use an eloquent textile to create a focal point with an elegantly hanging tapestry.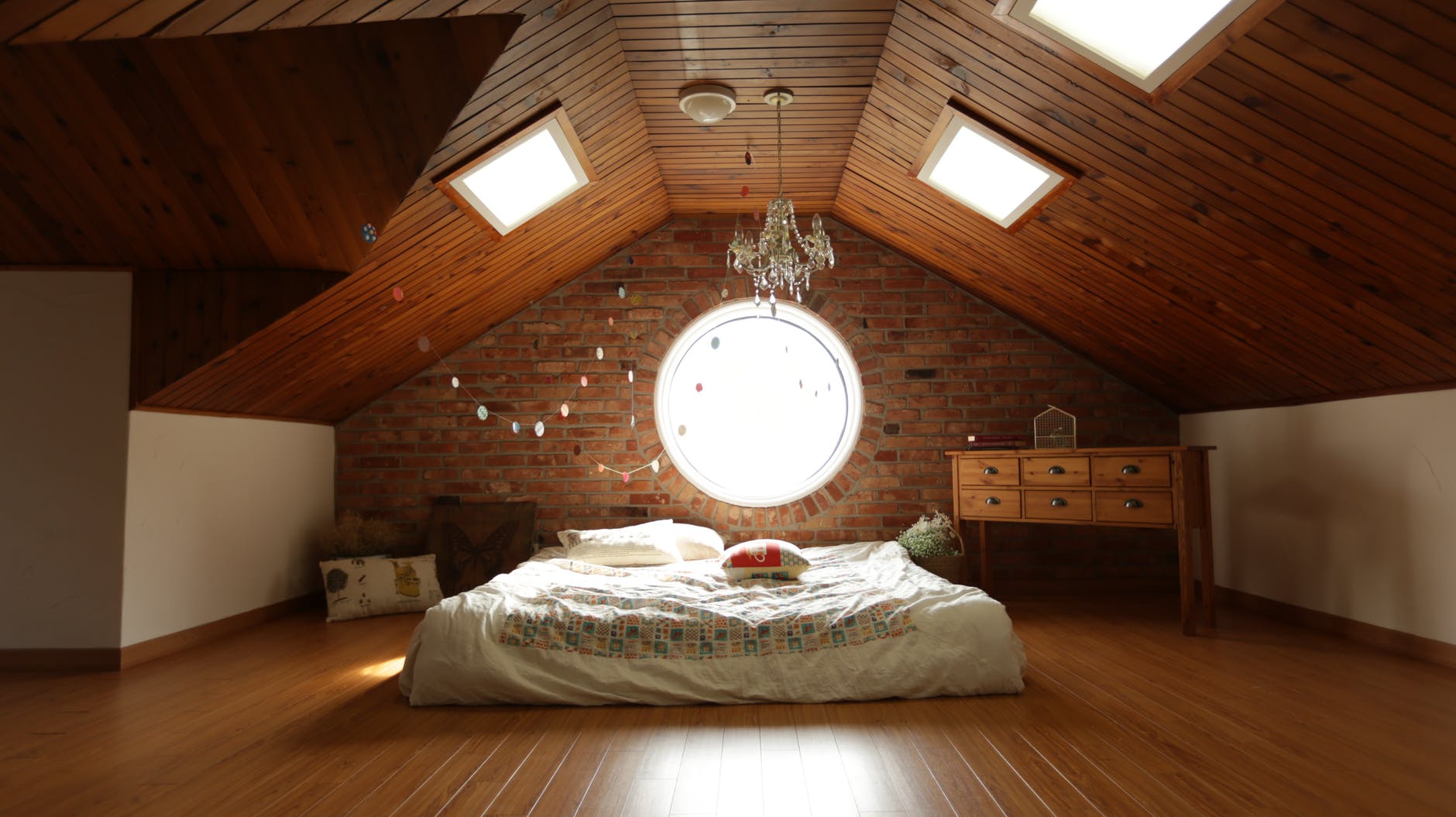 11. A splash of greenery
Plants are good for all sections of the house.
Consider using tufted plants for the coffee table and bedside tables. You can have large flowering or non-flowering pots by the window. You can even hang baskets from the ceiling that contain both real and artificial plants.
The vibrant colors of these houseplants and flowers add to your color scheme and make the space feel more welcoming and warm.
12. Tie it all together with area rugs
You can have area rugs around the bed, the coffee nook, outside the bathroom door, or create a cuddly seating by the fireplace with some throw pillows. These ornate beauties add a pop of color and elegance. You can choose from a wide selection of faux fur, cotton, handwoven designs, natural sheepskin, and so much more.
In small spaces, area rugs help create distinct sectionals and make the room feel bigger. Sure they keep your feet warm but they also contribute to the design trend of your master bedroom.
Conclusion
You see, a home office needs some vigor to inspire you, the living room calls for decorating ideas that stimulate conversation and make for an amazing place to hang out, the guest bedroom is for visitors, and every inch of the living space serves a purpose for the general household.
Except for the master bedroom.
When you're locked at home during a pandemic, this is your fortress of solitude. Decorate it such that it reflects your personal choices and makes you feel content.
We hope you find these interior design tips particularly helpful for your bedroom makeover. Give some thought to the bedroom furniture, textiles, and decor. You'll be astounded by the results.