Home » Design Ideas & Inspirations » 6 Best Bathroom Lighting Ideas For All Bathroom Design Styles
Bathroom Lighting Ideas
"Cleanliness is godliness."
The bathroom is a highly under-rated area in any household. We tend to disregard this simple space as it only serves primitive purposes, or so we take it for granted.
Have you ever thought about what it would be like if you didn't have a designated bathroom in your house?
A bathroom separates our standards of living from those of the ancient civilization. It provides a space for us to clean ourselves, expel all bodily wastes, and even relax in a bathtub after a long and tiring day.
Therefore, bathroom remodels, much like the interior design of your dining room, living room, kitchen, etc. require just as much attention and forethought. More importantly, the lighting in your bathroom needs special attention.
Read also – Best Kitchen Lighting Ideas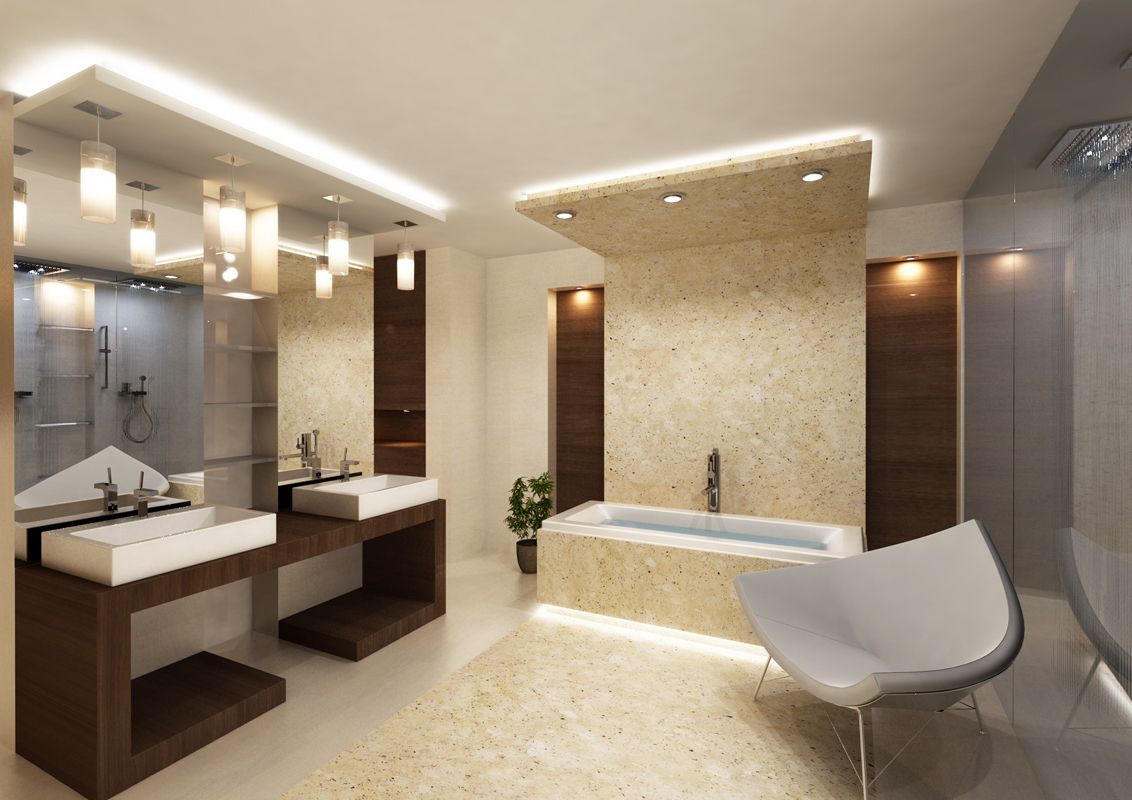 Image Credit: Pinterest.com
Top Bathroom Essentials While Setting Up The Lighting:
Although highly neglected, the bathroom is a necessity, and for it to serve its purpose with valor, here are a few bathroom essentials that you must bear in mind during the home makeover:
1. The Plumbing
Faucets, Fixtures, and pipes are the primary necessities in your bathroom. Not only do you need a steady supply of water but also convenient faucets and fixtures. You need to modulate the water pressure in your pipes and check the quality to ensure that they can carry the load and pressure with ease.
2. Furniture and Installations
The installations and furnishing in your bathroom need not be as explicit as those in the living room, bedroom, or dining room. However, simple things such as cabinets under the sink, shelving, bathroom vanity with a dresser, bathtub, shower stall, bath bar, countertops, wall mirror, and even a towel rack are necessities to complete the bathroom remodel.
3. Electrical Sockets
You need viable and compatible sockets for your hairdryer, geyser, straighteners, air fresheners, maybe even the chargers for your electric razor or sometimes your cell phone.
4. Light Fixtures
The bathroom ambiance certainly does not call for crystal chandeliers or lampshades as such. However, it is pivotal to install appropriate lighting fixtures in your bathroom. Wall sconces, light bulbs, vanity lighting, ceiling lights, and pendant lights can all work wonders in this underrated space.
5. Bath and Beauty Products
Lastly, you need the bath and beauty products that you use to cleanse yourself. Soaps, scrubs, hand soap dispensers, loofahs, face washes, moisturizers, shampoos and conditioners, hair serums, shaving foams, and whatnot are all essentials in the bathroom.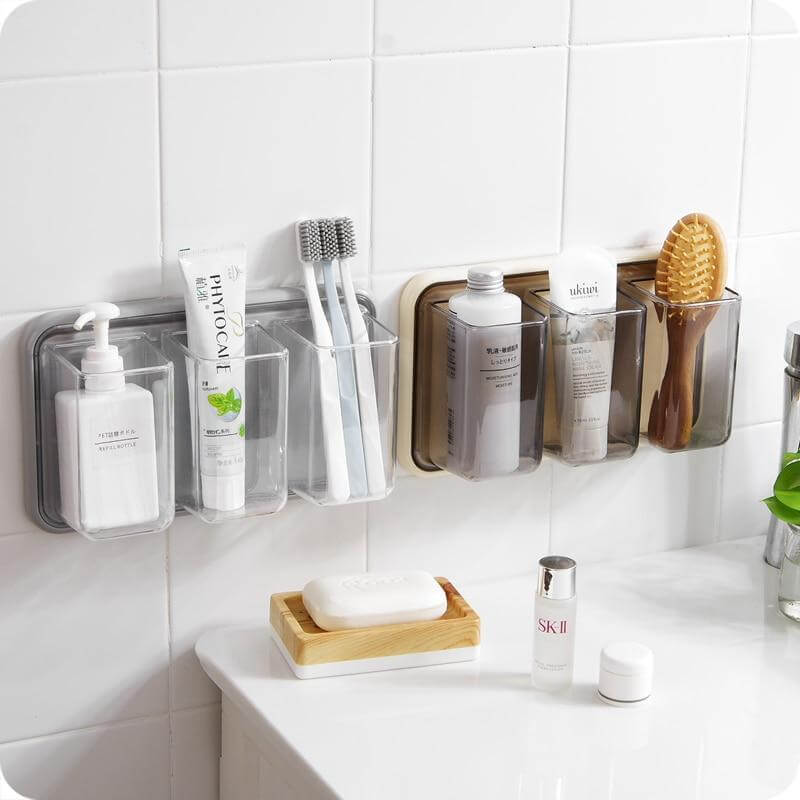 Image Credit: homebnc.com
A bathtub or shower stall is what converts a simple powder room into a bathroom. The furniture, fixtures, and installations transform a small bathroom into a master bathroom. An attached bathroom in a room entitles it to the master bedroom.
Everything is connected to the bathroom. The bath products and air fresheners add fragrance to this neglected space. The electric sockets provide you with additional options for your daily routine.
Lastly, this is the area where you shed all the dry skin, dirt, grime, infectious substances, and whatnot. Therefore, isn't it pivotal that you can see properly?
Today, we will discuss some amazing bathroom lighting ideas to help you adequately brighten up this underrated room that transforms your home into modern living.
Read also – Standard Bathtub Dimensions
The Importance of Bathroom Lighting
The light fixtures in the bathroom are meant to illuminate the space sufficiently for all those times when you perform critical tasks such as shaving, grooming, bathing, and even cleaning the bathroom.
In the case of a smaller bathroom, one light may be enough to illuminate the entire area. However, if it is a master bathroom, then you will need critical lighting in strategic places.
Additionally, it is important to have a ceiling light or vanity lights around the side of the mirror. But these must be placed in ideal locations so that they do not produce glare or strong reflection. Hence, bathroom lighting must be planned with precision. Take some time to determine the floor space, glare, and shadow effects to identify the perfect places for your bathroom light fixtures.
Read also – 10 Best Home Remodeling Ideas
6 Best Bathroom Lighting Ideas for All Bathroom Design Styles:
1. LED Lights
The overall atmosphere and ambiance in the bathroom are meant to be sufficiently cozy. LED lights make great sources as they emit low heat which helps maintain the equilibrium of temperature in the bathroom.
These LED lights have become quite popular in recent times due to their ability to conserve energy, thus keeping the bills to a minimum. Consequently, even if you accidentally forget to turn off the bathroom lights or have a habit of leaving them on to avoid nightlights, then these LED lights have your back.
Another benefit of using LED lights in your bathroom is that they illuminate the space evenly. Whether you prefer embedded ceiling lights or encase them in glass shades, the light source distributes consistently in its overall coverage area. They also last a lot longer than regular light bulbs.
Read also – Best Home Decor Ideas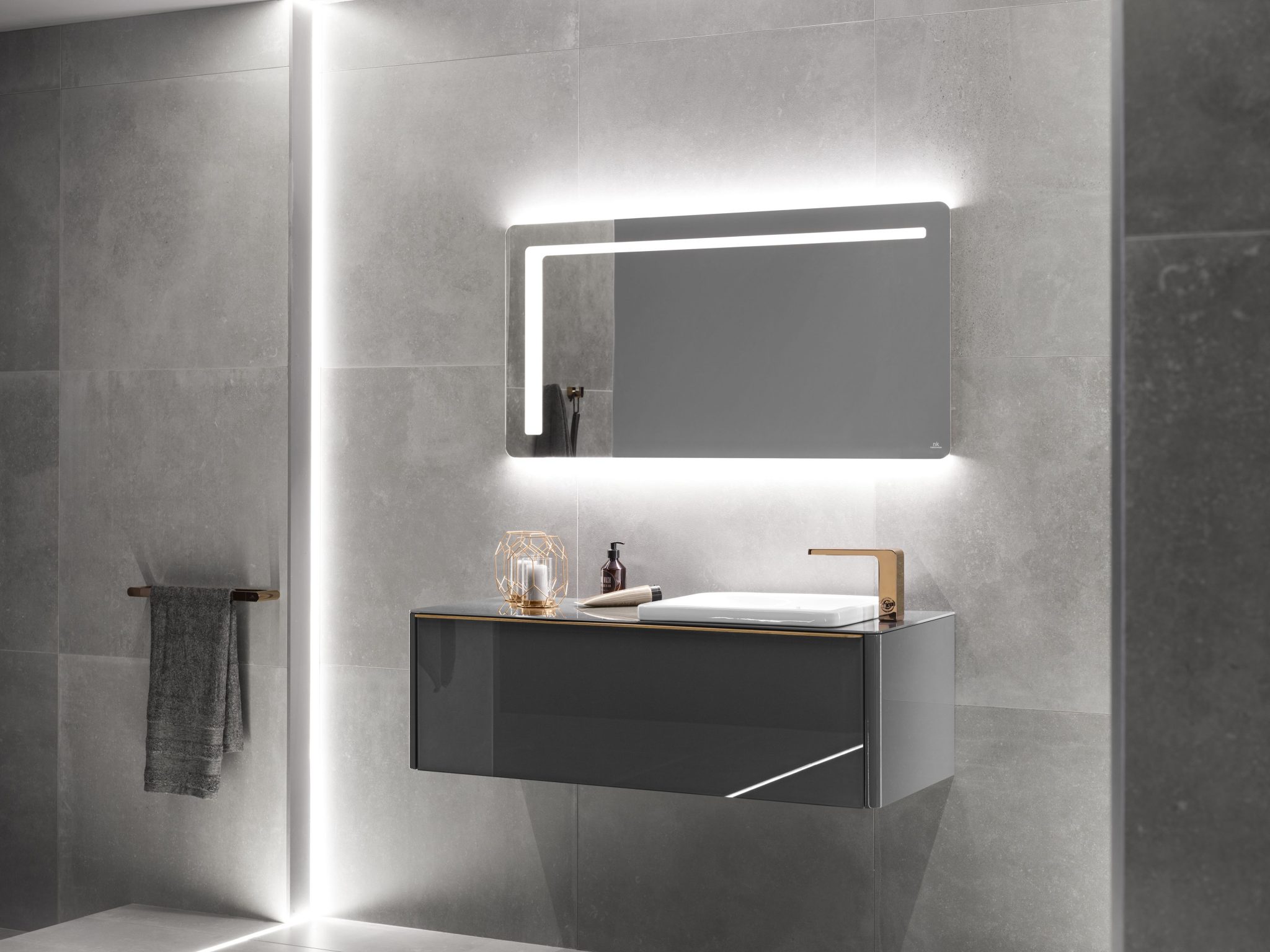 Image Credit: Pinterest.com
2. Incandescent Lighting Bulbs
As opposed to LED lights, Incandescent light bulbs consume more energy. These lights also tend to heat up faster which not only poses some risk of bursting but also raises the temperature of the bathroom space.
However, don't swear off them just yet.
Incandescent light bulbs are an excellent addition to large bathrooms where the floor space is enough to evenly distribute the heat. They are great for mood lighting and certainly add charisma to a master bath, especially a farmhouse bathroom or one with country styling.
Imagine lying in a clawfoot tub after a hectic day, with a glass of wine, while soft music plays in the background. If you do not have a dimmer switch then incandescent lighting is your best possible alternative. They create a subtle hue and serene effect, thus helping with your need for tranquility.
Read also – Best Kitchen Decor Ideas
3. Natural Bathroom Lighting
As you can possibly guess, natural light refers to the amount of sunlight streaming through your windows. This is an important factor as natural light helps pinpoint molds and dirt along the bathroom walls.
Make sure to install large windows, preferably glass ones, to allow natural light into your bathroom design. Bear in mind, if your bathroom is located on the lower levels then you will need blinds for the windows when the bathroom is occupied.
Read also – 80 Best Modern Kitchen Design Ideas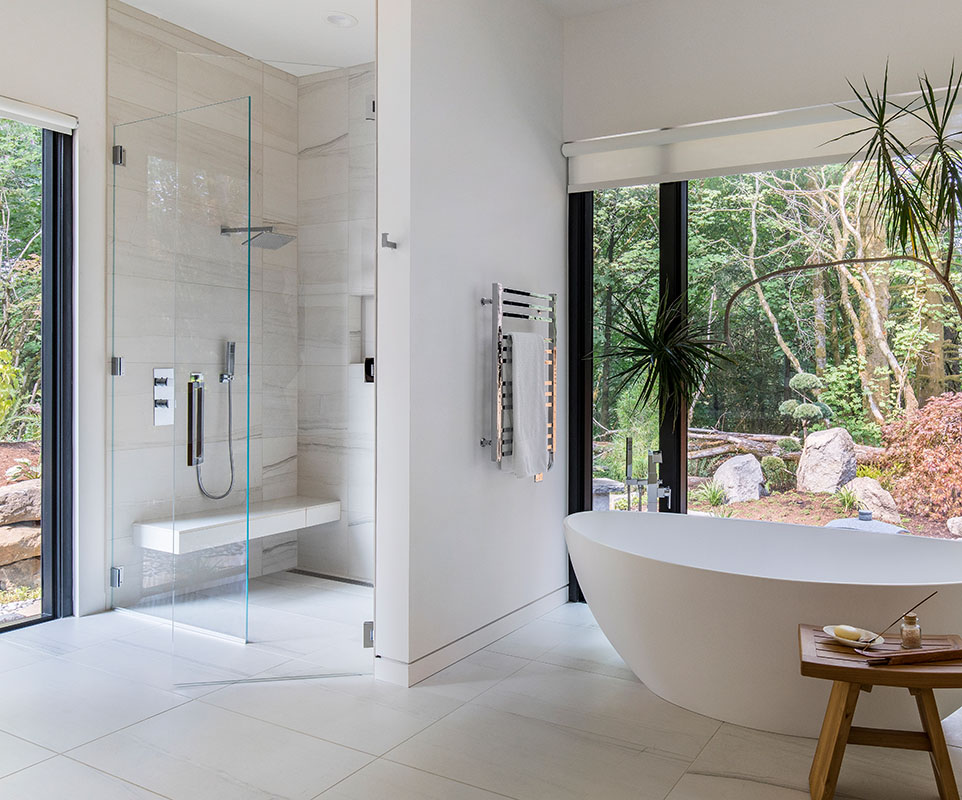 Image Credit: portraitmagazine.com
4. Task Lighting for Bathroom
Task lighting is an innovative form of lighting that targets specific tasks in the bathroom.
For instance, bathroom vanity lighting along the side of the mirror or the dresser is very helpful when applying your makeup or getting ready for the day. Similarly, lights placed near the shower or the bathroom sink, flush-mount, or bathtub illuminates the specific locations when in use.
Also, lighting, be it lamp shades, ceiling lights, wall lights, pendant lights, what have you, near the bathroom mirror is essential. Most tasks such as shaving, grooming, hair straightening, curling, and whatnot are all done near the mirror.
One thing you need to bear in mind with task lighting is to analyze its placement. You need to ensure that the lights do not create shadows, glares, or distortion of view. This could hamper your tasks. So be vigilant when you install task lighting in your bathroom.
Read also – 35 Spring Decorating Ideas For Your Living Room, Kitchen and Bedroom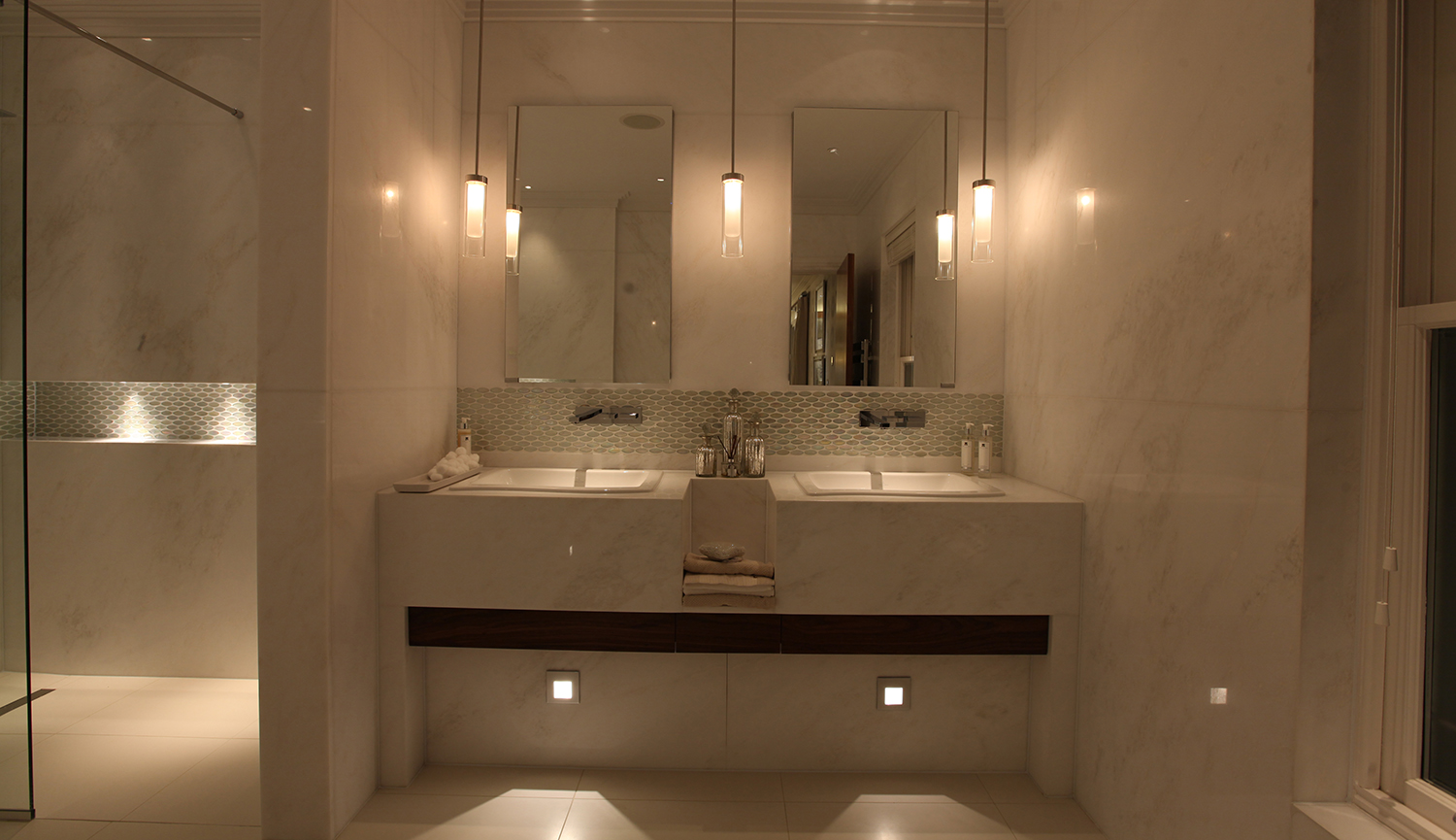 Image Credit: johncullenlighting.com
5. Ambient Bathroom Lighting
You may have come across these in hotels. Ambient lights are mostly embedded in the ceiling and tend to illuminate the entire bathroom. You can install targeted switches or keep them generalized as per your preference.
Ambient lights are mostly used when there is an insufficiency of natural lights in the bathroom. You can opt for these innovative solutions, spreading them around the perimeter of the floorplan.
We do, however, recommend that you combine the use of ambient lights with task lighting to properly brighten up the entire space as and when required.
Read also – Best Kitchen Island Design Ideas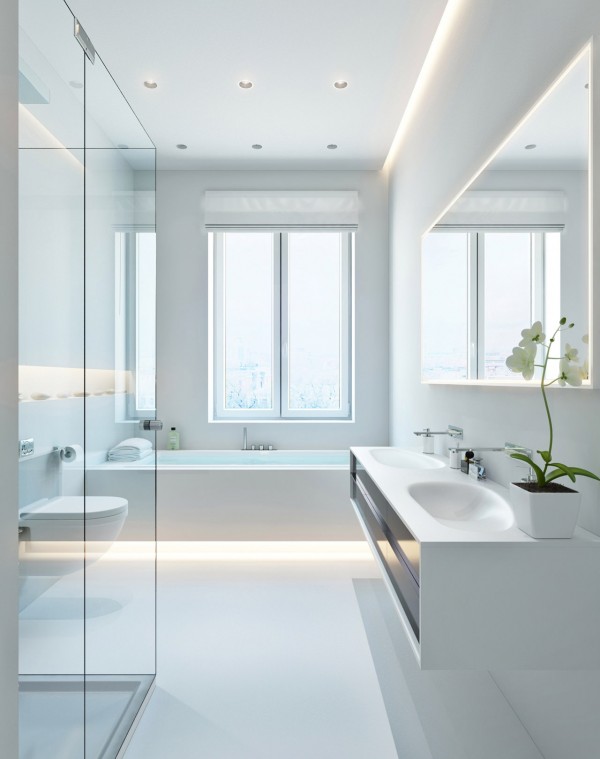 Image Credit: home-designing.com
6. Accent Lighting Design
As the name suggests, accent lighting is used to target an area and illuminate it. If you install art deco or a focal point in your bathroom (likely in a luxurious bathroom), then you can opt for accent lights.
These are beautiful sources for dim lighting when you want to avoid bright lights while relaxing in a bath. They can also be great additions to keep the bathroom illuminated throughout the night and prevent accidents.
Read also – 20 Modern Pool House Design Ideas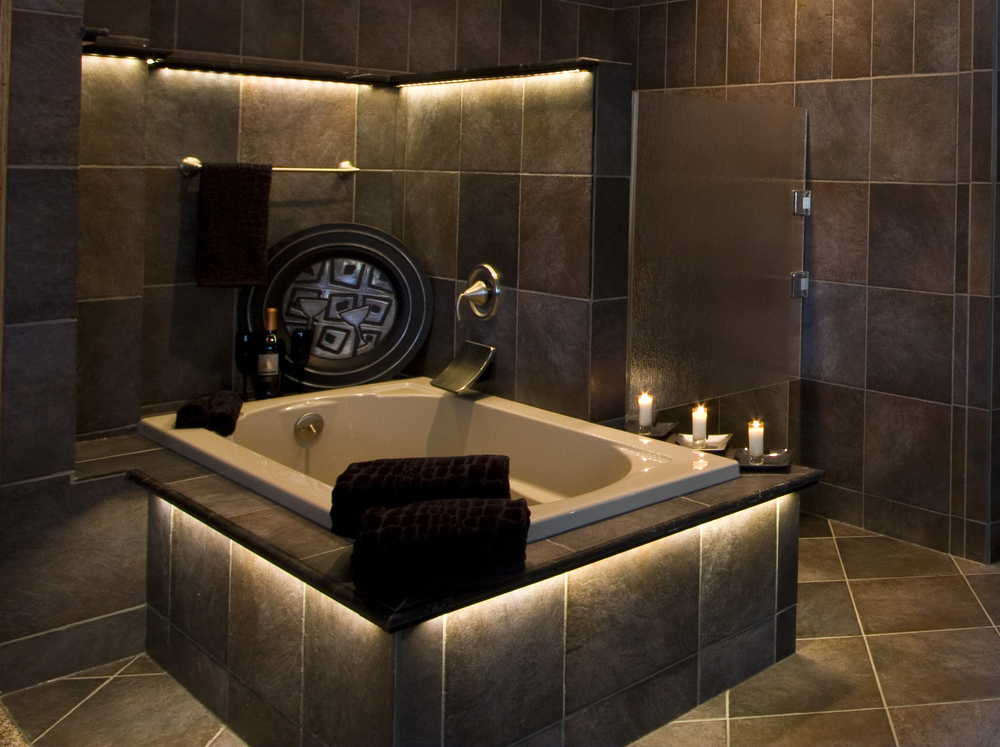 Image Credit: lumenslp.com
Conclusion
The bathroom lighting ideas mentioned above are easily transferable from a small bathroom to a master bathroom. You can choose your bathroom light fixtures based on the type of bathroom you have.
A farmhouse bathroom is well-suited with incandescent light bulbs within glass shades or ornate bathroom sconces. Whereas a modern bathroom calls for accent lighting or bright lights. You can even install a dimmer switch and art deco for when you sink into your tub to relax.
It is ideal to choose a light and calming color palette for the bathroom walls, preferably neutral shades of white or beige. You can also opt for sky blue or light yellow to suit your sensitivity to colors. Remember, lighter shades reflect the light, therefore, a white bathroom will always appear bright and clean.
You don't need a chandelier to accentuate the elegance of your bathroom. Just some carefully chosen light fixtures and furnishing will do the trick. The goal is to create a space for cleanliness and worshipping yourself and your body.