Home » Design Ideas & Inspirations » 14 Best Bathroom Remodeling Ideas and Bathroom Design Styles
Bathroom Remodeling Ideas
You definitely need a bathroom to revamp but you are not sure about how to achieve it right? Well, let's handle that pressure with several bathroom remodeling ideas that will equip you with what to look for. Whether you want to do a complete overhaul or change a few aspects, we have got your back.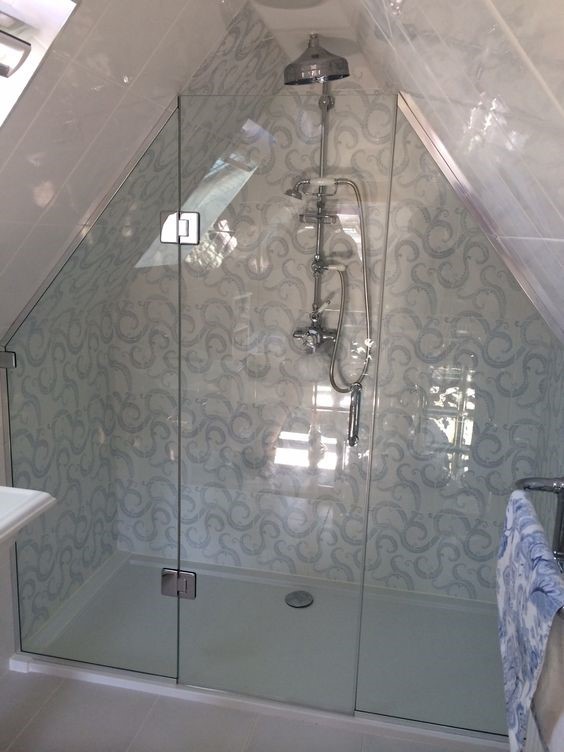 Loft and slopping showers by A shafer
You can shift your tub and toilet position to create more space and make it airy. It can be uplifted by a contemporary look to make it brighter.
Read also – Best Master Bathroom Design Ideas
2. White Modern Bathroom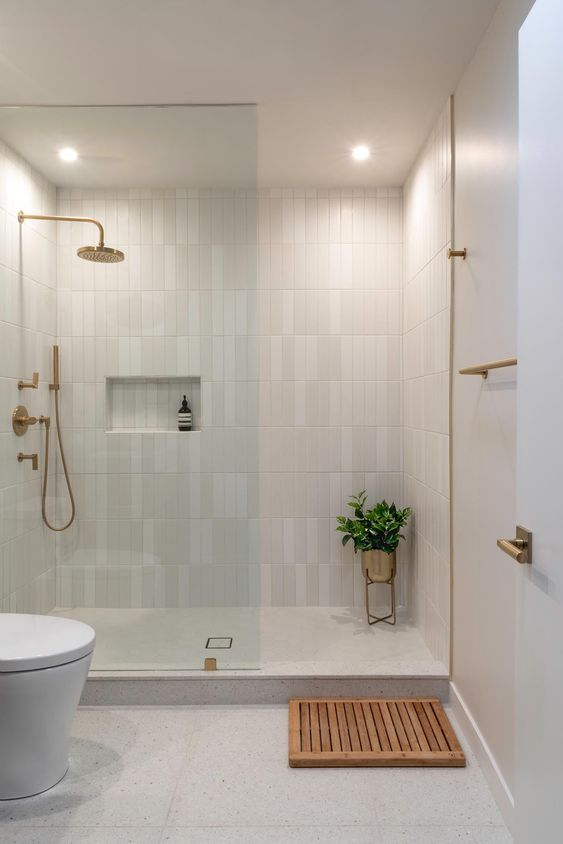 Bathrooms by Kyla
Clean white lines and a few organic touches to your bathroom can change the entire look. With continuous flooring and white wall tiles throughout the room will freshen the look and make the bathroom appear polished and clean.
Read also – 10 Best Home Remodeling Ideas
3. Black Powdered Room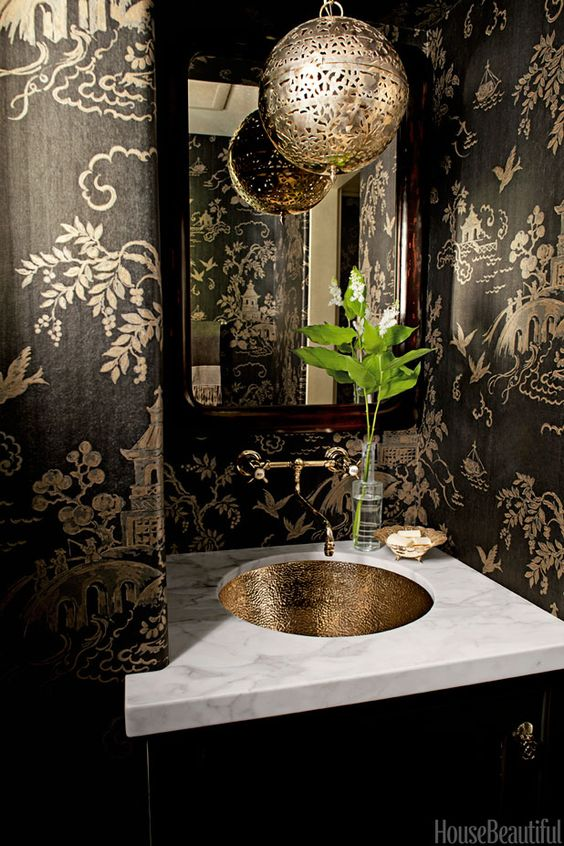 Dream house plans by Rachael Lam Yuen
Dare to go black by painting the walls and surfaces black. Then spruce it up with a colorful painting. The outcome look will be classic and elegant.
4. Marvelous Pebbles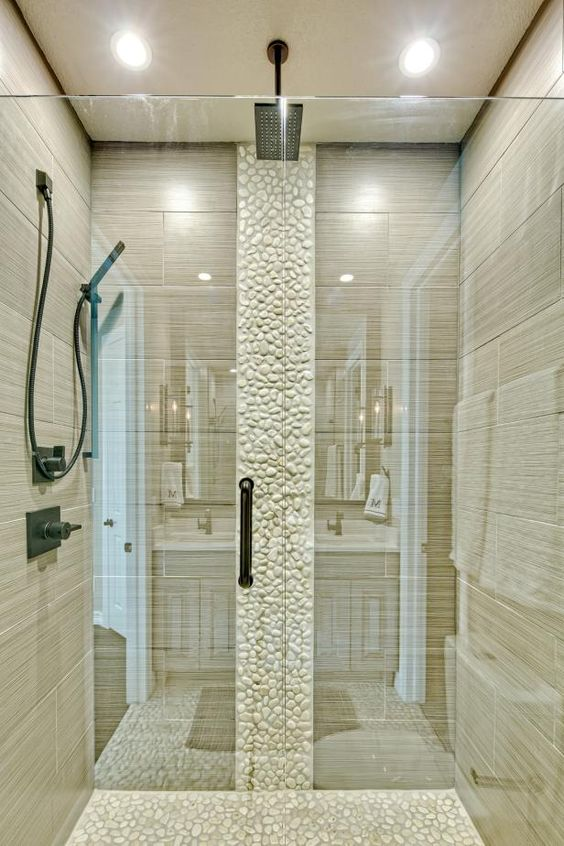 Walk in shower by Patricia Simon
You can use pebbles for your floorings and a slender pebble column on the wall can further accentuate the look. Your walk-in shower will remind you of a beachy feel. It will remind you of the sandy beach and washing off the salt. Vary the mundane smooth fetish feeling to a pebblish one. You will be thankful for incorporating it.
Read also – Bathroom Lighting Ideas
5. Incorporate a Small Functional Bathroom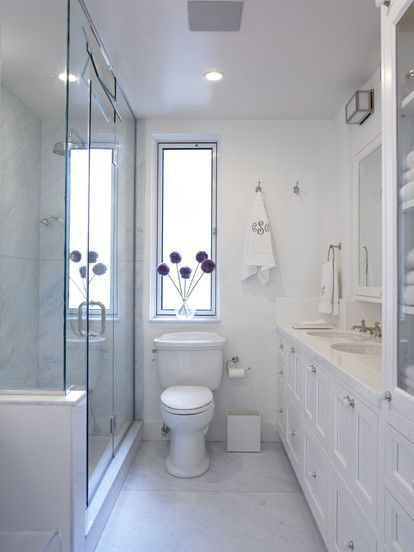 Cool house concepts by Denise Heggan
It will save your space especially if your house has limited space. You can also position your bathroom to face the natural light to create an outside feel. Long vertical clear glass walls can be used to create a vast feeling. A mosaic tile can also be used to brighten the look and the bathroom personality.
6. Minimal Spa Bathroom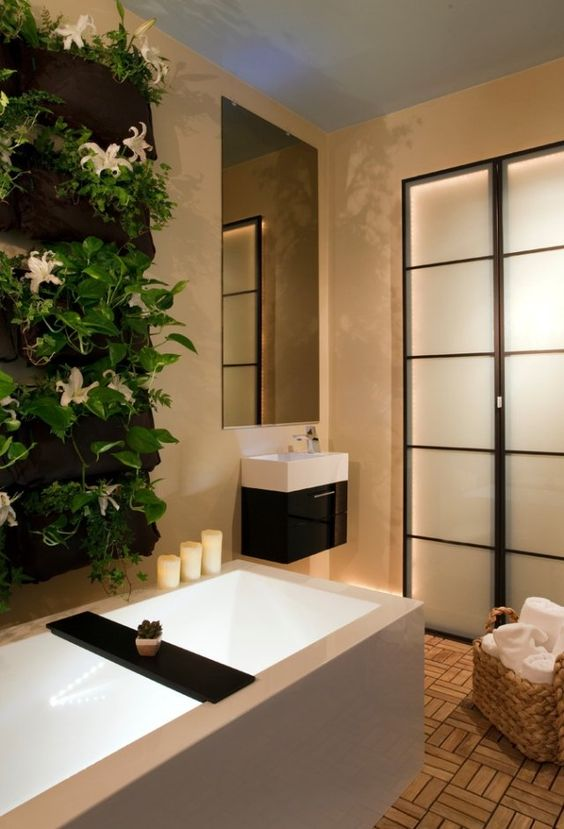 Natural furniture by urban jungle
The essence of luxury is not necessarily in a vast space but in absence of what is not necessary. A free-standing tub, a classic marble countertop and a refurnished chandelier will make up for the space needed.
7. Statement Making Sink Bathroom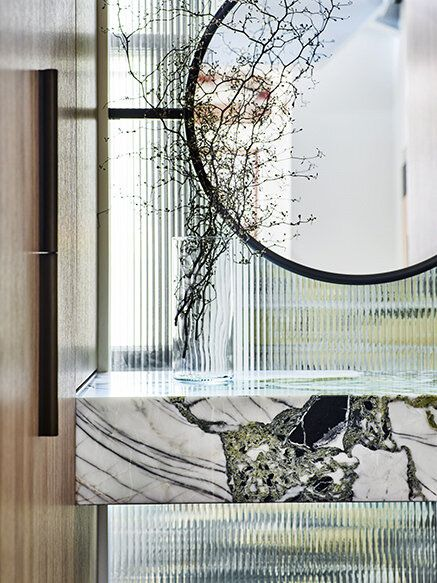 Interiors by Daniela Andrade
A single statement feature can bring out a whole effect. For example, incorporating a marble vanity would be all that your bathroom needs.
Read also – Best Small Bathroom Design Ideas
8. Palm-Printed Bathroom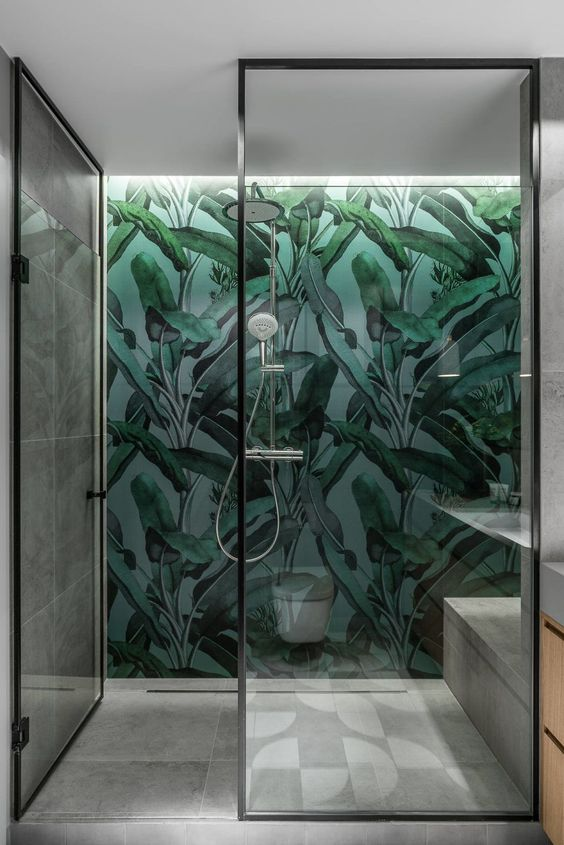 Home adore by Shemer Aviva
If you need to spruce up an old bathroom with a minimal renovation budget, pairing up a glamorous wallpaper can work the magic. You can incorporate an opulent sink and vanity made from marble to match the palm prints
9. Multipurpose Bathroom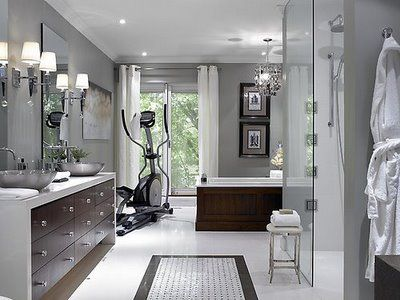 For the house by Faye Gordon
You do not have to be conflicted on whether to have a bathtub or a stand-alone shower when you can have both at your disposal and luxury. A stand-alone soaking tub can be placed next to your walk-in shower with custom steel and glass doors.
10. Brass Tacks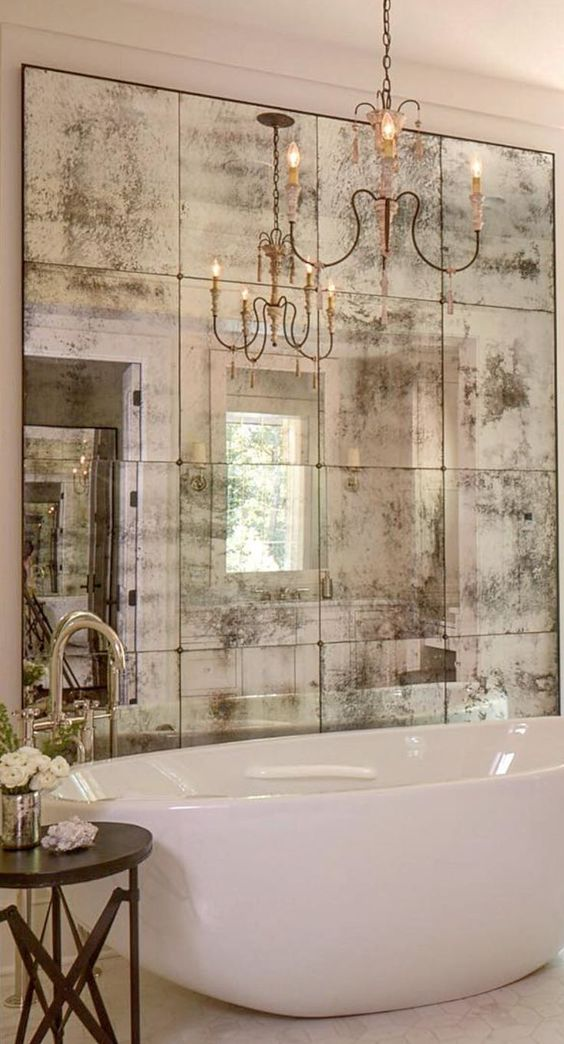 Chic living home décor by Chei1201
Brass accents add warmth and color. Metal finishes are trendy and have been proven to outlast the trends. Toppled with mirrors, the look shifts to glam and splendor.
Read also – Standard Bathtub Dimensions
11. Bamboo Trellis Wallpaper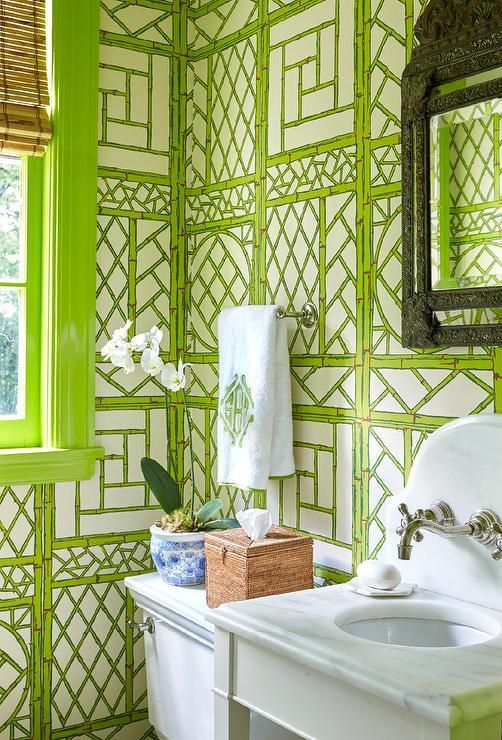 Study by Shannon Grin stead
Go bold with the bamboo trellis wallpaper in your powder room. Accenting it with green window frames, bamboo blinds and mirror frames further adds eccentric looks and personality to the room.
12.Waterfall Style Walk-in Shower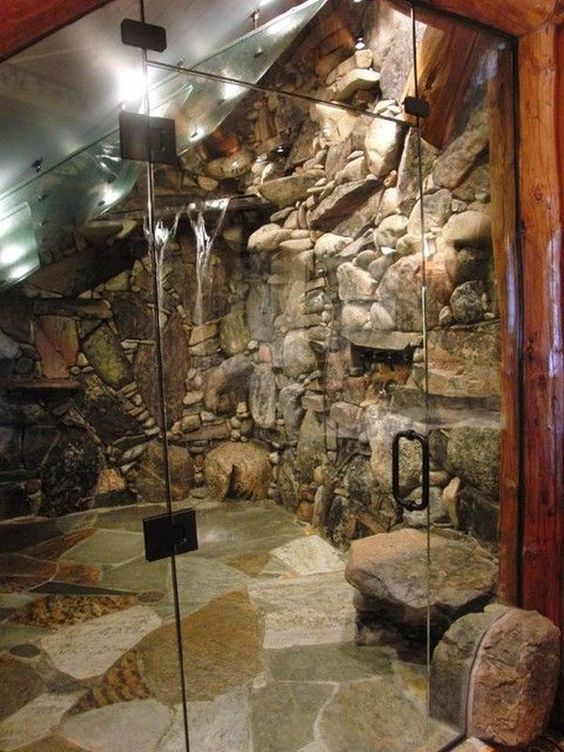 Architecture and design by Motos4life
Imagine showering under a tropical waterfall exciting and fulfilling right? Well, create your luxury with one slanted wall while the other can be a roughhewn natural stone wall. You will definitely convert from a typical rain showerhead to a waterfall.
13. Honeycomb-Tiled Bathroom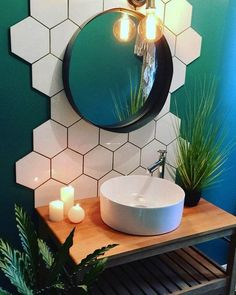 House hacks by Sam Kovach
The honeycomb-tile shape enlarges the room which is a great plan for a narrow space. Brass faucets will accentuate the honey touch.
Read also – Best Kitchen Remodeling Ideas
14.Maximize your Shelf Storage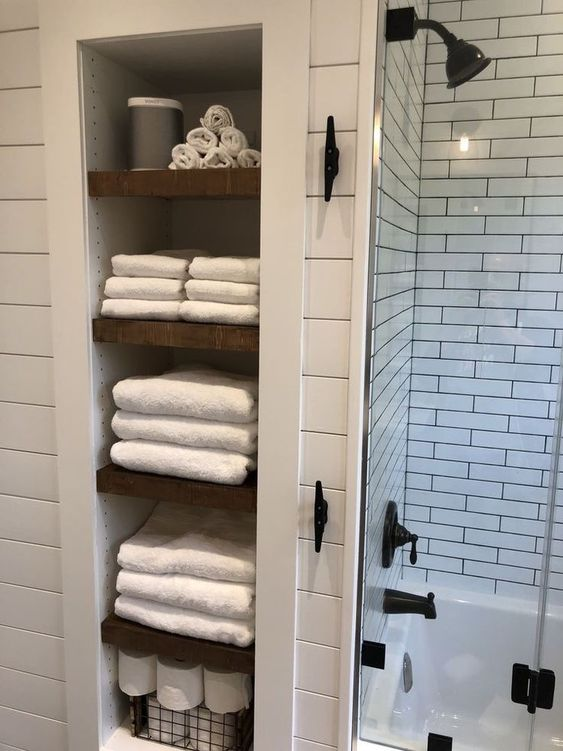 Home by somewhere Devine
Make your bathroom chic with a creative storage place above the tub making it just efficient to grab the towel after a relaxing bath. A white and grey marble countertop and floor will complement your storage space.
10 Gorgeous Bathroom Design Styles
1. Transitional Bathrooms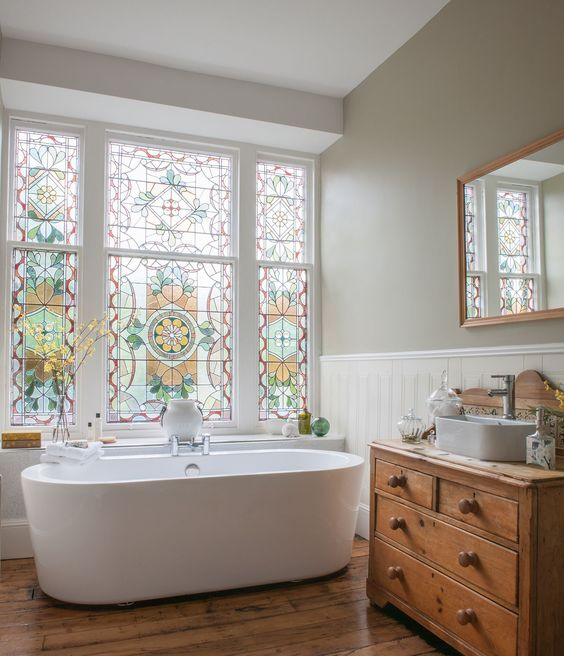 Bathroom by Jasmine
It is a graceful walk line between traditional and contemporary bathrooms with just enough detailing to appease folks in both setups. Its key features are the shaker-style vanity, light-hued stone counters, marble and quartz floors and wall treatments, an under-mount sink, a pedestal bathtub, a subway tile, a glass shower enclosure, and classic lights like pendants, chandeliers, and sleek wall cones.
2. Modern Bathrooms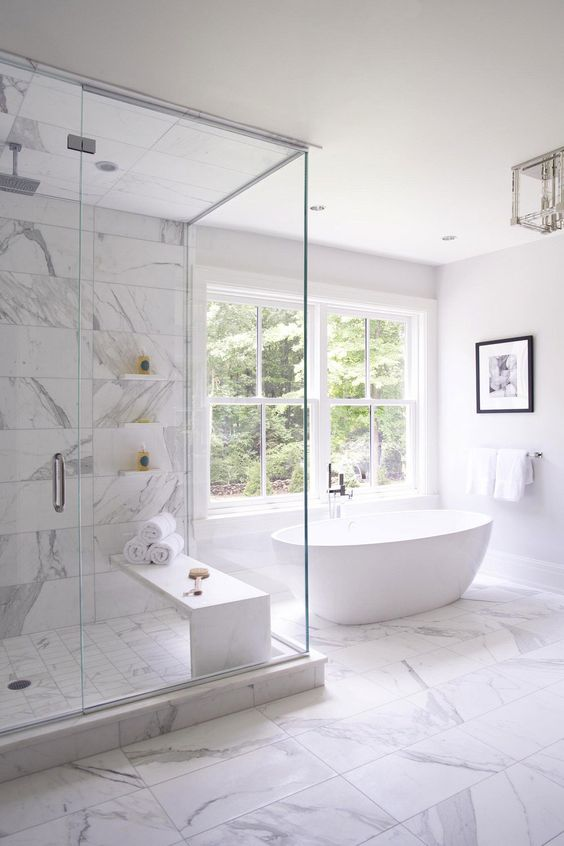 Home by backsplash.com
These types are sleek and streamlined emphasizing strong horizontal lines. Its details are clean and flourish-free. Its key features are a floating vanity, glass shower enclosure, freestanding bathtub, minimalist faucets, frameless mirrors, and streamlined lighting.
3. Contemporary Bathrooms
Bathroom remodel by Kyla Scheitlin
These embrace the latest technology from materials and trends with clean lines and minimal adornment. The bathrooms refrain from heavy embellishments and traditional shapes. Its key features include sleek vanity, minimalist faucets, glass shower enclosures, statement tiles, slim-profile mirrors, and digital shower controls with smart mirrors.
Read also – Contemporary Interior Design Ideas
4. Traditional Bathrooms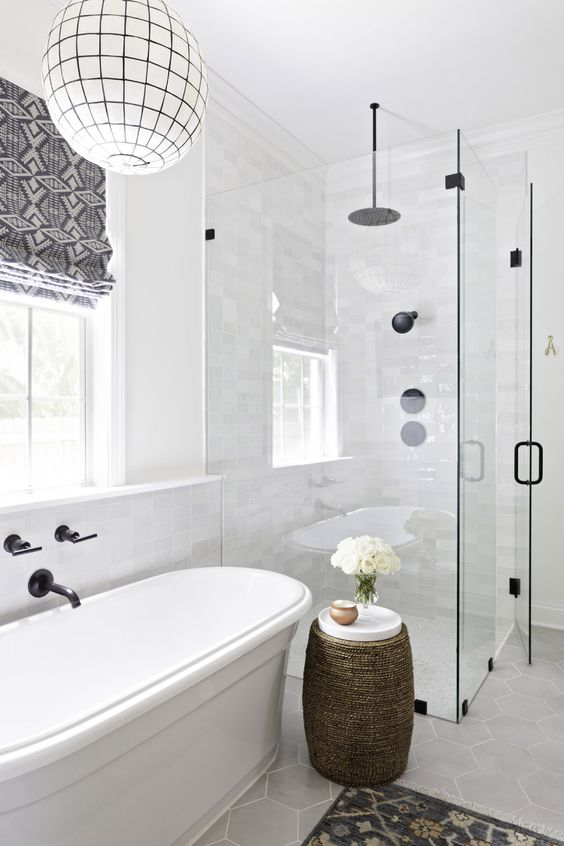 Home by Haley M
These are timeless, comfortable, and refined with gleaming surfaces and high-end materials. The bathroom incorporates massive decorative details and maintains a classic elegance. Its key features are furniture styled vanity, elegant stone counters, floors and wall treatments, antique style lighting, classic bathtubs like claw-foot or pedestal style, dressing table, and wainscoting or wallpaper or decorative molding.
Read also – Traditional Homes vs Modern Homes
5. Farmhouse Bathroom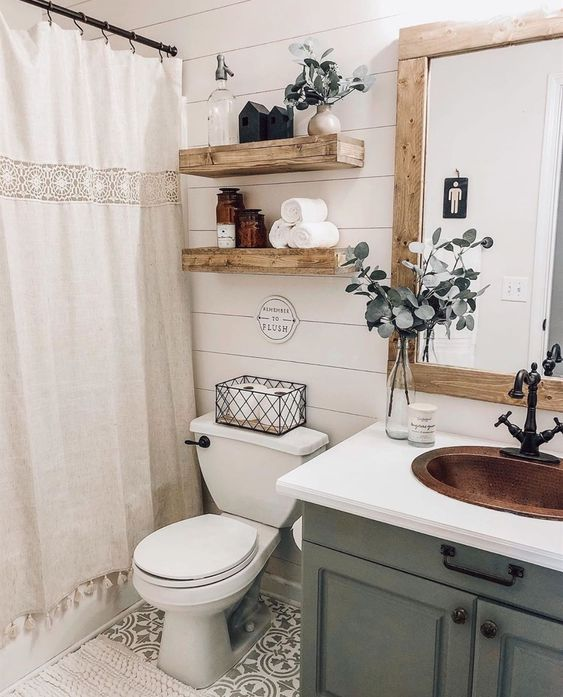 Cabin by Christa Biegler
It balances the rustic appeal of rural and regional setups with modern simplicity. In as much as it incorporates modern elements, it does not experiment with trends. All there is to think of these types of bathrooms is simplicity and homespun. Its major features include shaker-style vanity, barn lighting, wall paneling, claw-foot bathtub, sliding barn doors, and trough sinks.
6. Industrial Bathrooms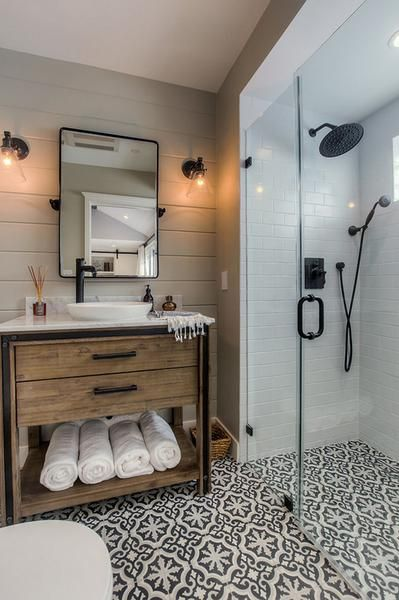 Shower by Jamie Harper
These are inspired by factories and warehouses. They are simple and space utilitarian with tough fixtures and finishes. It favors practicality rather than surface ornamentation. Its common features include glass and steel shower enclosure and raw materials like concrete, stainless steel, and bricks. It has trough and basin sinks, white subway tiles, hefty sliding doors, exposed pipes, and gear-like hardware.
Read also – Mid Century Modern Interior Design
7. Rustic Bathroom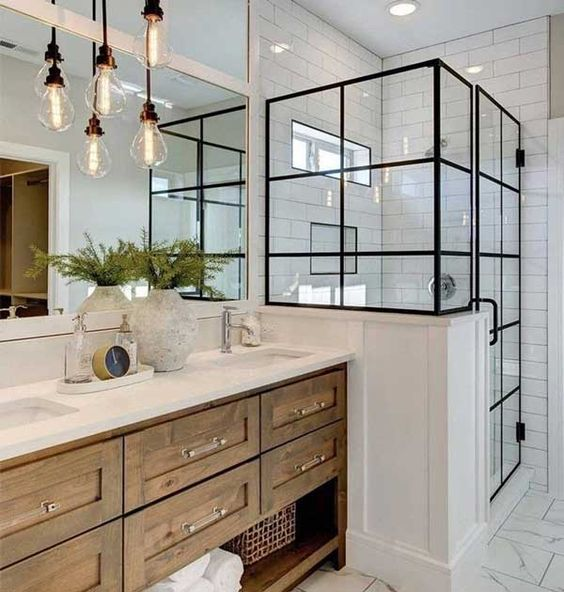 Bathroom by Enrin Quigley
They embrace the natural outside beauty, pairs with rugged materials with warm and cozy textiles to enhance warmness. Its main features are wood-like vanity, sinks from stone or copper, natural stone counters, floors and wall treatments, Japanese style soaking tub, and hardware finishes like oil-rubbed bronze, antiqued brass, or hammered copper.
Read also – Rustic Interior Design
8. Beach Bathrooms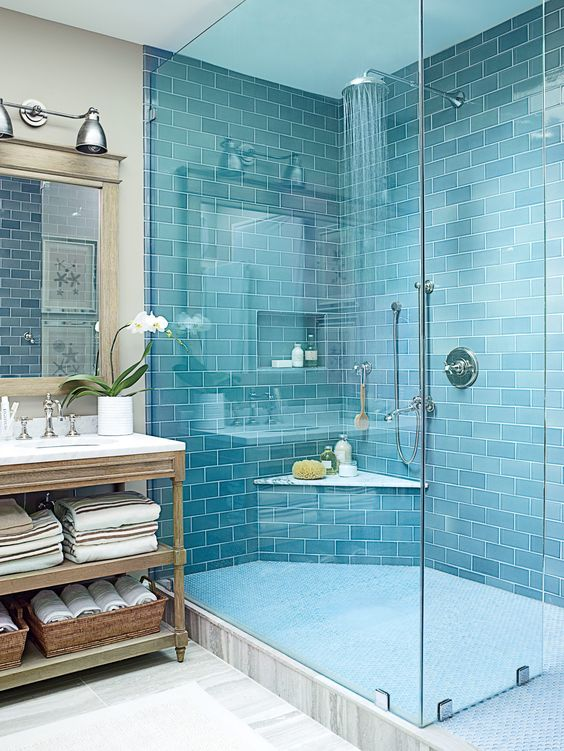 Bathroom by Krueger Creek
They are light and airy focusing on natural materials, coast-inspired colors, and an easy-going mood. Its key features are bold tiles, spacious showers, pebbled tiles, wall paneling, statement wallpaper, and accents in coastal colors.
9. Mediterranean Bathroom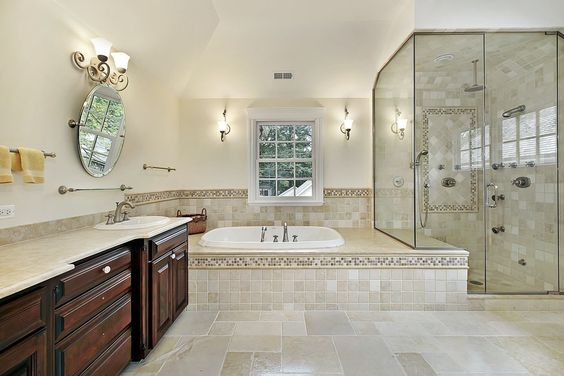 Image by Home Stratosphere
They emphasize natural elements like wood, bricks, and stones for an earthy-inspired look. It utilizes classics that have stood the test of time. Its key features are ornate lightings, colorful tiles, banished metals like hammered copper, and wrought iron. It incorporates statement mirrors, whitewashed walls, and sinks in the round and organic shapes.
Read also – Types of Interior Design Styles
10. Craftsman Bathroom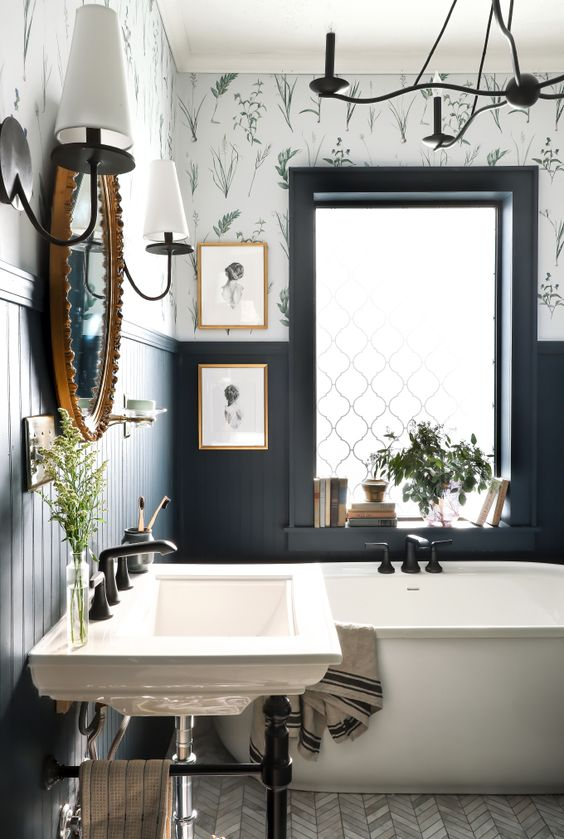 Image by Decluttered lifestyle
These are natural yet refined and simple without being fully minimalist. Its key features are shaker style vanity, handcrafted tiles, rich to medium-dark wood tones, natural stone counters, floors and wall treatments, artful stained glass, and warm lighting in rectangular and square shapes with geometric details.
Color Palettes for Bathroom
Transitional bathrooms tend to be soft and subtle, for a richer look consider blue, brown, gray or wooden tones. Modern bathrooms tend to focus on architecture. Therefore, the color palette will tend to be crisp, clean white, subtle neutrals, and black. However, you can pop up colors with towels and plants. In contemporary bathrooms black and white palette is common but a high contrast color combination can be used. Colors in traditional bathrooms tend to be soft and relaxing.
Subtle neutrals and pale shades of blue and green are perfect. Deeper shades of blue, brown, grey and wood tones will complement. Farmhouses favor simple, natural color palettes. However, white with crisp black trim is common. To add richer hues, nature-inspired neutrals and other classic colors can accentuate the look. Rustic bathrooms tend to echo hues of natural materials like stone and wood with paint colors of similar accents. Raw materials used Are the basis of color palettes in industrial bathrooms.
Beach bathrooms incorporate colors inspired by the sand, sky, and the sea. Crisp white with seaside blue is common but for a vibrant look, leafy green and coral colors can do the magic. Mediterranean bathrooms strike with rich hues like the sparkling sea, therefore, white and natural wood will calm it. Craftsman style is complemented by rich earth tones, vibrant green and warm neutrals that coordinate well with natural wood.
Read also – Psychology of Colors in Interior Design
Full bathrooms have a toilet, sink, shower/bathtub, or a combination and are common in low to mid-priced two bedrooms. The master bathroom/ ensuite bathroom is connected to the largest bedroom in the house. The door permits entry to the primary bedroom and a second door opens up to the bathroom. Sometimes, the second door is omitted but the toilet is enclosed in its own space for privacy.
Three-quarter of bathrooms have a toilet, sink, and either a separate shower or a bathtub. Half bathrooms'/powder rooms have a toilet and a sink. It allows more privacy to the homeowner as visitors can use the toilet and wash up without entering the bedroom areas. Quarter bathrooms contain either a shower or a toilet.
Read also – Types of Staircases
Fixture Styles
Wall-mount showerheads are basic and highly functional, handheld showerhead is attached to a flexible hose and are suitable for hair washing and those hard-to-reach places. Rainshower heads are mounted on the ceiling while body sprayers are integrated into the shower walls and can be adjusted to massage the body or produce a relaxing mist. Three showerheads can accommodate two people at the same time while a drop-in sink is mounted above a counter.
The under-mount sink is installed beneath the countertop and is easy to clean. They work on stone-made and solid surface materials countertops. Vessel sinks are decorative bowls that sit on countertops. They are available in different materials like glass and stone. Pedestal sink saves space and offers timeless appeal and are available in oblong, rectangular, or traditional oval shapes. The taller toilet is comfortable for homeowners except for children and is accessible to individuals using wheelchairs.
Read also – Best Kitchen Lighting Ideas
Storage Needs
Toiletries like toothpaste, toothbrush, mouthwash, facial moisturizers, face wash, and contact solutions should be stored close to the sink or bathroom vanity. Extra supplies can be stored under the sink if there is space. Face cloths and hand towels can be stored in the drawers so that they don't topple over.
Bath towels can be stored in the linen closet. Shower supplies like razors, shampoos, bar soaps, and shaving creams should be stored close at hand. Hairdryer, curler, and flat iron can be hanged for easier reach or can be stored in a drawer. Toilet paper can be stored in a basket on the floor or in the space under the sink. The first aid kit can be stored on the bottom drawer as it is less likely to be crowded out. Medicine cabinets can also be fixed and ensure that they are lockable.
Read also – Best Storage Ideas for Small House
Budget for Bathroom Remodeling
Building a new bathroom can be uneconomical but you can choose to remodel. You can shop for the fixtures and accessories that you want by first checking in home improvement centers, bathroom showrooms, home magazines, and online. Then you can narrow it down to a particular styler and take time to compare in shops before purchasing. If possible, select your ideal designs and calculate the total cost that you may need. In the case of remodeling, contact several specialists or handymen and request quotations.
Professionals may offer design suggestions and plumbing fixtures as well. Plan for the unexpected and estimate the average in labor, repairs, or materials by increasing the quotations by five to ten percent. Purchase renovation materials yourself as remodeling agencies mark up the retail cost to compensate for their efforts. Save the labor cost once you have finished purchasing the fixtures and materials. You can separate the money you were investing on fixtures in a separate account as you plan to incorporate your bathroom design ideas and bathroom lighting. When you have saved enough to cover the labor quote, you can schedule your handyman to complete the remodel.
Space Planning
The most daunting aspect of bathroom remodeling is what lingers behind the existing walls and built-in connections. When the old bath shower tub is removed and the wall is covered with mildew. The problem is likely to be poor ventilation. Plumbing and wiring are the critical aspects behind the spaces in remodeling projects. Leaky plumbing can cause molding and ceiling destruction. Placement of the toilet, tub, and sink will depend on where the existing plumbing was done. Your plumber will prepare key components like a built-in copper supply line, drain and vent lines, and a wet wall to enclose the pipes.
A review of how space is used and whether the outlets are located in a convenient place is essential for wiring. Splurge outlets should be placed at a safe distance from fixtures like tubs and showers. You can also check on the codes needed by light and fan. You should also choose water-tight fixtures as you plan in your remodeling project for wetness in the bathroom. You should also plan for a transition or entrance area in a small space. Consider space storage opportunities and consider a separate toilet room as it is functional and esthetic especially in a small bathroom.
As you incorporate your bathroom remodel cost, bathroom space, bathroom storage, and bathroom lighting remember to seek professional help on bathroom design ideas. For more information, you can check on Foyr Neo website, they have remarkable bathroom remodeling ideas and tips.
Read also – Best Small Kitchen Design Ideas
How to Design your Bathroom (DIY Project)?
1. Plan: Plan an efficient layout to deal with plumbing drains, water lines, and vent stacks as you do your bathroom renovation.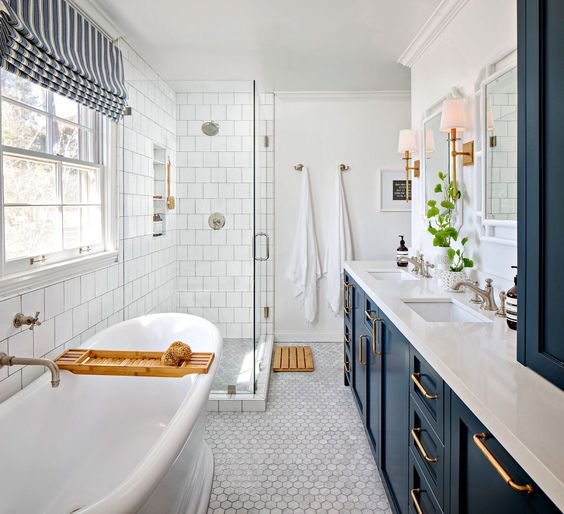 Layout ideas by Chyanne O' Connor
2. Layout to Try: A two-wall layout gives more flexibility. The sink and the toilet can be plumped into one wall while the tub and the shower on the other. Three wall layout is the most versatile but complicated and expensive. A certified bathroom designer can help you avoid costly mistakes while doing your bathroom renovation.
Read also –  Best Kitchen Layout Ideas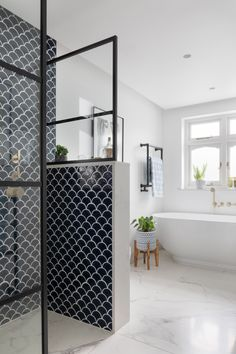 Bathroom by Taryn Logan
3. Consider the Sink: Integral bathroom sinks and under mount bathroom sinks make it easy to wipe messes from the counter to the sink. Self-rimming sinks are economical and easier to install and bathroom remodel.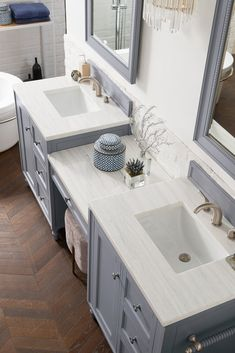 Home by Carrigan Doble
Conclusion
Bathrooms are the smallest rooms in a house such as the powdered rooms yet a little bathroom look renovation can cause a whole change and view of the house. So, proper remodeling is important to avoid costly mistakes in your bathroom makeover. However, remodeling is a wonderful experience that when bathroom renovation is done right, it is only blissful.