Whether implementing some minor upgrades or opting for a complete overhaul, a bathroom design renovation is an important decision and investment in your lifestyle. Besides the kitchen, a master bathroom is an essential space in any house for an immersive living experience. Let us take a deep dive into the various bathroom renovation ideas taking the design world by storm.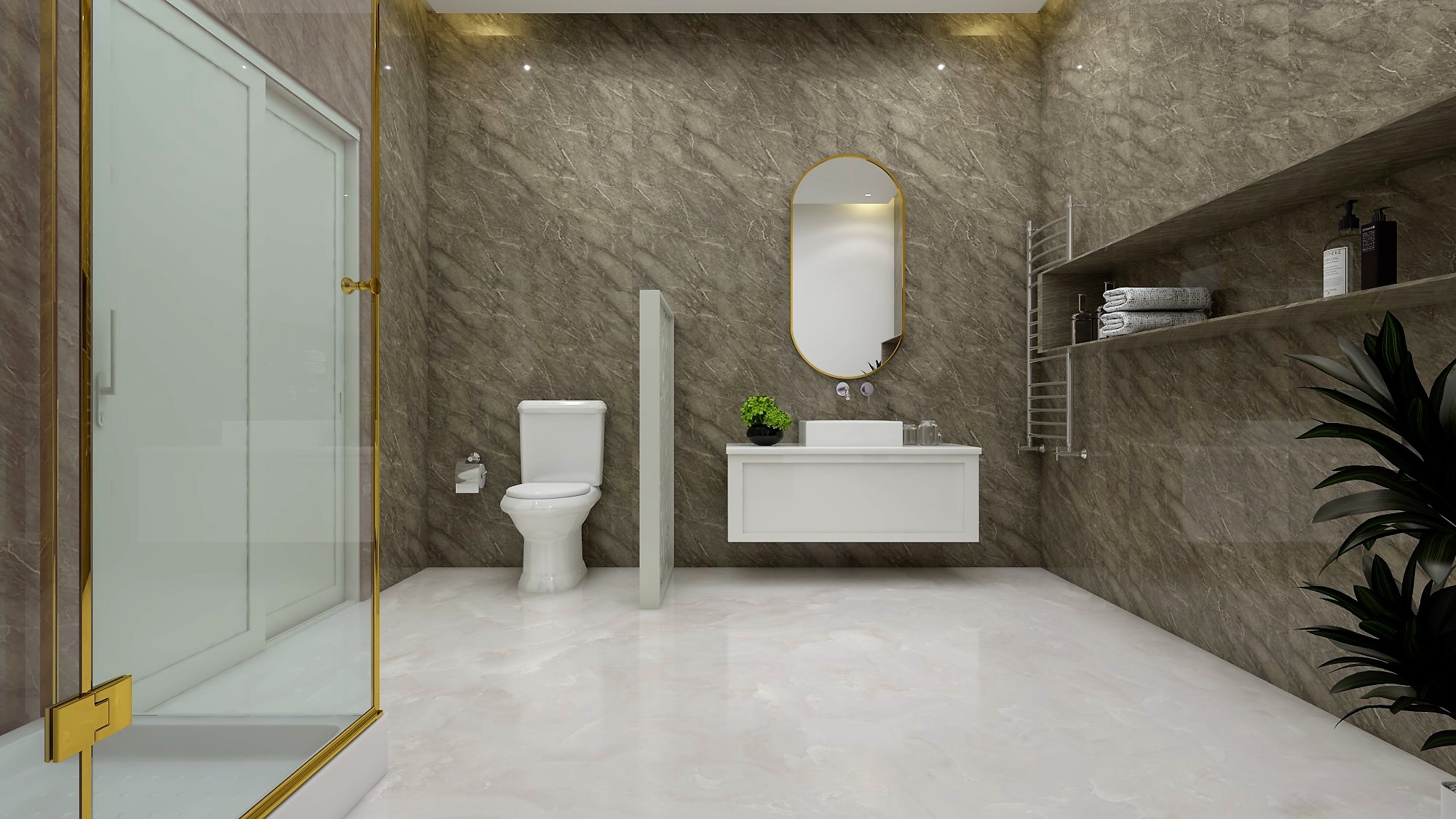 Start with the Master Bath
For achieving the best master bathroom design idea, both functionality and aesthetics play a vital role in your bathroom renovation plan. Let no unsightly decor take away your time from bubble baths and relaxation!
Usually, bathroom remodels are considered an expensive and long-drawn task meant only for those who can afford a life of luxury. That is a myth, and if you play your cards right and know what you are doing, you can get unique master bathroom design ideas at a fraction of the cost and time.
Refresh Your Vanity Cabinet
The most important and probably the first item in your bathroom that catches the eye is a sink vanity. Contact your local vendors to get an idea on vanity cabinets for your upgrade. They usually sell them as standalone products that are simple to install.
If you want to add a vintage touch to your white bathroom, you can buy the perfect sink vanity with a vintage finish from a nearby thrift shop. You can also refurbish your existing vanity cabinet with an oak finish. You can have your own little DIY project with cabinetry by painting the countertop with a splash of color or give it a marble finish for a more modern look if you want to go easy on the pocket.
Choose a Statement Mirror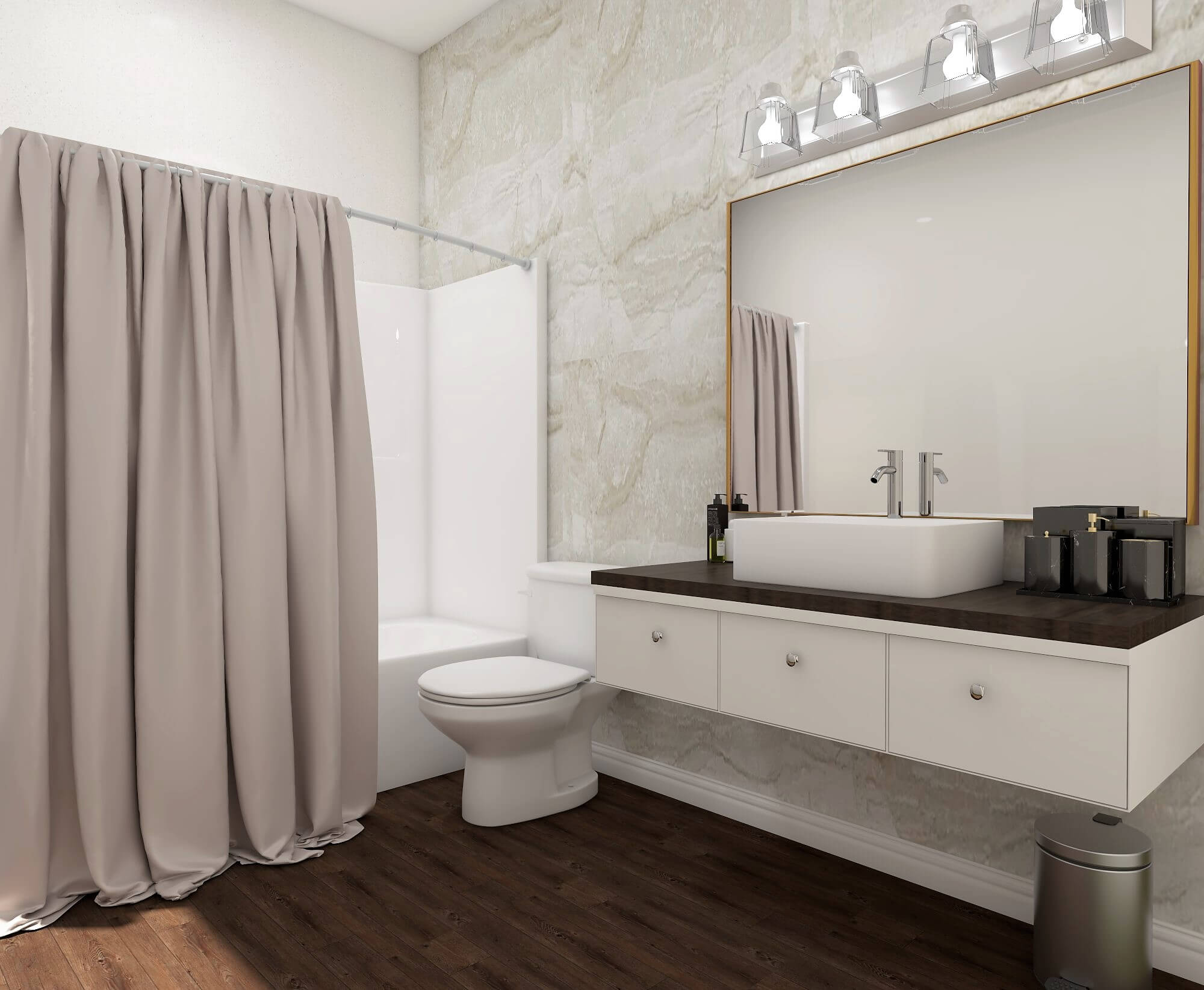 Bathroom mirrors are an essential part of a morning routine, so you need to make the most of it. Apart from making you look fabulous, bathroom mirrors serve a host of other purposes as well. To make a small bathroom look spacious and increase its visual appeal, you can place a statement mirror on one of your bathroom walls. That acts as a simple
yet effective interior design trick. You can opt for one statement piece or use several complementary pieces to create an entire bathroom design scheme that will blow the minds of your guests. If your bathroom leads right off your living room, you can make it look stunning with this simple idea.
Round mirrors are classy and trendy these days. Add a few light fixtures around them, and you will have a Hollywood-style bathroom ready for you! Based on the frames, the mirrors can be a perfect mix of contemporary and classic styles. If you want a more modern look, you should choose a mirror that has metallic elements. Eclectic and bohemian mirrors add a unique identity to your bathroom design ideas that would make you the expert for your friends' next bathroom remodel.
Opt for a Sculptural Sink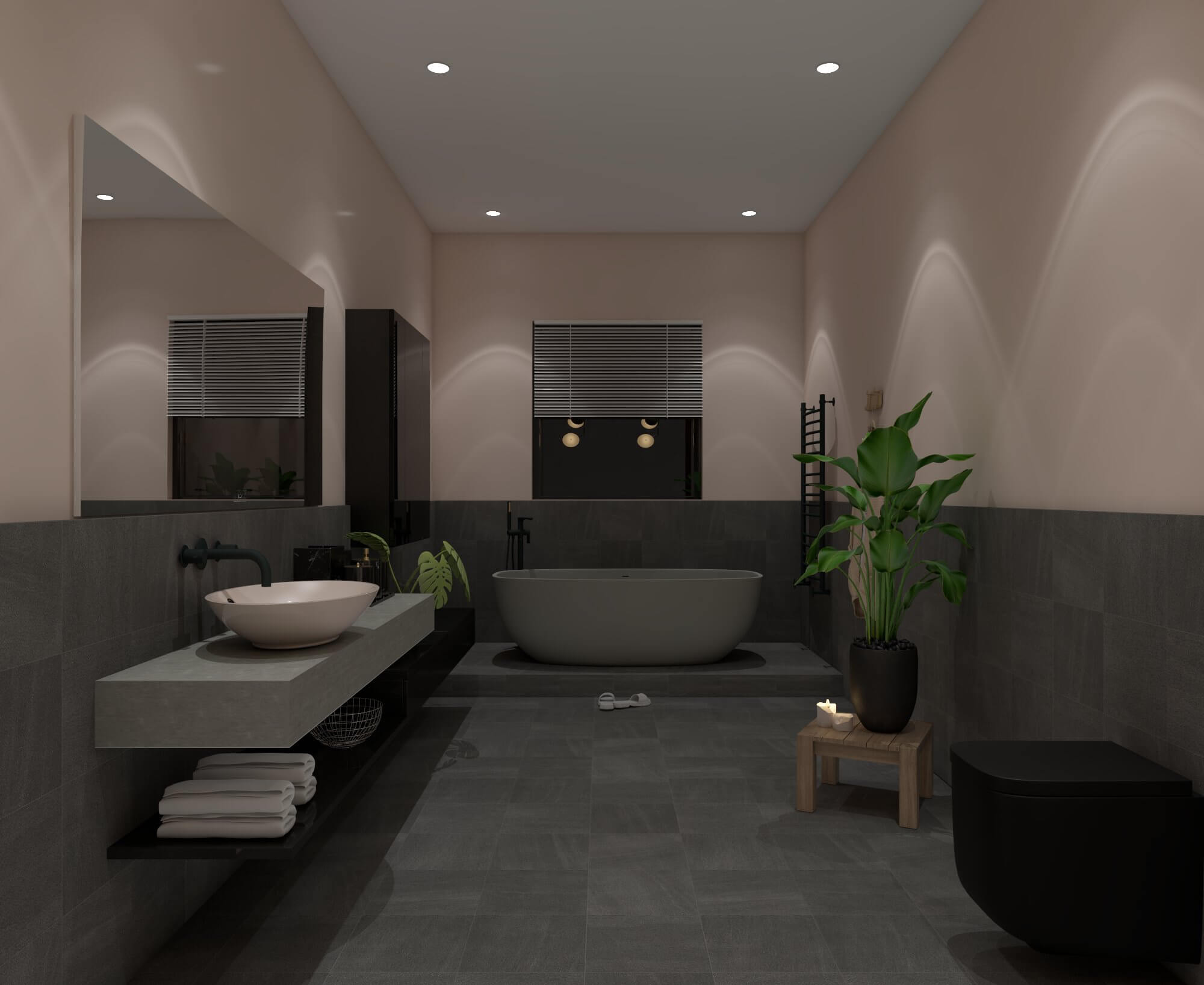 Bathroom sinks are another element of a bathroom makeover that is in constant use every day. Add a unique aesthetic over your countertops with vessel sinks and basins for master bath design ideas. They are versatile and paired with a wide range of styles, from modern to traditional and eclectic. With various materials to choose from- art glass, fired ceramic, stainless steel, copper, or even marble, you can add style and panache with relatively less money.
Make Your Bathtub the Focal Point
Make a soaking tub the centerpiece of your updated master bathroom design. For this, all you need to do is choose a soaking tub with a minimalist design as a freestanding tub or a classic clawfoot tub. That would give your bathroom makeover an elegant yet modern look that is all about simplicity. Your modern bathroom, for instance, can be all about neutral or matte colors and geometrical shapes.
Smart bathtubs are the rage these days. A smart hydro tub comes with plenty of innovative spa features. Most of these freestanding bathtubs come in many styles and designs. You can take your pick while being techno-savvy at the same time. Based on the model and price, some of these items even have an automatic bath filling function. You can adjust most of these features via remote control.
Read also – Standard Bathtub Dimensions for Every Type of Tub
Choose the Right Tile
The right bathroom tile would add personality to an already fabulous master bathroom design idea. When it comes to tiling, you can go for something special if you think outside the box. Some interior designers recommend hexagonal floor tiles around the bathtub to protect your hardwood floor. They provide a unique style statement as well.
You can create more texture with tiny geometric penny tiles in red or orange or dark-colored porcelain tiles for added depth to your color palette. Add exciting accents with glass mosaic tiles that pop out in various sheens to give a personality to your shower, recessed shelf, or backsplash.
Subway tiles are another versatile design option, both classic and modern at the same time. Give an added air of interest with contrasting colors or even plain white if you want your other elements to do the talking.
For a single focus, you can also create a statement wall with large-format ceramic tiles with a wooden-look finish or with 3D designs that play with both pattern and color. This option will be a showstopper and give the bathroom more depth.
Bathroom for Small Spaces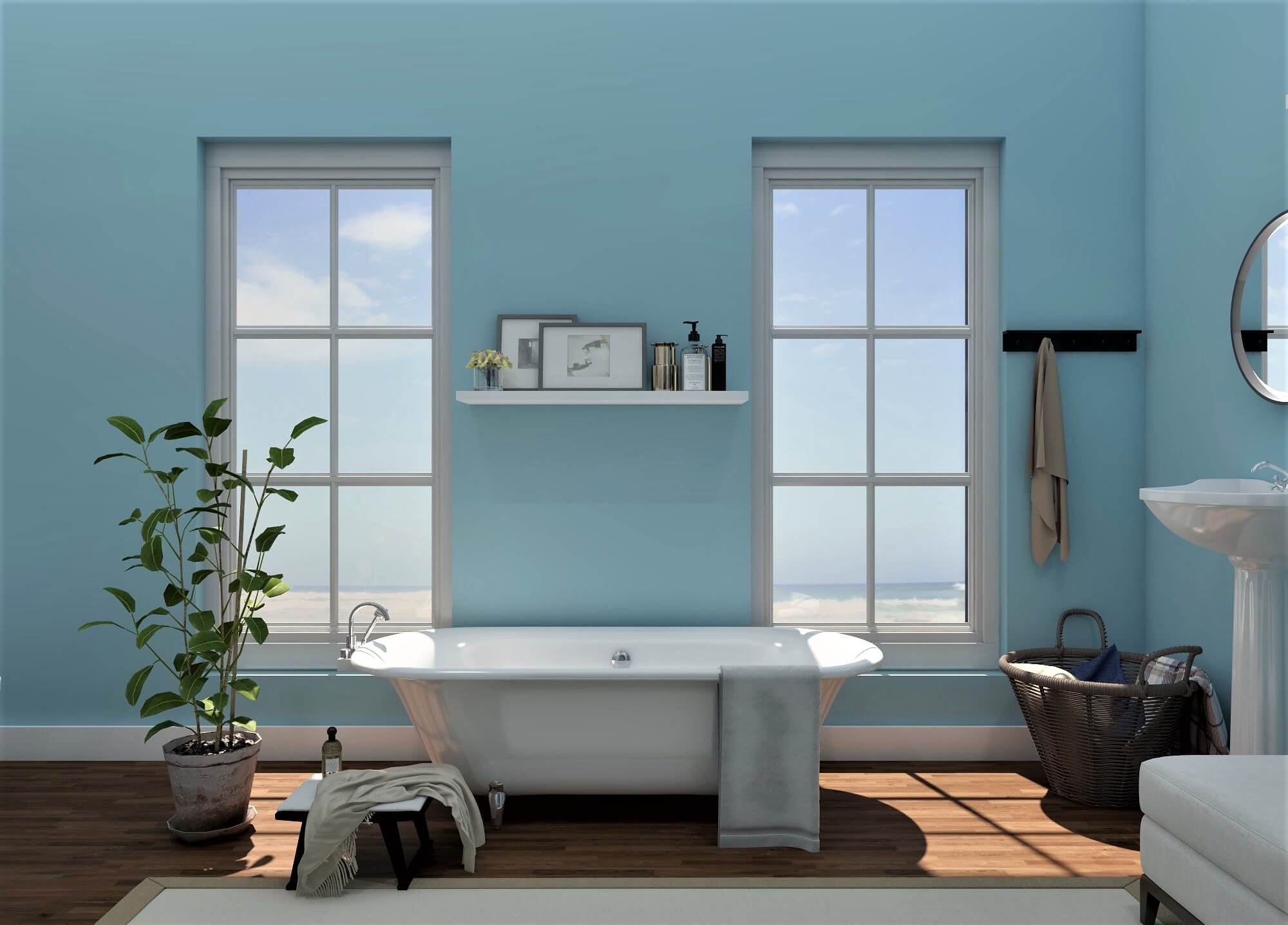 With the accurate placement and design, your small space master bathroom can turn into your favorite space to relax without burning a hole in your pocket. As we discussed earlier, mirrors add a whole new dimension to your bathroom. You can add an entire wall of mirrors if you want to enhance your bathroom space further. You can add skylights instead of wall lamps or sconces to carve out more space. Save legroom with wall-mounted toilets, and get frameless shower doors for your showers to make your bathroom look less stuffy. To make way for storage, you can opt for floating vanities without compromising on style or spending a fortune.
Another space-saving idea for small bathrooms is to switch a pocket door for entry instead of an in-swinging one. You can gain up to 9 square feet of usable space with pocket doors at great prices. You can also create modern sliders or classic barn door looks with surface-mounted sliding doors.
Read also – Stylish Small Bathroom Design Ideas
Create a Color-Balanced Bathroom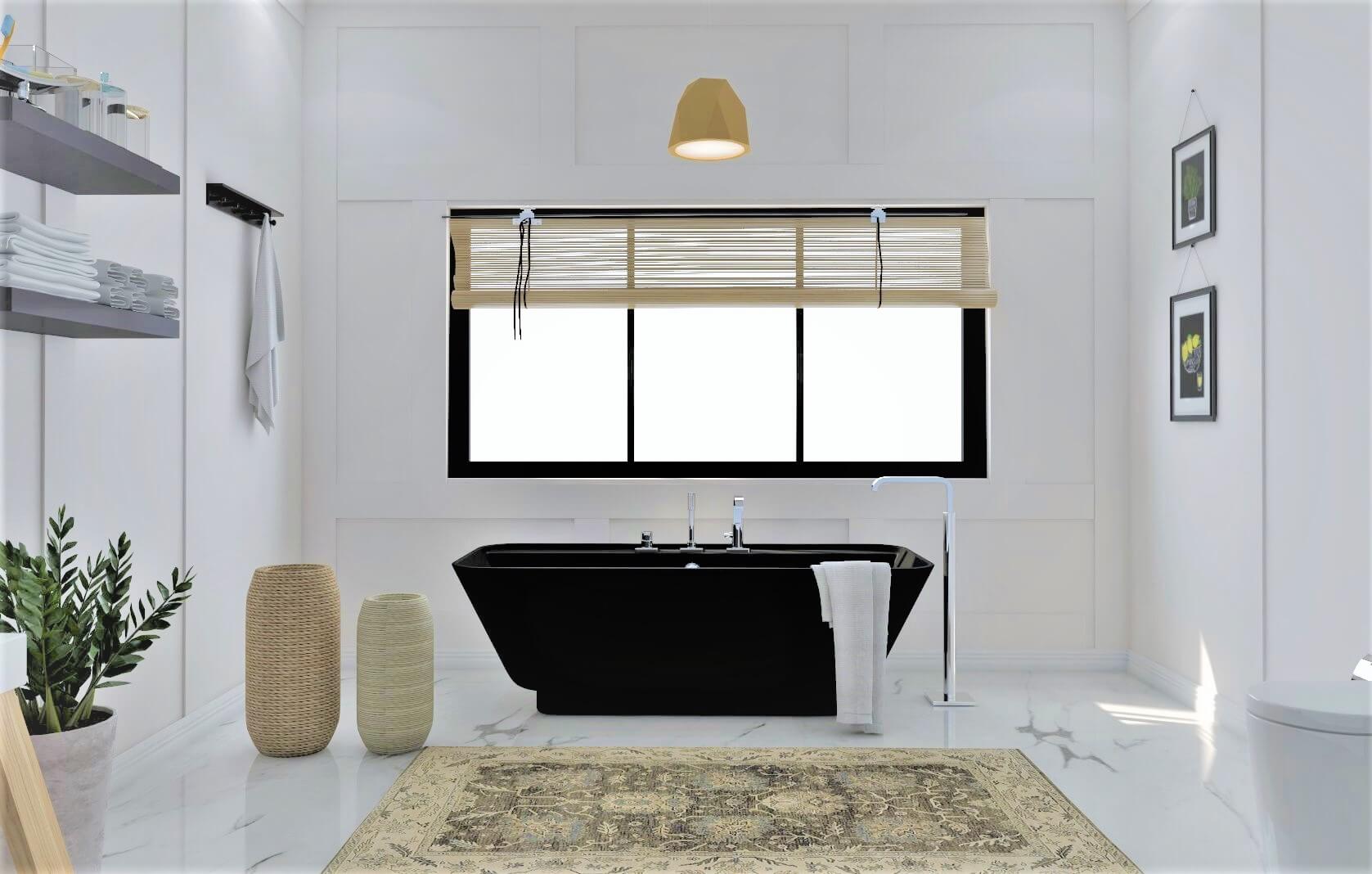 For the master bathroom design, the color scheme chosen must be trendy yet relaxing. For smaller bathrooms, you could opt for a soft blue color palette for the ceiling that goes perfectly with pearl white paint colors while giving the illusion of space. You can mix and match these colors while going ahead with your bathroom remodel of your cabinetry.
For larger master bathrooms, another classic color scheme is sandcastle brown mixed with daisy white tiles or linen grey ones. These hues look stunning where the main idea of the bathroom design is a rustic style. For a more sophisticated color palette, use navy blue tiles with silver finishes or with mini chandeliers if you have the taste and space for them.
For those who love vintage décor, the perfect paint colors could include hues such as pistachio green, pine green, and hints of gold. Monochromatic schemes with colors like purple, lavender, and plum have soothing effects while achieving a Victorian look for your bathroom.
Ensure that all your linens like bath towels, washcloths, and hand towels match your overall color scheme for a more organized look.
The Most Beautiful Celebrity Bathrooms
To get some more master bathroom design ideas, let us peek inside some of the most luxurious master bathrooms of the rich and famous. With impressive features like walk-in showers, freestanding bathtubs, and opulent vanities, they are havens for ones looking for a bathroom makeover.
Ellen DeGeneres's Garden View
An expensive marble bathtub has pride of place in Ellen and Portia's master bath. The master bathroom is part of the couple's vast estate located in Beverly Hills. It has beautiful large windows that overlook a gorgeous garden and bring in plenty of natural light. With a bathroom like that, we are pretty sure they get a spa-like experience right in their home.
Rochelle Humes
Inside Rochelle's master bathroom, anyone would feel spoiled and relaxed. Her large restroom features a grey and white color combination with luxurious elements. You could easily mistake it for a spa. Her white freestanding tub is located in one corner of the room, with a seating area right across from the tub created around a grey armchair.
Angelina Jolie
Angelina Jolie's mansion has no less than ten bathrooms. One of her powder rooms caught our attention with its style that screams Hollywood royalty. The subtle interior design focuses on muted cream. The accent walls are covered in ceramic tiles, with the stone floor tiles complete the look of this large suite.
An elegant vanity made of gold and marble is placed right in front of a window in the powder room. Jolie takes advantage of the plenty of natural light for her famous skincare routine.
Cindy Crawford
Saying that Crawford's bathroom is spacious would be an understatement. The art deco bathroom has an enormous shower cubicle adorned with marble tiles, a monsoon walk-in shower, and glass screens. This bathroom is as glamorous as this gorgeous Malibu homeowner. The windows have bamboo blinds for a natural bathroom feel. There is the vanity area at the back of the shower cabin with a gleaming marble surface countertop and freshly preened white calla lily.
Eva Longoria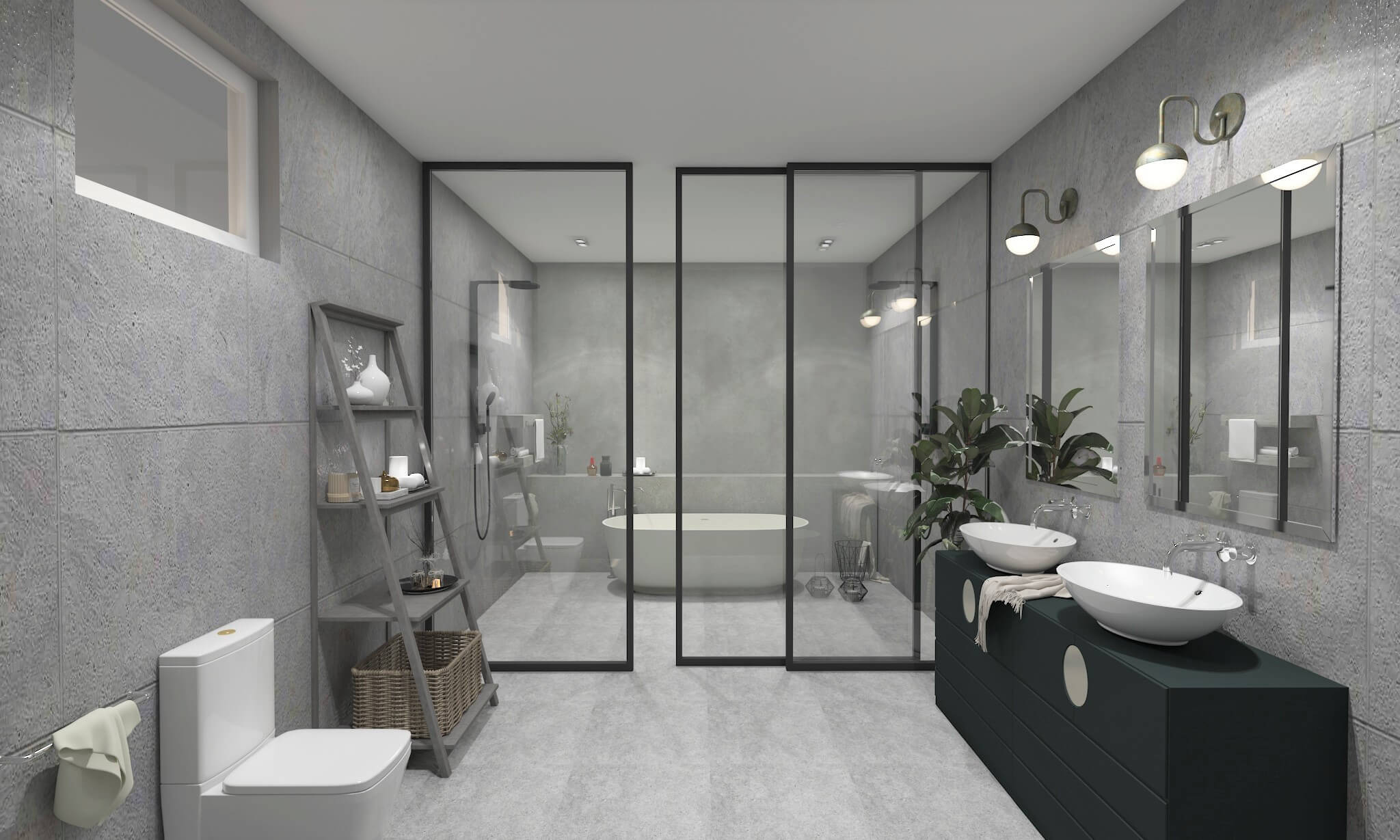 With a bathroom as luxurious as this one, we bet that Eva loves spending some me-time in her beautiful and sumptuous bathroom. This spacious bath suite connected with her master bedroom has an elegant freestanding tub, a glass walk-in shower cubicle, and a large vanity area replete with a dressing table. The spotlight sconces overhead with the marble-tiled flooring give this master bath an en-suite appearance.
The Most Beautiful Hotel Bathrooms
Most travelers choose accommodations based on the comfort of the bed, cleanliness, customer service, convenient location, and whether or not the hotel has a spa or a five-star restaurant. Although these are pertinent for finding the perfect real estate, we must not deny the importance of a relaxing bathroom. Let us take you through some of the most amazing hotels that have rooms with equally impressive master bathroom ideas.
Four Seasons in Bali
This Four Seasons resort was the first five-star resort in Indonesia to use the al-fresco Balinese shower heads into its bathroom layout. It offers a spectacular all-round view of the Balinese vista while you enjoy your much-needed shower. The entire 147-villa resort has been adorned with elegant surface bath fittings that include antique faucets, vintage-style bathtubs, and traditional Balinese wood rails. The huge bathtubs hug the white walls of the immense bathroom interiors offering a floor-to-ceiling view of over 200 species of birds and critters that provide a natural soundtrack while you enjoy your spa-like experience.
Read also – Bathroom Lighting Design and Ideas
Sheraton Hotel & Casino in Puerto Rico
The Presidential Suite of the Sheraton Hotel & Casino in Puerto Rico has inspired several bathroom ideas with its vibrant shot of green on its accent walls to highlight the tranquility surrounding the interiors. The bathroom layout consists of an oversized bathtub that sits parallelly across a walk-in shower made entirely of glass which provides a Zen-like ambiance to the already calming effect experienced in the bathroom suite.
Vale Garden Residence in NYC
The Vale Garden Residence of the William Vale Boutique Hotels has one of the swankiest and contemporary bathrooms in its penthouse suites that provide amazing New York skyline views. The bathrooms feature a sleek and modern design focusing on all-white furnishing with large geometric mirrors. All the restrooms' amenities are provided by L'Occitane en Provence.
Hotel Cafe Royal in London
With a colorful history as Hotel Cafe Royal in London with guests like Winston Churchill and Elizabeth Taylor in its registers, it was bound to be on the list. Built over 150 years ago, the Royal Suite alone has no less than four bathrooms. It was said that the construction of its bathrooms halted Italy's marble production because of the hotel's orders of Carrera marbles for the bathroom
home improvements
. Enjoy your favorite movie or game while immersing yourself in the huge handcrafted marble bathtub with its built-in TV screens inserted in the mirrors and sound systems in the bathroom.
Parting Note
Although quite popular, you do not need to spend a bomb to own or remodel a luxurious bathroom. Your local thrift stores often have sturdy and quality items that you can always either refurbish or use in their original states to create a unique statement for your bathroom design. Experiment with wallpapers, color schemes, storage space, and lighting for any style you want to visualize.
You can see a world of difference in your bathroom interior design by adding or remodeling just one item in the form of your bathroom mirror, your countertop sink, or your vanity cabinet. The key is to experiment and imagine what you want your rejuvenation space to be before working on the remodeling. You can save a lot of time and money to make your bathroom your space of solitude after a hard day at work or to get away from the humdrum of daily life at home.