Whether you're implementing some small upgrades or opting for a complete overhaul, a bathroom renovation is a big deal and an important investment in your lifestyle. Besides the kitchen, a master bathroom is an essential practical space in any house, and so it should be one of your top priorities to remodel it and make it look good. That's why we're zooming in on the top master bathroom design ideas trending today!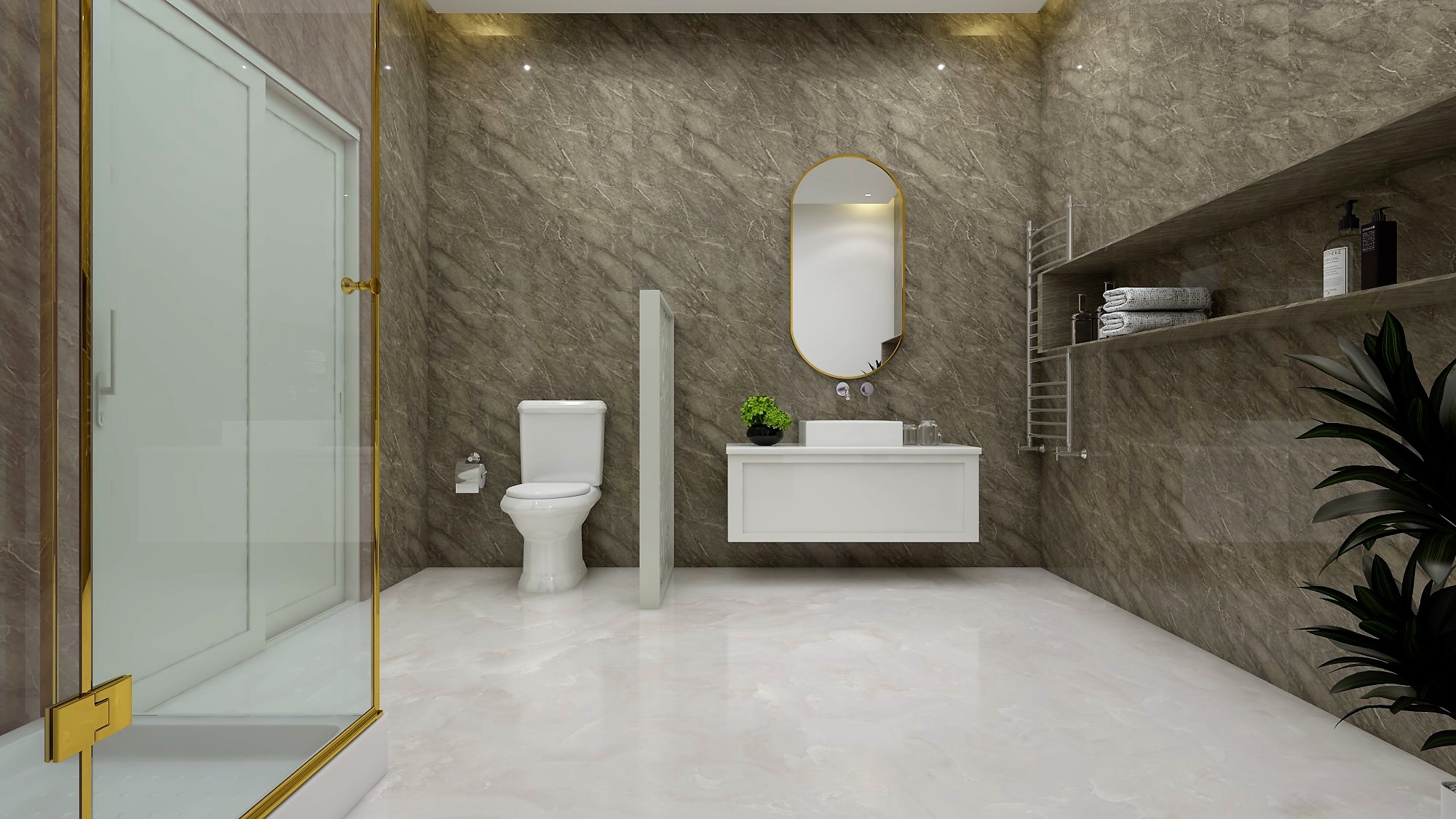 Top Master Bathroom Design Ideas
If your goal is to achieve the best master bathroom design ideas, then you should keep in mind both functionality and aesthetics. Otherwise, your relaxation time during a nice bubble bath might be interrupted by unsightly décor. 
Master bathrooms are considered highly luxurious, and many remodel projects tend to become long and expensive, although they don't have to be if you play your cards right. Here are some of the most inspirational master bathroom design ideas. 
Refresh Your Vanity Cabinet
The first thing that people see when they enter their bathroom is usually the vanity cabinet. If you don't have one or if it looks outdated, go ahead and change it. Plenty of vendors sell standalone products that require very simple and quick installation. 
One idea would be to search for the perfect vanity at your local thrift shop and maybe find an item with a vintage finish. Another great option is to repaint or refinish the cabinet if you're a little short on cash. 
Choose a Statement Mirror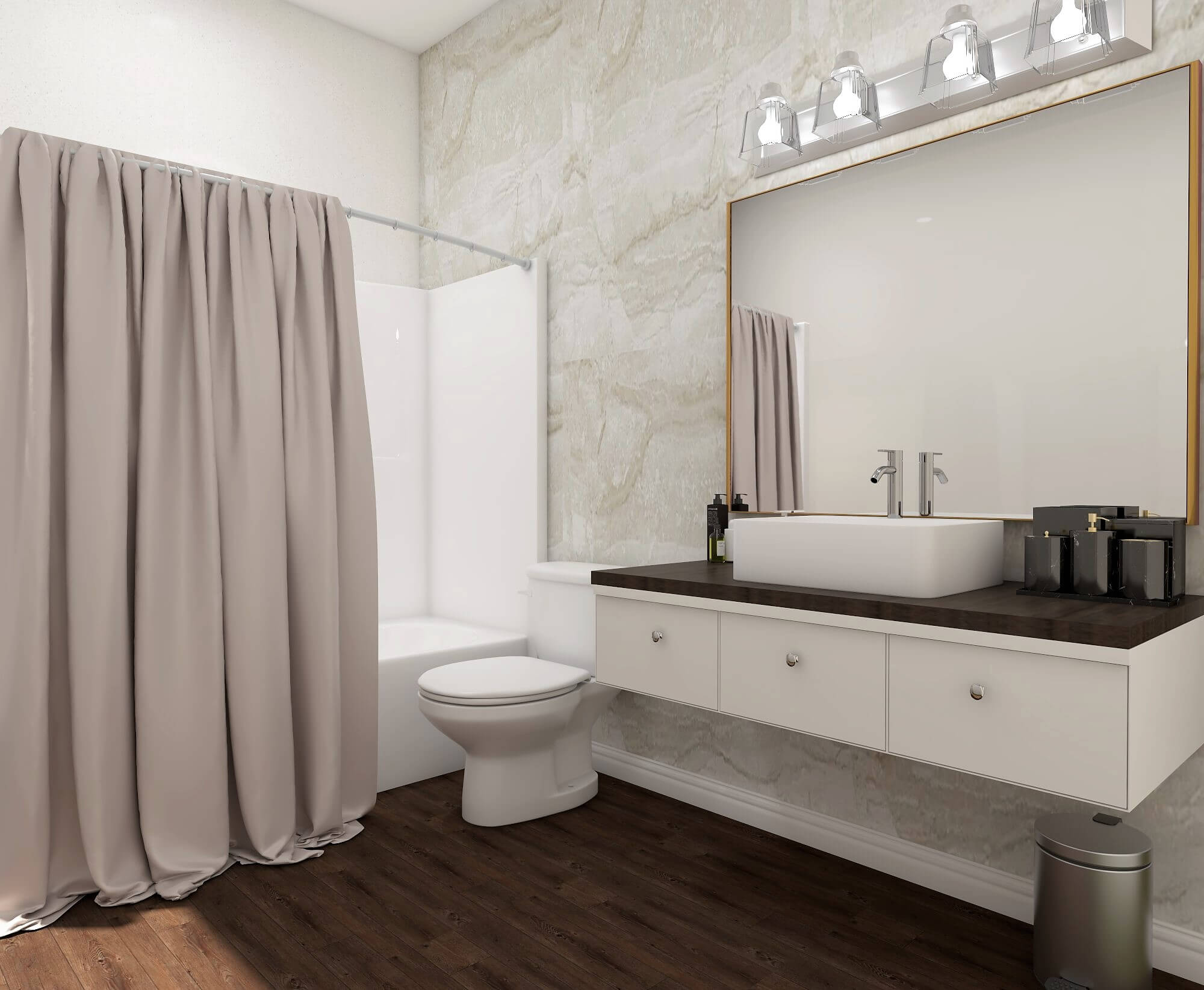 Placing a new mirror on one of your bathroom walls is a simple yet effective way to increase the space's visual appeal. You can opt for just one mirror or try to use several complementary pieces and create an entire design scheme. 
Round mirrors are very classy and trendy these days. Based on their frame, they can be the perfect mix of contemporary and classic. If you want a more modern look, you should choose a mirror that has metallic elements. One style that more and more people like is the eclectic one, which is sleek and combines traditional features with modern sections. 
Opt for a Sculptural Sink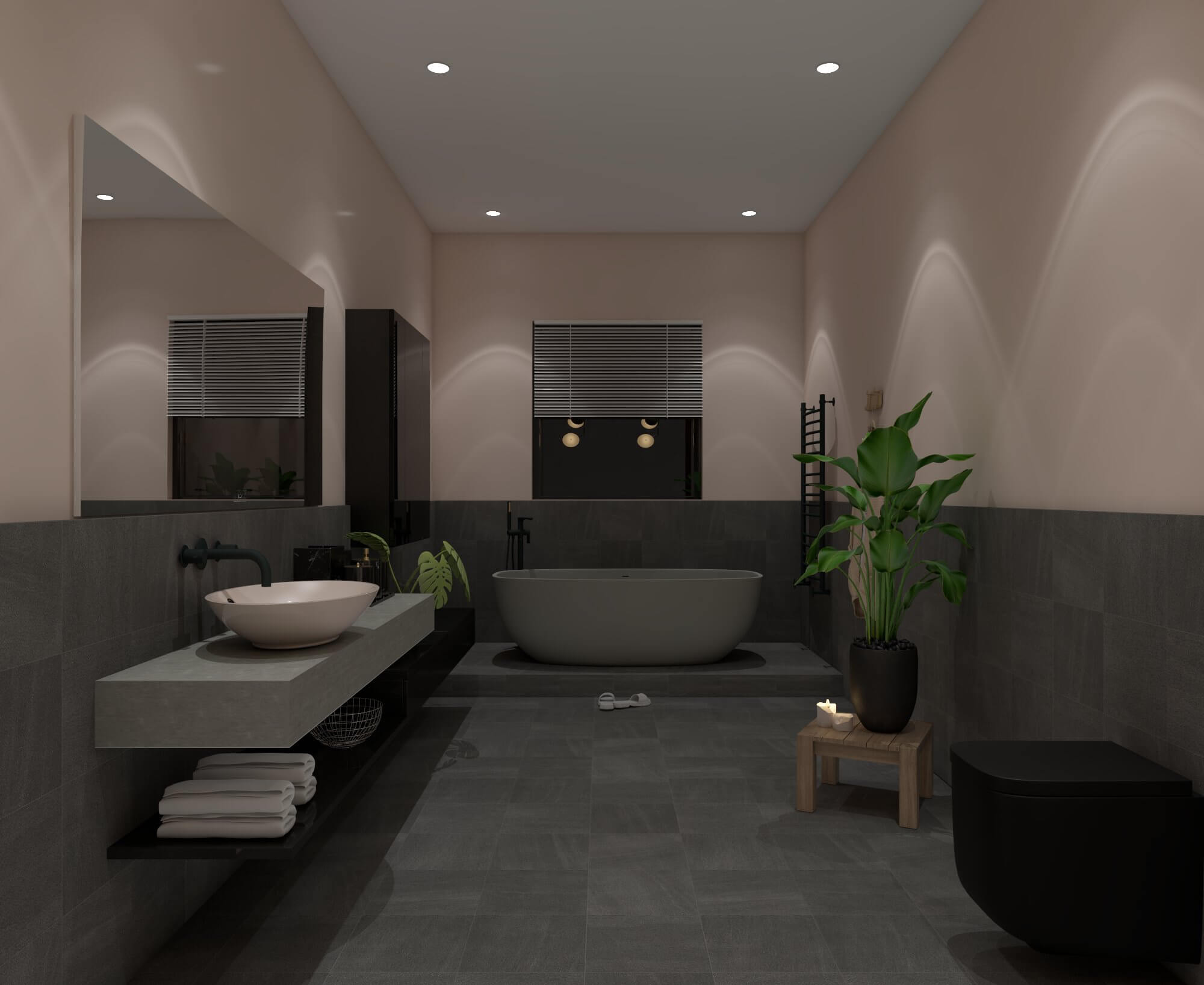 Vessels and basins that are placed over countertops are a popular choice nowadays when it comes to master bathroom design ideas. They are very versatile and can be easily paired with a wide range of styles, from modern to traditional and eclectic. If you like to pamper yourself and have some quality alone time, a sculptural sink surrounded by your bathroom's vanity area will create the ideal relaxing environment. 
Make Your Bathtub the Focal Point
A soaking tub could be the centerpiece of your updated master bathroom design ideas. One way to go is choosing a bathtub that displays a minimalist design. Simplicity is always elegant yet modern. Modern simplicity, for instance, is all about neutral colors and geometrical shapes. 
If you are more of a traditionalist that enjoys rustic environments, we suggest you use wooden elements to decorate your bathroom. You could place wooden countertops for your sink and wooden flooring. To finish it all up, choose a simple white oval bathtub. 
Smart bathtubs are all the rage these days. A smart hydro tub comes with plenty of innovative spa features. Based on the model and price, some of these items even have an automatic bath filling function. Most of these bathtubs' features are adjusted via remote control. 
Choose the Right Tile
Tiling gives personality to all master bathroom design ideas. When it comes to bathroom tiles, if you want something special, you must think outside the box. Some interior design specialists recommend hexagonal tiles around the bathtub to protect your hardwood floor. They provide a unique style statement. 
You can create more texture with tiny geometric tiles. Choose red or orange penny tiles for your bathroom walls for a bold initiative. Another exquisite combination would be olive cabinets with purple or navy blue tiles. 
If you want one single focus, you should create a statement wall. Embellish the bathtub's wall by offering it both pattern and color. This option will be a showstopper, and it gives the bathroom more depth. 
Create a Color-Balanced Bathroom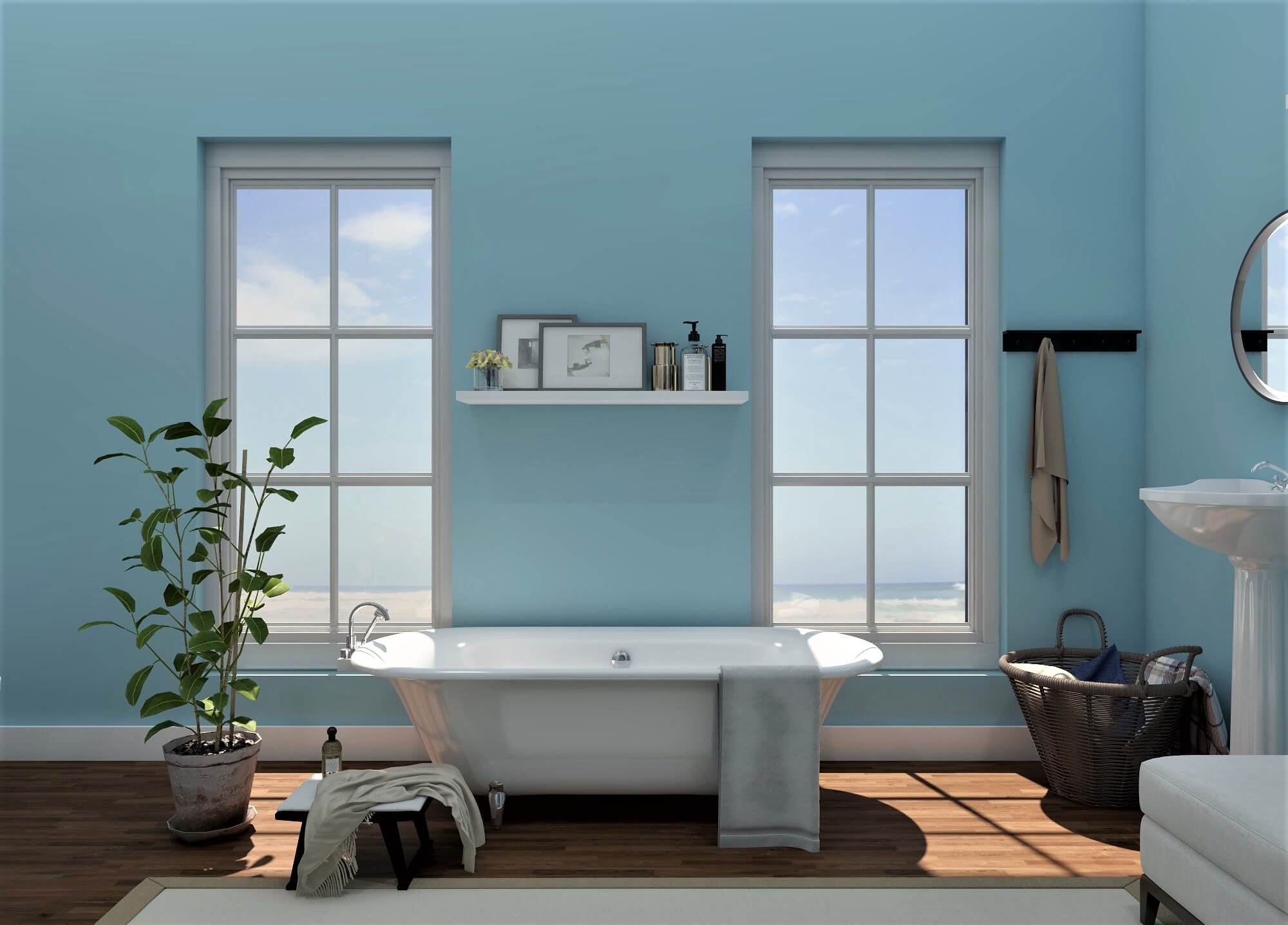 One thing to keep in mind when looking for master bathroom design ideas is the color scheme, which must be trendy yet relaxing. You could opt for a soft blue tile color for increased serenity. Soft blue goes perfectly with pearl white so, perhaps you should keep that in mind when you purchase the cabinets. 
Another great color combination is sandcastle brown mixed with daisy white or linen grey. These hues are amazing when the main idea of the design is a rustic style. For a sophisticated appearance, navy blue tiles with silver finishes are always an incredible option. 
For those of you who love vintage décor, the perfect color scheme included hues such as pistachio green, pine green, and hints of gold. Other colors like purple, lavender, and plum have soothing effects, and they will relax and calm you down. 
Make sure that all your linens like bath towels, washcloths, and hand towels match your overall color scheme for a more coherent look.
The Most Beautiful Celebrity Bathrooms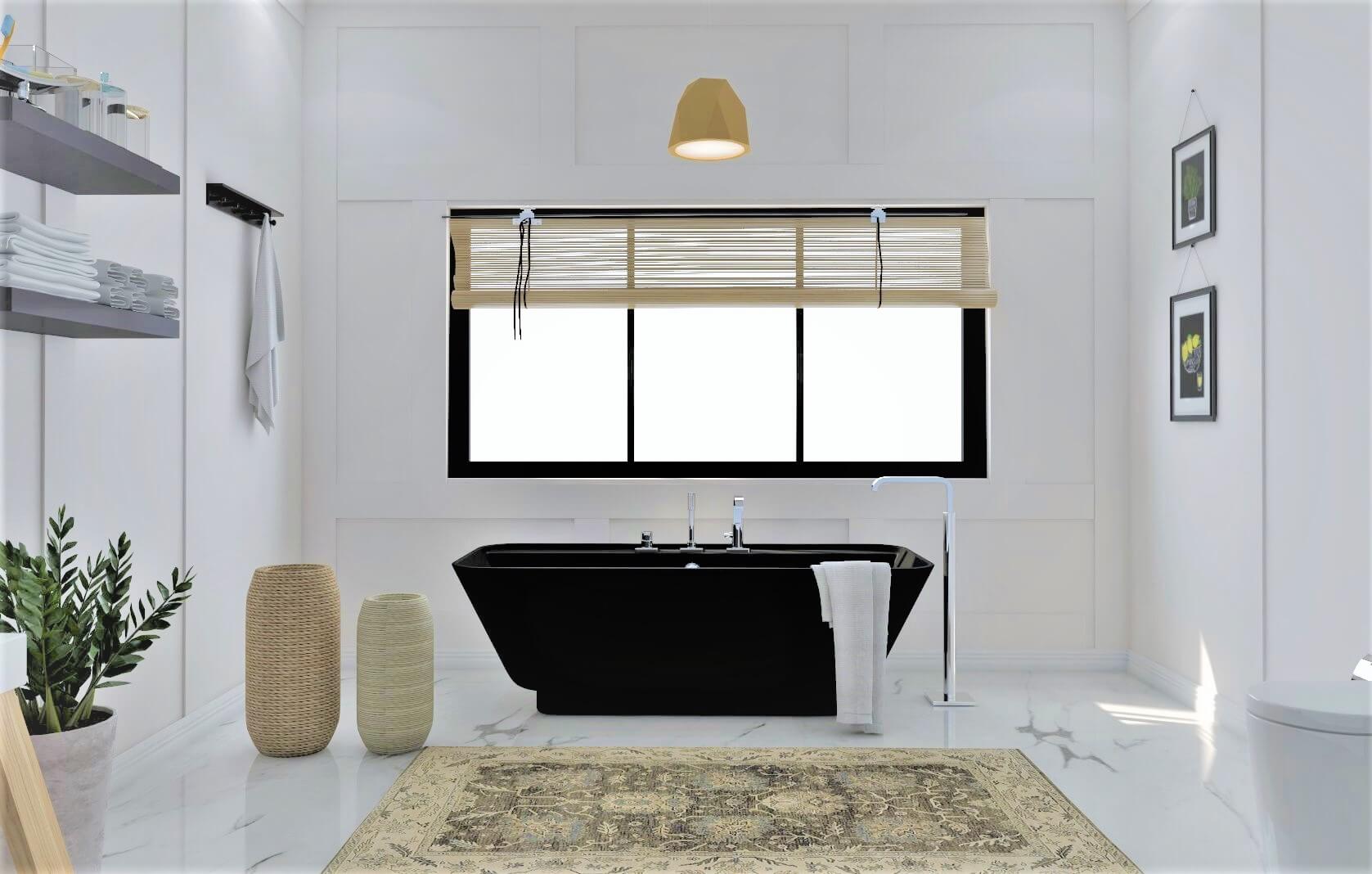 To get some more master bathroom design ideas, let's take a peek inside a few of the most luxurious master bathrooms of the rich and famous. They have impressive features such as walk-in showers, free-standing bathtubs, and opulent vanities. 
Ellen DeGeneres's Garden View
An expensive marble bathtub thrones in Ellen and Portia's master bathroom. The room is part of the couple's huge estate that's located in Beverly Hills. Their bathroom has large windows that overlook a gorgeous garden. We bet they feel like being at a spa in there.
Rochelle Humes
Inside Rochelle's bathroom, anyone would feel spoiled and relaxed. Her large restroom features a grey and white color scheme and luxurious elements. You could easily mistake it for a spa. Her white free-standing bathtub is located in one corner of the room, and there's even a seating area right across from the tub, created around a grey armchair. 
Angelina Jolie
 Angelina Jolie's home has no less than ten different bathrooms in her huge mansion, but one of them caught our attention with its style that's proper for Hollywood royalty. The color scheme is subtle and focuses on muted cream. The walls are covered in ceramic tiles while the stone flooring completes this large suite. 
There's also an elegant vanity made of gold and marble that's placed right in front of a window, which helps Jolie benefit from plenty of natural light when she does her skincare routine.
Cindy Crawford
Saying that Crawford's bathroom is spacious would be an understatement. The first thing that stands out is her enormous shower cubicle that has marble tiling, a monsoon shower, and glass screens. In the back of the shower cabin, there's the vanity area. 
Eva Longoria
We bet that Eva loves spending some me-time in her beautiful and sumptuous bathroom. The space is immense, and it has a free-standing tub along with a walk-in shower cabin. Besides the vanity area, there's also a large dressing table embellished by tiled marble flooring and overhead spotlights.
The Most Beautiful Hotel Bathrooms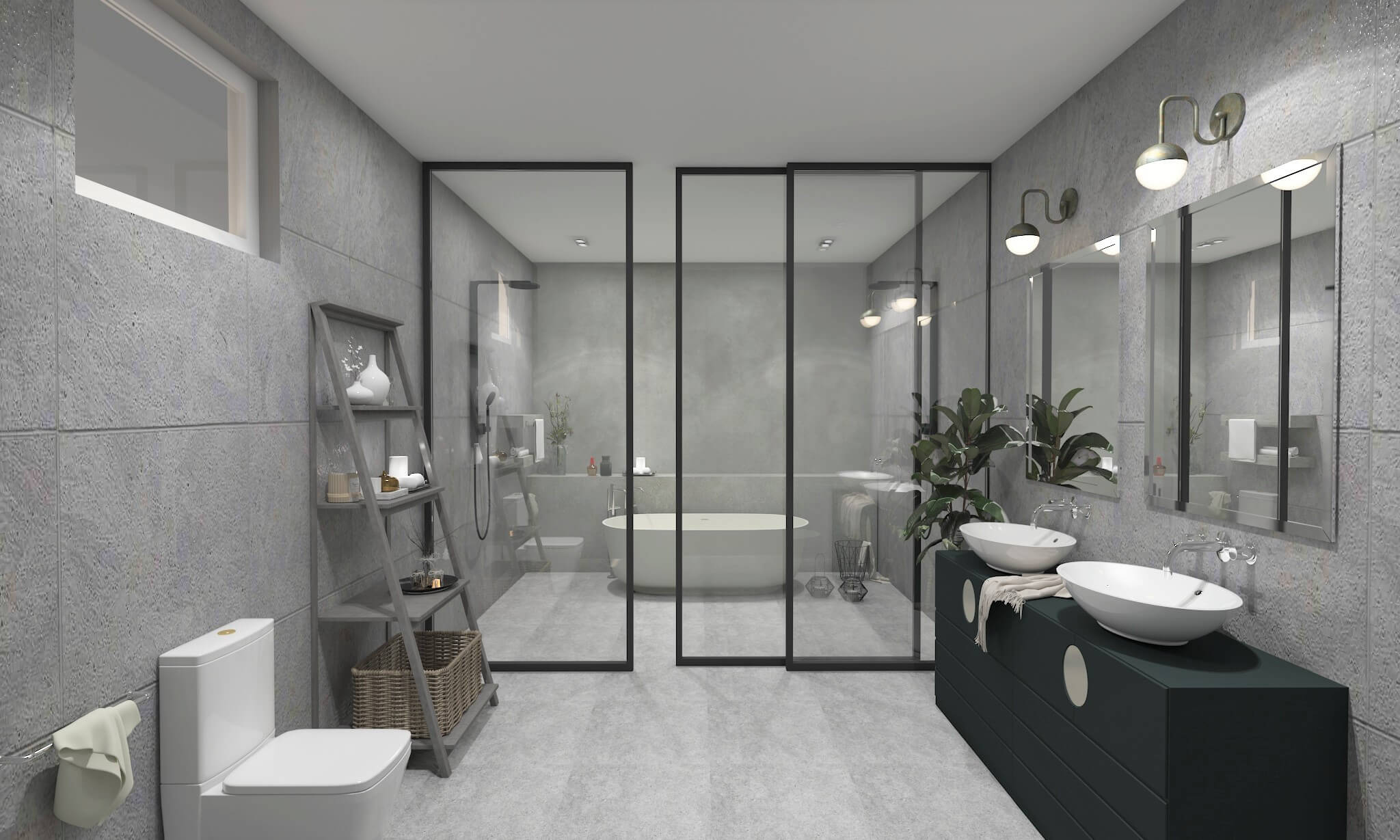 Most travelers choose accommodations based on how comfy the bed is, whether or not the hotel has a spa or five-star restaurant, and if it is located in a convenient area. However, some of the most amazing hotels have rooms with equally impressive bathrooms.
Four Seasons in Bali
The inside of this hotel's bathrooms is decorated with vintage-style elements like antique faucets and traditional features such as Balinese-wood towel rails. The bathtubs offer a complete floor-to-ceiling view that overlooks the jungle. So, when you enjoy your bath, you will also feast your eyes with more than 200 species of plants. The alfresco Balinese showers are to die for.
Sheraton Hotel & Casino in Puerto Rico
The best-looking restroom in this deluxe hotel is one of the Presidential Suites. It simply embraces color due to its vibrant green walls. On one end, there's an oversized bathtub, and on the other end, you will discover a walk-in shower made of glass walls. The entire room has a calming effect.
Vale Garden Residence in NYC
This upscale hotel is located in New York City and provides amazing views of the city's skyline. Its bathrooms feature a modern and sleek design that focuses on large geometric mirrors and all-white furnishings. All the restrooms' amenities are offered by L'Occitane en Provence.
Hotel Café Royal in London
This is a historic building, and famous people like Winston Churchill and Elizabeth Taylor stayed here. The hotel was built over 150 years ago. Its Royal Suite alone has no less than four bathrooms. These restrooms are outfitted in Carrara marble. Other exclusivist elements are TV screens inserted into the mirrors, handcrafted marble bathtubs, and sound systems.
Conclusion
Luxurious bathrooms are becoming more and more popular. If you want to take your bathroom from being the most boring to the most interesting room in your house, consider improving your vanity cabinet, adding a statement mirror or sculptural sink, changing your tile, or maybe just adding a bit of color! These master bathroom design ideas will ensure that you have the best space for you.
Click to rate this post!
[Total:

0

Average:

0

]