Home » Design Ideas & Inspirations » 8 Best Bedroom Remodeling Ideas To Renovate Your Bedroom
Bedroom Remodeling Ideas
Do you want a bedroom makeover? Your usual bedroom look can get boring. Thus you may want to change things and spice up your room. Change brings a different kind of vibe. It's always a great idea to remodel your bedroom and break from what you're used to. It doesn't matter whether it's kids, guests, or a master bedroom.
There are infinite styling and decorating ideas options out there. Examples include chic, timeless, evolving, or relaxed. Do minor tweaks here and there to ensure the remodeling fits your style.
So, where do you start? The following piece covers 8 remodeling design ideas to take your bedroom to the next level. But before that, let's talk about why you should remodel your bedroom.
Read also – 10 Best Kitchen Remodeling Ideas
Reasons to Remodel Your Bedroom
When revamping a house, most people focus on other sections like the bathroom, living room, and kitchen remodel and forget their bedrooms. An average adult spends about 30% of their lifetime in the bedroom.
Thus, it's vital to ensure the guest room, kids' bedroom and master bedrooms are comfortable. Quality sleep is essential for every human being. It increases energy levels and ensures you are fit to face the next day.
Lack of sleep can contribute to physical illnesses like diabetes and high blood pressure. It can also contribute to mental conditions like depression and anxiety.
Therefore, you want to create an environment that promotes sleep.
Read also – 20 Essential Things for A Perfect Master Bedroom
Things to Know Before Remodeling Your Bedroom
Here are a few things to know before remodeling your bedroom.
A) Planning is Necessary
Planning is the first step of remodeling or any interior design project. You have to make solid plans that will save you money, time, and stress. Ask yourself several questions like:
Are you remodeling for function or looks?
Are you working on a large or small space?
Do you want to start with the guest bedroom or master bedroom?
Is the revamp inclusive of the walk-in closet and bathroom remodel?
Planning would enable you to opt for the best design choices moving forward.
B) Find a Contractor
There are endless DIY options homeowners can attempt. However, sometimes what you want may be beyond your expertise. In such cases, you should seek professional services. A great example is Utah remodeling services for people around Utah.
Nonetheless, it doesn't matter where you are in the world. Such professionals are located everywhere across the globe. Google the best house contractors near you and opt for their services.
These home improvement professionals have several years of experience. They've worked on different remodeling projects, and they can help you in your bedroom makeover endeavors.
C) Work Under a Budget
Once you determine the changes you need, budget for the materials. Don't forget to budget for contractors' fees if you will need their services. Always work within your means.
Read also – 14 Best Rustic Bedroom Ideas To Decor Your Bedroom
8 Best Bedroom Remodeling Ideas:
You can start the bedroom makeover after knowing the reasons and things to consider before remodeling it. Having an idea of what you want is the first step to remaking your bedroom. Here are the 8 excellent ideas to help you out.
1. Get Creative with Color
Wall Color plays a massive role in changing the bedroom's appearance. Go for something that you love. It's essential to pick a color that speaks to your heart and adds warmth to your room. Several color options exist. Thus, you don't have to confine yourself to a box.
Remember, simple, timeless, and classic colors always make a room pop. If your bedroom is large, cool colors will do it justice. These colors have a relaxing and calming effect. Examples are blue-green, most grays, and blue-violet.
Small bedrooms would benefit from the light color schemes. Examples are soft pinks and yellows that have a soothing effect.
Alternatively, you can have an accent wall that might also act as your focal point. Accent walls are excellent in solidifying the theme of your bedroom.
Different colors give different energies. Thus, you want to go with something that you wouldn't regret. Since the bedroom is a relaxation center, avoid high-energy colors like deep reds, bright greens, or bold and tropical hues.
Here are some paint colors you can opt for:
Bright white
Light gray
Ice blue
Blush pink
Khaki green
Light lilac
Soft black
Lemon yellow
Cobalt blue
Royal purple
You can repaint the room yourself or let a professional painter do it for you. Professional painters have better painting techniques and tools. They work to perfection and ensure an excellent outcome.
Read also – Color Theory in Interior Design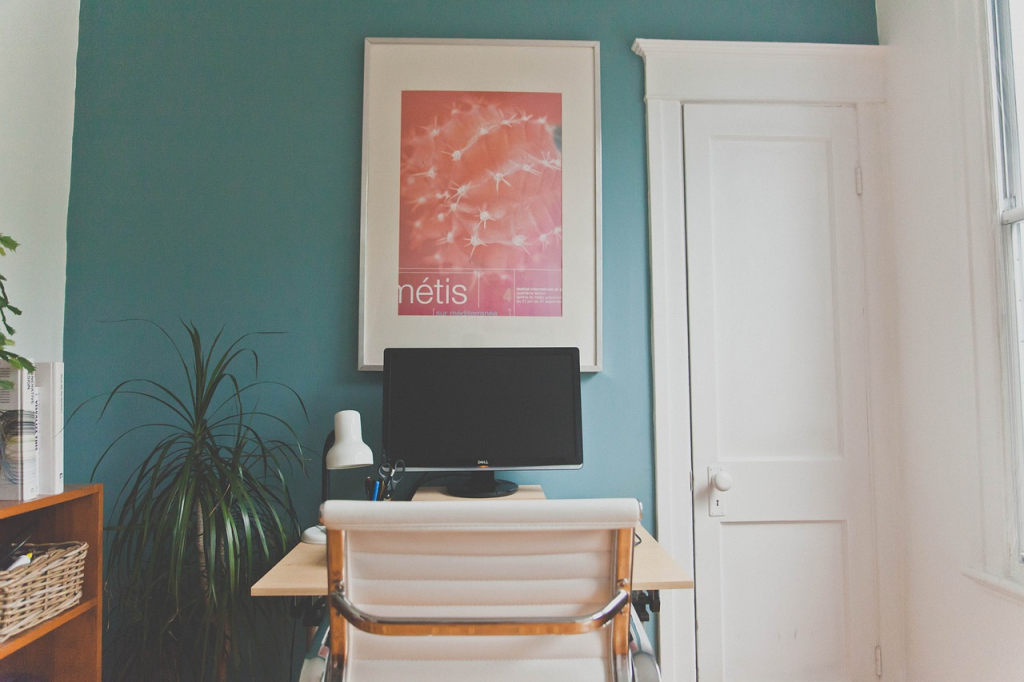 Image source: pixabay
2. Improve the Lighting
Lighting should be a massive part of your transformation. Some of the things that require the use of light in your bedroom are; reading, being ready for the bed, romance, and relaxing.
Below are some of the lighting ideas.
A) Add a Chandelier
Chandeliers add some drama and elegance into a room. Unlike the living room, bedrooms require small fixtures. A chandelier is a great finishing touch for a minimalist or a contemporary bedroom.
To ensure the chandelier pops:
You need a high ceiling.
Choose one that moderates light.
Keep the chandelier towards the center of your room.
If your bedroom contains a sitting area, use a chandelier to define the spaces.
B) Flush-Mounting Ceiling Fixtures
These are the most common source of overhead bedroom lights placed on the ceiling. The fixtures are regular bulbs, but they are covered with plastic-bowl-shaped or decorative glass covers.
Simple flush-mounting ceiling fixtures are elegant. Alternatively, if you want something more sophisticated, metal or painted trim are great options.
C) Wall Sconces
Modern wall sconces come in a variety of shapes and sizes. They elevate the lighting design of any interior space. These are wall lighting fixture that uses the wall for support during the installation. The lights are excellent in adding a fantastic layer of lighting to your bedroom.
D) Pendant Light
Common in contemporary bedrooms, the trendy and versatile type of light fixtures leaves your bedroom looking spectacular. The pendant light is mounted on the ceiling. It hangs down from the ceiling on a long rod or chain.
E) Recessed Lighting
Also known as downlights, recessed lights are common in living rooms. Nonetheless, they are a great option when remodeling your bedroom, especially if your space is big. The lights give a contemporary look and combine well with other lighting fixtures. They give an illusion that a ceiling is higher than it looks.
If you don't know how to fix the lights, never be afraid of seeking help from house contractors. Choose a contractor near you. For instance, if you are in New York, look for contractors around New york. If you are around Utah, look for the services of the best remodeling contractors in Utah.
Read also – Amazing Master Bedroom Ideas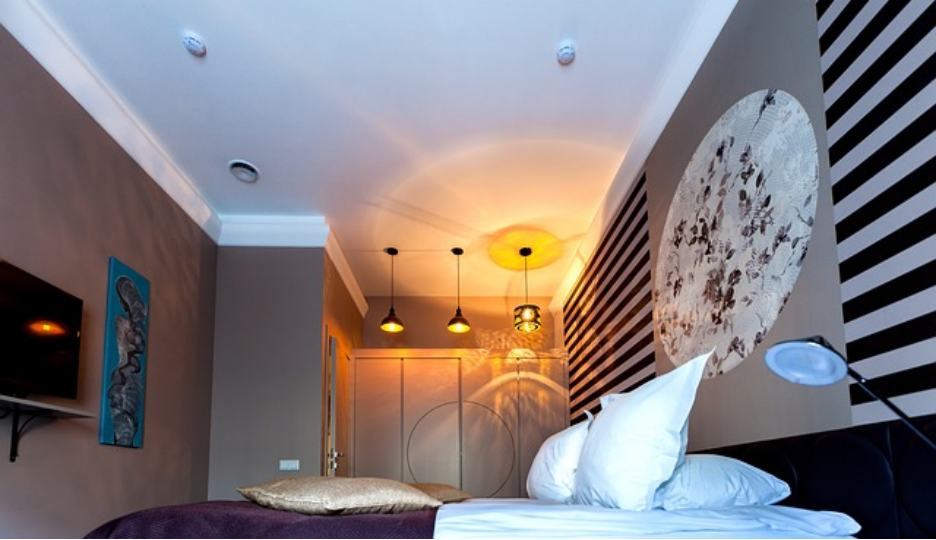 Image source: pixabay
3. Change the Flooring
There are several choices of floor to opt for when remodeling your bedroom. Floors need to be warm, cozy, and safe. Nevertheless, if you want to go hard, you can do that too—anything to make your bedroom look comfortable and match your style. Here are some flooring options to choose from.
A) Carpeting
Carpets are warm and soft to the feet. They come in different colors, designs, and patterns.
Opt for an eye-catching one that complements your space. The primary two categories of carpets are loop pile and cut pile. These two categories also contain subcategories. Texture and Saxony are variations of cut pile carpets. Level loop and Berber fall are the main types of loop pile carpets.
B) Area Rugs
You can lay these over carpets since they come in endless size options, colors, and materials. They soften hard flooring like wood or laminate by providing warmth and comfort. Area rugs act as artwork for the floor. Quality area rugs last long.
C) Laminate Flooring
Laminate flooring looks like natural wood. It comes in a wide range of styles and wood-tone colors to fit a couple of decorating styles. They are the less expensive option of hardwood and easy to set up.
Unfortunately, laminate flooring is susceptible to scratching. It can buckle if water or other liquids puddle in it.
D) Wood Flooring
There is something about wood flooring that adds warmth and beauty to any décor. Examples of hardwood used for flooring include ash, oak, walnut, and maple. Strip, parquet, and plank are some of the most popular styles of wood flooring that exist.
E) Rubber Flooring
This type of flooring is made of recycled or virgin rubber. Come with a wide ray of styles, patterns, and colors. Rubber flooring is durable. It can even last for more than 30 years. It's a great alternative if you want to remodel your child's bedroom. It's also easy to clean and maintain.
Fixing flooring may require you to look for professional services. Different contractors have different ways of working with clients. For instance, house remodeling contractors in Utah will need you to fill the quote form. Here, you leave specific details concerning your renovation and leave the rest to them.
Read also – 15 Best Guest Bedroom Ideas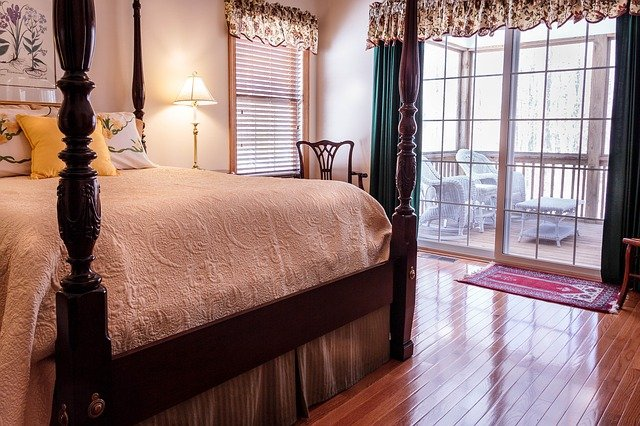 Image source:pixabay
4. Play with the Decor
Home decors are one of the ways to ensure your bedroom design promotes a positive mood. It makes it feel like a home—more of a place that you can unwind in. The décor should also reflect your style. Thus, you need to incorporate your favorite materials, colors, and patterns.
If you are going for a simple look, only settle for what you need by minimizing the accessories. Add some flowers, candles, family photos, and your favorite piece of artwork to your bedside table. Limit to one or two pieces to avoid overcrowding.
Incorporate décor that will maximize your space.
If you want a bold look, go for vibrant cod orange for your beddings, graphic lamp, and bed frame. Play with the colors like red and gold. Change the headboard by getting a different design or color.
Bold colors give a crisp and deliberate look. For instance, you can match the duvet with a lighting lamp for a more sophisticated look.
Read also – 40 Best Home Decor Online Stores To Buy Amazing Home Arts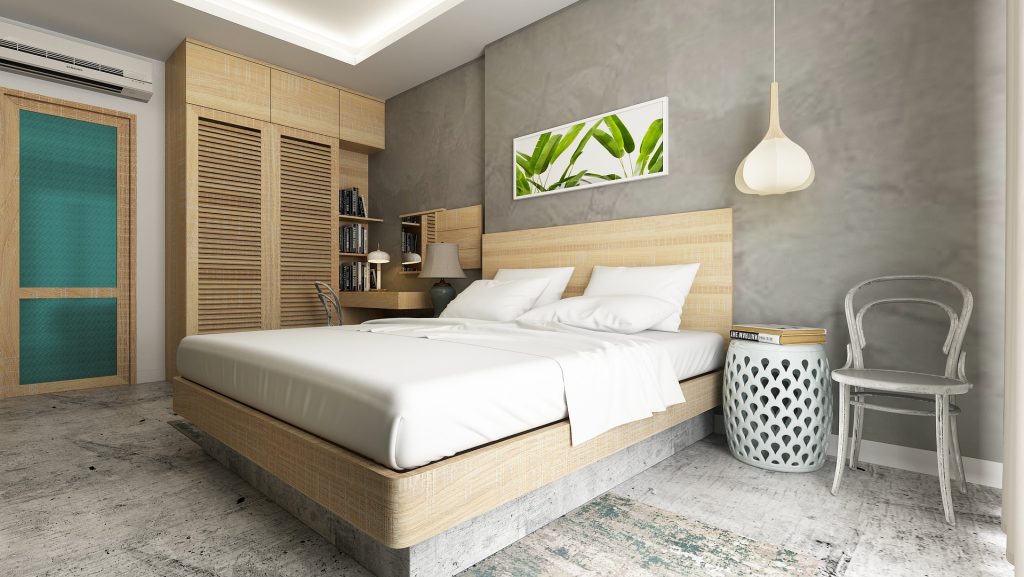 Image source:pixabay
5. Rearrange the Artwork
Artwork is one of the bedroom decorating ideas to change a room's look. Your bedroom is an excellent place to add the art that means the most to you. It doesn't matter if they are silk rugs, kid's drawings, sculptures, or paintings. What matters is the space you have and the arrangement you want.
There are great DIY options that are cheap and give your room a complete makeover. If you already have art on your wall, change the arrangement. Alternatively, get rid of all of them and get new ones.
You can put all random arts in one of the frames to make it look like an actual gallery. Also, add botanical elements like a few succulents on your bedside or side table.
Cover your walls with tapestries to make a bold statement.
Read also – 10 Best Teen Bedroom Ideas

Image source: pixabay
6. Add Some Indoor Plants
Apart from increasing your oxygen levels, indoor plants make your space look rich and full of life. Plants enhance the mood and set a calming effect. Some of these plants include snake plants, English plants, and gardenia.
If you don't want to do the job of maintaining a plant, go for plastic ones. They offer the same looks as natural plants, minus the caring part. A great example is the pampas grass that gives a beachy vibe.
Turn plants into the focal points of your bedroom by hanging greenery above your windows. It's an excellent way to add greenery and ensure it doesn't take space on your dresser table or nightstand.
A drapey plant gives an overflowing look when you hang it up. It also adds instant color, and texture giving your room a more dynamic look.
Read also – 10 Unique Ways to Enhance Master Bedroom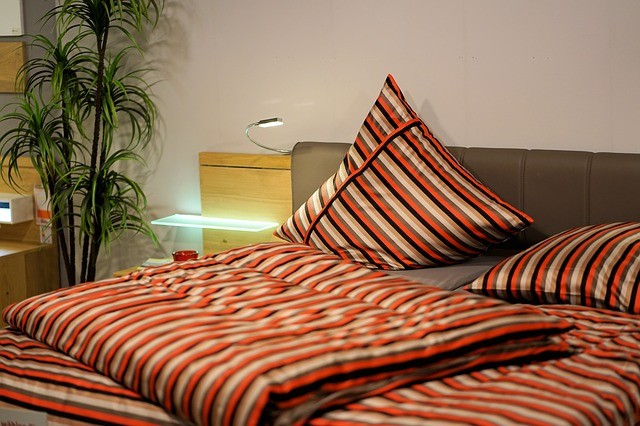 Image source: Pixabay
7. Rearrange the Furniture
Rearranging the furniture is a great way to get a new look. How you arrange the bedroom furniture will vary depending on the size of your room. For larger spaces, start with the bed arrangement before deciding how the rest of the places will look.
Create a space between your bed and the window to get that extra space. If you feel your furniture isn't serving you any longer, declutter and get rid of it. Opt for multipurpose furniture—for instance, one that can serve as a reading table and a lampstand.
Paint your bedroom furniture into other colors to change its look.
Also, mount some of your furniture on the wall—for instance, bookshelves, jewelry holders, and lamps.
Read also – 40 Best Online Furniture Stores To Shop Trendy Furniture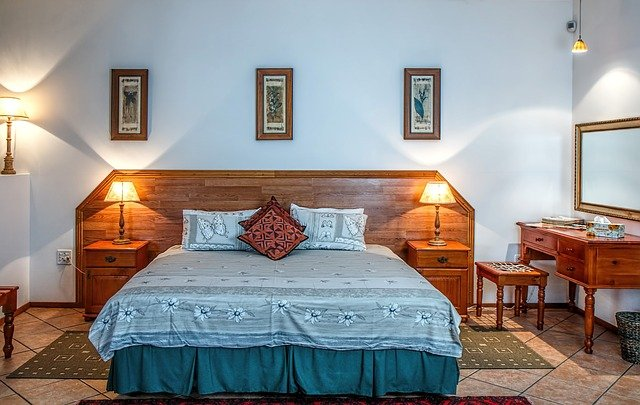 Image source: pixabay
8. Cover the Window
Window treatments are a great way to add color, texture patterns, and softness to your room. They exist in different types like shades, linen, shatters, and sheers.
Go for a soft sheer that filters out light. You can combine them with opaque roller blinds to block the light at night and give you the privacy you need. Curtains, shades, and blinds can be costly.
White panel curtains are cheap, simple, and can match any style. If you want curtains that help you block the morning light but don't appear heavy, thick velvet or cotton in warm colors will do the job.
Thus, you have to decide which coverage you need before you decide to settle on an option.
Choose colors that will match the theme of your room. To add vibrancy into your room, match the color of your bedsheets to your curtains.
Read also – 30 Best Modern Bedroom Ideas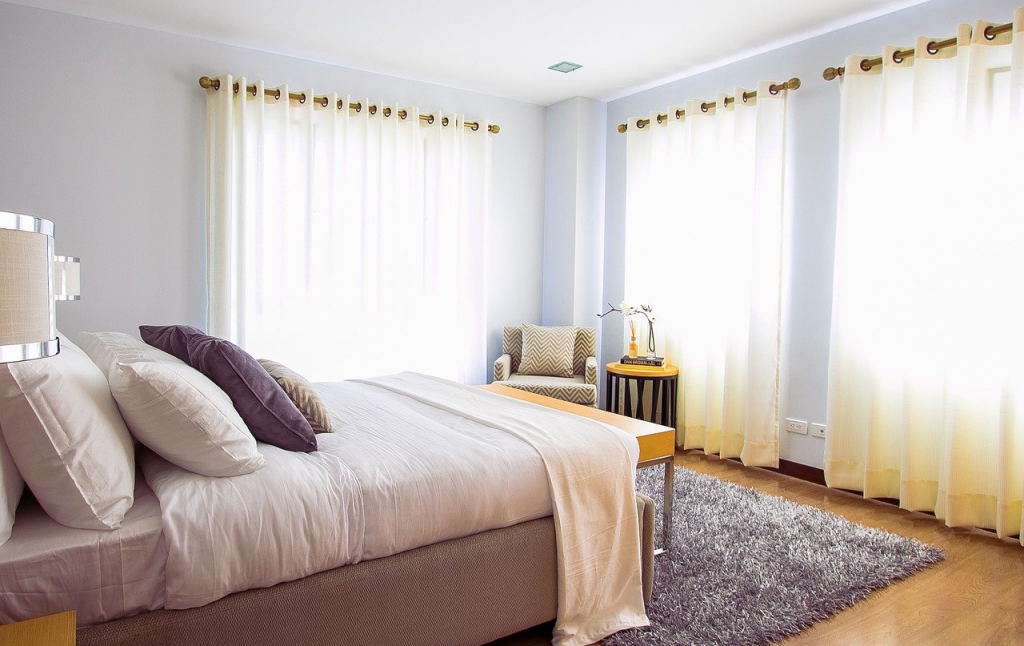 Image source:pixabay
Conclusion
Revamping your bedroom is one of the best things you can do for yourself. It gives your room a new look. There are tons of things in your room to ensure it's comfortable. A few of them include painting the walls, incorporating plants, and adding or changing artwork.
We hope this article helps you create fantabulous design ideas for your bedroom remodel and you love your new bedroom more than the old, dull one. Try Foyr Neo software to remodel your all type of bedroom and turn your bedroom into a new trend.
Go for something that suits your style and also brings you comfort.