Home » Design Ideas & Inspirations » 10 Best Teen Bedroom Ideas for Teenage Girls and Boys in 2023
Teen Bedroom Ideas
When you build a new home or move into a new apartment, you want everything to be perfect, right?
The master bedroom is dedicated to the adults in the household and you furnish it with only the best. Then comes the living room which is a hot zone for entertaining guests, therefore nothing short of awesome is acceptable. There are also the kitchen and dining rooms which are technically the home central since here is where you cook delicious meals, gather around with your loved ones to break bread, and share stories.
The bathroom is also quite significant as it is where you clean yourself and relax in that exquisite tub after a long, hard day at the office. Finally, there are the porches and yards which add aesthetic value to your property.
So, what are we forgetting?
Any guesses? No?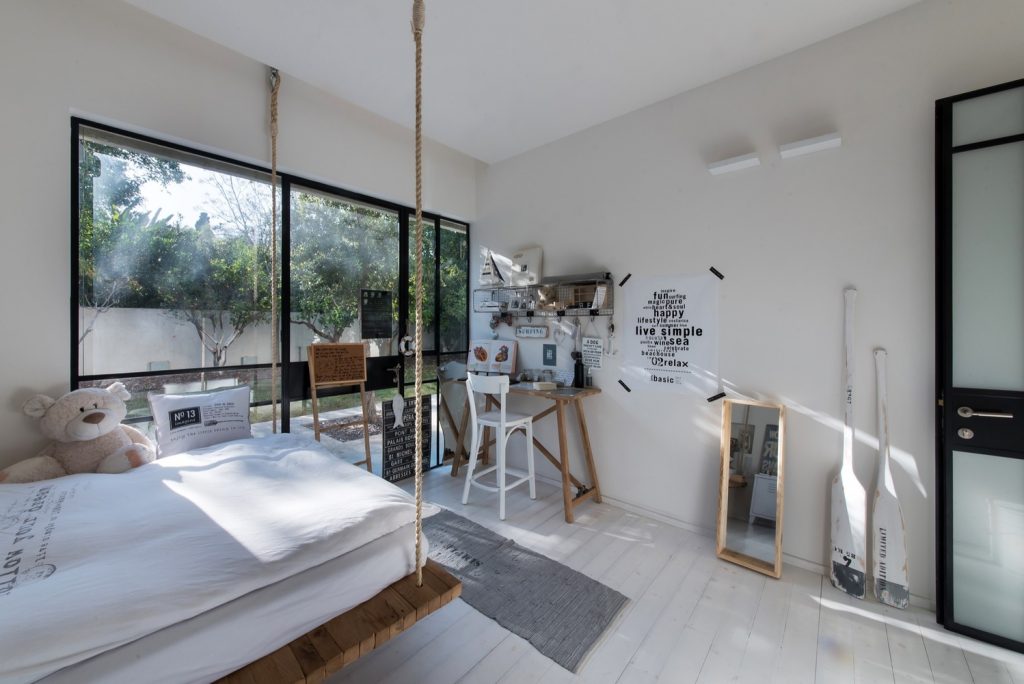 Image Credit: archdaily.com
Let us help you out. The kid's room is one of those sections of the house where you do not get a lot of say in the matter, especially if they are grown-up. Of course, for a toddler and child, you will determine the room decor and pretty much make all the important decisions.
For a teen's room, however, your authority is compromised. They are at a stage in their life when they are developing their own opinions, exploring their personalities, and experimenting with different themes to suit their constantly changing taste.
Despite all their 'grown-up' choices, you still can't let them decide everything right? They are pumped full of hormones and change their mind every two days. That doesn't mean you can keep changing the room design and overall home decor according to their whim.
We have a solution for that.
Today, we are going to discuss some innovative design and decor ideas for teen bedrooms that sufficiently create an incredible backdrop for their changing personalities. It will leave enough room for them to explore their room décor ideas while creating an enchanting fusion of various themes.
So let us get started, shall we?
Read also – 9 Amazing Master Bedroom Ideas
10 Best Teen Bedroom Ideas for Teenage Girls and Boys:
1. Choose a neutral theme
As we have said, teenagers change their minds every two days, so a specific theme may not suffice to bring out their best selves.
How about exploring and combining a few different design ideas to instigate a lively feel to the teen's room.
A minimalist design trend works best for small rooms, however, a small space shouldn't restrict the creativity inside you and your child. You can use innovative design ideas for small rooms and make the room look expansive. You can use minimalist design ideas such as bunk beds, convertible furniture, and a neutral color.
If you have enough space in your teenager's room, consider a BOHO style or a modern rustic theme. They make the room feel cozy and vibrant all at once.
You can also choose a functional modern theme or a techno vibe. This inadvertently improves the functionality of the room and all their new-age gadgets, play stations, and tech-savvy appliances befit the room design.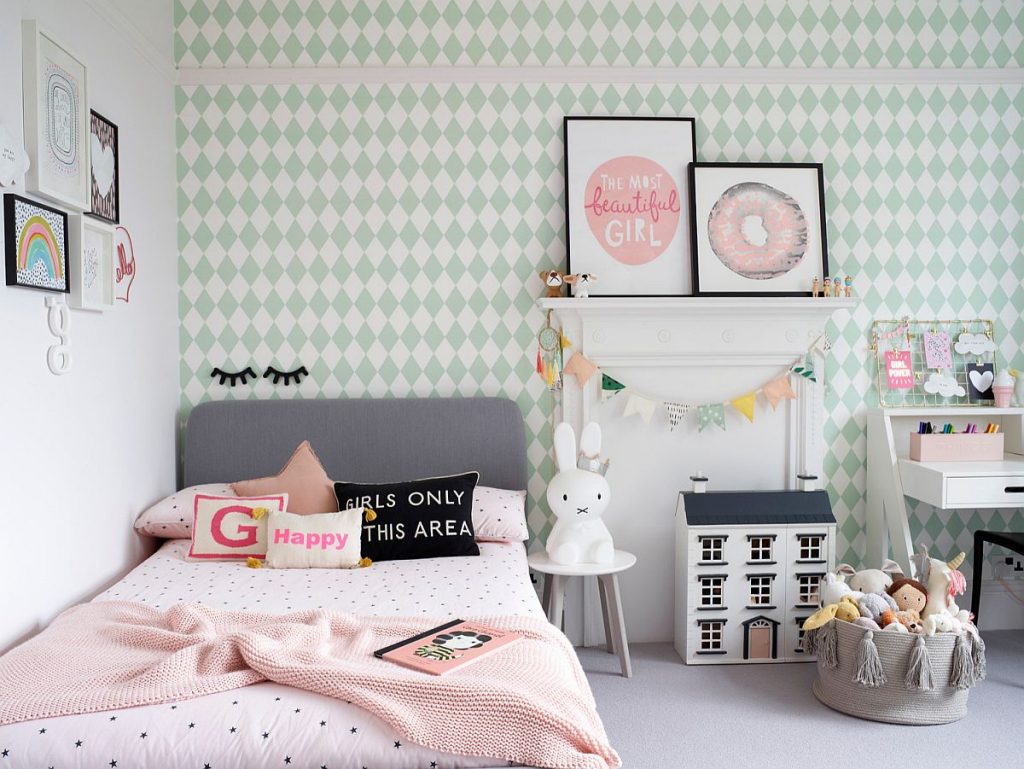 Image Credit: decoist.com
2. Select a color palette that best suits their personalities
Now, speaking of color schemes, a teen bedroom offers some scope during the makeover.
In the case of a teen girl's room, you may want to select colors such as purple, mauve, pink, hues of orange or red, and even white. Since a white room can seem a little cold, use some floral wallpapers to brighten up the room while still keeping the overall theme light and welcoming. You can also use polka dot patterns on fabrics for a feminine touch in a teenage girl bedroom.
For a teenage boy's room, you can go for shades of blue, brown, or green. No matter how grown-up they are, boys never get over the gaming and space themes so you can probably incorporate those. For a practical backdrop, you can use white so they can further enhance the room design with trendy pieces from ComiCon, gadgets, posters, decals, etc.
Avoid the color red in a teenager's room as it inspires anger and hostility. You don't need an anxious teenager in the house. You can sprinkle shades of red with throw pillows, posters, small items of room decor, wind chimes, etc. However, for the big stuff such as wall paint colors, duvet covers, pillowcases, curtains, bed sheets, table linen, etc. it is best to use subdued hues of calming colors.
You can read our article on the psychology of colors and decide what shades best suit your teenager's personality.
In either case, you should use pops of color all over the room to improve their cognitive functions and develop a sense of empathy, ambition, and style.
Read also – 15 Best Guest Bedroom Ideas
Image Credit: pinterest.com
3. Leave room for their decals, vinyl, posters, and graphics
When exploring their passion for different walks of life, teenagers tend to hang up decals, graphic stickers, and vinyl on the walls to inspire them. They may be interested in online gaming, cars, technological advancements, featured characters from comic books and movies, and whatnot.
You will also probably walk into a teenager's room to find posters of movies they like, actors they admire, or visionaries they look up to. It is important to let them express themselves freely as it is a confusing part of growing up.
It is pivotal to leave a significant amount of space for them to fill up with their wall art and wall decor. You may want to install wallpapers or encourage them to use double-sided tape that does not peel the paint off the walls.
Read also – 10 Best Gaming Room Decor Ideas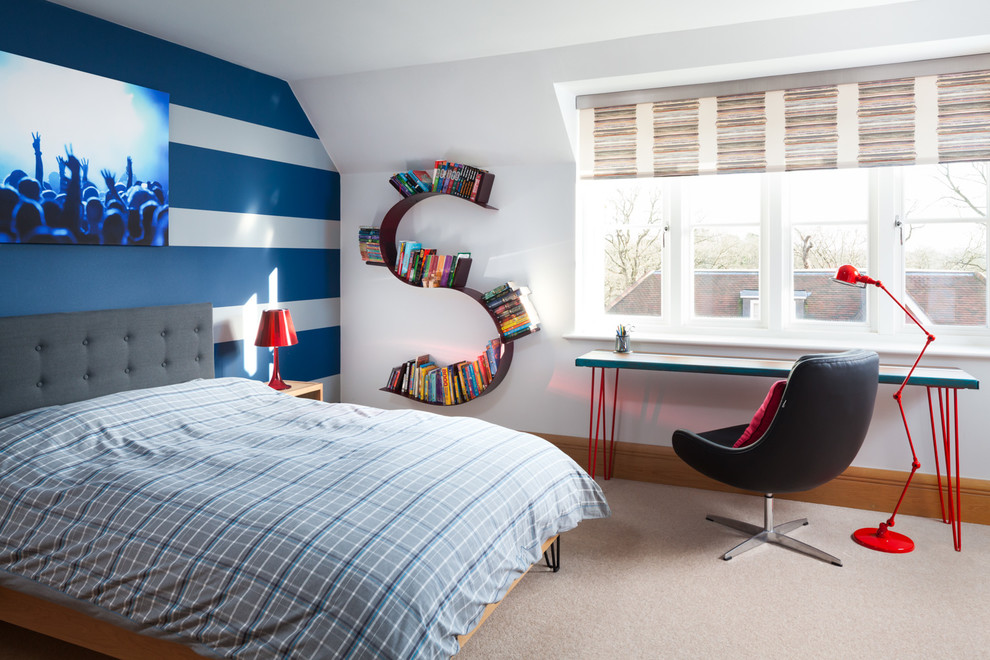 Image Credit: houzz.com
4. Create a section dedicated to exploring their hobbies and interests
Teenage years are when we define ourselves. It all starts here when we explore different interests, hobbies, and find out passion. Obviously, your teenage girl or boy needs the freedom to explore their drive in life too.
They may express interest in dance, painting, coding, reading, writing poetry, music, sculpting, etc. These are the different cultural mediums they use to express themselves and how they feel about certain situations.
It is important to allow them personal space to further explore these interests. Maybe your teenager secretly dreams of one day becoming an architect, a fashion designer, a writer, an artist. They could be the next Elon Musk or Andrea Bocelli of their era. Their passion is what helps them grow and realize their potential in order to build not just a successful but happy future.
If your teenager has openly shared their passion with you, then create a workspace to help practice their craft of drafting designs, drawing, painting, animating, and whatnot. If they are into music, you can install a small jamming corner to practice their instrument or compose. If the instrument is noisy, perhaps you can install some noise-canceling panels to reduce the raucous.
Lastly, consider building a reading nook, even if it is a small bedroom. This will inspire your writers and poets, of course, but it also motivates the artists and tech-savvy children to develop a reading habit. They will learn the importance of reading and constantly upgrading their knowledge, thus helping them build a brighter future.
Read also – 30 Best Traditional Living Room Ideas
Image Credit: aliexpress.com
5. Pick an appropriate bed size
Teenager bedrooms need not have a queen-size bed. Whether it is a teenage girl room or a boy cave, a 6×4 or 6×5 bed usually serves well. If more than one teenage boy is sharing the room, consider investing in bunk beds. This introduces them to the college dorm experience as well as provides them with a certain amount of privacy.
If, on the other hand, the room is to be occupied by teenage girls, you can opt for twin beds if there is sufficient available square footage. Take their privacy into account and separate the beds or place them in perpendicular layouts.
The bed size in a teenager's room plays an important role as you also need to fit a considerable wardrobe, maybe a vanity, and definitely a section dedicated to their schoolwork. Therefore, the bed should not occupy more than one-third of the room space.
Invest in an appealing bed frame with a headboard and comfortable mattress to support good posture.
Read also – 20 Essential Things for A Perfect Master Bedroom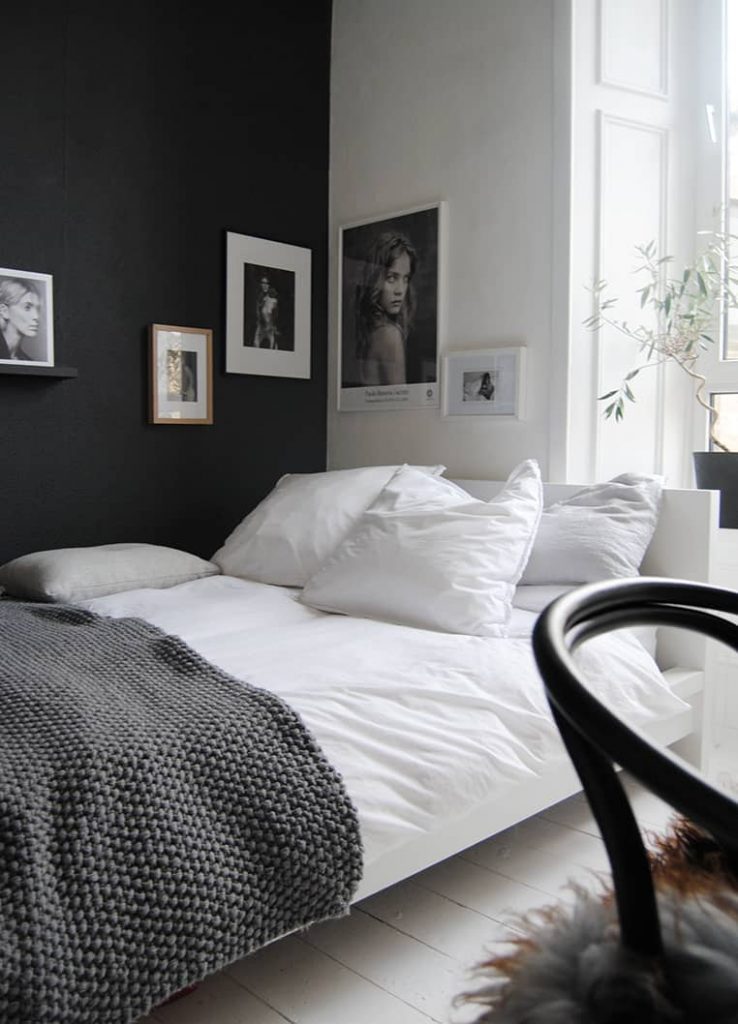 Image Credit: onekindesign.com
6. Incorporate abundant storage spaces
No matter if the teenage bedroom is small or big, your bedroom decorating ideas must, at all costs, fit in a lot of storage space.
Of course, there's the wardrobe to start with but a single structure may not suffice. Remember, teenagers are at a point where they are still growing. One day your little teenage boy is tiny, the next week he hits his growth spurt and becomes a foot taller.
One day your teenage girl is sweet and small, the next day puberty hits and she starts developing. This is all to say that they easily grow out of their clothes and keep shopping. Of course, shopping in itself doesn't actually require the provocation in a teenager's life, but that's for another day.
So, circling back to the bedrock of our teen bedroom ideas, storage space; you need them in abundance.
If there is more than one teenager in the room, consider larger or individual closets. Also, install some cabinetry with a lot of shelving to store their delicates, socks, etc.
You must also assign some storage space for their study materials aside from a bookcase. Some open shelves with easy access can work wonders. Furthermore, teenagers require room to store all their material for art projects, dioramas, and whatnot. A chest of drawers built into their study tables could work.
Lastly, for girl bedroom ideas, consider a vanity with adequate storage space for all their makeup, accessories, cosmetics, and other beauty products. An assigned space to organize their essentials is a great idea to keep their rooms clean and well-managed.
Read also – 10 Unique Ways To Enhance Your Master Bedroom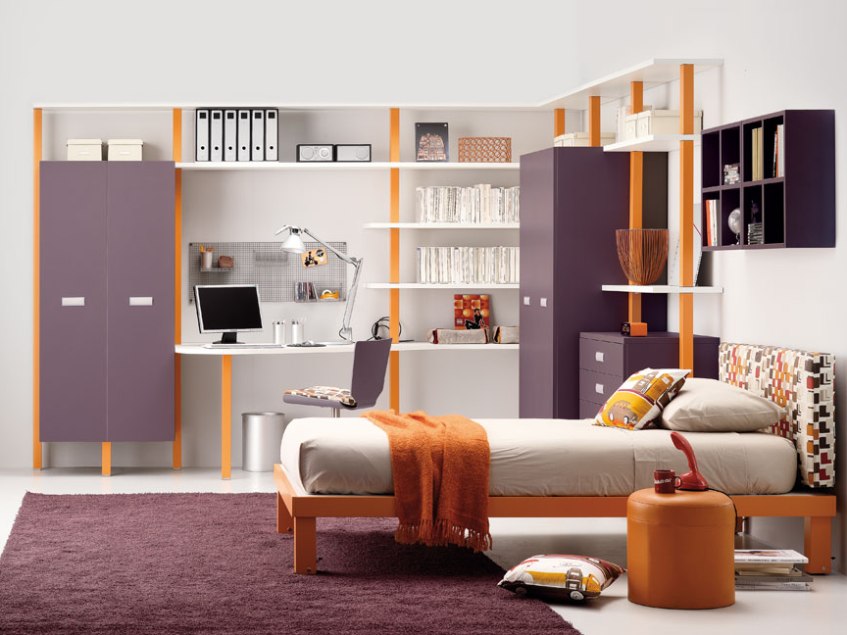 Image Credit: 7desainminimalis.com
7. Create a workspace
As you know, teenage years are pivotal in terms of their education and schooling. Teenagers hardly prefer sitting in the hall or living room to work on their school projects and homework.
It is important that a teenager's bedroom decor also facilitates a study desk along with a bookcase nearby and shelving for convenience. The grown-ups have their home offices but for teenagers, their study desk is pretty much their workspace.
You can help them with some incredible and aesthetically appealing decorating ideas to add a bit of vigor to their workspace. Also, a laptop or tablet to aid in their homework is a big plus.
Read also – Study Room Ideas To Maximize Productivity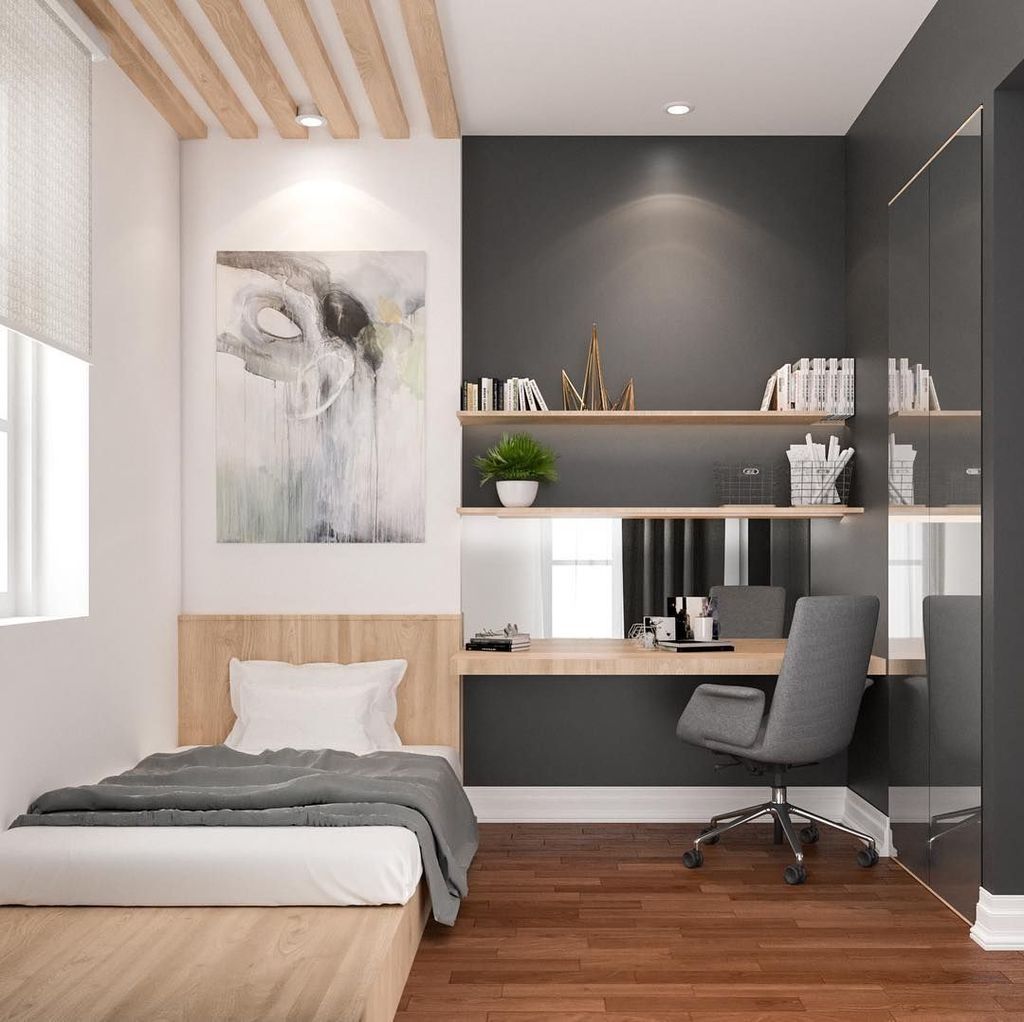 Image Credit: pinterest.pt
8. Select a versatile wallpaper
Now, speaking of wallpaper in a teen bedroom involves more than picking out a pattern. Remember what we discussed about the color scheme and theme of their bedroom design. Well, the wallpaper is what ties it all together so select something to befit a variety of bedroom decor ideas.
A wallpaper in neutral colors such as white or beige with golden patterns creates quite the blank canvas for further decorating ideas. Teenagers can hang their favorite wall decor, ambient lights, wall art, trendy tapestry, photo frames, and anything else they want.
For a girl's room, you can also choose velveteen wallpaper and for a boy's room, you can select a lively futuristic theme. Not that girls are not futuristic or love technology. If your teen girl loves gaming and technology, perhaps take their suggestion into account when choosing their wallpaper. However, for the most part, teen girl bedrooms reflect glam and impressive interior design.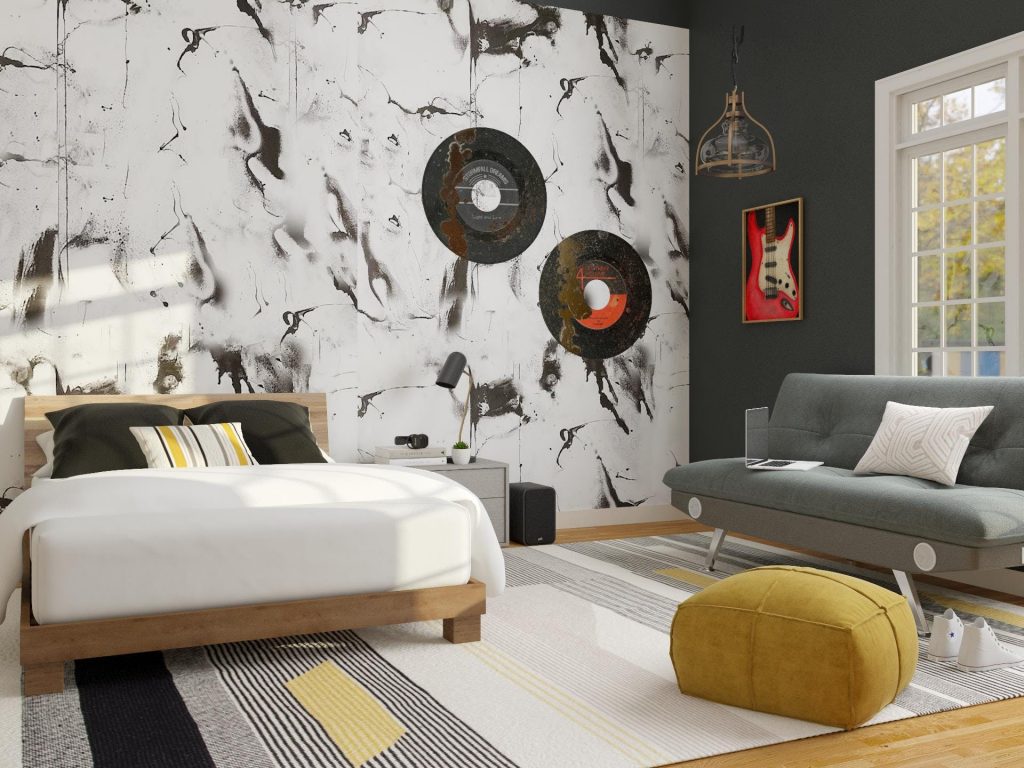 Image Credit: modsy.com
9. Choose the lighting fixtures with extra consideration
A teenager's room is no place for a crystal chandelier. Next thing you know, your expensive fixture is in pieces due to their angst.
However, the lighting in a teenager's room predominantly affects their overall disposition. Choose ambient lighting that makes them feel comfortable without straining their delicate eyes. Place a table lamp on the study table for reading as well as research on brightly lit computer screens.
You also need night lamps on the side tables. This is a good time to get creative. Choose from a wide range of DIY lampshades that will add some whimsy to your teenager's room.
For a girl's room, you can decorate the gallery wall with some string lights or hang them above the day bed where they hang out with their friends. In the case of a boy's room, you can choose eccentric lampshades and sconces.
Make sure the teenager's room is sufficiently lit in order to stimulate them to study and finish their work. A dimmer switch with LED lights along the ceiling can work wonders for a boy's and girl's room alike.
Read also – 14 Best Living Room Interior Design Ideas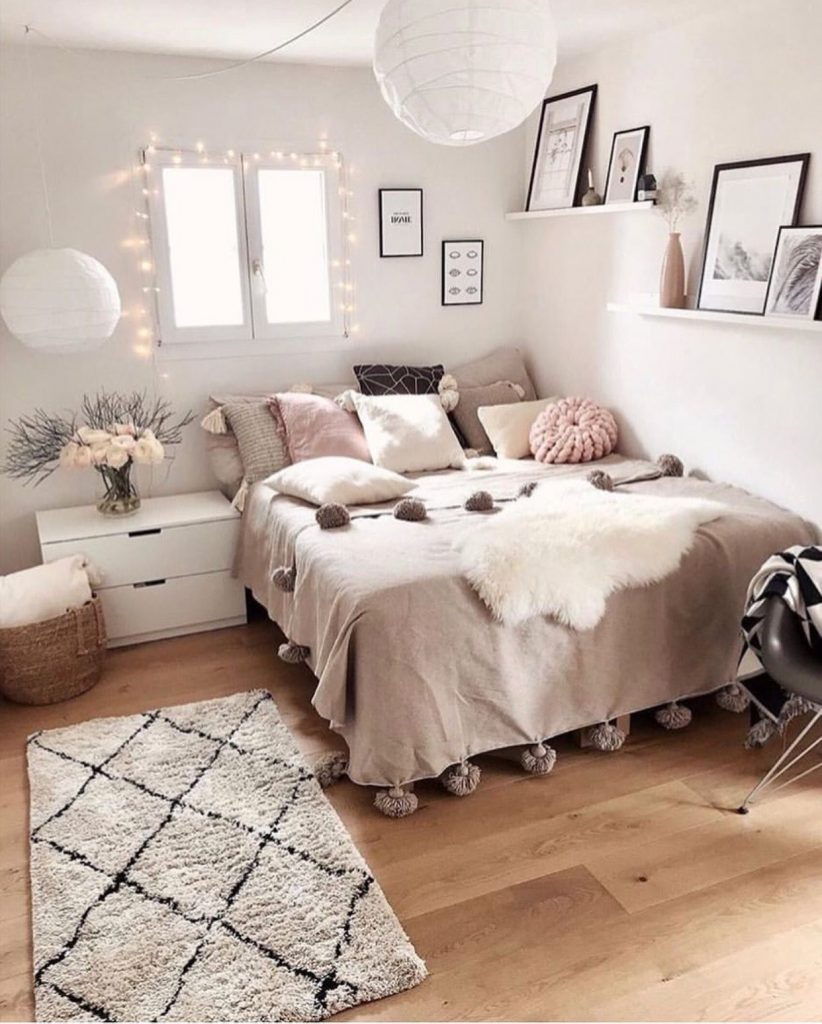 Image Credit: pinterest.co.kr
10. Add a few mandatory items of home decor to keep them grounded
Finally, let's think of some innovative ways to still keep your teenagers grounded in reality. We don't want them getting carried away by bad influences, so it is important to remind them who really cares about them and loves them.
For starters, consider photo frames containing family pictures to hang on their wall or to scatter around the shelving in their room. You can also spend some time with your teenage girl or boy to create some DIY items that remind them of good family time; perhaps a homemade quilt made of their childhood clothes or a piece of furniture such as a hanging chair or indoor swing.
You can find incredible furniture pieces at IKEA or pottery barn that you and your child can paint together, hang decals, personalize, and create a beautiful memory. These things may seem small but they build triggers in a teenager's developing psyche. They constantly remind them of the importance of family and the good values you instilled.
Read also – 14 Best Rustic Bedroom Ideas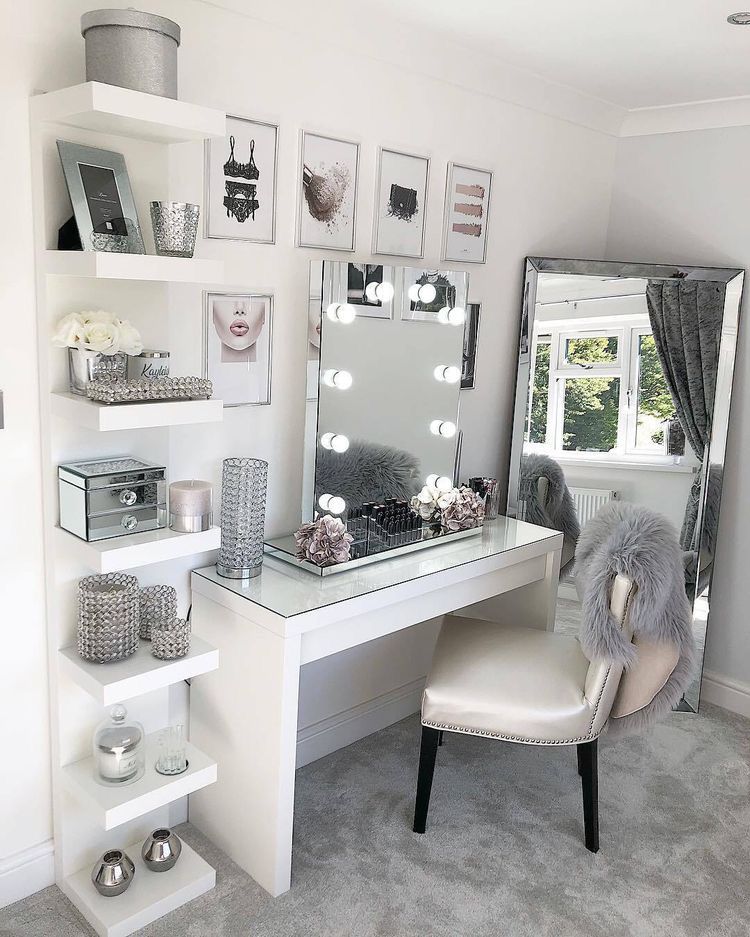 Image Credit: pinterest.com
Conclusion
Teenagers can sure be a handful but we need to be considerate to their plight. They undergo a lot of pressure to fit into their social circles and comply with changing trends. A teenager's room is their personal little world where they can express themselves freely while they find themselves.
With a little open-planned design, you can show your children that you understand their constant predicament and are open to their choices. It is also important to keep reminding them what is important and what they need to focus on to build a bright future.
Teenage room designs can sure be tricky, which is why we suggest using the Foyr Neo software to explore different design ideas before you implement them in their room. You can choose the floor plans, furniture pieces, and the overall them of the room.
Share the ideas with your teenage girl or boy and let them feel heard. The ultimate decision will be yours but it can't hurt to allow them a little freedom in choosing their wallpapers and room decor.
Go ahead and design the ideal teenage room to bring a beautiful smile to your child's face.