Futuristic Interior Design
When we think about futuristic interior design all that lingers in our minds is the science fiction movies that glue us to our seats. Intriguing yet intimidating! Futurism is the modern form of design that comes with more metallic, long dynamic lines, and a monochromatic look that suggests motion and urgency.
It is remarkable how the ultra-modern and hi-tech look is becoming popular each day in each art's genre from painting, sculpting, ceramic, interior design, theatre, literature, music, and architecture. Flooring is marked by the wavy horizontal lines that create illusions while the dominant hues being white, grey, and black. Shiny and glossy silver is also common with shades of red, yellow, light green, and mystic blue accentuating the effect. Materials from metal, plastic, leather, and glass are synonymously used.
Read also – Types of Interior Design Styles
Image Credit: pinterest.com
Characteristics of Futuristic Interior Design
Futurism is marked by minimalist creativity which equates to distinctively shaped pieces of furniture that are either curved, angular, and made from glass, metal, plastic, or leather. The masculine nature with metallic material is toned down by either upholstery and soft furnishings.
Futurism is characterized by large furniture with splashes of lime, mystic blue, red, and yellow in your living room. The floors are usually laminated or tiled with matching shades with the walls to enhance synchrony. The rooms are characterized by touch-controlled blinds, doors, lights, and cabinet doors. Smart electronic systems are cutting-edge and they dominate the lifestyle while aiding in saving time.
The electronic systems range from ovens, hoods, WIFI-enabled refrigerators, home-climate regulators linked to one's phone, and smart lighting engraved in ceilings and walls as LED strip lights. Its decorations are new and experimental with a fusion of minimalism and creativity. Amongst its blended features include strong geometric walls, surrealist paintings, monochromatic photographs, and coordination between neutral background and bright accents. Straight and smooth lines can be used to create a spaceship-like effect.
Read also – Interior Design Concept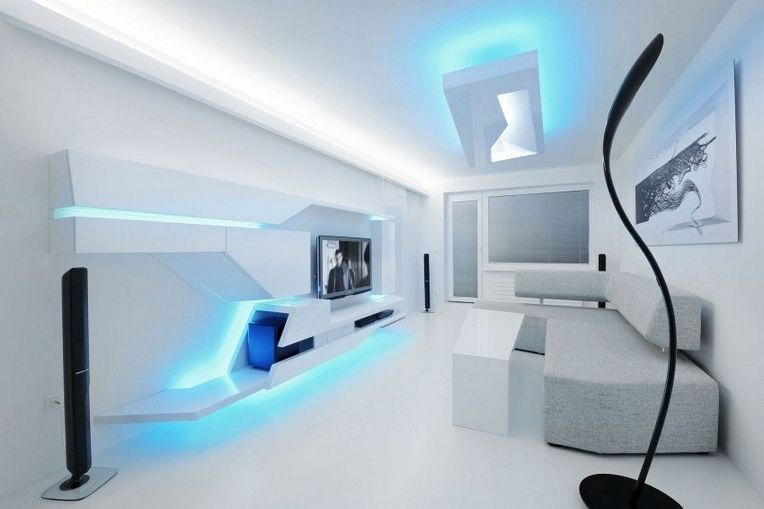 Image Credit: inspiraspaces.com
Futuristic interior design ideas draw their inspiration from sci-fiction movies which promote themes like time travel, space digital age, a parallel universe, and new age wave. The themes include using semi-transparent and plain walls with polished finishes. The walls are counterbalanced with circular-shaped furniture. Another theme that characterizes the futuristic appearance is the dystopian theme that is popular in cyberpunk sets and retro-futuristic steampunk aesthetics.
Read also – Key Features of Steampunk Design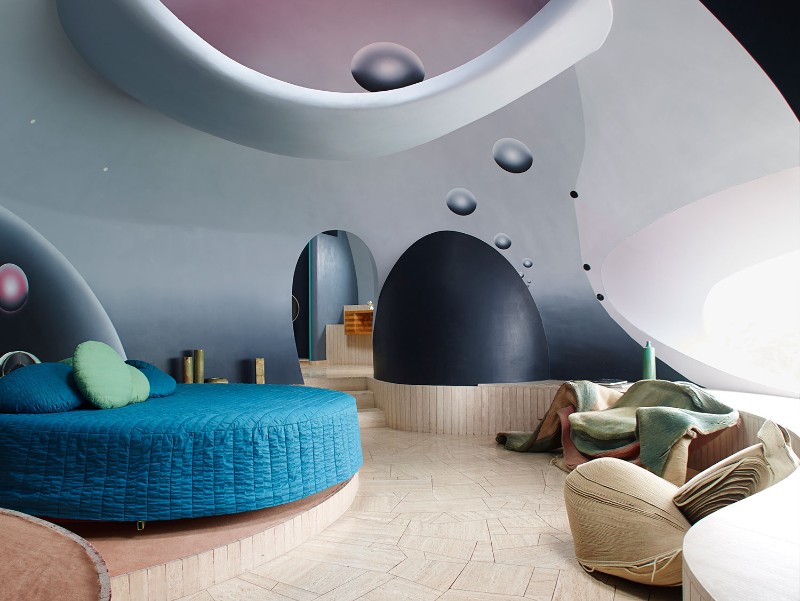 1970's VIP Space Odyssey on the Mediterranean by Karen
Origin of Futurism in Design
Futurism from the Latin name 'futurum', emerged from the early xx century. The root of the style is an admiration for modern civilization through having a blend of the modern and the past methods and norms. The common futurisms are the Italian's and the Russian's. Futurism can be practiced in hotels, bars, restaurants, shops, offices, and apartments.
It implies having ergonomic, stylish lightings, creative furniture pieces, and out of the norm layouts. It changes a room to incorporate a touch of individuality and rigor in design. With futurism, one's imagination drifts to a parallel world and one feels like they are existing on another planet. Futurism and art share a common style of symbolism, avant-garde, and freedom of expression.
Read also – Everything About Interior Design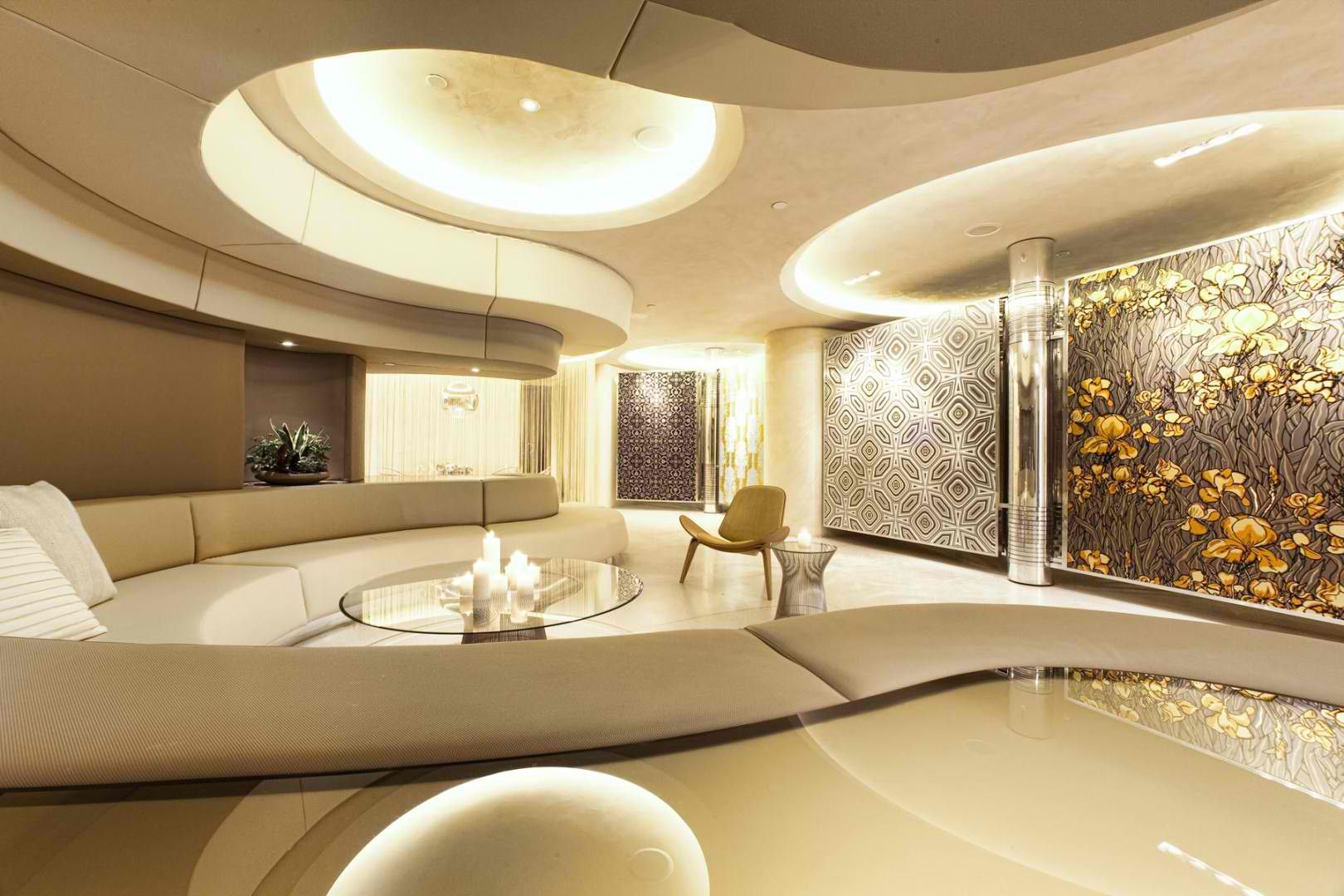 Image Credit: pinimg.com
In modern apartments, futurism is marked by reduced décor where walls are decorated by either original photos or abstract paintings, neutral backgrounds with bright accents, an abundance of home appliances, and the ability to control them with a remote or a touch panel and creative furniture pieces. Skilled professional interior designers can help in creating minimalist designs and unique futurism styles for apartments and offices and maintain their functionality.
Read also – Best Home Decorating Ideas
Design Elements in a Futuristic Kitchen Design
In 2022, the modern kitchen is a reflection of one's personality and taste for one modern home. With technological advancements and embracement for futurism, drastic changes are in turn expected. Darker tones on the walls like blue and green are expected in the kitchen and dining rooms. White, cream, or grey kitchen cabinets are trendy and should be maintained. There is a shift from the white and brighter colors to dark yet ambient shades. Achieving this retro-look and home design is quite easy!
One only needs to integrate a neutral color with a color that matches with either the tabletops appliances. However, some bright items can be maintained to keep the room vibrant. You can spoil yourself by including a butler's pantry which will create additional space. It doesn't have to be magnanimous, just convenient. A combination of elegant kitchen accessories also does the trick!
Read also – Best Kitchen Decor Ideas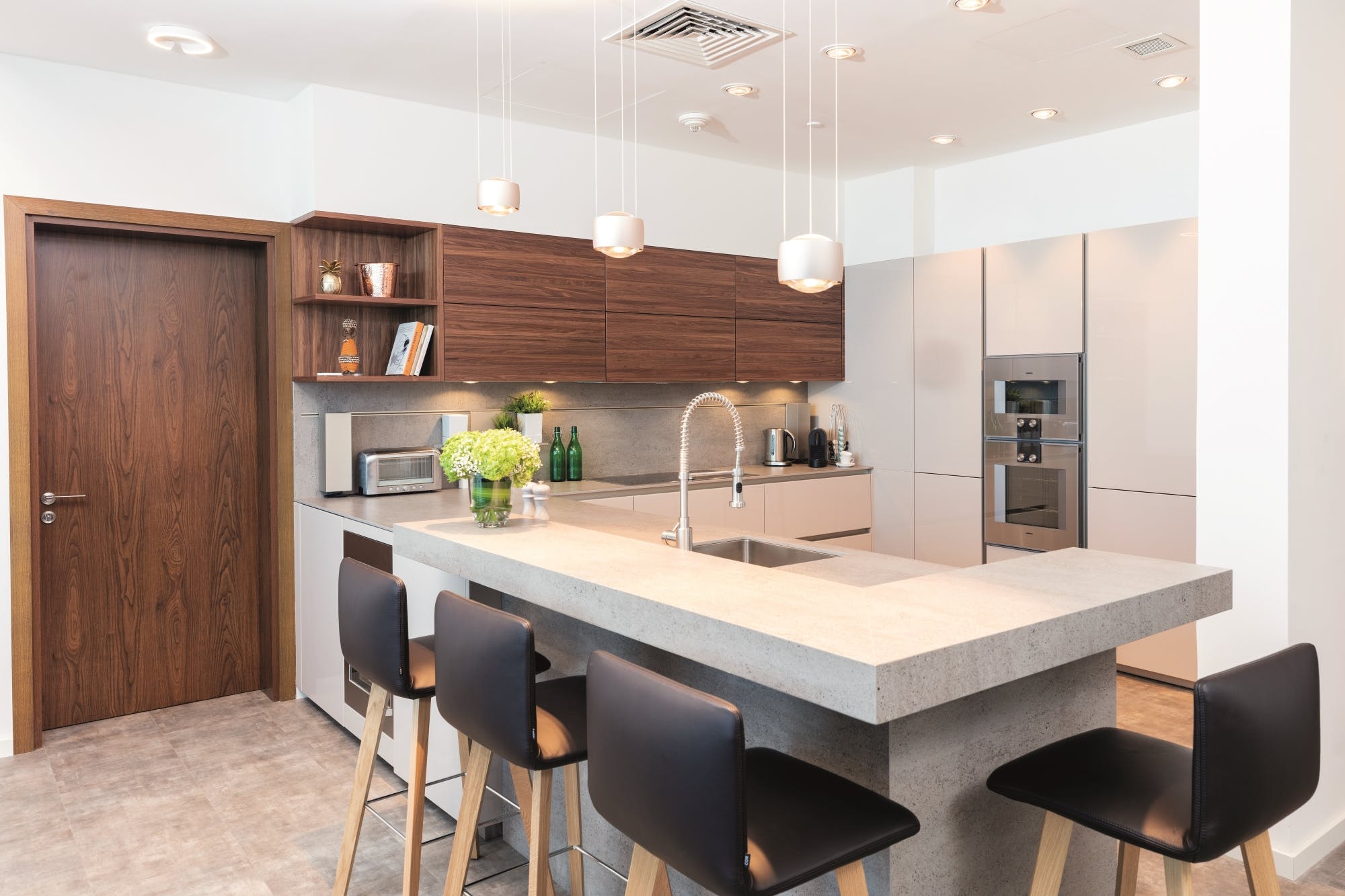 Image Credit: cosentino.com
Luxury is in detail! So, incorporate unique cabinet handles, faucets, and suspended lamps. One can use slit handles or envelope handles as there is no restriction. Chic and custom-designed elements that match the kitchen's style can be incorporated. A classic kitchen is nothing short of details from fluted glass, handmade handles, glass panel cabinets, and utensils.
Kitchens are supposed to be functional yet cozy as they are the dominant areas in a room and all family members can use them in different ways. The children can do their homework as their mother prepares sumptuous meals.
Shaker cabinets can help in maintaining a classic look with an addition of brass handles or knobs. Natural materials like wood, marble, quartz shine brightly in classic kitchens. You can also incorporate tiles and matte finishes. You should also be careful about the type of tiles as some tiles require highly shining finishes. To be safe, matte finishing is effective. Marble slabs with pronounced veins or terrazzo with large chunks can also be used with neutral colors.
Using marbles can be intimidating for most people but we can change the narrative. To protect it from damage, a proper sealant can be used. The remarkable part is that marble can be fitted in many styles from Calcutta, Carrara, and Sasso Rosso. However, marbles should not be limited to countertops as they can be used for your backsplash.
Read also – Best Kitchen Design Ideas
Futuristic Kitchen Design from Zaria Zinovatnaya by Levin Elinor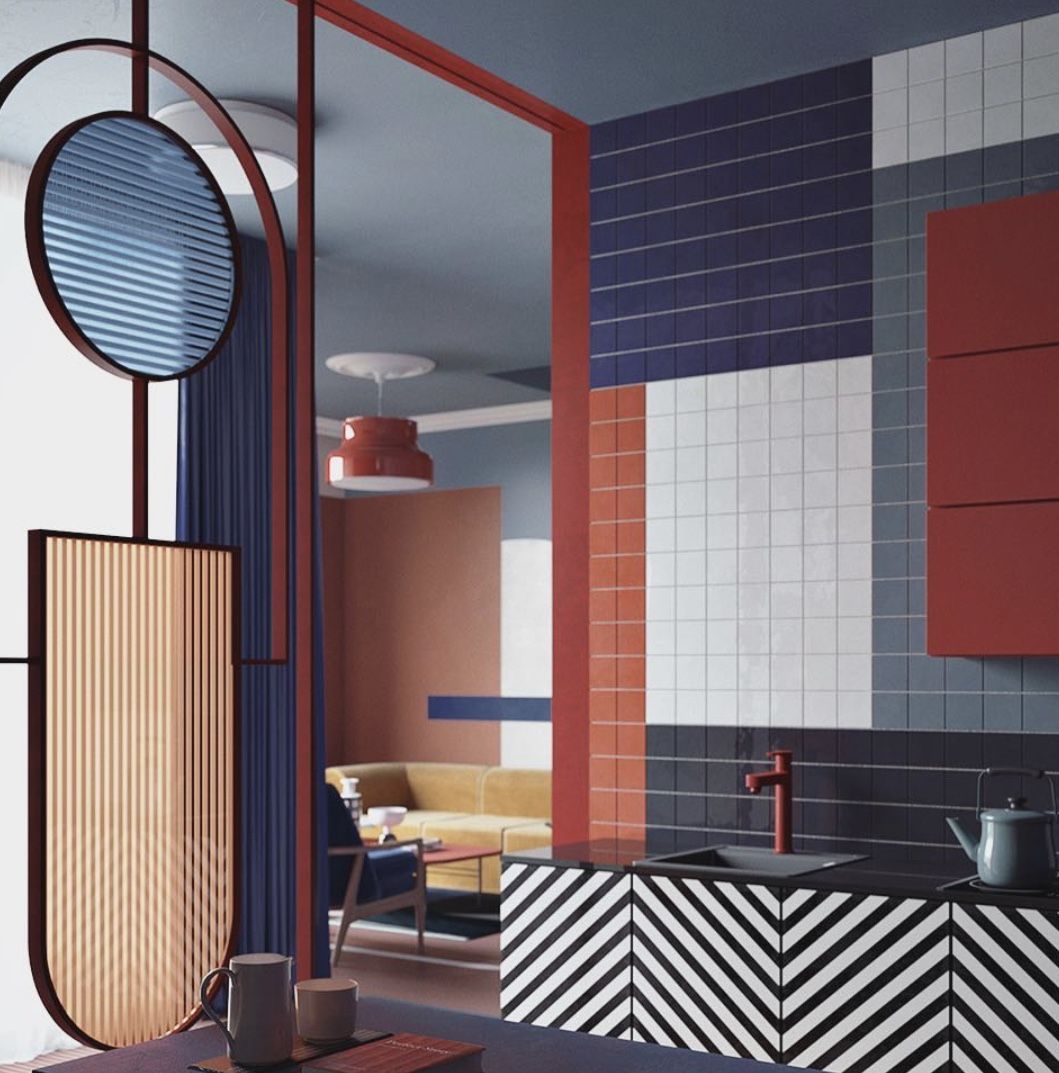 Image Credit: pinimg.com
The vent hood tends to be ignored most times but it doesn't have to be so. It can be painted in colors that blend with one's space. Wooden boards can also be used to hide them depending on one's preference. One should pay attention to every corner and accord it the love that it deserves. When choosing materials for the hood, remember to use materials that will not interfere with its function.
Use an amazing backsplash for your aesthetic kitchen! Do you know what is the secret to an amazing kitchen? Yes, you are correct. A perfect backsplash! Adorable ceramics, shiny glass tiles, and natural stones are all you need to create your dream backsplash. The materials can then be installed in hexagonal or arabesque patterns or better still, they can be laid one after the other creating a herringbone pattern. There are no limits to your creativity. You can also decide if you want your backsplash to complement the rest of the kitchen or color block to create a contrast.
Read also – The Psychology of Colors in Interior Design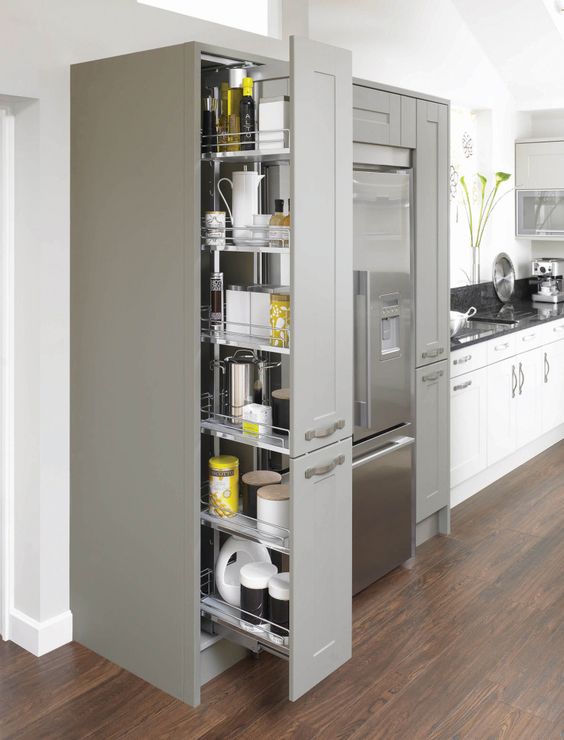 Image Credit: pinterest.com
Utility in Futuristic Kitchen Design
Maximizing your space by using more baskets and organizers can save your kitchen a great deal. You can install appliances such as your toaster to decongest the rest of the space and still maintain a sleek and crisp look that will make your pantry area organized. Adding hanging plants like the money maker will bring out the artistic flair in your kitchen and clean the odor enhancing a fresh look. Opting for an open or a floating island will keep the area accessible and provide additional sitting opportunities in your kitchen.
Since accessing items in an instant has become trendy, getting your coffee without patiently waiting as you are having a zoom interaction in your kitchen is essential. This can be achieved by installing a hot water tap in the kitchen. You can spruce up the look by incorporating a red shade that is a perfect combination of style and comfort. However, for those who love opulence, deep forest green can be complemented with latte shades, smoky glasses, and soft metallic.
Read also – Best Kitchen Layout Ideas
The addition of white marble and brass through lighting and worktops can help in bouncing the light around the space and offsetting heavier hues. It can be paired with neutral grey and cashmere to reduce overpowering and add flair to your cabinets. Extractor fans can also be incorporated to remove odors and vapors which will be a shift from the downward extraction system. Your kitchen is incomplete without a statement tap. Brass- industrial taps with unique handles and eye-catchy details can be used to complement your space.
Brass requires low maintenance and does not tarnish easily. Thus, will help you in acquiring value for your money. A metallic look can be achieved by using brushed brass, aged iron, and copper. They will help you in attaining a focal point for your kitchen. They can be used as handles, lighting, or as taps. However, sticking to one type of metal will enhance cohesiveness. Copper will not require specialized care in terms of your cleaning products if you want to maintain its sparkle.
Read also – Best Design Tips To Note Before Renovating Your Kitchen
Red, black and grey kitchen by Ashlene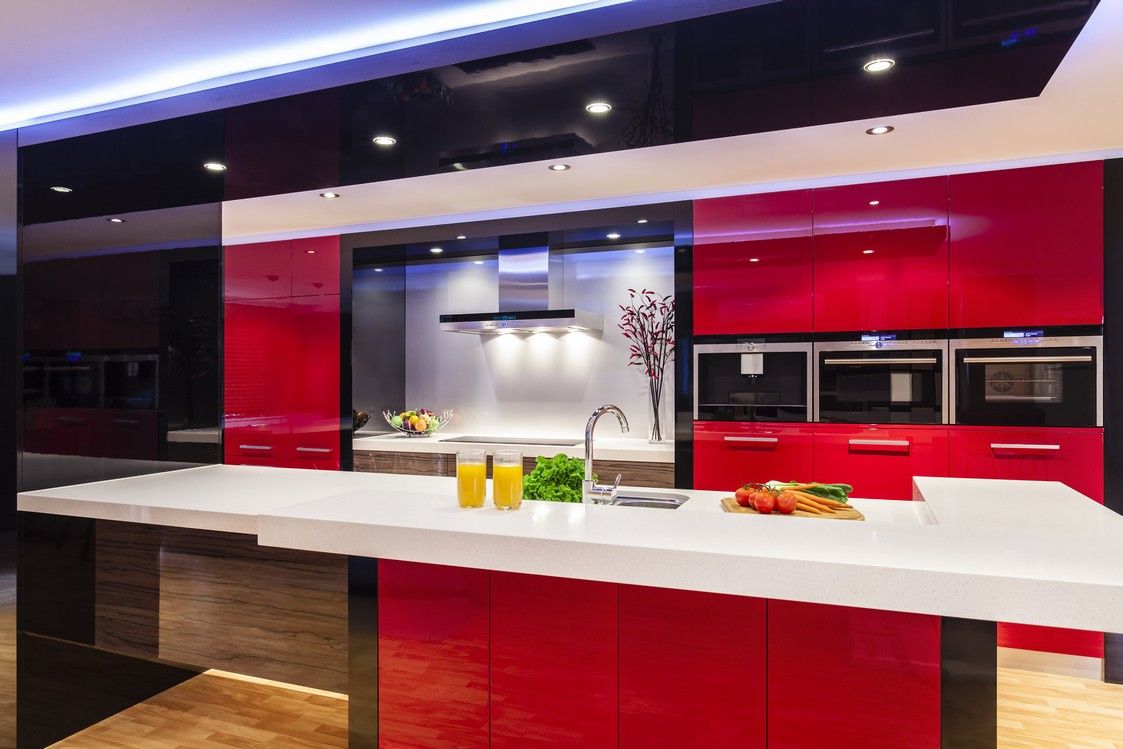 Image Credit: homeyou.com
Using soft colors will also enhance your kitchen look. A soft-colored splashback can be used while layering textures and materials such as a concrete table top will enhance your appeal. Hiding your fridge and dishwashers is the new kitchen trend in 2023 and being a little discrete creates a polished look for your spaces. You can modernize your kitchen by incorporating a steam oven, an induction hob, and a countertop oven.
Read also – Japanese Interior Design
Implementing Futuristic Design in Your Home
2021 is a recovery year from the COVID-19 pandemic that hit the globe last year. The goals that you set last year to bring a change to your home from realizing the misses when you were on lockdown can be implemented this recovery year. Change can be realized by supporting the local businesses around you. You can purchase small decorative items from your local vendor and services from your locational carpenter. It will be a win situation since it will support the local businesses and the locally available products are of better quality than importing.
Read also – Best Indian Kitchen Design Ideas
Eileend sectional leather sofa with LED lights by Mumtaz Begum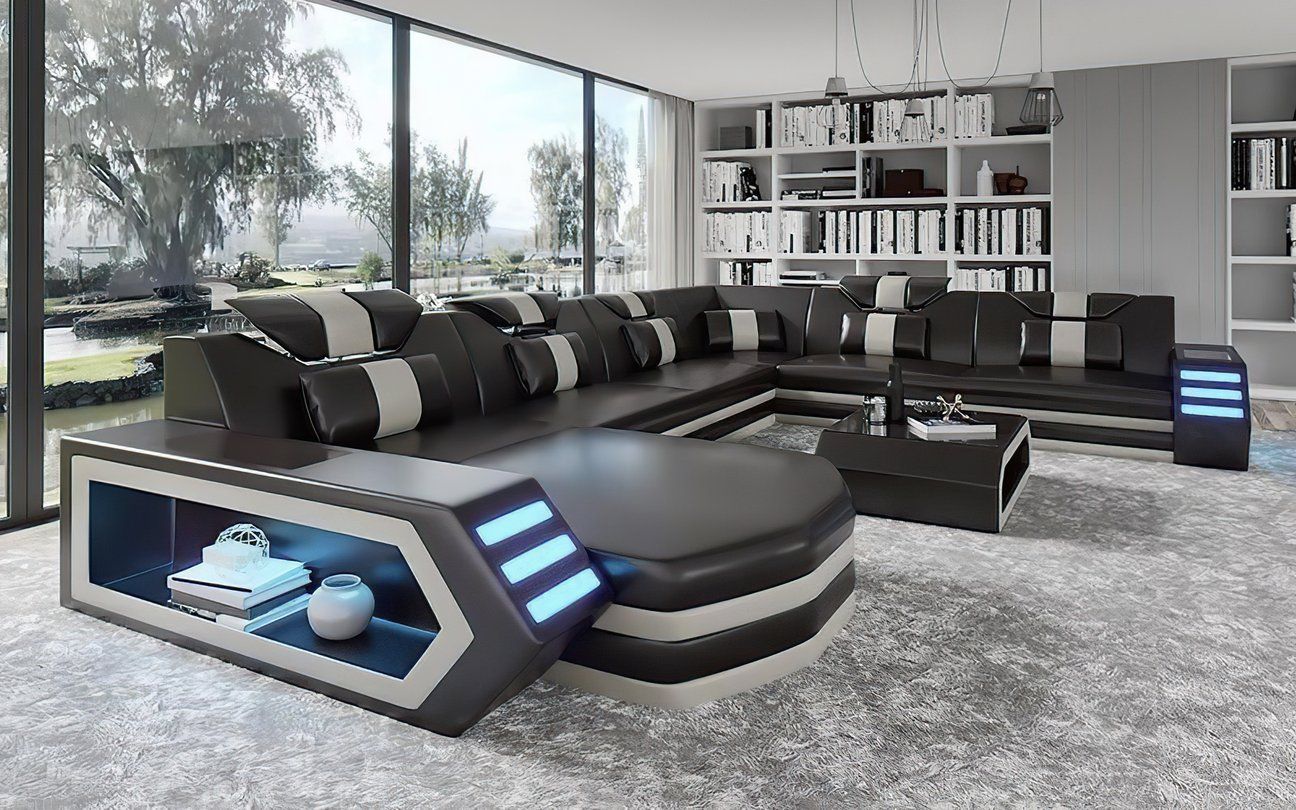 Image Credit: pinterest.com
Lighting your modern kitchen with statement pendants adds an aesthetic flair. Delicate, non-intrusive designs offer alternative styles for your lightings. It not only serves its functional role in enhancing sight but it breathes life into your kitchen.
The awakening involves a change in outdated trends such as lacquered cabinets that are highly-shinny, popping colorful cabinets to neutral finishes, ultra-modern decors with exaggerated whites and monochromes, open shelves which attract a lot of dust to closed, opaque cabinets, minimizing the pot racks above the kitchen island and maintaining straight lines to cabinets and kitchen islands. Implementing timeless designs such as patterned hardwood floors and shaker-style cabinets will save you the burden of incorporating regular changes.
Futuristic Interior Design For Your Bedroom
Your bedroom needs to be a safe haven where you can relax, meditate, and disconnect from the world. This can be achieved by incorporating a sci-fi style arrangement. As bedroom apartments are becoming smaller, sleeping in pods and capsules is becoming a necessity. A classic combination of black and white can also be used or one can embrace the modern neutral colors of grey and black. A combination of dark floors, walls, wardrobes, and bed frames can be used with contrasting brightly colored sheets like a red shade.
To reduce your cost if you want a spaceship futuristic bedroom, you can hang pictures of stars and the orbit to create the effect then a rich blue wall color can be used to match with the bed frame. To enhance your futuristic interior design, an ultramodern bed with framed LED lighting can be used. A round bed with an oversized pouf as a mattress that can be matched with a neutral color palette can also create a futuristic style.
Read also – Best Bedroom Ideas for Teenagers
Yachts in the market by Kari Gabrielson-Jagodzinski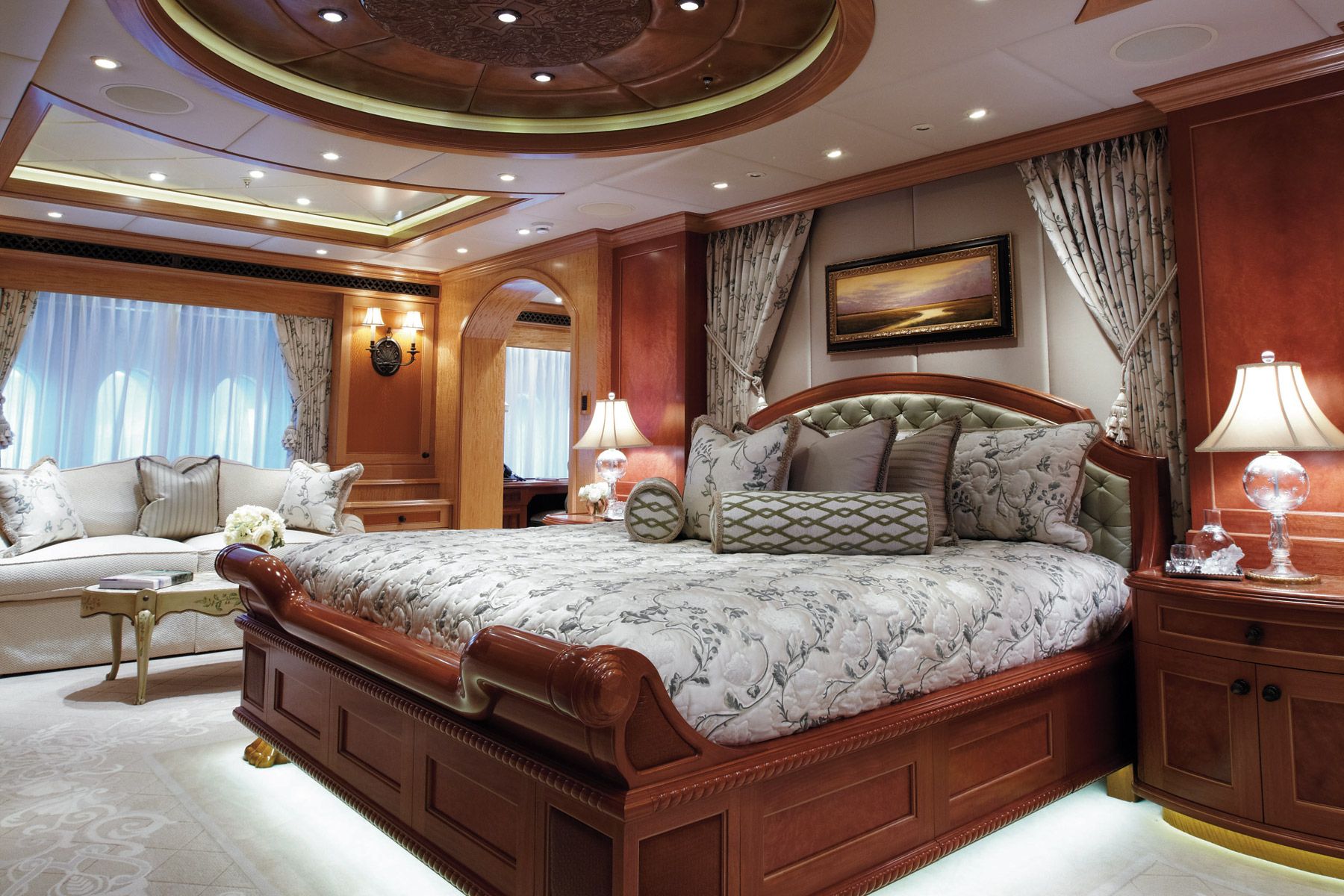 Image Credit: pinterest.com
Futuristic bedrooms tend to be concentrated on the headboard. Your bed can be built with a shiny, large-sized headboard that reaches on the floor to intrigue the eye-catching futuristic appeal. Artificial and natural lighting can be used to enhance the modern look. Neon and lava lamps can be placed at the corners and if the bedroom has no natural lighting, you can be creative by adding an artistic touch of small globes next to the headboard.
The dark grey tones on the walls can match with the bed frame. Abstract shapes can be incorporated to create different emotions for your room. Curves and lines on the wall can set the tone for the bedroom. Decorative accents can be used by adding dark-colored accents on the walls made of metal or porcelain with a durable and shiny finish. Mirrors can maximize the lighting and create the effect of space.
Minimalism is a better way of creating ambiance and knowledge on how to use your space effectively is essential in creating a futuristic décor for your bedroom.
Read also – Best Guest Bedroom Ideas
Start a Successful Interior Design Business With the Right Software
If you have the right business tools, each stage of the interior design process will be easier and more efficient.  Foyr Neo is a one-stop-shop for all your design needs. The multifaceted design software has so many features to choose from that it makes it easier to visualize your design ideas more effectively. 
60K + ready to use products 

Build Floor Plans, edit in 3D

Drag and Drop Interface

4K Renders in minutes
Furthermore, it doesn't take up a whole lot of space due to its incredible cloud computing feature. It saves time and money on licensing. Anyone can create absolutely remarkable home designs with these design tools. Foyr Neo is now available for a 14-day free trial, allowing you to explore the potential of infinite creation.